Mexican cornbread is a simple, sweet, and spicy cornbread with a buttery soft crumb. It's made with creamed corn, honey, cheddar and jalapenos, and tons of flavor!
This Mexican cornbread AKA jalapeno cornbread is the perfect addition to any comfort meal. I love spreading a little butter on top and serving with a warm bowl of homemade chili or taco soup. Absolute perfection!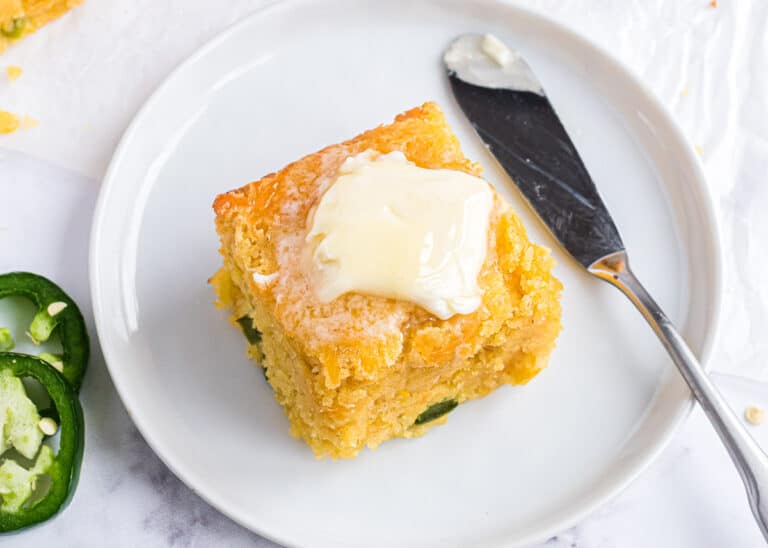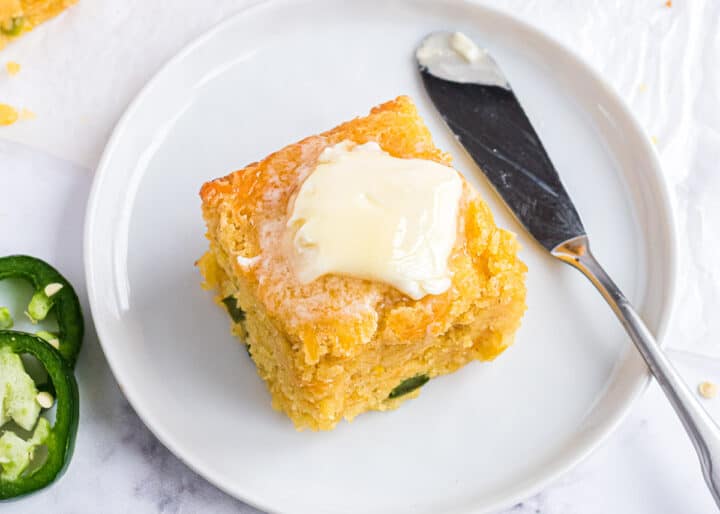 Cornbread is a simple way to elevate any main dish but snacking on a piece alone is just as pleasing. This isn't your traditional sweet cornbread, although that's a fan favorite around here too. This easy Mexican cornbread recipe uses added ingredients like sharp cheddar and spicy jalapeno that not only pack a punch but deliver loads of flavor as well. The honey gives it a subtle sweetness that never overpowers savory meals and creamed corn gives it just the right amount of moisture. It really is the best!
On days when soup, stew, or chili is on the menu, whip up a batch of this in one bowl for easy clean-up. If time is of the essence, pick up a box and make a quick Jiffy Mexican cornbread. Pop it in the oven while your soup is on the stove and bake until golden. Serve warm with a pad of melting butter and watch how quickly they disappear!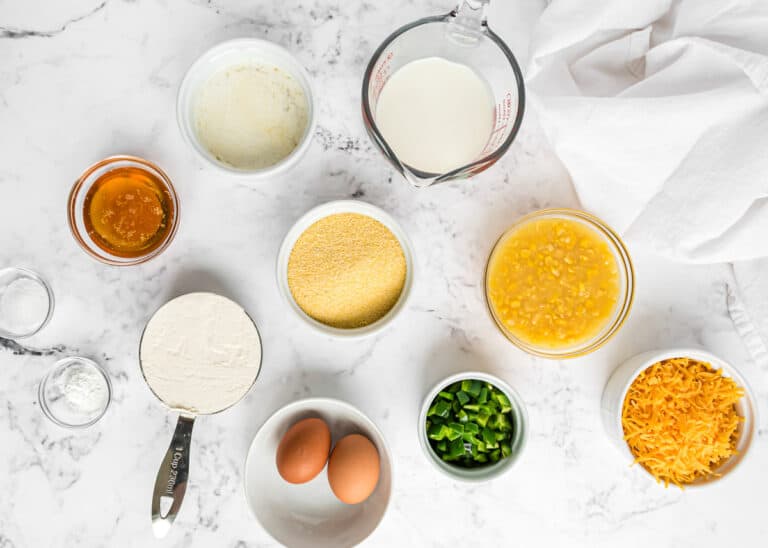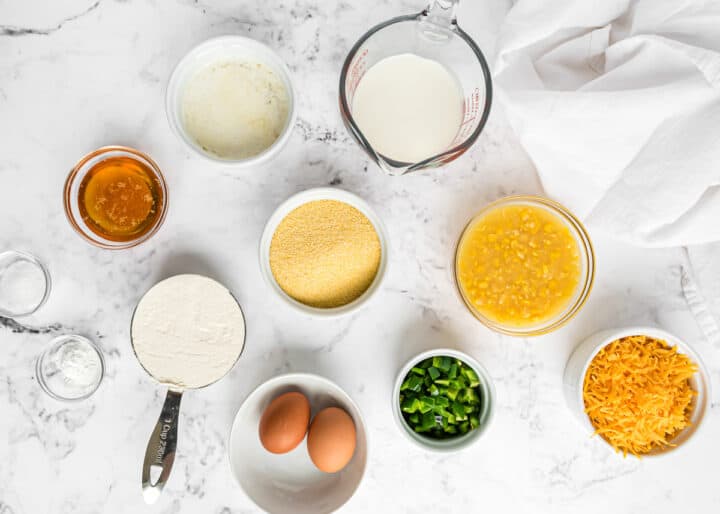 Cooking tips + variations
To kick up the heat a notch, use 2 jalapenos or decide to keep the seeds in (all the power to you). You can also add in a can of diced green chiles or use Mexican corn.
If you want all of the flavor of the jalapeno but very little heat, take care to remove ALL of the seeds.
Add sliced green onions before baking to add a little color and flavor to the bread.
For a Mexican cornbread version of these cornbread muffins, make the batter in the same way, but fill 12 muffin tins instead. Bake at 350°F until the tops are nicely golden and the toothpick comes out clean. About 17-20 minutes.
Use Jiffy mix as a time saver.
Buttermilk adds a nice light tang and moisture to cornbread. If you have it, use it!
This recipe uses cheddar but you can swap for any Mexican cheese or a Monterey Jack.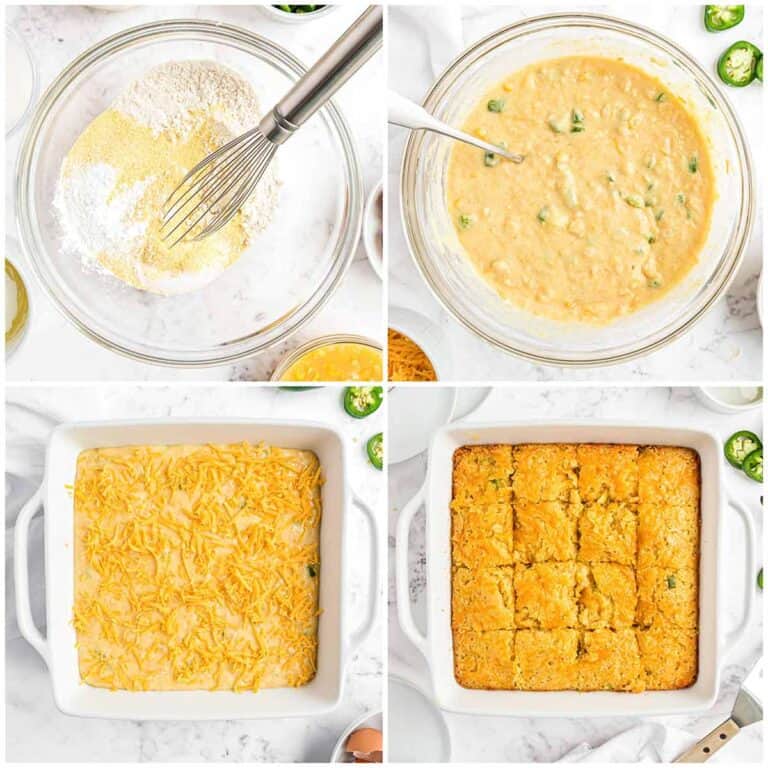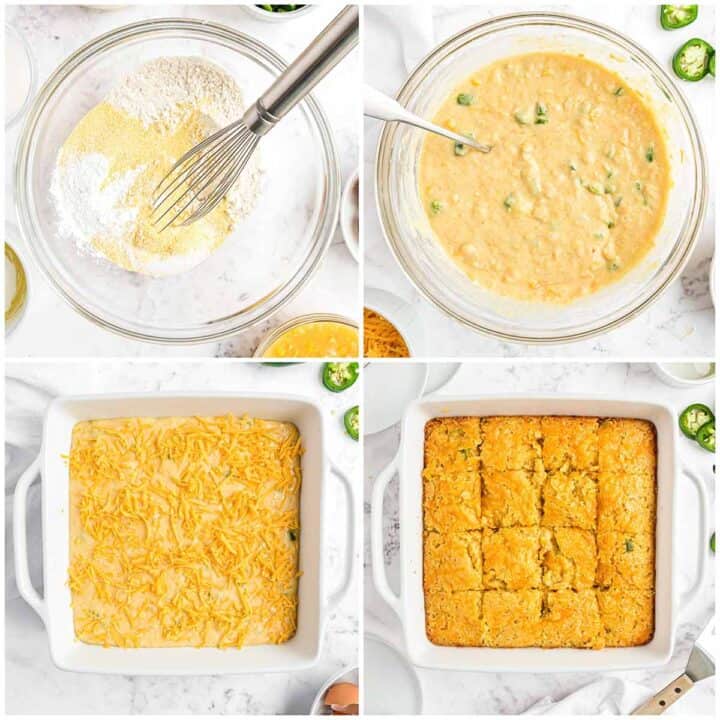 Storing, freezing & reheating
Cornbread can be stored, wrapped in foil in a zip-top bag, at room temperature for up to 2 days. Once cooled it can be kept in the freezer for 1-2 months. When you're ready to reheat, thaw in the fridge overnight or at room temperature. Re-wrap in aluminum foil and place in the oven at 350°F until warmed through.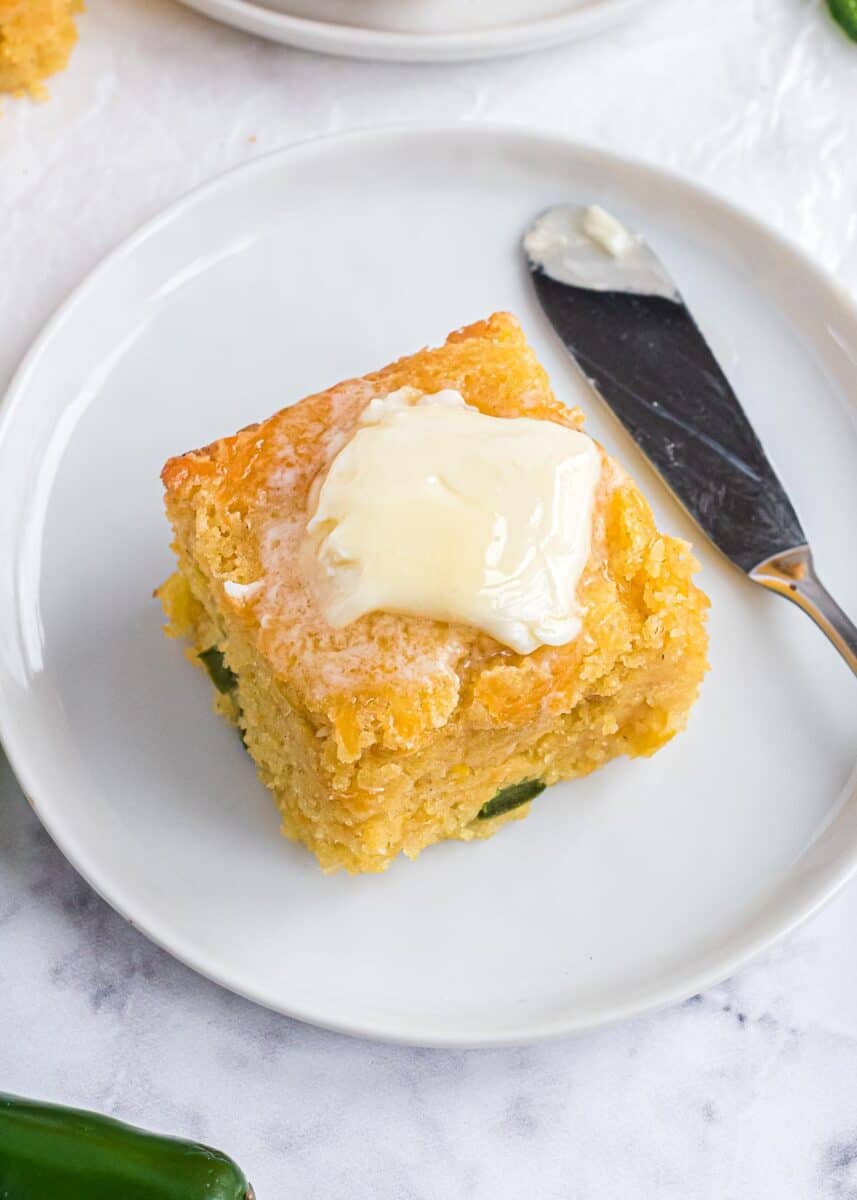 More recipes to enjoy it with: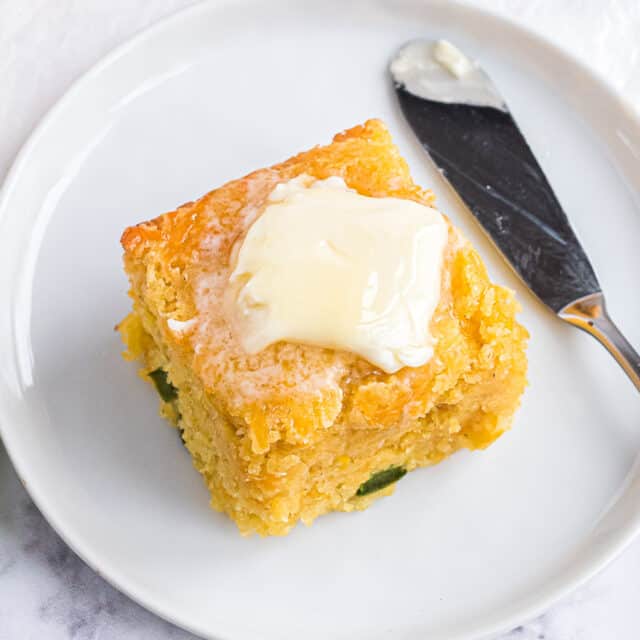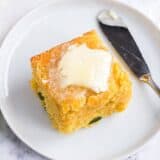 Mexican Cornbread
Mexican cornbread is a simple, sweet, and spicy cornbread with a buttery soft crumb. It's made with creamed corn, honey, cheddar and jalapenos, and tons of flavor!
Ingredients
3/4 cup milk , or buttermilk
1/4 cup honey
2 large eggs
1 cup all-purpose flour
1 cup yellow cornmeal
2 teaspoons baking powder
1 teaspoon kosher salt
1/2 cup unsalted butter , 1 stick melted and cooled slightly
8 ounces cream style corn , or Mexican corn
1-2 jalapeno , chopped and seeds removed
1 cup shredded cheddar cheese
Instructions
Preheat the oven to 350°F. Butter a 9×9″ pan and set aside. Prepare ingredients needed.

Pour milk into a measuring cup and then whisk in the honey and eggs. In a separate large bowl, mix together the flour, cornmeal, baking powder and salt.

Combine the milk mixture into the flour mixture and stir just until combined. Then stir in the melted butter, corn, jalapeno and 1/2 cup cheese. Be careful not to over mix.

Pour into prepared pan. Sprinkle the top with remaining cheese. Bake for 33-35 minutes, or until a toothpick comes clean from the center. Remove from oven and allow to cool slightly before serving.

Slice into 16 squares. Best served warm with a little butter (if desired) on top.
---
Notes
To make into muffins: Make batter the exact same way, however pour into a 12-cup muffin tin instead of a baking pan (each cup should be about 3/4 full). Bake at 350°F for 17-20 minutes, or until muffin tops are nice and golden and a toothpick comes out clean.
To store: Can be stored at room temp for 1-2 days. Wrap in foil and store in a zip top bag.
To freeze: Let cool completely, then wrap in aluminum foil or place in a freezer bag. Store in freezer for 1-2 months.
Thawing: Place in refrigerator overnight or thaw at room temp until soft and fluffy (no longer frozen).
Reheating: Re-wrap in aluminium foil and place in oven at 350° until warmed throughout.
Serving: 1slice | Calories: 188kcal | Carbohydrates: 21g | Protein: 5g | Fat: 10g | Saturated Fat: 6g | Cholesterol: 47mg | Sodium: 247mg | Potassium: 150mg | Fiber: 1g | Sugar: 6g | Vitamin A: 331IU | Vitamin C: 2mg | Calcium: 97mg | Iron: 1mg