Fluffy couscous, nutty chickpeas, crunchy bell peppers and cucumbers. This couscous salad is tossed in a simple homemade lemon dressing to brighten it up and add some zip to every bite!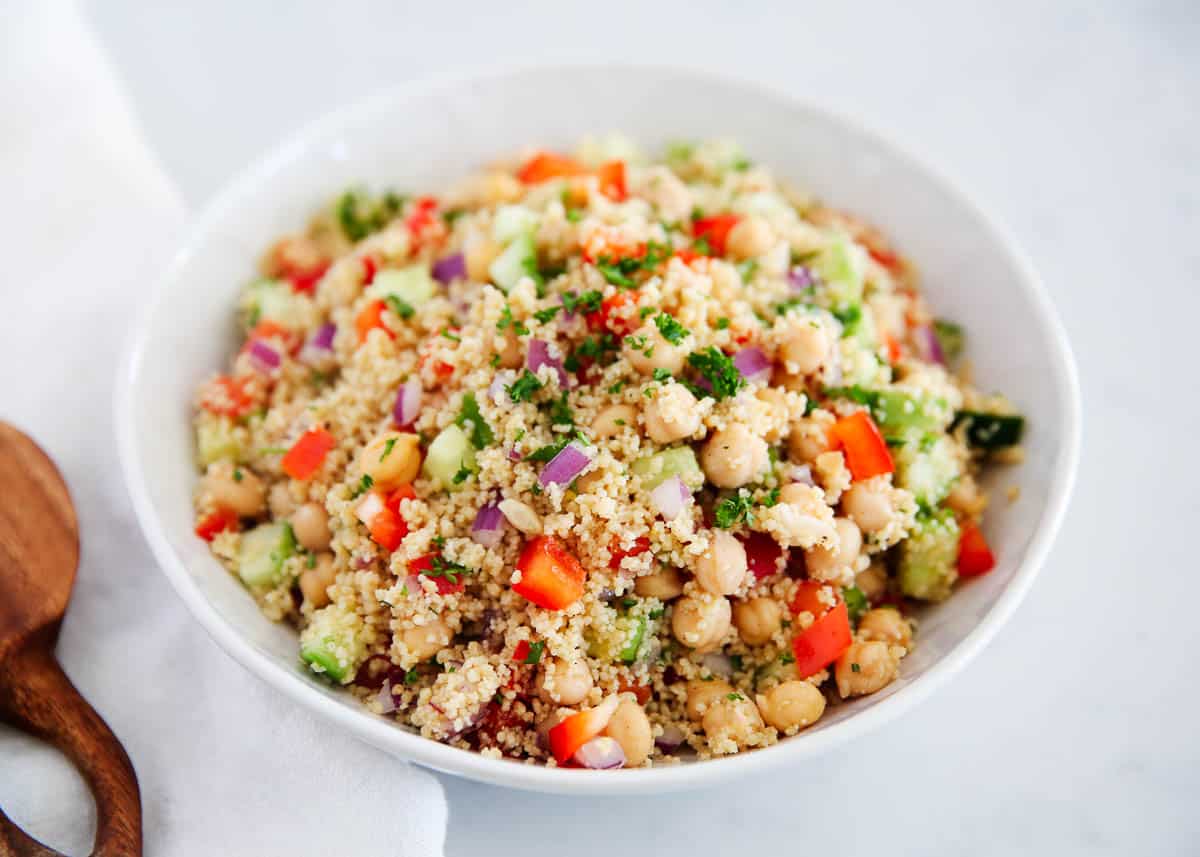 Mediterranean Couscous Salad
This is one of my favorite summer salad recipes because of how little effort it takes to come together and how satisfyingly refreshing and healthy it is. Not to mention delicious!
A complete protein-filled, nutrient-dense salad that is full of beautiful colors and crunchy textures.
I love that it's customizable to what I have on hand and can serve as a side dish or as a main. Sometimes I'll add meat for extra protein, or mix up the veggies. If I prefer a different dressing I can do that too.
No matter what, this tossed salad is brimming with Mediterranean flavors and is always a vibrant addition to any mealtime!
Recipe Ingredients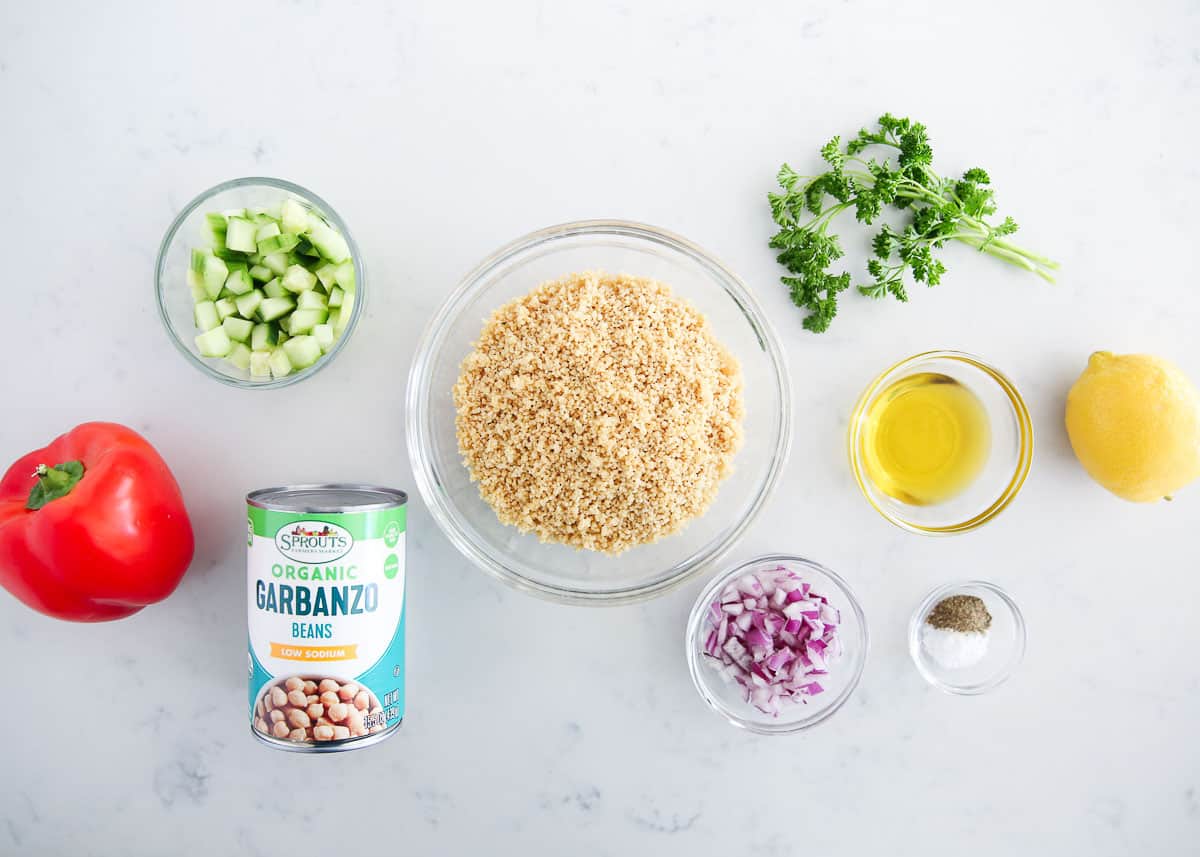 Find the full printable recipe with specific measurements below.
Cooked couscous: You can make this ahead of time if you want, but it takes just 5 minutes to steam! You just need to make sure to cool it first before adding it to the rest of the ingredients.
Chickpeas: Also known as garbanzo beans, you'll need just one can drained and then rinsed. These are high in fiber, contain lots of protein, and have a nutty flavor and buttery bite to them.
Diced cucumbers and red bell pepper: You can choose to peel the cucumber or not. English cucumbers are great if you prefer a type with fewer seeds. Red bell peppers are the sweetest of the bell peppers, but if you want to use orange or yellow instead you can.
Grape tomatoes: Juicy, acidic tomatoes cut in half. You can also use chopped Roma tomatoes or cherry tomatoes if that's what you have.
Minced red onion: Crispy, slightly pungent, and mildly sweet, red onions add great texture and an aromatic element to this recipe for couscous salad.
Chopped parsley: Play around with the amount of this fresh herb. Add more to suit your tastes.
Crumbled feta cheese: Love the addition of feta cheese to any salad! It's salty and briny and a great contrast to the beans and veggies.
For the dressing: Lemon juice and zest from lemon, olive oil, salt, and pepper. I have a great post on how to zest a lemon for tips and tricks to get the most from your fruit!
Variations
Toss in some extra fresh veggies, or whatever vegetables you happen to have on hand. Spinach or kale is a way to add dark leafy greens.
Or show off this summer couscous salad by adding in whatever vegetables you've got growing in your garden.
For extra fiber you can use whole wheat couscous and for added crunch throw in some toasted pine nuts or slivered almonds.
Sliced kalamata olives and minced garlic would make a great addition to your Greek couscous salad.
Instead of parsley you can swap it with fresh mint or basil and replace the dressing with tahini dressing or any store-bought lemon vinaigrette you have.
How Do You Cook Couscous?
Learning how to cook couscous is honestly one of the easiest things to make. As you know it's not a grain it's made from durum wheat semolina flour which is what pasta is made from!
They're teeny tiny balls of pasta that are added to boiling water. Once stirred in, you cover the pot with a lid and remove it from the heat.
Allow it to sit and steam for 5 minutes and that's it! Fluff it up with a fork and your couscous is ready to use.
How to Make Couscous Salad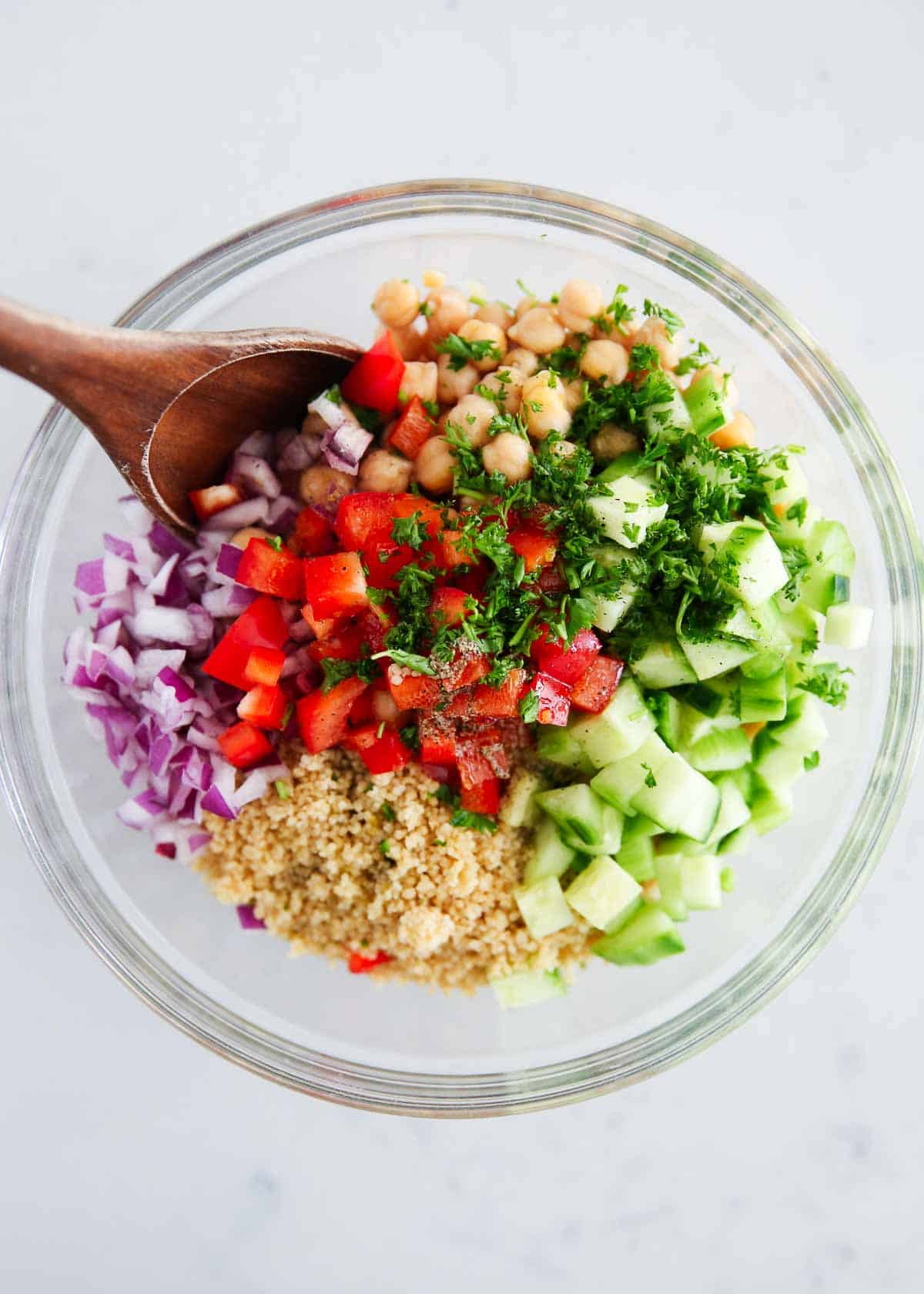 Make the dressing. In a small bowl, add the dressing ingredients and whisk until combined.
Combine the salad ingredients. In a medium salad bowl or mixing bowl, add the cooked and cooled couscous, cucumbers, bell peppers, tomatoes, onion, fresh parsley, and feta.
Toss the salad. Pour the dressing over the salad and toss everything to combine. Season to taste and enjoy!
Expert Tips
Minimize the number of bowls to wash, add the dressing ingredients to a jar, cover with a lid, and shake. Keep any leftovers in the fridge.
Large couscous. Israeli couscous, also known as pearl couscous can be substituted for traditional couscous if you prefer a larger granule.
Roasted veggies. Turn this summer salad into a fall and winter salad and roast the veggies first. Use sweet potatoes and carrots too, if you want to add seasonal root vegetables when the time is right.
Make ahead. Chop the veggies and make the dressing and keep separated in containers in the fridge. When you're ready to make it, toss everything together and chill for 15 minutes. Then, dive in!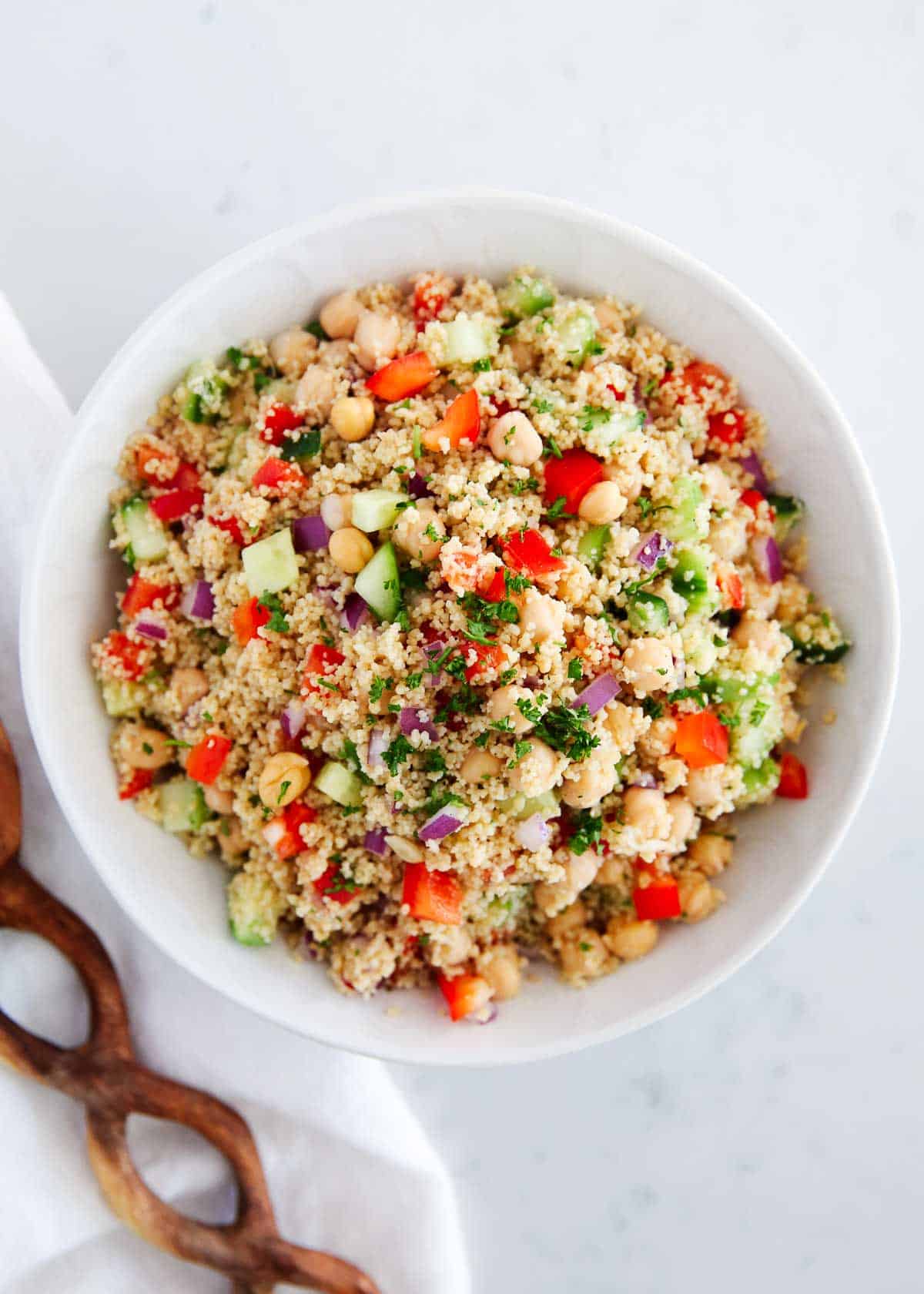 Recipe FAQs
How to store leftovers?
Keep in an airtight container for up to 3 days in the fridge. The flavors will continue to marry as it sits, however, the texture of the salad will change as the liquids start to accumulate.
What other protein can I add to couscous salad?
As a stand-alone salad, it still has a ton of protein and makes a great vegetarian meal. However, if you're looking to bulk it up with extra protein feel free to add some grilled chicken or grilled salmon on top. Canned tuna would be great, and so would some beef shawarma, scallops, or shrimp!
Can I substitute anything for the couscous?
Certainly. Use rice, brown rice, quinoa (very similar to my Mediterranean quinoa salad), or orzo pasta in place of couscous.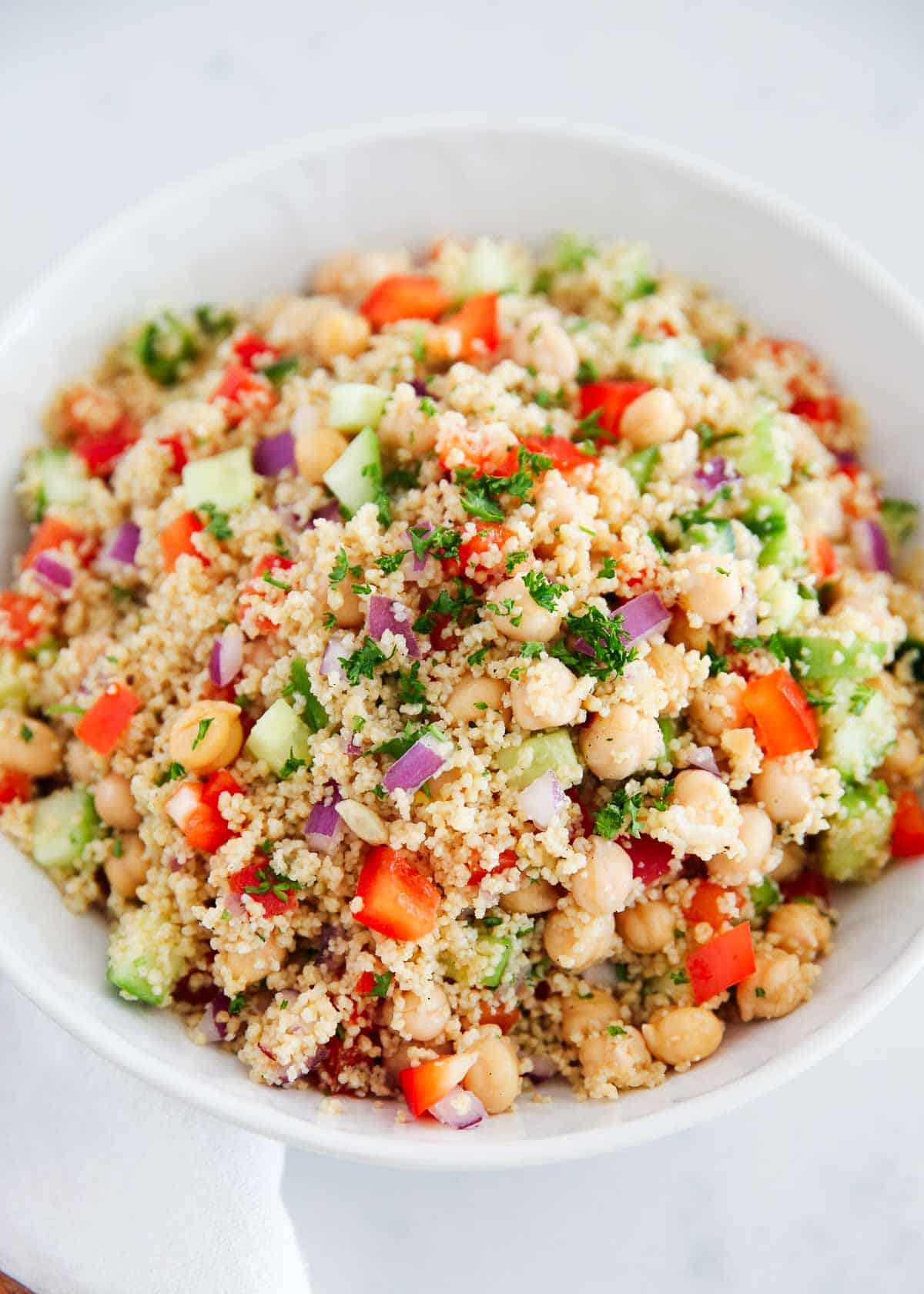 HUNGRY FOR MORE? Subscribe to my newsletter and follow on Facebook, Pinterest and Instagram for all the newest recipes!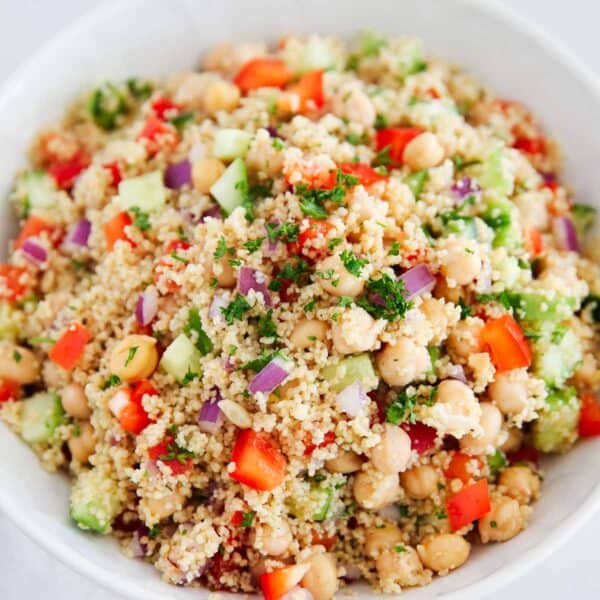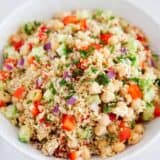 Couscous Salad Recipe
Fluffy couscous, nutty chickpeas, crunchy bell peppers, cucumbers, and sprinkled with briny feta cheese. This couscous salad is tossed in a simple homemade lemon dressing to brighten it up and add some zip to every bite!
Ingredients
Dressing
1 lemon , zested and juiced (about 3 Tablespoons juice)
½ teaspoon Kosher salt
¼ teaspoon freshly ground pepper
3 Tablespoons olive oil
Salad
2 cups cooked couscous , cooled
1 (15-ounce) can chickpeas (garbanzo beans) , rinsed and drained
½ cucumber , diced
1 red bell pepper , seeded and diced
½ pint grape tomatoes , halved
¼ cup minced red onion
2-3 Tablespoons chopped parsley , plus more to taste
Crumbled feta cheese , optional
Instructions
Dressing
In a small bowl, whisk together the olive oil, lemon zest, lemon juice, salt, and pepper.
Salad
In a medium bowl, stir together the couscous, chickpeas, cucumbers, bell peppers, tomatoes, onion, parsley, and feta, if using.

Pour dressing over salad and toss to combine. Season to taste.
---
Notes
Couscous: You can find this near the rice in the grocery store. Try Israeli or pearl couscous for a thicker grain. Extras to add in: Feel free to add in 1/4 cup sliced kalamata olives. For extra flavor add in chopped basil or mint. Make ahead: Chop veggies and make dressing, then refrigerate. When ready to serve, mix together and chill at least 15 minutes prior to enjoying. Storage: Place in an airtight container in the fridge up to 3 days.
Nutrition
Calories: 145kcal | Carbohydrates: 18g | Protein: 3g | Fat: 7g | Saturated Fat: 1g | Polyunsaturated Fat: 1g | Monounsaturated Fat: 5g | Sodium: 201mg | Potassium: 243mg | Fiber: 2g | Sugar: 3g | Vitamin A: 1084IU | Vitamin C: 43mg | Calcium: 22mg | Iron: 1mg
Nutrition provided is an estimate. It will vary based on specific ingredients used.
Did you make this recipe? Don't forget to give it a star rating below!