Quinoa black bean salad is loaded with fluffy quinoa, tender black beans, sweet corn and flavored with herbs and spices, and a squirt of lime to elevate each bite! Serve this quick and easy salad warm or chilled in a bowl or as a side!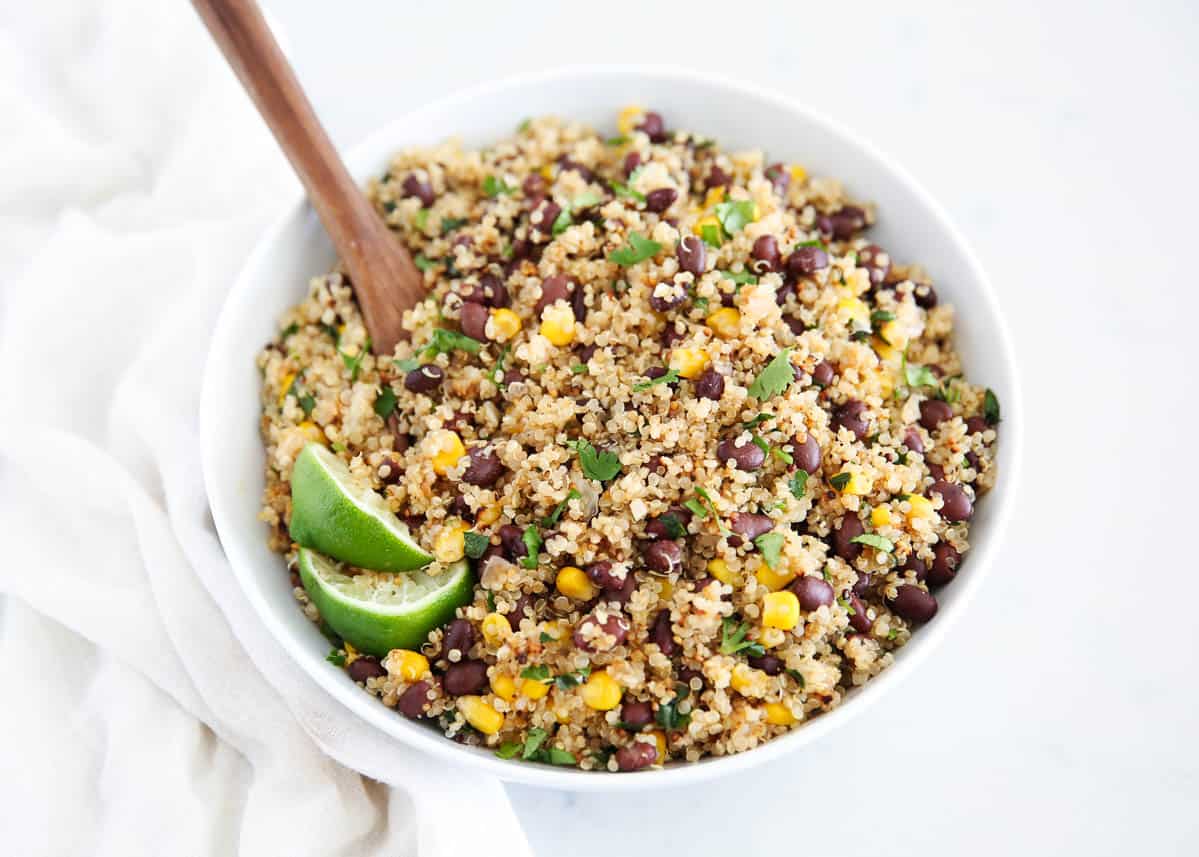 Easy Black Bean and Quinoa Salad
Nutritious and flavorful this quinoa black bean salad combines cooked quinoa, black beans, a variety of seasonings and corn. It's dressed simply with fresh cilantro and a squirt of lime juice but you can customize it with a homemade dressing if you would like. Loaded with superfoods and naturally gluten-free, it can be enjoyed as a refreshing side dish or a satisfying main course!
It's more protein packed then rice and black beans and it's one of those soul-soothing salads that makes you feel good about what you're feeding yourself and your family!
I often use it as my go-to when I'm deciding on a recipe to bring to a BBQ. It reminds me so much of my southwest quinoa salad which is probably why I make either one of them when choosing side dishes that are always crowd-pleasers.
Why You'll Love this Quinoa Black Bean Salad
Healthy. This Quinoa black bean salad is loaded with protein, fiber, antioxidants, essential amino acids, vitamins, and minerals. The veggies, aromatics, fresh herbs, and spices all deliver flavor and nutrients.
Naturally gluten-free. Also vegan/vegetarian, it's refined sugar-free, dairy-free, and uses fresh wholesome ingredients.
Versatile. You can enjoy it warm or cold, as a salad, on top of a salad, or in a wrap. It's a great way to eat complete protein if you're looking for a meatless meal.
Meal prep. Quinoa black bean corn salad is the best for meal prepping! You can make as much or as little as you need and portion it out for lunches throughout the week.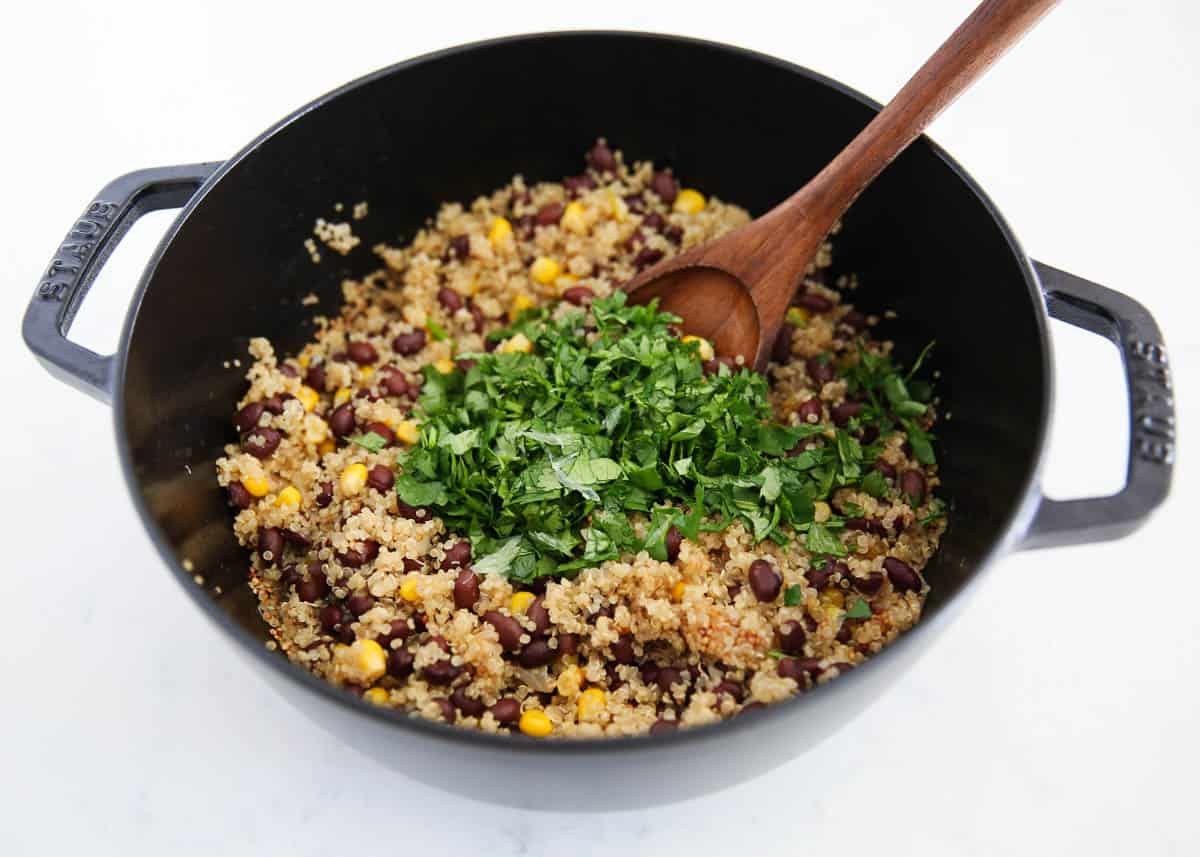 Quinoa vs Rice
They are probably more similar than they are different, but the differences are important. Quinoa, despite its many uses as a replacement for grains, isn't actually a grain at all, while rice is.
They're both naturally gluten-free and high in fiber and protein. Where they differ, other than one being a grain and the other seed is that superfood quinoa on its own is a complete protein, and rice, would need beans, for example, to form a complete protein.
Both white and brown rice has a slightly softer texture. Quinoa is a bit grittier, chewier, and has more of a bite to it. It's also got a nutty element to it.
Ingredients
Olive oil – We use this neutral-tasting extra virgin olive oil to sauté the onions and garlic initially.
Aromatics – Chopped onion and minced garlic. Here's where I share neat tips on how to mince garlic, not just for this recipe but for any recipe that requires it.
Uncooked quinoa – Quinoa expands, just like rice does. Once you know how to cook quinoa you'll start using it all the time. It's a change from your everyday rice!
Water – Quinoa needs water to cook. It absorbs the liquid and becomes fluffy and slightly chewy. You can substitute the water for vegetable broth if preferred. It will add a bit more flavor.
Seasoning – Salt, ground black pepper, ground cumin. Cumin is a popular warm spice used in a lot of Tex Mex recipes.
Corn – I use frozen sweet corn because it's quick and easily accessible, but sometimes I take it up a notch and use grilled corn. That delicious smoky char adds a new layer!
Black beans – Drained and rinsed.
Fresh cilantro and lime juice – The zesty, herbaceous finish to this otherwise earthy robust salad. So good!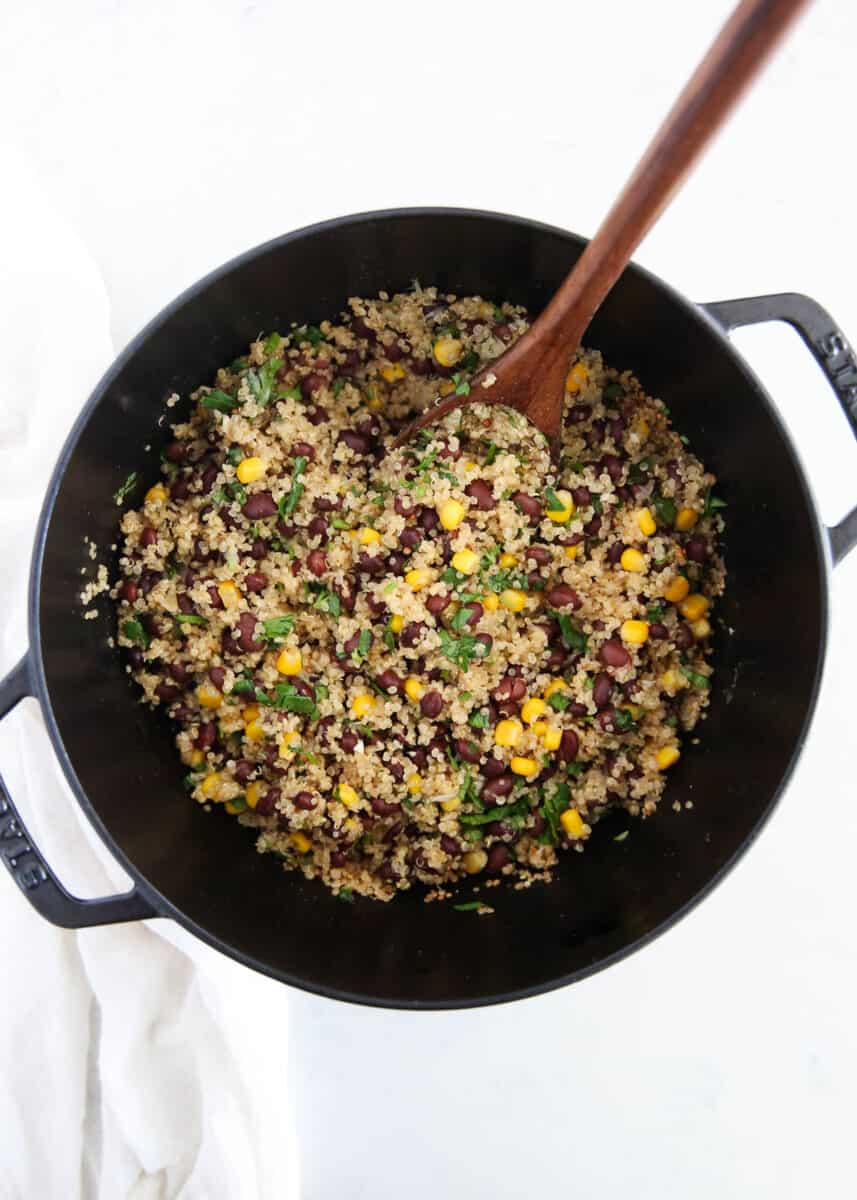 How to Make Quinoa and Black Bean Salad
You'll end up craving this quinoa salad recipe over and over again. It's a good thing it comes together in 45 minutes, and less if you're using already cooked quinoa!
Sauté aromatics. Start by heating the oil in a medium saucepan and sauté the onion for about 4-5 minutes until tender, followed by the minced garlic.
Cook quinoa. Toss the quinoa into the same saucepan and cover it with water. Bring it to a boil, reduce the heat to low, and cover it while it simmers. If this sounds similar to cooking rice, it is!
Add corn and beans. Once the liquid has been absorbed, use a fork to fluff up the quinoa a bit, and loosen it up so it doesn't stay clumped together. Then add in the corn and black beans.
Allow everything to sit. Cover the pot, and remove it from the heat. The residual heat will warm the corns and beans through, without them getting mushy.
Mix everything. Stir in the cilantro and lime juice, a little salt and pepper to taste, and give everything a mix. Do a little taste test and decide if you want a little extra salt or lime juice.
Add A Dressing!
Mix 1-2 Tablespoons of olive oil, 1 Tablespoon of lime juice, and a pinch of ground cumin. Drizzle over top the salad and toss to combine. A creamy avocado lime dressing or cilantro lime dressing would also taste delicious on top!
Tasty Additions
To add more of a flavor punch and even more colors, consider adding any of the following:
FAQs
Do I need to rinse quinoa?
More often than not, quinoa comes pre-rinsed. If not, it should mention in the instructions on the package. Either way, some people do prefer to rinse and drain the quinoa anyway, and that's fine too.
What does quinoa taste like?
Quinoa is touted as a superfood, so even though it's got a nutty flavor to it and is a bit chewy, it's still mild and mellow enough to take on so many other ingredients and flavors. It's kind of a cross between brown rice and steel-cut oats.
How to store quinoa black bean salad?
This salad will keep fresh in the fridge for up to 3 days in an airtight container.
Can I make this salad ahead of time?
Yes! I love using this salad for meal prep ideas. It can be made ahead and kept in the fridge until you're ready to serve. That's one of the best things about this delicious recipe is that it works as a cold dish or served warm!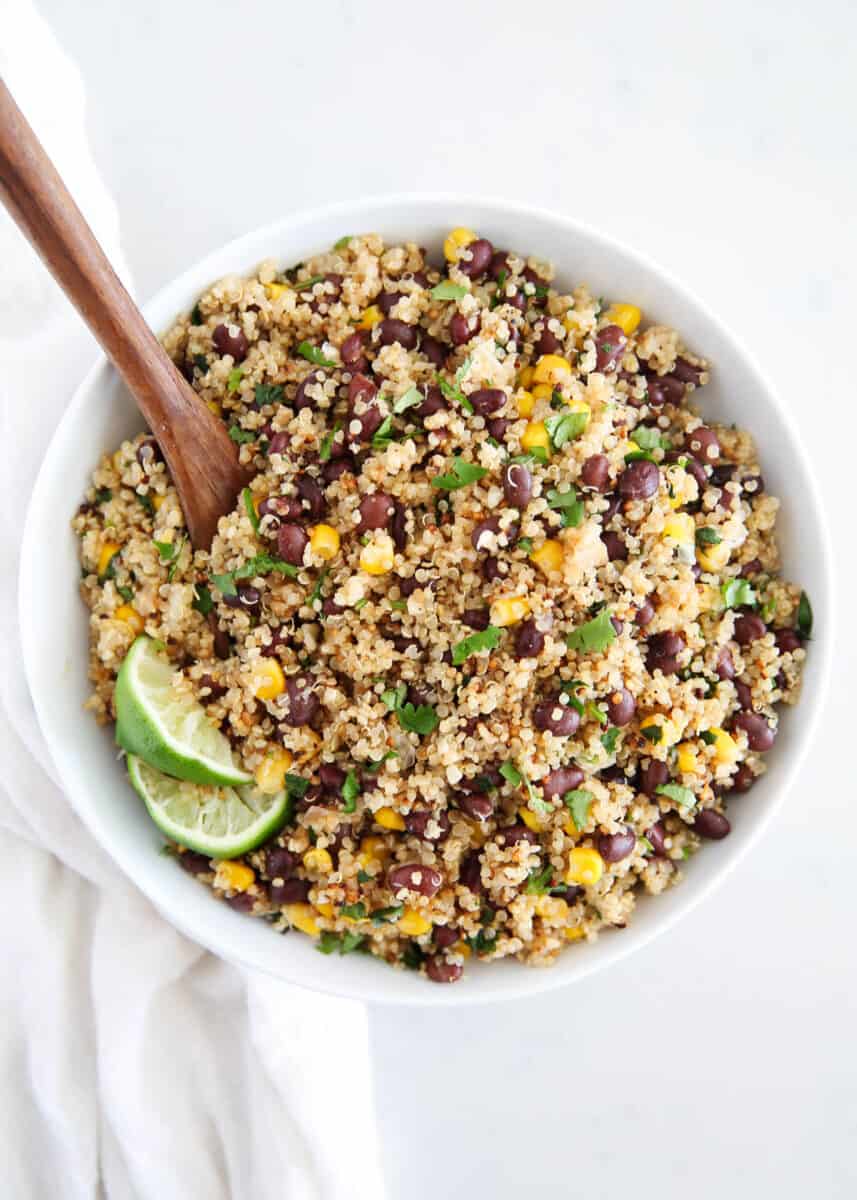 More Potluck Salads
HUNGRY FOR MORE? Subscribe to my newsletter and follow on Facebook, Pinterest and Instagram for all the newest recipes!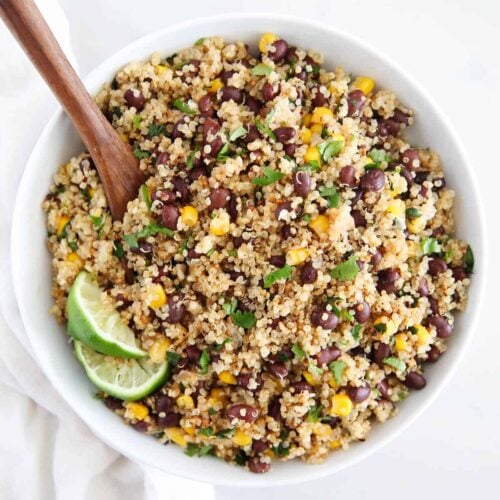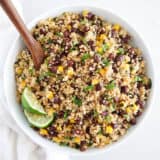 Quinoa Black Bean Salad
Quinoa black bean salad is loaded with fluffy quinoa, tender black beans, sweet corn and flavored with herbs and spices, and a squirt of lime to elevate each bite! Serve this quick and easy salad warm or chilled in a bowl or as a side!
Ingredients
1-2 Tablespoons olive oil
1 cup chopped yellow onion
3 cloves garlic , minced
1 cup uncooked quinoa
2 cups water or vegetable broth
¼ teaspoon ground cumin
¾ teaspoon Kosher salt , plus more to taste
¼ teaspoon freshly ground pepper , plus more to taste
1 cup frozen sweet corn
1 (15-ounce) can black beans , drained and rinsed
½ cup cilantro , chopped
1 lime , juiced
Instructions
In a medium saucepan, heat the olive oil over medium heat. Stir in the onion and sauté until tender, about 4 to 5 minutes. Add the garlic and cook until fragrant, 1 to 2 minutes more.

Add the quinoa and cover with water. Stir in the cumin, salt, and pepper. Bring to a boil and cover the pan. Reduce heat to low and simmer 15 minutes, or until the liquid is absorbed.

Stir in the corn and black beans. Cover the pan and remove from heat. Let sit 5 minutes, or until the corn and beans are heated through.

Stir in the cilantro and lime juice. Season with salt and pepper, to taste. Add extra lime juice, if desired. Serve warm or cold.
---
Notes
To store: Place in an airtight container and refrigerate up to 3 days. Variation: Another delicious variation is to add in red onions or chopped bell peppers to add a punch. Also, if you'd like more of a dressing on top, mix together 1 to 2 Tablespoons olive oil, 1 Tablespoon lime juice, and a pinch ground cumin. Drizzle over the top and toss. To make ahead: The salad can be made ahead and served chilled.
Nutrition
Calories: 260kcal | Carbohydrates: 45g | Protein: 12g | Fat: 5g | Saturated Fat: 1g | Polyunsaturated Fat: 2g | Monounsaturated Fat: 2g | Sodium: 295mg | Potassium: 533mg | Fiber: 10g | Sugar: 3g | Vitamin A: 173IU | Vitamin C: 7mg | Calcium: 48mg | Iron: 3mg
Nutrition provided is an estimate. It will vary based on specific ingredients used.
Did you make this recipe? Don't forget to give it a star rating below!