Fresh chopped cucumbers, tomatoes, red onions, feta cheese and herbs tossed in a tangy red wine vinaigrette. This cucumber tomato salad is healthy, light and loaded with flavor. It makes the perfect summer side dish!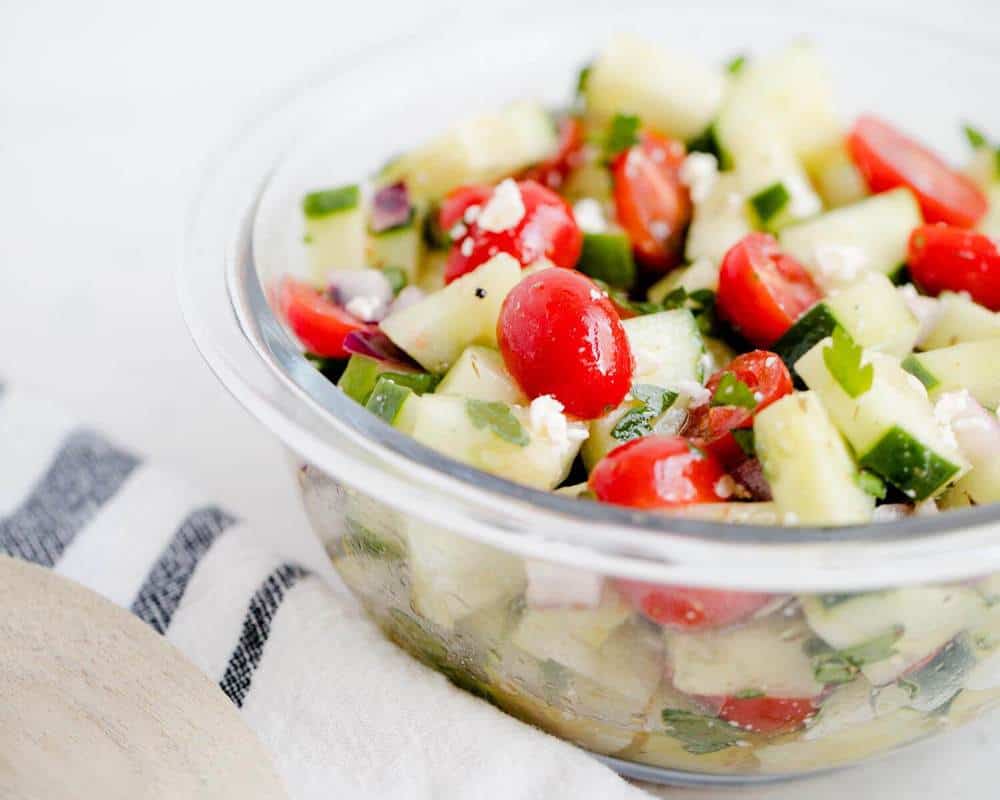 Tomato Cucumber Salad
Potlucks salads are one of my favorite recipes to bring to a BBQ. They're easy, quick and always loved by all. This cucumber and tomato salad is a favorite, as well as broccoli salad with bacon, pasta salad, macaroni salad and loaded potato salad.
Summer time is right around the corner and you better believe this easy cucumber tomato salad will be making an appearance in my kitchen on a regular basis! Topped with a yummy homemade vinaigrette and feta cheese, this recipe is packed with a punch of flavor and filled with lots of veggies!
One of my favorite parts about summer is growing my own garden. I love to plant my own fresh herbs and vegetables, especially cherry tomatoes, cucumbers and parsley. This recipe is a great way to use up our fresh produce and incorporates lots of cucumbers, which are my kids' favorite vegetable. WIN!
It also saves really well…just refrigerate and let the flavors marinate together even more. Great for leftovers the next day. So easy and yummy! The perfect summer salad recipe.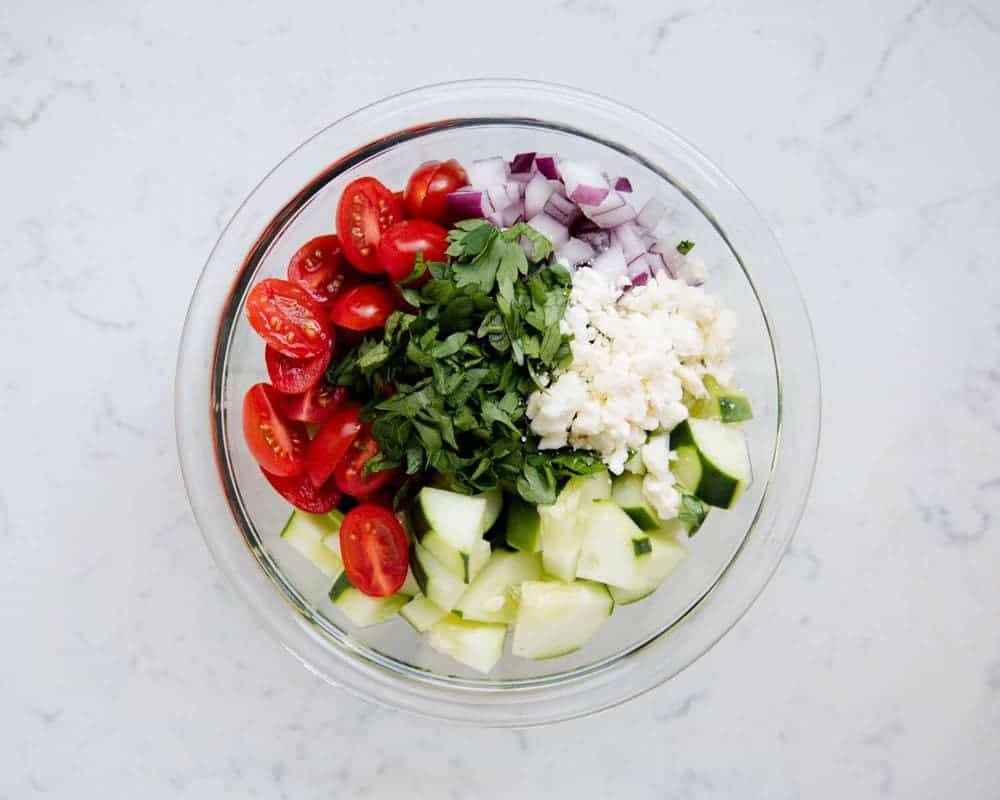 Tips for the Best Cucumber and Tomato Salad
Look for fresh veggies. This dish is perfect to make in the summer, when cucumbers and tomatoes are in their peak season. Look for tomatoes that have a sweet smell, are bright red in color and give just a little when you press into them. Ripe cucumbers should have a medium to dark green skin and should feel firm to touch.
Slice evenly. When slicing the vegetables, make sure to dice them into similar size pieces. This way you get the most flavor in every bite. I like to slice my grape tomatoes in half and then quarter the cucumbers with a pairing knife. I also peel some skin off of the cucumbers, but not all.
Let marinate. After tossing the salad in the dressing, make sure to let it marinate in the refrigerator for at least 15 minutes prior to serving. The longer it marinates, the more flavor it will have.
Variations
Another great thing about this salad is that it's SO versatile! Add in some sliced olives or chickpeas to make it a Greek salad or even cook some pasta or chicken to mix in and serve as a main course.
Add in extras like olives, chickpeas or sliced avocado
Swap out the parsley with fresh basil or dill
Use balsamic vinegar instead of red wine vinegar
Substitute mozzarella balls for crumbled feta
Mix in cooked pasta or grilled chicken to bulk it up (you may want to make more dressing)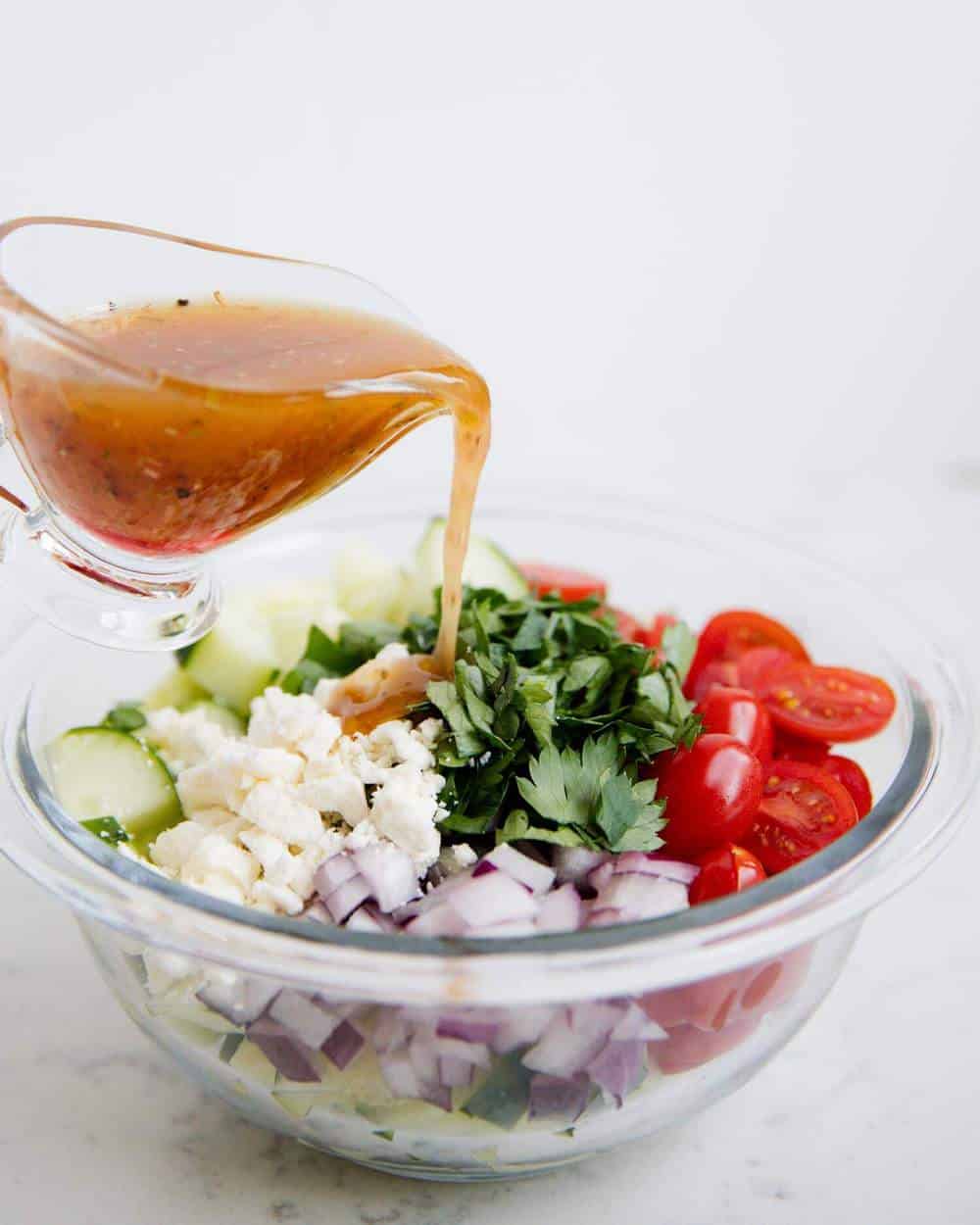 Storage
Simply place in an airtight container and keep in fridge for up to 3 days. Make sure to give it a big stir before enjoying. You might also want to drain some of the juices if the mixture is getting a little too watery.
FAQs
Can I make this salad ahead of time?
If you'd like to make it ahead of time (such as the night before), I'd recommend chopping the veggies and making the dressing beforehand. Then on the day of serving, mix together the veggies and dressing and chill until ready to enjoy.
Should you peel cucumbers for a salad?
If you are using a garden cucumber that has a thick skin with a waxy coating, it's best peeled before adding it to the salad. Persian or English cucumbers have a thin skin with a mild flavor, so they can just be washed, cut and used in the salad.
What should I serve this tomatoes and cucumbers salad with?
This is a great side dish for all your summer parties and entertaining as it goes with just about anything. Serve it with anything from grilled shrimp to even BBQ pulled pork!
More Fresh Summer Salads
HUNGRY FOR MORE? Subscribe to my newsletter and follow on Facebook, Pinterest and Instagram for all the newest recipes!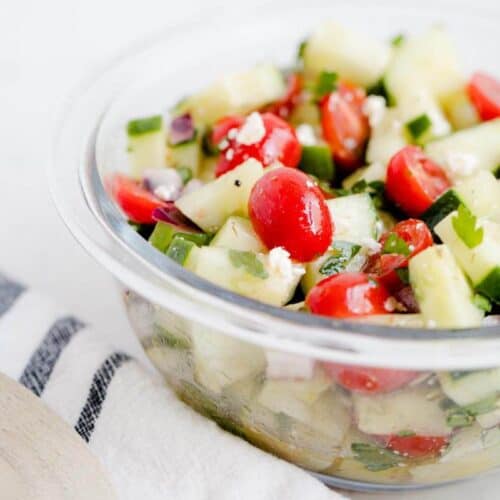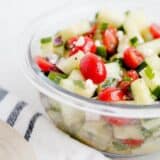 Cucumber Tomato Salad
Fresh chopped cucumbers, tomatoes, red onions, feta cheese and herbs tossed in a tangy red wine vinaigrette. This cucumber tomato salad is healthy, light and loaded with flavor. It makes the perfect summer side dish!
Ingredients
¼ cup olive oil
3 Tablespoons red wine vinegar
½ teaspoon dried oregano
2 cucumbers , quartered
½ pint grape tomatoes , halved
¼ cup chopped red onion
3 Tablespoons chopped parsley (or basil)
1-2 ounces crumbled feta cheese
S&P, to taste
Instructions
Whisk together the olive oil, vinegar and oregano in a small bowl. Salt and pepper to taste. Set aside.

Combine the cucumbers, tomatoes, onion, parsley and feta in a medium-sized bowl.

Then pour the vinaigrette over the top and toss until combined. Add more feta, parsley and S&P to taste. Refrigerate at least 15 minutes before serving.
---
Notes
Extras to add in: Feel free to add in 1/4 cup sliced olives and 1/2 cup chickpeas to turn into a Greek salad. You may also add in sliced avocado if preferred. To store: Place in an airtight container and refrigerate for up to 3 days. To make ahead: Chop veggies and make dressing, then refrigerate. When ready to serve, mix together and chill at least 15 minutes prior to enjoying.
Nutrition
Calories: 116kcal | Carbohydrates: 5g | Protein: 2g | Fat: 10g | Saturated Fat: 2g | Cholesterol: 4mg | Sodium: 59mg | Potassium: 250mg | Fiber: 1g | Sugar: 3g | Vitamin A: 590IU | Vitamin C: 11.8mg | Calcium: 47mg | Iron: 0.6mg
Nutrition provided is an estimate. It will vary based on specific ingredients used.
Did you make this recipe? Don't forget to give it a star rating below!