Pesto Salad w/ chicken, feta & tomatoes
Thanks for stopping by! To get the newest recipes subscribe or join us on facebook. Also check out our recipe box for more yummy recipes.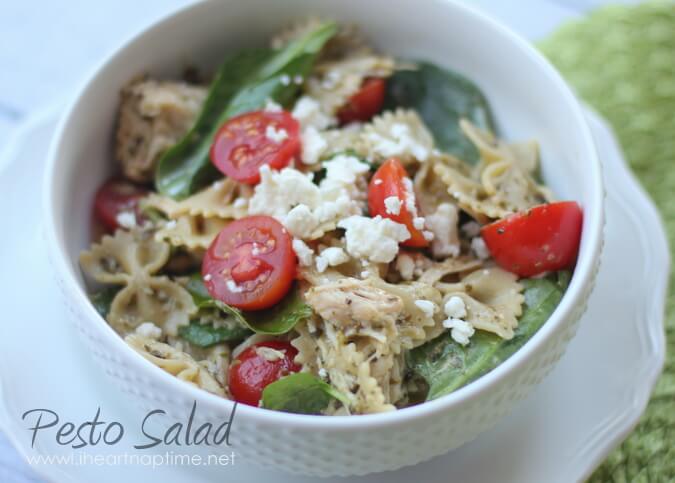 Okay so have you ever tried a recipe and then just had to have it as soon as you got home? Me, me, me!
A few weeks ago I met up with a few girlfriends for a lunch play date and one of my friends brought the most delicious pesto salad. We all raved over it's yumminess! The next time I went to the store I picked up some pesto so I could re create that amazing pesto salad. I ended up just guessing what was in the recipe and it turned out DELICIOUS! This salad is totally healthy and even the hubs loved it! We even ate it for leftovers and enjoyed every bite. It's that good! This salad would be great for a party, shower or even as a side dish without the chicken.

MY OTHER RECIPES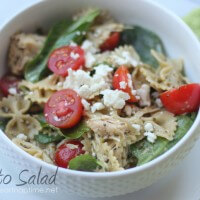 Pesto Salad w/ chicken, feta & tomatoes
Ingredients:
1 pkg bow tie pasta whole wheat or plus
1 TB olive oil
1 cup basil pesto jarred or homemade
1/4 cup Italian dressing
1 cup chicken grilled, can, rotisserie
2 cups spinach
1 pint cherry tomatoes
1/2 cup feta cheese
Directions:
1. Cook the bow-tie pasta according to package directions in a large pot of salted water. Drain the pasta and run it under water. Drizzle with olive oil and stir around.
2. Put the pasta in a large serving bowl and stir in the pesto and Italian dressing. Add the spinach, chicken, tomatoes and feta cheese. Toss to combine. Salt and Pepper to taste.
3. Cover the pasta and refrigerate. If the pasta seems dry before serving, you can stir in another tablespoon of olive oil.
ENJOY! :)
P.S. You could also try a ranch packet mixed with sour cream or greek yogurt instead of the italian dressing. Come to find out, that's what my friend used.
Thanks for reading. Come back soon!
Join in! Leave a comment!
Comments