Greek Chicken Burger Recipe
Greek-Style Chicken Burger… a chicken burger stuffed with feta cheese, red pepper, parsley, garlic, red onion and seasonings. This burger is light on calories without sacrificing flavor.
Summer time equals grilling at my house. What's not to love about backyard family cookouts? Seriously, I love nothing more and am soaking up every day of summer and sunshine.
The weather is so nice in Ohio right now, I'd be crazy to not be outside in the evenings. Let's be honest, we're usually outside more than that. We love taking mini walks around the neighborhood throughout the day. Anything to get my kids' wiggles out.
I am so excited to share this delicious recipe with you today. I made this chicken burger with Flatout  Foldit Flatbread, who I have partnered with today… and I am obsessed! I mean, how could you not be?
The Greek flavors added the perfect touch to a classic chicken burger. The red peppers, parsley, red onion and feta cheese enhanced the flavor so much!
I wasn't sure if my kids were going to like these burgers, but they were a hit with the whole family! The best part about this recipe, is that you can have dinner on the table in 20 minutes!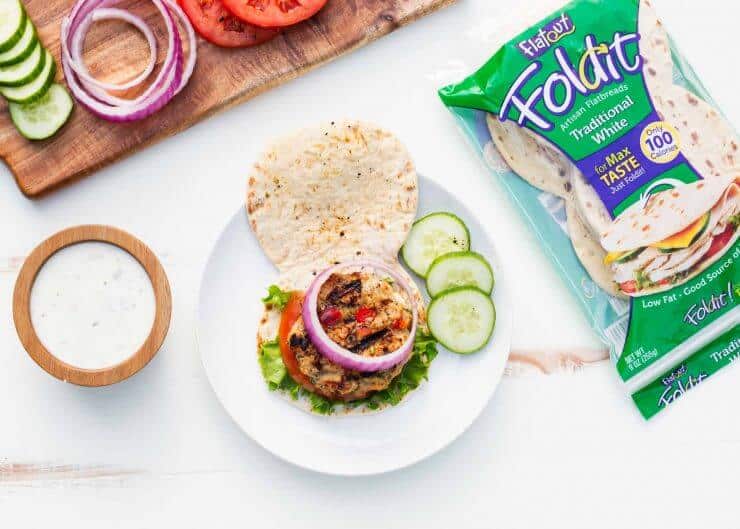 These Greek Chicken Burgers are so easy to make!
You're going to start with ground chicken, red peppers, feta cheese, fresh chopped parsley, minced garlic, kosher salt, dried oregano and ground black pepper. Once it's combined, you can shape your patties.
Then you're going to grill the patties for about 4 to 5 minutes per side.
We served our chicken burgers inside the Flatout Foldit Flatbread with sliced red onions, tomatoes, cucumbers, lettuce and tzatziki sauce. SO, so good!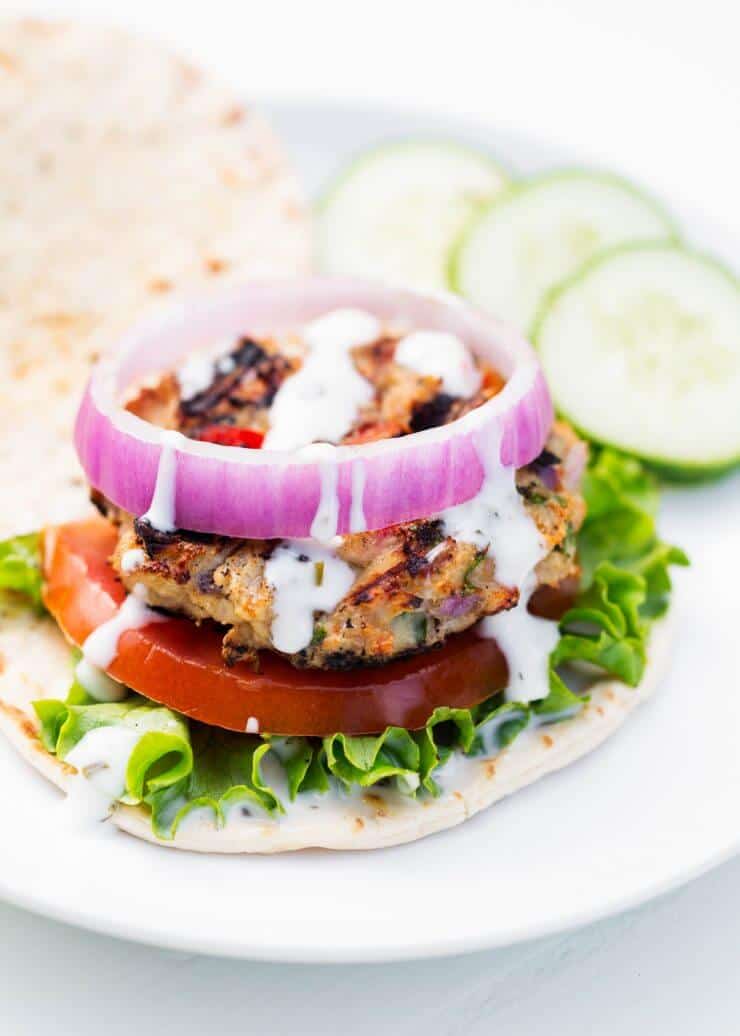 Definitely the perfect summer weeknight meal for BBQ with friends and family.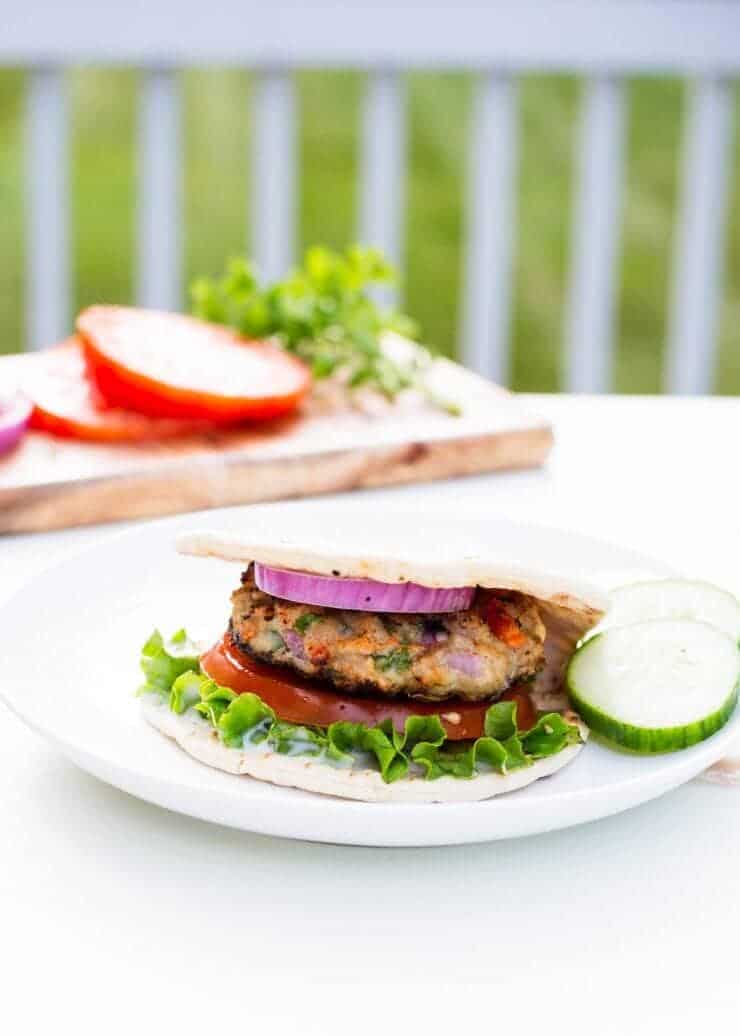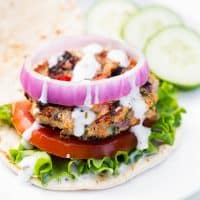 Greek Chicken Burgers
Yield: 4 burgers
Prep Time: 10 minutes
Cook Time: 10 minutes
Total Time: 20 minutes
Ingredients:
1 pound ground chicken
1/4 cup chopped red peppers
3 Tablespoons feta cheese
2 Tablespoons fresh chopped parsley
1 teaspoon (or 2 cloves) minced garlic
1 1/2 teaspoon kosher salt
3/4 teaspoon dried oregano
1/4 teaspoon ground black pepper
Flatout Foldit Flatbread
Optional toppings: Sliced red onions, sliced tomatoes, sliced cucumbers, lettuce, tzatziki or dill sauce
Directions:
Turn on the grill to medium heat.
Place the chicken, peppers, cheese, parsley, garlic, salt, oregano and pepper into a bowl. Stir until combined and then shape into 4 patties. Place on the grill and cook each side for 4 to 5 minutes, or until the inside is no longer pink.
If you don't have access to a grill, these can also be baked. Preheat the oven to 375°F and cook on a baking sheet for 20 to 25 minutes, or until cooked through.

ENJOY! :)
This post was brought to you by Flatout. All opinions are 100% my own. To find the Flatout Flatbread near you, click HERE.
For more recipes using Flatout Flatbread click HERE. I am super excited to try this quick fix Margherita pizza -my fave!
Which recipe are you excited to try?
Join in! Leave a comment!
Comments