This easy cauliflower tomato soup is thick, creamy and full of flavor. The perfect healthy soup recipe that's comforting and delicious!
Whenever we're trying to eat more veggies, this cauliflower and tomato soup recipe is always a go-to. It's super simple to make and has tons of flavor. Other veggie-filled favorites are minestrone, cheeseburger soup and hearty vegetable soup.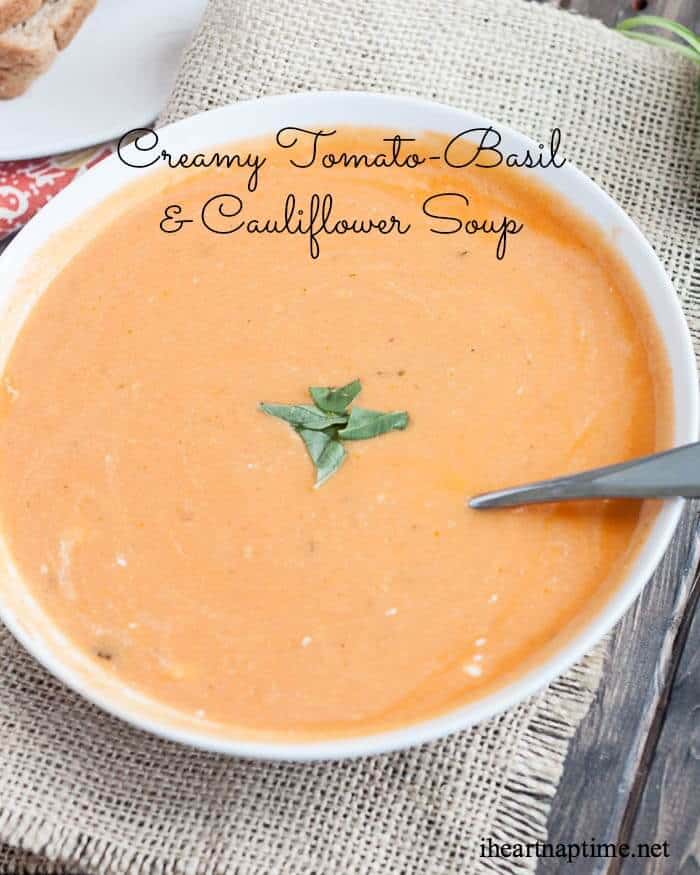 If you're craving a comforting soup recipe as much as I am this time of year, this dish is perfect for you. This tomato-basil and creamy cauliflower soup is the perfect bowl of soup to warm up to on a chilly night. It's so thick and creamy and full of flavor, you'll love it!
One of my favorite restaurants has the best tomato basil soup and the best cauliflower soup. When I go there, I like to put half of each in a bowl and mix them together. That's where the inspiration for this cauliflower tomato soup comes from.
I tried to keep it light and healthy for us, so instead of using heavy cream like most tomato soups do – I used greek yogurt to help make it rich and creamy. The end result was so delicious!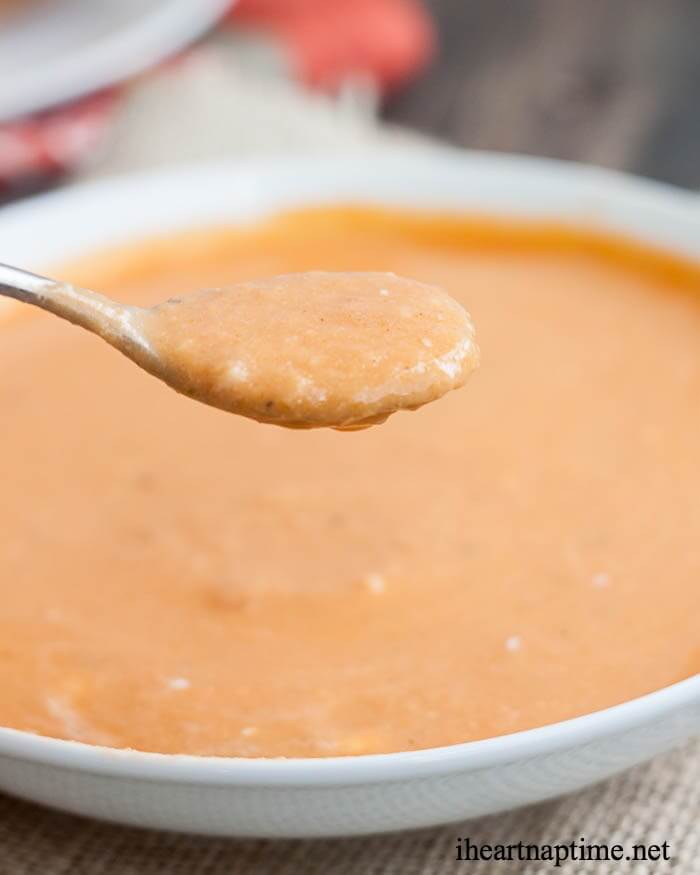 Cooking tips
I used greek yogurt to add creaminess, yet keep it on the lighter side. You could sub the yogurt with heavy cream for an even thicker consistency if preferred.
For even more flavor, you could roast your cauliflower first. Simply season it with a little olive oil, salt and pepper and roast in oven at 400ºF for 25 to 30 minutes (flipping halfway through). Then add to soup according to directions and let simmer for about 5-10 minutes.
If you don't have an immersion blender, feel free to use a regular blender. Just make sure to pour the soup into the blender in two batches so it doesn't overflow!
I like to garnish my soup with more chopped basil and a drizzle of sour cream. It adds great flavor and looks so pretty!
More healthy soup recipes: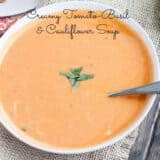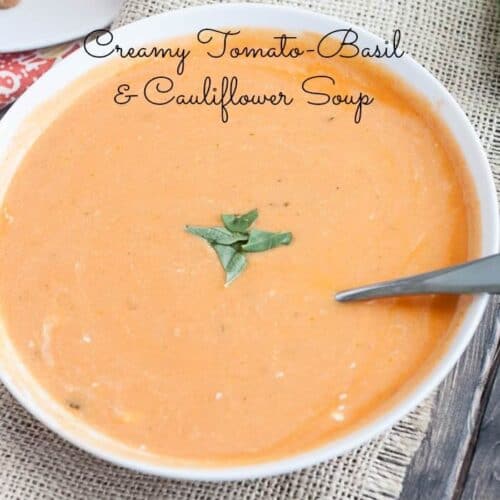 Cauliflower Tomato Soup Recipe
This easy cauliflower tomato soup is thick, creamy and full of flavor. The perfect healthy soup recipe that's comforting and delicious!
Ingredients
1/2 head of cauliflower , chopped
28 ounces diced tomatoes (or 4 cups freshly diced tomatoes)
32 ounces chicken stock , or vegetable stock
1 cup greek yogurt
2 Tablespoons butter
1/2 onion , chopped
1 Tablespoon minced garlic
1/3 cup chopped basil
5 ounces shredded asiago cheese
Reduced fat sour cream , optional (for garnish)
Instructions
In a large soup pot, melt the butter. Add onions and garlic and saute 3-5 minutes, or until translucent.

Add chopped cauliflower and saute another 2-3 minutes. Add chicken stock (should cover cauliflower). Let simmer for 15-20 minutes or until cauliflower is tender.

Add diced tomatoes, chopped basil and greek yogurt. Let simmer for 5 minutes.

Using an immersion blender, blend soup until creamy and there are no lumps. (You can also pour the soup into a blender in two batches, and blend until smooth. Then pour back into the pot.)

Once blended, add 5 ounces asiago cheese, and salt and pepper to taste. Let simmer for another 15-20 minutes, stir to combine melted cheese.

Ladle the soup into bowls and garnish with basil, cheese and sour cream if desired.
---
Calories: 173kcal | Carbohydrates: 10g | Protein: 12g | Fat: 9g | Saturated Fat: 5g | Cholesterol: 24mg | Sodium: 492mg | Potassium: 387mg | Fiber: 1g | Sugar: 5g | Vitamin A: 395IU | Vitamin C: 13.7mg | Calcium: 278mg | Iron: 1.4mg
Photography and recipe contributed by Kristy from Sweet Treats & More for I Heart Naptime.