Thick, creamy, and infused with soul-soothing warm spices, this creamy pumpkin soup with canned pumpkin is a one-pot recipe that will feed and nourish your entire family quickly and easily!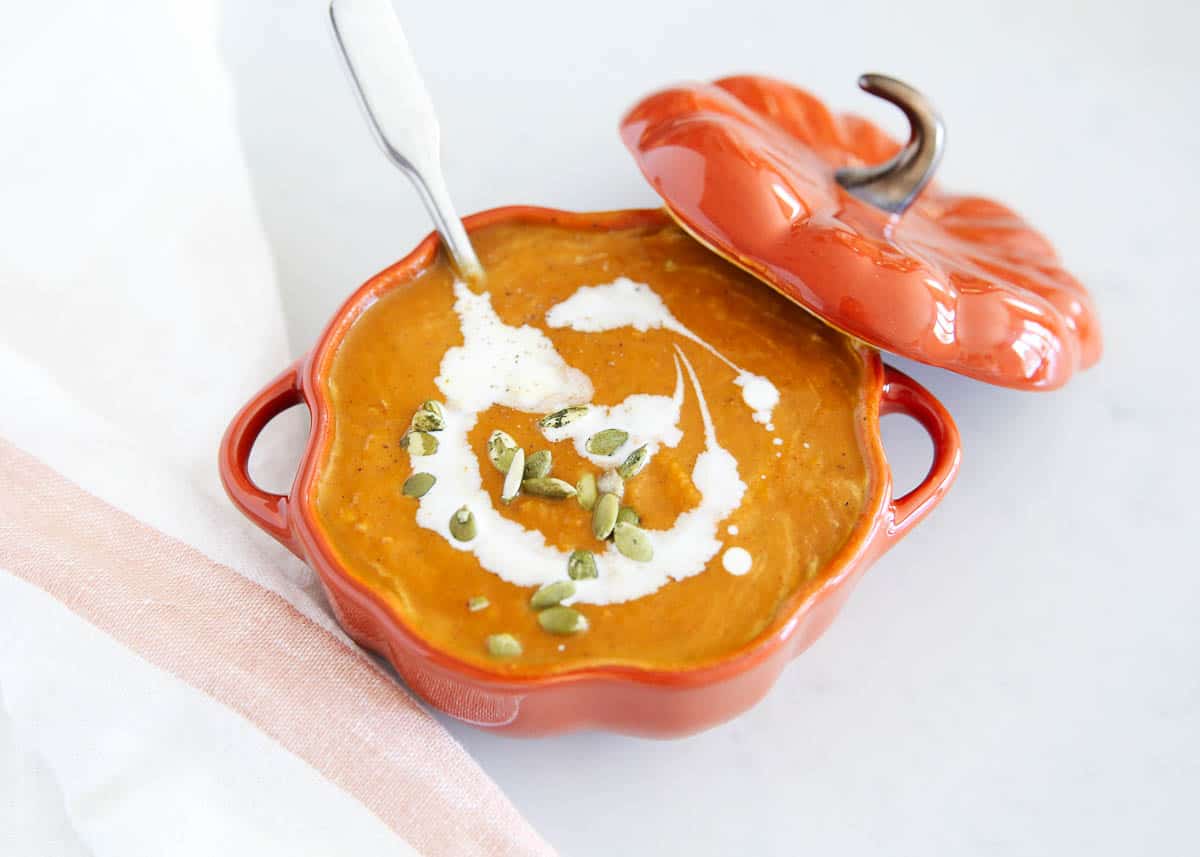 Easy Pumpkin Soup
Pumpkin soup with canned pumpkin puree is a quick and delicious alternative to this classic fall soup when you don't have the time to roast a pumpkin. When the cool weather approaches it's nice to have the same comforting cozy fall flavors we all love, in a fraction of the time it would normally take. I'm talking 25 minutes!
While I'm typically typically baking my favorite pumpkin chocolate chip cookies and pumpkin blondies, it's fun to do a savory dish every once in a while.
This sweet and savory creamy pumpkin soup recipe is one of the best pumpkin recipes because not only is it super flavorful and healthy, but it's got the perfect balance of savory and a hint of sweet. It showcases the true essence of this winter squash in one perfect bowl of soup!
Why We Love This Recipe
Healthy. Canned pumpkin soup is dairy free and delivers a ton of fiber, vitamins, minerals, antioxidants, and healthy fats. It's the kind of immune-boosting recipe you'll want to keep around all season!
Quick and easy. If you are short on time, or you just happen to be the person who stocks up on canned pumpkins with no real plan for them, this soup is for you! Sure, fresh purée can be used and it's great and all, but this soup is just as delicious and even easier.
Versatile. Enjoy it as a main meal with a side of crusty French bread or on any day of the week, or as a starter or side as part of a larger holiday meal. This soup would also be delicious with my cornbread croutons on top. Keep this one handy for your Thanksgiving menu or Christmas dinner!
Recipe Ingredients
The beauty of making pumpkin soup with canned pumpkin is that there's no heavy lifting required! Pop the can open, dump it in the pot and then add a few more flavorful ingredients to give it the perfect creamy texture and flavor.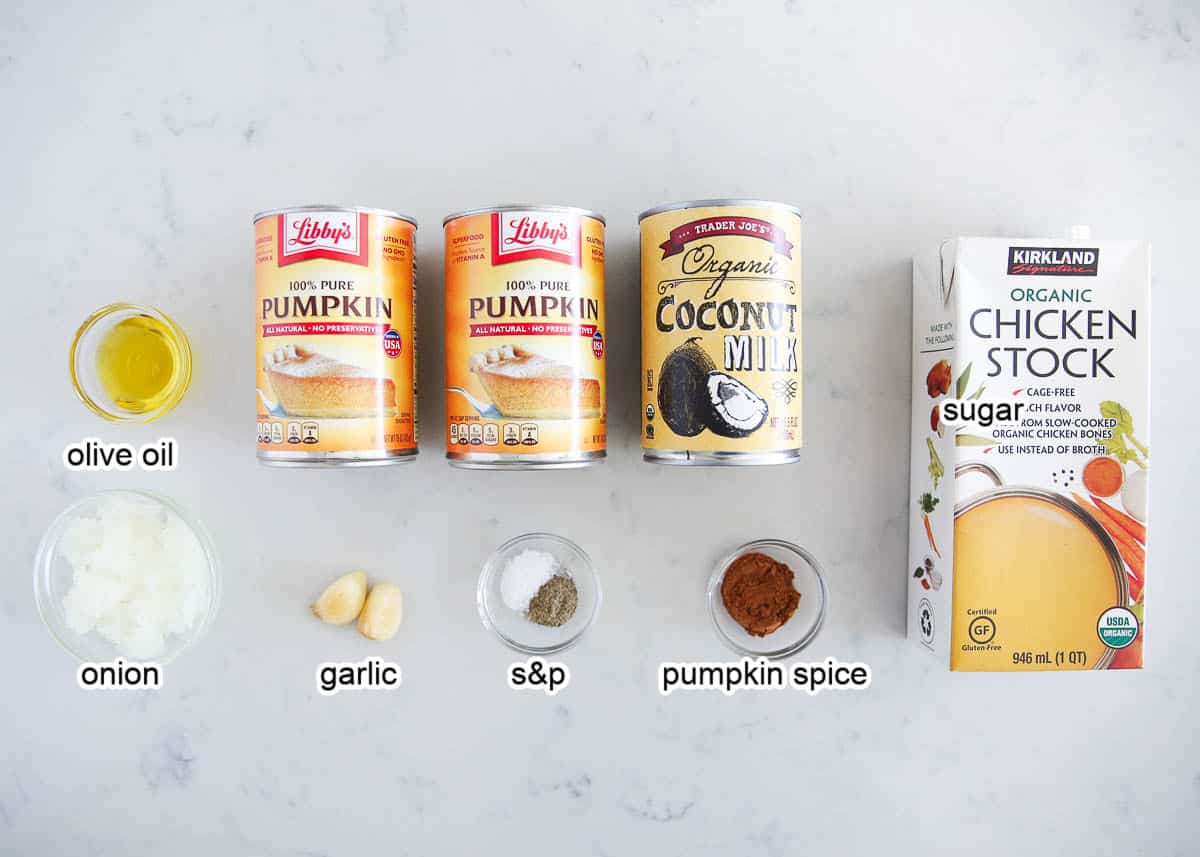 Find the full printable recipe with specific measurements below.
Pure pumpkin puree: This creamy pumpkin soup recipe is meant to take a bit of a shortcut to save time, but if you have extra time to make homemade pumpkin puree, go for it. I have added details on how to get started on roasting the pumpkin which adds a delicious flavor.
Stock: Chicken broth or stock delivers great flavor, but to keep it vegan, you can use vegetable stock.
Coconut cream: You can buy this separately on its own, or use the cream that you find at the tops of the cans of whole coconut milk.
Classic spices: Making a homemade blend of pumpkin pie spice is super simple. It's a combination of everyday spices such as cinnamon, nutmeg, ginger, cloves, and if you'd like, allspice. A store-bought spice blend is great too.
How to Make Creamy Pumpkin Soup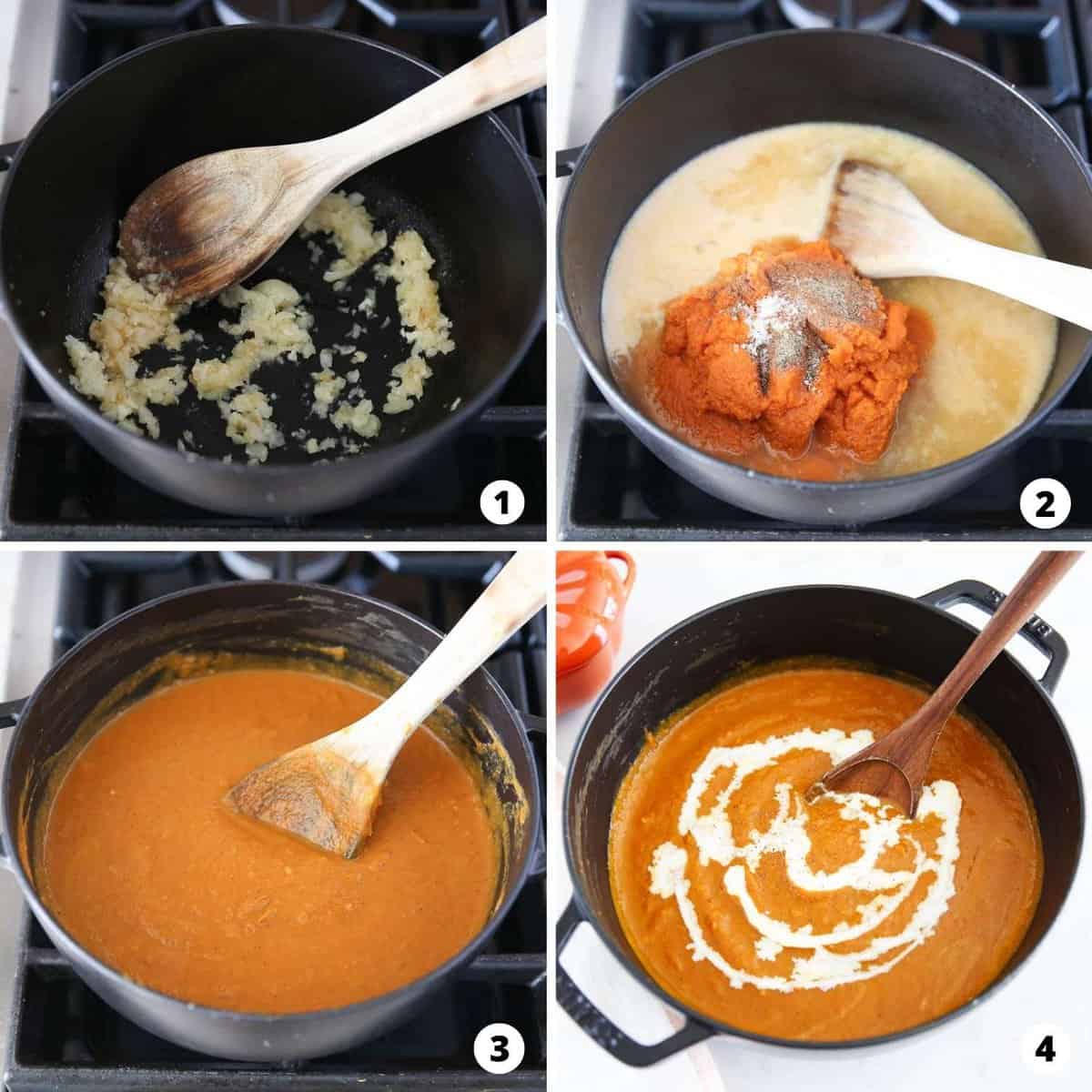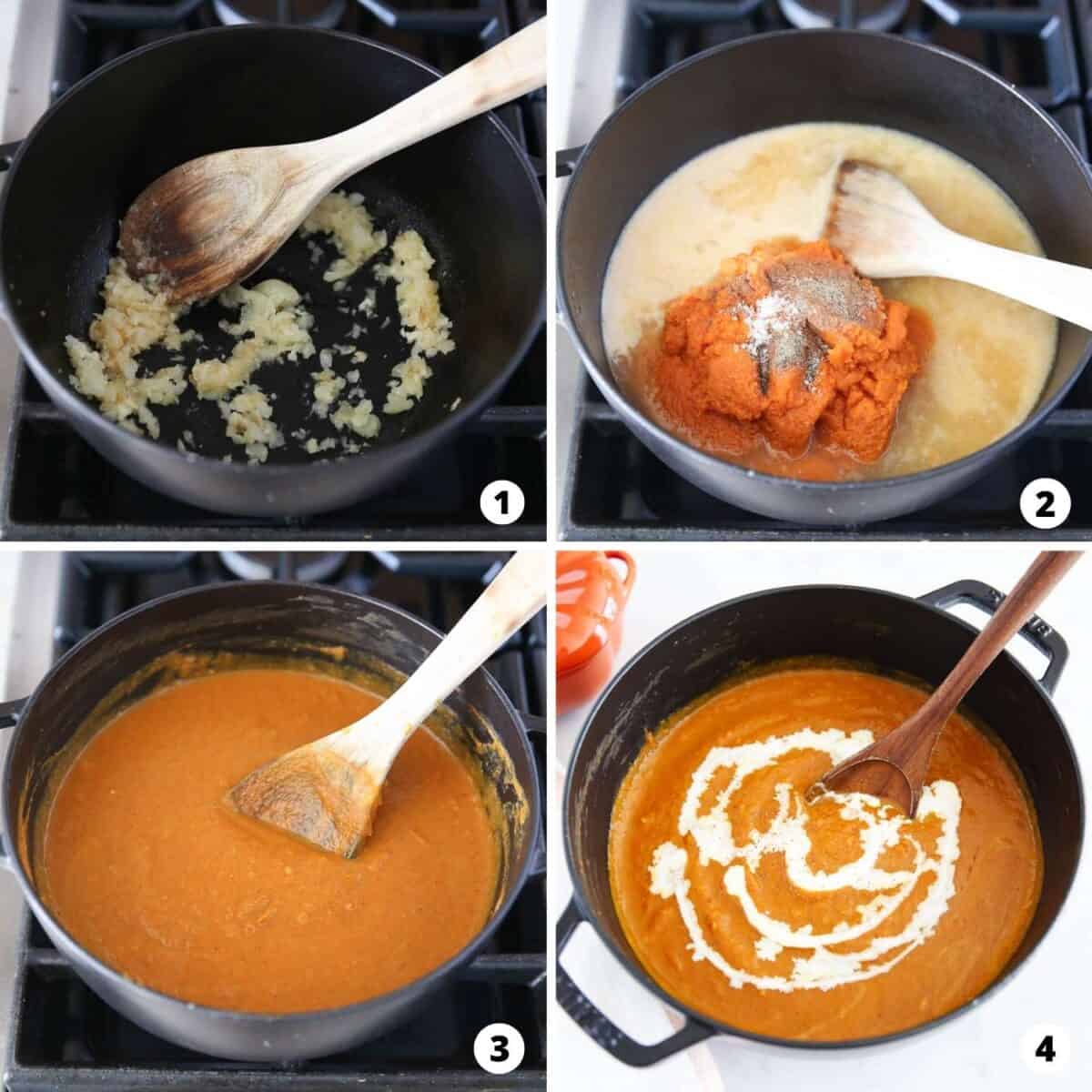 Sauté onion and garlic: Heat olive oil on the stovetop over medium heat and cook the onion first until translucent. Knowing how to cut an onion beforehand makes this process even easier. That way the oil isn't getting too hot while waiting for you to do your chopping. The same for tips on how to mince garlic. It cooks faster than the onion, so having it ready on hand means nothing burns!
Add remaining ingredients. Into the pot, stir in the stock, pumpkin, coconut cream, spices, salt, and pepper, and bring it to a light boil. Then, reduce the heat to low and simmer for 5-7 minutes until heated through. Stir frequently.
Purée the soup. This is optional if you don't mind the bits of onion. If you want to, you can use an immersion blender right in the pot or transfer it to a blender, which you'll probably have to do in batches.
Serve. Drizzle with extra coconut cream on top and garnish with fresh herbs, roasted pumpkin seeds, and a dash of pepper if desired.
How to Roast A Pumpkin
(see recipe card for detailed instructions)
If you'd like to try your hand at making homemade purée, here's how to get started:
Cut a sugar pumpkin (the kind you use for pies) into quarters.
Place wedges on a parchment-lined baking sheet and drizzle with oil.
Roast in the oven for 35 minutes at 425°F until easily pierced with a fork.
Allow it to cool before you purée it.
Expert Tips
Without coconut milk. If you don't mind dairy and prefer to use it, swap out the coconut milk for heavy cream or even heavy whipping cream instead.
Replace the pumpkin. Keep this canned pumpkin soup recipe handy, and use it the same with puréed butternut squash instead. A different, yet similar, flavor! You can also make creamy sweet potato soup the same way too.
Use an immersion blender. If you have one, I suggest using it over transferring the soup to a blender. It is so much easier to clean up, and you don't have to work in batches either.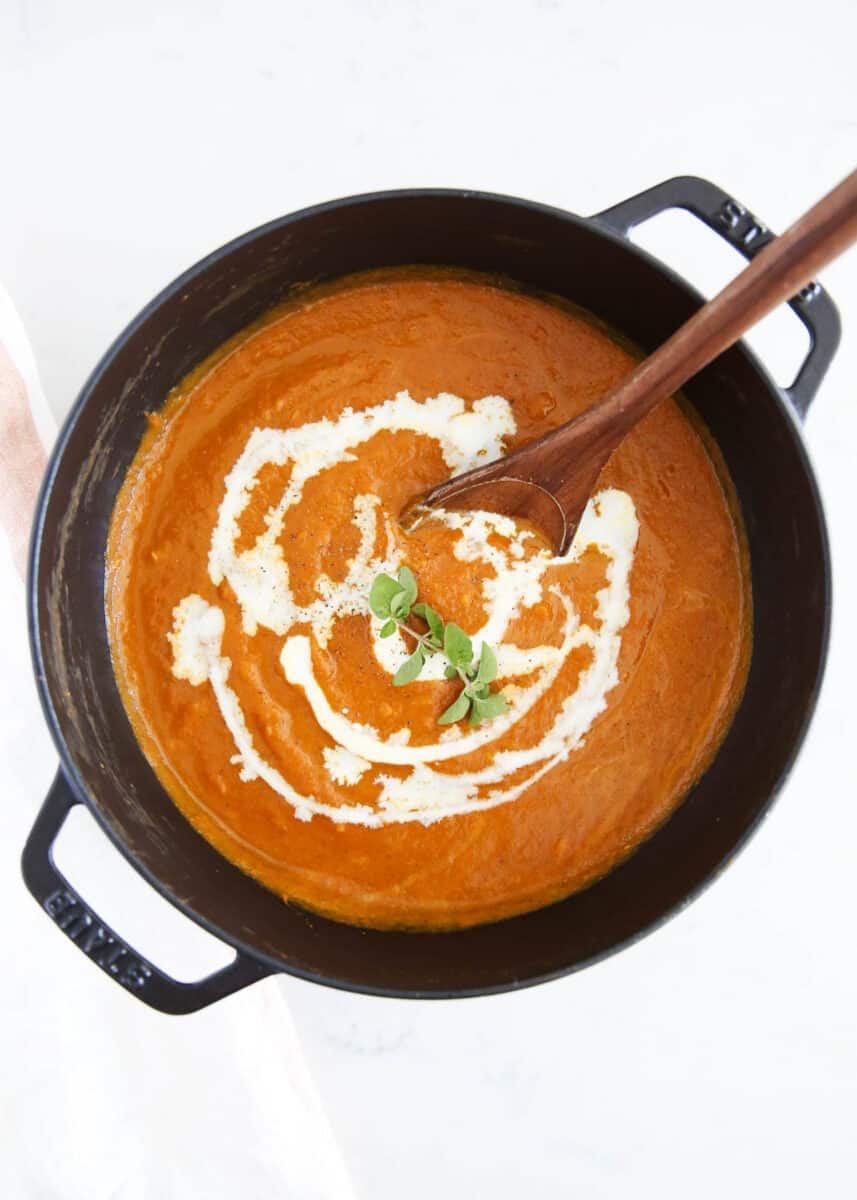 Recipe FAQs
Is this pumpkin soup with canned pumpkin gluten-free?
It is! It's also paleo and keto friendly. You can also keep it dairy free and vegan if you prefer.
What to serve with it?
If you are serving it as a main dish, I like to up the protein by topping it with roasted pumpkin seeds, or toasted pepitas (the insides of the pumpkin seeds without the shell). Sometimes I'll sprinkle a little hemp hearts or chia seeds on top.

You can also top it with smoky bacon, diced ham, or shredded chicken for extra heartiness. A side fall salad and a loaf of artisan bread are all you need to complete it!
Can I make it a bit sweeter?
If you want a bit of added sweetness, other than what you'd naturally get from the pumpkin, you can add a drizzle of maple syrup or brown sugar in there to offset the savory ingredients a bit further.
What can I use leftover canned pumpkin for?
It's such a versatile ingredient that can be used in so many sweet and savory dishes. I've got loads of recipes on my blog that call for pumpkin purée you should check out. Things like pumpkin banana bread and pumpkin waffles!
Storing, Freezing + Reheating
Leftover creamy pumpkin soup can be kept in an airtight container in the fridge for up to 5 days or in the freezer for 3 months.
To reheat, simmer over low heat on the stove, or use the microwave.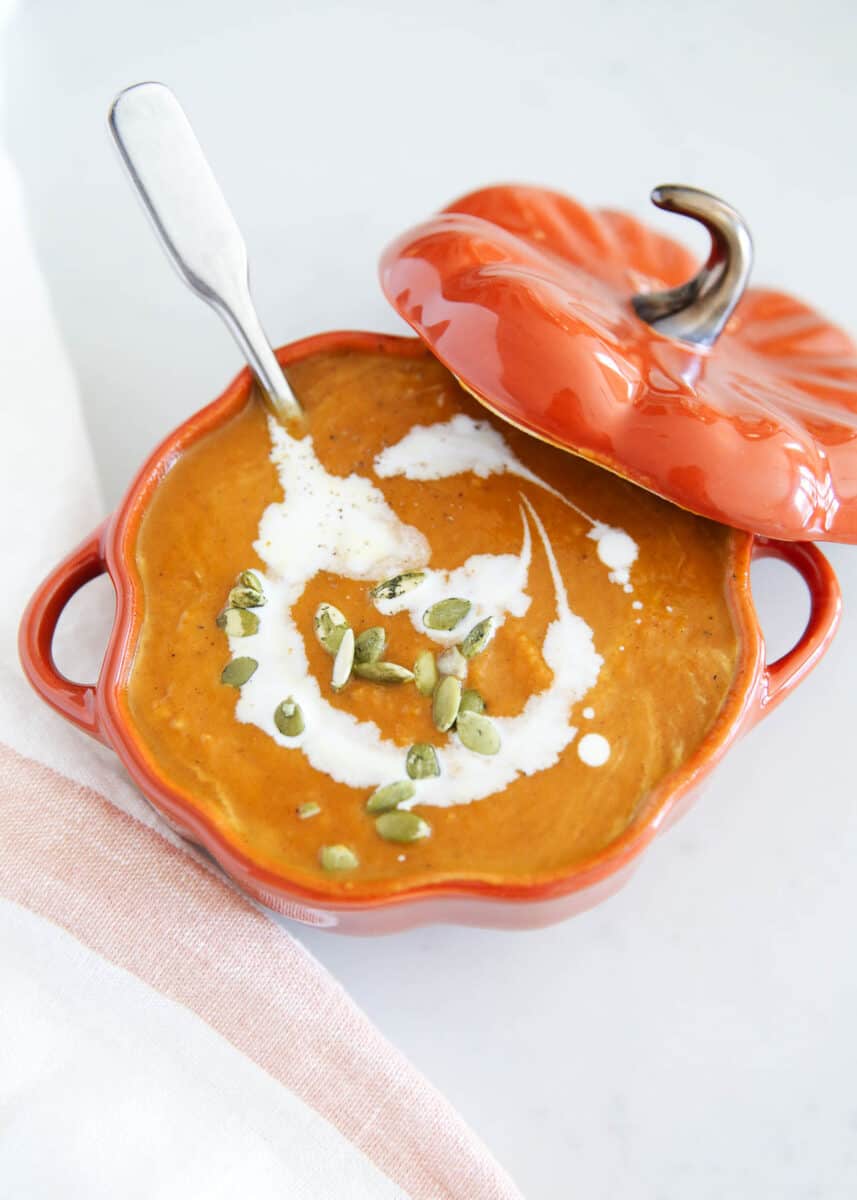 More Fall Recipe Ideas
HUNGRY FOR MORE? Subscribe to my newsletter and follow on Facebook, Pinterest and Instagram for all the newest recipes!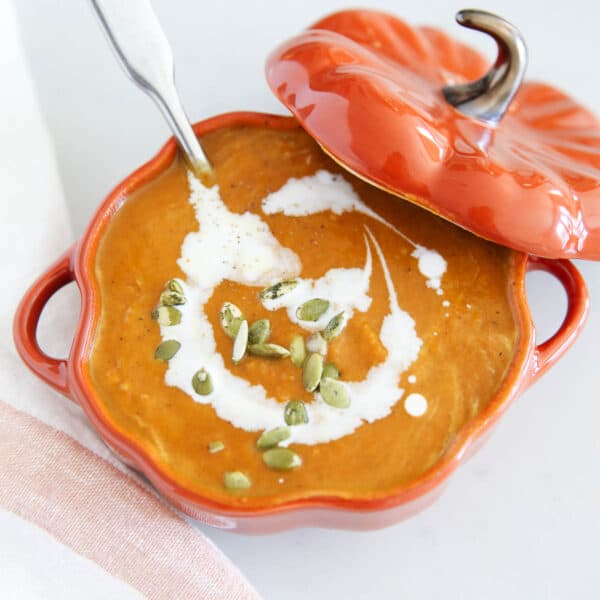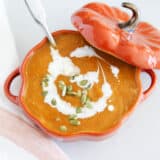 Pumpkin Soup
Thick, creamy, and infused with soul-soothing warm spices, this creamy pumpkin soup with canned pumpkin is a one-pot recipe that will feed and nourish your entire family quickly and easily!
Ingredients
1 Tablespoon olive oil
1 medium onion , chopped
2-3 cloves garlic , minced
2 (14-ounce) cans pumpkin puree
2 1/2-3 cups vegetable or chicken stock
½ cup unsweetened coconut cream , plus more for serving
1 ½ teaspoon pumpkin pie spice
1 ½ teaspoons Kosher salt , more to taste
¼ teaspoon Freshly ground black pepper , more to taste
For Topping: Roasted pumpkin seeds, cream, herbs
Instructions
In a large pot, heat olive oil over medium heat. Once the oil is shimmering, add the onion and cook for 3-5 minutes or until translucent. Then add the garlic and cook an additional minute. Cook, stirring occasionally, until onion is translucent.

Stir in the stock, pumpkin, coconut cream, pumpkin pie spice, salt, and pepper. Bring to a light boil, uncovered, and then reduce heat to low and simmer 5-7 minutes, or until heated through. Stir frequently and then remove from heat.

Pour into a blender or use an immersion blender to purée the soup until smooth. You can skip this step if you don't mind the onions.

Ladle into bowls and drizzle coconut cream on top, pumpkin seeds and pepper if desired.
---
Notes
Roasted Pumpkin: This recipe works really well with fresh pumpkin as well (any variety is ok, but sugar pumpkins are my top choice). For an amazing flavor, try roasting fresh pumpkin before pureeing. Quarter a 2 1/2-pound pumpkin and remove the seeds. Place on a parchment-lined baking sheet and coat in olive oil. Roast in a 425°F oven for 35 minutes, or until the flesh is easily pierced with a fork. Let cool. Add in about 30 ounces to the soup. Cream: Feel free to swap out the coconut cream with heavy cream, if you prefer. Storage: Store in a covered container in the refrigerator for up to 5 days.
Nutrition
Calories: 102kcal | Carbohydrates: 5g | Protein: 1g | Fat: 9g | Saturated Fat: 7g | Polyunsaturated Fat: 0.3g | Monounsaturated Fat: 2g | Sodium: 491mg | Potassium: 100mg | Fiber: 1g | Sugar: 2g | Vitamin A: 262IU | Vitamin C: 2mg | Calcium: 12mg | Iron: 1mg
Nutrition provided is an estimate. It will vary based on specific ingredients used.
Did you make this recipe? Don't forget to give it a star rating below!