Cozy up with a bowl of velvety Potato Leek Soup – a classic comfort recipe that's creamy and loaded with flavor. Easy to make, perfect for chilly days, and topped with your choice of chives, sour cream, cheese, or bacon bits.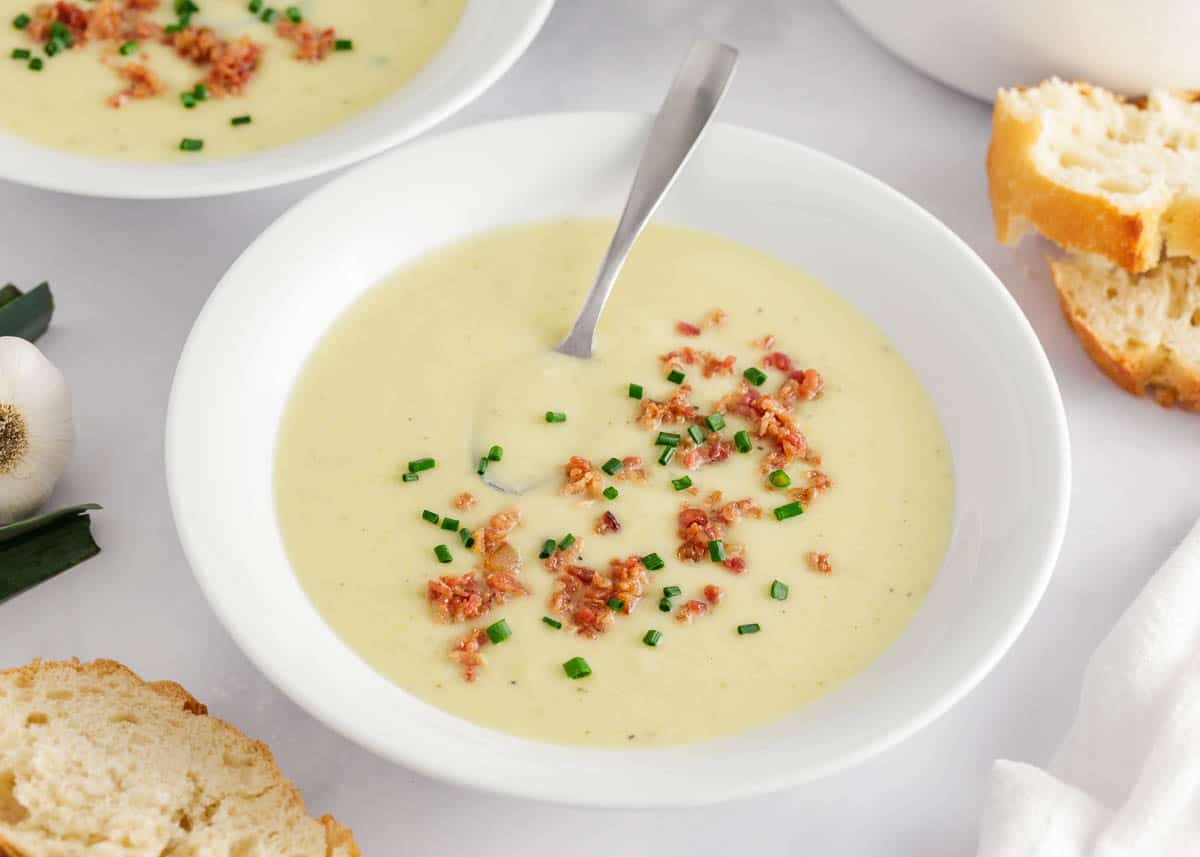 Easy Potato Leek Soup Recipe
When the cold weather hits, I'm a sucker for soups. My ham and potato soup is on a pretty heavy rotation, as well as my crockpot potato soup.
This simple potato leek soup is made with creamy potatoes that are cooked until they're super soft and blended until they're velvety smooth. Leeks are milder than onions and they add a gentle sweetness to the soup which goes perfectly with the potatoes.
I like to make it a little extra creamy by adding some heavy cream at the end which gives it a rich taste. Then, I set out bowls of toppings like chives, sour cream, cheese, and bacon bits for everyone to top their own soup. It's so delicious and heartwarming!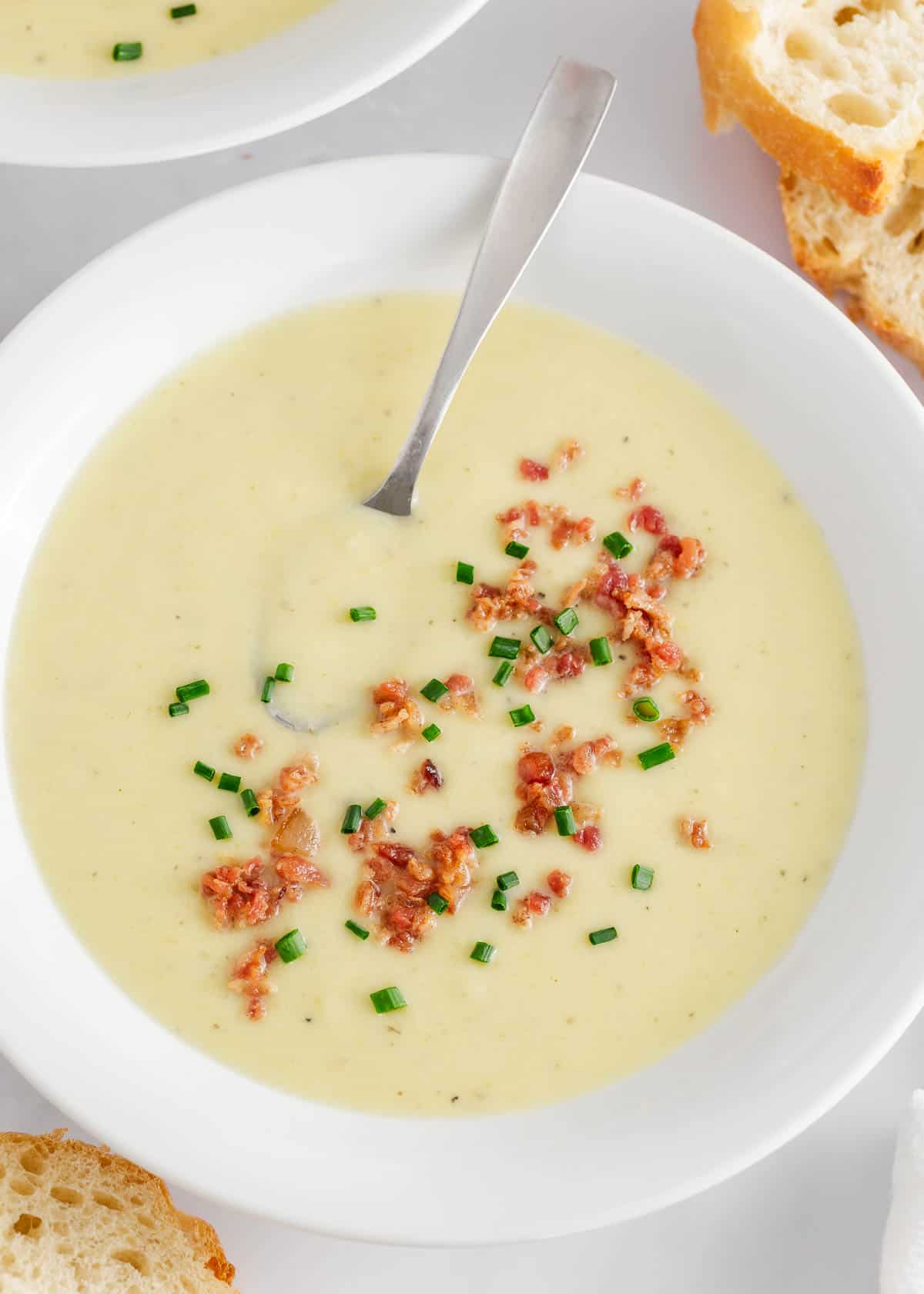 Why This Recipe Works
An anytime meal. The thing with soup is that you can eat it for lunch or dinner and when you can serve it alongside some crispy artisan bread. It's pretty much the most perfect meal I can think of!
Healthy and satisfying. A hearty bowl of soup that tastes great and is good for you is a great way to feed the ones you love.
Potato Leek Soup Recipe Ingredients
Let's take a look at what you'll need to make this amazing leek and potato soup.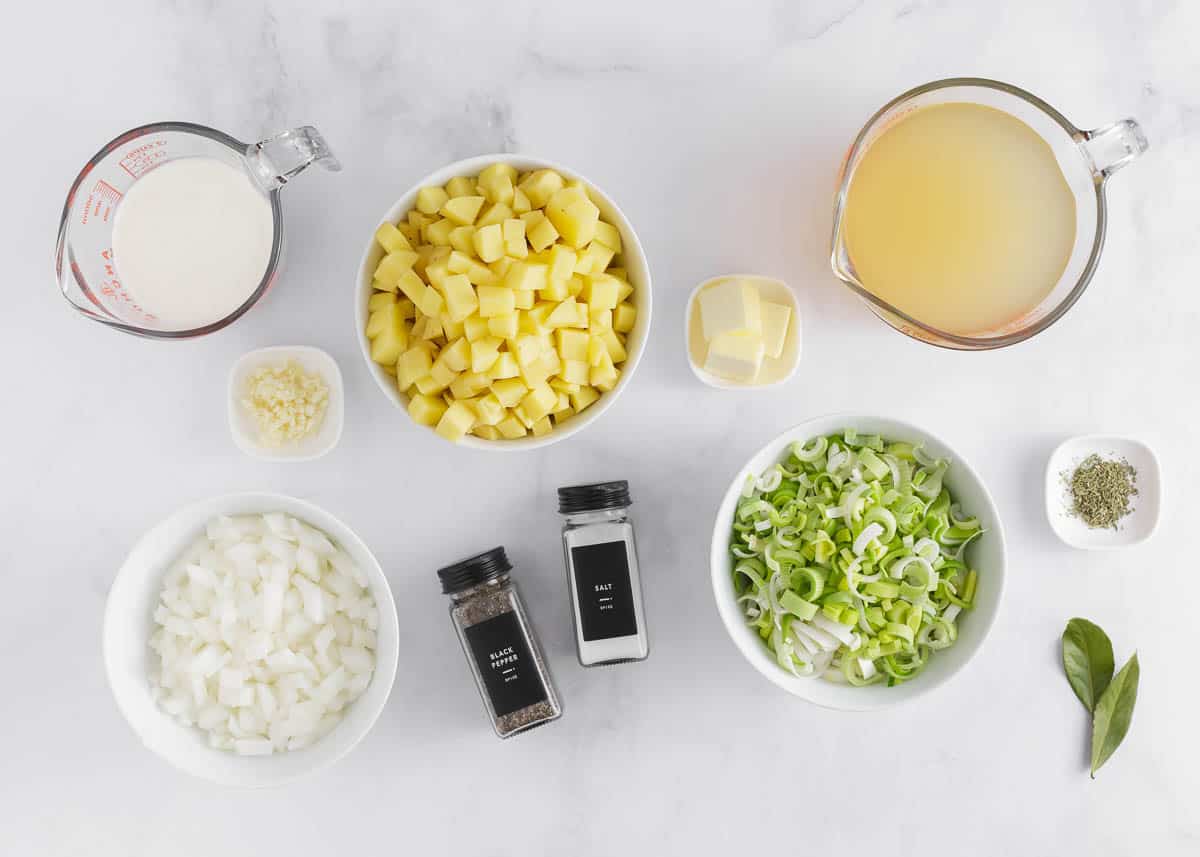 Find the full printable recipe with specific measurements below.
Leeks: You only need the light and green parts. I use fresh leeks but if you have some frozen ones on hand, then you can use them, just make sure you thaw and drain them first.
Potatoes: Use either Yukon gold potatoes or Russet potatoes. Yukon potatoes are known for their creamy texture and slightly sweet flavor, while Russet potatoes are more starchy and ideal for baking. You can use either in this recipe, but Yukon potatoes will give your soup a smoother, silkier consistency.
Chicken Broth: I like the flavor that chicken broth brings, but if you want to keep it vegetarian, then you can swap it with vegetable broth.
Herbs: I keep it simple with some bay leaves and thyme. Either fresh or dried thyme will work.
Heavy Cream: If you're looking for a lighter, not quite as rich version, you can swap out the heavy cream with whole milk. It will be slightly less creamy, but still just as flavorful.
Variations
You can always shake things up and explore some exciting variations for this potato and leek soup recipe. Check out some of these twists!
Veggie Only: Want a vegetarian version? No problem! Swap the chicken broth for vegetable broth and skip the bacon. You'll still achieve that rich and creamy goodness.
Cheese please: Stir in a handful of grated Parmesan, cheddar cheese, or Gruyère cheese just before serving. The creamy and nutty flavors will take your soup to the next level.
Turn up the heat: Add a pinch of red pepper flakes or a dash of hot sauce for a little heat. The contrast between the spiciness and the creamy soup is awesome!
Protein: Turn your soup into a heartier meal by adding cooked and shredded chicken, crispy pancetta, or chunks of smoked sausage. Just toss them in during the simmering stage.
Chunky vs. creamy: To make the texture a little more rustic, blend only part of the soup, leaving some chunks. It's like having the best of both worlds in one bowl.
How to Make Potato Leek Soup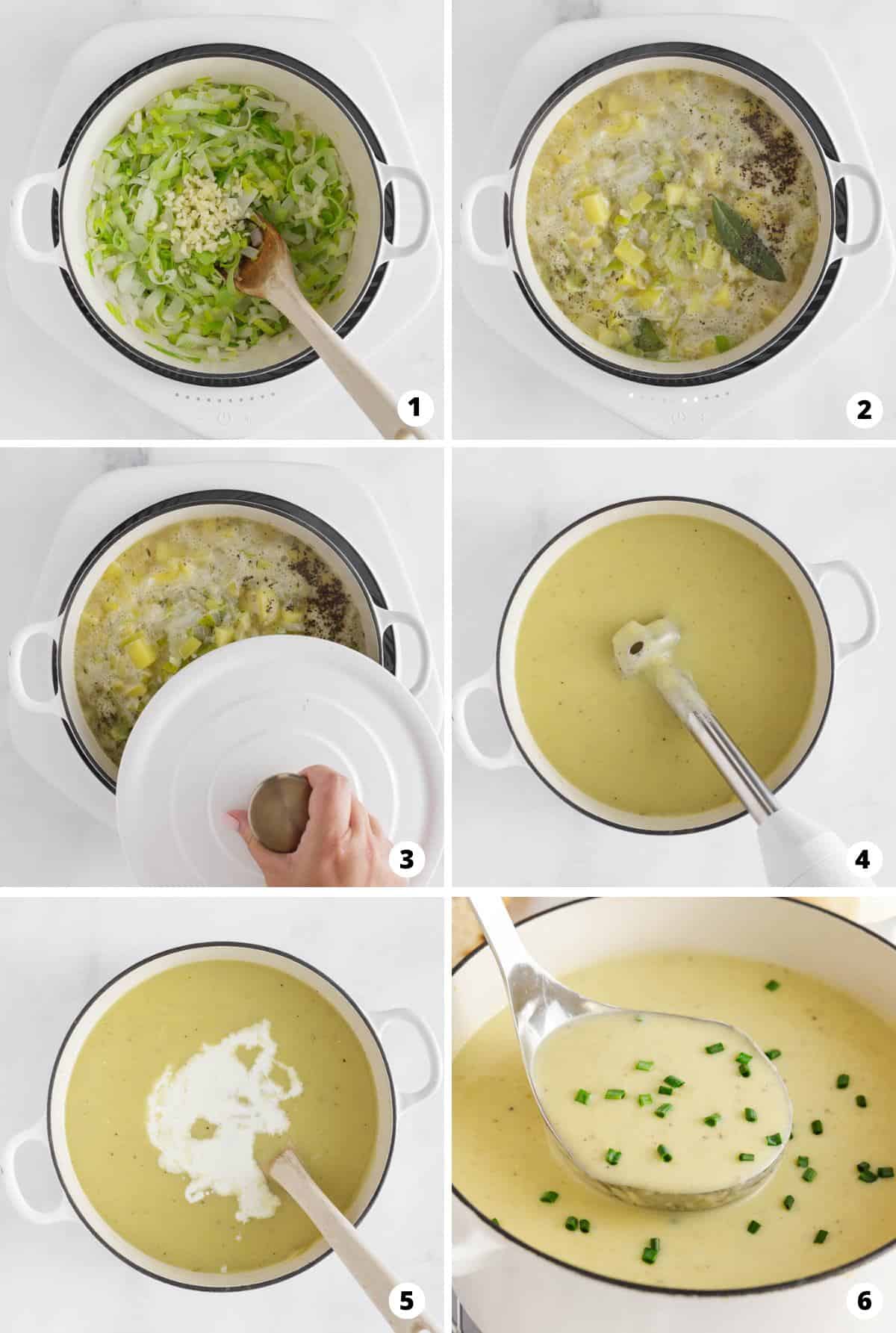 Sauté. Add the onions and leeks to a large pot and sauté until tender.
Stir. Stir in the garlic and then the other ingredients – leaving out the cream.
Simmer. Bring everything to a boil and simmer on low for about 15 minutes.
Blend. Off the heat, remove the bay leaves, and use an immersion blender to blend the soup until smooth.
Cream. Slowly stir in the heavy cream and simmer.
Serve. Season your soup and ladle it into bowls and serve with toppings.
For a potato soup that you can make in the Instant Pot, check out my recipe for Instant Pot Potato Soup!
Topping Suggestions
The sky's the limit when it comes to toppings! You can garnish your soup with sliced chives, a dollop of sour cream, shredded cheese (cheddar or Gruyère are fantastic choices), or crumbled bacon for a smoky touch.
Expert Tips
I'm all about making the cooking process smooth and enjoyable! Here are some tips that can help when you're making this leek and potato soup recipe:
To clean leeks, slice them first then soak them in a bowl of cold water giving them a swish around. This will help to dislodge any hidden dirt between the layers.
To check that the potatoes are cooked, insert a fork or small sharp knife into a potato cube. If it goes in easily without resistance, then you're good to go!
Let the soup cool slightly before using your immersion blender. The hot soup might splatter if you blend it right away and you don't want to burn yourself!
Soup too thin? No problem! Simply simmer it for a bit longer to let some of the liquid evaporate and the flavors concentrate.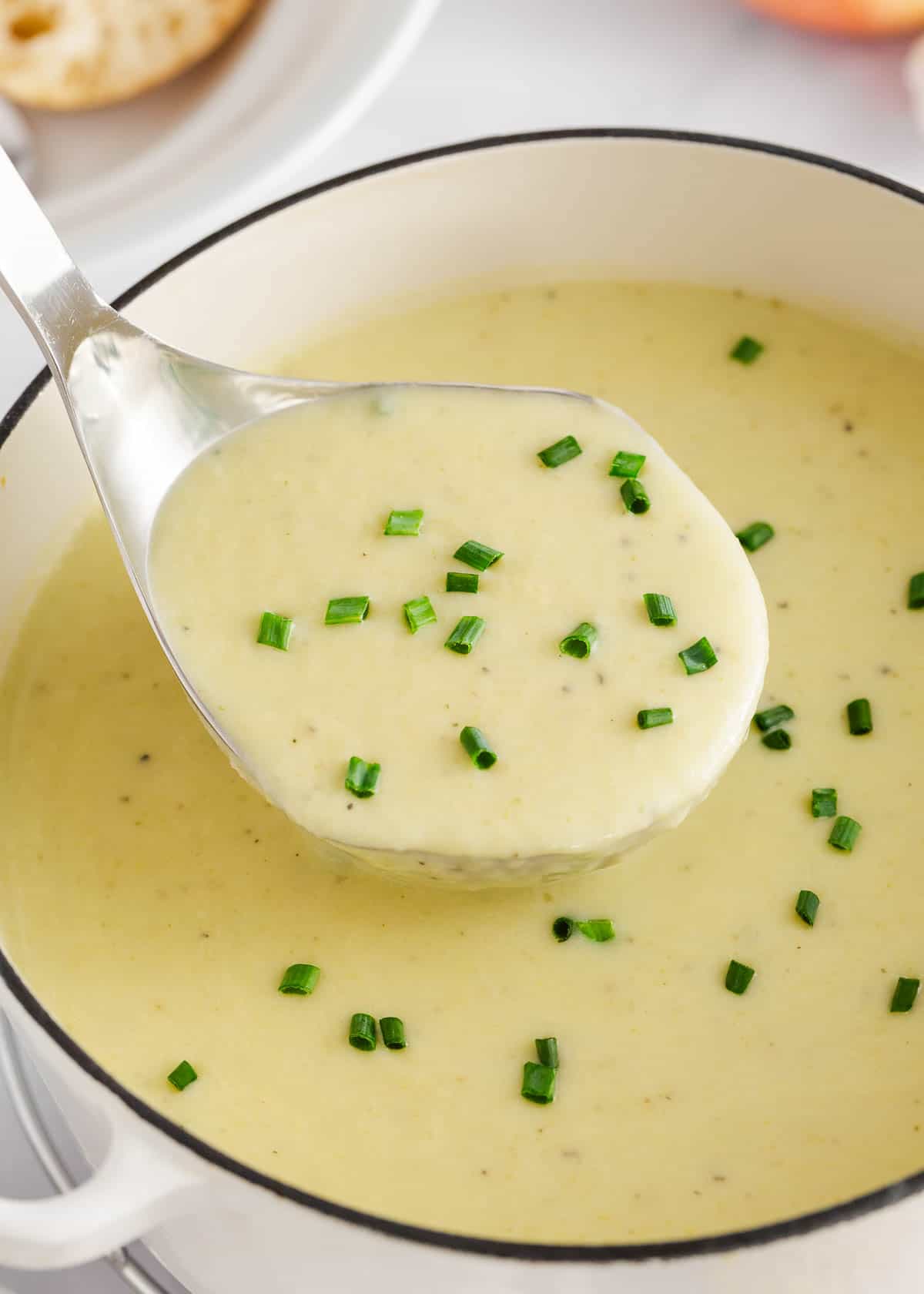 Recipe FAQs
Can I leave the skin on my potatoes?
I prefer to peel my potatoes so I can achieve that rich creamy texture, especially if you're using Russet potatoes which have a tougher skin.
How do I prevent curdling when adding cream to the soup?
Curdling can happen if you add cold cream to a hot soup too quickly. There will be chunks floating in the soup which just isn't pleasant! To prevent this, you can either temper the cream by adding a small amount of the hot soup to the cream first, stirring well, and then gradually incorporating it into the pot.

Alternatively, you can let the soup cool slightly before adding the cream.
How can I fix salty potato and leek soup?
It's always best to taste as you go before seasoning soup so that you don't oversalt it. If you end up with a soup that's a little too salty, peel an extra couple of potatoes, chop them into chunks, and let them simmer in the soup for 30 minutes to help absorb some of the excess salt.
Can I freeze potato and leek soup?
While you can freeze the soup, keep in mind that dairy-based soups can sometimes change in texture after thawing. If you plan to freeze it, I recommend doing so without the cream. Add the cream when you're reheating the soup for serving to maintain its creamy consistency.
Can I make this soup ahead of time?
Absolutely! Potato and leek soup reheats beautifully. Let it cool to room temperature before transferring it to an airtight container. It will stay fresh in the refrigerator for a few days.
Leek and Potato Soup Serving Suggestions
For a simple meal, pair your potato leek soup with a fresh salad. I love a garden salad loaded with colorful veggies, crunchy greens, and a zesty dressing.
I also love serving it in a bread bowl or with slices of warm French baguette or dinner rolls spread with butter. It's really good for mopping up the soup from the bottom of the bowl!
Storing
Let the soup cool to room temperature before transferring to an airtight container. It will stay fresh for up to 3 to 4 days in the refrigerator.
You can reheat your soup in a couple of ways. The first way is on the stovetop in a pot over low to medium heat. Stir the soup frequently as you heat it for about 5 minutes until it's heated through.
The other way to reheat your soup is in the microwave. Place the soup in a microwavable-safe bowl and cover it with a piece of paper towel. Set the microwave to 50% power and heat at 30-second intervals until the soup is heated throughout.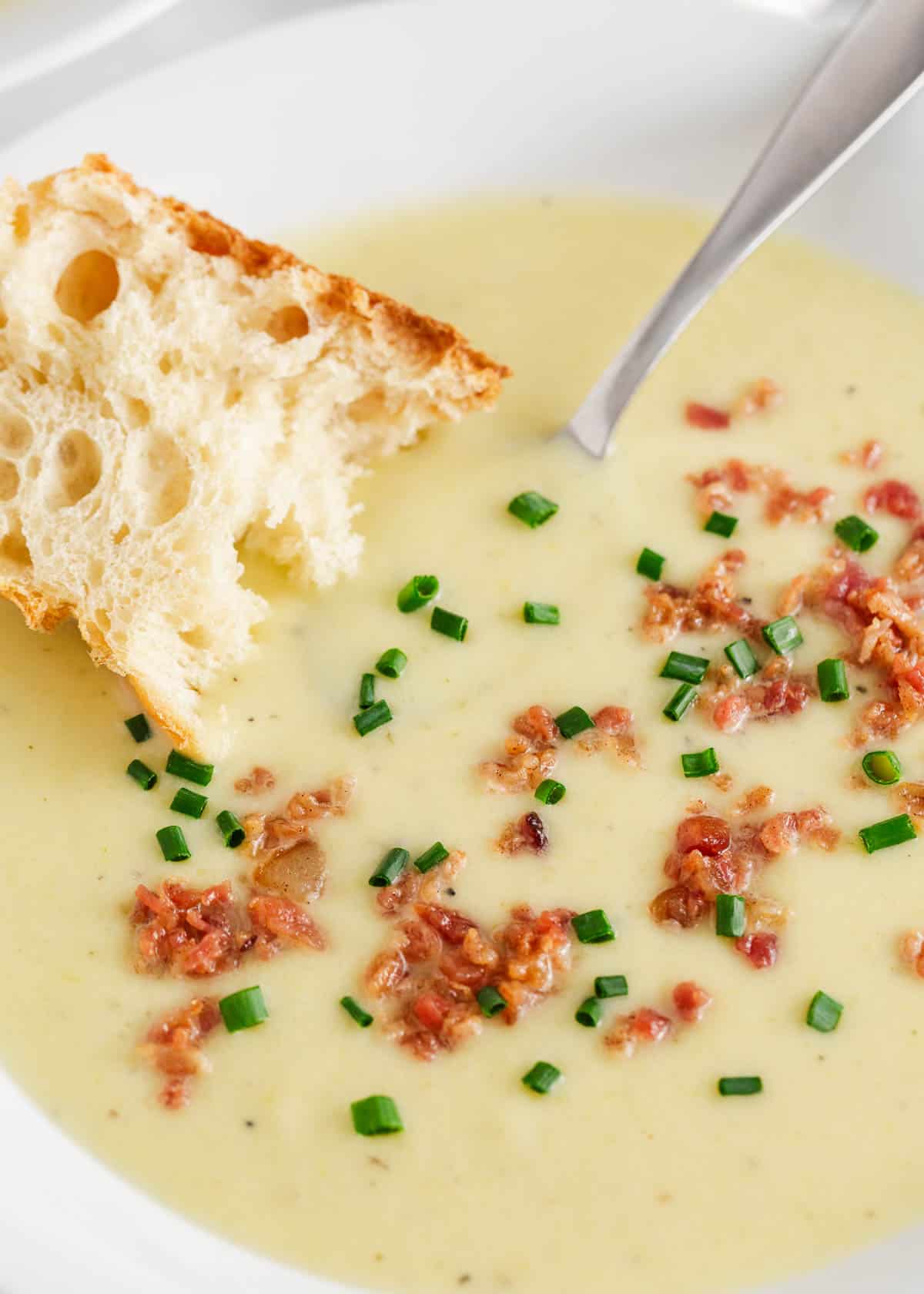 HUNGRY FOR MORE? Subscribe to my newsletter and follow on Facebook, Pinterest and Instagram for all the newest recipes!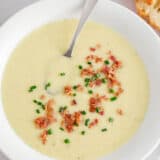 Potato Leek Soup Recipe
Cozy up with a bowl of velvety Potato Leek Soup – a classic comfort recipe that's creamy and loaded with flavor.
Ingredients
2-3 tablespoons salted butter
1 large onion , chopped
3-4 large leeks (white and light green parts only) , cleaned and thinly sliced
2 garlic cloves , minced
1 ½ pounds yukon or russet potatoes , peeled and diced
2 bay leaves
½ teaspoon dried thyme , or 1 Tablespoon chopped fresh thyme
4-5 cups chicken broth , add an extra cup for a thinner soup
Kosher salt , to taste
Ground black pepper , to taste
1 cup heavy cream , or whole milk
For serving (optional): Sliced chives, Sour cream, Shredded cheese, Crumbled bacon, Artisan bread
Instructions
In a large pot, heat the butter over medium heat. Add the onions and leeks. Sauté 5 minutes, or until they become tender.

Stir in the garlic and cook 1 to 2 minutes, being careful not to let it brown.

Stir in the potatoes, bay leaves, and thyme. Pour in the broth. Season with salt and pepper (I start with about 1/2 teaspoon salt and 1/4 teaspoon pepper). Bring to a boil and then reduce the heat to low. Cover and simmer 15 to 20 minutes.

Once the potatoes are tender, remove pot from the heat. Remove the bay leaves. Using an immersion blender, puree until smooth, or blend portions of soup in batches in a blender before returning to the pot.

Slowly stir in the heavy cream. Simmer on low heat 5 minutes to let the flavors meld together.

Season the soup with salt and pepper. Ladle into bowls and serve with desired toppings.
---
Notes
Storage: Let the soup cool to room temperature before transferring to an airtight container. It will stay fresh up to 3 to 4 days in the refrigerator.
Nutrition
Calories: 456kcal | Carbohydrates: 46g | Protein: 8g | Fat: 28g | Saturated Fat: 17g | Polyunsaturated Fat: 1g | Monounsaturated Fat: 7g | Trans Fat: 0.2g | Cholesterol: 87mg | Sodium: 958mg | Potassium: 999mg | Fiber: 6g | Sugar: 8g | Vitamin A: 2179IU | Vitamin C: 45mg | Calcium: 124mg | Iron: 3mg
Nutrition provided is an estimate. It will vary based on specific ingredients used.
Did you make this recipe? Don't forget to give it a star rating below!