This list has all of the BEST pasta salad recipes to make this summer. Quick and easy ideas that are perfect for busy weeknight dinners, BBQs and family gatherings!


Salads with Pasta
A cold pasta salad is my absolute favorite recipe to bring to a BBQ in the summer. Not only are they delicious, but also quick, easy and can usually be prepared ahead of time. They're always a big hit with the crowd and are usually the first side dish to go.
Another great thing about making a pasta salad is that it's the perfect way to use up your fresh vegetables and herbs from the garden. Fresh tomatoes, peppers, cucumbers, basil and dill are a few of my favorites. They add so much flavor and really take the salad up a notch.
This list has some incredible pasta salad recipes, including some that are creamy, healthy, vegetarian and just plain delicious. Most are made in 30 minutes or less and are easy to customize based on what you have on hand. Dive in and ENJOY!
Best Pasta to Use
There are different types of pasta to use depending on which recipe you make. For example, you'll want to use elbow noodles when making a creamy macaroni salad. However in most recipes, the pasta can be easily interchanged and will still taste equally as delicious.
Most recipes call for one of the varieties below. Their unique shape and ridges hold the sauce nicely, enhancing the flavor of the dish. Whichever kind you use, just make sure to cook the pasta until al dente. It should be tender, but sturdy enough to hold it's shape.
Bow tie
Rotini
Macaroni
Orzo
Penne
Dressing
Some may argue that the dressing is the best part of a pasta salad. It helps make the dish more cohesive and is a great way to add flavor and texture. Whether it's a creamy dressing like ranch or a lighter vinaigrette, I do recommend making the dressing from scratch if you have the time. It's an easy way to take the dish from ordinary to extraordinary. Trust me!
Preparation Tips
Salt your pasta water. This is an easy way to add more flavor to your dish. You don't need a lot, just a small sprinkle.
Use a large bowl. When you toss the ingredients together, the bowl should be large enough that they aren't overflowing out of the bowl. This may sound simple, but it makes a big difference and is way less messy.
Extra dressing. When preparing the dressing, I usually make a little extra (especially if I'm making the recipe in advance). The pasta will soak up some of the dressing as it chills in the fridge, so it's always a good idea to make extra so that it stays moist and delicious.
Protein. Although some pasta salad recipes contain meat, there are many that don't. But that doesn't mean you can't add it in! Feel free to mix in some diced grilled chicken to bulk it up a little. Or add some chickpeas for a vegetarian source of protein.
Let chill. In order for the flavors to marinate together, let the salad chill in the fridge for at least an hour (unless the recipe says otherwise). The dish will have a stronger flavor this way.
Pasta Salad Ideas
You can't go wrong with any of the recipes below. I've made each of these dishes a handful of times and the end result is always incredibly delicious!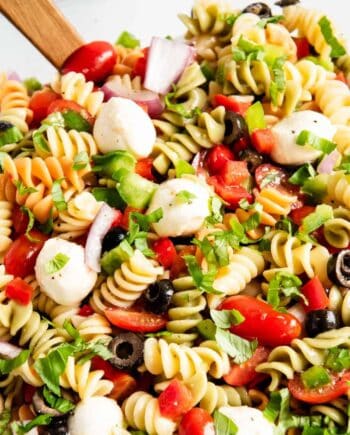 Pasta Salad with Italian Dressing
Filled with tender pasta, crisp veggies and a zesty Italian dressing, this delicious and easy pasta salad is a potluck must-have!
Total Time: 2 hours 20 minutes
Read more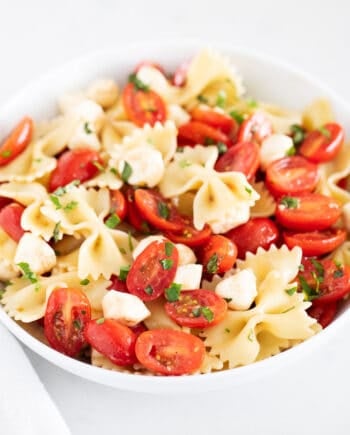 Caprese Pasta Salad
This easy Caprese pasta salad is made with a simple combination of the most delicious classic trio! Juicy tomatoes, fresh mozzarella, and basil. Then combined with cooked pasta and tossed together with a light and zesty dressing.
Total Time: 30 minutes
Read more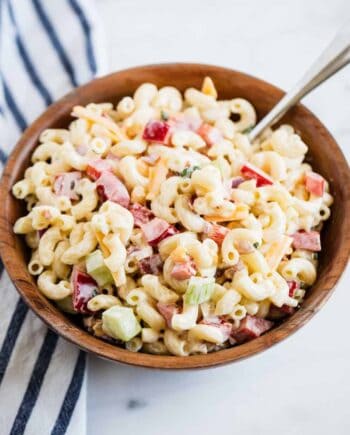 Macaroni Salad Recipe
Easy macaroni salad filled with noodles, veggies, bacon and cheese. Then tossed in a creamy and tangy dressing that's full of flavor. This recipe will become one of your potluck favorites!
Total Time: 20 minutes
Read more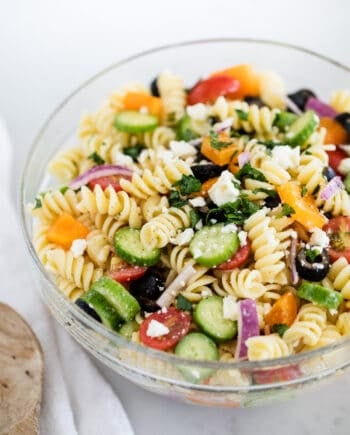 Greek Pasta Salad Recipe
Full of rotini noodles, veggies, feta cheese and tossed in a red wine vinaigrette. A delicious and easy side dish recipe that's perfect for summer.
Total Time: 30 minutes
Read more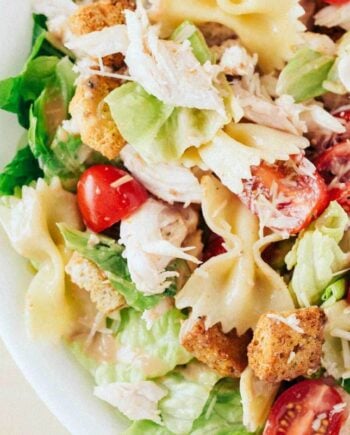 Chicken Caesar Pasta Salad Recipe
This chicken caesar pasta salad is super easy to make and comes together in just 10 minutes! Perfect for a quick dinner or to bring to a potluck.
Total Time: 10 minutes
Read more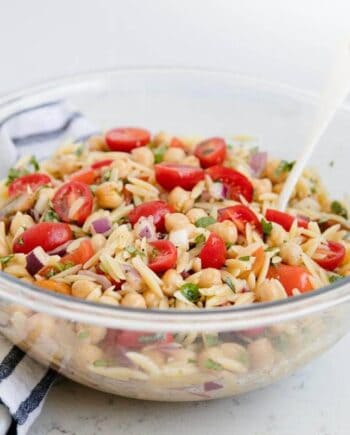 Orzo Salad
Topped with a delicious homemade vinaigrette, this orzo salad is so fresh and loaded with fantastic flavor. Such a healthy and filling side dish recipe for summer!
Total Time: 30 minutes
Read more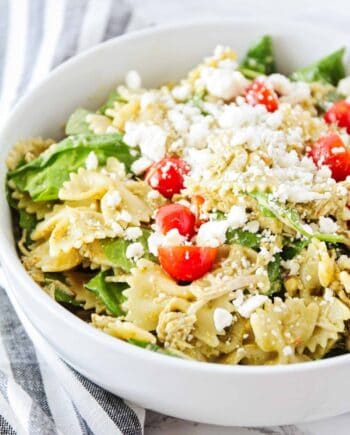 Chicken Pesto Pasta Salad
This chicken pesto pasta salad is light, healthy and packed with the perfect basil pesto flavor! Great for BBQs, brunches, baby showers & more!
Total Time: 20 minutes
Read more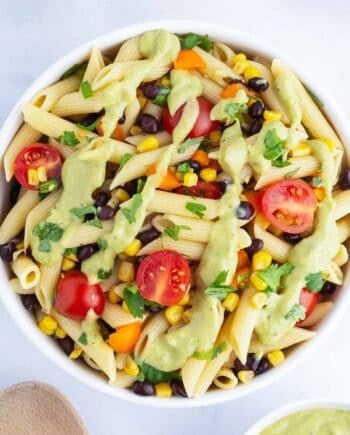 Southwest Pasta Salad
Tender penne pasta, black beans, corn, peppers, cilantro, onions and tomatoes tossed in a delicious and creamy avocado lime dressing. This southwest pasta salad is easy, healthy and full of Mexican flavors!
Total Time: 30 minutes
Read more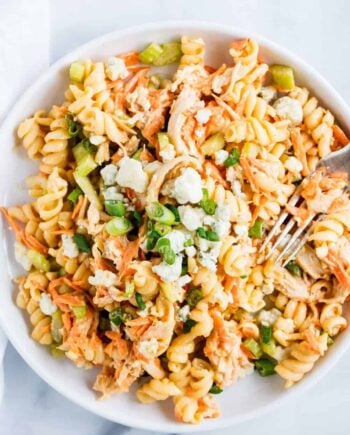 Buffalo Chicken Pasta Salad
This buffalo chicken pasta salad has the perfect combination of noodles, crisp veggies, tangy buffalo chicken and a cooling ranch sauce. Topped with creamy blue cheese for an easy summer salad the entire family will love!
Total Time: 10 minutes
Read more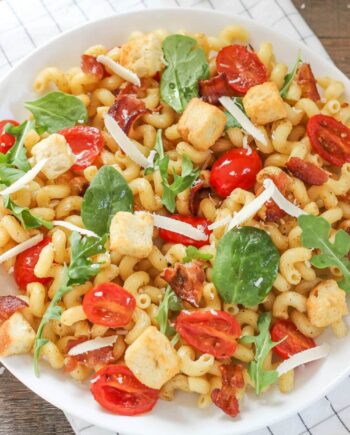 BLT Pasta Salad
This BLT pasta salad is a fun twist on the classic bacon, lettuce and tomato sandwich. Easy to make and great for summer parties and picnics!
Total Time: 30 minutes
Read more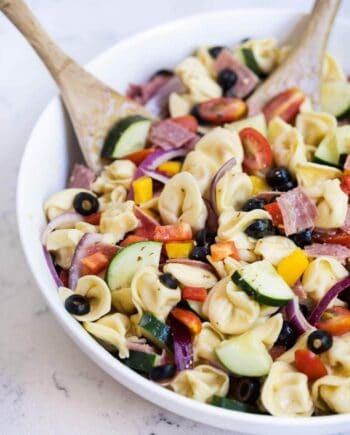 Tortellini Pasta Salad
Easy tortellini pasta salad made with zesty Italian dressing in just 15 minutes! So full of flavor and a side dish the whole family will love. Perfect for any summer BBQ!
Total Time: 15 minutes
Read more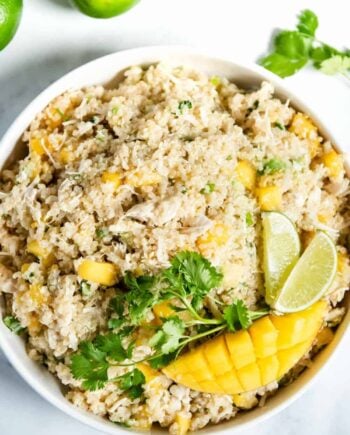 Mango Chicken Quinoa Salad
Chicken quinoa salad with juicy mango and chunks of rich avocado is the perfect light meal or side dish to make this summer.
Total Time: 1 hour 10 minutes
Read more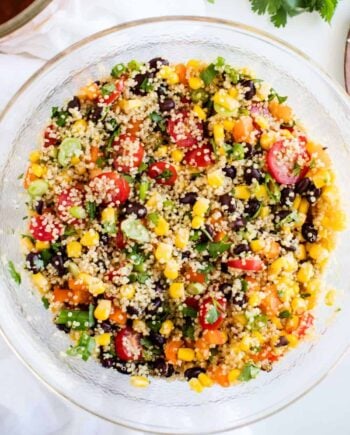 Southwest Quinoa Salad
This southwest quinoa salad makes a delicious and flavorful side dish or main meal. You can feel great about eating this healthy, protein-packed salad all summer long!
Total Time: 30 minutes
Read more