Easy Parmesan Mushroom Gnocchi – A family pleaser and comforting for a chilly winter night. It's simple to put together with store-bought helpers like sliced mushrooms and packaged gnocchi, but tastes like date night out.
I create a lot of weeknight dinner recipes on my site, Tara Teaspoon, that use grocery store shortcuts, taste amazing, and are great options for the whole family. This is one of those creamy, cheesy, everyone-is-happy meals.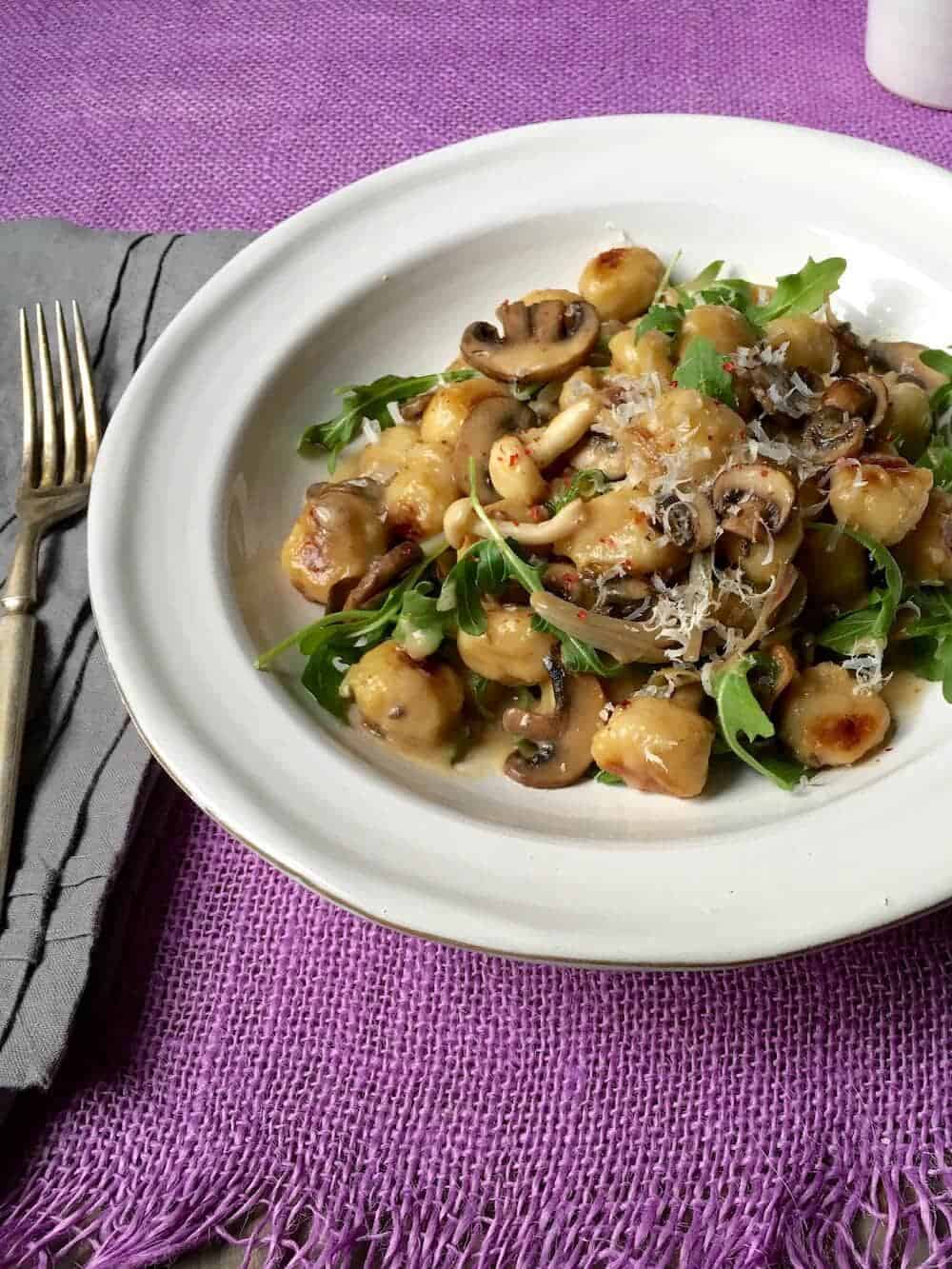 I use store-bought gnocchi, mushrooms (get the pre-sliced baby bellas and throw in some other wild mushrooms like beech or enoki), shredded Parmesan and ready-to-eat baby arugula to make this dish easy. Canned chicken broth and a splash of cream mix with the cheese to make an incredible and quick sauce.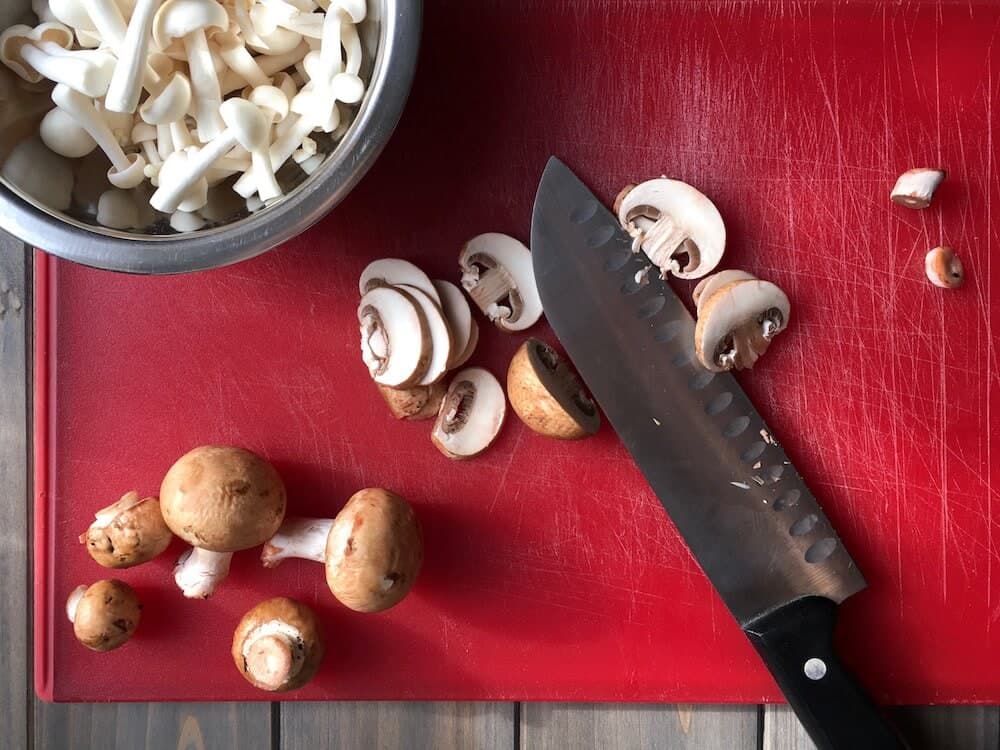 I like to mix the mushrooms because they really do have different flavors. Typically you can grab a package of baby bellas or button mushrooms in every store you go to. However, I love seeing the variety of wild mushrooms offered as well. For this recipe I wanted something fun for kids and chose some beech mushrooms, the little tiny white guys that grow in bundles. I chopped the bundled stems off and had mini mushrooms for the kids to have fun eating.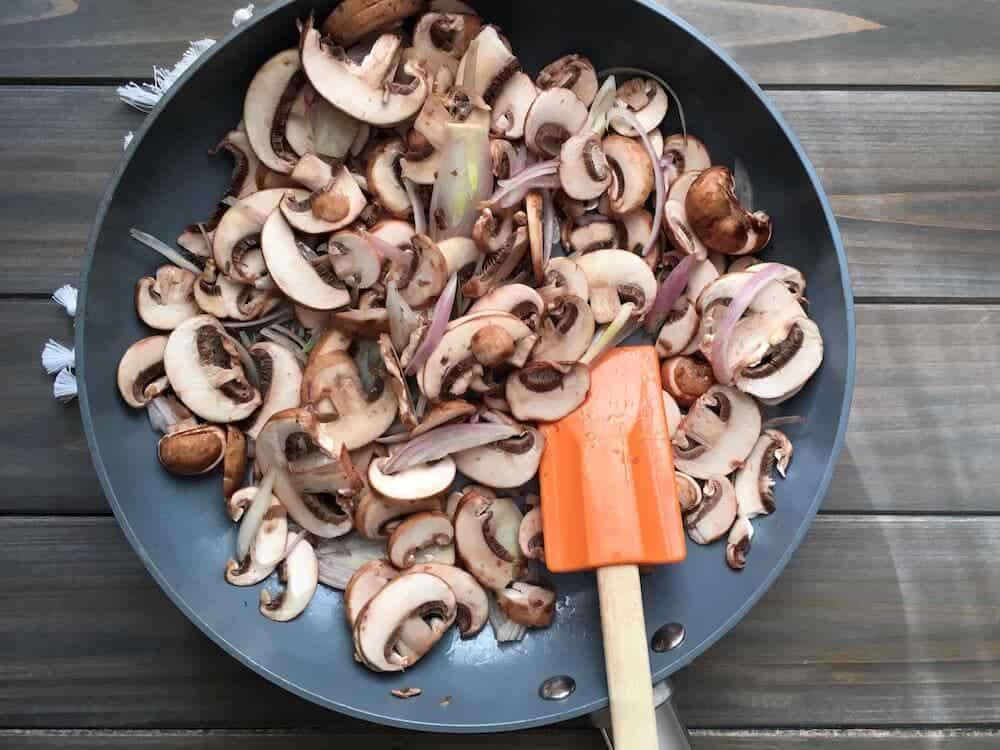 Even though the pan I call for is nonstick, mushrooms stick just a tad when all the liquid cooks out. I love that though! Then I have little caramelized brown bits that the sauce can simmer with. Ultimately the pan comes out clean, but don't worry if it starts to stick and brown just a bit. I cooked the baby bella mushrooms and shallots together first, then added my tender beech mushrooms toward the end.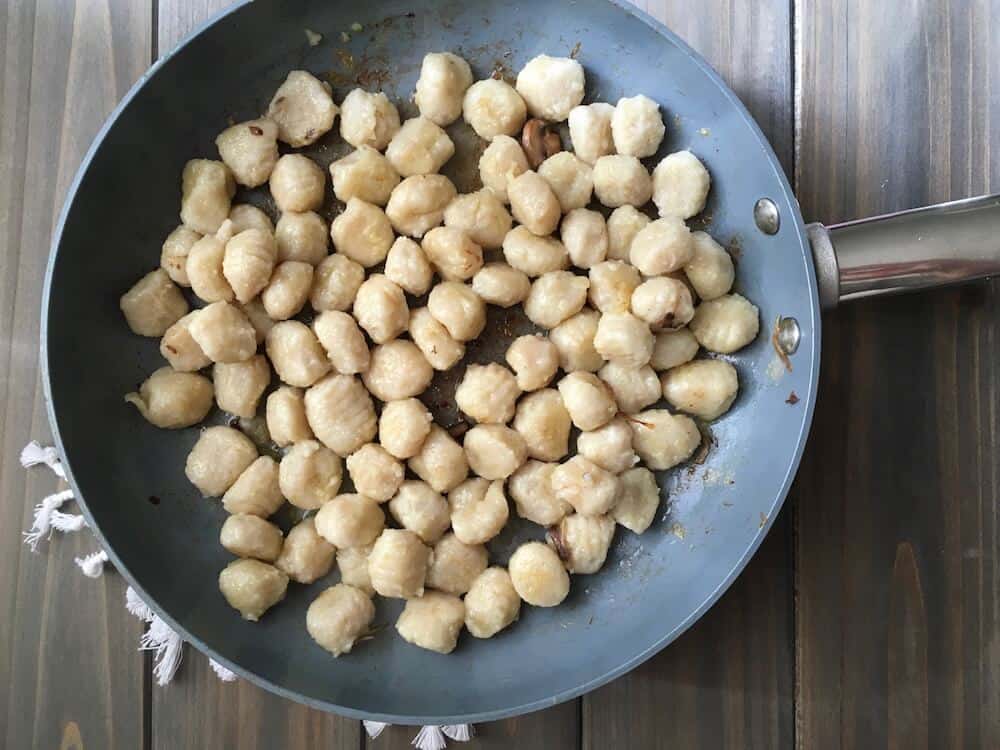 Store bought gnocchi just needs to be simmered a bit to cook it through, then I like to add it to the pan and crisp one side up. It makes it taste yummy and caramelized but also look pretty in the dish. A little golden brown mixed with the dark mushrooms and bright green arugula. We all know beautiful food is much tastier (wink). Enjoy!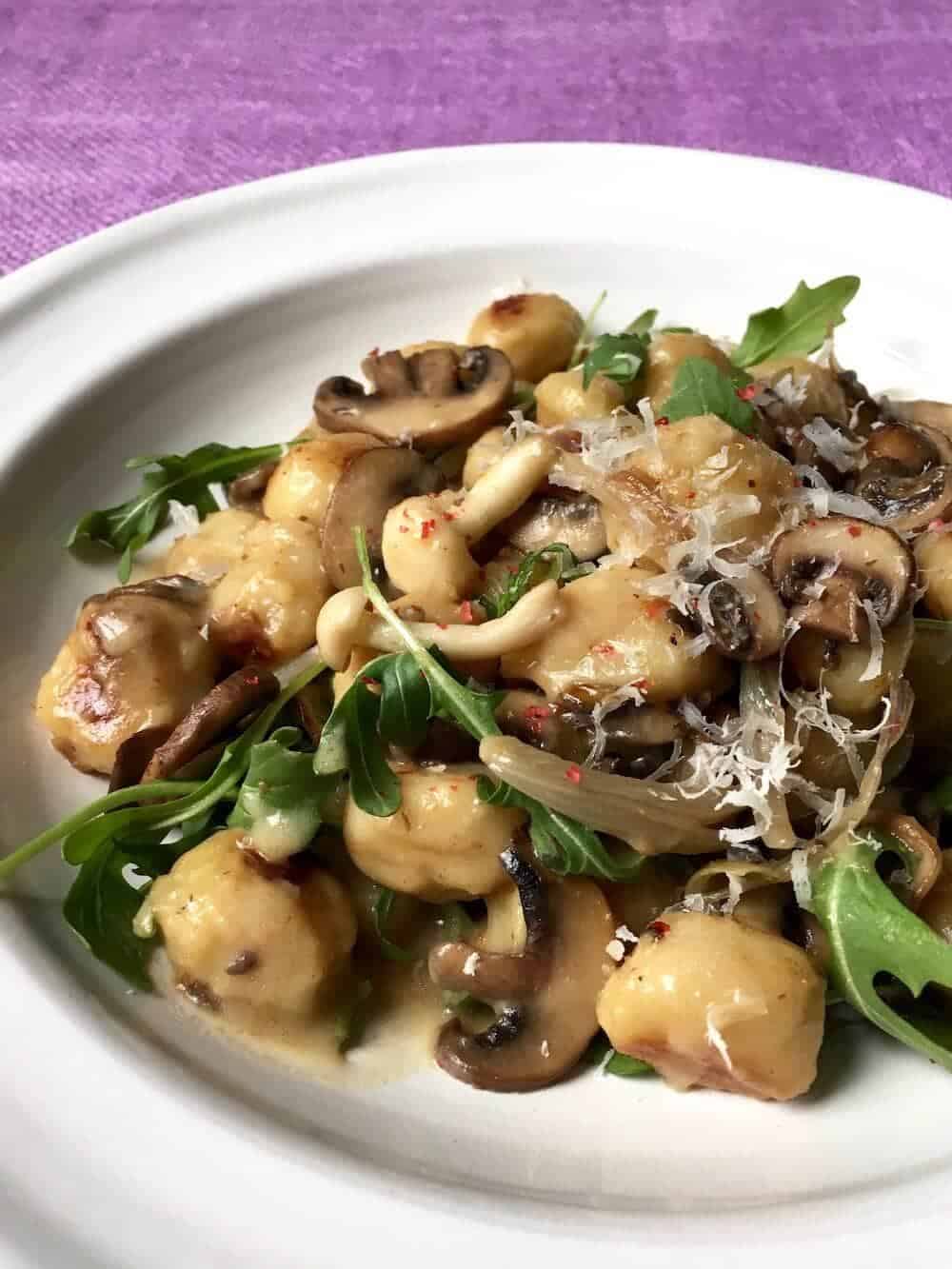 If you liked this recipe, you may want to check out my Cauliflower Mac N Cheese and Chicken Tomato Bisque.
Thanks, Tara!
If you love this elegant and easy meal, you'll enjoy these too!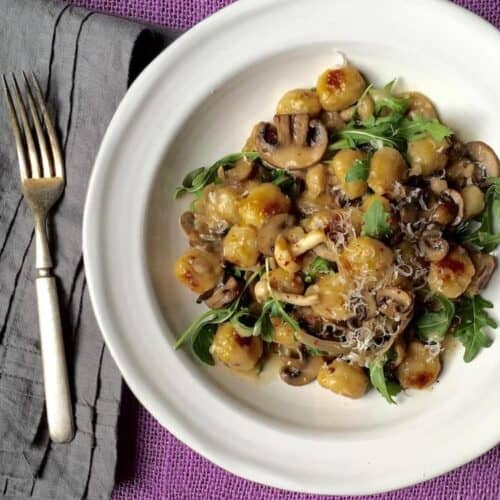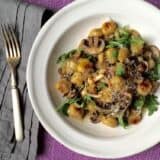 Easy Parmesan Mushroom Gnocchi
Buttery sautèed mushrooms and fluffy gnocchi is simple to put together for a weeknight dinner. In a rush I buy the pre sliced mushrooms and save a step. If you find a variety of wild mushrooms like beech or enoki, play around and add them in!
Ingredients
16 ounces store-bought gnocchi
1 tablespoon butter
3 tablespoons olive oil
8 ounces baby bella or button mushrooms stems removed and sliced
1 large shallot sliced
2 ounces beech or enoki mushrooms stems removed (optional)
1 teaspoon kosher salt
1 cup low-sodium chicken broth , or vegetable broth
3 tablespoons heavy cream
1/4 cup grated Parmesan plus more for garnish
1 cup baby arugula
Red pepper flakes
Instructions
Simmer a large pot of salted water and cook gnocchi until it floats, about 2 minutes. Remove and drain; set aside.

Meanwhile heat butter and 1 tablespoon olive oil in a nonstick skillet over medium-high heat and add sliced mushrooms and shallots. Cook, stirring frequently, until mushrooms are soft and almost all the liquid is gone. Add the beech mushrooms (if using) and salt. Cook 3 minutes more just to heat beech mushrooms through. Transfer mixture to a bowl or plate and place skillet over heat again.

Add the remaining 2 tablespoons olive oil and the cooked gnocchi. Move gnocchi around to cover bottom of skillet and let cook, without stirring, about 2 minutes to brown. Add chicken broth, cream and Parmesan and stir to move gnocchi from the bottom of the pan. Let mixture simmer until sauce is slightly thickened, about 1 minute.

Add mushrooms back to skillet and stir to combine. Serve gnocchi immediately with a sprinkling of arugula and red pepper flakes if desired. Season to taste with extra salt.
---
Calories: 400kcal | Carbohydrates: 45g | Protein: 10g | Fat: 20g | Saturated Fat: 7g | Cholesterol: 28mg | Sodium: 1113mg | Potassium: 321mg | Fiber: 3g | Sugar: 1g | Vitamin A: 425IU | Vitamin C: 2.5mg | Calcium: 107mg | Iron: 4.9mg