This easy chicken marsala recipe is restaurant quality and makes the perfect dish to impress your guests. It's loaded with flavor and made in one pan in just 30 minutes!
Chicken Marsala with Mushrooms
We love to make this dish for a date night at home. It's simple, flavorful and only requires one pan. A couple of our other date night favorites are bolognese, oven-baked steak, and chicken alfredo. And don't forget dessert! We love to make an easy no-bake cheesecake.
Chicken Marsala is one of my favorite dishes to order when we go to a fancy restaurant. I absolutely love the flavor. This recipe is restaurant quality and perfect for a date night in just like my recipe for marry me chicken or chicken Madeira recipe!
It's also the ideal dish to impress your guests with! The sauce tastes amazing and the meat is so flavorful and tender. My husband and kids always give it rave reviews! Plus it's an easy 30-minute meal made in just one pan. Doesn't get better than that!
Ingredients
Take your chicken to the next level with this chicken marsala! Start by dredging your chicken in these delicious pantry staple ingredients. This savory dish is a family favorite and perfect for a special night at home!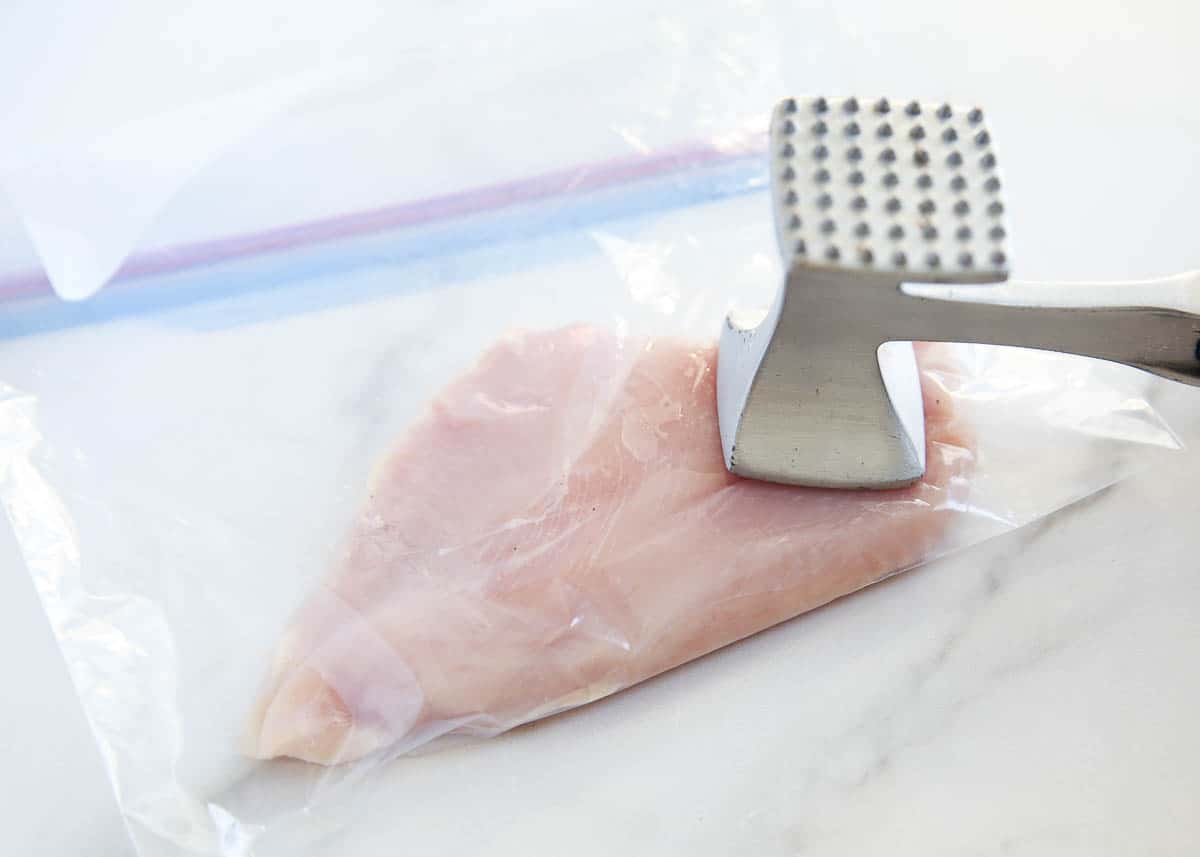 Find the full printable recipe with specific measurements below.
Chicken breasts: Make sure to slice your boneless skinless chicken breasts in half so that they cook faster in the pan. You can also pound with a mallet.
Flour: This gives the 243 meat that crispy coating, as well as helps thicken the sauce as it cooks in the pan.
Garlic powder: It's mixed in with the flour to add extra flavor to the coating.
Oil: This is for frying the meat in the skillet. It helps make the coating extra crispy and delicious. Extra-virgin olive oil is recommended.
Butter: Added in with the oil to add some richness to the dish.
Mushrooms: Traditional chicken marsala always includes sliced mushrooms. Any type of mushroom will work. Cremini mushrooms work great in savory dishes!
Marsala cooking wine: The alcohol cooks out and creates a nutty and rich flavor.
Chicken broth: Adds some liquid to the sauce, as well as another layer of flavor.
Heavy cream: This adds to the creamy consistency of the sauce.
How to make Chicken Marsala
Chicken Marsala is an elegant dinner that is simple to make! Coat the chicken, cook, then add a special mushroom sauce to make the perfect combination! Follow these four steps to make the best chicken marsala recipe.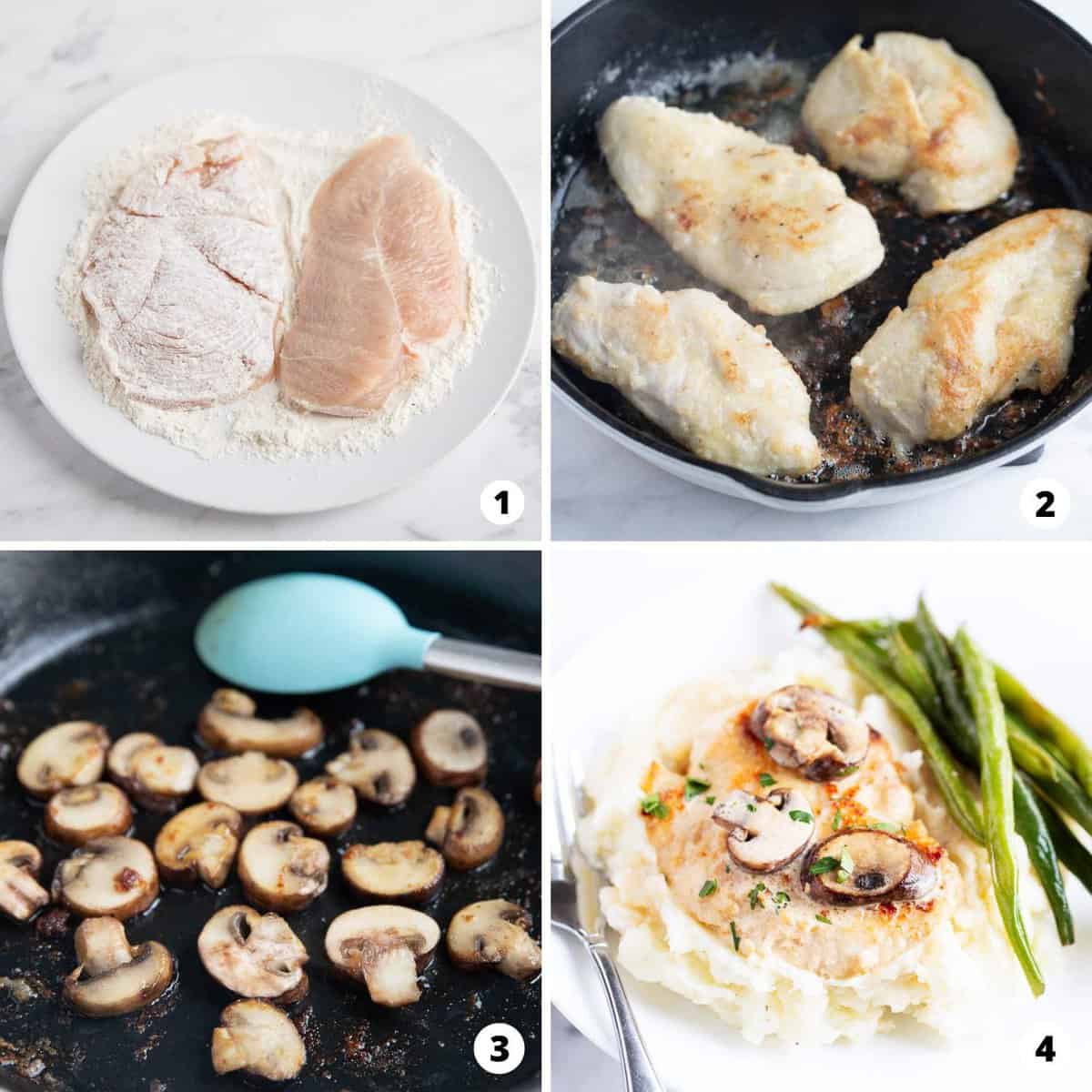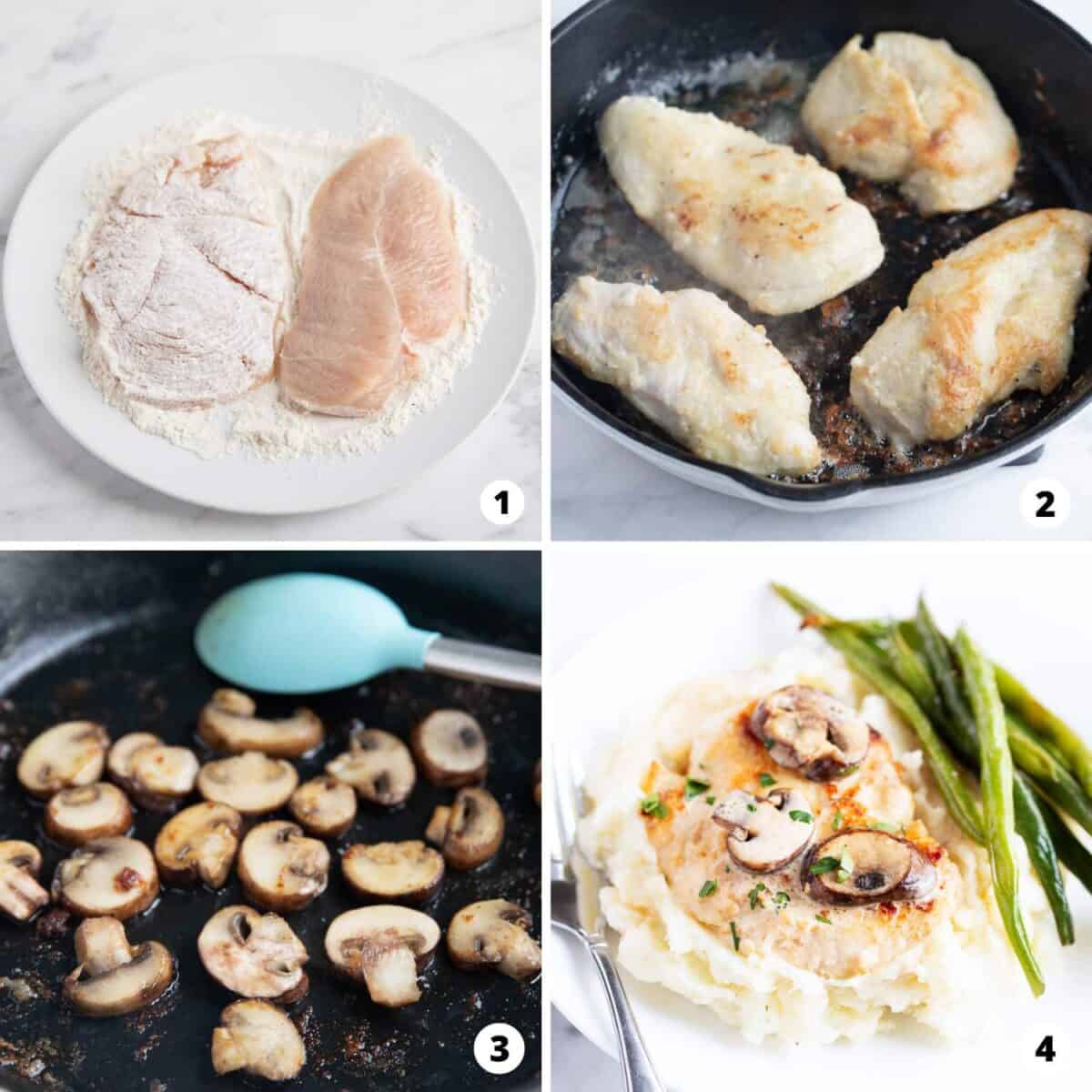 Cut and coat chicken. Slice the chicken cutlets in half horizontally, then coat each piece with the flour mixture (flour, garlic powder, salt, and pepper).
Cook in a skillet. In a large skillet (I used cast iron), heat the oil and butter over medium-high heat. Gently shake off any excess flour from the meat, then place in the skillet. Cook until the chicken is golden brown and no longer pink in the middle, about 4 to 5 minutes on each side.
Add mushrooms and sauce. Add in the mushrooms and cook for about 3 minutes. Pour in the marsala and let boil for a minute or so to burn out the alcohol. Then pour in the broth and simmer for about 5 to 10 minutes.
Cook chicken in sauce. Once the consistency of the sauce has thickened, slowly whisk in the cream and cook until it's just lightly simmering. Stir occasionally. Add in the chicken and let cook in the sauce for an additional 1 to 2 minutes. Garnish with fresh parsley or thyme if desired.
Cooking Tips
Here are a few tips to help with cooking chicken marsala. Using a dry marsala wine is delicious, adds flavor, and cooks out but can be substituted. These tips and modifications will help you create the best dinner for your family!
Substitutes for marsala wine: I like to use marsala wine when making this dish. It has a distinct taste and adds a savory and nutty flavor. It's great when making caramelized sauces. If you can't find marsala wine, you can also use dry or sweet cooking wine.
Thickness of chicken: If your chicken breasts are on the thicker side, I'd recommend thinning them out even more with a meat mallet after you slice them in half. Not only does it help tenderize the meat, but it will help it cook more evenly (and quickly) in the skillet.
Thickening the sauce: If you'd like to thicken your marsala sauce even more, try adding in some additional flour (add a teaspoon at a time so that the sauce doesn't over thicken). Mix a teaspoon of flour with a teaspoon of water and add to the sauce, then simmer until it thickens up.
5 star review
"This was a total winner! We had this last night and all my kids loved it, which is the real test. Of course my hubs and I really enjoyed it too. This is a keeper!"

-Emily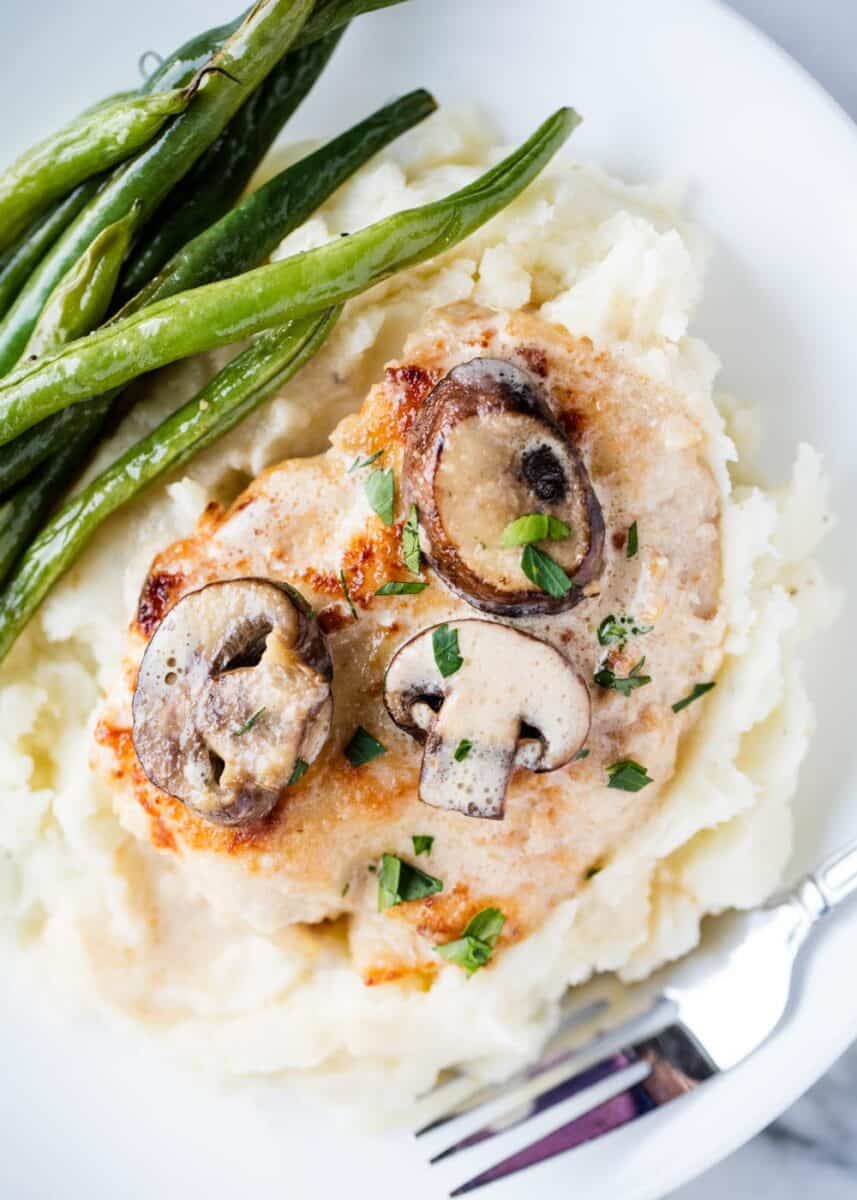 Chicken Marsala Sides
This chicken marsala recipe tastes amazing served over mashed potatoes (my personal favorite), noodles, or rice. We also love to serve it with a side of steamed veggies.
Recipe FAQs
What is chicken marsala sauce made of?
Chicken marsala sauce is a combination of marsala wine, chicken broth, heavy cream, and freshly chopped parsley. This combination makes a flavorful and creamy sauce to pour over top the chicken and mushrooms.
What flavor is marsala sauce?
Marsala sauce is a very rich and earthy Italian sauce. The mushrooms and the wine combined are the key ingredients whereas the fresh herbs are a subtle sweetness that enhances the dish all around.
Is marsala wine alcoholic?
Yes, but the alcohol does cook out during the cooking process. More fortified wines have a high alcohol content because of the flavor. Again, it does cook out but leaves a flavor that is rich and sweet marsala. Using a small amount goes a long way!
Is Marsala Italian or Indian?
Marsala is from Sicily and is Italian, not Indian. It is a brandy-fortified wine that is always a great pantry staple to have on hand for special dinners.
Storing and Reheating Leftovers
Place the remaining leftovers in an airtight container and store them in the fridge for three to four days long. When ready to reheat, place in the oven at 350 degrees Fahrenheit for 10 to 12 minutes or until warmed through.
More Italian Chicken Dishes
HUNGRY FOR MORE? Subscribe to my newsletter and follow on Facebook, Pinterest and Instagram for all the newest recipes!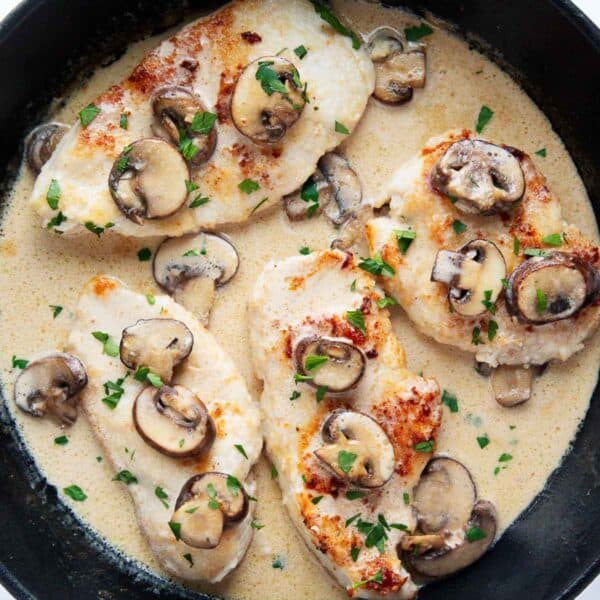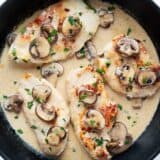 Chicken Marsala
This chicken marsala recipe is restaurant quality and makes the perfect dish to impress your guests. It's loaded with flavor and made in one pan in just 30 minutes!
Ingredients
2 large boneless chicken breasts (about a pound)
¼ cup all-purpose flour
½ teaspoon garlic powder
1 Tablespoon olive oil
2 Tablespoons butter (more if needed)
1 cup sliced mushrooms
⅓ cup marsala cooking wine (can also use dry or sweet)
¾ cup chicken broth
¼ cup heavy cream (more if desired)
Kosher salt and pepper, to taste
Optional: Freshly chopped parsley or thyme
For serving: Mashed potatoes, noodles or rice
Instructions
Cut the chicken breasts in half horizontally to make 4 chicken fillets. If you'd like to pound them thinner, place them in a bag and pound the top of the chicken breast until even.

Then whisk together the flour, garlic powder salt and pepper in a shallow dish. I usually add about 1/2 teaspoon salt and 1/4 teaspoon pepper to start. Then coat the chicken breasts in the flour mixture.

Heat the olive oil and butter in a large skillet over medium-high heat. Lightly shake off any excess flour from the chicken and then place into the skillet. Cook 4-5 minutes per side, or until golden brown and cooked through.

Add more butter if needed and then cook the mushroom for 3 minutes. Then pour in the marsala wine and boil down for a minute to burn out the alcohol. Then add in the chicken broth and simmer for 5-10 minutes.

Once the sauce has begin to thicken, slowly whisk in the cream and cook until it has come to a light simmer. Taste and add more cream, S&P if desired. Then add the chicken back into the pan and cook an additional 1-2 minutes.

Serve over mashed potatoes, noodles or rice. Garnish with fresh parsley or thyme if desired.
---
Nutrition
Calories: 333kcal | Carbohydrates: 12g | Protein: 14g | Fat: 21g | Saturated Fat: 11g | Cholesterol: 91mg | Sodium: 292mg | Potassium: 370mg | Sugar: 2g | Vitamin A: 630IU | Vitamin C: 4.3mg | Calcium: 25mg | Iron: 0.8mg
Nutrition provided is an estimate. It will vary based on specific ingredients used.
Did you make this recipe? Don't forget to give it a star rating below!