This white chicken lasagna with pesto is creamy, cheesy and absolutely delicious. The perfect spin on the classic lasagna recipe that the whole family will love!
We love traditional lasagna, but this white lasagna recipe is a close second. It's made with chicken instead of beef and is covered in a white pesto sauce instead of marinara. It's a fun way to switch up the classic and tastes so delicious!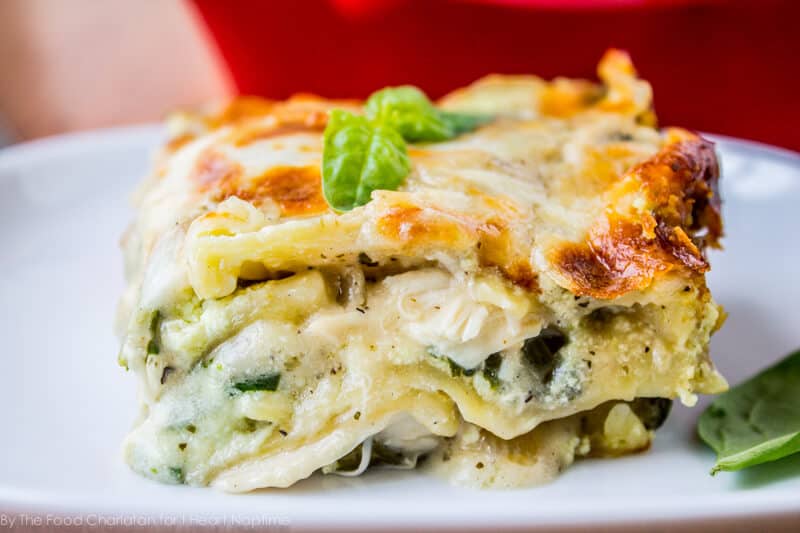 I threw this chicken lasagna recipe together one day, and I mean that literally. You can honestly ignore all of my specific instructions below about when to put in the spinach and when to add the cheese. Just throw it all in…it will taste the same in the end. :) Lasagna is one of those meals that you just can't mess up!
This easy chicken lasagna is full of pesto, chicken and spinach (that you can't taste–let's be real) and a lightened up white sauce. It's cheesy, creamy and absolutely delicious. My whole family loved this recipe and it will definitely be made on repeat. You can't beat a meal where you literally just throw everything together and bake it!
5 delicious layers
Noodles: No-boil noodles are used, making it super easy. The sauce will help them steam and get tender as they bake.
Ricotta: Creamy ricotta cheese mixed with fresh pesto for extra flavor.
Spinach: I love to sneak in fresh spinach for extra veggies.
White sauce: A delicious sauce infused with onions, garlic and basil.
Cheese: A mixture of mozzarella and parmesan that makes it super cheesy and delicious.

Reheating + Freezer tips
Reheating: You can reheat in the microwave or oven, however I prefer the oven for best results. Preheat the oven to 350°F and bake covered for 15 to 20 minutes, or warm throughout. I like to add a dash of water to ensure it doesn't dry out.
Freezing: Assemble the lasagna in a freezer safe pan according to directions. Cover tightly with foil, then freeze. When ready to enjoy, bake from frozen at 350°F for about 50-60 minutes. You'll probably need to bake for a few minutes longer than usual since it was frozen.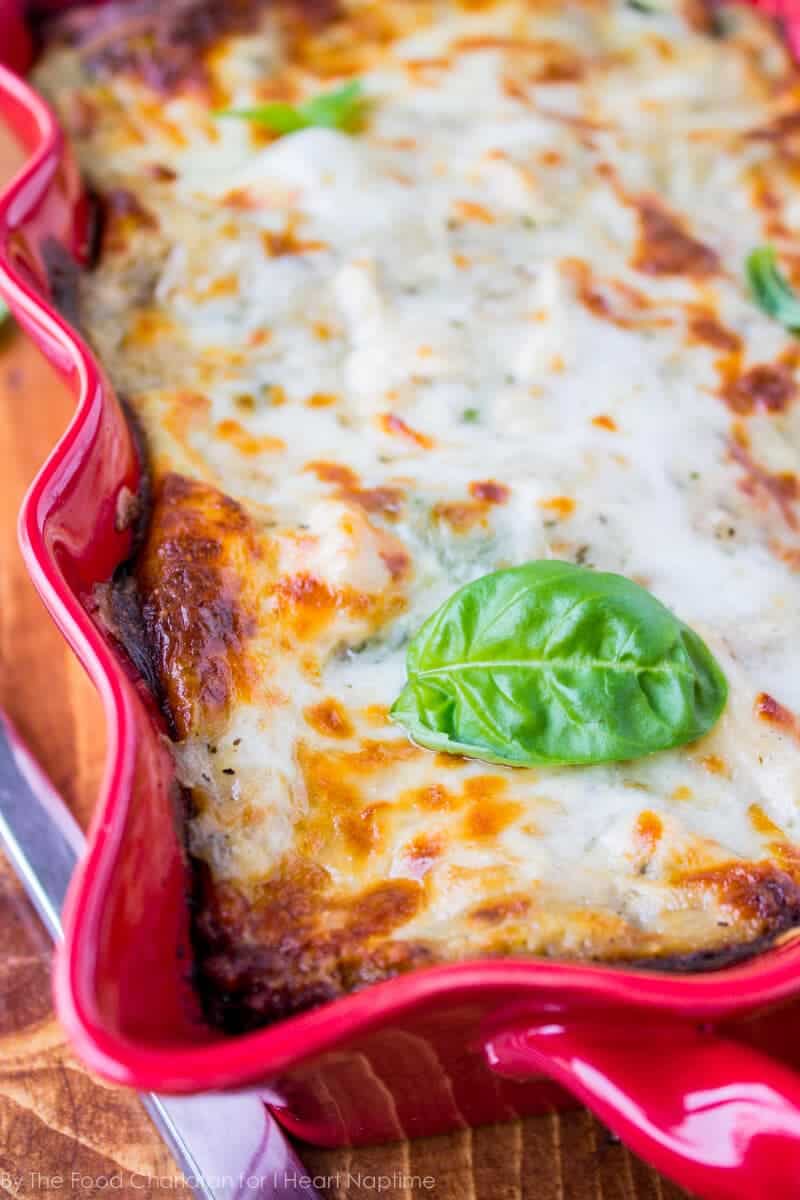 More baked pasta recipes: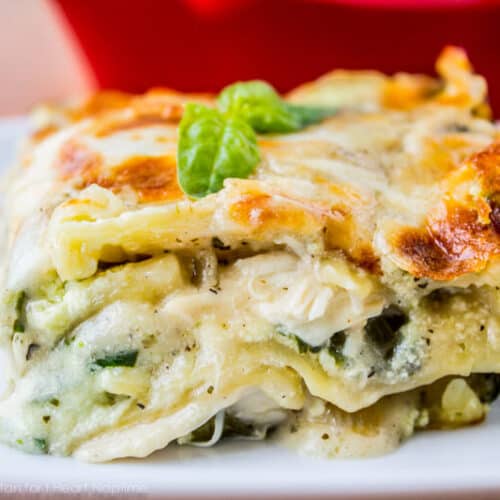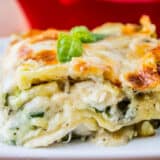 White Chicken Lasagna Recipe
This white chicken lasagna with pesto is creamy, cheesy and absolutely delicious. The perfect spin on the classic lasagna recipe that the whole family will love!
Ingredients
3 tablespoons butter
3 tablespoons olive oil
1 small onion chopped (about 1 cup)
3 cloves garlic minced
2 teaspoons dried basil or 1 tablespoon fresh
1 teaspoon salt
1/2 teaspoon pepper
6 tablespoons all-purpose flour
1/3 cup milk
1/3 cup Greek yogurt
1 and 2/3 cup chicken broth
2 cup cooked chicken chopped (rotisserie is best)
1 15- ounce container ricotta cheese
1/3 cup basil pesto homemade or store-bought
1 egg
9 no-boil lasagna noodles
1 and 1/2 cups mozzarella cheese
2-3 cups fresh spinach
3-4 tablespoons Parmesan cheese
Instructions
Preheat oven to 350°F.

In a large skillet, melt butter with olive oil over medium heat. Add 1 cup onions and saute 5 minutes, or until the onions are soft. Add 2-3 cloves of garlic and saute one more minute. In a small bowl, combine the basil, salt, pepper, and flour. Add to the onion mixture and whisk together until all the oil is absorbed.

In a large glass measuring cup, add milk, Greek yogurt, and chicken broth. Stir to combine. Gradually add the liquid to the pan, whisking constantly. Go as slow as you need to make sure the liquid gets absorbed. Cook over medium heat, stirring until the mixture is thickened slightly. Add the chicken and turn off the heat.

In a medium bowl, stir together ricotta, pesto, and 1 egg.

To assemble, wet the bottom of a 2 quart casserole dish with some of the white sauce. Just enough so the noodles don't stick. Layer 3 no-boil lasagna noodles on top. Spread with 1/3 of the ricotta mixture. Top with a handful of fresh spinach. Add 1/3 of the white sauce and spread to the edges. Top with 1/3 of the mozzarella cheese. Repeat twice more. Sprinkle the top with Parmesan cheese.

Spray a sheet of foil with nonstick spray and cover the lasagna. Bake for about 50 minutes, or until cooked and tender. Remove the foil and turn up the oven temperature to broil. Broil until golden brown and bubbly, 1 to 3 minutes. Keep an eye on it! Let stand for 10 minutes before serving.
---
Calories: 474kcal | Carbohydrates: 33g | Protein: 23g | Fat: 27g | Saturated Fat: 10g | Cholesterol: 90mg | Sodium: 553mg | Potassium: 315mg | Fiber: 1g | Sugar: 2g | Vitamin A: 1385IU | Vitamin C: 3.5mg | Calcium: 210mg | Iron: 2mg
Photography and recipe contributed by The Food Charlatan for I Heart Naptime.