The best vegetable dip that's light, healthy, and packed with flavor. Perfect with fresh veggies or pita chips. You'll love this dill dip recipe!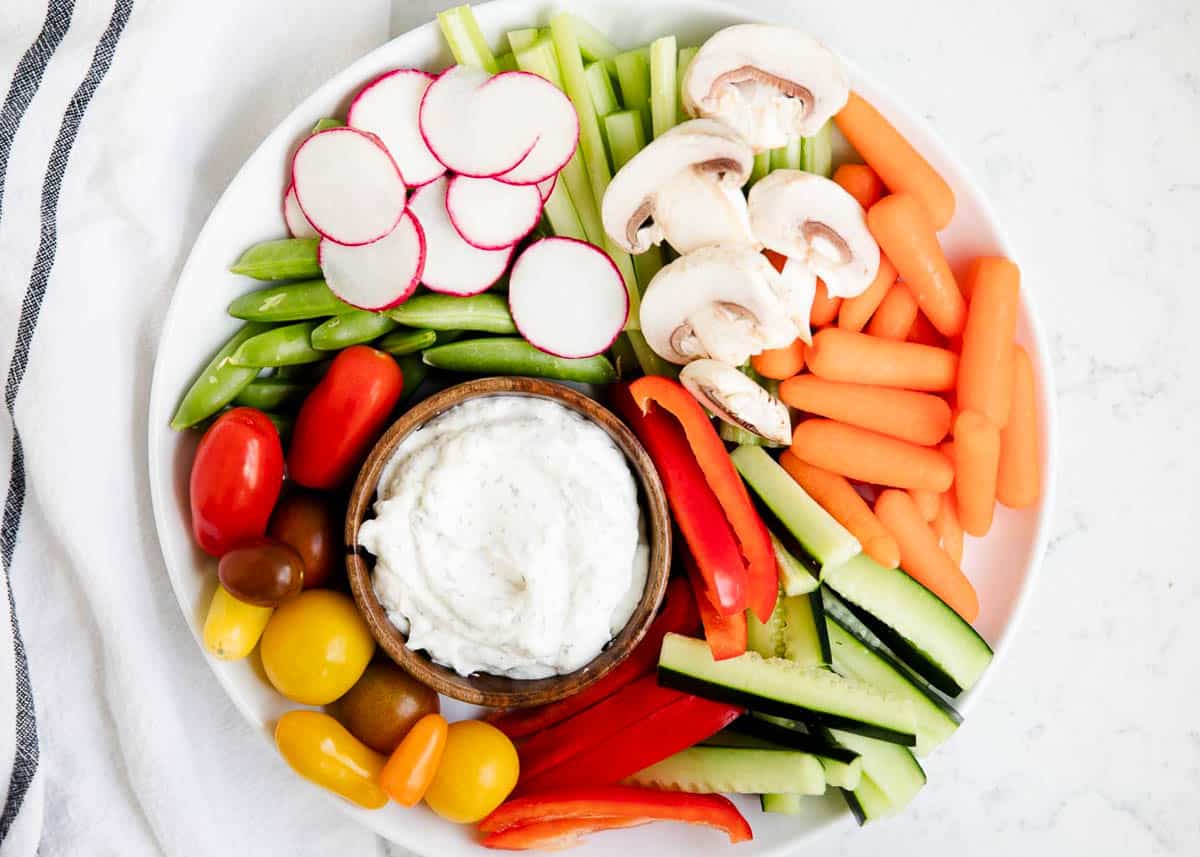 Dill Vegetable Dip
If you're looking for a lighter appetizer recipe or healthy snack to munch on throughout the week, this dill vegetable dip is perfect. It's packed with protein and tastes delicious with fresh chopped veggies. I make it almost every month!
This homemade dill dip is SO much better than store-bought in my opinion. The lightened-up version is my favorite with fresh, raw vegetables. I love to make a big serving of this vegetable dip so that I have a light and healthy option to snack on with veggies throughout the week.
Kids to adults love this fresh vegetable dip! It is a crowd-pleaser that has fresh vegetables, spices, seasonings, and yogurt combined to make a simple dip recipe. It is easy to store and make ahead for after-school snacks or game nights. Watch this dill dip disappear while everyone is enjoying a delicious and healthy dip one bite at a time!
Why It Is Healthier
This dill dip recipe is low in fat, with all the right ingredients, with the best-tasting and healthy veggies to make it light and delicious in every bite! You can't go wrong with this amazing dip and the calories you are going to save!
Lower fat. The base of the dip is made with Greek yogurt instead of sour cream or mayo. Which means it's loaded with protein and a lot lower in fat.
Homemade. Because it's homemade, there are no added preservatives. None of those extra unnecessary ingredients were included.
Extra veggies. It pairs perfectly with freshly chopped vegetables. So if you're looking for a way to get in extra veggies, this Greek yogurt dill dip is the perfect vessel.
Ingredients
This easy dill dip is SO simple to throw together and perfect as a party dip. Just combine all ingredients in a bowl, mix together, then refrigerate until ready to serve. It doesn't get much better than that!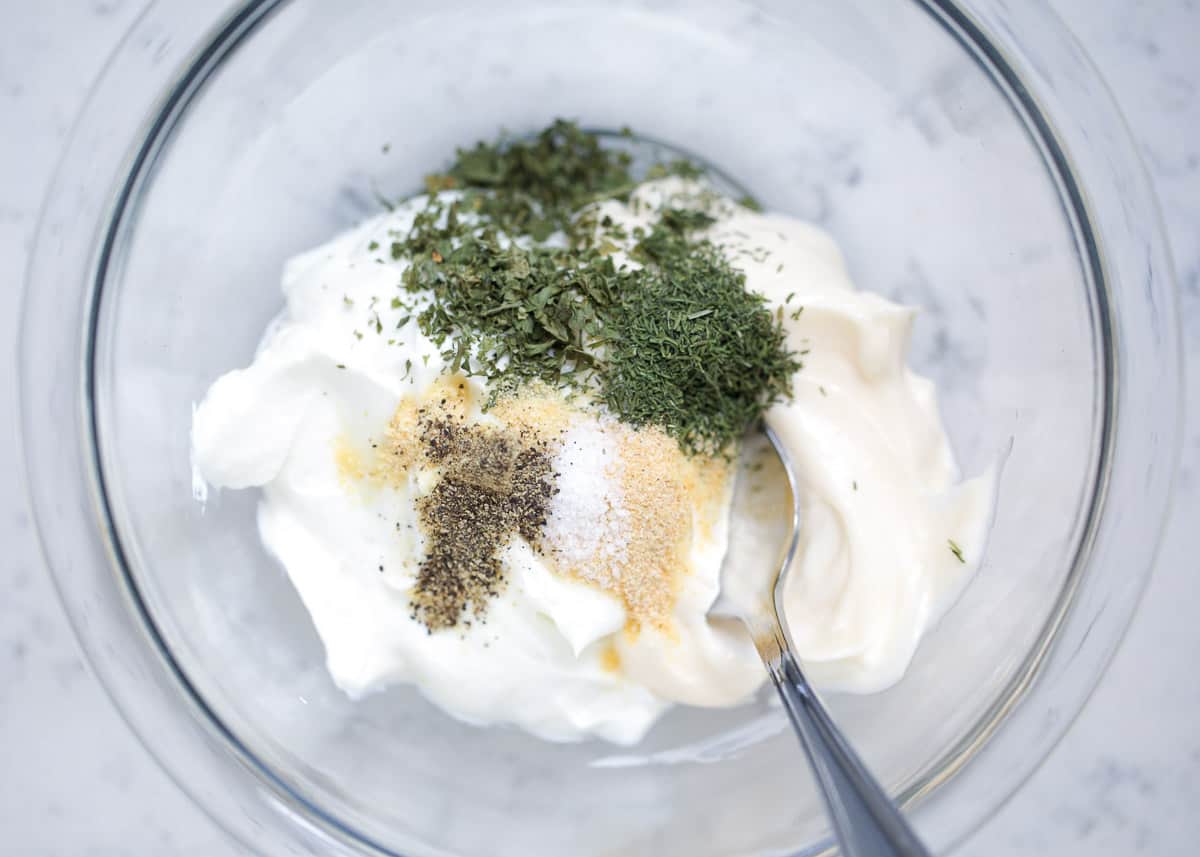 Find the full printable recipe with specific measurements below.
Greek yogurt: This is a thicker consistency of yogurt and is healthy for you. The main ingredient and base of the dill dip.
Mayo with olive oil: This is a smooth and creamy mayonnaise that is filled with olive oil. This is part of the base giving it that creamy texture.
Garlic powder: Gives a boost of garlic flavoring without the texture.
Onion powder: No need to chop an onion when you can sprinkle some seasoning right over top and mix it together.
Dried parsley: Adds color and flavor! This has a very subtle flavor with a freshness to it.
Dill: Dried dill or fresh dill works great! Dill has a citrus flavor with a refreshing and sweet flavor to it.
How Do You Make Dill Dip?
This Greek yogurt dill dip recipe is SUPER easy to make! After making it yourself, you will definitely skip out on the store-bought version. It is a flavorful dip that comes together in one bowl with fresh or dried herbs. Overall, it has the best flavor!
Combine. Stir ingredients together in a medium-sized bowl until smooth.
Season. Taste and add more seasonings as needed.
Store. Cover and refrigerate until ready to serve. Stir right before serving.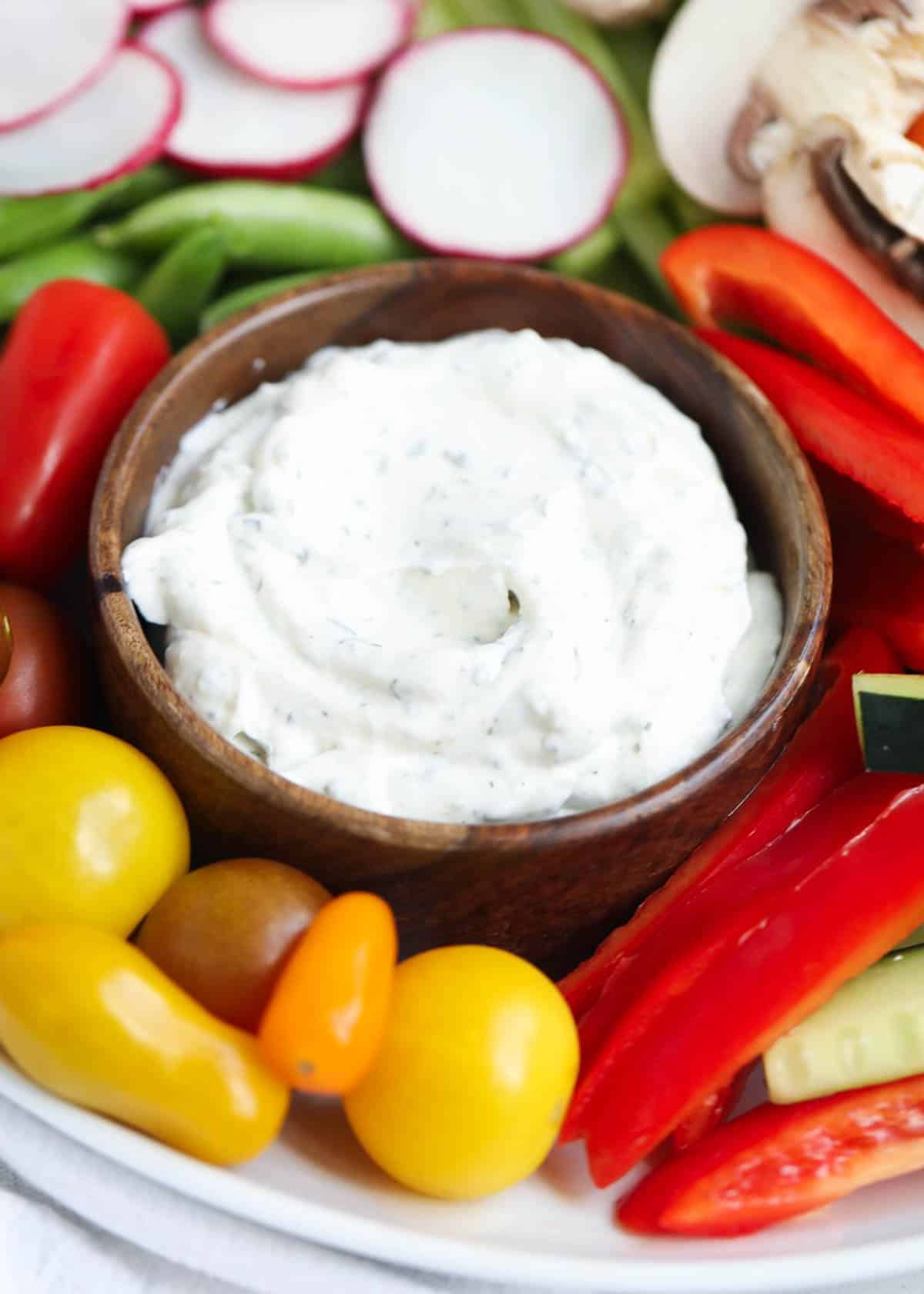 Ways to Enjoy This Healthy Dip Recipe
If you have never had this easy dill dip recipe, its flavor is fresh and distinct. It pairs great with other seasonings and herbs and really helps to bring out their flavors too. There are lots of different ways to eat this vegetable dip, but below are a few of my favorite combinations.
Serving. Serve dill dip with fresh veggies, pita chips, or naan, and pita bread slices.
Veggies: Slice cucumbers, broccoli, cauliflower, carrot sticks, baby carrots, celery sticks, cherry tomatoes, or sliced bell peppers are delicious and colorful around the creamy dill dip.
Charcuterie board. Add it to a fruit and veggie snack platter or place it in a bread bowl for a delicious and beautiful appearance.
Spread. Spread it on a wrap or sandwich to add a layer of extra flavor.
Burgers. Top a Greek chicken burger with this delicious dill vegetable dip.
Salad. Add a spoonful to the top of a Mediterranean or Greek salad.
Dip. Dip grilled chicken kabobs in this delicious dip.
Hummus. Use as a base in this 5-layer Greek dip instead of hummus. Or add it as another layer on top of hummus for extra flavor.
Chips. If you choose to add potato chips, it is best to have ruffles or a thicker type of chip. Lays or a thin chip tends to fall apart or break becasue of the thickness of the dill dip.
Recipe FAQs
What is dill dip made of?
Dill dip consists of sour cream and mayonnaise. We substituted yogurt for the sour cream to give it a healthier spin on the dill dip but still have all the flavor. Fresh dill or dried dill weed, onion, garlic powder, and a pinch of salt are all ingredients blended together.
What goes well with dill dip?
Several types of food can be dipped into the dill dip. Veggies, chips, or bread.
Can you make dill dip with fresh dill?
Yes! One tablespoon of fresh dill equals one teaspoon of dried dill.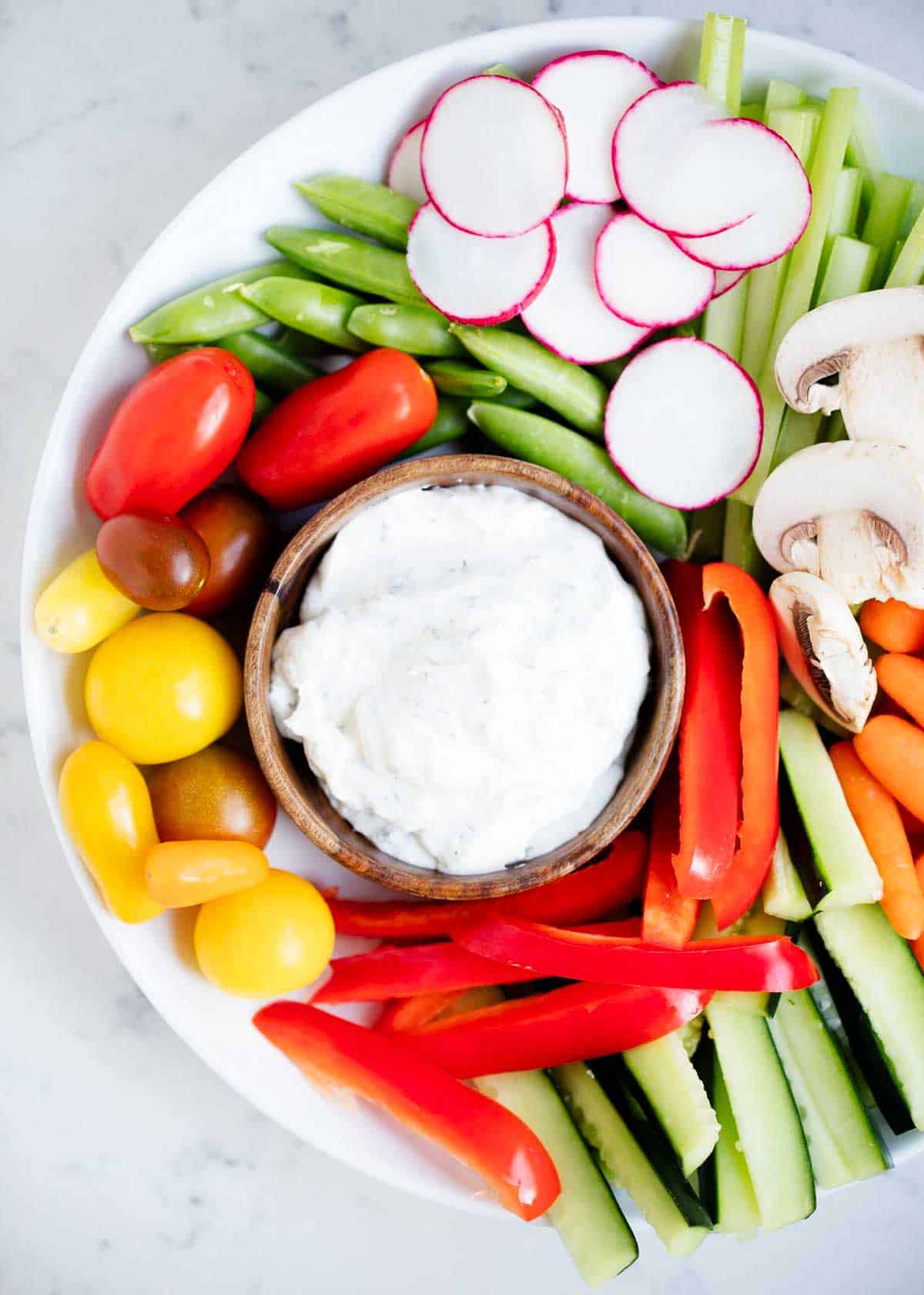 5 star review
"Definitely much better than store bought! Loved the seasonings in this dip!"

-Beth
Make-Ahead Option
One of the great things about this dill veggie dip is that it will keep in the fridge for up to 5 days, meaning you can easily make it in advance!
It only takes 5 minutes to whip up, but if your schedule is busy and you want to knock it out ahead of time – go for it! Simply make the dip according to directions, then cover or place in an airtight container and refrigerate until ready to serve. Just make sure to give it a good stir right before serving!
Other Easy Dip Recipes
HUNGRY FOR MORE? Subscribe to my newsletter and follow on Facebook, Pinterest and Instagram for all the newest recipes!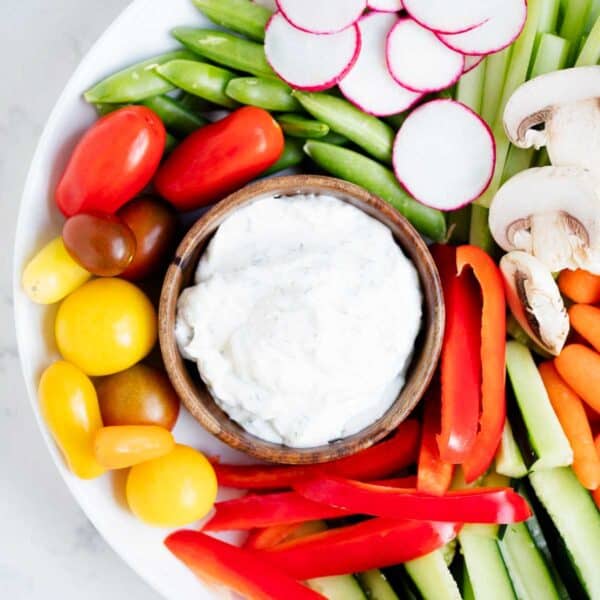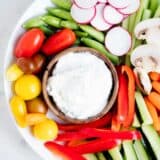 Dill Dip Recipe
The best vegetable dip that's light, healthy,and packed with flavor. Perfect with fresh veggies or pita chips. You'll love this dill dip recipe!
Ingredients
1 cup plain Greek yogurt (or sour cream)
¼ cup mayo with olive oil
⅛ teaspoon salt
Pinch ground black pepper
¼ teaspoon garlic powder
¼ teaspoon onion powder
½ teaspoon dried parsley
½ teaspoon dried dill (or 1-2 Tablespoons fresh)
Instructions
Combine all of the ingredients in a medium-sized bowl. Stir until smooth. Add more seasonings to taste. Cover and refrigerate until ready to serve. Stir right before serving.

Dish up with your favorite vegetables and crackers and enjoy!
---
Notes
For a less healthy version, you can use 3/4 cup sour cream and 1/2 cup mayo. ;)
Nutrition
Calories: 25kcal | Carbohydrates: 1g | Protein: 2g | Fat: 1g | Cholesterol: 1mg | Sodium: 78mg | Potassium: 28mg | Calcium: 22mg
Nutrition provided is an estimate. It will vary based on specific ingredients used.
Did you make this recipe? Don't forget to give it a star rating below!