Fried Mac & Cheese -a delicious appetizer!
I blame a couple of my girlfriends for this recipe!
One night a couple of good friends invited me to go out to dinner at the Cheesecake Factory. I am always game for a good piece of cheesecake. Well, we didn't just have cheesecake. I was introduced something amazing. Fried Mac & Cheese. Pretty much life changing. And to think I told them I didn't like mac & cheese and almost didn't even try it.
This is one of the recipes that I always feel should be started with a disclaimer – "I can not be held responsible for excessive calorie intake!"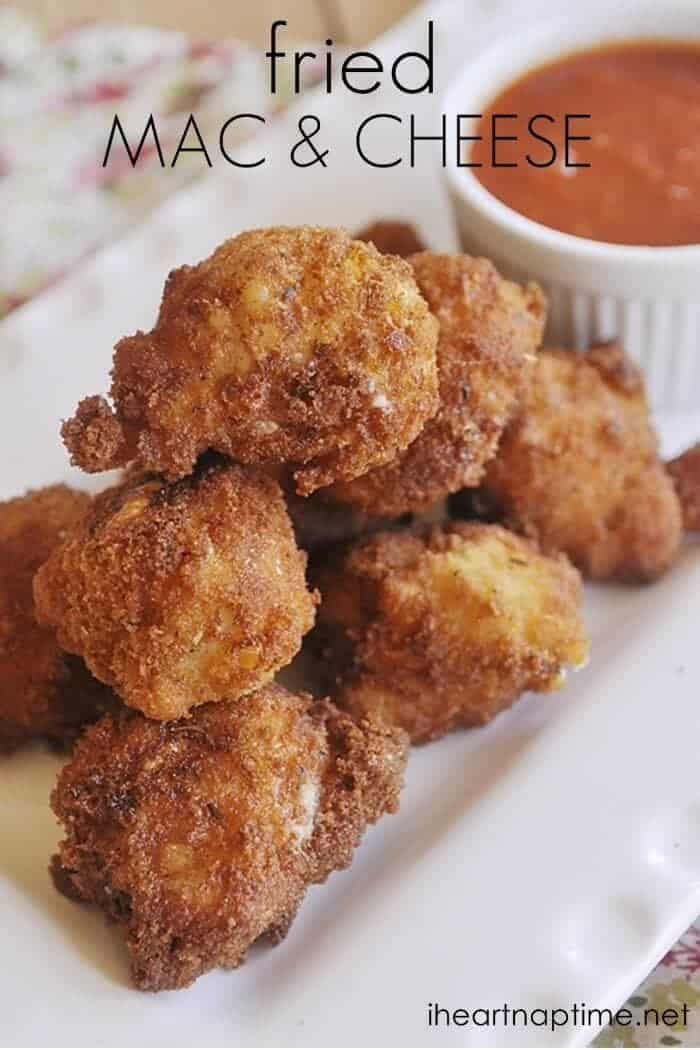 You see, I don't eat mac & cheese or at least I thought I didn't. I did as a kid but only if it was covered in ketchup and it was always the kind out of the box. It was the 70's and just about everything came out of a box back then. I didn't even know you could make mac & cheese from scratch. That was until we had a babysitter when my kids were little who attempted to make it from scratch. Let's just say my kids were pretty much scared for life. Not sure what went wrong but it went really wrong! From that point on my the only kind of mac & cheese my kids would even consider eating had to come out of the box.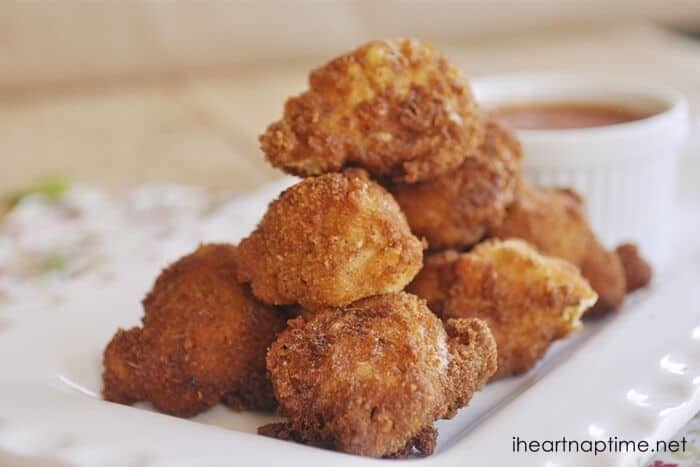 I think they might change their mind though if they had a bite of today's recipe – fried mac & cheese. I found this copycat recipe on line at the Food Network. I tweeked it just a bit and it is pretty much heaven. You could say that anything tastes great deep fried and you'd probably be right but fried mac & cheese is pretty much brilliant.
The recipe is done in a few steps. After making the mac & cheese from scratch using cheddar and smoked gouda you need to refrigerate it so it sets up enough to form into balls. Use your cookie dough scoop to form the balls and then place on a cookie sheet and freeze (overnight is good). You want them nice and frozen.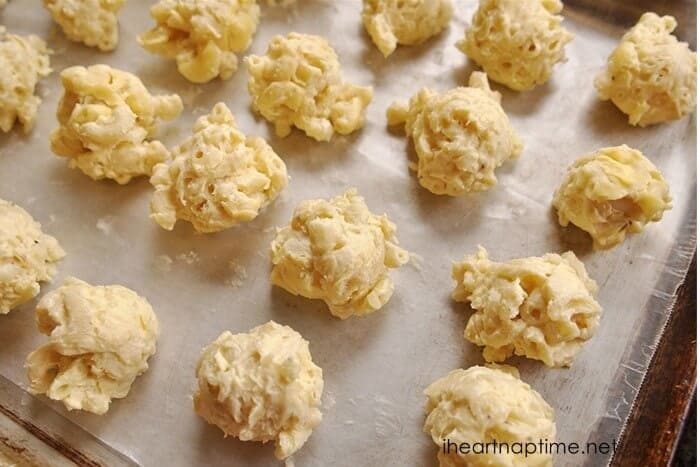 Then are then dipped in a egg wash mixture and rolled into seasoned breadcrumbs and then they take a nice bath in some hot oil. Be sure your oil isn't too hot so they don't cook too fast. You want them to heat through so you don't end up with frozen mac & cheese in the middle! Serve them with a little marinara sauce (or ketchup!) and enjoy!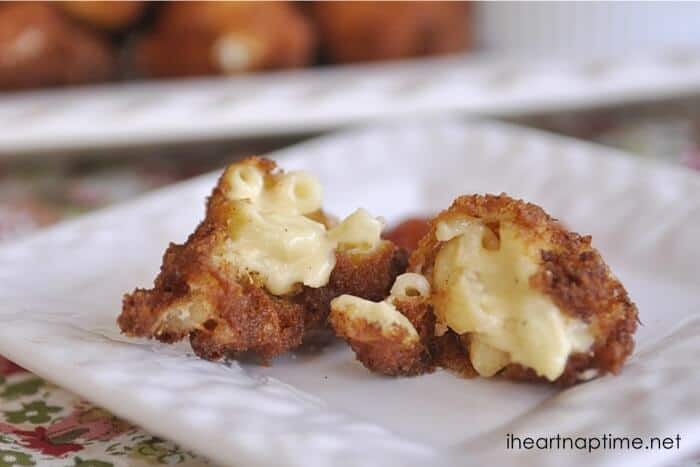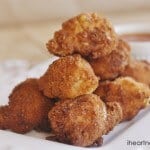 Fried Mac & Cheese
Servings:
36
Mac & Cheese Balls
Fried Mac & Cheese -a delicious appetizer!
Ingredients
1/2

lb

elbow macaroni

1

tbsp

butter

1

tbsp

flour

1

cup

milk, warmed plus 1 Tbsp

1/2

lb

cheddar cheese

1/2

lb

smoked gouda

salt and pepper to taste

1

egg

1 1/2

cup

bread crumbs

1

tsp

Italian seasoning

Optional: Marinara sauce for dipping
Instructions
Cook macaroni according to directions. Drain and rinse with cold water. Set aside.

In a pan, melt the butter over medium heat and sprinkle in the flour. Whisk together. Cook for 2 minutes.

Add in warmed milk and stir to get rid of lumps. Cook until sauce thickens, about 2 minutes.

Remove from heat and add in cheese, stir until melted and smooth. Season with salt and pepper. Pour cheese over macaroni and stir to combine.

Pour into a shallow pan and refrigerate for 2 hours.

Form macaroni and cheese into balls using a cookie or ice cream scoop. Place on a wax papper lined cookie sheet and freeze overnight.

Mix together egg and 1 Tbsp milk to make a wash in a shallow bowl. Mix bread crumbs and seasoning together and place in a shallow bowl. Dip macaroni and cheese balls into egg and then cover with bread crumb mixture.

Heat oil to 350 degrees and fry macaroni and cheese balls until they are golden brown and cooked through. About 5 minutes.

*Serve with marinara sauce.

Extra can be stored in the freezer
Nutrition
Calories:
98
kcal
|
Carbohydrates:
8
g
|
Protein:
4
g
|
Fat:
4
g
|
Saturated Fat:
2
g
|
Cholesterol:
19
mg
|
Sodium:
131
mg
|
Potassium:
47
mg
|
Vitamin A:
125
IU
|
Calcium:
108
mg
|
Iron:
0.4
mg
PIN THIS RECIPE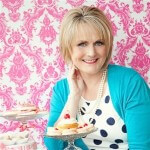 I'm Leigh Anne and food, family and friends are three of my favorite things. I am the mother of four young adults, a new mother in law and am still trying to adjust to life as an empty nester along with my husband of over 30 years. I love throwing parties, burying my head in a book and digging in the dirt in my garden. My husband would tell you I love making messes in the kitchen and craft room and finding junk (treasures) at Goodwill. I believe that life is beautiful and it is up to us to find and create that beauty. I love sharing my journey to finding the pretty and delicious in life over at Your Homebased Mom. You can also visit me on Facebook, Pinterest, Twitter or Instagram.