Gouda mac and cheese is an irresistibly creamy and delicious meal or side dish. It will quickly become a family favorite thanks to creamy macaroni with a crunchy breadcrumb topping.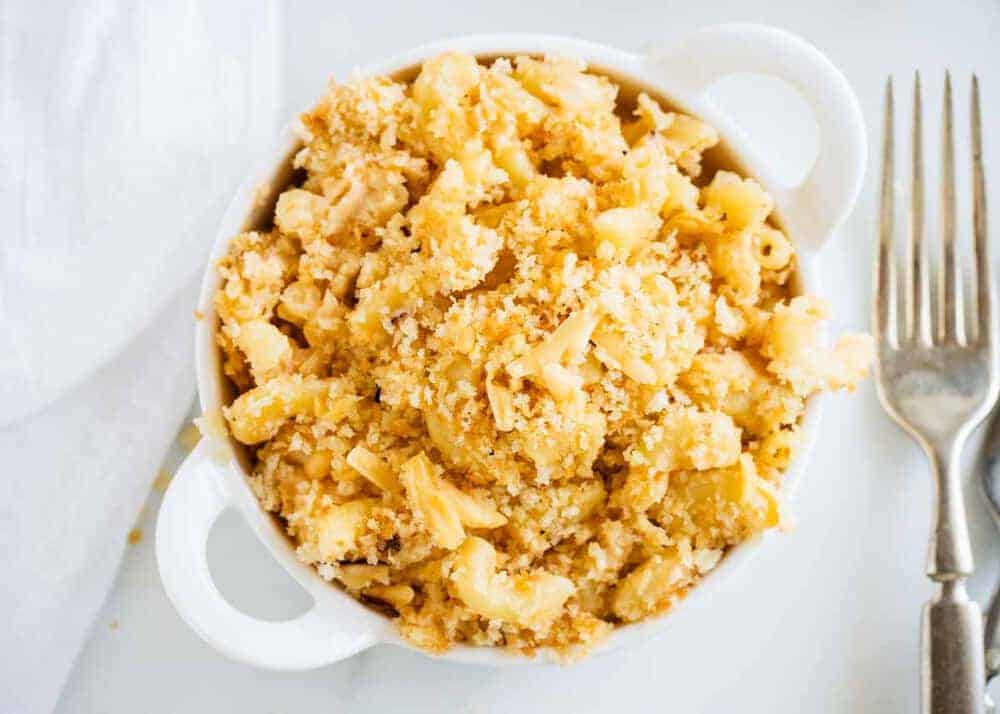 Smoky Mac and Cheese with Gouda
Homemade macaroni is a staple in our household—with four children, it almost has to be. I have to admit, I have had my share of times where I have made the famous blue boxed version.
However, once I realized how easy it was to make a rich smoked gouda mac and cheese from scratch, I was sold. This dish can come together in ten minutes or less, then all you have to do is let the oven take care of the rest. It reminds me of my favorite baked macaroni and cheese, but with a smoky twist!
It almost goes without saying that this dish is infinitely better than any version that comes with a packet of powdered cheese and has become a family favorite. Other family favorites with macaroni noodles that we can't get enough of include this easy goulash.
What Does Gouda Taste Like?
I am a HUGE gouda fan. Give me a cheese tray with a dozen options and the gouda is the one I'll be back for again and again. One of the reasons this gouda mac and cheese is so out-of-this-world fantastic is that rich, smokey gouda flavor.
Gouda has an incredibly creamy, slightly salty flavor. Typical gouda is quite sharp, but the smoked version mellows the sharpness while adding a rich smoky flavor.
Recipe Ingredients
Find the full printable recipe with specific measurements below.
Gouda cheese: Freshly grated smoked gouda will give you the best flavor and texture. It gets mixed into the sauce, however I also love adding a little more gouda on top before going into the oven.
Noodles: Dry elbow macaroni are the traditional noodles used to make this gouda mac and cheese recipe. They are small, tender and will get evenly coated in the cheese sauce.
Roux: As with any traditional roux or bechamel sauce, you'll need butter, flour and milk. This helps thicken the sauce and makes it nice and creamy.
Spices: Dry mustard, onion powder, smoked paprika, salt and pepper help boost the flavors in this gouda mac n cheese even more.
Breadcrumbs: A crispy breadcrumb topping is the finishing touch for this mac and cheese with gouda. It adds the perfect crunch and buttery flavor.
Substitutes for Gouda
If you find that you don't enjoy smoked gouda cheese or can't find it, there are a few substitutions. This recipe relies heavily on that smoky, creamy gouda flavor, so your best option is to find something that closely mimics it.
Because gouda is a semi-hard cheese, it melts easier and at a different pace than a typical hard block of cheese. Some options to try instead are:
Smoked mozzarella
Havarti
Muenster
Monterey Jack
Sharp cheddar cheese
How to Make Gouda Mac n Cheese
Ready to get started? You'll find the full, printable version of the recipe below, but here are the basic steps you'll take: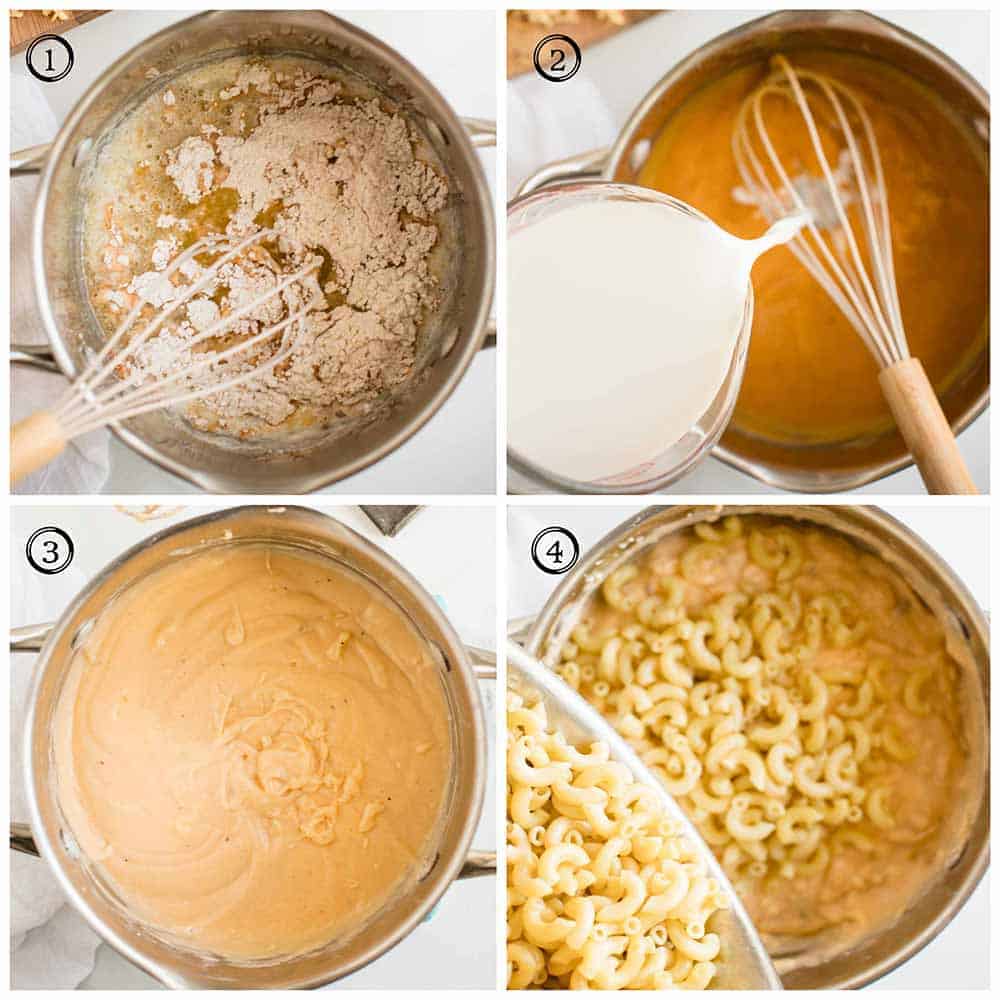 Cook the macaroni. You can pick the brand of your choice and follow the package instructions to boil and cook.
Create your sauce (photos 1 & 2). It has a rich sauce with a base of butter, flour, and spices whisked with milk.
Stir in the cheese (photo 3). Take the pan off the heat and let the cheese melt into the sauce while you stir.
Combine the cheese sauce and macaroni (photo 4). Now put dish together by combing the cheese sauce with the cooked pasta. Stir it up then pour into a 2-quart casserole dish.
Add the breadcrumbs. Sprinkle with a mixture of breadcrumbs and butter, then spread evenly over the top.
Bake, serve, and enjoy!
5 star review
"It was delicious! My husband said it was the best Mac and cheese he ever had!!"

– Vanessa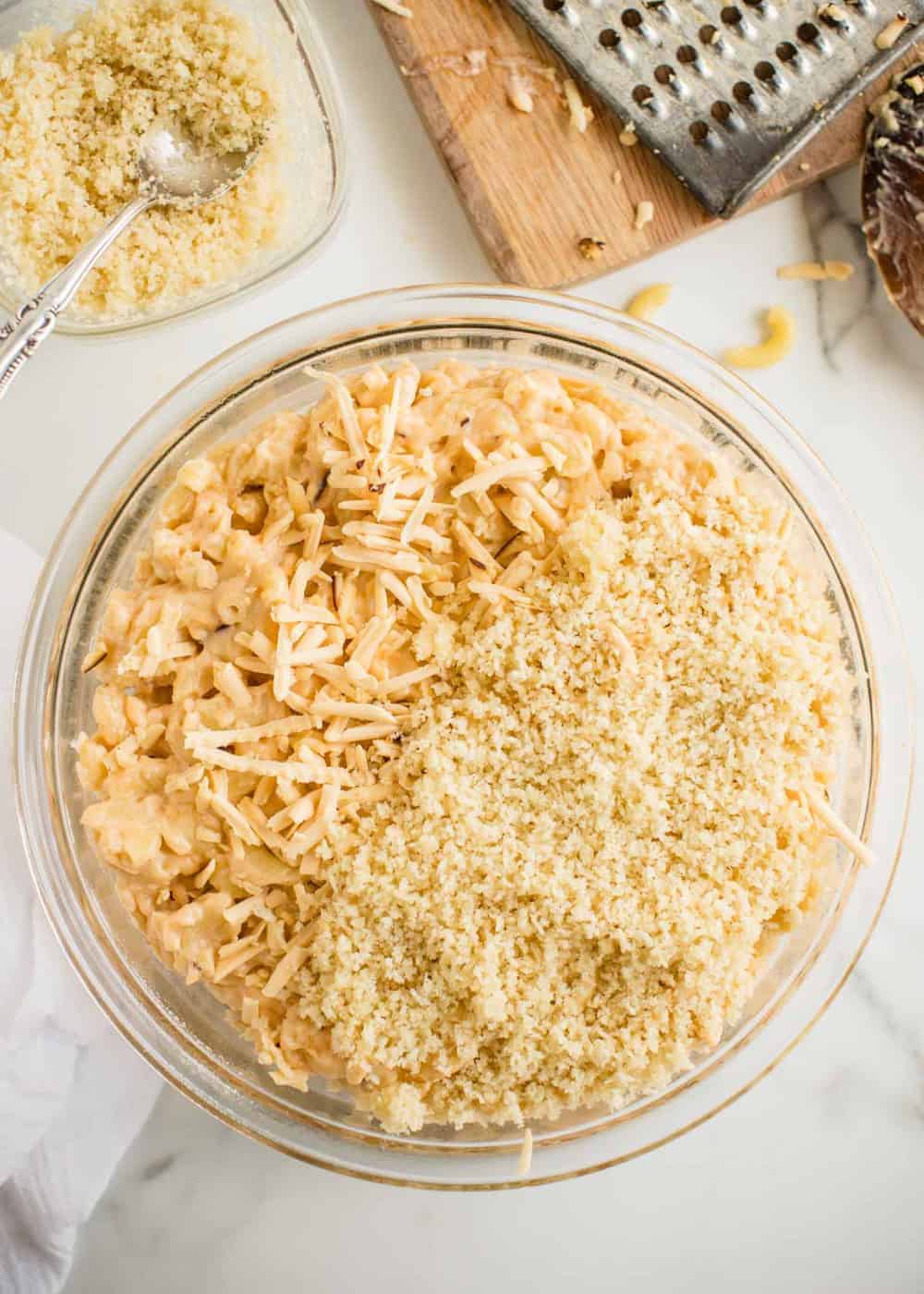 Expert Tips
Here are some helpful tips and tricks when making this recipe:
Drain your pasta. As it cooks, pasta releases starch into the water. You don't want your mac n cheese to be starchy and tough, so make sure to rinse well after the macaroni is cooked.
Whisk milk in slowly. As you are creating the cheesy gouda sauce, you need to add the milk in a little bit at a time and whisk continually. This will help prevent the milk from becoming scalded or overly frothy.
Help your sauce thicken. Once the sauce base is put together, you'll want to cook it 3-5 minutes to let the sauce thicken before adding your cheese.
Turn off the heat. To help the sauce have that perfect consistency, you need to remove the sauce from heat before adding your cheese. Stir well as the cheese is melting into the milk mixture.
Make homemade breadcrumbs. If you have some stale or dry bread, cut it into cubes than bake it in the oven at 300 degrees for 15 minutes. Then, use a food processor to pulse it into crumbs. Alternately, try a cornflake topping like I do in funeral potatoes recipe.
Recipe FAQs
Does gouda cheese taste like cheddar?
Cheddar is a bit more hard and sharp than gouda, with a stronger flavor. Gouda is smokey and creamy, with a slightly salty taste.

Both can be used when making macaroni and cheese, so it really comes down to preference. I prefer this delicious mac and cheese with gouda (over cheddar) all day long!
Is gouda cheese a good melting cheese?
The fat content and moisture in gouda makes it great for melting, especially in this mac and cheese recipe. It gets so creamy and delicious when melted!
What kind of cheese is similar to gouda?
If you can't find gouda or would like to experiment with a similar tasting cheese, try using smoked mozzarella, Havarti, muenster, Monterey jack or sharp cheddar cheese.

HUNGRY FOR MORE? Subscribe to my newsletter and follow on Facebook, Pinterest and Instagram for all the newest recipes!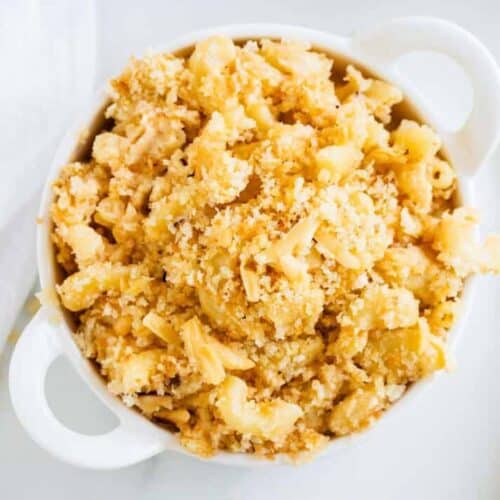 Gouda Mac and Cheese
Gouda mac and cheese is an irresistibly creamy and delicious meal or side dish. It will quickly become a family favorite thanks to creamy macaroni with a crunchy breadcrumb topping.
Ingredients
2 ¼ cups dry elbow macaroni
½ cup butter (1 stick)
½ cup all-purpose flour
¾ teaspoon Kosher salt , more to taste
¼ teaspoon dry mustard
¼ teaspoon onion powder
¼ teaspoon smoked paprika
pepper to taste
2 cups milk
8 ounces smoked gouda , grated (plus additional cheese for topping if desired)
3 Tablespoons butter
1 cup panko breadcrumbs
Instructions
Preheat oven to 350°F. Cook the macaroni according to package directions and drain. While the noodles are cooking, combine the flour, salt, mustard, onion, paprika and pepper in a small bowl.

While macaroni is cooking, melt the stick of butter in a separate saucepan over medium-heat. Add to the flour mixture and stir together for about 1 minute.

Add the milk a little bit at a time, whisking constantly. Once all of the milk is added, continue to stir and cook for another 3-5 minutes, until the sauce thickens. Add the cheese, then turn off the heat and stir to combine.

Add the sauce to the drained macaroni (or the macaroni to the sauce, whichever is in the bigger pot.) Stir to combine, then pour it into a greased 2-quart casserole dish. Top with additional shredded gouda if you want.

In a small bowl, melt 3 Tablespoons of butter in the microwave. Add the breadcrumbs and stir until they are moist. Spread the breadcrumb mixture evenly over the top of the macaroni.

Bake for 15-20 minutes, or until the breadcrumbs start to brown. Remove from oven and let cool 5 minutes before serving.
---
Notes
Can mix the extra shredded gouda and breadcrumbs into the macaroni mixture if preferred. Then also top with a little extra cheese/breadcrumbs.
To make homemade breadcrumbs: If you have some stale or dry bread, cut it into cubes than bake it in the oven at 300 degrees for 15 minutes. Then, use a food processor to pulse it into crumbs.
Substitutes for gouda:
If looking for a substitute, make sure the cheese has a smoky, creamy flavor and is a semi-hard cheese.
Smoked mozzarella
Havarti
Muenster
Monterey Jack
Nutrition
Calories: 470kcal | Carbohydrates: 44g | Protein: 16g | Fat: 25g | Saturated Fat: 16g | Cholesterol: 77mg | Sodium: 672mg | Potassium: 234mg | Fiber: 2g | Sugar: 5g | Vitamin A: 790IU | Calcium: 299mg | Iron: 1.3mg
Nutrition provided is an estimate. It will vary based on specific ingredients used.
Did you make this recipe? Don't forget to give it a star rating below!
Recipe contributed by Karen from The Food Charlatan for I Heart Naptime.