A delicious and easy dump-and-set crock pot recipe perfect for potlucks and parties. Made with just 3 ingredients including frozen meatballs, these juicy, saucy, sweet, and tangy grape jelly chili sauce meatballs are always a crowd pleaser!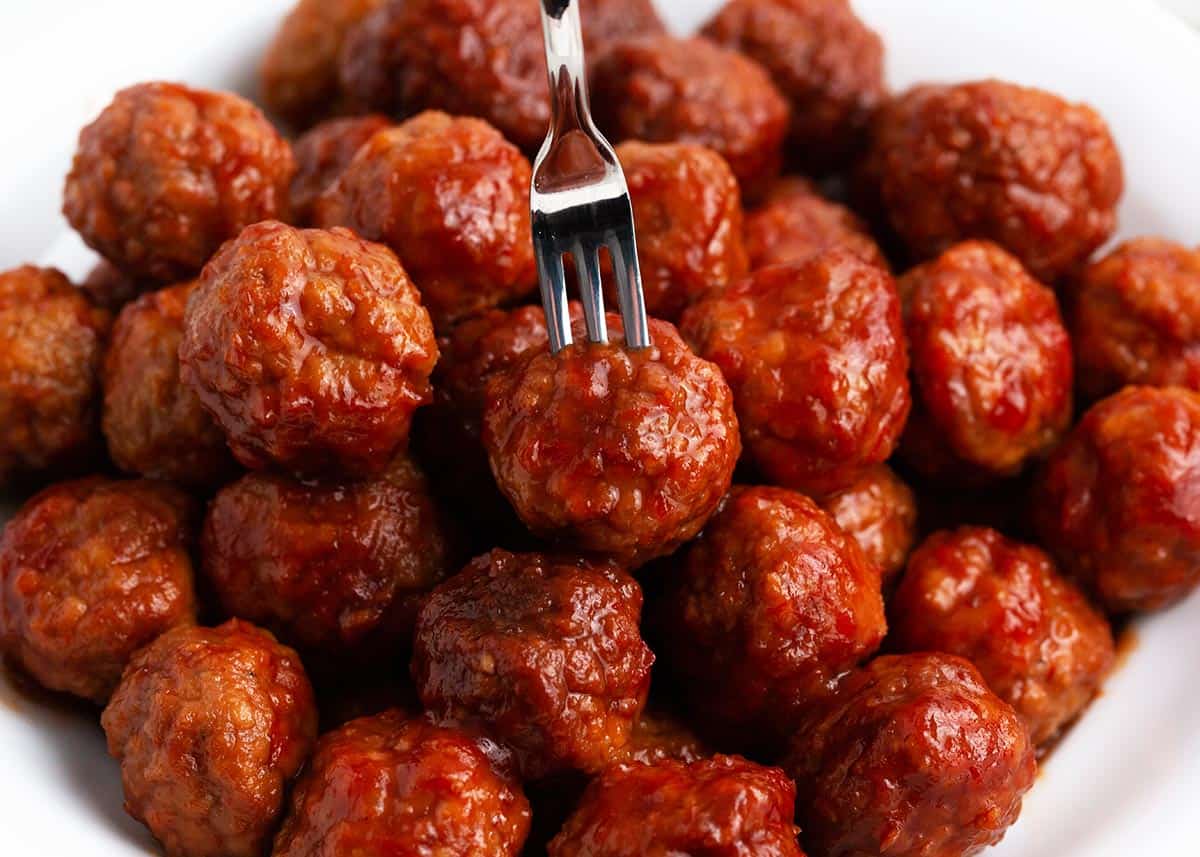 Easiest 3-Ingredient Appetizer
Chili sauce meatballs are part of a series of crockpot appetizers I make using meatballs and 2 other ingredients. BBQ meatballs use grape jelly and barbecue sauce, cranberry meatballs use cranberry sauce and chili sauce, and this recipe is for meatballs in chili sauce and grape jelly!
As you can see the sauce ingredients are interchangeable and you honestly can't go wrong whichever way you go. This dump-and-set crockpot recipe is probably one of the easiest appetizers you'll ever make.
It's great for game day parties, potlucks, and holiday parties. You set it, keep it warm, and everyone can serve themselves right from the pot. I love that it's an effortless way to serve a crowd, whether guests or my own hungry family!
Why This Recipe Works
So much flavor. If you love a really good saucy meatball, you're going to love these mini appetizers. They're sweet and tangy and coat a perfectly juicy, well-seasoned meatball. Made with a few simple ingredients!
Easy appetizer. I normally have a batch of cooked homemade meatballs in my freezer, so I just dump those into the crock pot and walk away.
It makes a ton. This grape jelly meatball recipe can be halved or doubled if needed. Whatever you don't eat, save for the next day. Kids love these as a snack!
Just 3-Ingredients Needed
These grape jelly chili sauce meatballs are made with exactly what you would think…grape jelly, chili sauce and precooked meatballs. That's it! Check out more details on each ingredient below.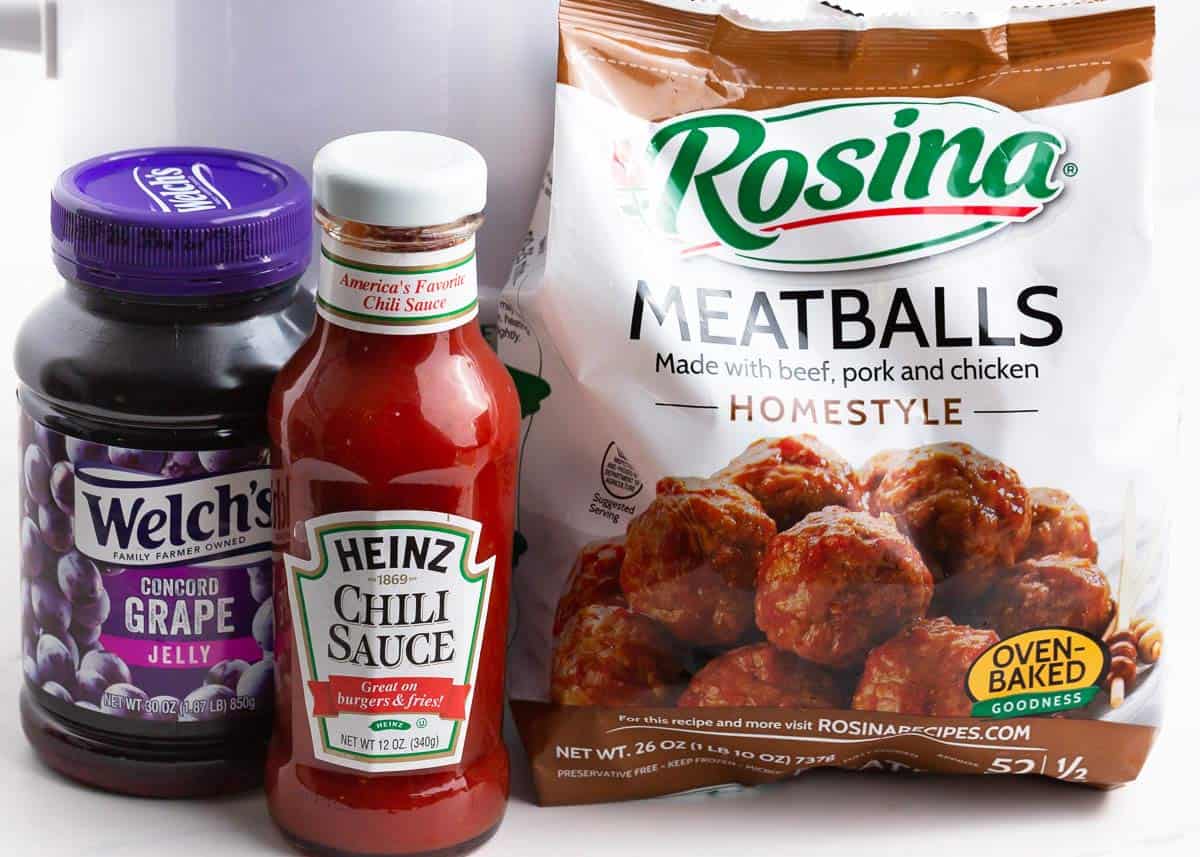 Find the full printable recipe with specific measurements below.
Grape jelly: Any kind you've got on hand. Welch's, Smuckers, or your favorite brand will work. I've yet to try a different flavor of jelly, but if you don't have grape jelly on hand, any other fruit flavor should work!
Chili sauce: I use Heinz chili sauce as it is popular and easy to get my hands on in any grocery store. Don't let the word chili fool you, there is nothing spicy about it! It's like a pungent version of ketchup, thanks to the onions and garlic powder. Super addicting and finger-licking!
Frozen meatballs: A brilliant shortcut! Use whatever kind you like. Ground beef, ground pork, ground turkey, ground chicken, you name it.
A Popular Variation
Substitute the meatballs for little smokies! Another crowd favorite!
How to Make Chili Sauce Meatballs
Only 5 minutes of prep time needed to make meatballs in chili sauce and grape jelly. Just add the ingredients to the crockpot, then let them cook for a few hours until warm and saucy!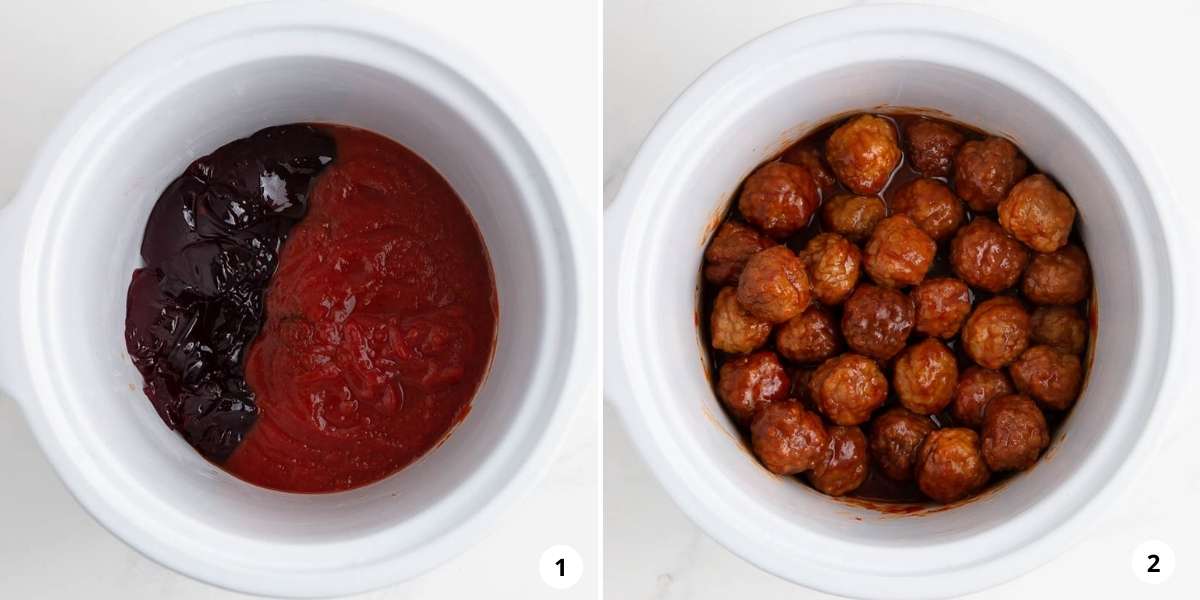 Add sauces the to crockpot. In the base of the slow cooker, pour in both the grape jelly and the chili sauce.
Coat the meatballs. Toss them in and stir everything to coat. Cook on high for 2 hours or low for 2-4 hours. Keep on warm function until you're ready to serve. Enjoy!
Expert Tips
Do not thaw meatballs. No need to thaw them before adding them in. They'll warm up and heat through as they simmer in the sauce.
Meatballs must be cooked! Do not use raw, uncooked meatballs in this recipe.
Half the recipe. Make this using 25 meatballs and just 1 cup each of the chili sauce and grape jelly.
Make ahead. This is the ultimate make-ahead recipe! You can either leave it on the warm setting about 20-30 minutes before serving. Or reheat everything in a skillet over medium-low heat.
Homemade vs Store-bought Frozen Meatballs
Meatballs with grape jelly and chili sauce are as good as they are in no small part because of the classic meatball.
Using a store-bought bag is great because they come in bulk, they're easy and already made. The perfect answer for busy families!
However, if you've got a bit of extra time to make homemade meatballs ahead of time, I highly recommend it! When you make them from scratch you're able to avoid processed foods, control what goes in, what type of meat and seasonings you use, and avoid any added fillers.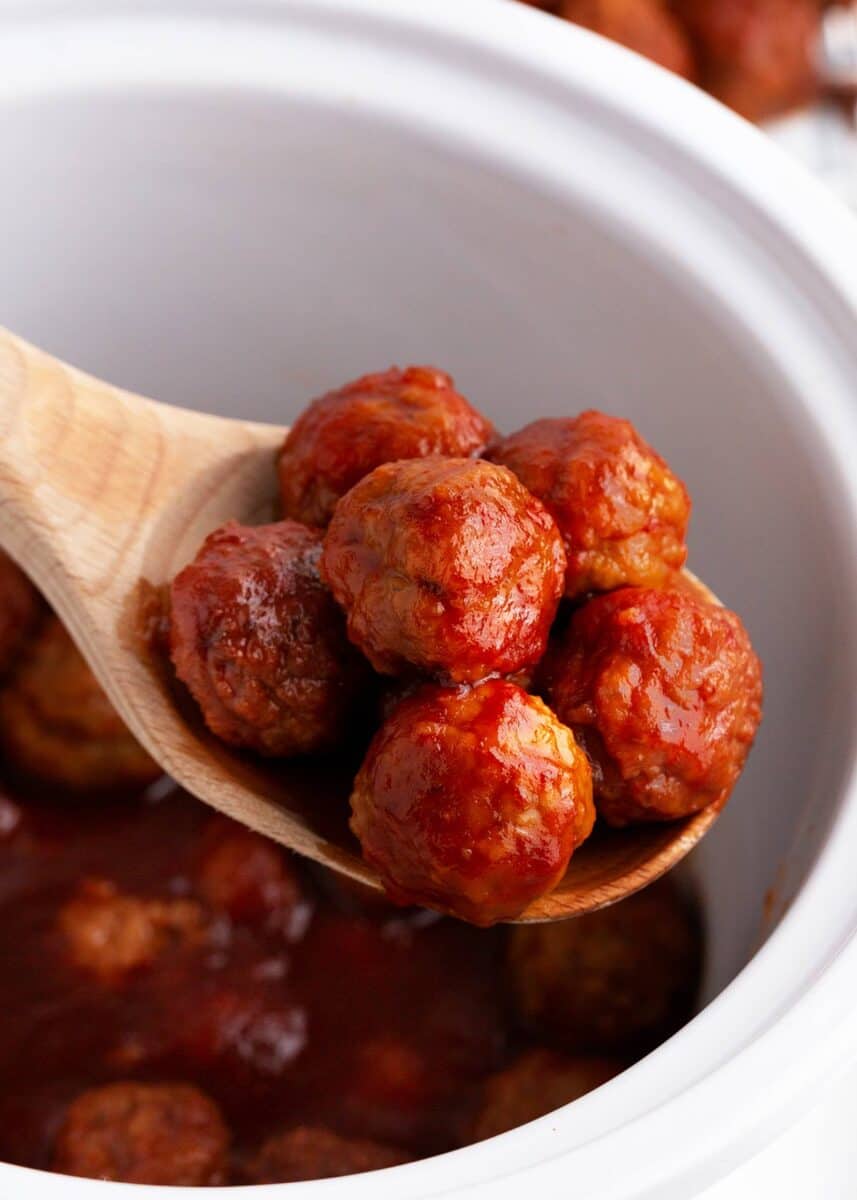 How to Serve Them
This delicious recipe can double as a main dish too! Serve over rice for a simple dinner. There is a sweetness to it, so it's like having sweet and sour meatballs with rice. I don't suggest pasta for that reason, but hey, you do you!
Think about having a variety of appetizers. People love to have a sampling of everything! Try these jalapeno poppers, ham and cheese sliders, or pigs in a blanket for your next gathering.
Recipe FAQs
Can I make crockpot meatballs on the stovetop?
Yes! Although you can't exactly set it and walk away, it only takes minutes, so it's an even trade!

Pour everything into a saucepan and cover with a lid. Simmer over medium heat until heated through. This should only be about 10 minutes or so!
What's the difference between jelly and jam?
The main difference is that jelly is made using the juice of fruit and jam is made with the fruit or pulp of the fruit.

You can use jam, however, I don't recommend it. The consistency may be different, leading to a thinner, runnier sauce. I also prefer jelly because I'm not dealing with any fruit chunks or seeds.
How do you thicken meatball sauce?
For a thicker sauce, you can use a cornstarch slurry. This is just a mixture of cold water and cornstarch.
How do I make sure my meatballs don't fall apart?
Frozen store-bought meatballs have filler in them and are processed in a way that keeps this from happening. Homemade meatballs take a little extra finessing.

Using binding ingredients like an egg and bread crumbs helps to achieve the perfect meatball. Just like mom used to make ;)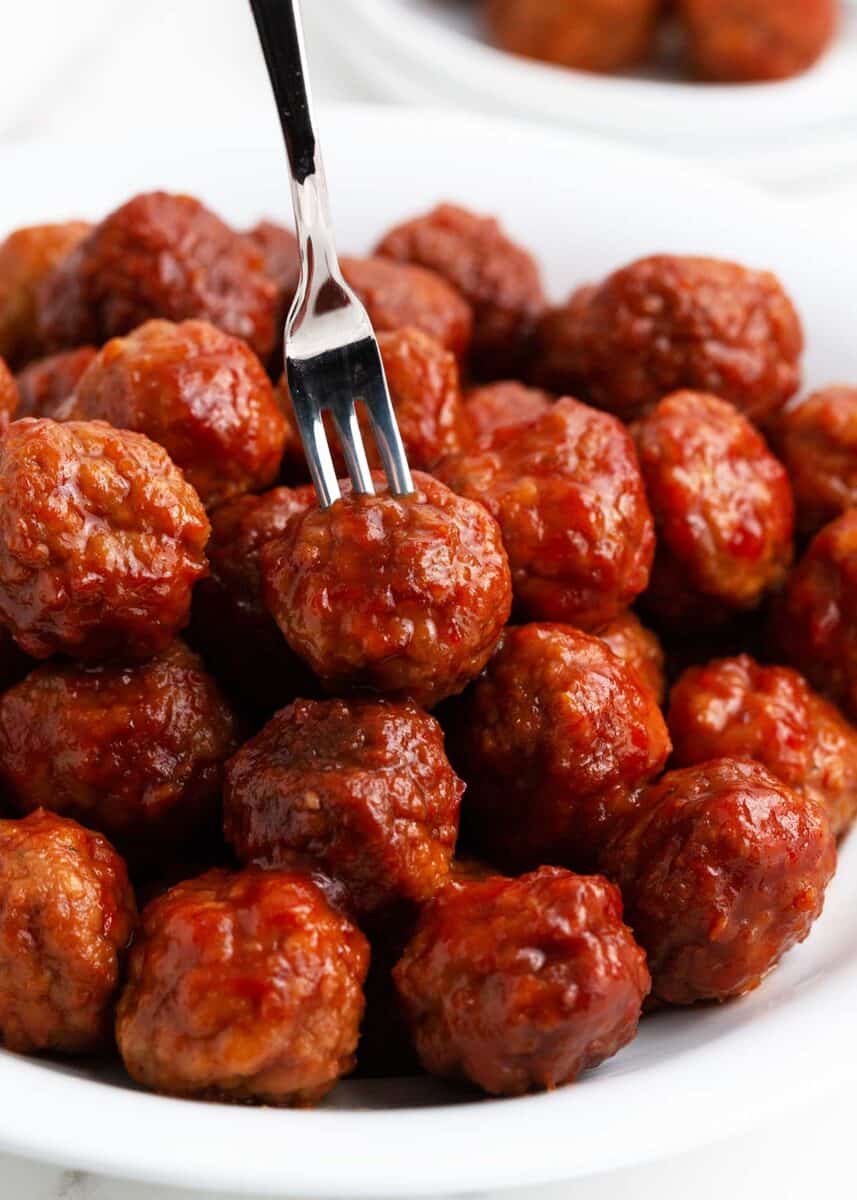 HUNGRY FOR MORE? Subscribe to my newsletter and follow on Facebook, Pinterest and Instagram for all the newest recipes!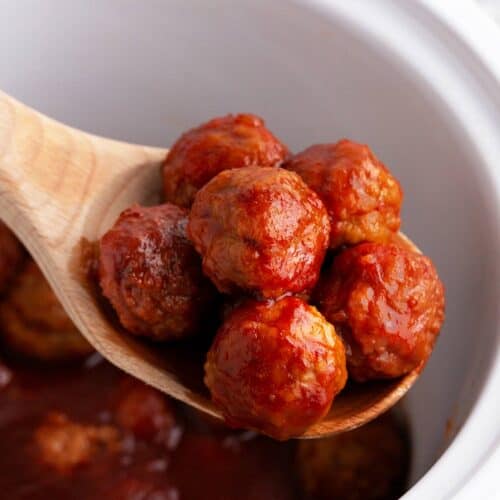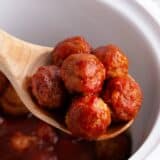 Grape Jelly Chili Sauce Meatballs
Grape jelly chili sauce meatballs are a delicious and easy dump-and-set crock pot recipe perfect for potlucks and parties. Made with just 3 ingredients including frozen meatballs, this juicy, saucy, sweet, and tangy meatball dish is always a crowd pleaser!
Ingredients
1 (10-ounce) jar grape jelly
12 ounces chili sauce
1 (32-ounce) bag frozen fully cooked meatballs (about 50)
Instructions
In a medium bowl or the base of a slow cooker, combine the grape jelly and chili sauce. Add meatballs and stir until coated in sauce.

Cook on high 2 to 3 hours or low 3 to 4 hours. Turn the slow cooker to warm until ready to serve.
---
Notes
Half the recipe: Use 25 meatballs, 1 cup grape jelly, and 1 cup chili sauce. Make ahead: This recipe can be made ahead. Simply place in the slow cooker on the warm setting 20 to 30 minutes or reheat in a skillet over medium-low heat prior to serving.
Nutrition
Serving: 2meatballs | Calories: 86kcal | Carbohydrates: 3g | Protein: 5g | Fat: 6g | Saturated Fat: 2g | Polyunsaturated Fat: 1g | Monounsaturated Fat: 3g | Cholesterol: 20mg | Sodium: 198mg | Potassium: 131mg | Fiber: 0.3g | Sugar: 2g | Vitamin A: 94IU | Vitamin C: 2mg | Calcium: 7mg | Iron: 0.4mg
Nutrition provided is an estimate. It will vary based on specific ingredients used.
Did you make this recipe? Don't forget to give it a star rating below!