Jump to Recipe⌄
Slow Cooker Hawaiian Meatballs – Only 3 Ingredients!
Slow Cooker Hawaiian Meatballs …this recipe only takes 3 ingredients and 5 minutes to make! So easy and always a crowd pleaser. Makes the perfect appetizer or main dish.
I'm super excited to share another variation on my grandpa's famous slow cooker meatballs. After many requests, I'm sharing another favorite of ours, which uses pineapple. These are very similar to my grape jelly bbq meatballs, we just use pineapple juice in the recipe to give them more of a Hawaiian flavor.
We love to serve them over rice with green onions on top for a main dish, however you can eat them plain as well. They make a great appetizer and are always on the menu whenever there is a big game. The boys always devour these.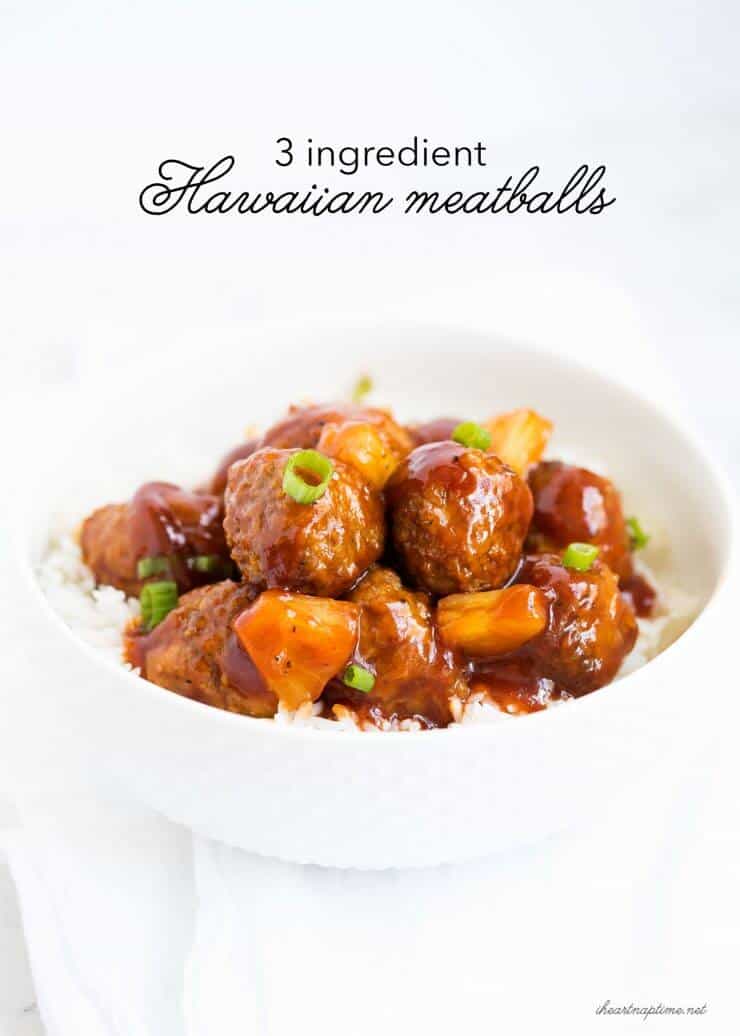 Seriously… these are so easy to make and it will literally take you less than 5 minutes to put everything in the slow cooker. We love keeping a big bag of frozen meatballs in the freezer, as well as BBQ sauce and canned pineapple in the pantry so we can make them whenever we need a last minute dinner. The BBQ sauce does give these meatballs a little kick, but they are pretty mild with lots of flavor.
Ways to serve Hawaiian Meatballs
Serve over rice or cooked noodles
Serve in a roll to make a mini slider
Place toothpicks in the top to make a fun appetizer
Serve directly out of the slow cooker for parties
Serve with sliced green onions and sesame seeds to dress them up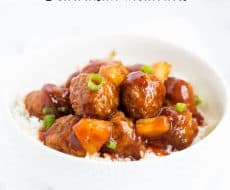 Slow Cooker Hawaiian Meatballs
These slow cooker Hawaiian meatballs are so easy to make and are amazing! So good!
Print
Ingredients
25 frozen meatballs
1 cup BBQ sauce
1 (8 ounces) 8-ounce can sliced or diced pineapple
sliced green onions optional
Instructions
Add the meatballs to the slow cooker. Pour the BBQ sauce over the top. Then add the sliced pineapple on top and pour the juice over. Cook on high for 2 to 3 hours.

Enjoy as an appetizer or serve over rice for a main dish. Top with sliced green onions and pineapple if desired.
Recipe Notes
To double this recipe for a crowd, use 50 meatballs, 2 cups BBQ sauce and 2 cans of sliced pineapple.
Nutrition Facts
Slow Cooker Hawaiian Meatballs
Amount Per Serving
Calories 56 Calories from Fat 27
% Daily Value*
Total Fat 3g 5%
Saturated Fat 1g 5%
Cholesterol 10mg 3%
Sodium 125mg 5%
Potassium 66mg 2%
Total Carbohydrates 4g 1%
Sugars 3g
Protein 2g 4%
Vitamin A 0.5%
Vitamin C 0.2%
Calcium 0.6%
Iron 1.1%
* Percent Daily Values are based on a 2000 calorie diet.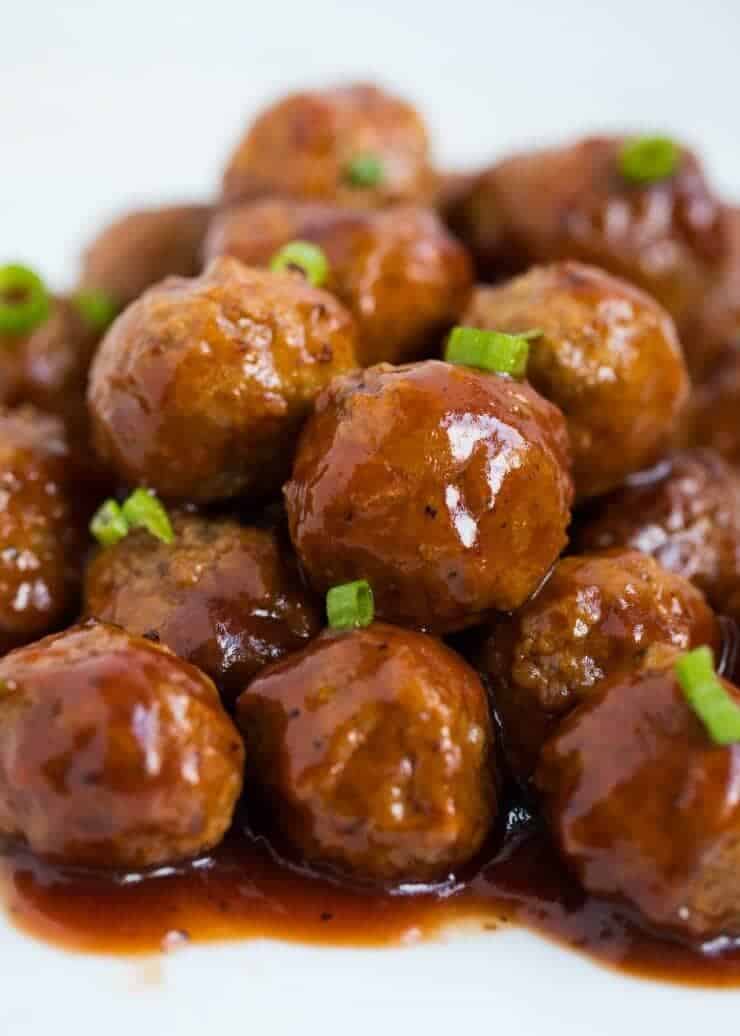 Hope you enjoy these Hawaiian Meatballs! Let me know how you like them :)
Looking for more meatball recipes? You'll love these too: