This simple grape salad is made with fresh juicy grapes, coated in a sweet cheesecake dressing, topped with crunchy pecans and brown sugar! It's a sweet and tart, creamy and crunchy dessert salad that comes together in minutes and will be devoured just as fast!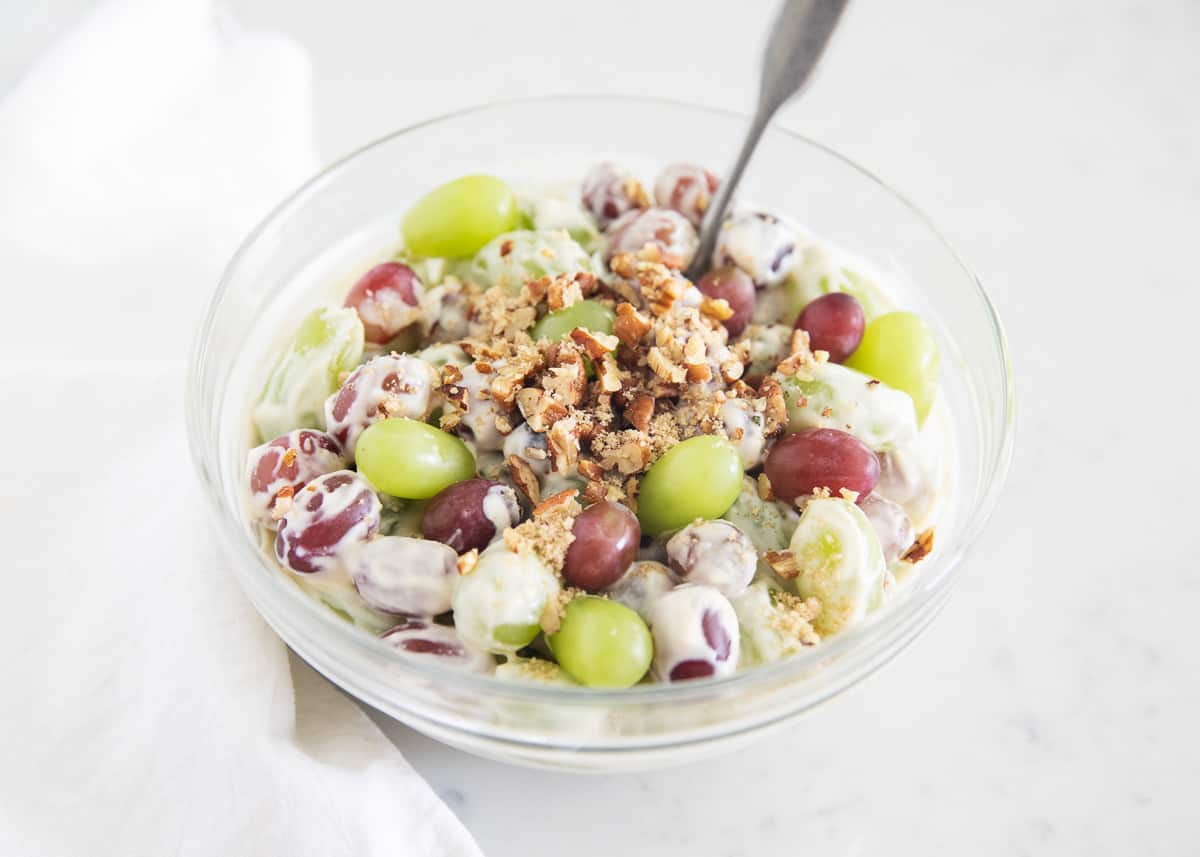 Fresh Grape Salad
Looking for other recipes to use leftover grapes? This chicken salad croissant and a summer version of this holiday sangria mocktail would make a great, kid-friendly, menu idea for any outdoor gathering and a nice addition to the grape salad.
This grape salad recipe comes together so easily that it'll be one of the first things you think of when you're asked to bring a side dish or dessert to a BBQ, potluck, or friendly gathering. It's a crowd favorite, and something people will enjoy over and over again!
Plump, juicy grapes, coated in a sweet cheesecake dressing, topped with crunchy pecans and a sprinkling of brown sugar, then chilled until delightfully cold. It's tart and sweet, juicy and crunchy, and chilled to perfection same with this raspberry pretzel salad. You might wonder if it's overly sweet, but it's not. The tartness from the cream cheese and sour cream, as well as the grapes, counterbalances the sweet sugars. The combination of flavors and textures makes its way into every bite. Ooh, it's so good!
Learning how to make grape salad with cream cheese may just be the easiest thing you do in the kitchen all year, but you will wonder why you waited this long to try it!
What is Grape Salad?
When we think of salad we usually think of leafy greens, fresh veggies, and all kinds of crunchy textures. While all of that is true, we also know that a fruit salad, like this berry fruit salad or rainbow fruit salad, is its equally fresh, vibrant, and colorful cousin. A grape salad is a dessert fruit salad, but can also be served in smaller portions as a side dish. It may remind you of when you add fruit to your bowl of yogurt, except this time there is more fruit than there is yogurt. And the yogurt is, instead, a cheesecake flavored dressing. And, it's just grapes!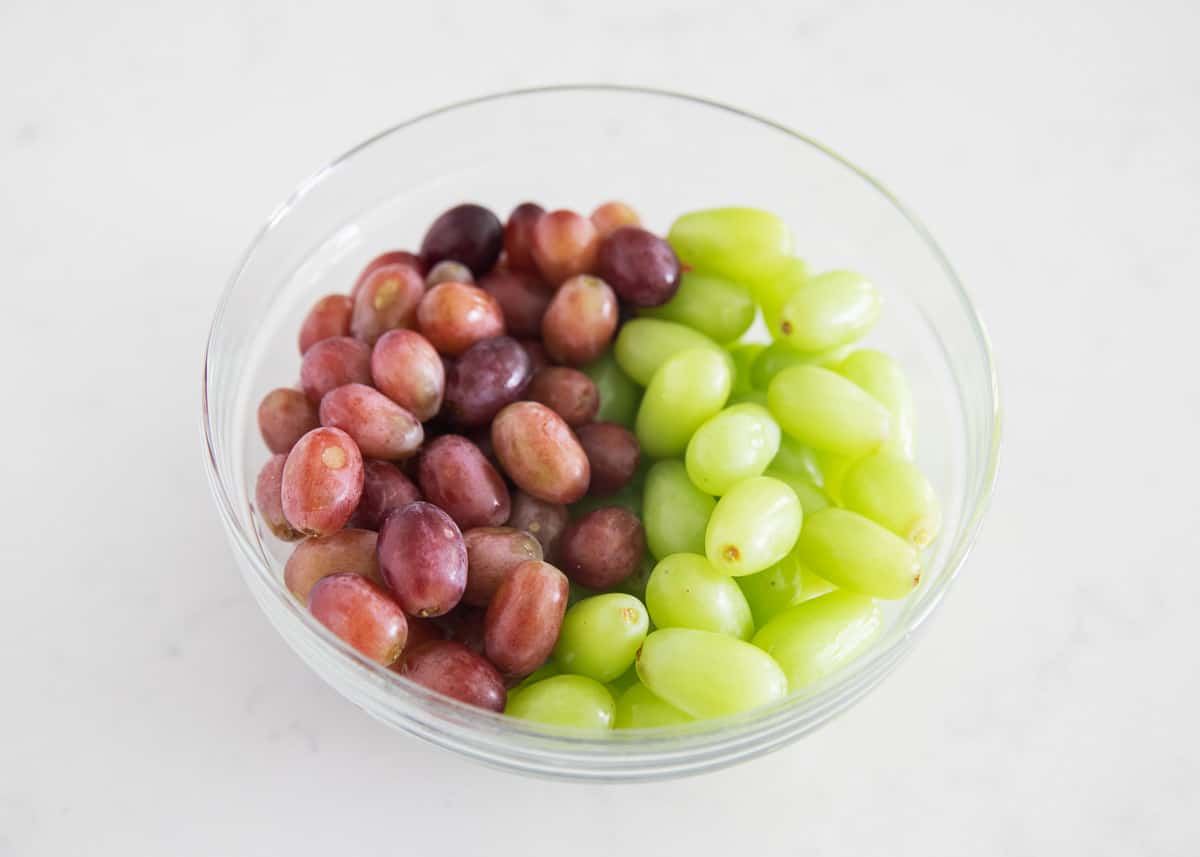 Best Grapes to Use
Grapes come in 2 main colors. Green and red. There are smaller, dark purple grapes called concord grapes, but they have a distinctly different flavor all on their own, and they aren't used in this salad. Grape juice and grape jelly yes, salad not so much. You want grapes that aren't too big and won't be too overwhelming to bite through, so ideally they should be average-sized grapes, that have tight skin, look bright in color, and are nice and juicy. Oh, and definitely go with seedless grapes. Go ahead, test one out before you start!
How to Quickly Soften Cream Cheese
Cream cheese, much like butter, just needs anywhere from 30 minutes to an hour on the countertop at room temperature to soften. It's even better if you cut it up into cubes to speed things up. If you're able to plan ahead that's awesome. However, on days where you've forgotten to do any of that, do this instead. Place the block of cream cheese in the microwave for about 20-25 seconds, keeping an eye on it. Every microwave is different, so you may find you'll need to open it halfway to rotate it on its side for even softening. This trick will come in handy for other recipes like strawberry pretzel salad that also require softened cream cheese.
Tips for Making Creamy Grape Salad
Rinse the grapes well, but also dry well. You want the dressing to stick to the grapes and not become a soupy mess.
Cut grapes in half if you prefer. This is a great idea for little ones, it makes for an easier bite.
Toast the pecans before sprinkling on top. Gives it a lighter crispier crunch and brings out its nutty flavor even more.
Room temperature cream cheese and sour cream are needed for easy mixing. Making sure your cream cheese is soft enough will help avoid lumps and clumps in your dressing.
Swap sour cream for plain or Greek yogurt. It works just as well.
Top with heath or snickers along with the pecans or instead of, as we did in this snicker salad.
I used half green and half red for a nice balance, but you can definitely use one or the other. Remember red grapes are sweeter.
Switch up the type of nut if pecans aren't for you. Perhaps almonds or walnuts are more your style.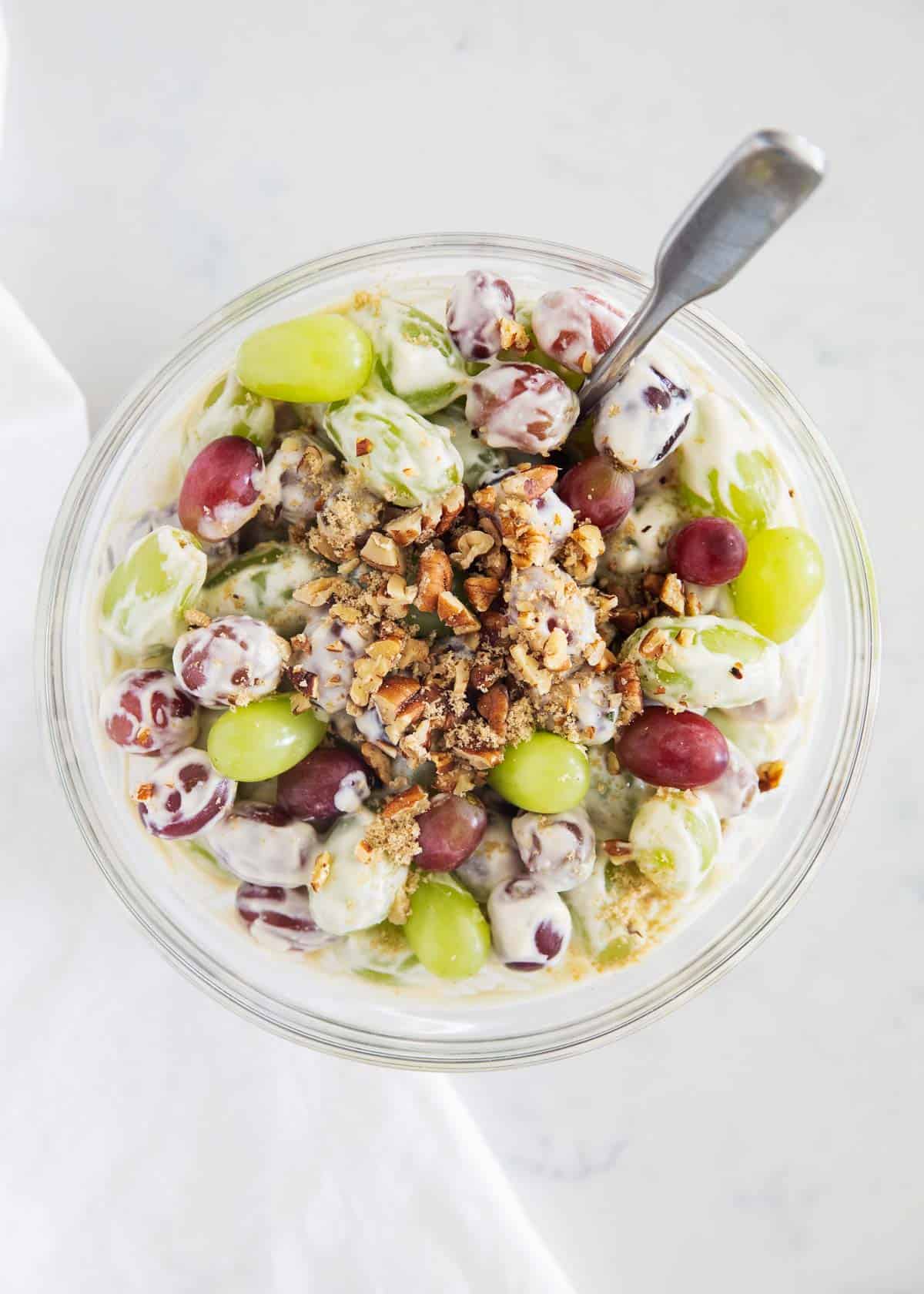 FAQs
How long can grape salad last in the fridge?
This should last up to 3 days in the fridge when stored properly in an airtight container.
Can you freeze grape salad?
No, it is not recommended to freeze this salad. Texture will change when thawed.
Can I cut the grapes in half for the salad?
Yes! This will make it easier to eat especially for little ones.
What can I substitute for the cream cheese and sour cream?
You can make a lighter salad using Greek yogurt instead of sour cream or try light cream cheese instead of whole fat cream cheese. If I am out of sour cream, I often use homemade whip cream combined with the cream cheese. It's an airier texture but still great.
How to Make Ahead
This salad is best served chilled, so making it ahead works in your favor! You can make it up to 24 hours ahead, but it should be chilled at minimum an hour before serving. Keep the bowl of assembled salad covered in plastic wrap in the fridge and then sprinkle the nuts and brown sugar on top just before consuming.
How to Store Leftovers
Store leftovers in an airtight container in the fridge for up to 3 days. It does not freeze well, mostly because it doesn't thaw well. Not to worry, it will be gone in no time anyway!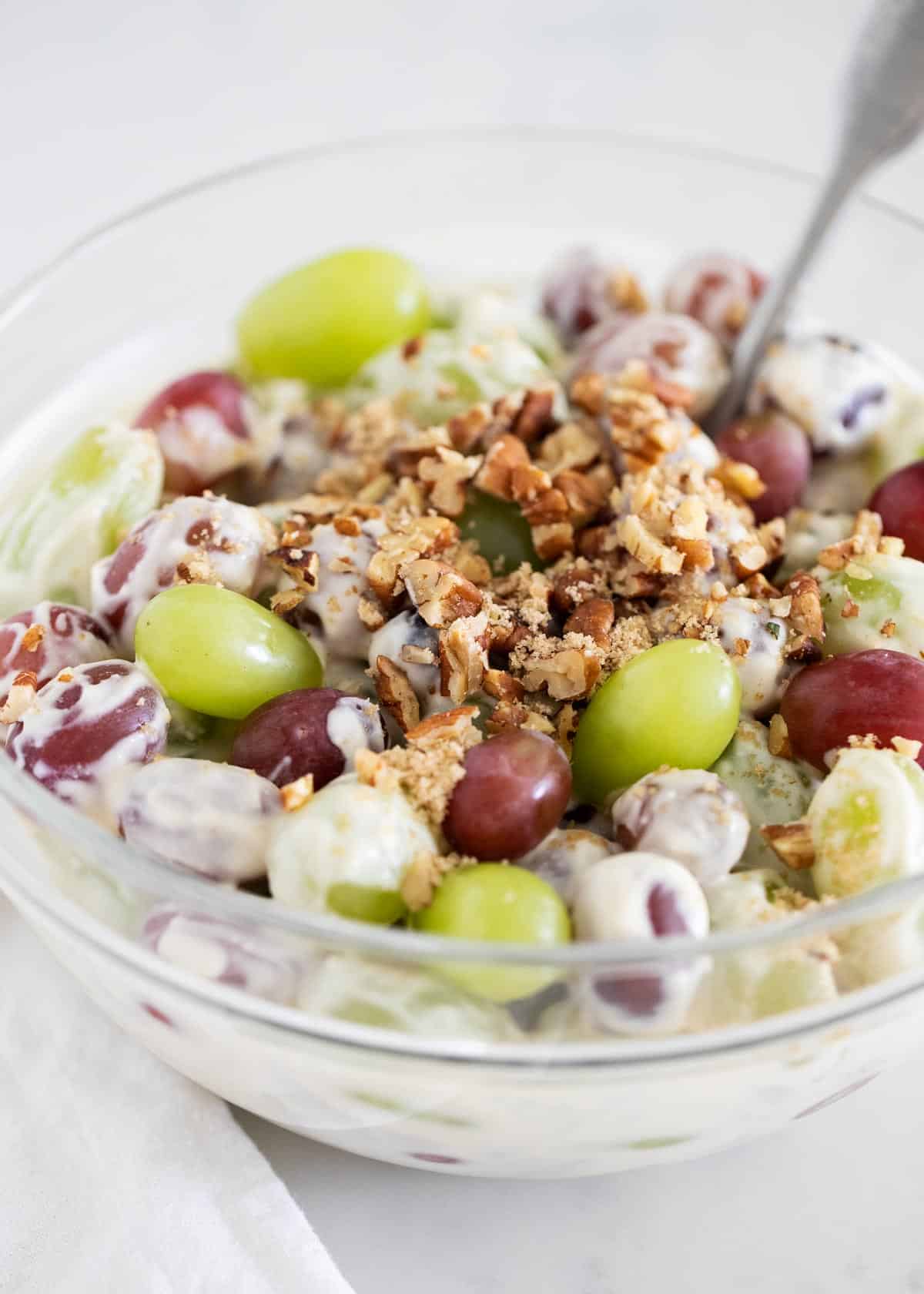 More Dessert Salads
HUNGRY FOR MORE? Subscribe to my newsletter and follow on Facebook, Pinterest and Instagram for all the newest recipes!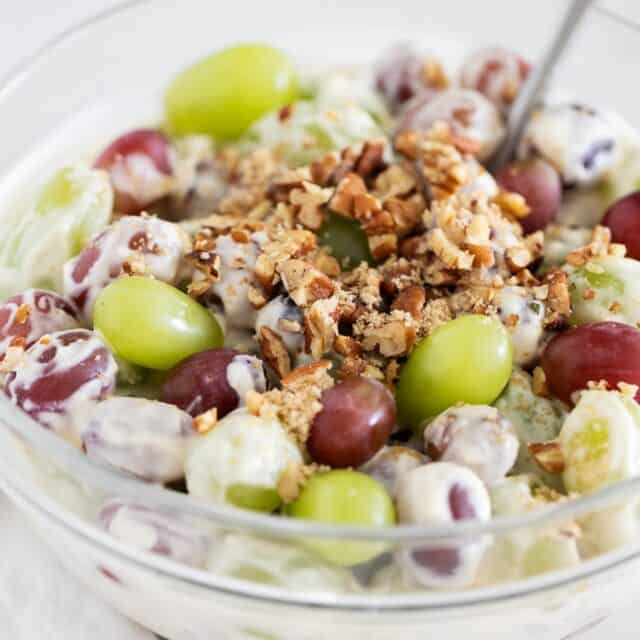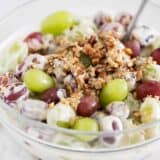 Grape Salad
This simple grape salad is made with fresh juicy grapes, coated in a sweet cheesecake dressing, topped with crunchy pecans and brown sugar! It's a sweet and tart, creamy and crunchy dessert salad that comes together in minutes and will be devoured just as fast!
Ingredients
1 pound seedless red grapes
1 pound seedless green grapes
4 ounces cream cheese , softened
¼ cup sour cream
3 Tablespoon granulated sugar
3 Tablespoon light brown sugar , more for top if desired
1 teaspoon vanilla extract
Optional: 2 Tablespoon chopped pecans
Instructions
Make sure grapes are thoroughly washed and dried. Lay on paper towels to dry.

In a large bowl, beat the cream cheese with an electric mixer. Then mix in in the sour cream, sugar, brown sugar and vanilla. Beat until smooth and creamy.

Mix the cream mixture and grapes together until coated.

Refrigerate until ready to serve (at least 30 minutes). Sprinkle the top with extra brown sugar and pecans if desired. Serve chilled.
---
Notes
Substitutions: You may use one variation of grapes if preferred. You may also substitute greek yogurt for sour cream. For topping: You may use any type of chopped nuts for topping. Another delicious addition is chopped snickers or heath bars. Storage: Store leftovers in a covered container in the refrigerator for up to 3 days.
Nutrition
Calories: 118kcal | Carbohydrates: 20g | Protein: 1g | Fat: 4g | Saturated Fat: 2g | Cholesterol: 13mg | Sodium: 37mg | Potassium: 169mg | Fiber: 1g | Sugar: 18g | Vitamin A: 207IU | Vitamin C: 2mg | Calcium: 25mg | Iron: 1mg
Nutrition provided is an estimate. It will vary based on specific ingredients used.
Did you make this recipe? Don't forget to give it a star rating below!