Grilled caprese sandwich stuffed with fresh mozzarella, tomatoes and basil pesto! Takes 10 minutes or less and requires just 5 simple ingredients!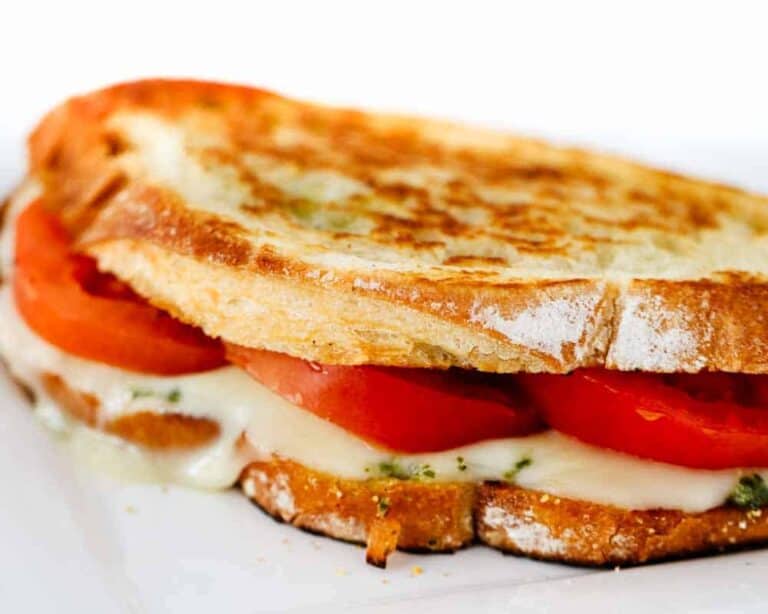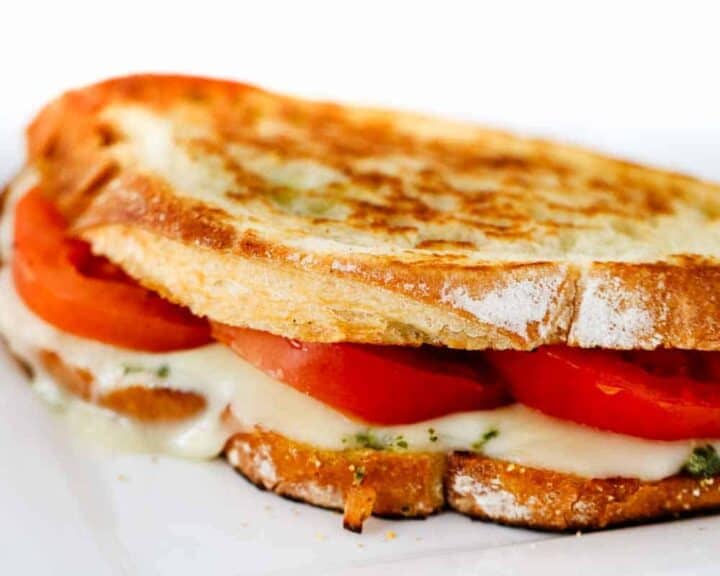 Crispy grilled summer sandwich
One of my all-time favorite sandwiches is a grilled caprese sandwich. I've been making them for years and then one day I had one at a local restaurant that put pesto inside. My mind was blown! My all time favorite sandwich just got even better! Seriously, it is so good.
Plus this sandwich is super easy to make. It's basically like making a fancy grilled cheese and takes 10 minutes or less. Can't beat that! ;) The bread is perfectly crispy and the flavor combinations are amazing. I love how gooey the mozzarella gets too. Mmm…I might have to make this for lunch again today!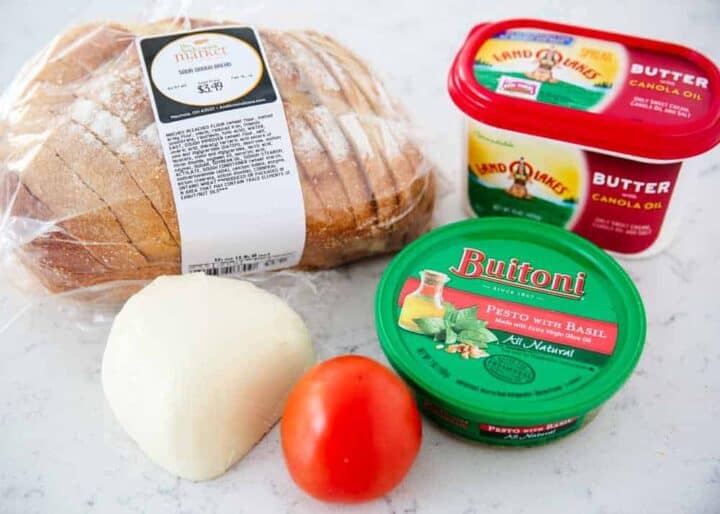 Tips for the best caprese sandwich
Use good quality bread. This really does make a huge difference in taste and crispiness. Look for bread that's thick and fresh, such as a sourdough bread from your local bakery. It makes the sandwich taste like it came straight from the deli!
Butter the bread. Another key to a super flavorful and crispy sandwich is buttering the bread before frying. Spread the butter evenly on top each slice of bread, then place that side down onto the pan to fry. It adds amazing flavor and makes the outsides super crispy and delicious!
Homemade pesto. This isn't a necessity, although making homemade basil pesto really takes this sandwich over the top. If you have lots of basil in your garden, this is the perfect way to use it up!
Cheese. Another reason this sandwich is so delicious is all of that melted mozzarella cheese. They key here is to buy a block of mozzarella and cut it into thick slices (about 1/4 inch). Once it melts, it gets super gooey and delicious.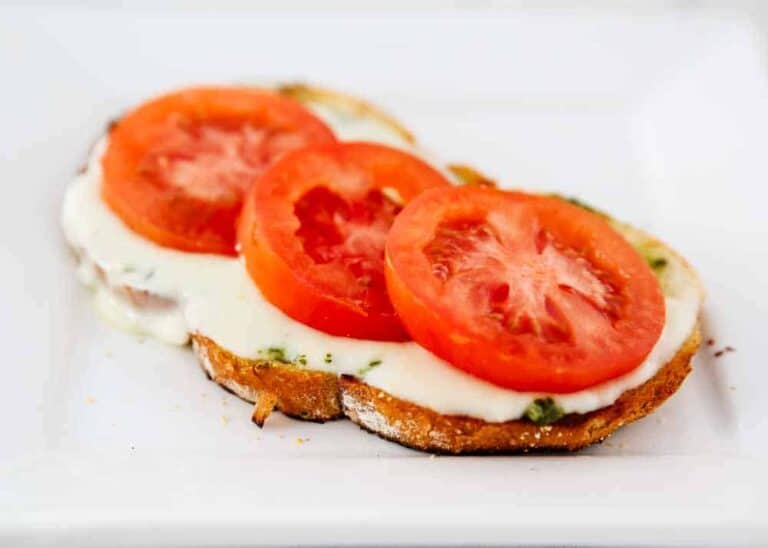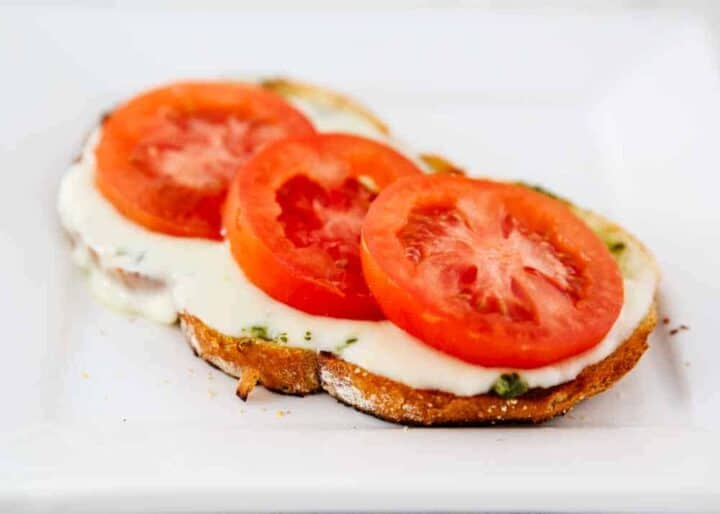 Tasty additions to your sandwich
Balsamic. To give it that true caprese taste, add a small drizzle of balsamic glaze over top the tomatoes. Absolute perfection!
Meat. This sandwich would also taste delicious with sliced cooked chicken added in.
Arugula. It's sturdy in structure with a subtle peppery taste, making it the perfect way to pack more greens into your sandwich.
Garlic powder. After buttering the bread, add a sprinkle of garlic powder on top for even more flavor. It's basically like making a sandwich with your favorite garlic bread!
Avocado. Adding a few slices of fresh avocado is always a good idea!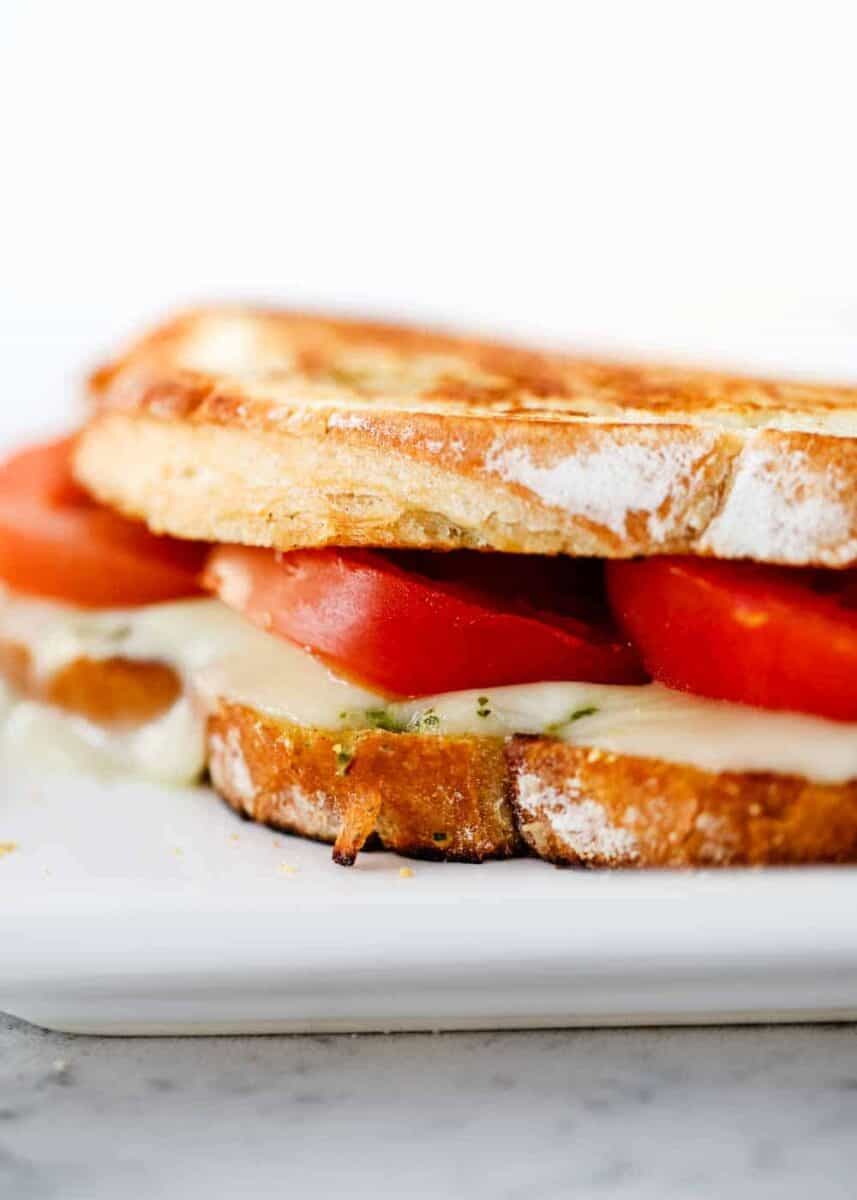 More caprese inspired recipes: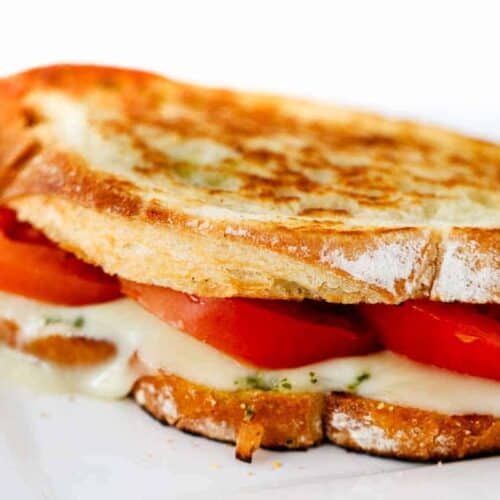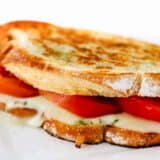 Grilled Caprese Sandwich
Grilled caprese sandwich stuffed with fresh mozzarella, tomatoes and basil pesto! Takes 10 minutes or less and requires just 5 simple ingredients!
Ingredients
2 slices sourdough bread
1 Tablespoon butter
1 Tablespoon basil pesto
1 tomato , sliced
2 slices mozzarella cheese , about 1/4 inch thick
Instructions
Warm frying pan over medium-heat. Butter both sides of your bread and then grill one side.

Once it has browned, flip bread over to brown other side. Turn heat to low. Then place pesto on the grilled side and the cheese on top.

Allow cheese to melt a little, then place tomatoes on top of the cheese followed by the top piece of bread. Enjoy!
---
Notes
Additions: A drizzle of balsamic glaze or some sliced cooked chicken would also make a delicious addition.
Pesto: I love using my favorite homemade basil pesto when making this recipe.
Calories: 720kcal | Carbohydrates: 79g | Protein: 29g | Fat: 32g | Saturated Fat: 16g | Cholesterol: 76mg | Sodium: 1258mg | Potassium: 498mg | Fiber: 4g | Sugar: 7g | Vitamin A: 2060IU | Vitamin C: 16.8mg | Calcium: 379mg | Iron: 5.2mg
Enjoy!!