There's nothing quite like the flavor of grilled potatoes made in a foil packet with Italian seasoning, garlic powder, salt, and pepper to pair with all your main dishes. Every piece of potato is crispy on the outside, tender on the inside, and every bite perfectly seasoned. Serve garnished with fresh herbs, sea salt, and Parmesan cheese!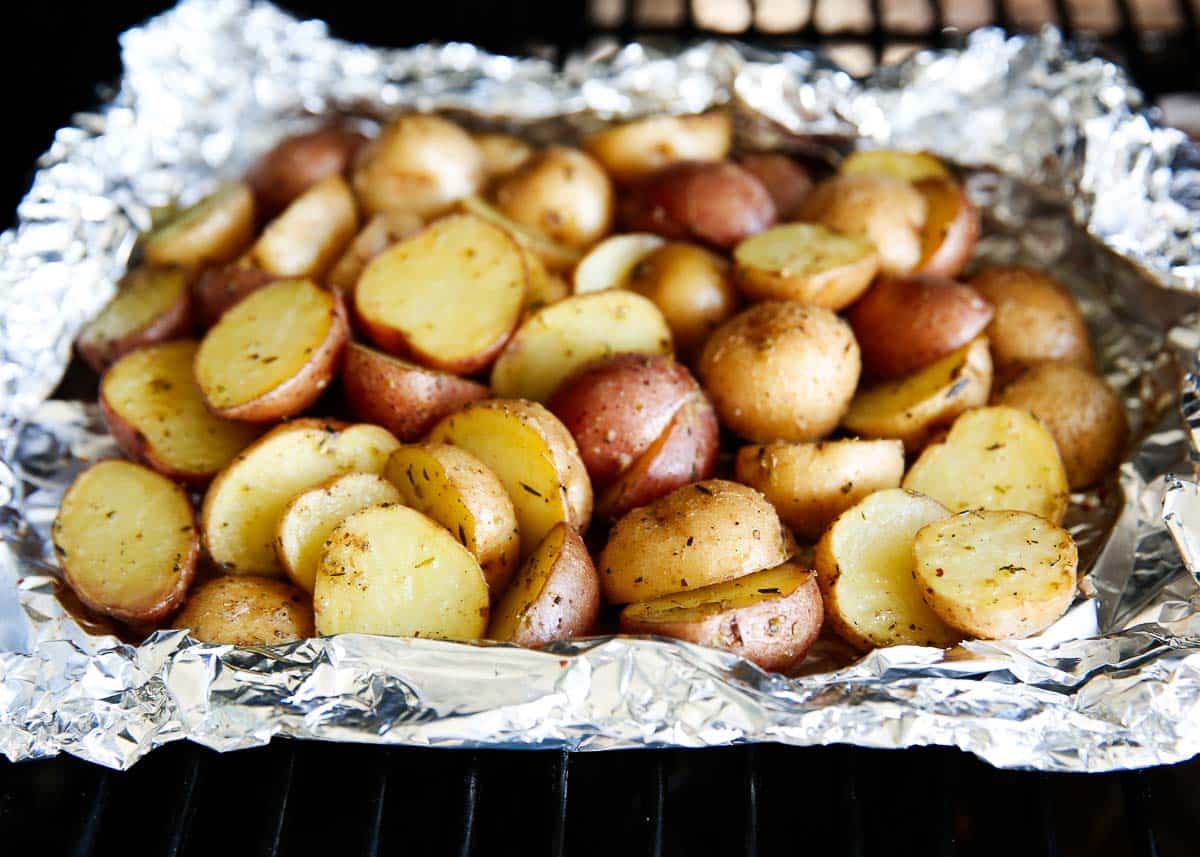 A Summer Side Dish
The sun is shining, the kids are splashing, the drinks are cold, and the grill is hot! It's the best time of year if you love the sizzling sounds and smoky aromas of grilling season.
This grilled potatoes recipe is perfect to add to your "I want to grill any and everything" list this year. Wrapping seasoned potatoes in foil packets and cooking them directly on the grill gets them crispy and slightly charred on the outside and perfectly cooked and tender on the inside.
They come together easily and all without heating your kitchen. Finishing them with fresh herbs, flaked salt, and Parmesan cheese makes them irresistible. I love to serve with everything from grilled chicken and grilled flank steak to a juicy hamburger.
These crowd-pleasing grilled potatoes are the perfect side dish for backyard BBQs as well as family dinners during the week.
Why You'll Love This Recipe
Ultra crispy. You still get that crispy exterior that you would get from something like rosemary roasted potatoes, which is the best part!
Simple ingredients. Potatoes, oil, and seasoning are all you need and probably what you have on hand. You can definitely switch up the seasoning to what you've got in your pantry.
Takes up no extra space. Once you've got the grill up and running for your main meal, tossing a foil pack on the side takes up very little space.
Goes with everything. You can never have too many potato side dishes. Although a bowl of grilled potatoes with a side of ketchup would make a great snack too!
Grilled Potatoes Ingredients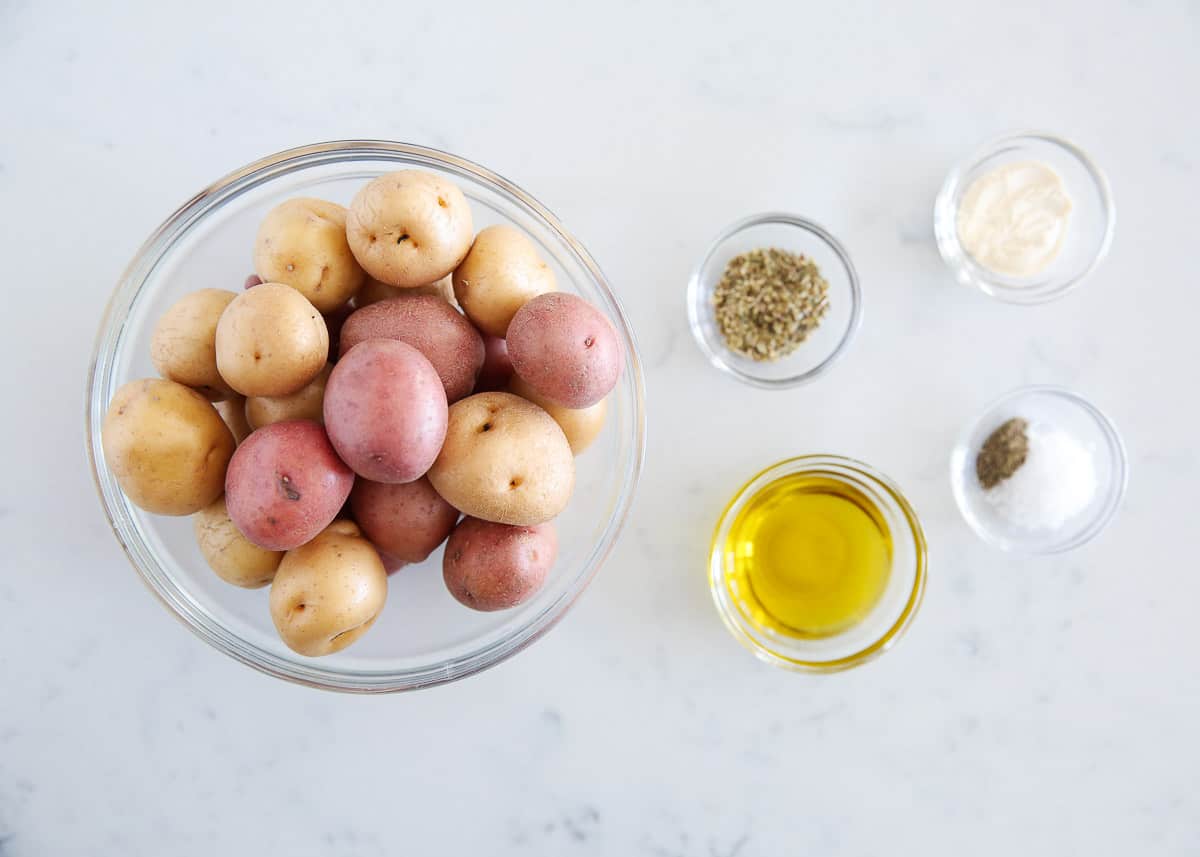 Find the full printable recipe with specific measurements below.
Baby potatoes: I like to slice mine in half to make sure some of the flesh gets crispy and charred. You can also slice them in quarters if you need them to cook faster.
Olive oil: This helps to coat the potatoes with an even amount of seasoning as well as it helps to brown them nicely. It also helps to prevent as much sticking to the foil as possible.
Seasoning: Italian seasoning, garlic powder, salt, and pepper.
For serving: Flaked sea salt, fresh herbs, and grated Parmesan cheese.
Best Potatoes for Grilling
This is a case where anything goes! You'll find waxier potatoes like red potatoes, fingerling potatoes, or baby potatoes hold their shape a bit better because they contain less starch, but Yukon Gold potatoes which are medium starch potatoes, or higher starch potatoes like Russet potatoes will still work very well.
How to Make Grilled Potatoes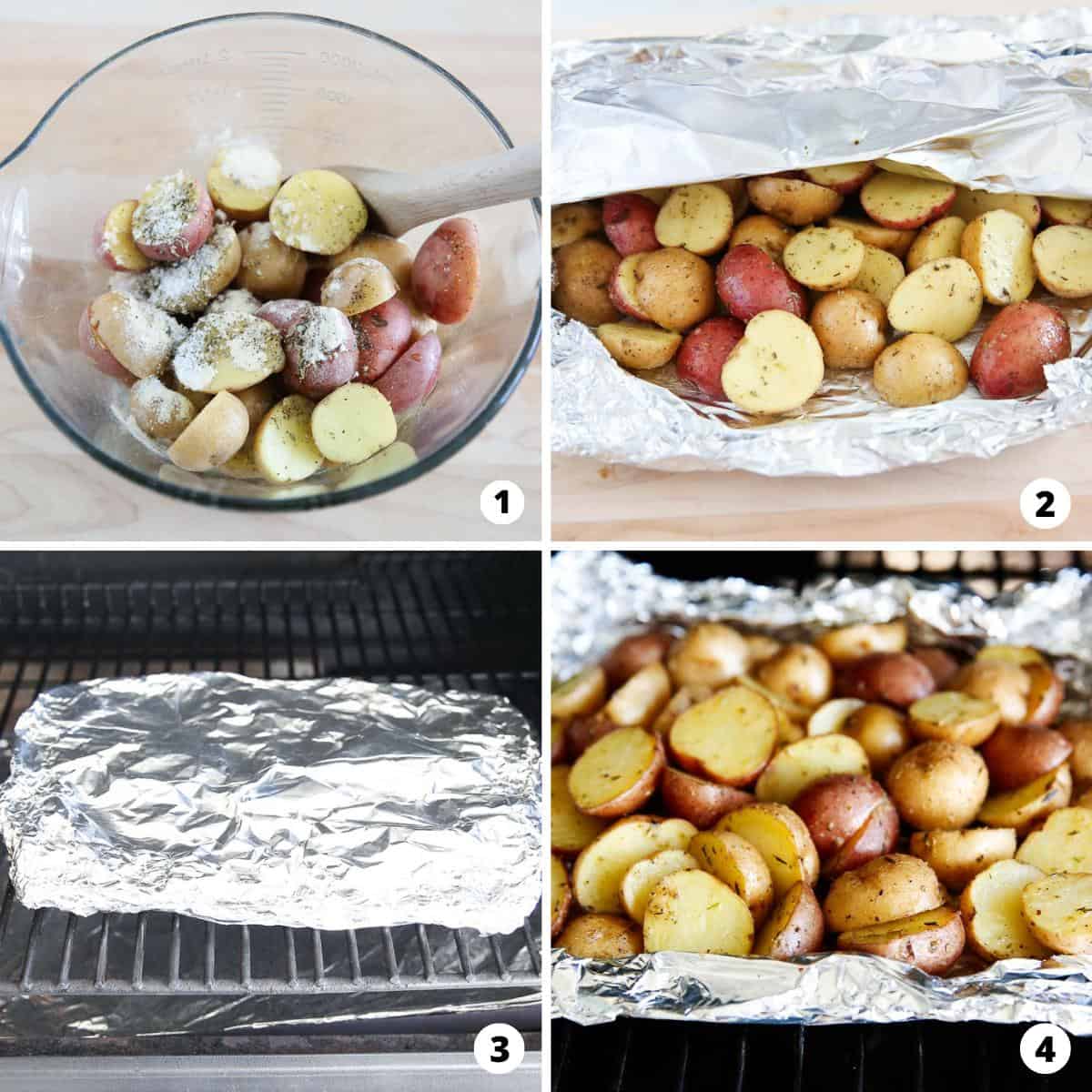 Season the potatoes. Scrub them clean and pat them dry. In a large bowl, toss them in olive oil and seasoning until well coated.
Prepare the packet. On a baking sheet, lay down 2 large pieces of aluminum foil, overlapping in the middle. Place potatoes at the center of the foil and add another sheet of foil on top. Fold the edges of the foil together to seal the packet well. You don't want to overstuff the packets. Make 2 or 3 separate ones if needed.
Grill the potatoes. Transfer the foil packet onto the preheated 400°F grill and cook for 25 minutes. Then, unseal the edges to remove the top sheet of foil to cook for an additional 10 minutes.
Add Parmesan and extra garnish. Once golden brown, and fork-tender, sprinkle the Parmesan for the last five minutes of grilling time. I love adding flaked sea salt and fresh herbs for even more flavor just before serving. Enjoy!
How Long to Grill Potatoes
Baby potatoes that are cut in half will take approximately 35 minutes to cook completely. After the first 25, they'll be nice and tender, but the extra 10 gets them golden brown and crispy.
Depending on the temperature of your grill and the size of your taters you may need to adjust the cook time.
Expert Tips
Cut according to size. Baby or fingerling potatoes can be halved or quartered, but larger potatoes should be sliced to 1/2″ thick to cook as fast. Make sure grilled potato slices have an even thickness so they cook evenly.
Add different seasonings if you'd like. Thyme, oregano, paprika, or chives are great on potatoes. As is ranch seasoning mix, lemon zest, and rosemary!
Toss in veggies. Sliced onion, bell peppers, or broccoli florets would be a great addition.
Swap the olive oil with melted butter for a delicious buttery flavor.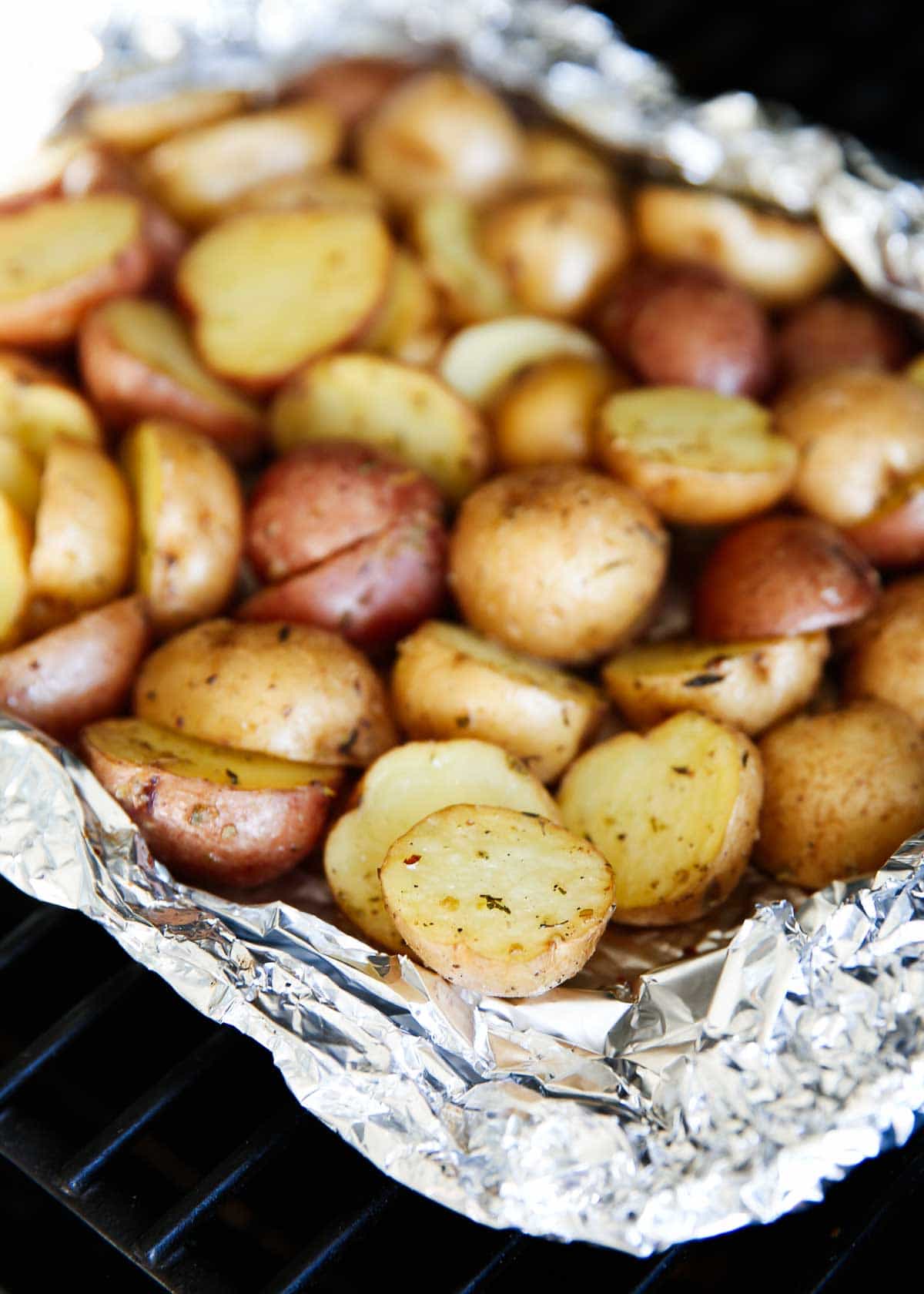 Recipe FAQs
Should you soak them in water first?
When I bake my fries in the oven, I do like to soak my cut potatoes in an ice bath to draw out the starch. It won't hurt in this case, but it's not necessary, because we tend to use potatoes with a lower starch content for grilling.
Do I need to boil potatoes before grilling?
If they are large grilled potatoes that you want to grill whole, yes you will need to boil them a bit just to make sure they are tender first.

Otherwise, for this recipe for grilling small pieces of potato, you don't need to.
Can you put potatoes directly on the grill?
You can if your pieces are larger wedges or whole grilled potatoes. However, for smaller slices, don't skip the foil packet! It's what traps the steam inside, cooking the potatoes until fork tender first. Besides, the grilled potatoes will just fall through the grates!
Serving Suggestions
These grilled potatoes are good enough to eat by the bowlful. Top with a dollop of sour cream or a side of easy garlic aioli or fry sauce and you've got a delicious and healthy snack!
If you want to use them as a side dish, they go great with whatever meat or fish you've got on the grill. Some of our favorites are grilled shrimp skewers, Greek chicken kabobs, and chimichurri steak.
Ways to Use Leftovers
There are plenty of ways to enjoy grilled potatoes! Including using them as leftovers, here are a few favorite ways.
In the morning we use leftovers in our skillet breakfast potatoes or on the side of an omelette.
You could also them for potato salad or add them to your favorite soup!
Storing and Reheating
Keep leftovers stored in an airtight container for up to 5 days. You can reheat them in the microwave, in a skillet on the stovetop, or the air fryer. Using the microwave will be the fastest, but won't give them a chance to crisp back up again.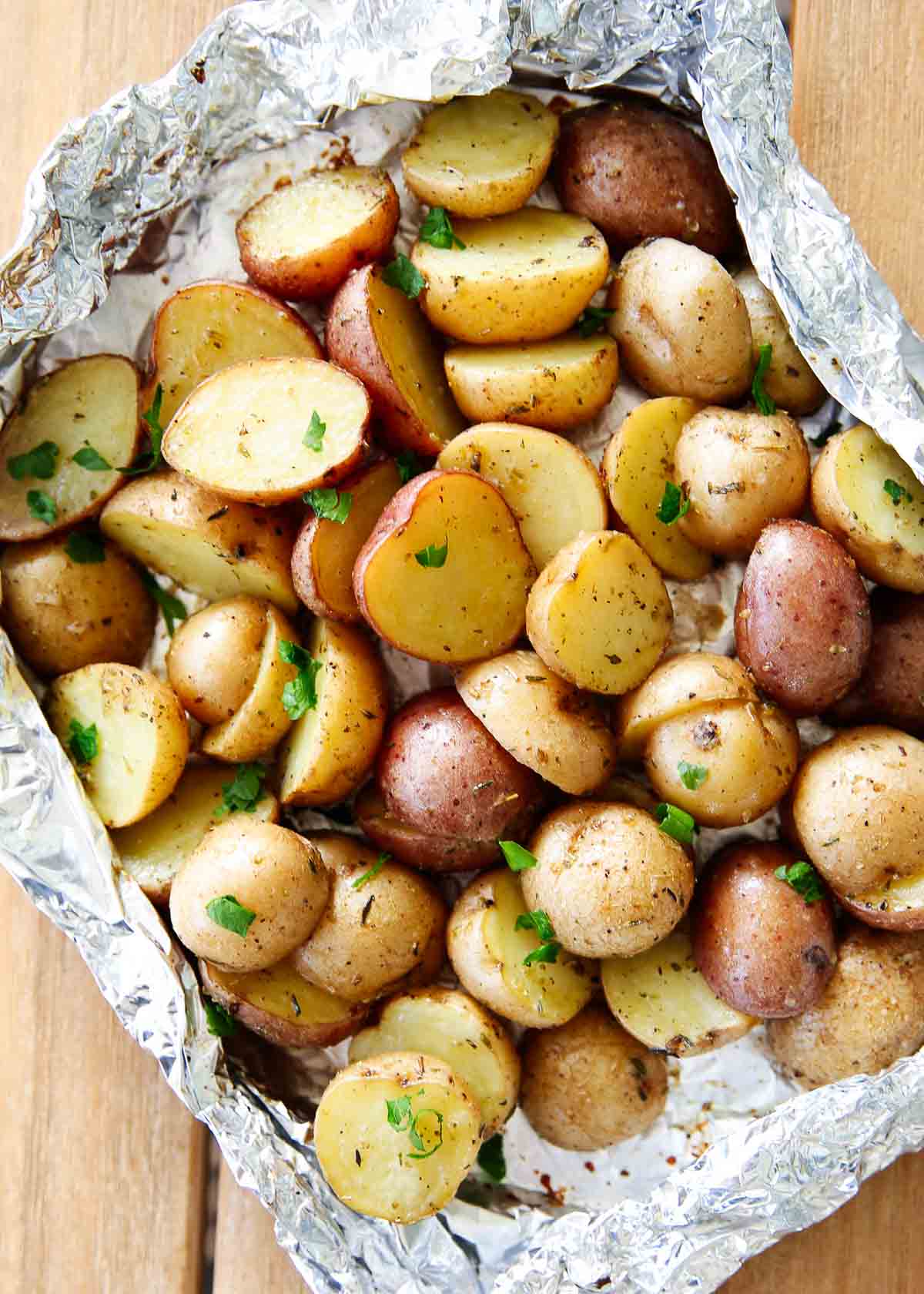 HUNGRY FOR MORE? Subscribe to my newsletter and follow on Facebook, Pinterest and Instagram for all the newest recipes!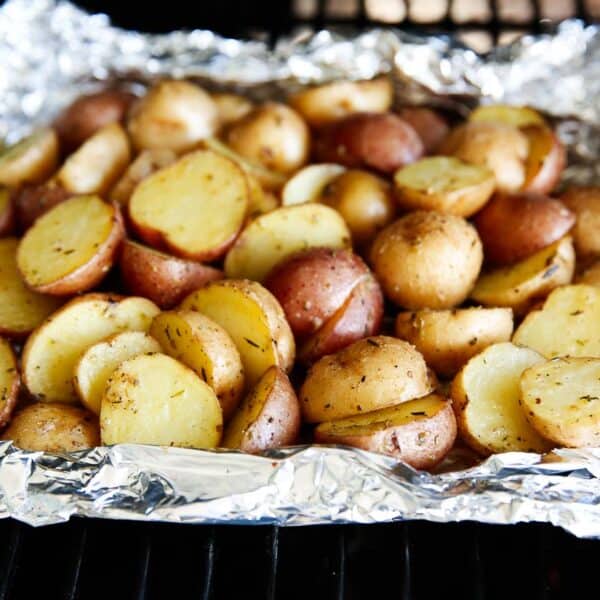 Grilled Potatoes
There's nothing quite like the flavor of grilled potatoes made in a foil packet with Italian seasoning, garlic powder, salt, and pepper to pair with all your main dishes. Every piece of potato is crispy on the outside, tender on the inside, and every bite perfectly seasoned. Serve garnished with fresh herbs, sea salt, and Parmesan cheese!
Ingredients
1 ½ pounds baby potatoes
2 Tablespoons olive oil , plus more if desired
1 – 1 ½ teaspoons Italian seasoning
1 teaspoon garlic powder , or minced garlic
1 teaspoon Kosher salt (or 3/4 tsp salt), plus more if desired
¼ teaspoon Freshly ground black pepper , plus more if desired
For serving: Flake sea salt, Fresh herbs, Grated parmesan cheese
Instructions
Preheat the grill to medium-high heat (400°F).

Slice potatoes in half, or quarter if they are a little bigger so they'll cook faster.

In a large bowl, toss the potatoes, olive oil, garlic powder, Italian seasoning, salt and pepper until well coated.

On a baking sheet, place 2 large sheets of heavy-duty foil so they overlap in the middle. Add the potatoes to the center of the foil. Place an additional piece of foil over the top and fold the edges of foil together to seal the packet.

Place foil packet onto the grill. Cook 30 minutes. Undo the folded edges of foil and remove the top piece of foil. Cook an additional 10 minutes, or until fork tender and golden brown.

If using parmesan, sprinkle on top of the potatoes the last 5 minute of grilling time. I love to top these potatoes with flake sea salt and fresh herbs.
---
Notes
Storage: Store leftovers in the refrigerator for up to 5 days.
Nutrition
Calories: 131kcal | Carbohydrates: 20g | Protein: 2g | Fat: 5g | Saturated Fat: 1g | Polyunsaturated Fat: 1g | Monounsaturated Fat: 3g | Sodium: 395mg | Potassium: 489mg | Fiber: 3g | Sugar: 1g | Vitamin A: 8IU | Vitamin C: 22mg | Calcium: 20mg | Iron: 1mg
Nutrition provided is an estimate. It will vary based on specific ingredients used.
Did you make this recipe? Don't forget to give it a star rating below!