These easy cast iron skillet potatoes are crispy and golden on the outside, tender on the inside, and the perfect 20 minute, one-pan side dish with loads of buttery herbed flavor in every bite!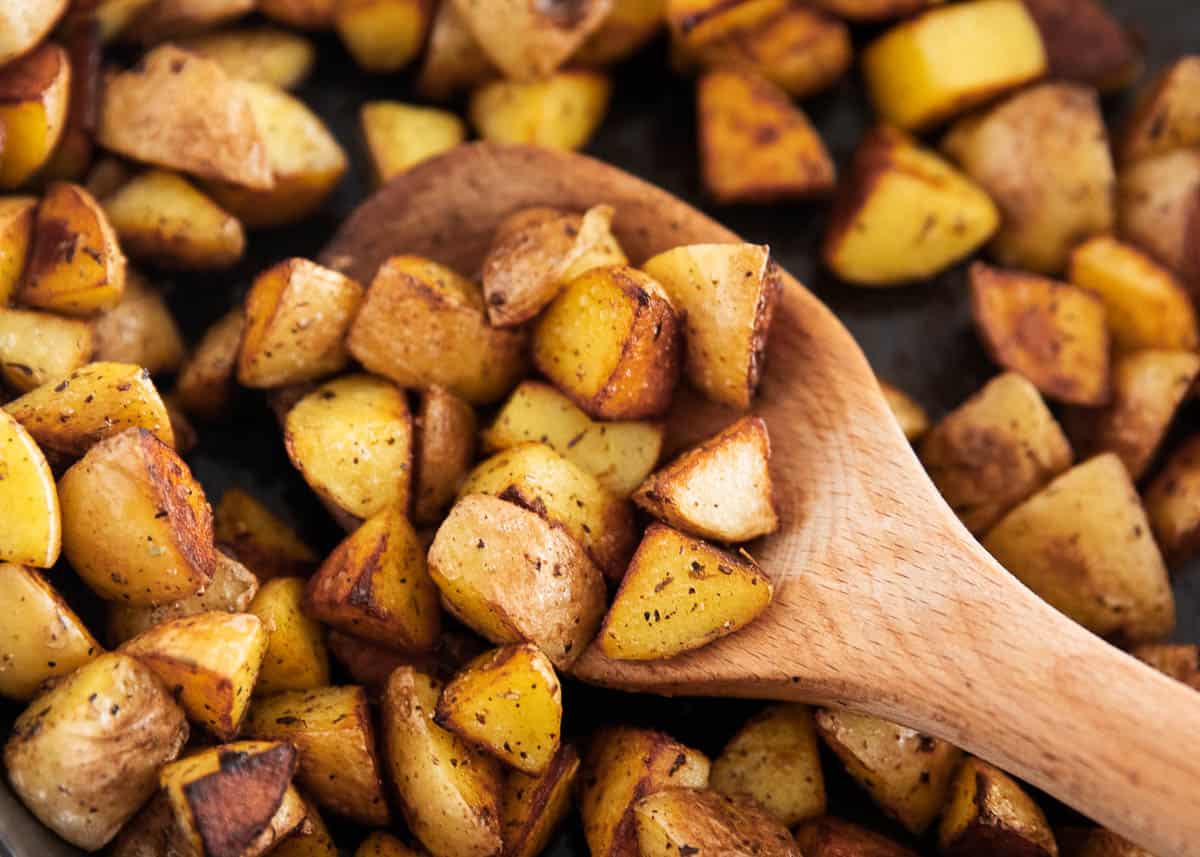 Fried Potatoes
This skillet fried potatoes recipe is one I turn to often because knowing how to cook potatoes in a skillet has become essential! Whether I'm adding them to steak bites when steak and potatoes are on the menu or I plan on making skillet breakfast potatoes in the morning, this low fuss dish comes together so easily, I can have them ready in no time.
They're crispy and golden brown on the outside and perfectly tender on the inside creating the perfect balance between taste and texture. With just a bit of butter and oil, these bite-sized beauties have the ability to crisp up so nicely, without any deep-frying. My kids go wild for these, even just as a substitute for french fries and a dollop of ketchup for dipping!
A simple seasoning of salt and pepper is always a staple, but taking them up a notch with some garlic herb butter and a sprinkling of Italian seasoning is everything! Part of what is so great about these is that you can really season them however you'd like.
Best Potatoes to Use for Skillet Frying
Not all potatoes are created equal. Some are meant for baking, some are meant for boiling and some are a jack of all trades. Potatoes you are looking for are meant to make deliciously crispy fried potatoes in a cast-iron skillet, which means they should have a higher starch content. I use Yukon gold, as I find they give ultimate flavor and texture, but you could also try red potatoes, fingerling, russets, or Idaho potatoes.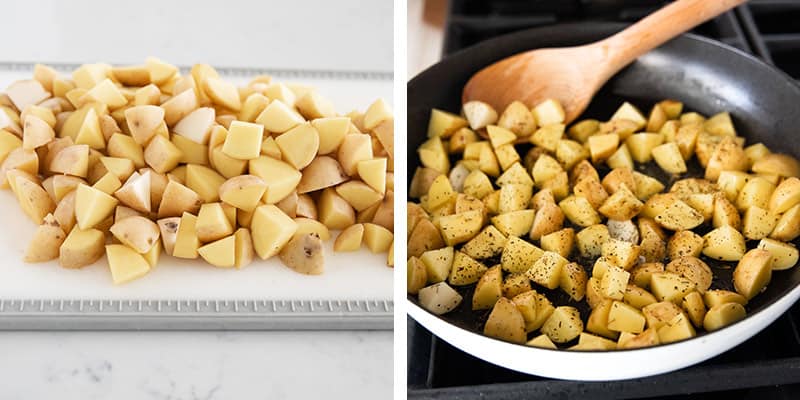 Tips for Easy Skillet Potatoes
Butter and oil: Don't skimp on using both. The butter not only adds incredible flavor, but helps to avoid burning that can happen when just using oil alone. Using butter alone can also end up burning your potatoes, so using a combination of both is needed here.
Low and slow: Potatoes that have been previously boiled can stand a higher heat for a short period. To get a good sear, previously boiled potatoes, especially with no skin, need quick high heat. This recipe requires no par-boiling or boiling ahead of time, which means it'll take a longer time for them to cook. For this reason, we want to keep the temperature relatively low, as to not burn them.
Keep it moving: Stir those potatoes continuously! Toss them around making sure all sides are cooked evenly and nothing is burning.
Potato skin: Keeping the skin on helps keep them nice and crispy and adds a ton of flavor.
Even size: Making sure to cut them in uniform size will help with even cooking. There's nothing worse than biting into an undercooked potato!
Variations
Fresh herbs: Adding fresh thyme, parsley, or rosemary really takes these up a notch!
Grated cheddar: A bit of grated cheddar gives these potatoes an added element. Once the cheese is melted from the residual heat of the potatoes, it's magic!
Parmesan: A sprinkling of grated parmesan pairs so well with the Italian seasoning as well as the idea of fresh herbs. The choice is yours!
Bacon: A bit of crumbled bacon on top is always a good idea.
Minced garlic & diced onion: If you're not up for making garlic herb butter this time around (although, at some point, you must!), adding a dash of minced garlic and diced onions to the pan once your butter has melted is an easy way to add that extra bit of flavor.
Cayenne: Like a little heat? A pinch of cayenne will do the trick.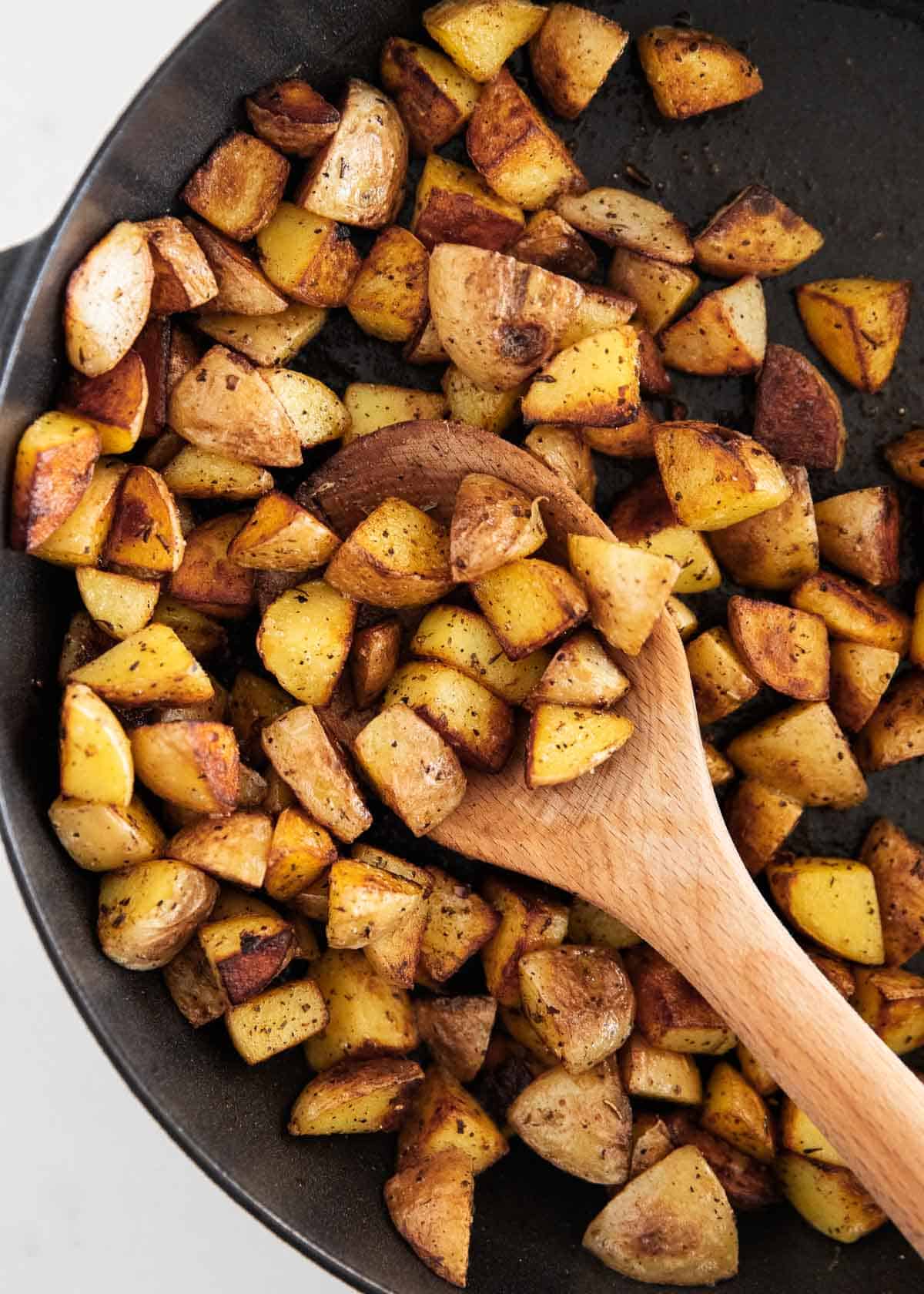 Ways to Serve Them
Breakfast: Skillet breakfast potatoes are just one of the ways to enjoy this dish. You could also serve them with bacon strips, scrambled eggs, fried eggs, or on the side of an omelette. I even like to chop off leftover potatoes really small and add them inside of the omelette.
Lunch: These potatoes are a great substitute for fries any day! Try them with any of the following, turkey burger, Greek chicken burger, or hamburger recipes.
Dinner: Steak and potatoes are always a hit, but if you want to branch out a bit, think about serving them on the side of these meatloaf muffins, an easy pot roast, or baked BBQ chicken.
Storing, Freezing, & Reheating
To store: Keep any leftovers in an airtight container in the fridge for up to 4 days.
To freeze: Allow them to cool completely before transferring them to an airtight container or freezer-friendly bag. Keep frozen for up to 3 months.
To reheat: Over time, whether in the fridge or freezer, they will get soggy. If you're looking to get them a bit crispier, using the skillet on the stovetop is ideal. Otherwise, you could pop them in the microwave for quick heat.
FAQs
How do you cook potatoes in the cast iron skillet without sticking them?
The most common reason that your potatoes will stick to the cast iron is that the pan is too hot. Cast iron retains heat better than other types of cookware, so cooking at lower heat works better for cast iron compared to aluminum or stainless steel.
How do I know my cast iron skillet is the right temperature before adding my potatoes?
Your oil will shimmer. To determine when your oil is shimmering as the pan heats up, pick the pan up and tilt it. If the oil creates ripples and starts to glimmer your pan is the right temperature to add the potatoes.
How long do cast iron potatoes take to cook?
This really depends on the type of potato used and how large your quartered pieces are. Mine took 15 minutes, yours may take less time or more time. Keep on eye on them and toss frequently to avoid burning.
Should I peel the potatoes or keep the skin on?
Skin on! These cast iron potatoes do not need to be peeled. The skin adds texture, nutrients and flavor. I do recommend cleaning and scrubbing your potatoes to remove any dirt before cooking them in the cast iron pan.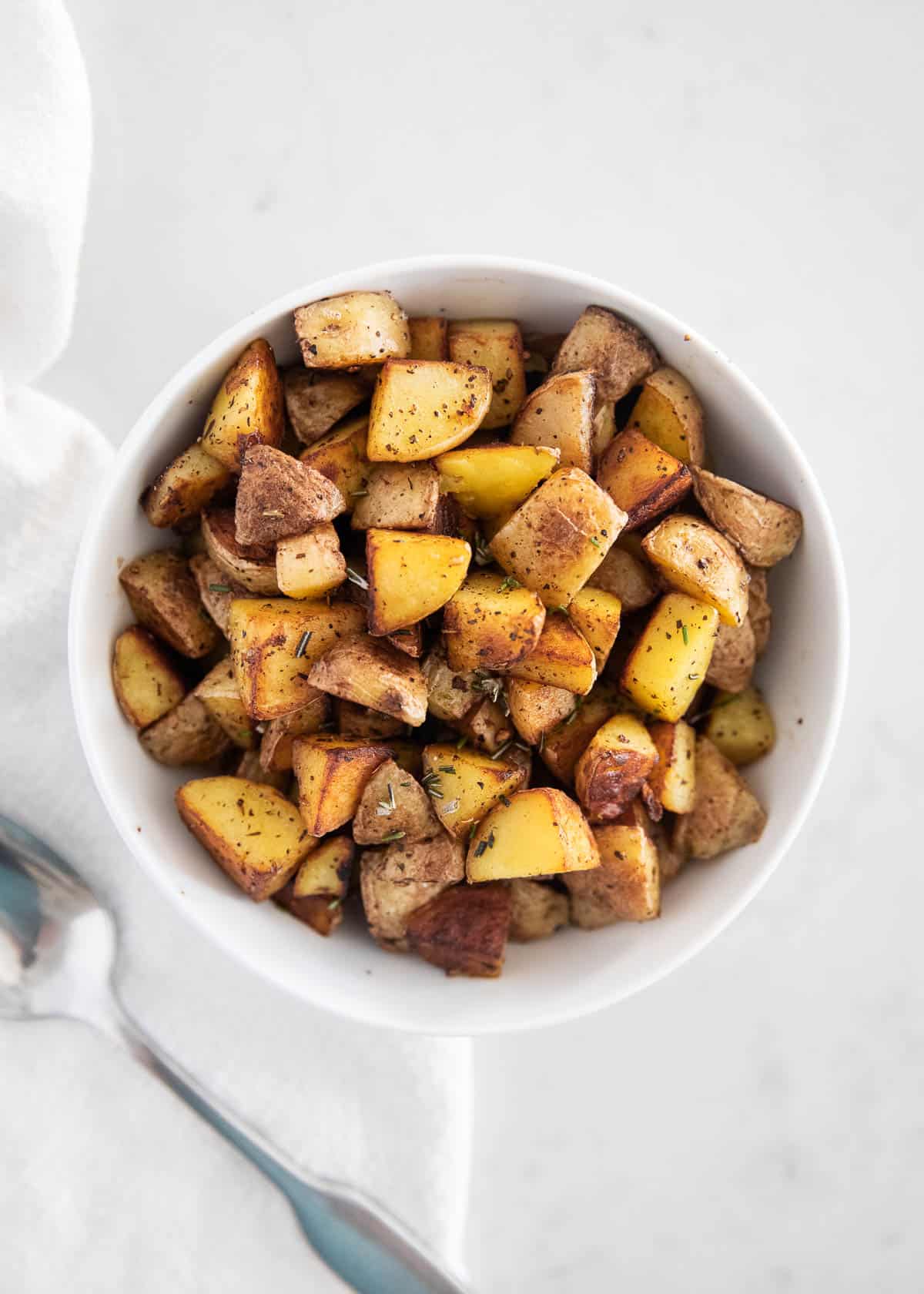 More Potato Side Dishes
HUNGRY FOR MORE? Subscribe to my newsletter and follow on Facebook, Pinterest and Instagram for all the newest recipes!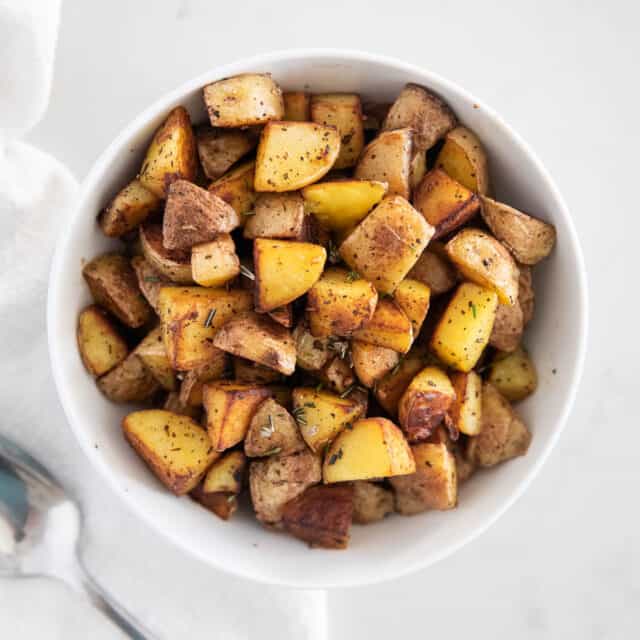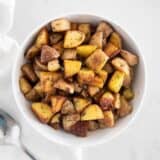 Cast Iron Skillet Potatoes
These easy cast iron skillet potatoes are crispy and golden on the outside, tender on the inside, and the perfect 20 minute, one-pan side dish with loads of buttery herbed flavor in every bite!
Ingredients
1 Tablespoon olive oil
2-3 Tablespoons butter
1 pound yukon gold potatoes , quartered, about 3.5 cups
1 teaspoon Italian seasoning , more to taste
salt and pepper , to taste
Optional: fresh herbs such as rosemary or thyme
Instructions
Heat cast iron skillet over medium heat. Add the olive oil and 1-2 Tablespoons butter. Once butter has melted add the potatoes into the skillet.

Cook for a minute and then sprinkle Italian seasoning, salt and pepper over top. Cook for 10-12 more minutes (or until fork tender), stirring frequently to prevent burning. Set aside on a plate once cooked.

Top with fresh herbs if desired. Serve while hot.
---
Notes
Fresh herbs: The herbs really take these potatoes up a notch. I love adding freshly chopped rosemary, thyme or parsley.
Variations: I prefer baby gold potatoes, but red will work great too. If you want to elevate these potatoes even more, add freshly grated cheddar or parmesan cheese over top. You could even add crumbled bacon. Yum!
Freezer instructions: Allow to cool and then place into a zip top bag or freezer container. Freeze up to 3 months. When ready to use allow to thaw and then reheat in a skillet. We love chopping them smaller and adding to an omelette.
Nutrition
Calories: 170kcal | Carbohydrates: 20g | Protein: 2g | Fat: 9g | Saturated Fat: 4g | Cholesterol: 15mg | Sodium: 57mg | Potassium: 477mg | Fiber: 3g | Sugar: 1g | Vitamin A: 175IU | Vitamin C: 22mg | Calcium: 22mg | Iron: 1mg
Nutrition provided is an estimate. It will vary based on specific ingredients used.
Did you make this recipe? Don't forget to give it a star rating below!