These baked hamburgers only take 3 simple ingredients with easy clean up. They're so easy to make, hearty, and flavorful. Perfect for those days that you don't feel like firing up the grill.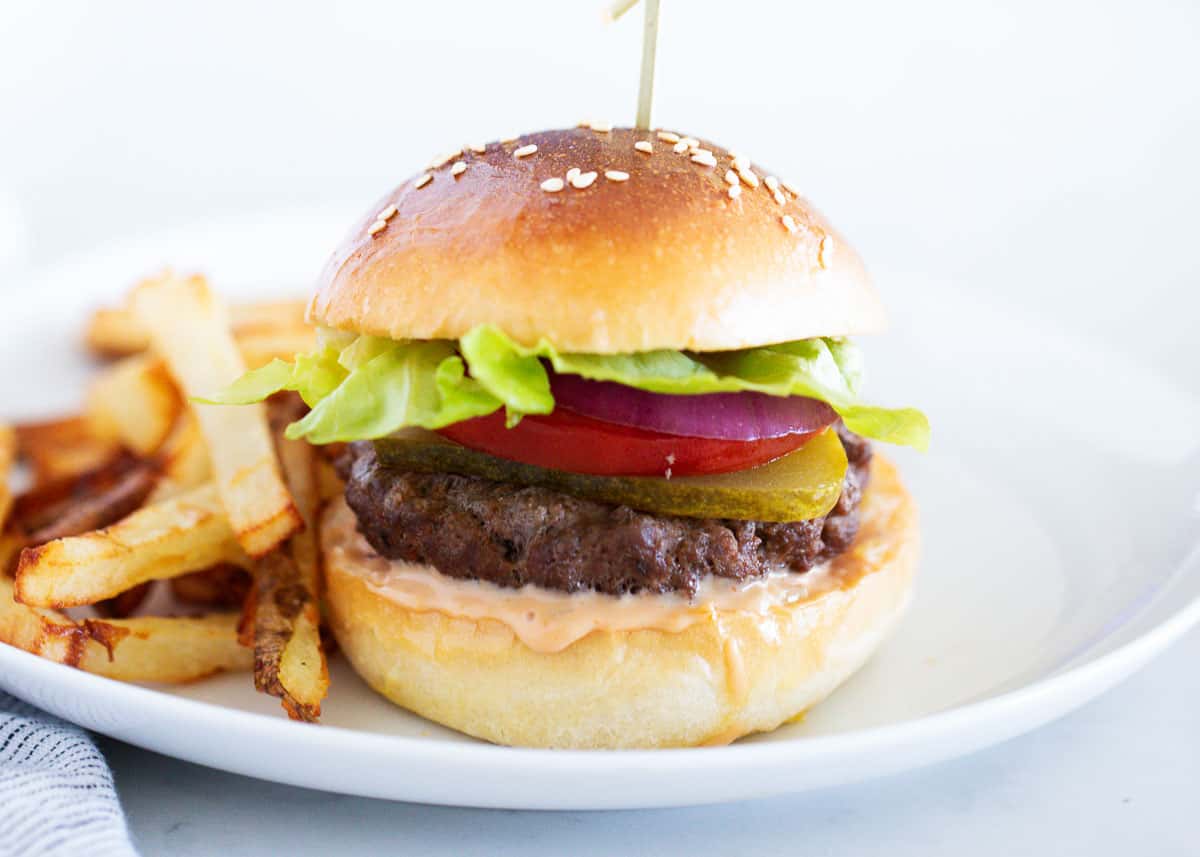 Hamburgers in the Oven
There's nothing I love more than a summer BBQ with friends and grilling hamburgers or my favorite cheeseburger recipe. However sometimes on a quick weeknight, it's nice to bake hamburgers in the oven. While you won't get those perfect charred grilled marks, you're still going to get a nice juicy burger.
We also love to use my hamburger seasoning and add my favorite burger sauce. You could even go gourmet and make homemade hamburger buns. I only do that on special occasions, but they are so yummy!
We make these hamburgers in the oven pretty often. And since the oven is already on, you can make delicious sides at the same time like homemade french fries or baked sweet potato fries.
Best Baked Hamburger Ingredients
Only three ingredients to make the best-baked hamburgers. Follow these steps to prepare, add sauce, and seasoning then simply bake in the oven. These are the best burgers around and your family will love them!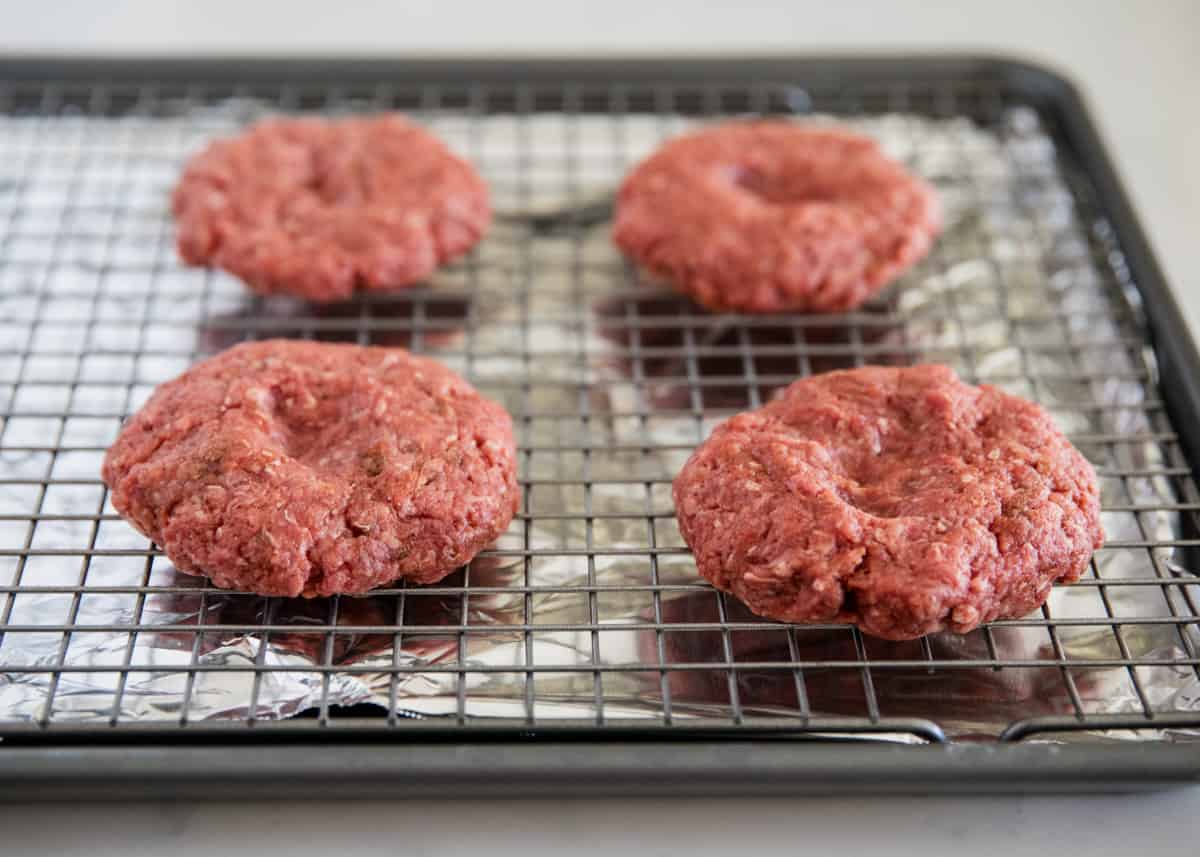 Find the full printable recipe with specific measurements below.
How to Bake Hamburgers
Cooking burgers in the oven is a great way to stay out of the cold or if you don't have a grilling area. These baked hamburgers are tender, juicy, and so delicious! These are simple to make and come together easily.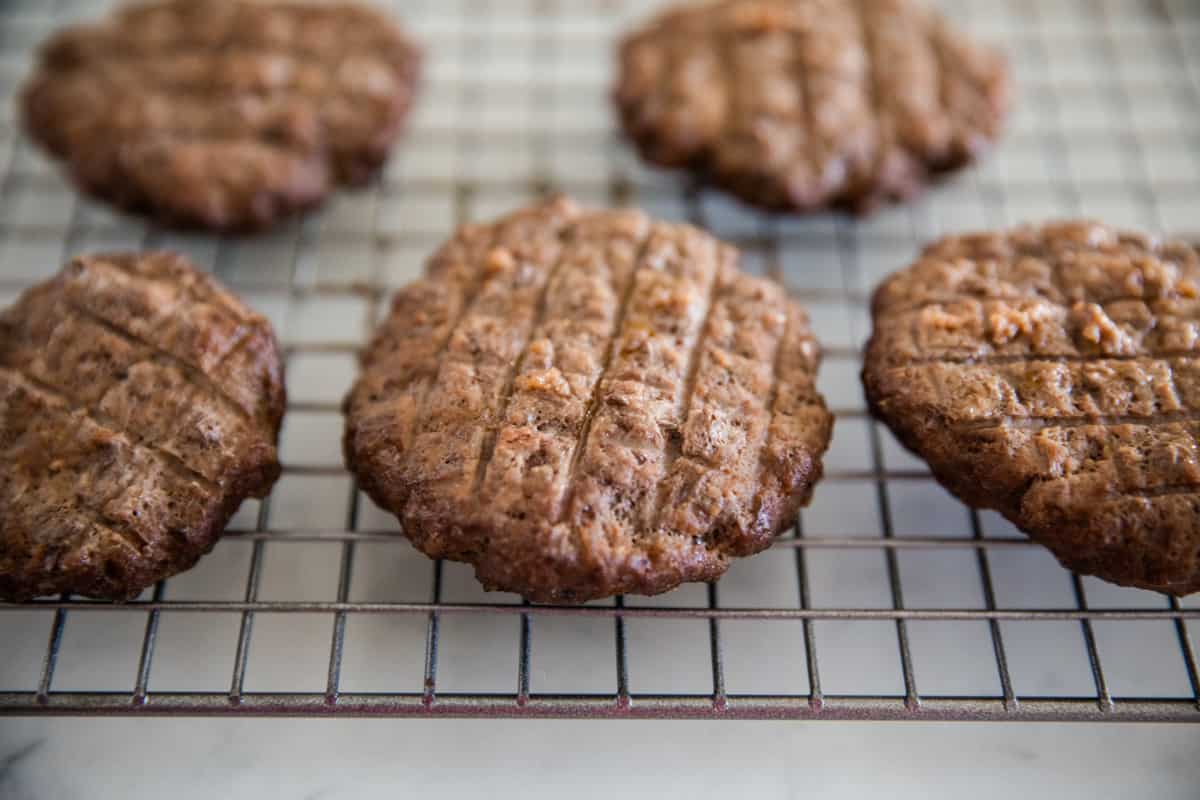 5 star review
"This is one mouthwatering hamburger! It's easy for us to grill hamburgers where we are (plus my husband does the grilling :-) ) but, as you said, when the propane unexpectedly runs out, which it did, this recipe came in handy. And they got gobbled up super fast, so I'd say that was an unqualified YUM for these burgers."

-Linda
Cooking Tips
Cooking hamburgers is just as easy in the oven and still has an easy cleanup similar to grilling. With these helpful tips, your burger patties will come together perfectly.
Favorite Toppings
Add all the toppings you love to create the best hamburger experience! Take your burger to the next level with extra toppings like this caramelized onions. Give it a savory good home taste!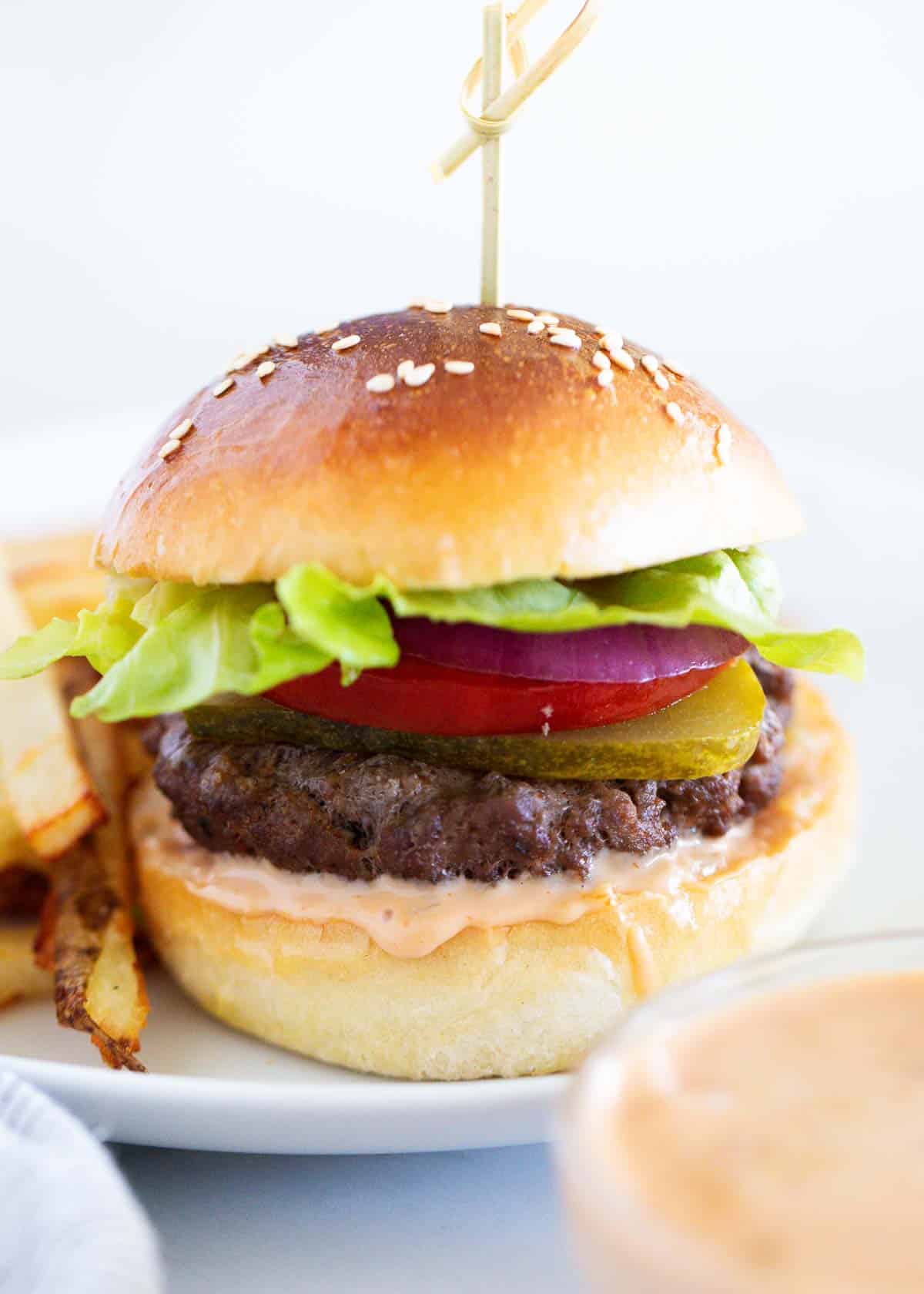 Recipe FAQs
How long to bake burgers in the oven?
Baking hamburgers in the oven requires a higher temperature of 425 degrees F. It takes 15 minutes to bake without flipping. Add cheese to your burger during the last few minutes of the baking process.
Do you need to flip burgers in the oven?
No! That is another great tip for baking burgers. There is no need to flip the baked burgers. Cooking them on the wire rack with the cookie sheet allows the juices to help the air circulate all around the burgers.
What temperature should hamburgers reach?
Hamburgers should reach 160 degrees Fahrenheit internally. This will help destroy any harmful bacteria that may be present. Use a meat thermometer to help find this internal temperature.
Can you bake hamburgers on parchment paper?
Yes! Parchment paper or aluminum foil works great and make them less messy to clean up. Cooking spray will only add more grease and that is not necessary.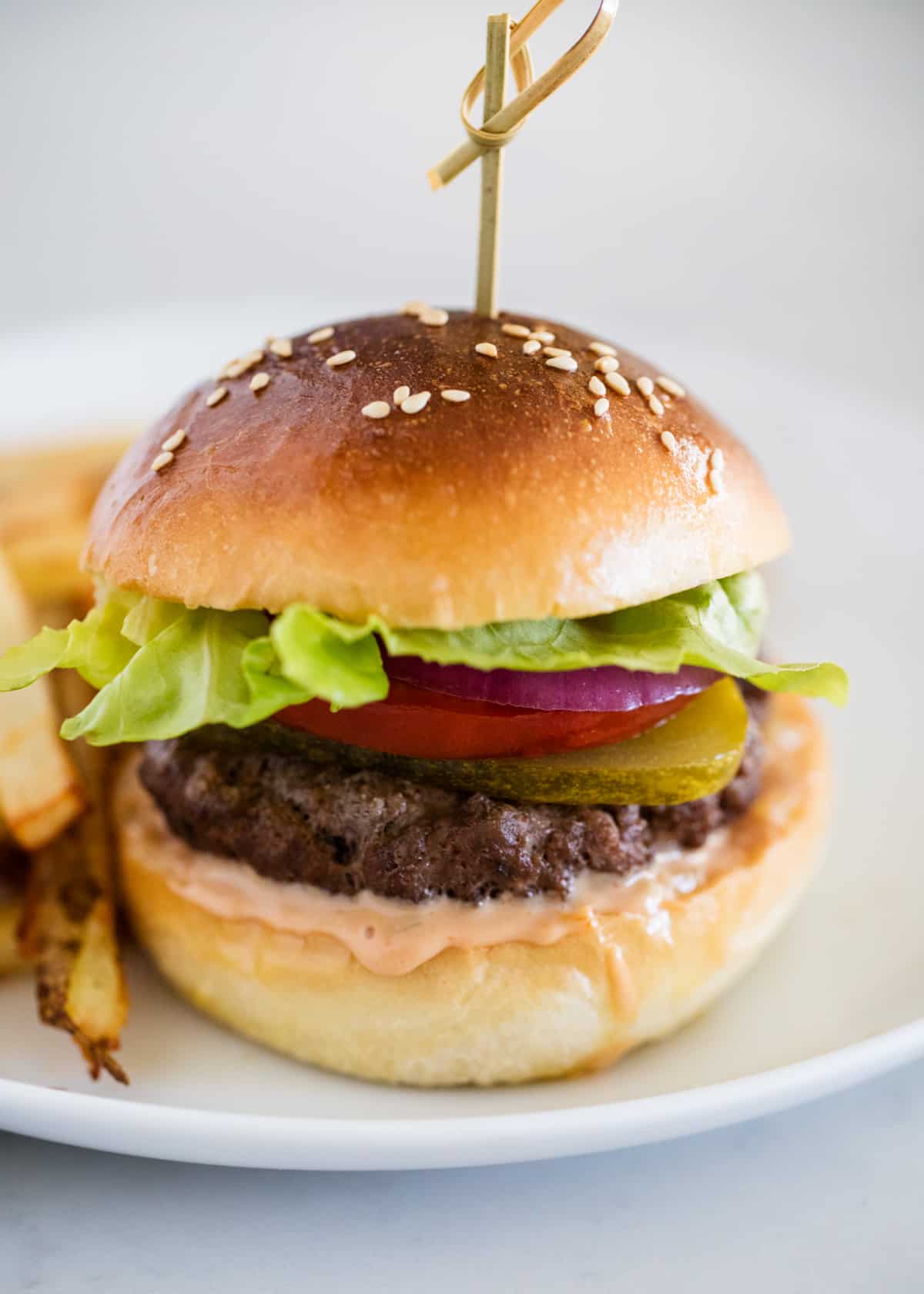 More Hamburger Recipes
HUNGRY FOR MORE? Subscribe to my newsletter and follow on Facebook, Pinterest and Instagram for all the newest recipes!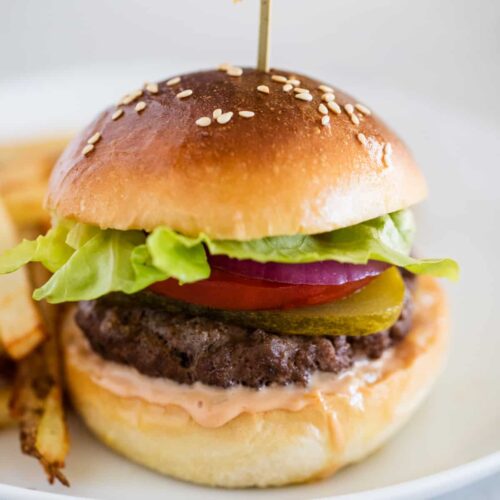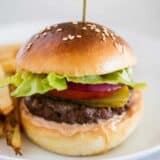 Baked Hamburger Recipe
These baked hamburgers only take 3 simple ingredients with easy clean up. They're so easy to make, hearty and flavorful. Perfect for those days that you don't feel like firing up the grill.
Ingredients
Optional: Hamburger buns, lettuce leaves, sliced cheese, ketchup, mayo, mustard, thousand island, bacon, tomato slices, sliced onion, pickles
Instructions
Preheat the oven to 425°F. Line a rimmed baking sheet with foil. Then place a cooling rack on top of the foil wrapped pan.

Combine the ground beef, BBQ sauce and hamburger seasoning in a medium-sized bowl. Mix just until combined with your hands and shape into 4 patties about 1/2-inch thick. Make a well in your patties with your thumb to prevent from bulging.

Place burgers on the rack and cook for 15 minutes, or until juices run clear and the internal temperature reaches 155°F. Top with cheese slices, if desired.

Serve hamburgers on buns with your favorite toppings.
---
Notes
Note: Buns and toppings are not included in nutritional value.
Nutrition
Calories: 169kcal | Carbohydrates: 3g | Protein: 25g | Fat: 6g | Saturated Fat: 3g | Cholesterol: 70mg | Sodium: 120mg | Potassium: 434mg | Fiber: 1g | Sugar: 2g | Vitamin A: 42IU | Calcium: 50mg | Iron: 4mg
Nutrition provided is an estimate. It will vary based on specific ingredients used.
Did you make this recipe? Don't forget to give it a star rating below!