MY OTHER RECIPES
My family does pizza night a few Fridays a month and even though I like to make our pizza instead of ordering takeout (well, most of the time, we do order takeout sometimes!), it still makes things easier on me because I already know basically what I'm going to be making.  Half the battle for me each week is putting my menu plan together, so knowing generally that I'm going to make pizza takes a lot of stress off.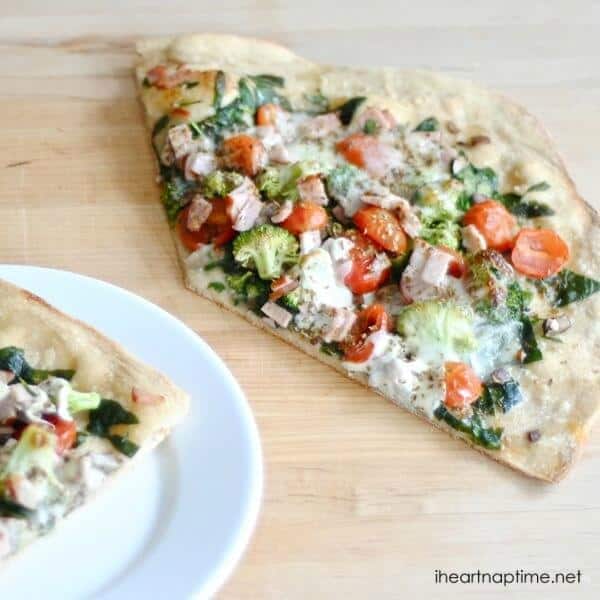 Ingredients
1 pkg. dry active yeast
1 c. + 2 tbsp. warm water
1 tsp. sugar
2 tbsp. olive oil
1 c. whole wheat flour
1 1/2 c. white flour
1/2 tbsp. kosher salt
4 tbsp. extra virgin olive oil
6 cloves garlic, minced
2 c. spinach, chopped
1 c. mushrooms, sliced
2 c. broccoli florets
1 pint grape tomatoes, halved and squeezed
6 oz. nitrate-free Canadian bacon
8 oz. mozzarella cheese, sliced or shredded
2 tbsp. dried oregano
Instructions
In the bowl of a stand mixer, sprinkle the yeast over the warm water and let stand 5 minutes.
Add the sugar, 2 tbsp. olive oil, flours, and salt. Place the bowl on the stand mixer, fitted with a dough hook, and knead on low speed until soft and smooth, about 10 minutes. Add additional flour about 1/4 cup at a time if the dough starts to stick to the sides of the bowl during the kneading.
Remove the bowl from the mixer and drizzle some olive oil over the ball of dough. Turn to coat, cover the bowl with a kitchen towel, and set in a warm draft-free space for two hours.
Preheat oven to 500º. Split the dough in half and roll each half into a round using a rolling pin. Transfer to baking sheets.
Rub 2 tbsp. of olive oil over and 3 cloves of garlic around each crust.
Layer remaining ingredients over top.
Bake until crust is golden brown, about 12 minutes. Let cool slightly and cut into wedges to serve.
https://www.iheartnaptime.net/healthy-pizza/

" data-jpibfi-post-url="https://www.iheartnaptime.net/healthy-pizza/" data-jpibfi-post-title="Healthy Pizza" data-jpibfi-src="https://www.iheartnaptime.net/wp-content/uploads/2013/01/healthy-pizza-3a.jpg" >