Jump to Recipe⌄
Healthy Pizza
Pizza may not be the first thing that jumps to mind when you're trying to think of a healthy dinner to feed your family, but with some simple tweaks and thoughtful ingredients, I have good news for you…it can be! This healthy pizza recipe is one your whole family will love!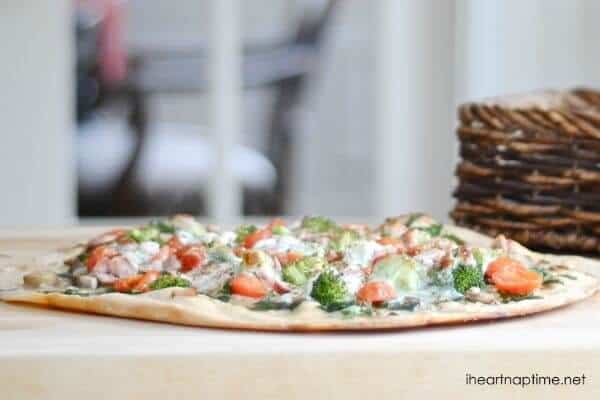 My family does pizza night a few Fridays a month and even though I like to make our pizza instead of ordering takeout (well, most of the time, we do order takeout sometimes!), it still makes things easier on me because I already know basically what I'm going to be making.  Half the battle for me each week is putting my menu plan together, so knowing generally that I'm going to make pizza takes a lot of stress off.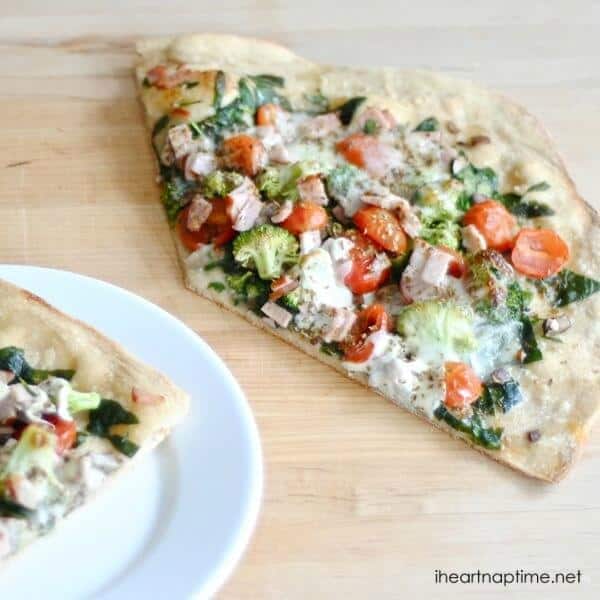 This particular pizza recipe uses a combination of white and whole wheat flours to add some whole grain to the crust.  I like to stretch the dough into two rounds, giving a thinner crust on the finished pizzas, but if you prefer a thick crust, just stretch and press all the dough into one half sheet pan and make one, slightly larger pizza.
I tend to load veggies on my pizzas because I love that they can be a one-dish meal – no side salad necessary unless you want one!  Here I've used garlic, spinach, mushrooms, broccoli, and tomatoes.  You should use whatever veggies you like best, but the more you stack on there, the more health benefits you'll get.  And that's sort of the crux of what makes up healthy eating for me.  I believe in eating real food without chemicals or additives, working as many vegetables and fruits into my meals as I can, choosing whole grains over white most of the time, and using moderation in portion sizes.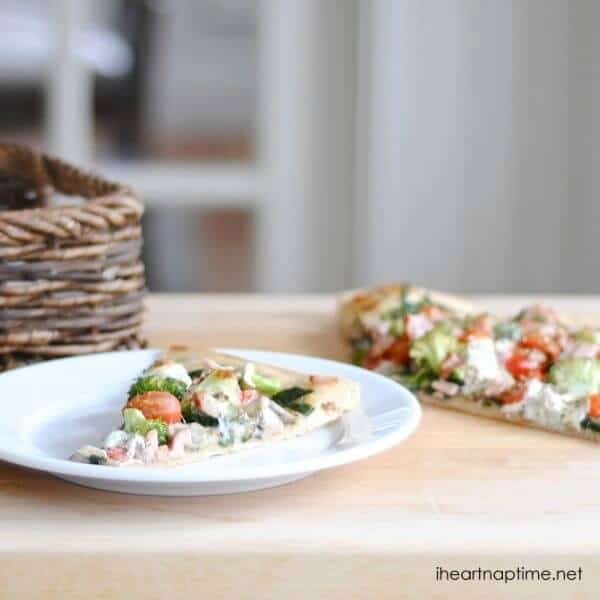 If you visit my blog, The Chronicles of Home, and go to the Recipes section you will also see lots of not exactly healthy desserts featured…I love fruits and veggies but sometimes a girl needs some chocolate!  Even those sweet treats are always all natural though, so there is something redeeming about them, other than just pure deliciousness :)
The bulk of my family's eating is nutritious, good-for-you food and I'm thrilled to be sharing some of that with you here at I Heart Nap Time.  I hope you treat yourself to a healthy family pizza night soon!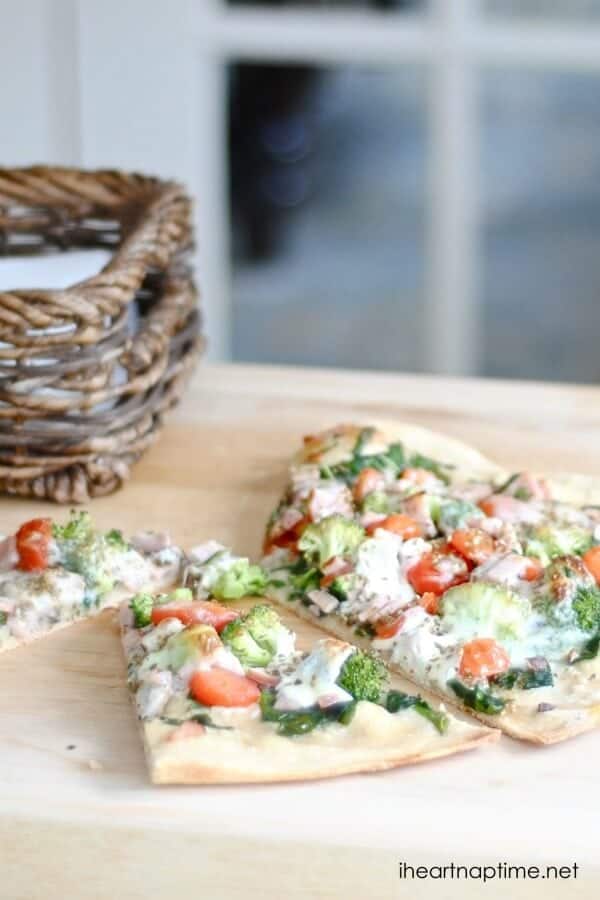 Healthy Pizza
Ingredients:
1 pkg. dry active yeast
1 c. + 2 tbsp. warm water
1 tsp. sugar
2 tbsp. olive oil
1 c. whole wheat flour
1 1/2 c. white flour
1/2 tbsp. kosher salt
4 tbsp. extra virgin olive oil
6 cloves garlic, minced
2 c. spinach, chopped
1 c. mushrooms, sliced
2 c. broccoli florets
1 pint grape tomatoes, halved and squeezed
6 oz. nitrate-free Canadian bacon
8 oz. mozzarella cheese, sliced or shredded
2 tbsp. dried oregano
Directions:
1. In the bowl of a stand mixer, sprinkle the yeast over the warm water and let stand 5 minutes.
2. Add the sugar, 2 tbsp. olive oil, flours, and salt. Place the bowl on the stand mixer, fitted with a dough hook, and knead on low speed until soft and smooth, about 10 minutes. Add additional flour about 1/4 cup at a time if the dough starts to stick to the sides of the bowl during the kneading.
3. Remove the bowl from the mixer and drizzle some olive oil over the ball of dough. Turn to coat, cover the bowl with a kitchen towel, and set in a warm draft-free space for two hours.
4. Preheat oven to 500º. Split the dough in half and roll each half into a round using a rolling pin. Transfer to baking sheets.
5. Rub 2 tbsp. of olive oil over and 3 cloves of garlic around each crust, then layer remaining ingredients over top.
6. Bake until crust is golden brown, about 12 minutes. Let cool slightly and cut into wedges to serve.
All images and text ©
* * * * * * *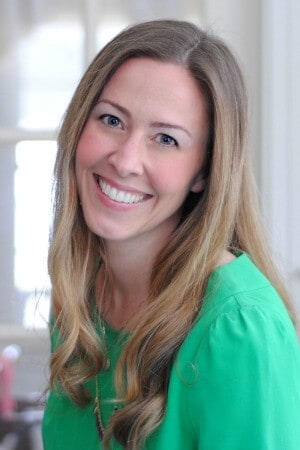 I'm Jennifer from The Chronicles of Home, where I share DIY and home decorating projects as well as lots of yummy food.  My truest loves are my husband and two young daughters, but I've also fallen for salvaging, refinishing, & reupholstering old furniture and building furniture from the frame up.  I have a sweet tooth to be reckoned with and love testing new desserts, though most of the time I eat and feed my family delicious, seasonal, healthy food. I'm drawn to beautiful fabric, great books, anything kelly green, pasta made from scratch, dark chocolate, and brown butter.  I'm so thrilled to be joining the I Heart Naptime creative team!