An easy homemade pizza crust smothered in garlic ranch sauce and topped with grilled chicken, bacon, tomatoes and mozzarella cheese.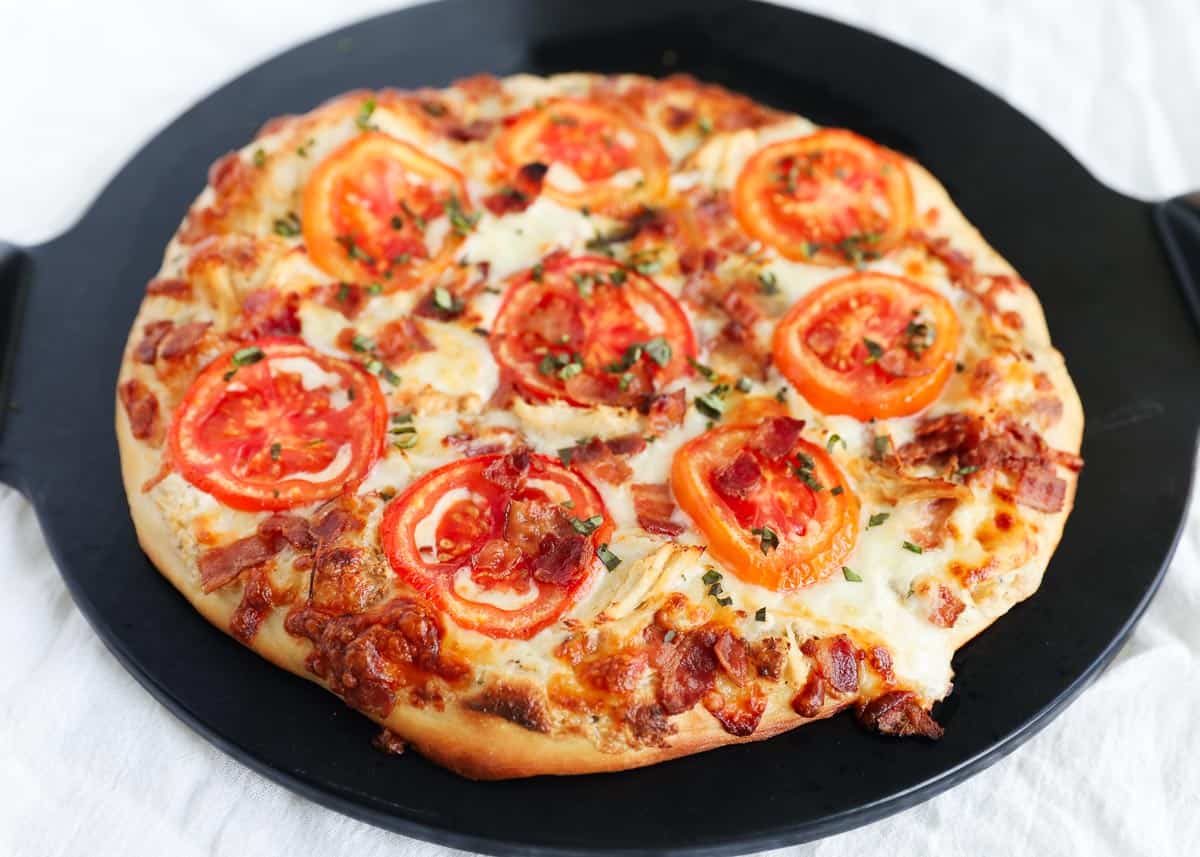 Mix-Up Pizza Night
I've got to be honest, my family makes homemade pizza together almost every weekend…we love them that much! I love a traditional pepperoni pizza with tomatoes, mozzarella and basil and my husband loves BBQ chicken pizza.
But one version that we're always, always, able to agree on is this chicken bacon ranch pizza! It is the YUMMIEST and definitely one of our all-time favorites! It's made with a crispy crust, creamy ranch sauce, shredded mozzarella, chicken, bacon and thinly sliced tomatoes. It has all the most delicious flavors and textures and is so easy to make!
What Sauce is on a Chicken Bacon Ranch Pizza?
The star of the show is this flavorful garlic ranch sauce. It tastes similar to ranch dressing and is made with a mixture of sour cream, mayo, milk and spices. No heavy lifting required for this sauce…just mix the ingredients together and it's ready to go in just 5 minutes!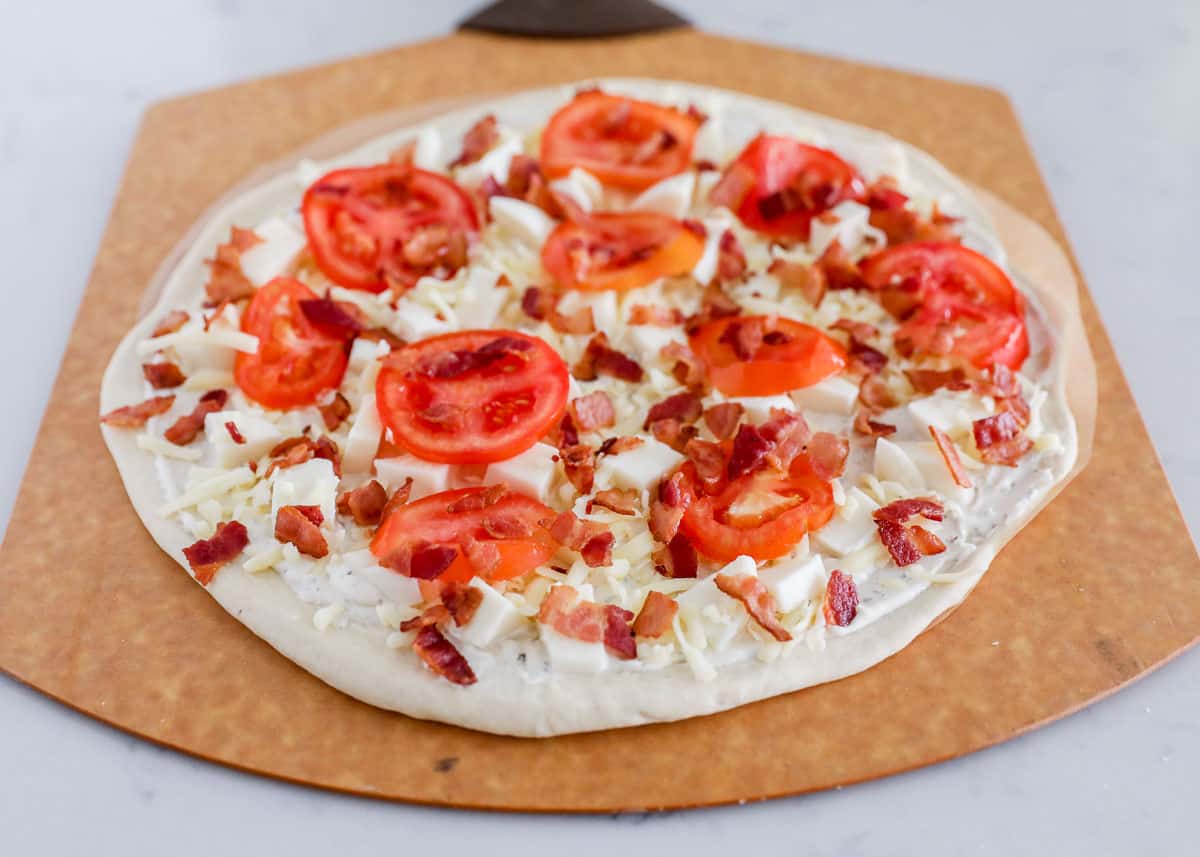 Perfect Crispy Crust
The key to the perfect homemade pizza is having the perfect crust. It's taken me a really long time to master the perfect homemade pizza crust. I've tried so many recipes that are bland, "bready" and dense, or they're flimsy and we end up eating the pizza with a fork.
This crust is chewy, crusty on the outside and soft on the inside–just like the crust should be! Below are a few tips to help you achieve a perfectly crispy and delicious crust.
Thickness. Roll the dough until it's about 12 inches wide and 1/4-inch thick. This level of thickness gives it a crispy exterior while the inside stays soft and chewy.
Use a pizza stone. Heat the stone in the oven a few minutes beforehand for a crisper crust. Then use a pizza peel lined with parchment paper to easily transfer the pizza onto the stone in the oven. It will just slide right off!
Bake on bottom rack. Because the heat source is located at the bottom of the oven, baking the dough on the bottom rack will help the crust crisp up better than the top rack.
Other Crust Options
Feel free to use a healthier whole wheat pizza dough or even this no yeast pizza dough for a quicker alternative with no rise time. I also love the store-bought dough from Trader Joe's if I'm short on time.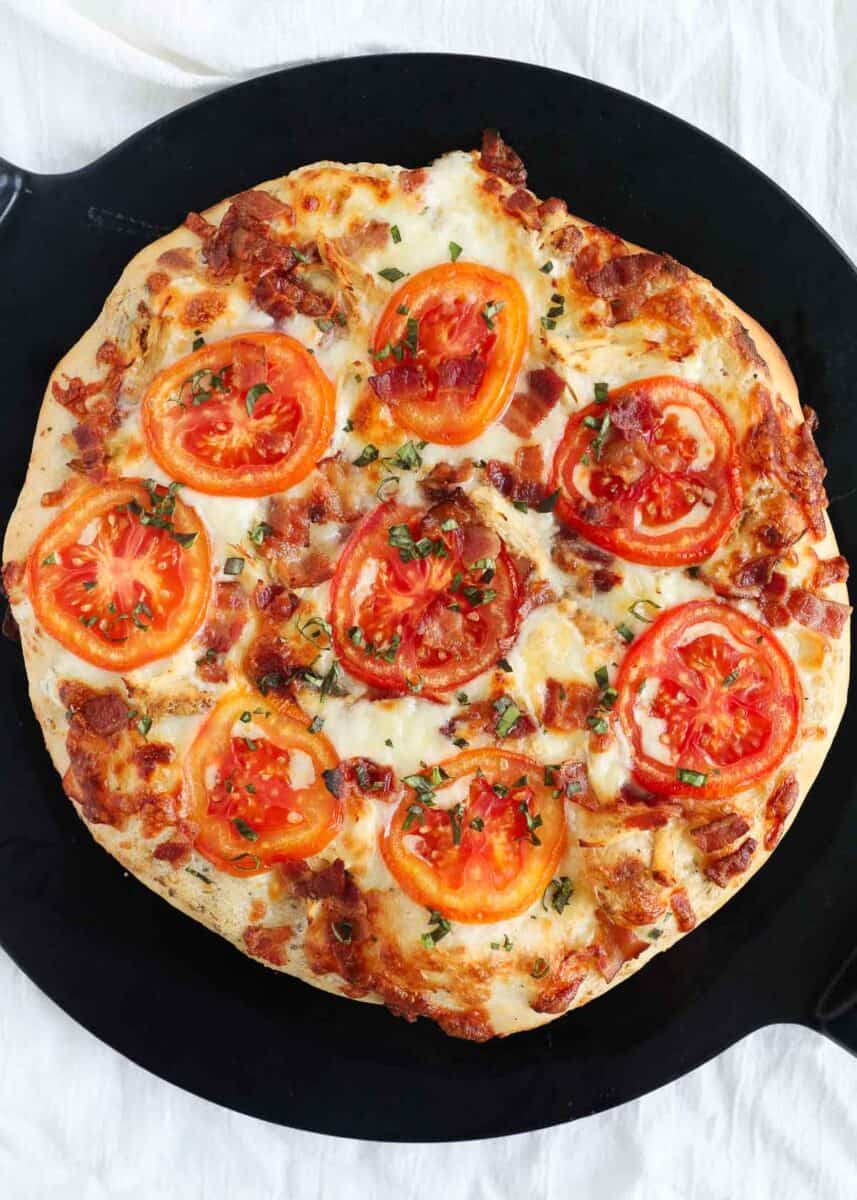 Chicken Bacon Ranch Pizza Toppings
Top your crust with the fixin's for this delicious chicken bacon ranch pizza and you've got the perfect dinner that your whole family will love! In the summer months, I also love adding fresh tomatoes and basil from the garden. Yum!
Shredded cheese
Chopped bacon
Sliced tomatoes
Chopped basil
Onions
Sliced jalapenos
Easy Grilled Pizza
If you'd rather leave your oven off during the summer months, you should definitely try using the grill or a pizza oven. Brush one side of the rolled out dough with olive oil, then grill on medium-low for 2 minutes (with cover on). Brush the other side with oil, flip and grill for 2 more minutes. Remove crust to plate, add toppings and then grill for about 1-2 more minutes (until the cheese is melted).
Reheating Leftovers
For a softer crust, reheat leftovers in the microwave until warm. For a crisper crust, you can use the stovetop, toaster oven or even the air fryer. It won't take long for the pizza to get crispy and warm, usually about 5 to 10 minutes.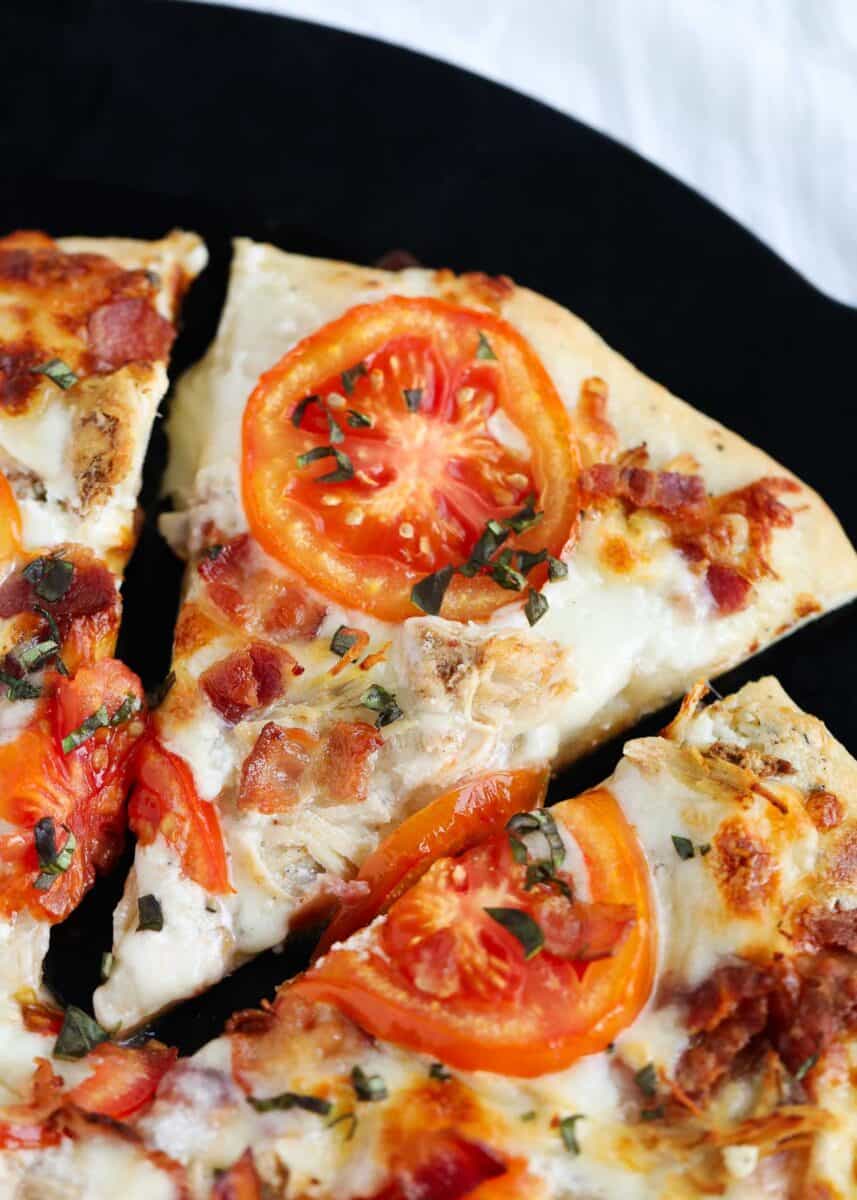 More Recipes for Pizza Night:
HUNGRY FOR MORE? Subscribe to my newsletter and follow on Facebook, Pinterest and Instagram for all the newest recipes!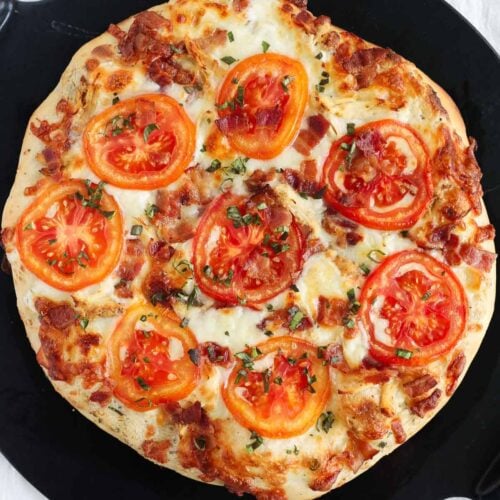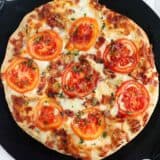 Chicken Bacon Ranch Pizza
An easy homemade pizza crust smothered in garlic ranch sauce and topped with chicken, bacon, tomatoes and mozzarella cheese.
Ingredients
1 pound pizza dough
8 ounces mozzarella cheese , shredded or cubed (more if desired)
5 slices bacon , about 1/3 cup cooked and crumbled
1 cup chicken , cooked and shredded
2 tomatoes , thinly sliced
Ranch Sauce
2 Tablespoons sour cream
3 Tablespoons mayonnaise
2 ½ Tablespoons milk
½ teaspoon garlic salt
⅛ teaspoon dried chives
⅛ teaspoon dill
⅛ teaspoon dried parsley
dash of onion powder
salt and pepper , to taste
Instructions
In a small bowl, combine the ranch sauce ingredients. Mix until smooth and set aside.

Roll out the dough to about 12 inches and 1/4" thick. Then spread the sauce over the dough.

Sprinkle 1 cup of the mozzarella cheese over top, followed by the chicken, bacon, and tomatoes. Sprinkle extra cheese on top if desired.

Bake at 450°F for 12 minutes, or until crust is golden brown and the center is cooked through.
---
Notes
Shortcuts: To make this recipe easier, you can use a store-bought pizza dough (I prefer Trader Joe's), bacon crumbles and pre made ranch dressing. If I'm using a store bought dressing, I usually start with about 1/3 cup.
Pizza dough: When making it homemade, I love this pizza dough recipe.
Grilled pizza: Oil your grill and turn heat to medium-low. Brush dough with olive oil and grill for 2 minutes on one side, with the grill cover on. Flip to the other side and brush again with olive oil. Cook for 2 minutes, with the grill lid on. Remove crust to a plate and add toppings. Return to grill and cook just until cheese is melted, 1-2 more minutes.
Nutrition
Calories: 456kcal | Carbohydrates: 34g | Protein: 21g | Fat: 27g | Saturated Fat: 10g | Polyunsaturated Fat: 6g | Monounsaturated Fat: 8g | Trans Fat: 1g | Cholesterol: 61mg | Sodium: 1164mg | Potassium: 215mg | Fiber: 2g | Sugar: 7g | Vitamin A: 672IU | Vitamin C: 6mg | Calcium: 211mg | Iron: 3mg
Nutrition provided is an estimate. It will vary based on specific ingredients used.
Did you make this recipe? Don't forget to give it a star rating below!
Recipe Contributed by Tastes Better From Scratch