Jump to Recipe⌄
Apple Cider Caramels
Hi all! Talitha from Love, Pomegranate House here again. Has the Fall bug hit you yet? It is still in the 90's here everyday but the Fall food and decorating bug has definitely hit me! I'm ready for the leaves to change and for sweater weather. In honor of all things Fall, I've got the most amazing recipe for all of you… Apple Cider Caramels!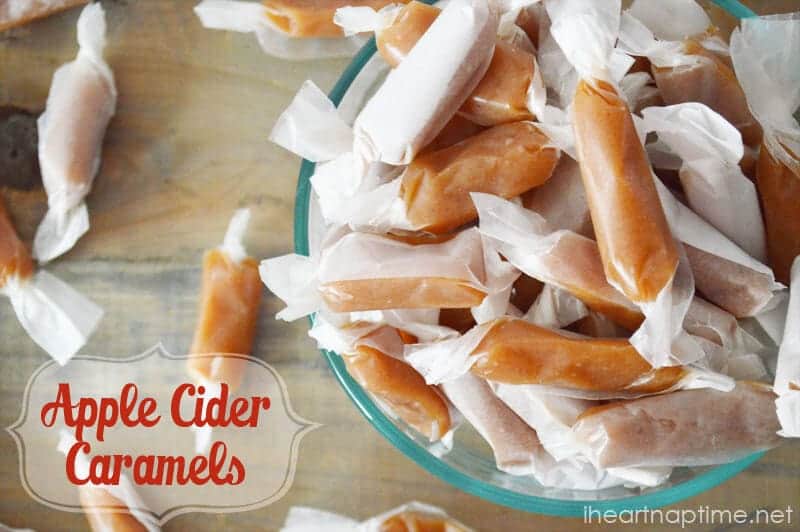 I absolutely love this recipe. Not just because it is relatively easy, but the payoff packs quite a punch. I may or may not have eaten a handful of these while taking pictures. Whether you make these for yourself or as a wonderful treat for a neighbor/friend/whoever to commemorate the season, you will have people begging you for the recipe. I guarantee it.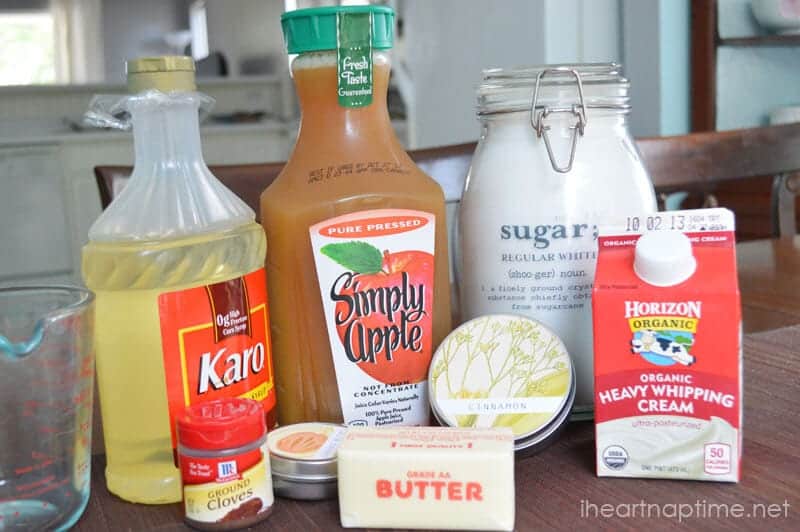 Before getting to the recipe let me give you a little warning. Making caramels is not for the faint of heart. It isn't hard, but it can be a little time consuming. And it is most definitely not the time to be catching up on the latest celebrity gossip. Making caramels requires your undivided attention, otherwise you will end up with a very sad and burnt batch of caramels.
Now that I gave you that little tip, on to the recipe.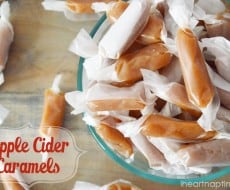 Apple Cider Caramels
Ingredients:
2 cups apple cider
1 cup heavy whipping cream divided
pinch ground cloves
1 1/4 tsp cinnamon
1/4 tsp nutmeg
1 1/2 cups white sugar
3 tbsp water
1/3 cup light corn syrup
1/2 cup butter cubed
Directions:
1. In a saucepan, boil apple cider for 20-30 minutes or until it is reduced down to 1/3 cup. Set it aside to cool.
2. Line a 8×8 pan with parchment paper. Coat with a bit of cooking spray and set aside.
3. In a small bowl, combine 2/3 cup whipping cream, cinnamon, nutmeg, cloves, and reduced apple cider. Set aside.
4. In a heavy-bottomed saucepan, combine the sugar, 1/3 cup whipping cream, water, and corn syrup. Cook over low heat until the sugar dissolves (about 5-10 minutes). Insert a candy thermometer and simmer until the syrup reaches 230 degrees.
5. Remove pan from heat and whisk in the cider and cream mixture. Add the butter and combine until fully incorporated. Return the pan to heat and re-insert candy thermometer. Cook over low heat, stirring frequently, until the temperature reaches 244 degrees. Once temperature reaches 244 degrees, cook for 2 minutes longer.
6. Remove from heat and pour the caramel into the prepared pan. Let the mixture cool completely at room temperature or in the refrigerator.
7. Once cooled, cut the caramels into squares or rectangles and wrap each caramel in wax paper. Store in an airtight container or in the refrigerator.
All images and text ©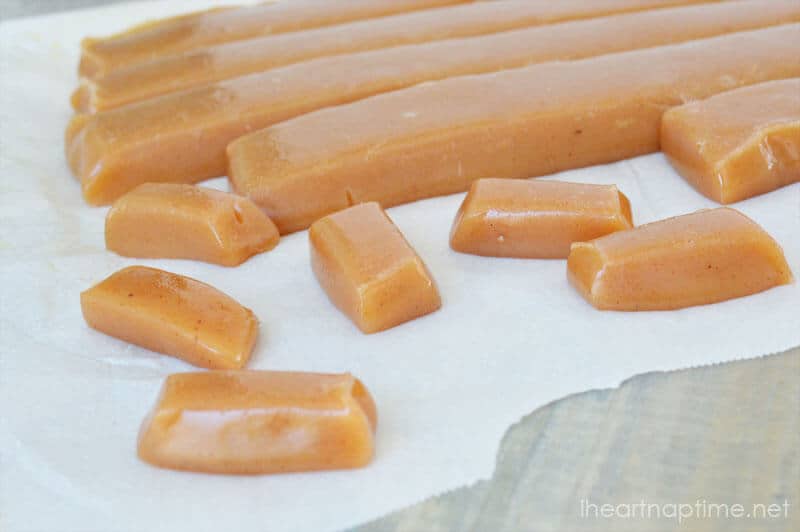 Make sure you get apple cider, not apple juice. It will make a difference. Apple cider is the stuff that is not clear, it still has all the apple pulp in it. It will make for a much better flavor, I promise.
Here's another little tip for those of you who don't have a candy thermometer or, like me, it breaks halfway through your caramel making. Boo. You can know the caramel is at the right temperature using just a bowl of ice water. Drop a spoonful of the syrup into the bowl of very cold and use your fingers to gather the cooled syrup into a ball. If it is the right temperature, the syrup forms a ball while in the cold water, but flattens out once removed from the water.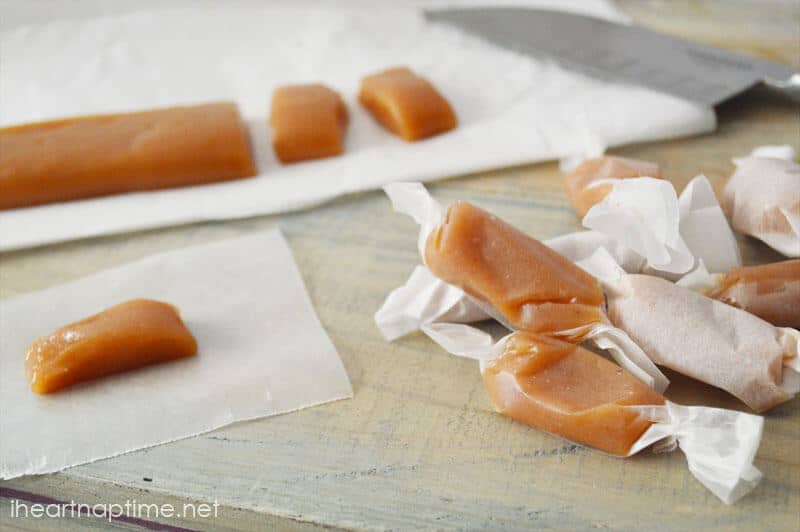 I'm not going to lie, these might be my new favorite… everything. Holey moley were they delicious. Anyone who you give these to (including yourself!) will be a very lucky person!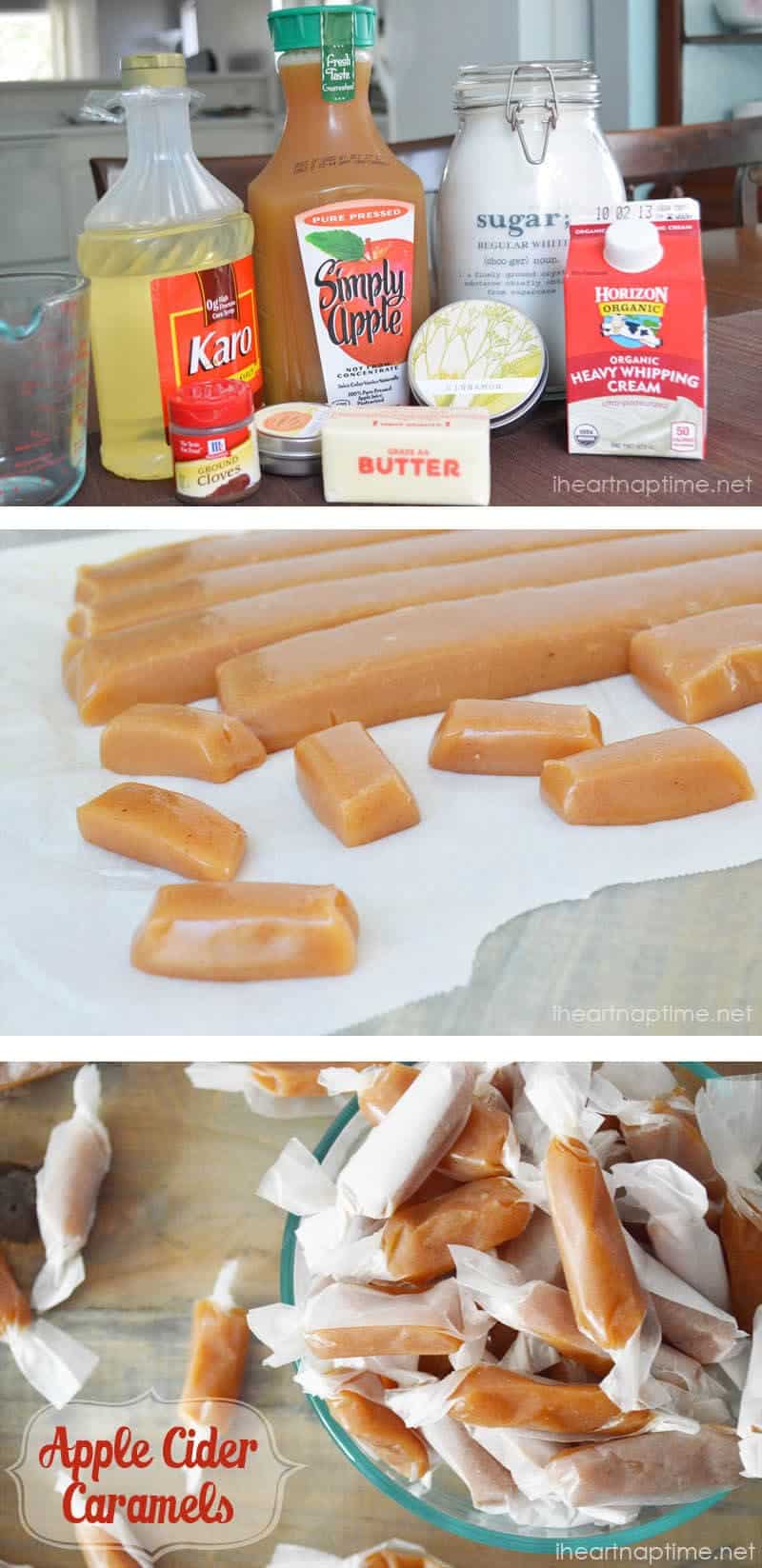 Come check out what else I've been working on at Love, Pomegranate House!

Updated Old Brass Doorknobs  ::  The BEST Vanilla Buttercream Frosting  ::  How-to Paint the Perfect Stripes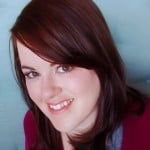 I'm Talitha from Love, Pomegranate House! I'm a Pinterest addict, bargain hunter, and a thrift store stalker. But most of all, I'm a DIY junkie. I love finding something I must have and creating it my way with my own flair. And even more, I love doing it for cheap. And by cheap I mean free… or as close to it as I can get. You'll normally find me blogging about my adventures in DIY-ing, crafting, and making up delicious recipes for my hubby! Stop by and visit me on Facebook, Pinterest, or Instagram!