A homemade Twix bar is one of my favorite treats on this planet. Gooey homemade caramel is perfectly sandwiched between the classic Twix ingredients of a shortbread cookie and milk chocolate—every bite is perfection.
If you're like me and love that chocolate and caramel combination, I've got a few more recipes for you to try like my homemade Snickers bars, German chocolate brownies, coconut caramel cookies and these extra-rich chocolate fudge caramel brownies.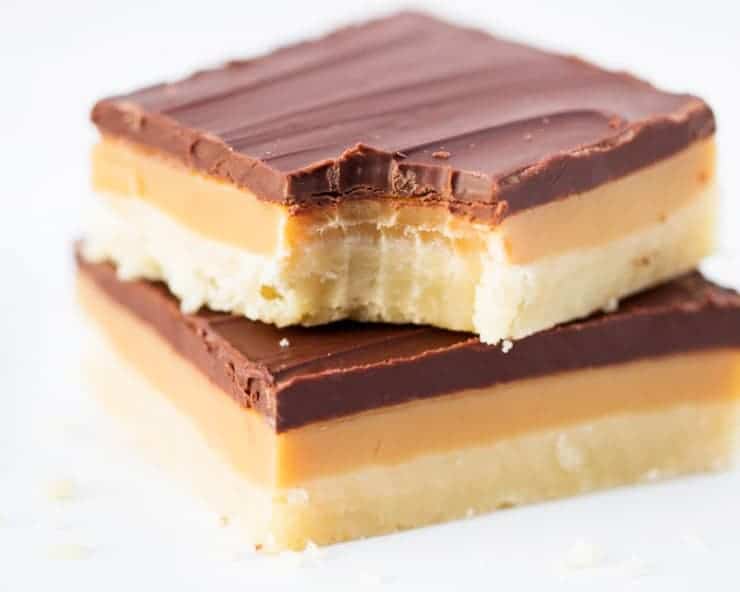 If you find yourself digging around in your child's Halloween bucket looking for a Twix bar year after year, this recipe is a must-make. I'll be honest and say these don't taste exactly like the original—they're softer, chewier and…just all around better.
Personally, given the choice, these homemade Twix bars knock the wrapped version out of the park, every time. Imagine biting into a thick butter shortbread crust, chewy caramel, and milk chocolate all at once. Yes, it's basically heaven in your mouth!
This recipe is also on rotation as a go-to party dessert. If you make it, you are practically guaranteed to have a unique sweet treat that no one else has brought, unlike a classic cookie or brownie.
Insider's tip: if you want to upgrade the bars for an event, you can individually wrap each one in parchment paper with a twine bow.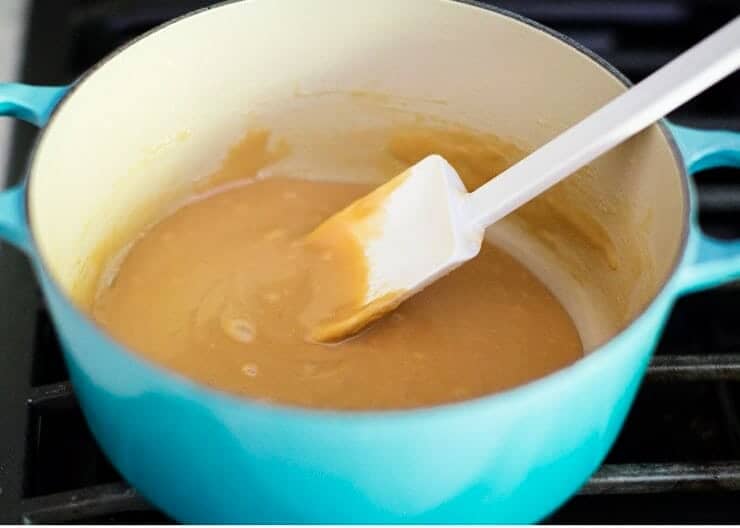 What's in them?
There are three main components to this bar. Each one is pretty yummy on its own, but combined together they are incredible.
Caramel layer
If you've never tried it before, you may be shocked at how different homemade caramel is from the version you can buy in the jar. It's rich and buttery and just all around fantastic.
As it is one of the most important Twix ingredients, I strongly recommend you make the caramel from scratch. It may sound challenging, but I promise it isn't. It is well worth the effort.
Shortbread layer
I think shortbread often gets the short end of the stick. While we all crave brownies or cookies, we rarely admit craving a good shortbread cookie.
Admittedly, that's probably because the store-bought versions leave much to be desired. The one that makes the base for the Twix cookie bars, however, is pretty amazing–are you sensing a theme here? :)
Chocolate layer
Last, but certainly not least, a rich, melty chocolate makes up the top layer of the bar. Definitely one of the key ingredients!

How to make homemade Twix bars
Step 1: Make shortbread layer
Creating the recipe is not challenging, but it does take a bit of time. The first thing is to create is your shortbread layer, which is done by mixing flour, sugar, and butter together and baking for 20 minutes.
Step 2: Make caramel sauce
While your shortbread is on the counter cooling, make your caramel sauce. Melt butter in a saucepan over medium heat, then stir in brown sugar, corn syrup, and sweetened condensed milk. Bring it all to a boil and cook for five minutes, stirring constantly.
Remove it from heat and allow the caramel to thicken for about two minutes, then pour the mixture over your shortbread. Again, you will allow the bars to cool so the caramel can firm up.
Step 3: Pour chocolate layer over bars
Lastly, melt the chocolate. Pour it over the caramel layer and place it in the fridge to set. Once your bars have hardened, slice and serve. They will stay fresh for about 2-3 days if kept in an airtight container—that is, if you don't eat them all before then!

Baking tips
I've gotten quite a few questions about this recipe—these tips will help you prefect the recipe every single time.
It's important to continually stir the caramel sauce while you are making it. If it isn't being mixed constantly, the mixture can harden and become tough or gritty.
Once you have all the layers assembled, they will need to harden slightly before eating. I recommend placing the bars in the fridge for 10-15 minutes to set it quickly.
Because the layers are hardened, it can help to use a warm knife when slicing the bars. To get your knife warm, run it under hot water for a minute or so, then wipe it dry immediately before slicing.
This recipe can be made ahead of time and frozen. To do so, assemble as normal, then add an airtight lid to your container and place in the freezer. When you are ready to eat them, let the bars defrost on your counter until they are at room temperature.
You can use whichever chocolate you prefer. The instructions call for milk chocolate, but this recipe also works with semi-sweet or dark chocolate.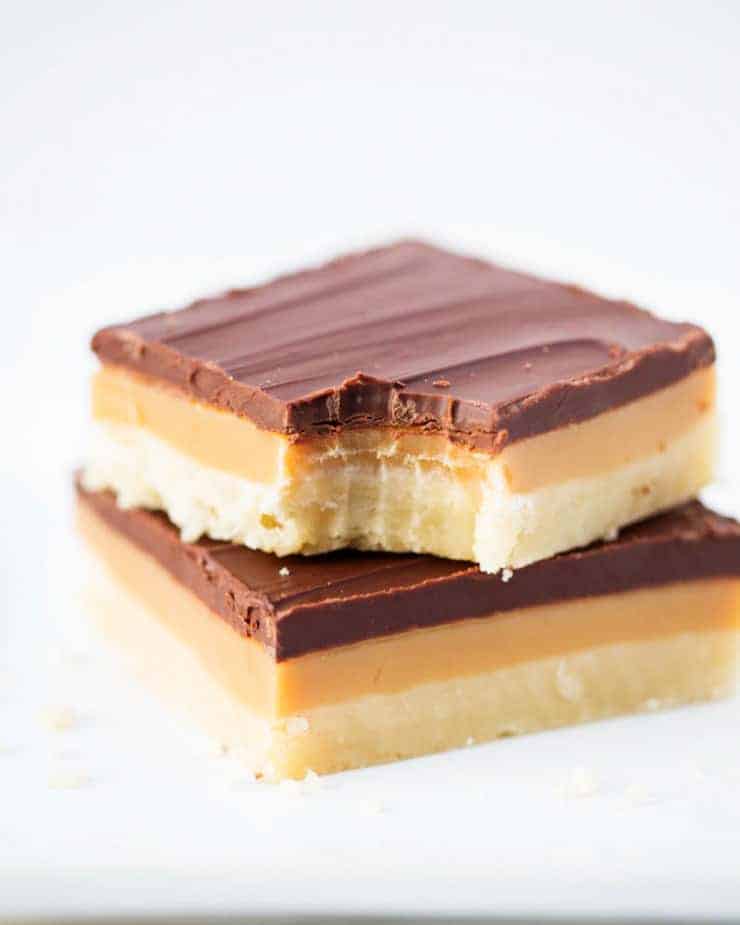 More delicious dessert bars: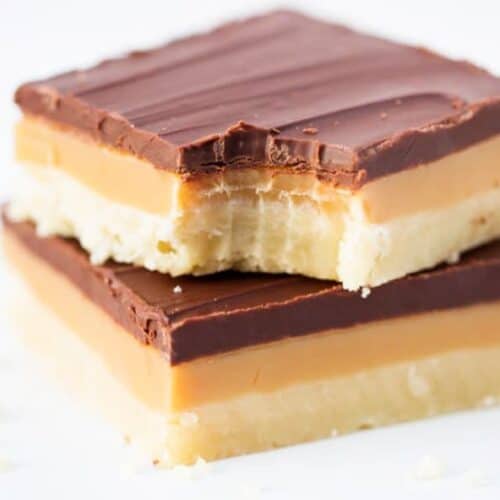 Homemade Twix Bars
A homemade Twix bar is one of my favorite treats on this planet. Gooey homemade caramel is perfectly sandwiched between the classic Twix ingredients of a shortbread cookie and milk chocolate—every bite is perfection.
Instructions
Preheat the oven to 350ºF. Line a 9×9 pan with parchment paper or spray with non-stick cooking spray. Set aside.

Combine the flour and sugar in a medium-sized bowl. Then cut the butter in with a pastry cutter or two forks, until it forms a crumb mixture. Then press down into the pan and bake for 20 minutes. Remove from oven and allow to cool.

For the caramel, add the butter to a medium saucepan and melt over medium-heat. Stir in the brown sugar, corn syrup and sweetened condensed milk. Bring to a boil and cook for 4-5 minutes, stirring constantly. Remove from heat and stir an additional 2 minutes, or until it starts to thicken. Pour over cooled shortbread bars. Allow to cool.

Once the caramel has become firm, mix the chocolate and oil in a microwave-safe bowl. Cook on high for 1 minute. Stir and cook in 15 second intervals, until the chocolate is melted. Then pour over the caramel layer and allow to set. May place in the fridge to help set faster.

Once the chocolate has hardened, cut into squares with a warm knife.
---
Notes
Note: These bars will stay fresh for about 2-3 days if kept in an airtight container.
Calories: 369kcal | Carbohydrates: 42g | Protein: 3g | Fat: 21g | Saturated Fat: 13g | Cholesterol: 45mg | Sodium: 159mg | Potassium: 61mg | Sugar: 33g | Vitamin A: 520IU | Vitamin C: 0.4mg | Calcium: 69mg | Iron: 0.8mg
Recipe from Six Sister's cookbook: Sweets & Treats.