A melt-in-your-mouth buttery shortbread crust filled with a smooth caramel layer is what these salted caramel butter bars are all about. These rich caramel bars are everyone's favorite!
Sweet dessert bars are the perfect treat. Everyone also loves when I make caramel apple pie bars and blondies, too!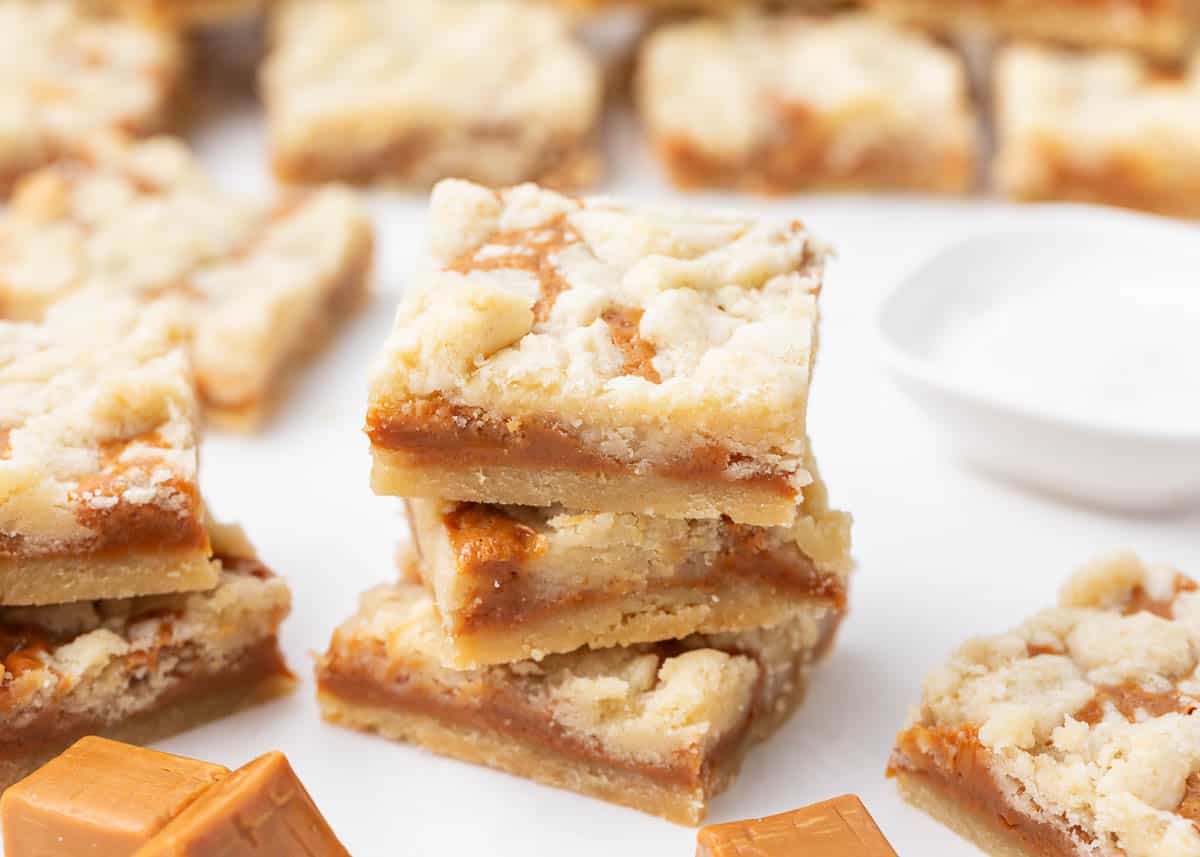 Sweet and Savory in Every Bar!
Salted caramel butter bars are a combination of so many of our favorite flavors and textures in an easy dessert. Buttery like my ooey gooey butter cake with a caramel layer like carmelitas, trust me, it's worth the amount of butter and sugar in every bite!
These melt-in-your-mouth bars make an appearance all year round but come out full force after Halloween when I've got a ton of unwrapped caramels leftover. But when I don't have a bag of caramel candy lying around, I whip up a quick salted caramel sauce instead.
With just a few simple ingredients for the crust that doubles as a topping and a shortcut microwavable caramel sauce, this recipe couldn't be easier. So do yourself a favor and double the batch!
Why This Recipe Works
Delicious. They're made with a sweet and salty chewy caramel filling sandwiched between a crispy and melt-in-your-mouth buttery shortbread. Need I say more?
Easy. With just 30 minutes of prep time, most of which is the initial baking of the crust, these salted caramel bars can be ready in just over 1 hour.
A dessert for all occasions. Wrapped individually, they make the perfect lunchbox treat or potluck dessert. Add them to your Christmas dessert board or summer BBQ menu!
Freezer-friendly. Make a double batch and freeze some because they last for months!
Ingredients Needed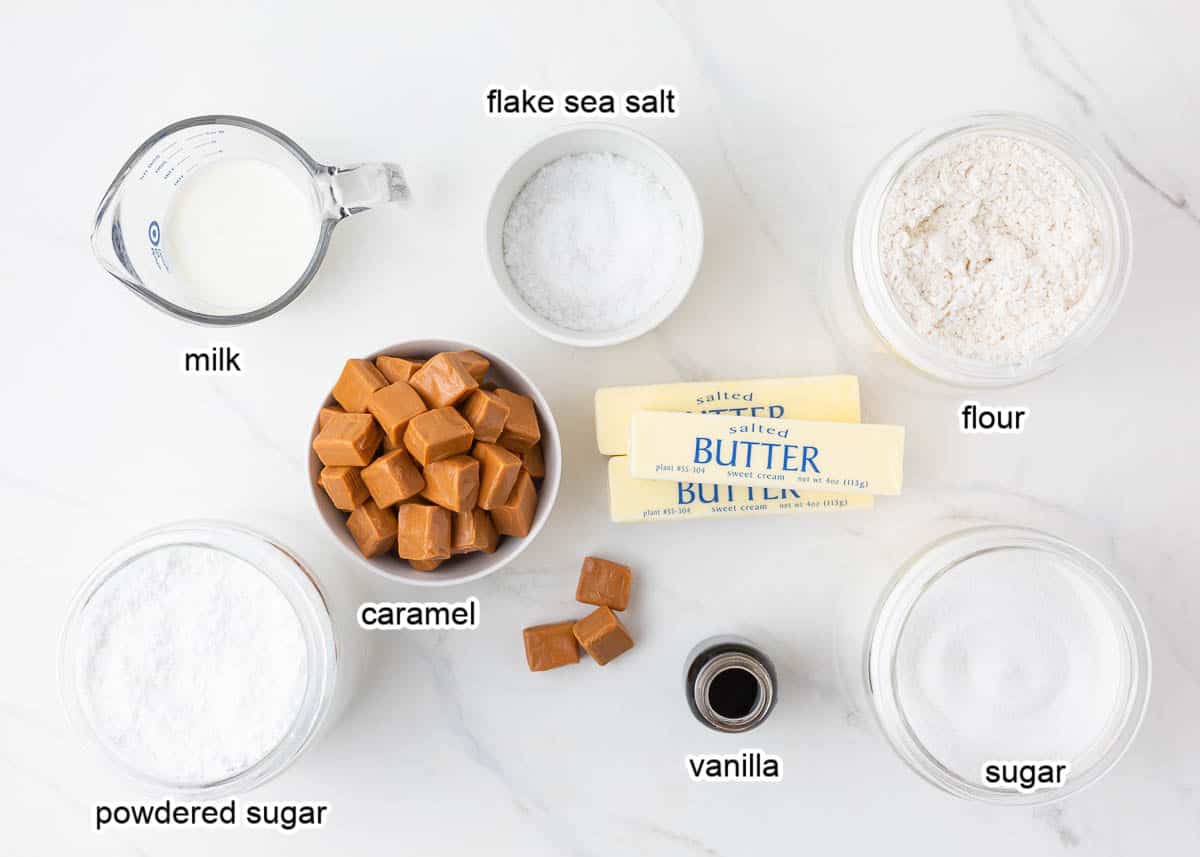 See full printable recipe below.
Butter: I like to use salted butter for this crust to balance out the amount of sugar. Here are some tips on how to soften butter if you haven't yet taken it out of the fridge.
Two kinds of sugar: Both granulated and powdered sugar are used to make the crust. Powdered sugar helps it to bind and adds a slightly chewy, melty texture and the granulated white sugar adds the sweetness.
All-purpose flour: The base of the crust and topping, this type of flour keeps its structure and is perfect for a crumbly texture.
How to Make Salted Caramel Butter Bars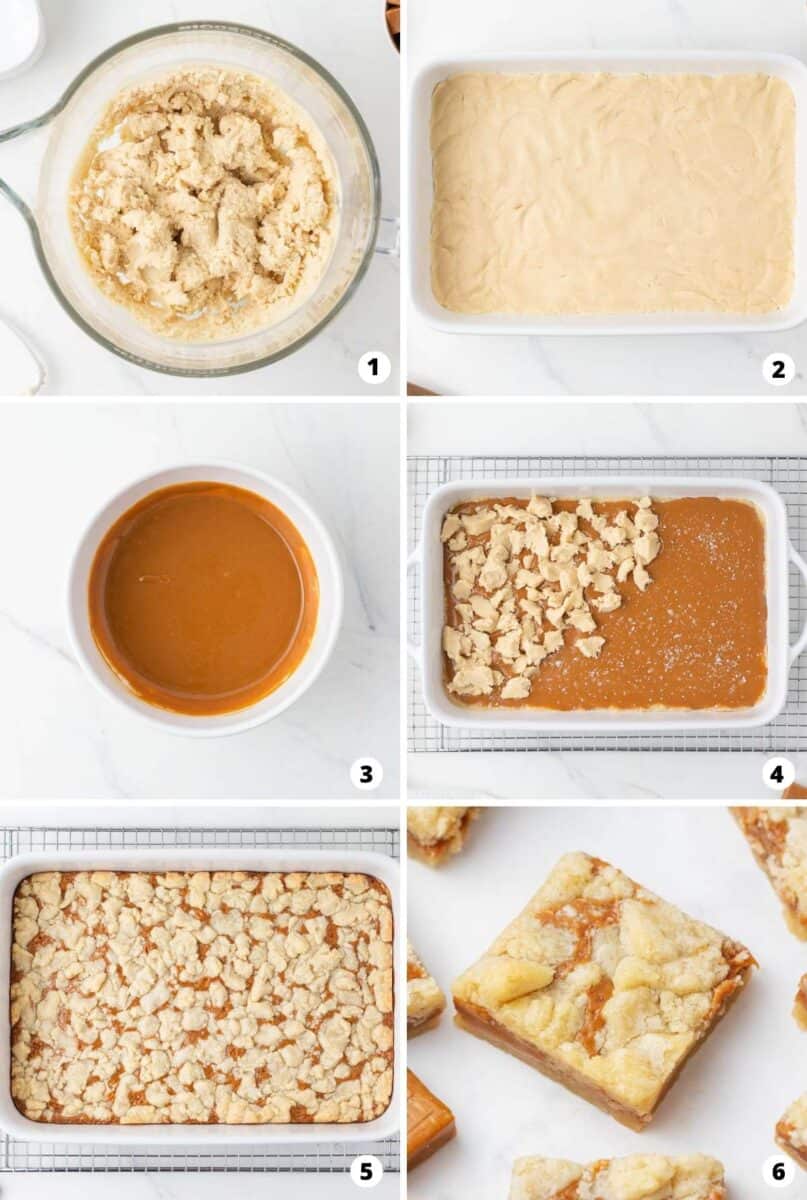 Make the crust. Mix the room temperature butter and both sugars on medium speed for 2 minutes. Add the vanilla to the butter mixture until combined and then turn the mixer down to low speed and mix in the flour until a smooth soft dough forms.
Bake the bottom crust. Press one-third of the dough into the bottom of a prepared 9×13 baking dish. Wrap the rest of it and keep it in the fridge to chill. Bake the crust for 20 minutes until it turns a pale golden brown. Allow it to cool for 15 minutes while you make the filling.
Make the sauce. Combine caramels and milk (or heavy cream) in a microwave-safe bowl. Heat on high for 1 minute and then stir until smooth. If not completely melted, microwave for 30-second intervals stirring in between, until smooth. Add vanilla and combine.
Add the caramel layer. Pour the sauce overtop the cooled crust. Sprinkle with flaked sea salt (or coarse sea salt, if that's what you have). Grab the remaining chilled dough from the fridge and break it up into crumbles and drop them on top of the caramel layer.
Bake assembled dish. Transfer the baking pan to the oven and bake for 25-30 minutes. The filling will start to bubble and the top will be lightly golden brown.
Cool, slice, and eat. Remove it from the oven and allow it to cool and set completely. This makes 24 bars, but that all depends on how big or small you slice yours. Enjoy!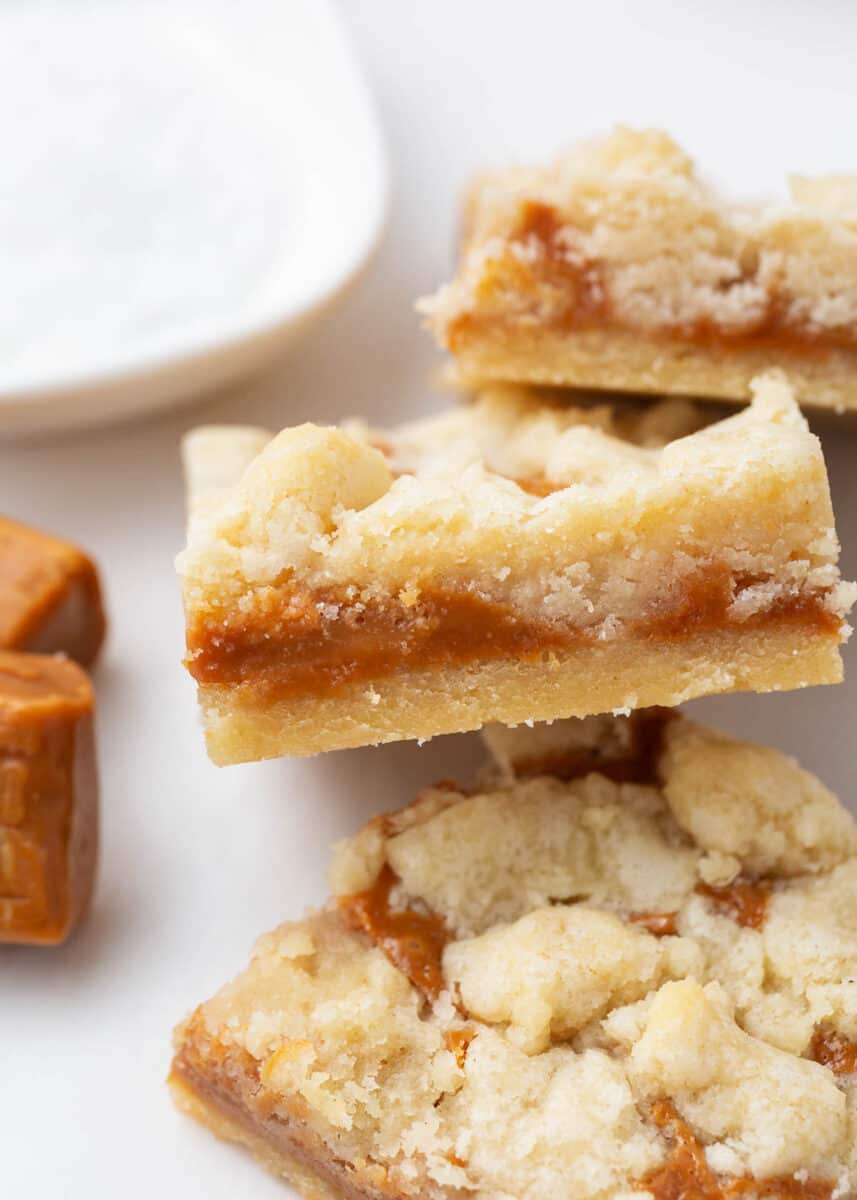 Expert Tips
Grease your dish. Use cooking spray to create a non-stick surface. Yes, there's fat from the butter, but there's also quite a bit of sugar that can stick. To be able to easily remove the bars and keep their shape, you want to make sure to spray!
The right amount of flour. Keep your bars from becoming too dense or dry by learning how to measure flour correctly.
Do not overmix the dough. Just mix to combine that way it won't be too tough and dense once it bakes and sets.
Kitchen essentials. I use my stand mixer with the paddle attachment, but you can also use an electric hand mixer and a large bowl. You can also use a double boiler to melt the caramels if you prefer not to use a microwave.
Recipe FAQs
How to store leftover bars?
You want to make sure to cover them in an airtight container so they don't dry out. Leave them at room temperature or keep them chilled in the fridge, it's up to you.
Can I freeze them?
Wrap them individually in plastic wrap so you can thaw only what you need. You can also separate them by using parchment paper and storing them in a freezer-friendly bag. They'll keep frozen for up to 3 months.
What is the difference between salted caramel and regular caramel?
Caramel is made with sugar, cream, butter, and a pinch of salt. The addition of sea salt turns it into salted caramel showcasing a distinct sweet and salty flavor pairing.
Why do you put butter in caramel?
Using butter (or any kind of fat) helps to keep it from hardening completely once it cools.
What to serve with salted caramel butter bars?
A scoop of vanilla ice cream with an extra drizzle of caramel on top!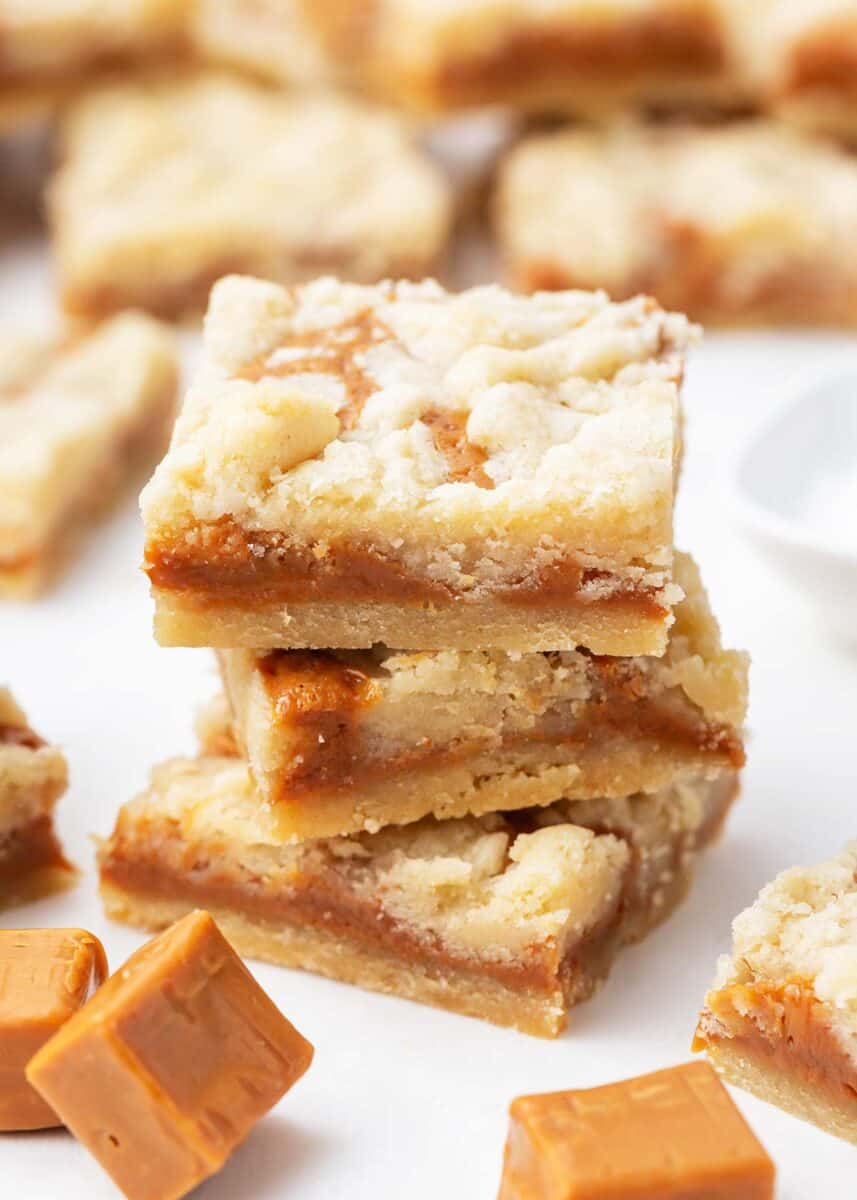 HUNGRY FOR MORE? Subscribe to my newsletter and follow on Facebook, Pinterest and Instagram for all the newest recipes!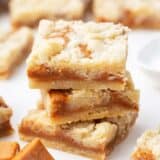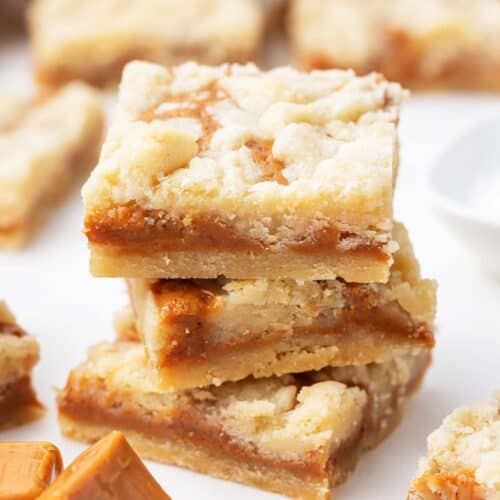 Salted Caramel Butter Bars
A melt-in-your-mouth butter shortbread filled with an ooey gooey caramel layer is what these salted caramel butter bars are all about. Ready to devour in just over an hour, these buttery caramel bars are everyone's favorite!
Ingredients
Crust
1 ½ cups salted butter , at room temperature
¾ cup granulated sugar
1 ¼ cup powdered sugar
1 ½ Tabelspoons vanilla extract
3 cups all-purpose flour
Filling
14 ounces caramel candies , unwrapped (about 50 pieces)
⅓ cup milk or heavy cream
1 teaspoon vanilla
Flake sea salt
Instructions
Crust
Preheat the oven to 325°F. Spray a 9×13-inch baking dish with nonstick spray.

In the bowl of a stand mixer fitted with the paddle attachment, mix together the butter, granulated sugar, and powdered sugar on medium speed for 2 minutes. Mix in the vanilla until combined. Turn the mixer to low and mix in the flour, until a soft dough forms.

Press 1/3 of the dough evenly into the bottom of the baking dish. Wrap the remaining dough in plastic wrap and chill in the refrigerator.

Bake the pressed dough for 20 minutes, or until the edges are golden brown. Transfer the pan to a wire rack and let cool 15 minutes.
Filling
In a microwave-safe bowl, add the caramels and milk. Microwave on high 1 minute. Remove and stir until smooth. If not completely melted, microwave on high for 30 seconds, stirring between each, until smooth. Stir in the vanilla.

Pour the caramel evenly over the crust, and sprinkle with salt.

Remove the chilled dough from the refrigerator and crumble evenly over the top of the caramel.

Bake 25 to 30 minutes, or until the filling is bubbly and the topping is lightly golden brown.

Let cool completely before cutting into 24 squares.
---
Notes
Storage: Store in an airtight container for up to 5 days. Freezing: The bars can be frozen in an airtight container for up to 3 months. Recipe credit: Recipe adapted from Cookies and Cups
Nutrition
Calories: 273kcal | Carbohydrates: 37g | Protein: 3g | Fat: 13g | Saturated Fat: 8g | Polyunsaturated Fat: 1g | Monounsaturated Fat: 3g | Trans Fat: 0.5g | Cholesterol: 32mg | Sodium: 134mg | Potassium: 61mg | Fiber: 0.4g | Sugar: 23g | Vitamin A: 367IU | Vitamin C: 0.1mg | Calcium: 33mg | Iron: 1mg
Nutrition provided is an estimate. It will vary based on specific ingredients used.
Did you make this recipe? Don't forget to give it a star rating below!