Jump to Recipe⌄
S'mores bars
Ooey gooey s'mores bars…. does it get any better than that? I think not! I experimented with my favorite cookie bar recipe over the weekend and created the most delicious chocolate chip cookie s'mores bars! The graham cracker crust, chewy center and marshmallow top is out of this world! I hate to say it… but these are now my favorite over the beloved Congo Bars. These are the perfect treat for a summer BBQ or to share with a friend! Or hide the pan… I won't judge. ;)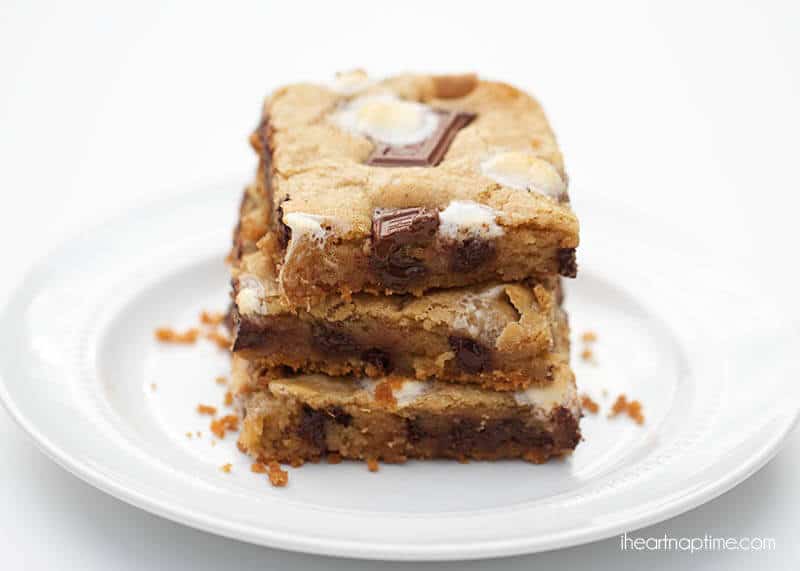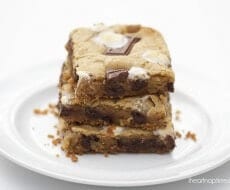 S'mores bars
Ingredients:
*CRUST:*
1/2 cup butter melted
1 1/2 cup graham cracker crumbs
*DOUGH:*
2 cups brown sugar
2/3 cup salted butter (softened)
2 eggs
2 1/2 cup flour
2 1/4 tsp baking powder
1/2 tsp salt
1 tsp vanilla
1 cup semi-sweet chocolate chips
1 cup mini marshmallows
*Place on top of dough before baking:*
1 Milk Chocolate Candy Bar (broken into pieces)
1 Graham Cracker (broken into pieces)
1/2 cup marshmallows
Directions:
1. Pre-heat oven to 325 degrees.
2. Combine melted butter and graham cracker crumbs into a small bowl with a fork. Then line a 13×9 with foil and press down crust. Set aside.
3. Cream butter and sugar in a large bowl. Add in eggs and vanilla and stir until combined. Mix the baking powder and salt with 1 cup of flour. Pour into the butter mixture and stir in the rest of the flour. Fold in chocolate chips and marshmallows.
4. Press dough into pan with a spatula flour on your hands. The dough goes right on top of the crust. Then add the candy bar, graham cracker and marshmallows on top. Bake for 30-35 minutes or until lightly browned. Oven temps will vary. Test with a tooth pick. The dough should be soft in the center.
5. Allow bars to cool and then enjoy with a scoop of ice cream or cold glass of milk!
All images and text ©

These s'mores bars are my new favorite! They are THAT good! You must put them on your "MUST TRY" board. ;) SO yummy!!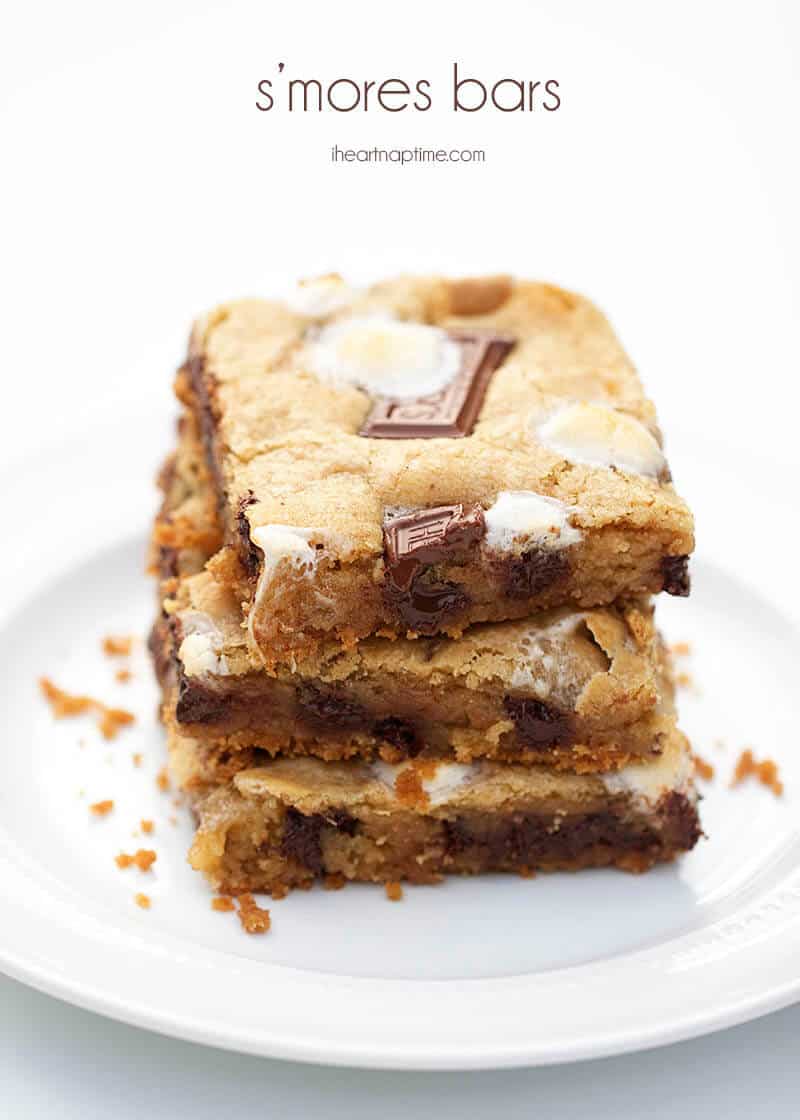 SO… what's your favorite BAR recipe?
Looking for more cookie bars? You'll love these too:
Thanks for reading! Come back soon. :)