Jump to Recipe⌄
15-Minute Mexican Pizza Recipe
15-Minute Mexican Pizza Recipe – a dish the whole family will love! Warm tortillas stuffed with refried beans, meat, melt-y cheese and topped with salsa, tomatoes, cilantro, avocado and olives.
These Mexican pizzas are so easy to make and completely delicious. The best thing about them is everyone in your family can add their own toppings to make ones they love. With these, dinner is done in 15 minutes. Can't beat that.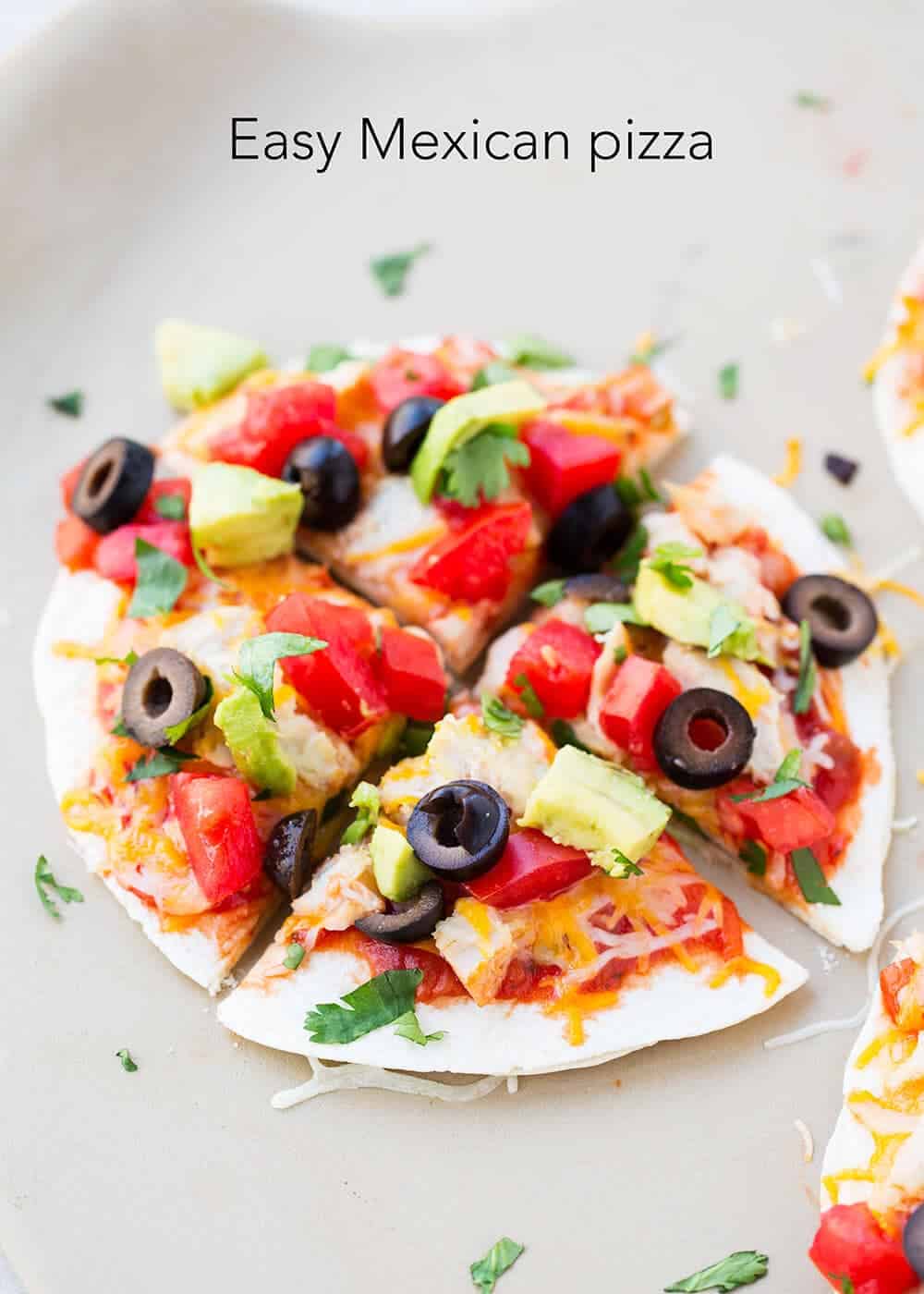 These make a great quick dinner, but are definitely my new lunch obsession too.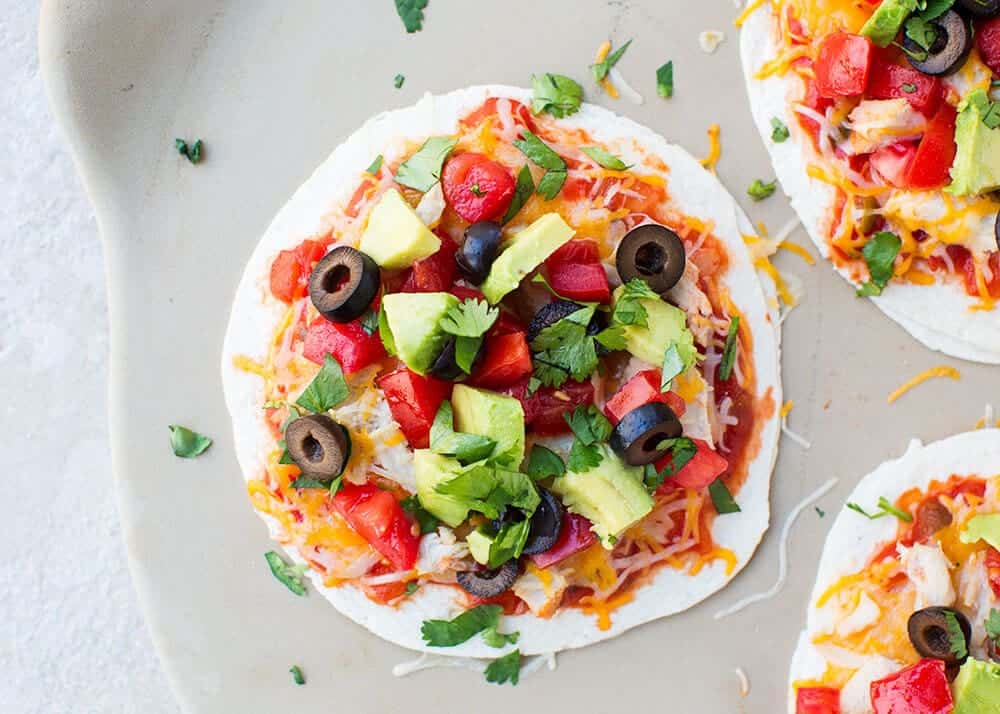 For this recipe I used the Old El Paso 6-inch flour tortillas, black bean refried beans, and salsa. I used mild salsa for these since my kids don't love things super spicy, but you could definitely use a medium or hot, depending on your preference.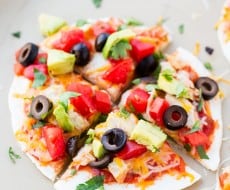 Mexican Pizza
Ingredients:
10 (6-inch) Old El Paso flour tortillas
 1 (16-ounce) can black bean refried beans
1 teaspoon taco seasoning
1/2 teaspoon kosher salt
1 cup salsa, more if needed
2 cups shredded cheese
1 1/2 cup cooked meat (I used shredded rotisserie chicken)
Optional toppings: tomatoes, sliced olives, diced avocado, sour cream, chopped cilantro
Directions:
Pre-heat the oven to 400ºF. Line a baking sheet with foil or use a pizza pan. Place the tortillas on the pan and warm them in the oven for 3 minutes.
While the tortillas are cooking, heat the beans in a small sauce pan over medium-low heat for 2 to 3 minutes. Stir in 3 Tablespoons of salsa, taco seasoning and salt. Add more salt and pepper to taste.
Remove tortillas from the oven and spread the beans onto the top side of 5 tortillas. Sprinkle with cheese, add meat if desired and then top with another tortilla. Spread salsa on top of the tortilla and then add cheese. Bake for 5 to 7 minutes, or until the cheese is melted and bubbly.
Top with fresh ingredients such as tomatoes, sliced olives, diced avocado, sour cream, chopped cilantro and then cut into 4 slices.
You can make these without meat, or use taco meat to mix it up.
All images and text ©

Done and done. So yummy and completely customizable with your favorite toppings.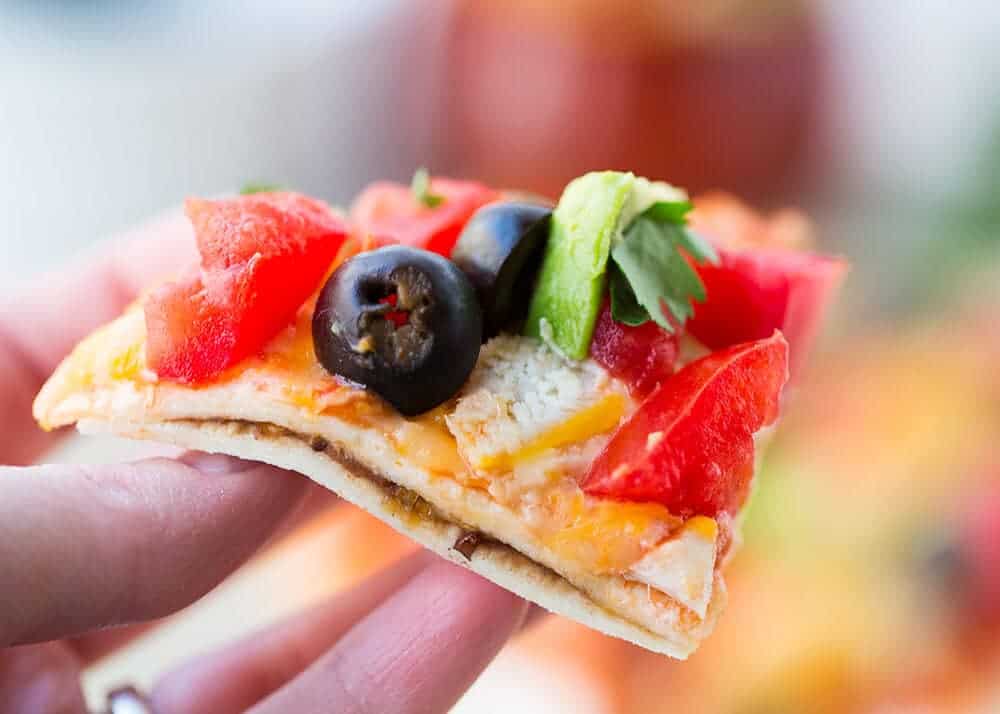 Enjoy!
This post was brought to you by Old El Paso. All opinions are 100% my own. Find out more about their products here or connect with them on Facebook. 
Looking for more Mexican dishes? You'll love these too: