Jump to Recipe⌄
Delicious Chicken Taco Bowls
Delicious Chicken Taco Bowls… a super-yummy and easy recipe! Easy to make in the slow cooker, and dinner is ready when you are!
Hope you all had a wonderful holiday! It's back to the daily grind. Today I'm sharing a super yummy recipe: Taco bowls!
I admit I'm having a bit of post holiday depression. Do you ever get that way? I always love a new year for a fresh start, but I'm a little sad the holidays are over. Not to mention my inbox is terrifying. It felt really good to take a week off, but now it's time to catch up. Someone give me motivation! ;)
I do have a super yummy recipe for you today. These chicken taco bowls are delish and my whole family loves them!
My husband even declared them his new FAVORITE dish. Now that's saying something. I think I'll be adding this meal to my menu again this month. Speaking of… would you guys like me to post my menu's again?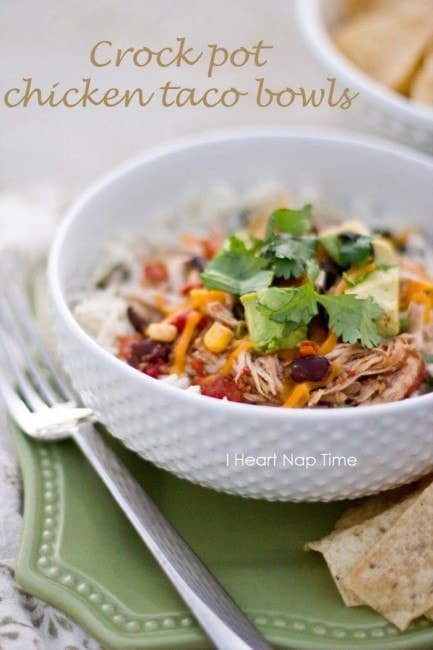 MY OTHER RECIPES
Why I Love These Chicken Taco Bowls…
1. You can throw it all in a crock pot (in less than 5 minutes).
2. It's some-what healthy!
3. You can freeze the leftovers. Just place the chicken in a freezer zip lock bag and pull it out when you need a quick meal.

The leftover shredded chicken also works great in tacos or burritos!
Chicken Taco Bowl Video
Chicken Taco Bowl Printable Recipe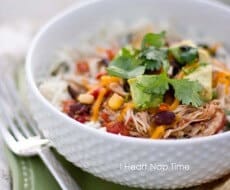 Delicious Chicken Taco Bowls & Cilantro Lime Rice
Ingredients:
1 1/2 lb chicken (4 large frozen chicken breasts)
1/4 cup water
1 cup fresh salsa
1 tsp chili powder, more to taste
3/4 tsp ground cumin
1/2 tsp kosher salt, more to taste
1 clove garlic minced
1 can black beans drained and rinsed
1 can corn drained
1/2 lime juiced about 1/2 TB
Cilantro Lime Rice
2 TB butter
1 cup uncooked white long rice
juice and zest 1 large lime
1 14 oz can chicken broth
1/4 cup finely chopped cilantro
¾ teaspoon salt and pepper to taste
Directions:
1. Place chicken in a large crock pot and pour water and salsa over the chicken. Next add in chili powder, cumin, salt, garlic, lime juice, black beans and corn. Cook on low heat for 6-8 hours, or until chicken easily shreds.
2. Make the rice: In a skillet melt butter with rice. Add the chicken broth and the rest of the ingredients. Bring to a boil, reduce heat, cover and cook for 20 minutes or until liquid is absorbed. Add more chili powder and salt if desired.
3. Serve chicken over rice. Optional: top with cheese, avocados, sour cream and serve with tortilla chips.
When I'm in a hurry I'll throw a brown rice bag in the microwave (they're from Costco and they only take 3 minutes to cook)… but if I have some time I will make cilantro lime rice (the BEST).
All images and text ©
Enjoy!! Let me know how you like it.
You'll love these too:

Stuffed bell pepper with quinoa
Hope you guys are having a happy new year! xo