Jump to Recipe⌄
Mexican lasagna
Today I'm sharing this super yummy dish: Mexican lasagna. My all time favorite food is Mexican. I could eat it every single night! So I decided to take one of my favorite recipes, taco soup, and turn it into lasagna! I used a lot of the same ingredients and it turned out so yummy. It has the such a great flavor! My hubs raved about it the whole night! Score!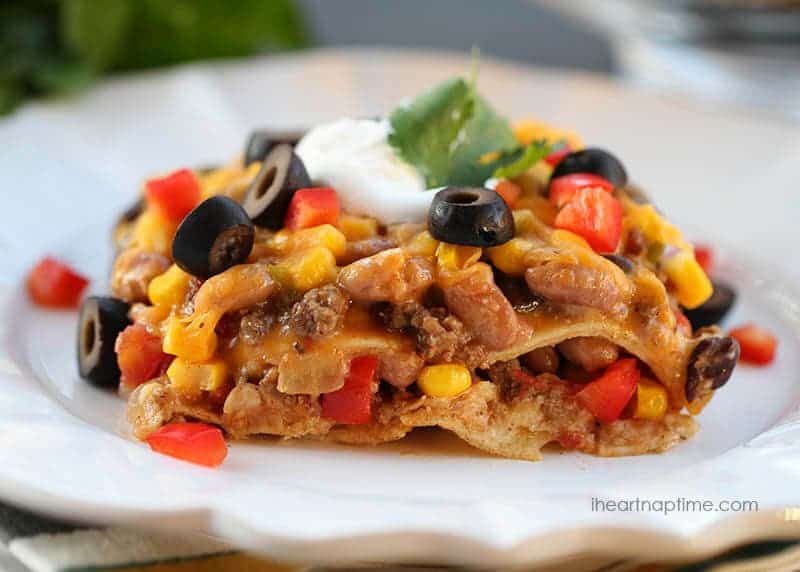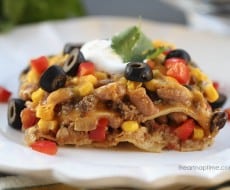 Mexican lasagna
Ingredients:
12 small corn tortillas
1 green pepper (core removed and diced)
1 red bell pepper (core removed and diced)
1/2 onion, finely chopped
1 can rotel
1 lb ground beef (could also use ground turkey or shredded chicken)
1 TB taco seasoning
1/2 cup salsa
1 can black beans (drained and rinsed)
1 can pinto beans (drained and rinsed)
1 can corn (drained)
2 cups shredded cheese
Optional toppings:
Sour cream
Olives
Cilantro
Directions:
1. Preheat oven to 350 degrees. Spray a 9×13 pan with cooking spray.
2. Brown hamburger in a frying pan over medium high heat. Add in onions and peppers and cook for about 3 minutes. Next add in rotel and salsa and stir until combined. Cook for another 3 minutes and then remove from heat.
3. In your 9×13 pan layer 6 tortillas (they will overlap). Then sprinkle about 1/2 cup of cheese on the tortillas. Next layer half of the hamburger mixture and then half of the corn and beans. Add another 6 tortillas on top and repeat with the hamburger, beans and corn. Add the rest of the cheese on top.
4. Bake for 30 minutes
5. Top with sour cream, olives and cilantro.
All images and text ©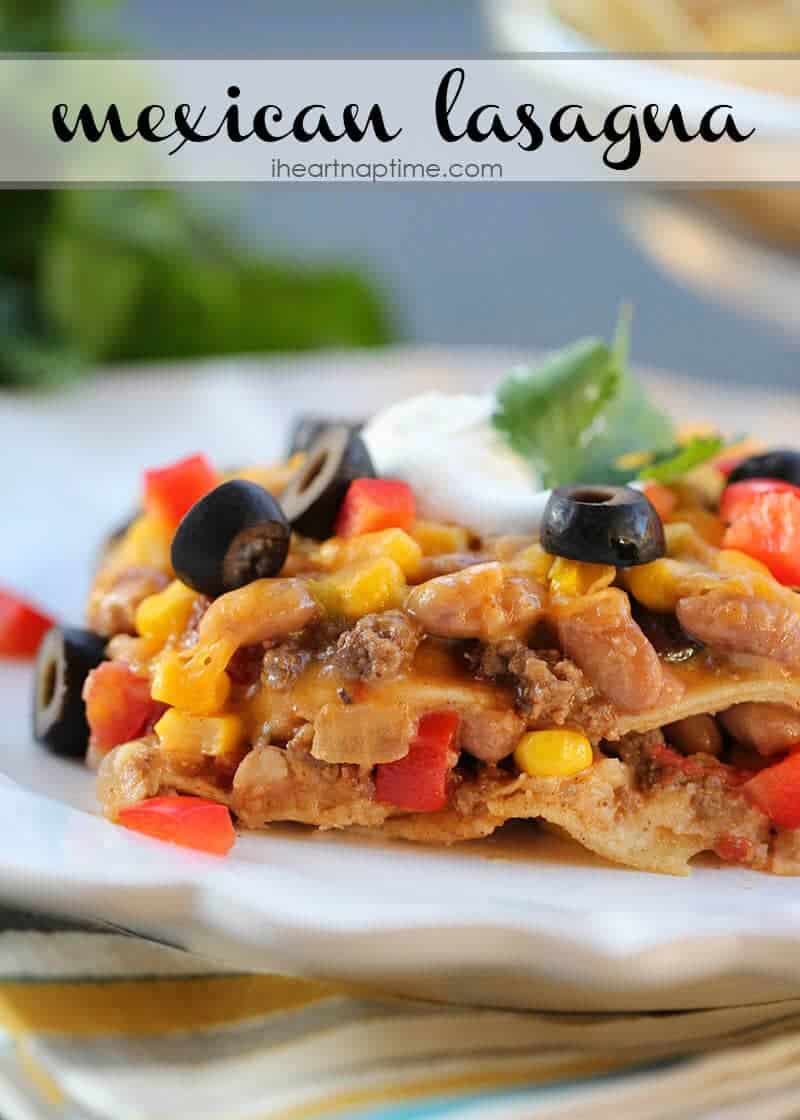 This Mexican lasagna is really easy to make and is definitely a crowd pleaser! Mmm… want a bite? ;)
Enjoy!!
Looking for more Mexican recipes? Check out these:
Restaurant style salsa -the best!