Jump to Recipe⌄
Green chile enchiladas
Thanks for stopping by! To get the newest recipes subscribe or join us on facebook and pinterest.
Creamy green chile enchiladas with chicken -creamy, full of flavor and super satisfying! Holy smokes……So GOOD! These are on our "favorite" list and are the recipe is requested by anyone who tries them! They taste better than the ones from my favorite Mexican restaurant.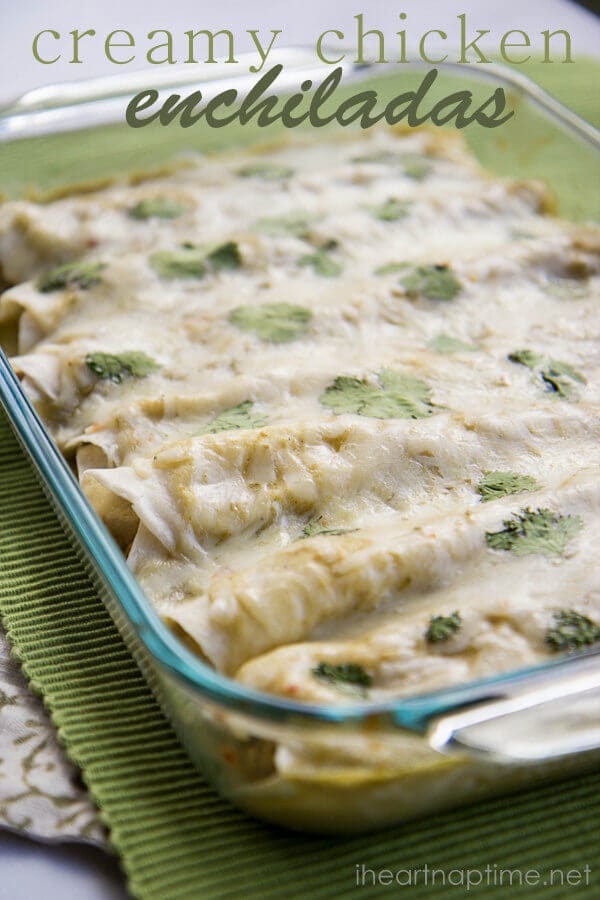 Enchiladas are on the menu ATLEAST once a month at our house. We love them! Green chile enchiladas are one of our favorites. I took one of my old recipes and turned it "creamy" to create the perfect enchiladas. I love how they turned out! These have the perfect combination of flavors and taste absolutely delicious!  They do have a little kick to them, so if you don't like things spicy make sure to take out the chili powder and cumin.
Variations for these green chile enchiladas
Use leftover shredded pork or beef in place of chicken
Add black beans
Mix in your favorite vegetables such as peppers
You can also top them with fresh cilantro when they come out of the oven.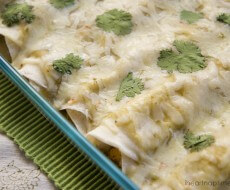 Green chile enchiladas
Ingredients:
8-10 large flour tortillas
2-3 cups shredded cooked chicken (about 4 chicken breasts)
1 clove minced garlic
1/4 teaspoon chili powder (omit if you don't like things too spicy, add more if you do)
1/4 teaspoon cumin
1/2 teaspoon kosher salt
1/4 teaspoon black pepper
1 (4,5 ounce can diced green chilis, about 1/2 cup
4 ounces of cream cheese, softened (more if you'd like extra creamy)
1 lime, juiced
1 (14-ounce) can green chile enchilada sauce
1/2-1 cup shredded pepperjack cheese
cilantro (optional)
Directions:
1. Combine shredded chicken, cream cheese, garlic, chili powder, cumin, kosher salt, black pepper, lime and green chili in a medium sized bowl. Stir until combined.
2. Spoon 2-3 Tablespoons into each tortilla and roll it up. Place a little enchilada sauce on the bottom of a 9×13 dish and then put the tortillas in.
3. Pour the rest of the enchilada sauce over the tortillas and top with shredded cheese. Cover with foil.
4. Bake at 350°F for 15 minutes. Remove foil and bake for an additional 10-15 more minutes, until the cheese is nice and bubbly. Allow to cool and enjoy! Top with fresh cilantro if desired.
All images and text ©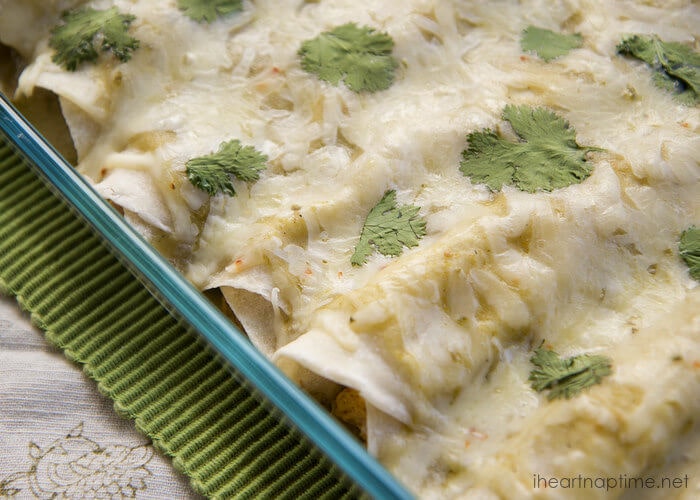 Enjoy!

You'll love these too:
Thanks for reading come back soon!