These green chile chicken enchiladas are creamy, cheesy and full of flavor! This recipe is absolutely to die for…better than a Mexican restaurant!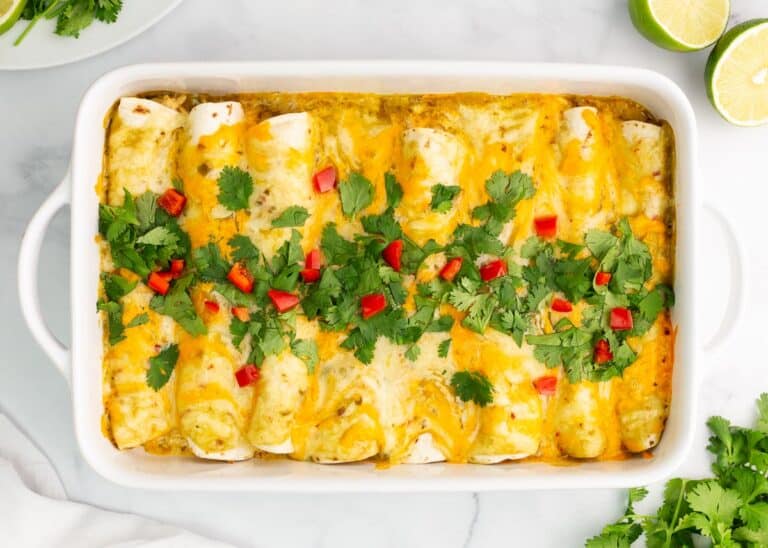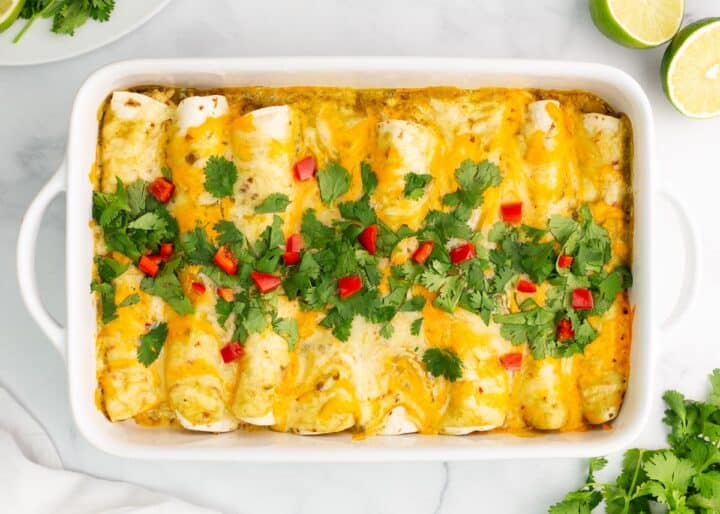 Mexican Green Enchiladas
Creamy green chile chicken enchiladas…cheesy, full of flavor and super satisfying! Believe me when I say these are SO GOOD! This recipe is an absolute favorite on our list and is requested by anyone who tries it.
These enchiladas taste even better than the ones that I order at my favorite authentic Mexican restaurant. We make these at least once a month at our house…sometimes even 2 or 3 times because we love them so much!
These do have a little kick to them, so make sure to omit the chili powder and cumin if you don't like spicy foods. This recipe is so simple and makes the perfect dish to serve at any occasion!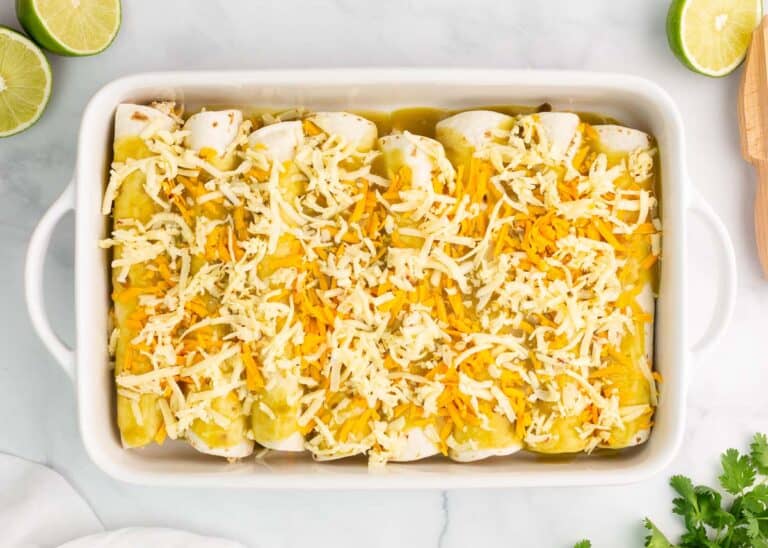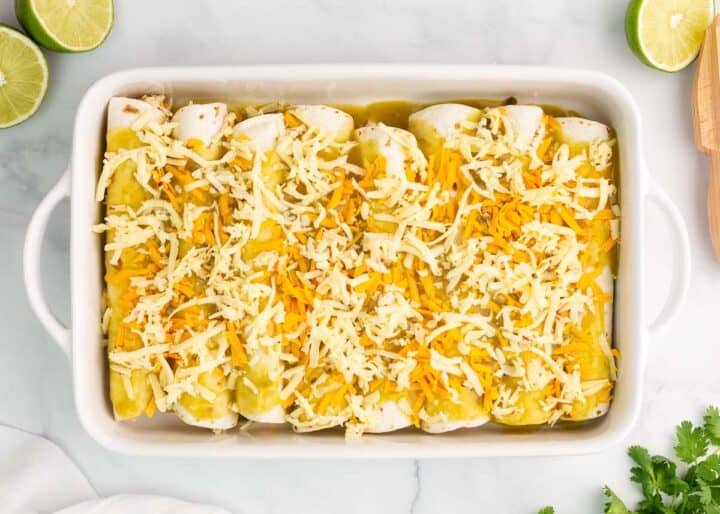 Tips + Substitutions
Chicken. Using shredded rotisserie chicken is an easy shortcut for making this recipe. You could also make shredded chicken in the instant pot or crockpot. Leftover kalua pork would also taste delicious!
Tortillas. Flour tortillas are my personal preference, but corn tortillas taste great too. You could even use whole wheat or gluten-free tortillas if you'd like. It helps to soften the tortillas in the microwave for about 20 to 30 seconds before filling them, so that they're more flexible and easier to roll.
Cream cheese. Sour cream or Greek yogurt also work great in place of cream cheese.
Spice. These enchiladas do have a little kick to them. You can omit the chili powder and cumin if you prefer a more mild flavor. Or if you like your food spicy, feel free to use hot green chiles or add in some diced jalapenos.
Extras. Feel free to add some extra cooked veggies or beans to bulk up the filling a little. Zucchini, fajita veggies, black beans or cilantro lime rice are all great options.
Don't overfill. You want the enchiladas to have just enough filling so that they're thick and delicious, but not too much filling. Overfilling the enchiladas can cause the tortilla to burst or the filling to fall out of the sides. Stick to about 3 Tablespoons of filling per tortilla.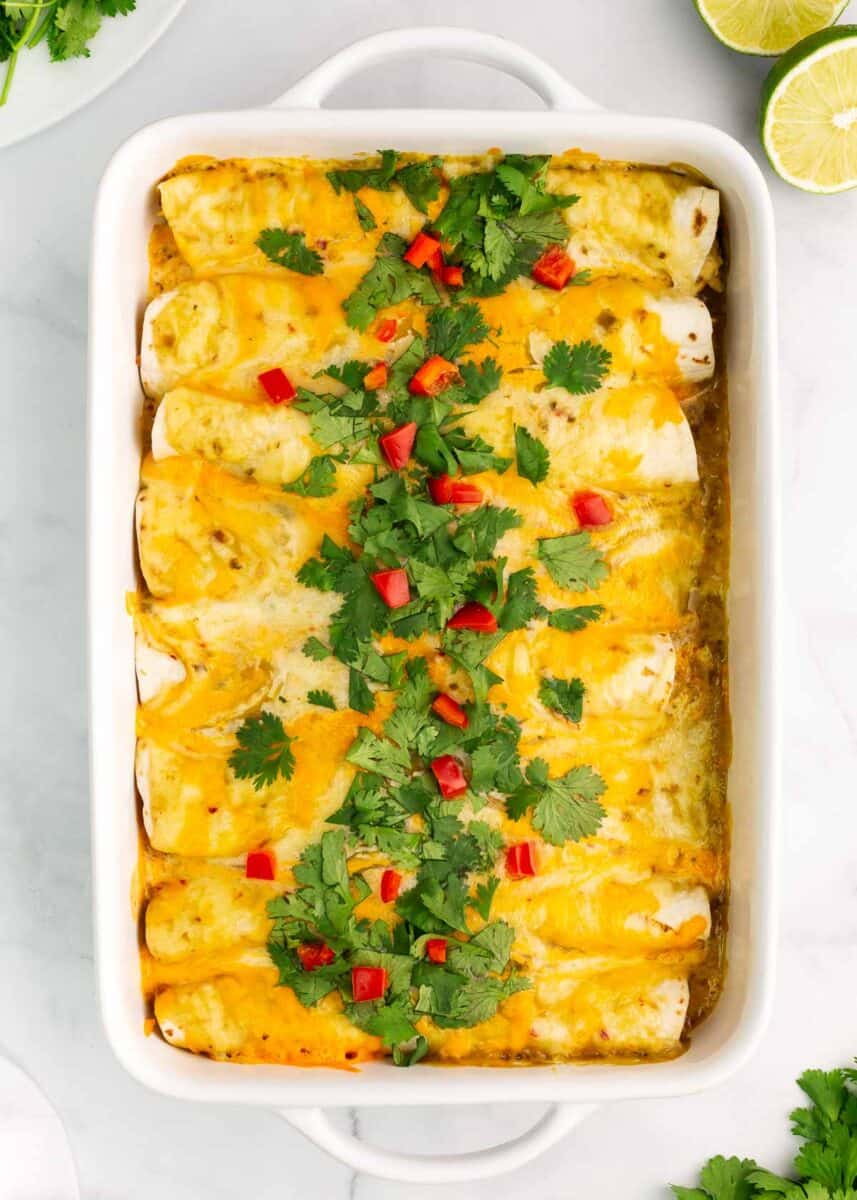 Toppings for Green Chile Enchiladas
Finish off these green enchiladas with any of the delicious toppings below. I love to add some fresh cilantro and an extra squeeze of lime for more flavor. It tastes so fresh and delicious!
Chopped cilantro
Sour cream
Jalapenos
Squeeze of lime
Black olives
Freezing Instructions
This is one of my absolute favorite freezer meals! It's the perfect dish to make in advance for a busy weeknight. Simply prepare the enchiladas in the pan as directed, however hold off on baking. Cover tightly with foil or a lid and store in the freezer for up to 2 months.
The night before enjoying, remove from the freezer and place in the fridge overnight to thaw. Then bake according to directions. You may need to bake a few minutes longer (10-15 minutes) since you're baking from frozen.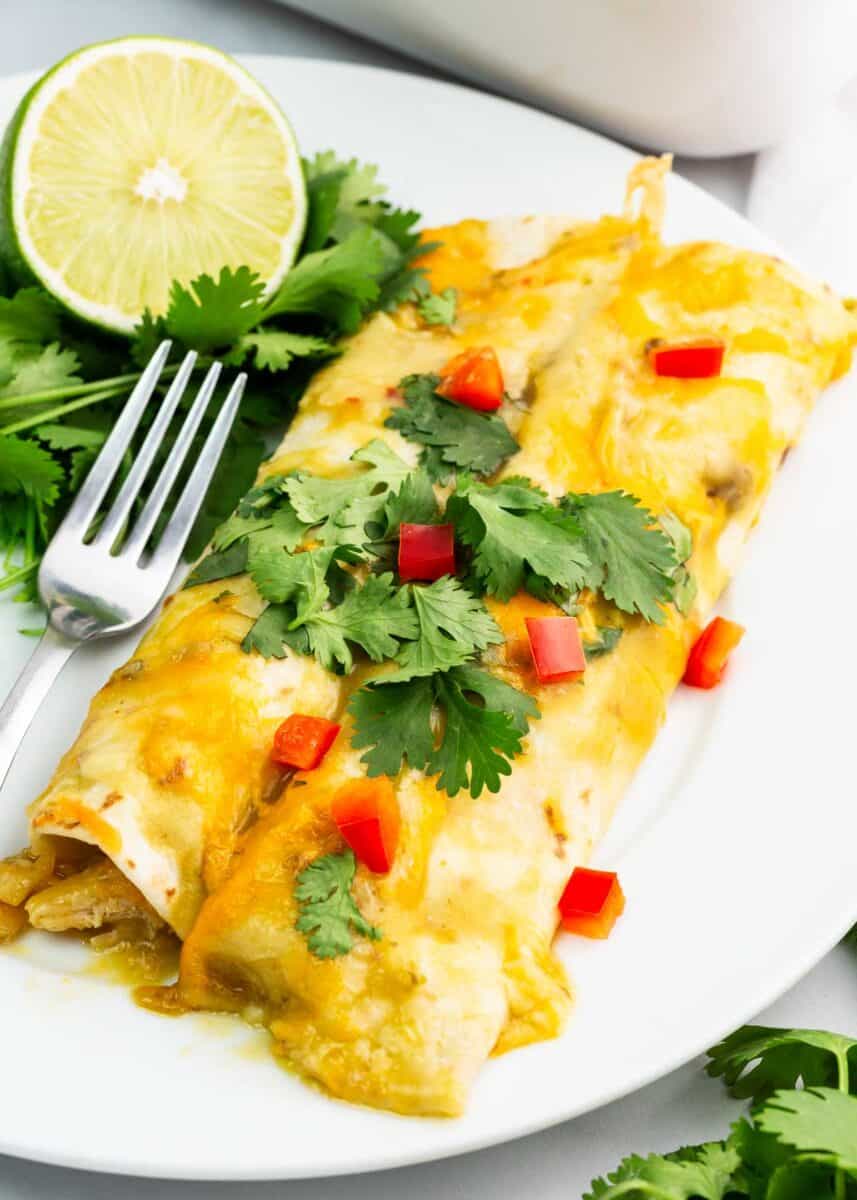 More Enchilada Recipes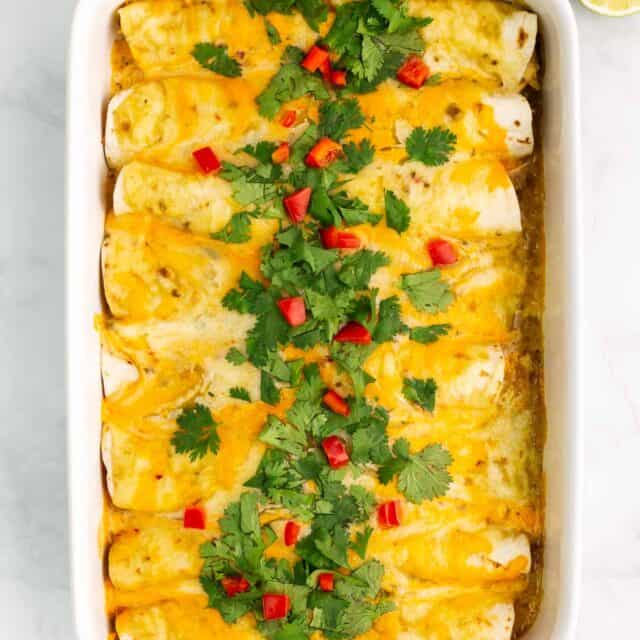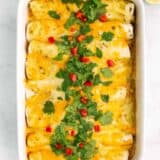 Green Chile Chicken Enchiladas
These green chile chicken enchiladas are creamy, cheesy and full of flavor! This recipe is absolutely to die for…better than a Mexican restaurant!
Ingredients
14 ounce can green enchilada sauce
8-10 flour or corn tortillas
2-3 cups shredded cooked chicken , about 4 chicken breasts
4 ounces cream cheese , softened
4.5 ounce can diced green chiles , about 1/2 cup
1 Tablespoon fresh lime juice , optional
1 clove minced garlic
1/2 teaspoon chili powder
1/4 teaspoon cumin
1/2 teaspoon Kosher salt
1/4 teaspoon ground black pepper
1 cup shredded cheese , I prefer a mix of cheddar or pepperjack
For topping (optional): chopped cilantro, tomatoes, olives, bell peppers, sour cream, lime
Instructions
Preheat the oven to 350°F. Add about 1/3 cup enchilada sauce to the bottom of a 9×13" pan and set aside.

Combine shredded chicken, cream cheese, garlic, chili powder, cumin, kosher salt, black pepper, lime juice and diced green chiles in a medium sized bowl. Stir until combined.

Spoon 3 Tablespoons into each tortilla and roll it up like a burrito. You may also add Tablespoon of cheese inside the tortilla if desired. Then place into the pan.

Pour the rest of the green enchilada sauce over the tortillas and top with shredded cheese. Cover with foil and bake for 15 minutes. Remove foil and bake for an additional 10-15 more minutes, until the cheese is nice and bubbly.

Top with fresh cilantro and desired toppings if desired. Serve while warm.
---
Notes
Substitutions: You can substitute the cream cheese for sour cream or greek yogurt if preferred. Add a squeeze of lime to the chicken mixture if desired.
Chicken: Looking for an easy shredded chicken recipe? Click here.
Freezer instructions: This makes a great freezer meal. Simply go to step 4 and then place the enchiladas in a foil or freezer pan (do not bake). Cover tightly with plastic wrap or foil and then freeze. Remove from the freezer and place in the refrigerator overnight to thaw. Then bake accordingly to directions (you may need to add 10 to 15 minutes cooking time).
Calories: 294kcal | Carbohydrates: 22g | Protein: 17g | Fat: 15g | Saturated Fat: 6g | Cholesterol: 65mg | Sodium: 714mg | Potassium: 215mg | Fiber: 1g | Sugar: 2g | Vitamin A: 375IU | Vitamin C: 3.4mg | Calcium: 140mg | Iron: 1.8mg
Nutrition provided is an estimate. It will vary based on specific ingredients used.
Did you make this recipe? Don't forget to give it a star rating below!