This Olive Garden breadsticks recipe is a simple way to have the ever-popular soft, garlicky, and crave-worthy breadsticks anytime you want!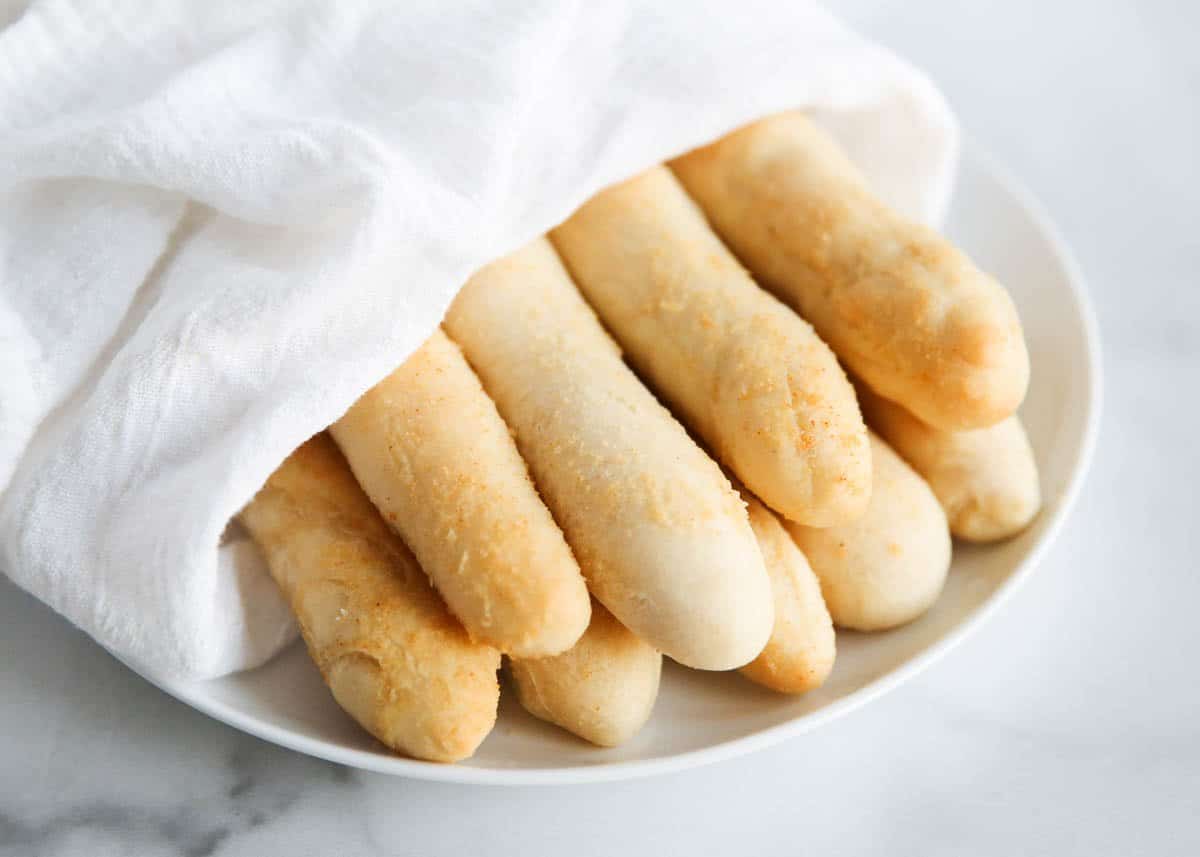 Easy Breadsticks From Scratch
Even just hearing the words Olive Garden breadsticks we can all imagine biting into a pillowy-soft breadstick brushed with melted butter and sprinkled with garlic salt. Even if you couldn't before, I bet you can now!
For years our family's been going to the Olive Garden to order the chicken gnocchi soup or the pasta e Fagioli with a side of Olive Garden salad with their signature Olive Garden dressing! Truth be told, we'd go just for those breadsticks!
I've been wanting to make copycat Olive Garden breadsticks that were a little closer to the original than my easy breadsticks recipe. I say I've accomplished my mission because these taste even better than the original!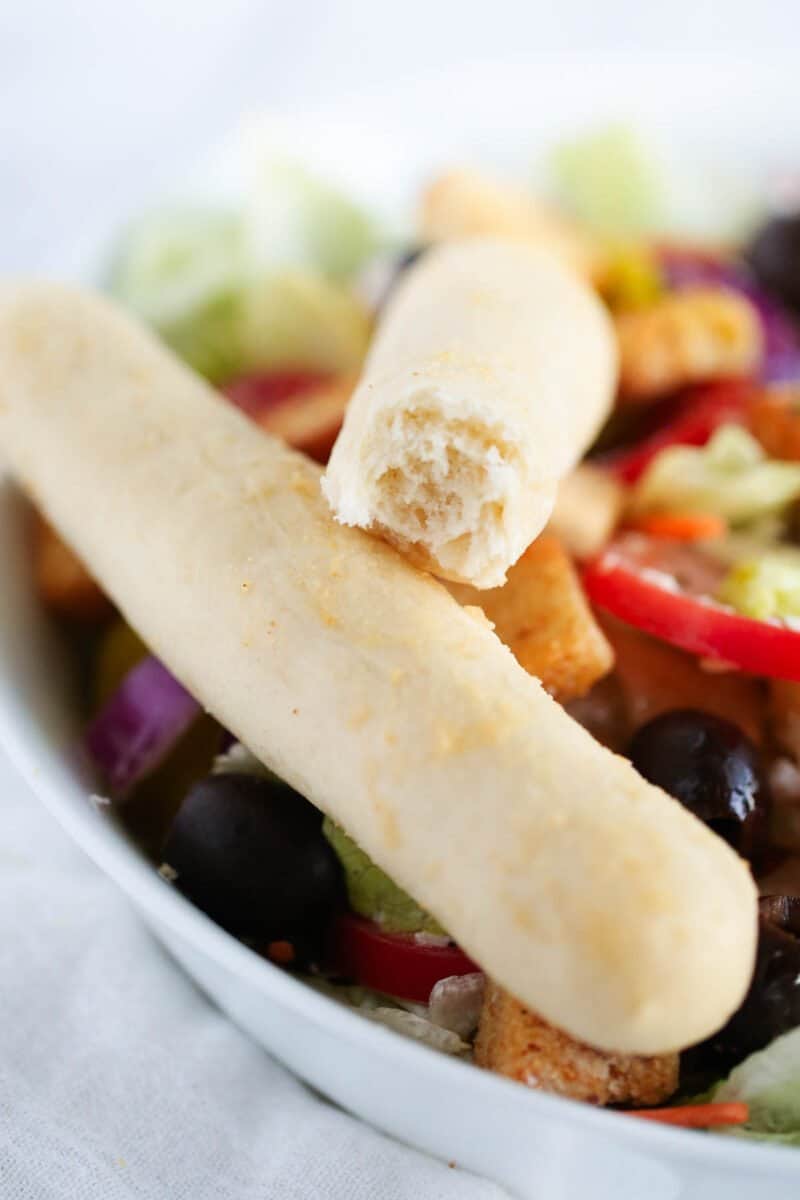 How to Make Copycat Olive Garden Breadsticks
They're simple enough to whip up when the cravings come calling and believe me, they will. Having a basket of these copycat Olive Garden breadsticks is a surefire way to be full before dinner and not be the least bit sorry about it!
Proof the yeast. Mix the warm water, sugar, and active dry yeast and let it sit and foam up for 5 minutes. For details on how to proof yeast, I've got you covered.
Knead the dough. In a large bowl or the bowl of a stand mixer, combine all-purpose flour and salt. Stir in the yeast mixture along with the olive oil and start kneading. Use your hand or a dough hook, it's up to you.
Let it rise. Add 1/2 cup of flour at a time until the dough is smooth. It should no longer be sticky. Cover the bowl with saran wrap and allow it to rise in a warm place for 15-30 minutes.
Roll into logs. Transfer dough to a lightly floured surface and divide it into 16 pieces, rolling them into 8-10″ logs. Place them on prepared baking sheets about 2 inches apart. Allow them to rest for 10 minutes.
In the oven, they go! Bake for 10 minutes then remove them from the oven to brush with the melted butter, garlic powder, and garlic salt mixture. Bake for 3-5 more minutes until lightly golden brown on the bottom.
Finish off with another brushing of that delicious garlic butter!
Recipe Tips
Bread recipes rely on properly measuring flour! Use the spoon and level method for best results.
Do not use hot water to proof the yeast. Somewhere between hot and room temperature. In other words, warm!
As always test your yeast first. If it doesn't foam up, it's no longer active. Get rid of it and use fresh yeast.
Bread flour also works, as long as the flour you use is unbleached. It just makes for a better flavor.
To get the tops of the breadsticks a little browner, you can bake them a few extra minutes, or move them to the top rack for the last couple of minutes.
Ways to Eat Them
These breadsticks are best enjoyed warm on the first day. Serve warm with a side of marinara sauce for dipping. Sometimes a creamy garlic sauce, white pizza sauce or ranch dressing is also called for!
Garlicky breadsticks are amazing on the side of soups and salads, but if you're all about the carbs, you've got to have them on pizza or pasta night!
FAQs
What can I add to this copycat Olive Garden breadsticks recipe?
Other flavorful ingredients to ramp up the taste, even more, are things like using your favorite cheeses to sprinkle on top! Parmesan cheese, cheddar, or for a fun variation, stuff them with mozzarella sticks! You can also mix Italian seasoning in with the butter as well.
What type of yeast should I use for breadsticks?
For this recipe I used active dry yeast which is why we proof the dough. You can use instant yeast in equal amount if you would like. I still like to proof instant yeast to ensure that my yeast bubbles which means it is good to use. Your breadsticks may rise faster as well if you have used instant yeast.
Can I double the recipe?
Yes! These are so tempting making a double batch is always a good idea so you can always have some on hand. If you have a large enough mixer you can double it all at once, but for most you might need to make the recipe twice.
How to store homemade breadsticks?
Even though these taste the best on the first day, they can be stored in an airtight container for up to 3 days. Reheat them in the microwave to get them soft and chewy again!
Can I freeze them?
These are freezer friendly both before they're baked and after! Once you've divided the dough into 16 pieces, you can either shape them into logs or freeze them as is. You can also bake them and allow them to cool completely before freezing them. Either way for up to 3 months, you'll have quick and easy access to homemade breadsticks.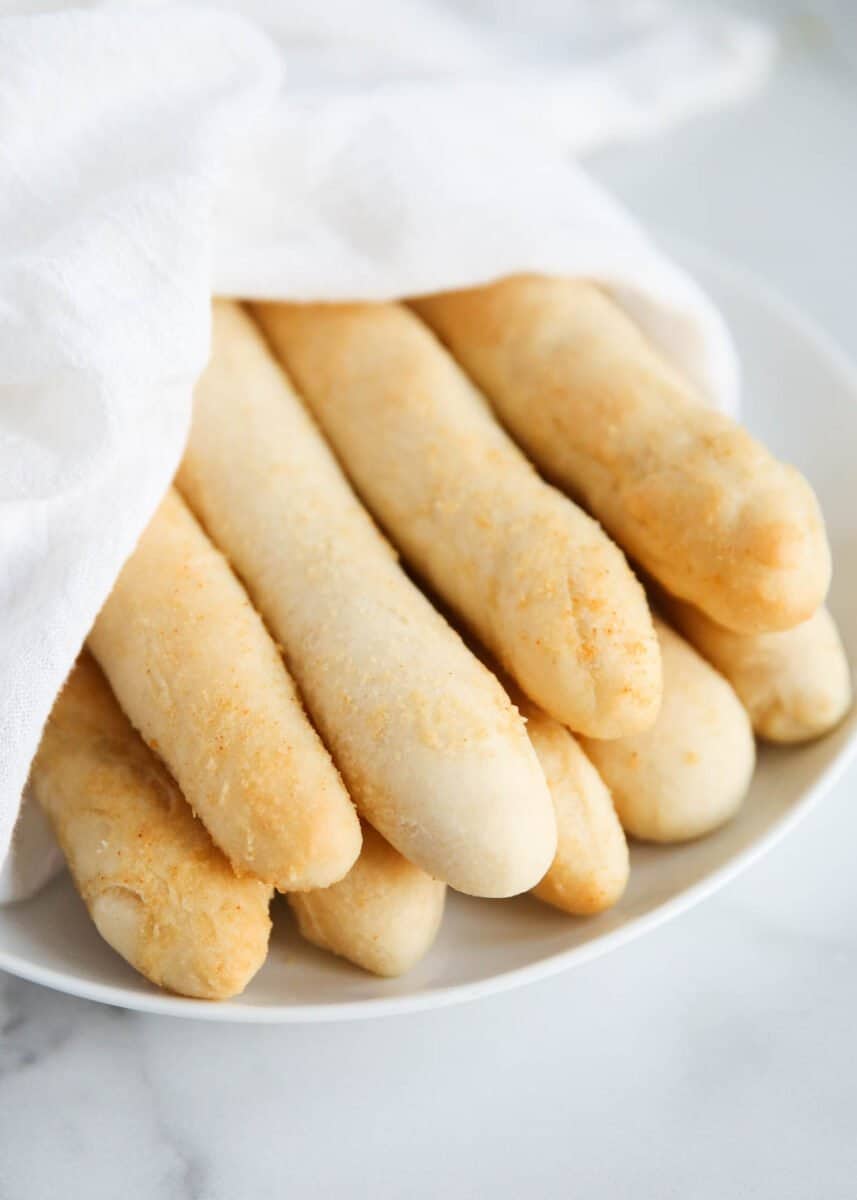 Favorite Recipes to Serve With
HUNGRY FOR MORE? Subscribe to my newsletter and follow on Facebook, Pinterest and Instagram for all the newest recipes!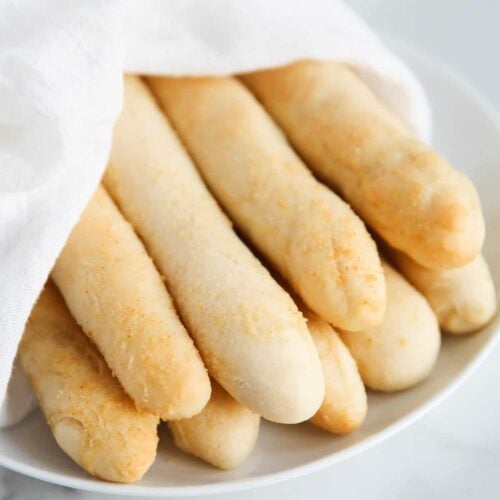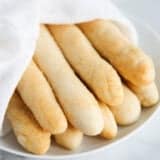 Olive Garden Breadsticks Recipe
This Olive Garden breadsticks recipe is a simple way to have the ever-popular soft, garlicky, and crave-worthy breadsticks anytime you want!
Ingredients
1 ½ cups warm water , about 105°F-110°F
1 Tablespoon active dry yeast
1 Tablespoon granulated sugar , or honey
3 ¼ cups (422 grams) all-purpose flour , plus more for rolling
2 teaspoons fine sea salt
1 Tablespoon extra-virgin olive oil
4 Tablespoons salted butter , melted
¾ teaspoon garlic powder
¾ teaspoon garlic salt
Instructions
In a small bowl, mix the water, yeast, and sugar until just combined. Cover with plastic wrap and let sit 5 minutes, or until it begins to foam.

In a stand mixer fitted with a dough hook, combine 1 cup flour and salt. Stir in yeast mixture and olive oil. Add 1/2 cup flour at a time until the dough is smooth, but not sticky. Cover the bowl with plastic wrap and allow the dough to rise for 15 to 30 minutes.

In a small bowl, stir together the butter, garlic powder. and garlic salt. Set aside.

Preheat the oven to 400°F. Line two baking sheets with parchment paper or a silicone mat. Lightly flour the counter or a breadboard and divide the dough into 16 pieces (about 1.5 ounces per piece). Roll each piece into a log about 8 to 10 inches long. Place on baking sheets about 2 inches apart. Let breadsticks rest about 10 minutes before baking.

Bake 10 minutes. Remove from oven and brush the tops with the butter mixture. Bake an additional 3 to 5 minutes, or until the bottom of the breadsticks are lightly browned. Brush any leftover butter over the top when they come out of the oven.

Remove from oven and allow to cool a couple minutes before serving. Serve while warm.
---
Notes
Storage: These breadsticks taste best the first day, however they can be stored in a covered container up to 3 days. Reheat in the microwave 15 seconds. Breadsticks: If you'd like them a little more brown, bake a few extra minutes or move to the top rack the last couple minutes of baking.
Nutrition
Serving: 1breadstick | Calories: 85kcal | Carbohydrates: 10g | Protein: 1g | Fat: 4g | Saturated Fat: 2g | Cholesterol: 8mg | Sodium: 179mg | Potassium: 14mg | Sugar: 1g | Vitamin A: 95IU | Calcium: 10mg | Iron: 0.6mg
Nutrition provided is an estimate. It will vary based on specific ingredients used.
Did you make this recipe? Don't forget to give it a star rating below!