A thick, creamy, refreshing peach smoothie is perfect for summer sipping! It's made with just 4 simple and flexible ingredients, including Greek yogurt, and frozen fruit, then sweetened with a bit of honey!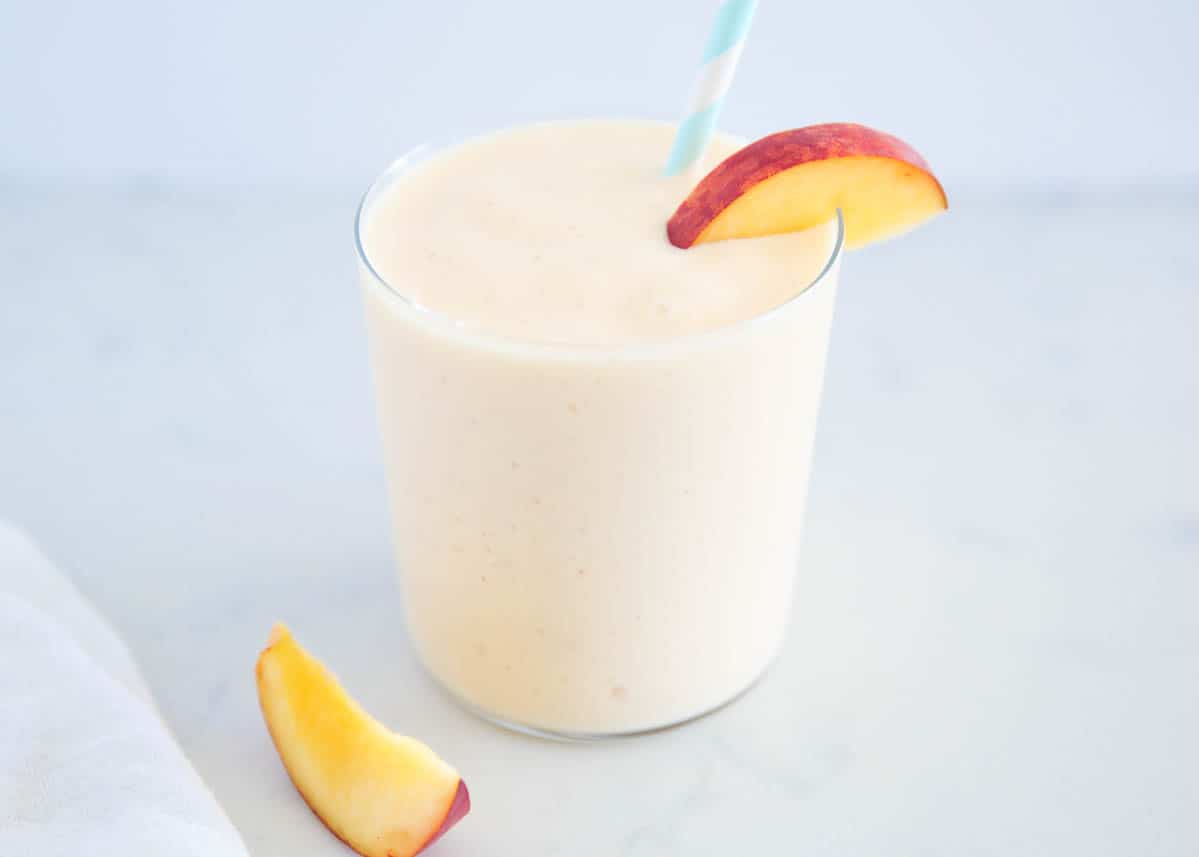 Peach Banana Smoothie
This peach smoothie recipe has the creamy texture of a milkshake, but instead of loading it up with calories and sugar, we're using a delicious combination of frozen peaches and bananas that are thickened with Greek yogurt and naturally sweetened with honey!
A refreshing smoothie can be as healthy or indulgent as you make it. For example, making your peach smoothie with dairy or dairy-free milk, using a different combination of fruit, and making it as thin or as thick as you'd like are all great options. The options are endless!
This one is light, loaded with nutrients, and bursting with peach flavor! Other smoothies we love include this Orange Julius recipe, pineapple smoothie, and pina colada smoothie!
Why We Love This Smoothie with Peaches
Making a peach smoothie will put a smile on your face! Peaches are so fresh, sweet, and delicious. Drinking this smoothie has health benefits, easy to make, and can be versatile.
Quick and easy. Whip up this easy peach smoothie in a couple of minutes and enjoy it for breakfast, brunch, snack, or treat!
Flexible. This peach banana smoothie is just one of many healthy smoothie recipes that can be made exactly as written or tweaked to adjust to your preferences.
Delicious! The combination of peach and banana is sweet, creamy, and so tasty. Of course, you can play around with the ingredients and it will still taste great!
Healthy. The fruit provides loads of vitamin C, potassium, and antioxidants, the Greek yogurt is giving us a ton of protein, and the natural sweetness from the honey helps us to avoid any refined sugars.
What's in This Recipe for Peach Smoothie?
This peach smoothie is the perfect combination! It is smooth and creamy with all the flavor. You will love how simple these ingredients are and how long they can store in your refrigerator or pantry!
Find the full printable recipe with specific measurements below.
Milk: Any milk will do. Regular dairy milk will add a bit of extra richness, but almond milk, coconut milk, or oat milk will make it dairy-free and still delicious!
Vanilla Greek yogurt: Thicker than regular yogurt, it also adds to the consistency of the smoothie. You can use vanilla, plain, or peach-flavored yogurt. Keep in mind that flavored yogurts come with added sugar. If you're looking for dairy-free yogurt, coconut yogurt would also be amazing.
Frozen fruit: Using frozen fruit, rather than fresh or thawed, will help to thicken up the smoothie without the need for ice cubes.
Honey: Add to taste for a bit of extra sweetness to your peach smoothie. If your fruit is nice and ripe, and you're using flavored yogurt you may not need any. Do a little taste test and see for yourself.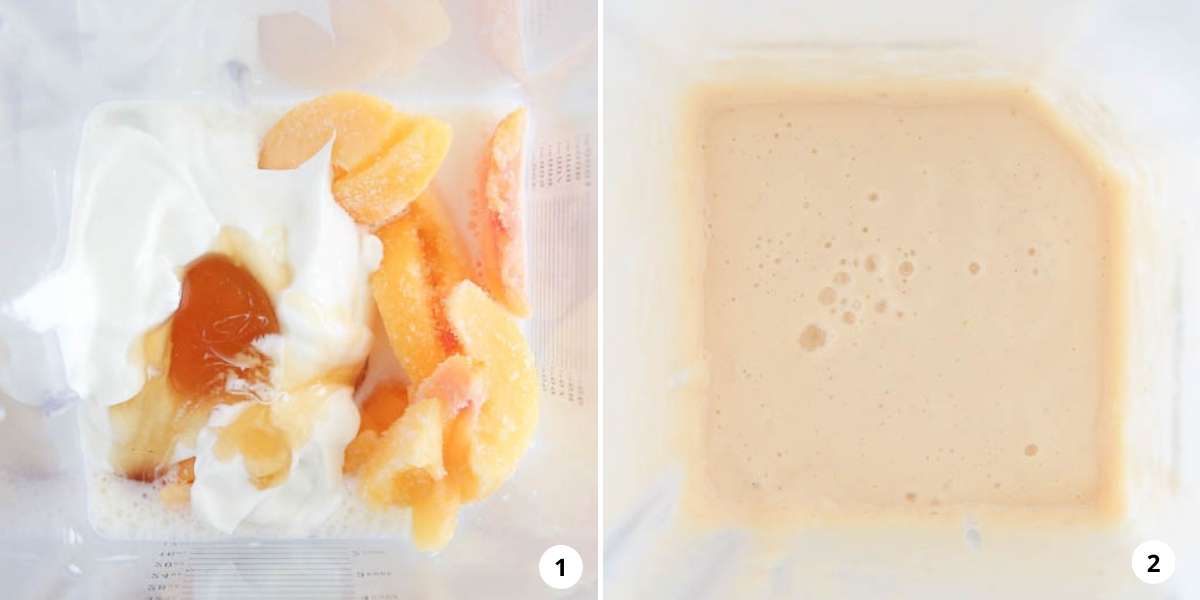 How to Make a Peach Smoothie
Get ready to enjoy a tasty peach smoothie in minutes! Simply combine all ingredinets and blend together until smooth. Taste it until it is just right!
Add ingredients to the blender. This includes both peaches and bananas, just a teaspoon of honey to start, milk, and yogurt.
Blend until smooth. You want to use a high-power blender if you can, to be able to whip up the frozen fruit without leaving behind big chunks.
Adjust to taste. Add more honey to make it a little sweeter. If you like yours a bit thinner, add more milk. Need it a bit thicker? Add more yogurt until you've reached your desired consistency. Enjoy immediately!
Recipe Tips
Follow these helpful tips to make the best peach smoothie every time! Making it vegan, substituting ingredients, and using frozen fruit the proper way are just a few ways to help with this peach smoothie. Try these tips to make your homemade smoothie even better!
Make more smoothies. Double or triple the recipe to serve more people.
Peel fresh peaches. If you're using fresh peaches and ice cubes, think about peeling the peaches first. Frozen peaches generally come peeled already. It's not necessary, but there will be extra gritty textures if you don't.
Vegan. To make this peach smoothie vegan, be sure to swap the honey for maple syrup, and avoid any dairy products. Use dairy-free milk and yogurt options.
No yogurt. If you are not adding yogurt to your smoothie but would like a thicker consistency, then frozen fruit and even extra ice cubes are a good idea.
Don't throw away overripe bananas! Learning how to freeze bananas when they're nice and ripe is a great way to reduce waste and to always have them on hand to pop in a smoothie to thicken it up anytime you want.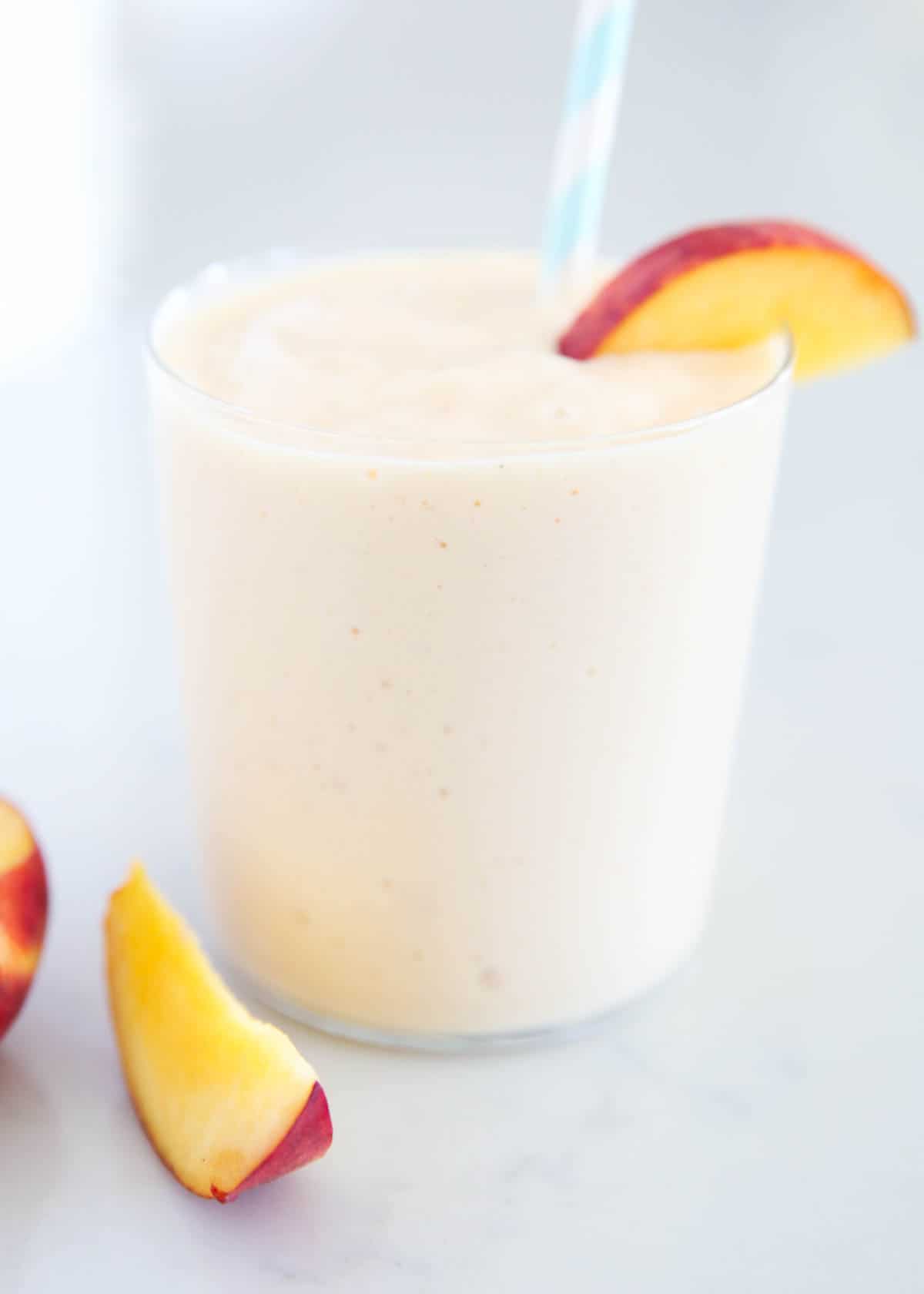 Optional Add-Ins and Flavor Boosts
Take your homemade peach smoothie to the next level with extra flavor! It is a simple switch to add in extra fruit, leafy greens, or protein from nut butter. All these extras can make several different smoothie combinations!
Stronger peach flavor. If you want more peach flavor, add in less banana or omit the banana completely.
Swap milk for juice. Use peach juice or apple juice for a sweeter smoothie. You could also use pineapple juice or orange juice but keep in mind, that the stronger flavors may overpower the peach flavor.
Extra fruit. You can add more frozen fruit if you'd like. Some mixed berries would be great like raspberries, strawberries, or blueberries. Mangos and or frozen pineapple as I use in this pineapple smoothie would be amazing!
For an extra boost of nutrition add a scoop of vanilla protein powder or collagen to the peach smoothie. Sprinkle with flax seeds, hemp seeds, chia seeds, or even a teaspoon of cinnamon for extra fiber and antioxidants!
Leafy greens. Make it a little bit more of a green smoothie and add a bunch of spinach leaves for calcium. Don't worry, you won't taste it!
Nut butter. Some people like to add almond butter or cashew butter for an extra bit of healthy fat, protein, and thickness. This is a great way to replace bananas if you don't have any on hand.
Recipe FAQs
What fruit blends well with peaches?
Loads of 'em! Pineapples, cherries, blueberries, apricots, blackberries, strawberries, and more!
Can you blend peaches with the skin on?
Technically you can, but they'll never completely blend in. You'll always have flecks of peach skin floating around and if you don't like the texture, then I recommend removing the skin before adding it to the blender.
Can I use nectarines instead?
Sure you can! If you're replacing peach slices with nectarine slices, you may get away with not peeling them as their skin is more delicate and doesn't have any peach fuzz.
What citrus goes with peach?
Orange always goes well with peach! If you love the tartness of a smoothie just as much as sweetness, you'll love this combination. Try blood oranges for a beautiful color and a little extra pizzaz.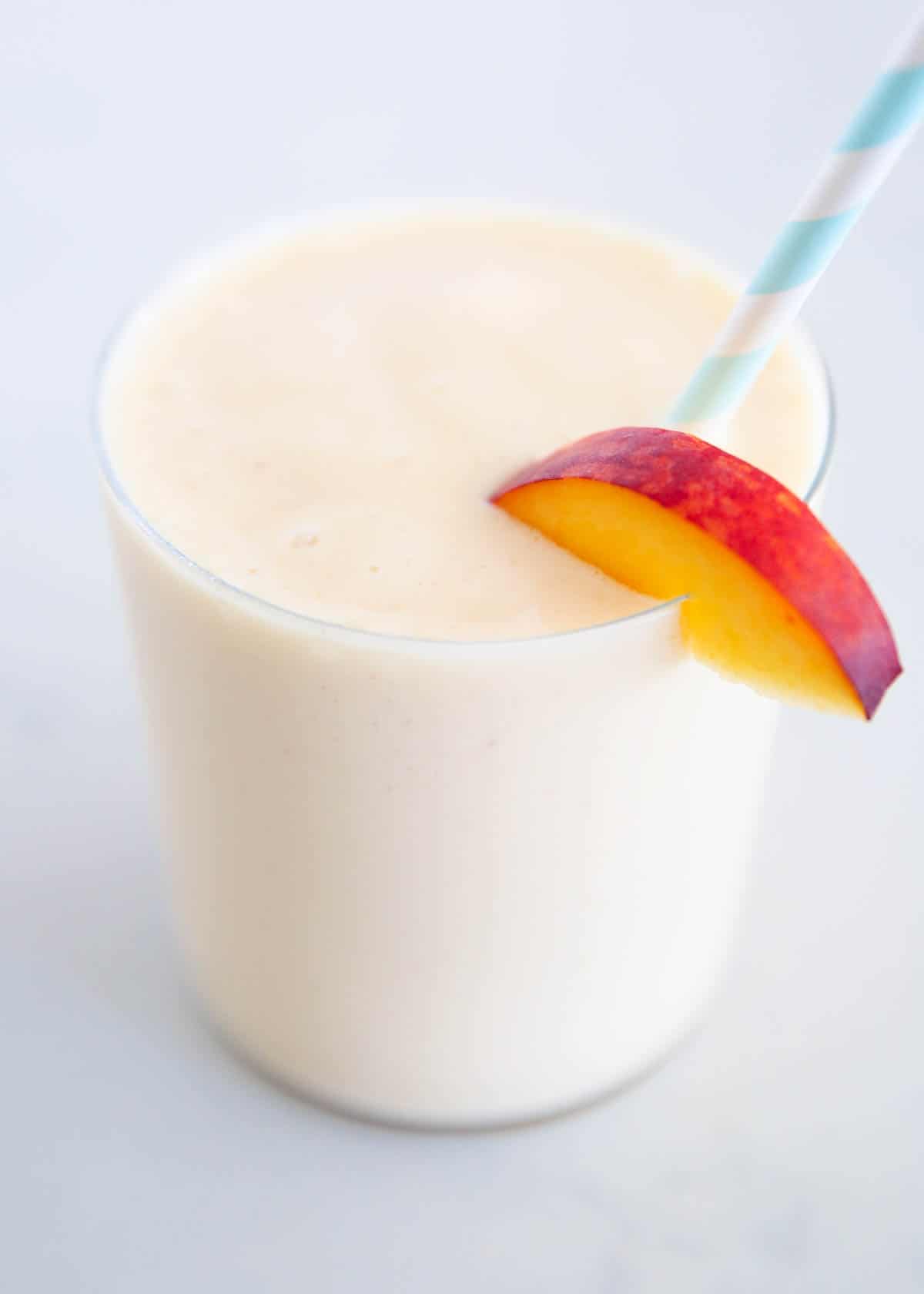 5 star review
"Such an amazing smoothie. I love anything peach, and this one is awesome and super quick and easy to make. Perfect for summer!"

-Matt
Storage Tips
This banana peach smoothie recipe is best served right away. It's at its peak, nutritionally speaking when sipped on within half an hour of blending.
If you do have any smoothie leftovers you can cover them and keep them in the fridge for no more than 1 day. Or, pour the smoothie mixture into ice cube trays to freeze and blend them into a smoothie later on. Or pour them into popsicle molds, stick them in the freezer, and have peach smoothie popsicles on hand!
Below are a few more delicious options that are easy and quick to make!
HUNGRY FOR MORE? Subscribe to my newsletter and follow on Facebook, Pinterest and Instagram for all the newest recipes!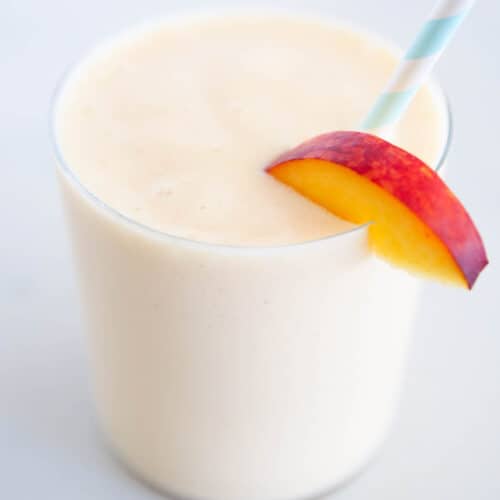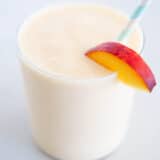 Peach Smoothie
A thick, creamy, refreshing peach smoothie is perfect for summer sipping! It's made with just 4 simple and flexible ingredients, including Greek yogurt, and frozen fruit, then sweetened with a bit of honey!
Ingredients
¾ cups milk , or almond milk
1 (5-ounce) cup Greek yogurt (plain, vanilla, or peach)
1 1/2-2 cups frozen peaches
1-2 Tablespoons honey , to taste
Instructions
In a blender, blend the milk, peaches, banana, and 1 Tablespoon honey until smooth and creamy.

Taste and add more honey, if needed. Add more milk if you need to thin it out, or more peaches if you'd like it thicker.

Pour in a tall glass and serve immediately!
---
Notes
Protein: Feel free to add in a scoop of vanilla protein powder or collagen for an extra boost. Liquid: If you'd prefer to use juice in place of milk, you can use a peach or apple juice. Pineapple would also be yummy (but you'd lose some of the peach flavor). Fruit: Make sure to use frozen fruit to keep a good thick consistency. If you'd like to add more fruit, you can add frozen pineapple or strawberries as well.
Nutrition
Calories: 188kcal | Carbohydrates: 34g | Protein: 12g | Fat: 2g | Saturated Fat: 1g | Polyunsaturated Fat: 1g | Monounsaturated Fat: 1g | Trans Fat: 1g | Cholesterol: 8mg | Sodium: 76mg | Potassium: 493mg | Fiber: 3g | Sugar: 29g | Vitamin A: 572IU | Vitamin C: 7mg | Calcium: 197mg | Iron: 1mg
Nutrition provided is an estimate. It will vary based on specific ingredients used.
Did you make this recipe? Don't forget to give it a star rating below!