It's part crisp, part crumple, and all pie! This amazing berry crumble pie is a sweet, tart, and crispy crowd-pleaser filled with juicy berries and a buttery crispy streusel topping!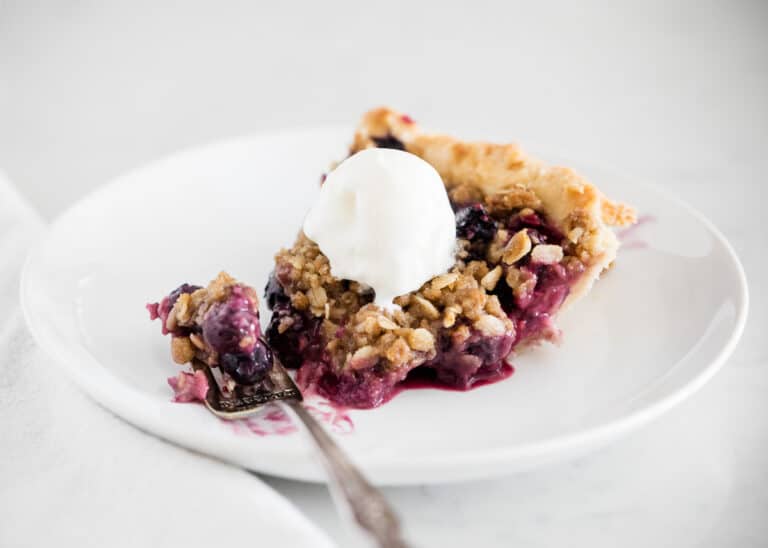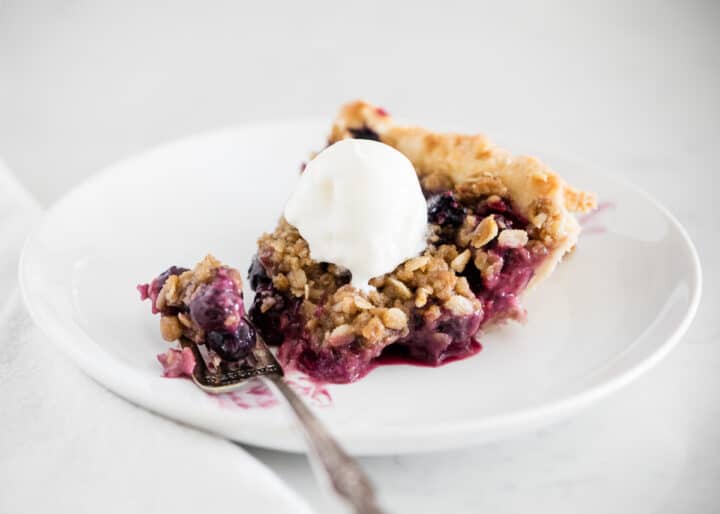 Favorite Crumble Pie
This mixed berry crumble pie recipe is similar to my razzleberry pie but I use a crumble topping rather than a lattice pie crust. It adds the perfect sweet topping with an extra bit of melt in your mouth crunch. It's one of my favorite pies to make for the 4th of July or add to my Thanksgiving menu.
This crumble pie comes together so easily in just over an hour! If you have the time, I recommend using my super simple homemade pie crust recipe. It's light, flaky, buttery, and perfect for beginners. Otherwise, a store-bought frozen crust will work in a pinch.
This delicious dessert is a showstopper. Enjoy a slice with a casual dollop of whipped cream or a scoop or two of vanilla ice cream and for fancier occasions, you can present it to your guests with piping of stabilized whipped cream around the edges. Either way, it'll be devoured in minutes!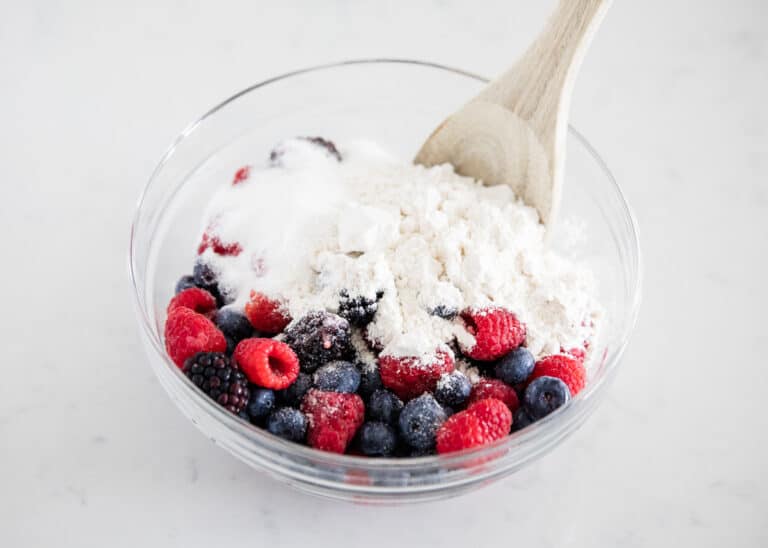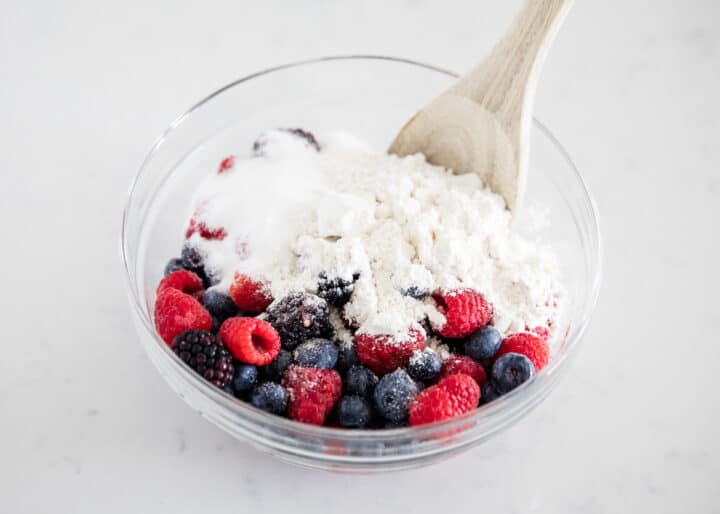 Crumble vs Crisp
Before we get started, let's jump into what exactly makes a crumble topping. And why do we often confuse it for a crisp topping? And if we're making a crisp, why do we call it a crumble? Confused yet? I totally get it, but don't worry, I've got you!
Both crumbles and crisps top a filling of baked fruit. They both consist of flour, brown sugar, and butter, however, a crisp technically has oats added to it like in this apple crisp or blueberry crisp recipe. A crumble does not. A crisp streusel topping is usually lighter and the oats create a crispy texture, whereas a crumble ends up a little denser.
In the case of this mixed berry pie with a crumble topping, it's texturally a bit of both! Yes, we're using oats like a crisp, but the bottom crust gives it a slightly sturdier texture and a weightier mouthful. So, we're calling it a crumble!
The 5 ingredient crumble uses pantry staples and adds such an extra bit of brown sugary goodness. The sweet, juicy, and plump mixed berry filling is a perfect way to show off the fruits of your green thumb. Otherwise, frozen mixed berries work just as well which is perfect year-round.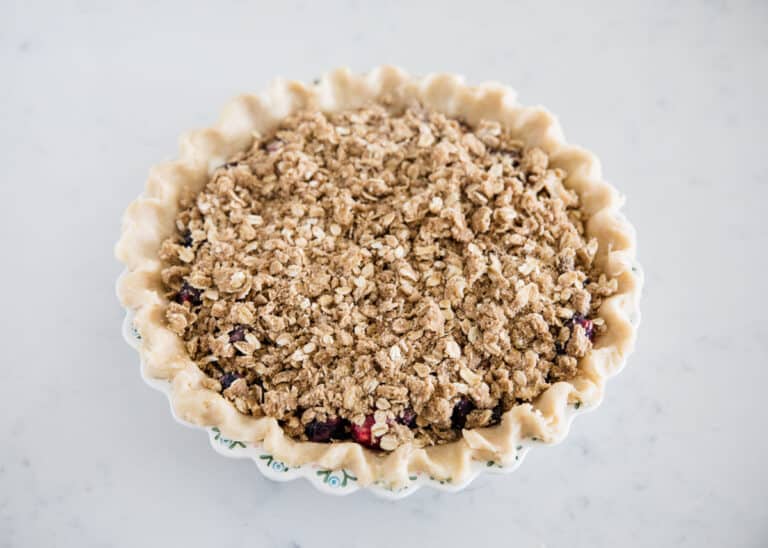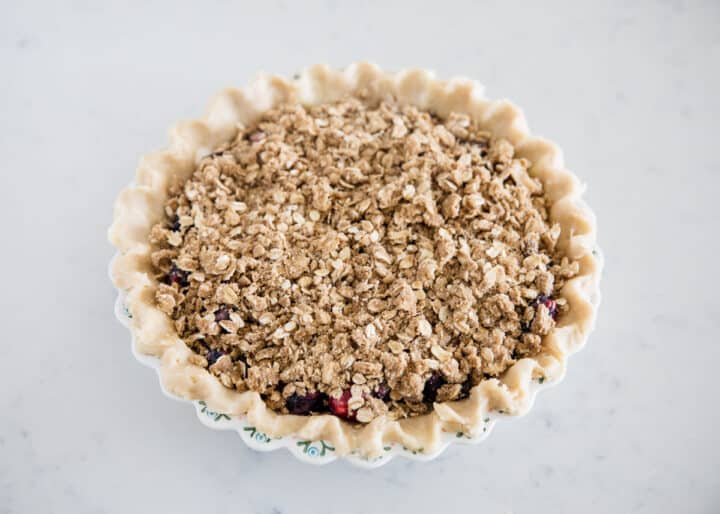 Tips for the Best Berry Crumble Pie
Use cold butter for the crumble. This way it'll take longer to melt into the topping, keeping it nice and crispy.
Fruit ratio. I like to use about twice as many raspberries as blackberries and blueberries, but you can figure out the ratio you prefer. In fact, you could make a crumble pie entirely with one type of berry if you'd like!
Make this gluten-free by substituting gluten-free 1:1 all-purpose flour in not only the streusel topping but also the pie crust. You also want to make sure your oats are certified gluten-free.
Add foil to the pie edges if you notice the crust is browning too fast.
If using frozen mixed berries, take out the strawberries and save them to use in another delicious summer berry recipe. Thaw the rest of the berries slightly and drain any excess juices.
Using homemade crust. When making this easy pie crust recipe, you'll only need half of it. You can either follow the recipe as directed and freeze the second pie crust for up to 3 months, or just make half the batch.
Storing + Reheating
Once the berry pie is completely cooled, store it in an airtight container for up to 5 days in the fridge. This crumble tastes just as good at room temperature as it does warm, so the choice is yours.
If you're a fan of the warm pie in contrast to a scoop of ice cream, then definitely reheat in the oven at 350°F for 15-20 minutes, depending on how much you have left. If it's just a small piece, you can also heat it up in the microwave for 30 seconds.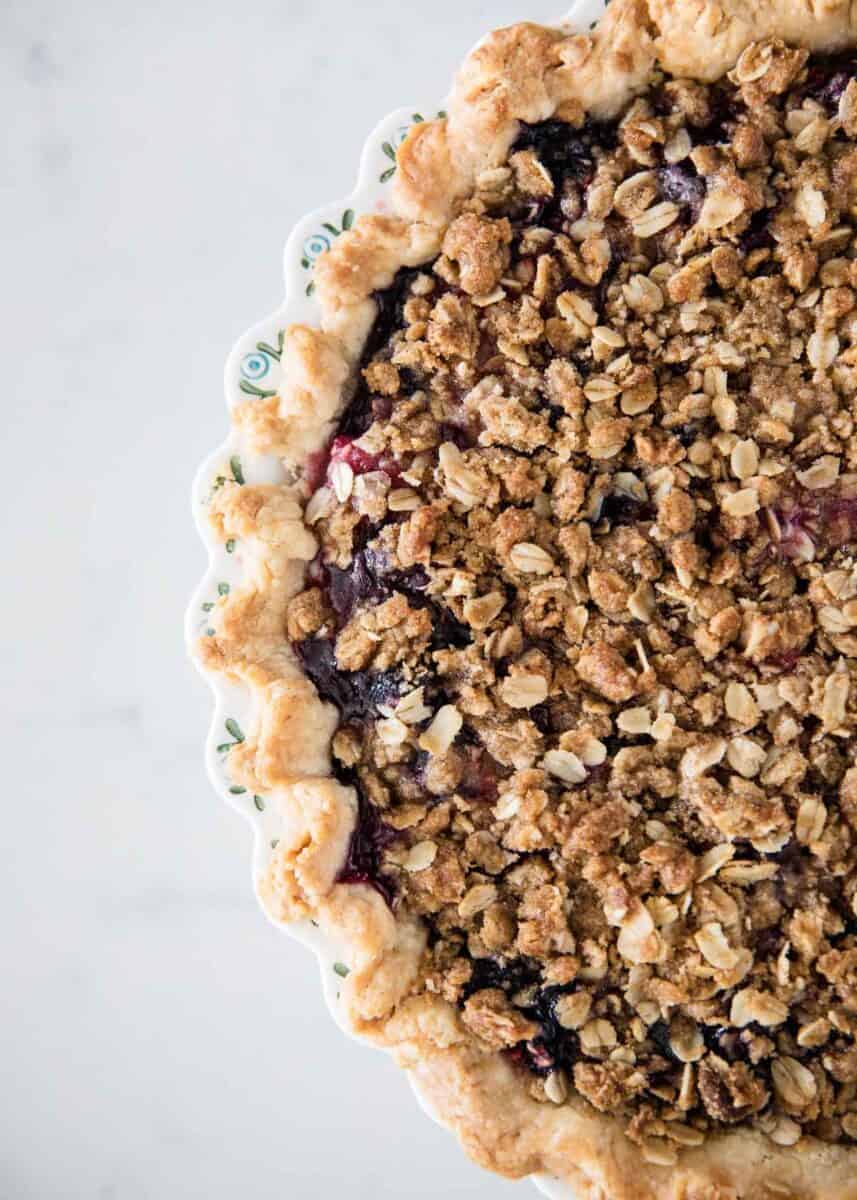 More Homemade Pies: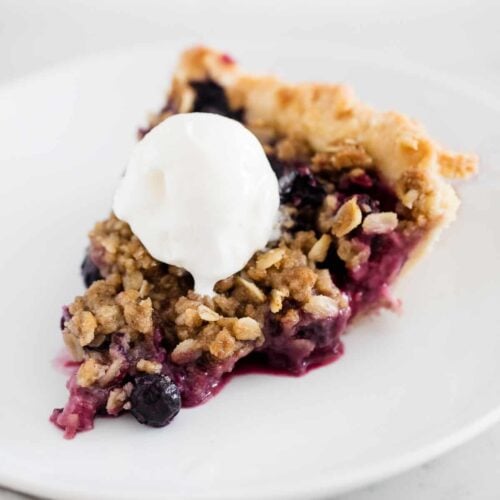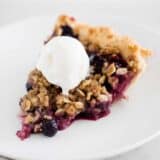 Mixed Berry Crumble Pie
It's part crisp, part crumple, and all pie! This amazing berry crumble pie is a sweet, tart, and crispy crowd-pleaser filled with juicy berries and a buttery crispy streusel topping!
Ingredients
For serving: vanilla ice cream or whipped cream
Instructions
Preheat oven to 375°F. Place baking sheet in the oven. Combine mixed berries in a bowl. In a separate bowl, mix together the the sugar, corn starch and salt. Then combine with the berry mixture and stir together.

Mix the crumble topping ingredients together in a bowl. You may need to use your hands to combine. Then set aside.

Make crust according to pie crust directions. Add the berry mixture on top (leaving any excess juices in the bowl). Sprinkle the streusel topping over the top of the berries.

Place pie on top of baking sheet in oven. Bake pie for 40-50 minutes, or until top is golden brown and the center is firm. Add foil to cover the crust if it is browning too fast. Remove from oven and allow to cool (3-4 hours) to thicken before slicing.

Serve with fresh whip cream or vanilla ice cream.
---
Notes
Berries: You can use fresh or frozen berries for this pie. I prefer to use more raspberries (about 2 cups raspberries, 1 cup blackberries and 1 cup blueberries). For frozen mixed berries, take out the strawberries and allow to thaw slightly. Drain any excess juices.
Pie crust: You can buy a pre-made pie crust (I prefer the one in the freezer section) or make half a batch of my favorite pie dough: https://www.iheartnaptime.net/easy-pie-crust-recipe/
Calories:
372
kcal
|
Carbohydrates:
65
g
|
Protein:
3
g
|
Fat:
12
g
|
Saturated Fat:
5
g
|
Cholesterol:
15
mg
|
Sodium:
292
mg
|
Potassium:
97
mg
|
Fiber:
4
g
|
Sugar:
41
g
|
Vitamin A:
219
IU
|
Vitamin C:
2
mg
|
Calcium:
20
mg
|
Iron:
1
mg