Meet blondies, the irresistible golden bars you'll love. Buttery and chewy with a hint of caramel flavor, this quick one-bowl recipe will have you coming back for more!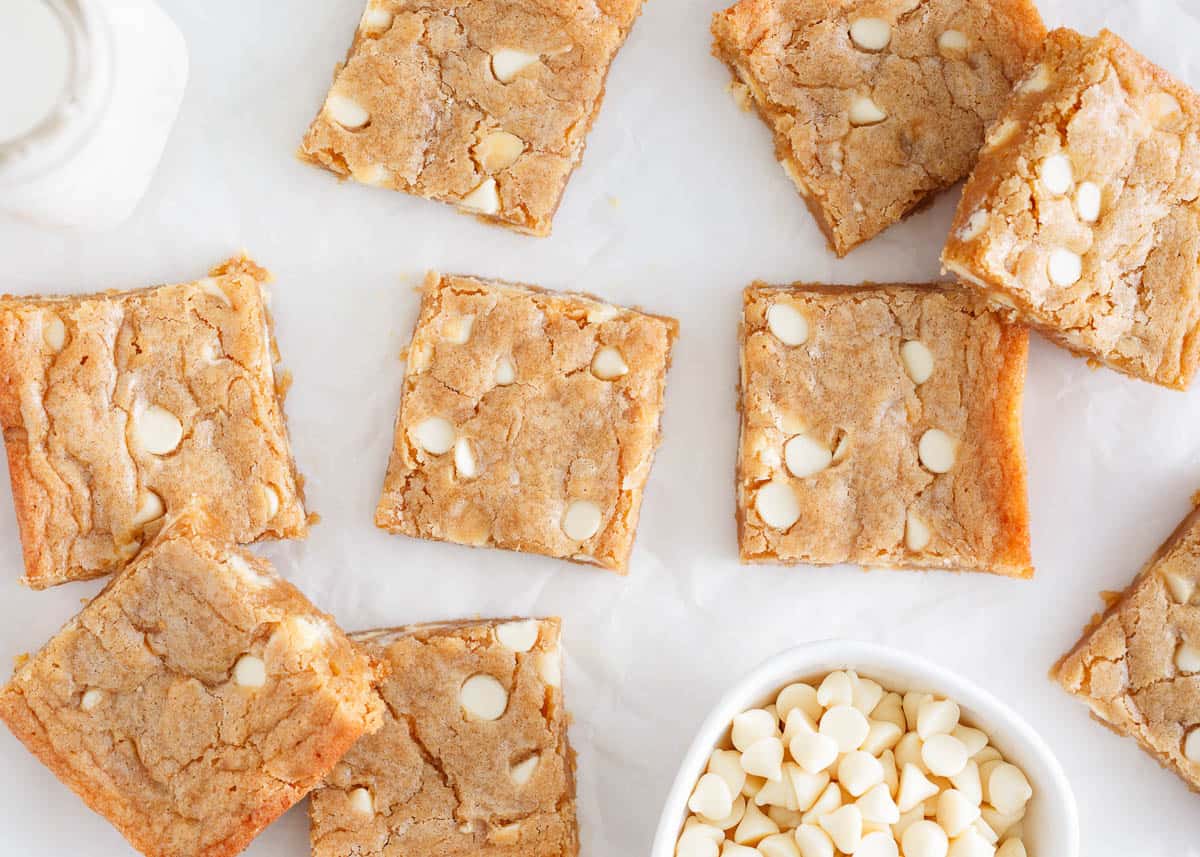 Ready to Eat in 1 Hour
Have you tried blondies? If you have, you know how incredible they are and if you haven't, you are in for a treat!
I have a few variations on this basic blondie recipe, so you might want to check out my Reese's peanut butter blondies, brown butter blondies, and one of my favorite all-time fall treats – pumpkin blondies!
Blondies, the not-so-distant relative to everyone's favorite brownies have their own distinct appeal and are sure to satisfy your sweet cravings!
Now, let's take a deep dive into what you'll need to make these sweet golden blondie bars.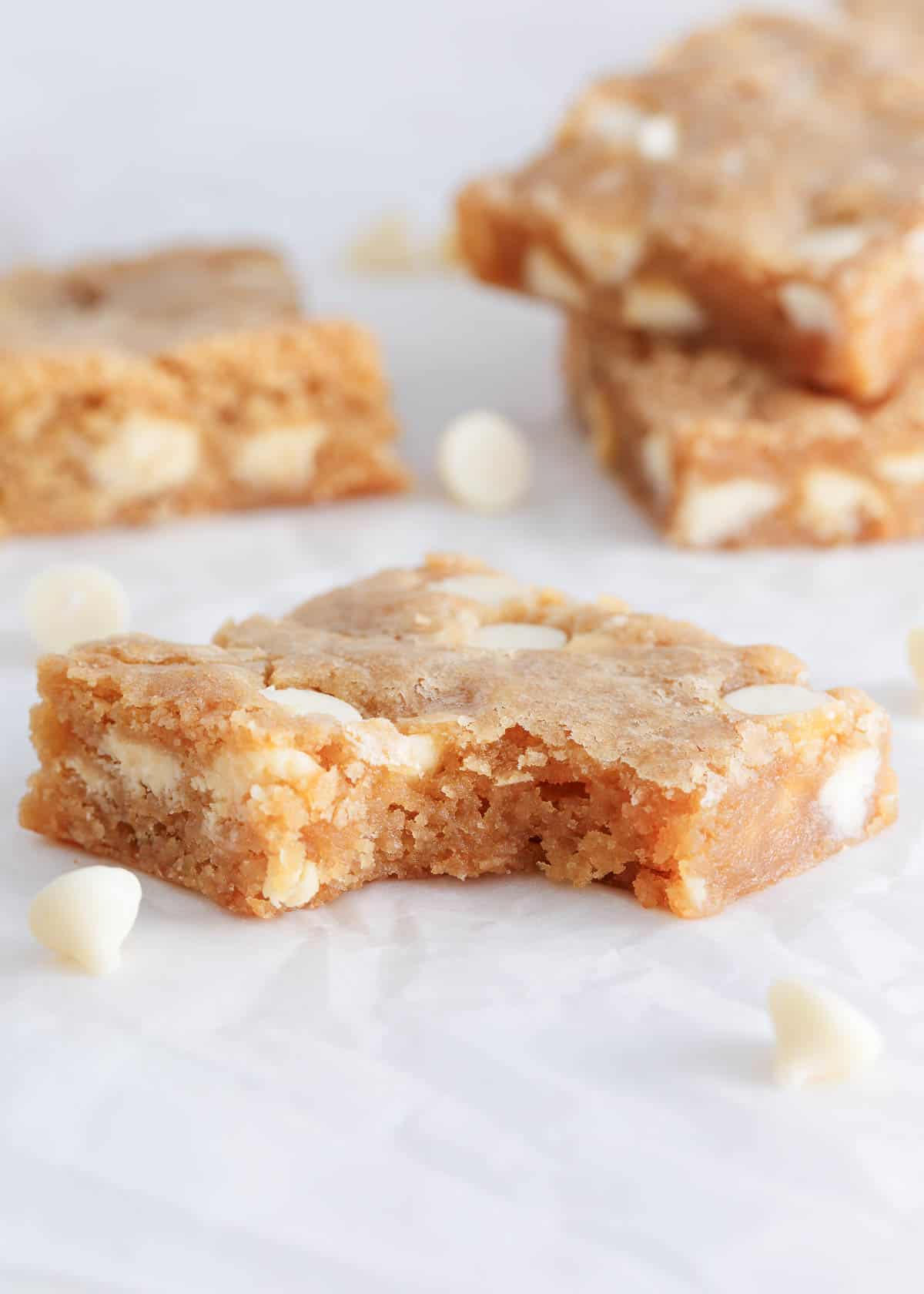 What is a Blondie vs. a Brownie?
So, what are blondies anyway? I've heard them described as being brownies' golden cousins and I think this is a perfect description! Blondies are buttery with a slight caramel taste and they're moist and slightly dense which gives them an irresistible chewiness.
Brownies, on the other hand, are rich and chocolatey and have a fudgy texture. I like my homemade brownies moist and dense, so they melt in your mouth! You can also make the most amazing brownies using a boxed mix, like my chocolate chip cake mix brownies or my peanut butter brownies.
Recipe Ingredients
This blonde brownie recipe uses ingredients that you most likely already have in your pantry. If not, you can easily find them at the grocery store.
Find the full printable recipe with specific measurements below.
Unsalted butter: If you only have salted butter, you can substitute it, just make sure to reduce the amount of added salt to compensate.
Light brown sugar: This sugar gives the blondies their caramel-like flavor. While you can substitute it with dark brown sugar, the flavor, and texture might be slightly different than the original recipe.
Vanilla extract: For the best flavor, I use pure vanilla extract.
White chocolate chips: The chocolate chips add to the fudgy texture of the blondies. You can swap them for milk chocolate chips if you like.
Variations
Feel like getting creative? Go ahead and put your own spin on this blondie recipe by adding different mix-ins!
Here are some ideas to get you started:
Cornstarch: For a thicker blondie, add 1 tablespoon of cornstarch to the recipe.
Nuts: For a nutty blondie, add ½ cup of chopped walnuts or pecans to the batter. You can even use peanut butter chips instead of chocolate chips!
Chocolate: Swap out the white chocolate chips with some milk chocolate or dark chocolate chips or a combination of all three!
M&M's: Mix ½ cup of M&M's into the blondie batter.
Butterscotch: Add ½ cup of butterscotch chips to the batter before baking.
How to Make Blondies
This quick one-bowl blondie recipe is ready in about 30 minutes. Let me show you how easy they are to make!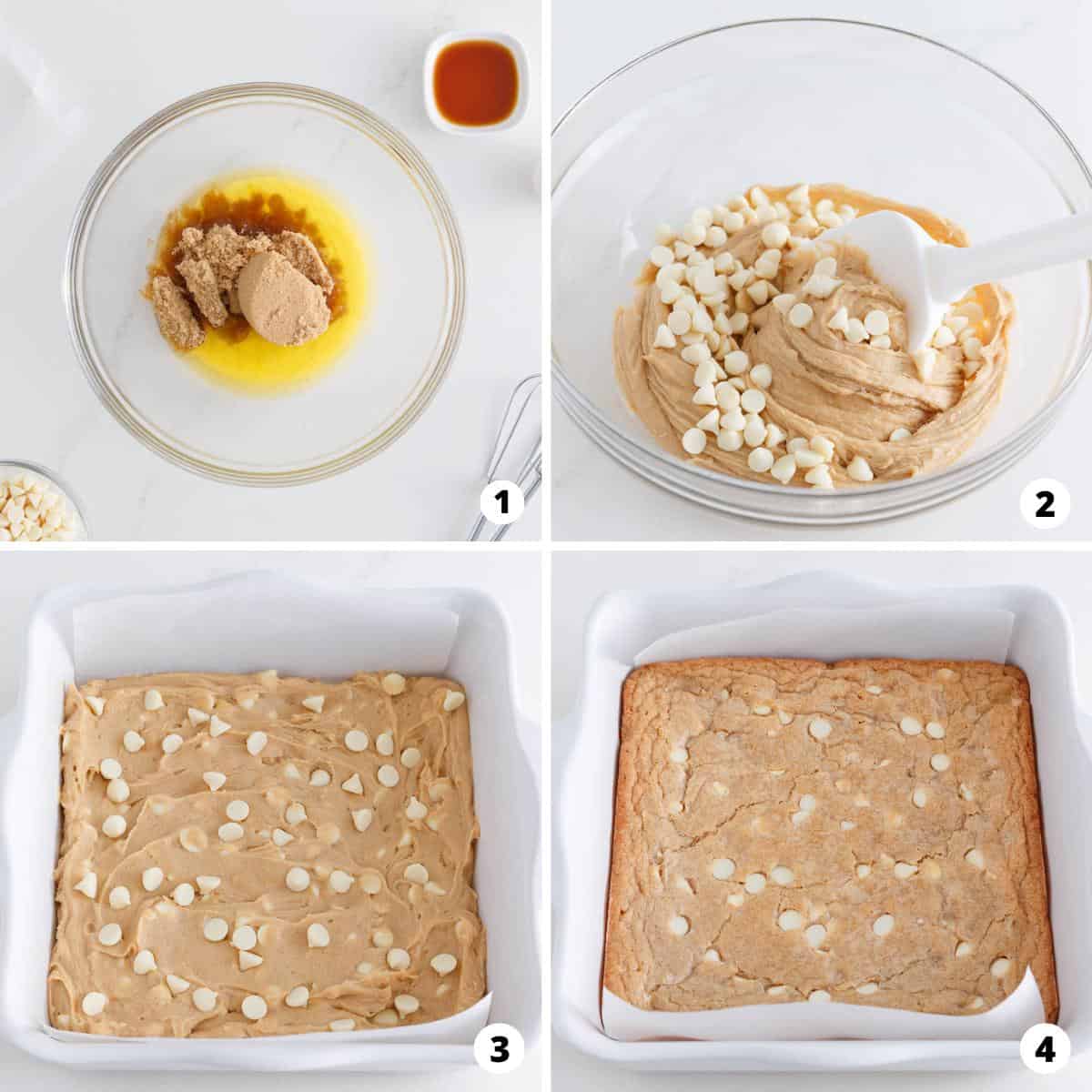 Mix. Line an 8×8-inch pan with parchment paper and set it aside while you mix the blondie batter. Use an electric mixer to mix the egg and vanilla then add in the flour, baking powder, and salt and stir until combined. Fold in the white chocolate chips.
Press the dough. Press the thick dough into your prepared pan until it covers the surface and press some extra white chocolate chips on top.
Bake. The brownies should bake at 350°F until a toothpick comes out clean. Be careful not to overbake them!
Cool. Let the blondies cool slightly in the baking dish then remove them from the pan and slice them into 9 or 16 squares.
How to Cut Blondies
To get neat clean squares of blondies, let them cool completely before slicing.
Use a sharp straight-edged knife or a bench scraper to make the cuts and after each slice, wipe the blade clean with a kitchen towel or paper towel.
I know it's a little bit of extra work, but it's worth it if you want smooth slices!
Best Tips for Making Blondies
Measure ingredients accurately: It's so important to know how to measure flour and other ingredients accurately. Use measuring cups and spoons designed for dry or liquid ingredients and remember to level off your flour for precise measurement.
Avoid overmixing: Mix the ingredients until they are just combined. You don't want to incorporate too much air into the batter or your blondie recipe could end up collapsing in the middle while baking.
Don't overbake: Overbaking your blondies can lead to dry and crumbly bars. Bake just until the edges are firm, and the middle is still a bit undercooked. They'll continue to cook as they rest.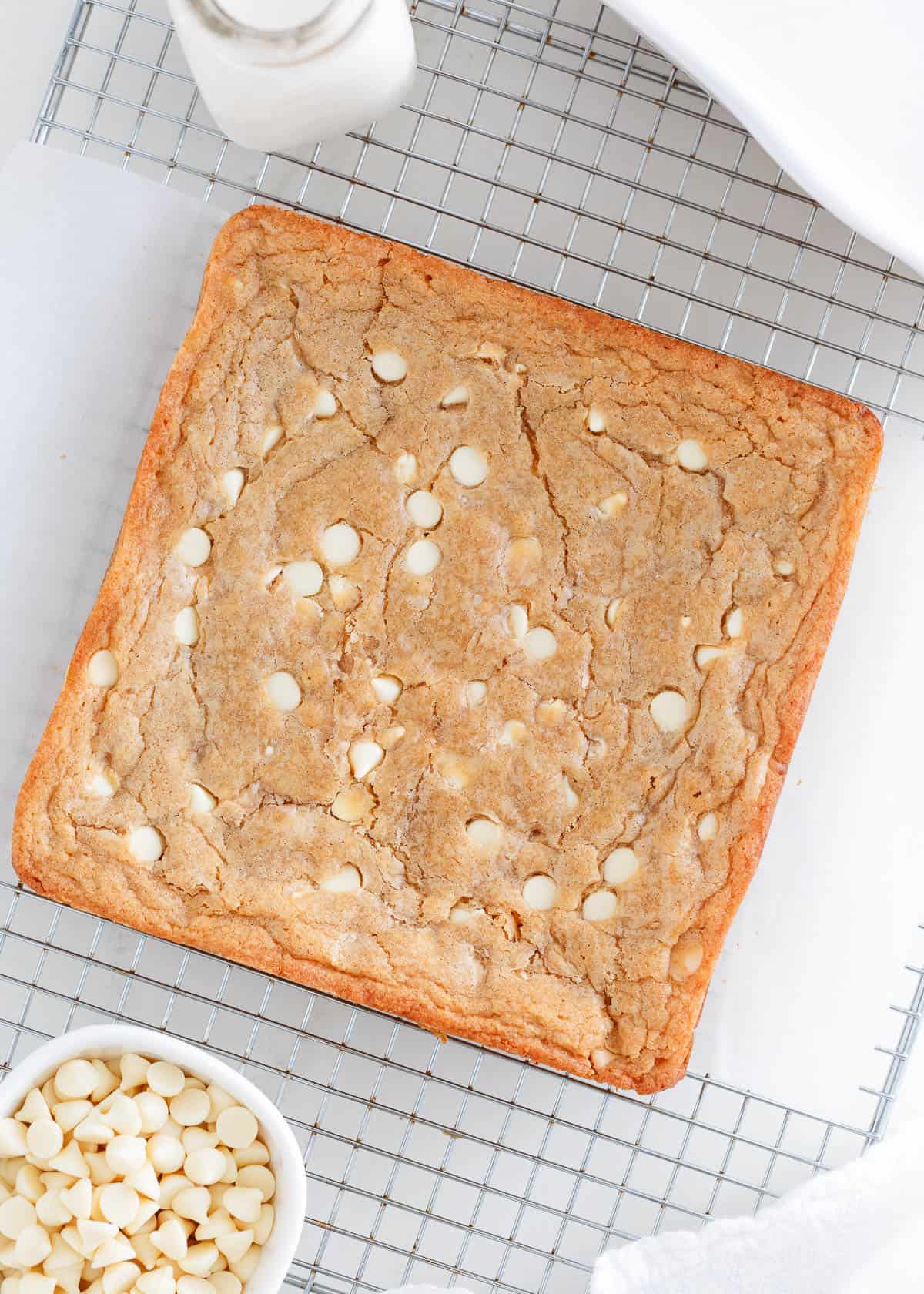 Recipe FAQs
Can I double the recipe?
Yes, you can easily double the blondie recipe if you want to make a larger batch. To accommodate the doubled amount, use a 9×13-inch baking dish instead of the 8×8-inch dish. You may need to adjust the baking time slightly, so keep an eye on the blondies and extend the baking time by a few minutes.
Can I use a different size baking dish?
While the recipe specifies an 8×8-inch baking dish, you can use a different size with some adjustments. If you use a larger dish, such as a 9×9-inch square pan or an 11×7-inch rectangular pan, the blondies will be slightly thinner and may require a shorter baking time. Just keep an eye on them and adjust accordingly.
How can I tell when my blondies are done?
Look for the blondies to start pulling away from the sides of your baking dish. You can also insert a toothpick into the middle of the blondies. If it comes out with just a few moist crumbs on it, they're done!
How can I get soft fudgy blondies?
The best way to achieve a moist fudgy center is to remove the blondies a couple of minutes early and let the residual heat continue to cook them. The edges should look firm, but the middle will still look a little underdone when you bring them out of the oven. As they cool, they'll firm up into a deliciously gooey golden treat!
Can I add frosting or glaze to my blondies?
Absolutely! Adding a frosting or glaze can take your blondies to the next level. Once the blondies have cooled, you can drizzle them with a simple powdered sugar icing or cream cheese glaze. Just remember to let the bars cool completely before adding the frosting or glaze.
Storing
To keep your blondies fresh, let them cool completely before storing them in an airtight container. Also, if you're going to layer them, make sure you place a piece of parchment paper in between the layers so they don't stick together.
Your blondies will keep for 3 – 4 days at room temperature or for a little bit longer if you store them in the fridge.
To freeze them, wrap the cooled blondies individually in plastic wrap and then put them in a freezer container or zip-top bag and store them for up to 3 months. Remember to let them thaw ahead of time before serving.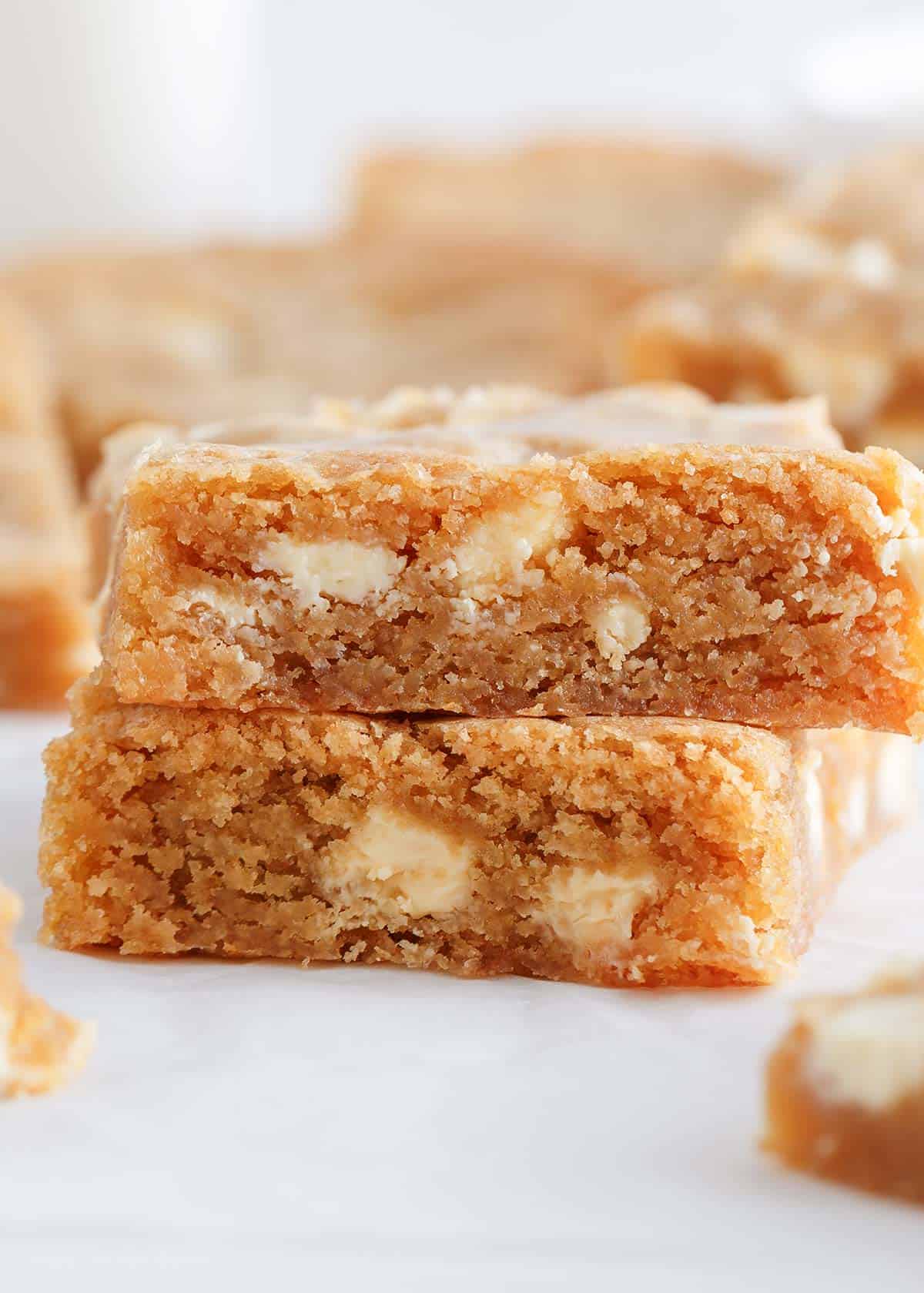 HUNGRY FOR MORE? Subscribe to my newsletter and follow on Facebook, Pinterest and Instagram for all the newest recipes!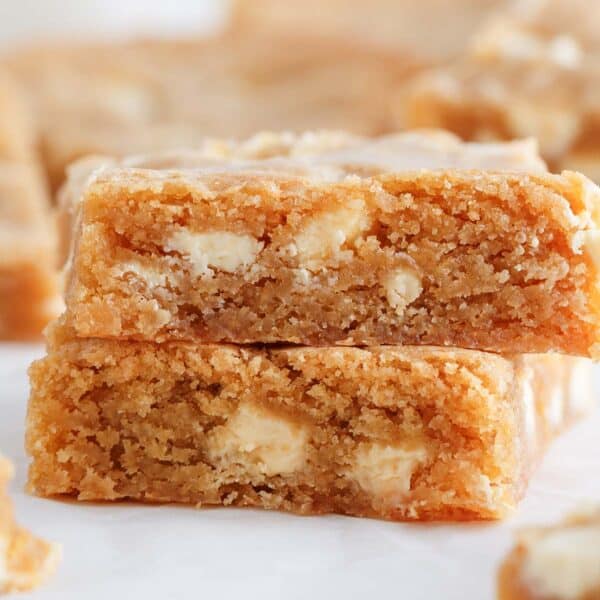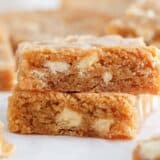 Blondie Recipe
Meet blondies, the irresistible golden bars you'll love. Buttery and chewy with a hint of caramel flavor, this quick one-bowl recipe will have you coming back for more!
Ingredients
½ cup (1 stick) unsalted butter , melted
⅔ cup light brown sugar , packed
1 large egg
1 ½ teaspoons vanilla extract
1 cup all-purpose flour , spooned into cup and leveled off
1 teaspoon baking powder
½ teaspoon fine sea salt
½ cup white chocolate chips (can sub with milk chocolate chips)
Instructions
Preheat the oven to 350°F. Line a 8×8-inch baking dish with parchment paper.

In a large bowl, mix the brown sugar and butter with an electric mixer on medium low. Mix in the egg and vanilla until smooth.

Mix in the flour, baking powder, and salt just until barely combined. Fold in the white chocolate chips and stir until smooth, being careful to not overmix.

Press the dough into the pan. Press extra white chocolate chips on top, if desired. Bake 18 to 20 minutes, or until a toothpick inserted in the center comes out clean and the edges are lightly golden brown. Be careful not to overbake.

Let cool slightly in the baking dish before removing the blondies with the parchment paper to a wire rack to cool. Once cooled, cut into 9 or 16 squarest to serve.
---
Notes
Doubling: This recipe can easily double. Bake the doubled recipe in a 9×13-inch baking dish a few minutes longer. Variation: You could also add in 1/2 cup chopped walnuts or pecans or use chocolate chips. For a thicker blondie, add 1 Tablespoon cornstarch. Freezer instructions: Let cool completely and then wrap individual blondies in plastic wrap. Store in a freezer container or zip-top bag up to 3 months. Remove from freezer and allow to thaw when ready to eat.
Nutrition
Calories: 152kcal | Carbohydrates: 18g | Protein: 2g | Fat: 8g | Saturated Fat: 5g | Polyunsaturated Fat: 0.4g | Monounsaturated Fat: 2g | Trans Fat: 0.2g | Cholesterol: 29mg | Sodium: 86mg | Potassium: 69mg | Fiber: 0.2g | Sugar: 12g | Vitamin A: 203IU | Vitamin C: 0.03mg | Calcium: 34mg | Iron: 1mg
Nutrition provided is an estimate. It will vary based on specific ingredients used.
Did you make this recipe? Don't forget to give it a star rating below!