Looking for the perfect addition to your chocolate desserts? How about peanut butter frosting?! Rich buttercream is flavored with creamy peanut butter to create a decadent frosting you can pipe or spread onto all your favorite treats.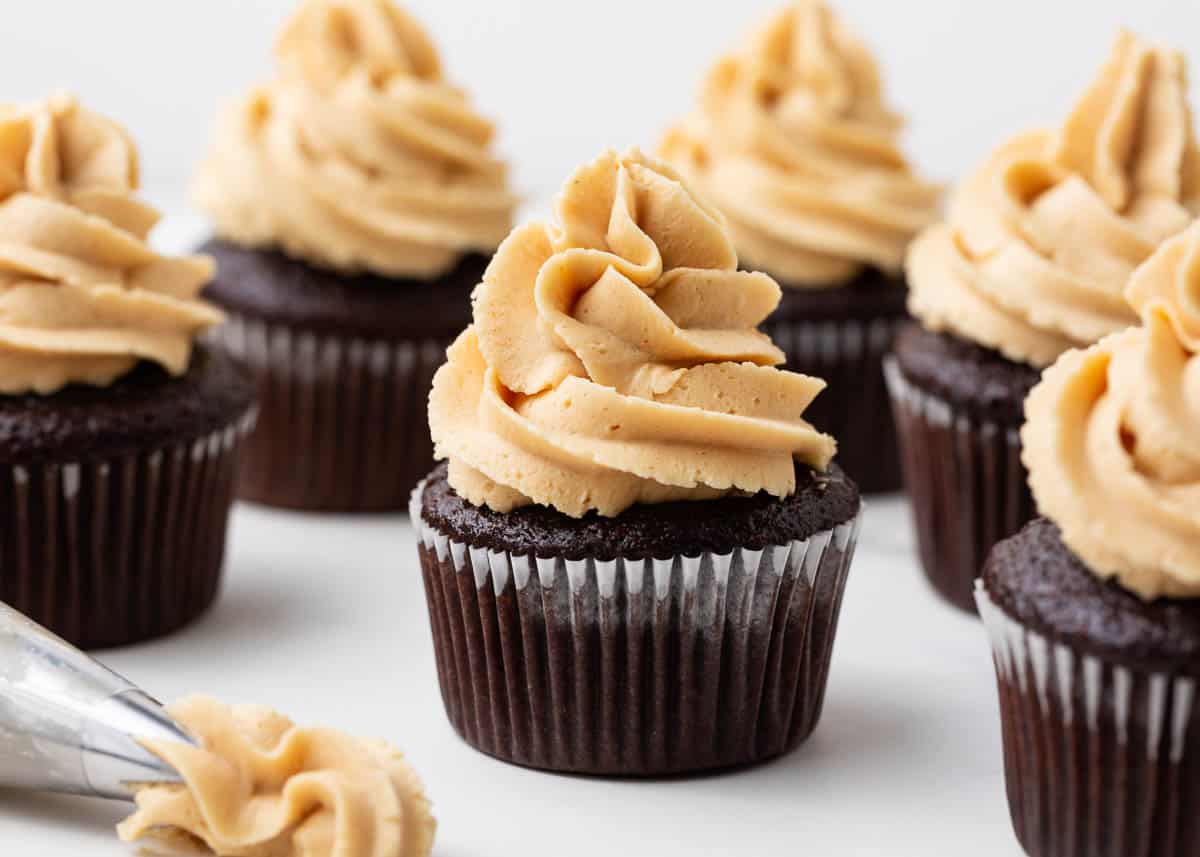 Homemade Buttercream With A Twist
This homemade frosting is truly something special. It's creamy, smooth, sweet, peanutty, and most of all, it's addictive!
I use the same method as when I make classic buttercream and added peanut butter to the mix which not only adds a rich nutty flavor but also gives it a nice thick texture. Perfect for piping!
I love to use this easy peanut butter frosting on my chocolate peanut butter cupcakes or chocolate cupcakes from scratch, as it seems an obvious pairing. The classic combination of chocolate and peanuts never gets old in my house!
It's not just for cupcakes though! Go ahead and use it to spread over layer cakes, sandwich between cookies, and swirl over cinnamon rolls. This fluffy buttercream is so versatile!
Why This Recipe Works
Ready in 10 minutes. Making homemade peanut butter frosting from start to finish in just 10 quick minutes is absolutely worth it every time!
Texture and flavor. A creamy and smooth consistency with a sweet, nutty and rich flavor with a hint of salt. This frosting has everything your taste buds are looking for!
No additivities. Not only does it taste better than store-bought, but making your own frosting from scratch means there's no extra preservatives or additivities included.
Versatile. Use this peanut butter buttercream on all types of desserts! Cake, cookies, cupcakes, bars and brownies all taste delicious with this creamy topping.
Recipe Ingredients
Six simple ingredients are all that's needed to make this easy peanut butter frosting recipe. Below are some notes to consider for a few of the main ingredients when making this frosting.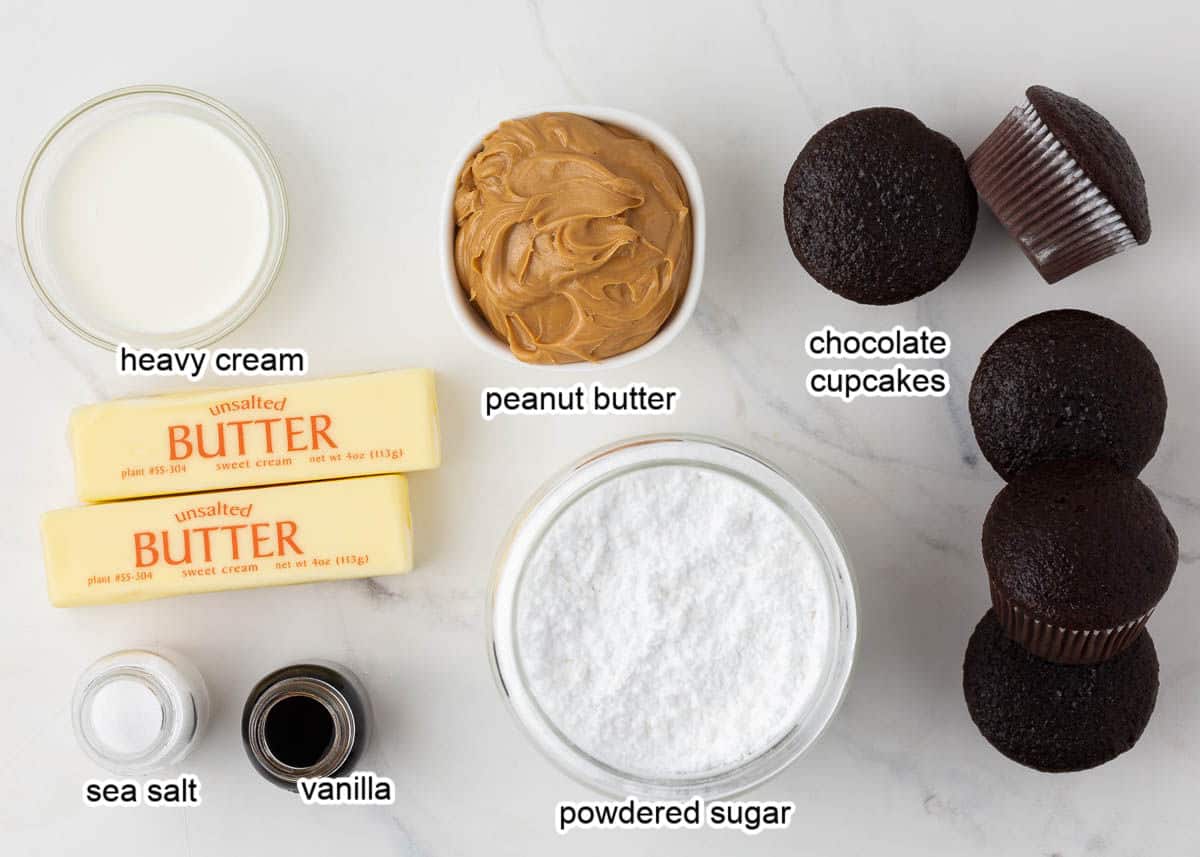 Find the full printable recipe with specific measurements below.
Creamy peanut butter: Processed over natural works the best in this recipe. While both are delicious, the oily consistency in natural nut butter can make this frosting separate. Also, opt for creamy over crunchy for a silky texture.
Vanilla extract: I use pure vanilla extract for the best quality flavor.
Powdered sugar: This sugar is fine and melts into the other ingredients which help to make the frosting so smooth. The sugar also helps to stabilize the buttercream to make it easy to pipe.
Heavy cream: This cream makes it extra velvety. You can also use it to thin the frosting out if it seems too thick.
How to Make Peanut Butter Frosting
The steps below show how to make peanut butter frosting. Before you start this recipe, let the butter and nut butter come to room temperature. This will help you get that super creamy texture.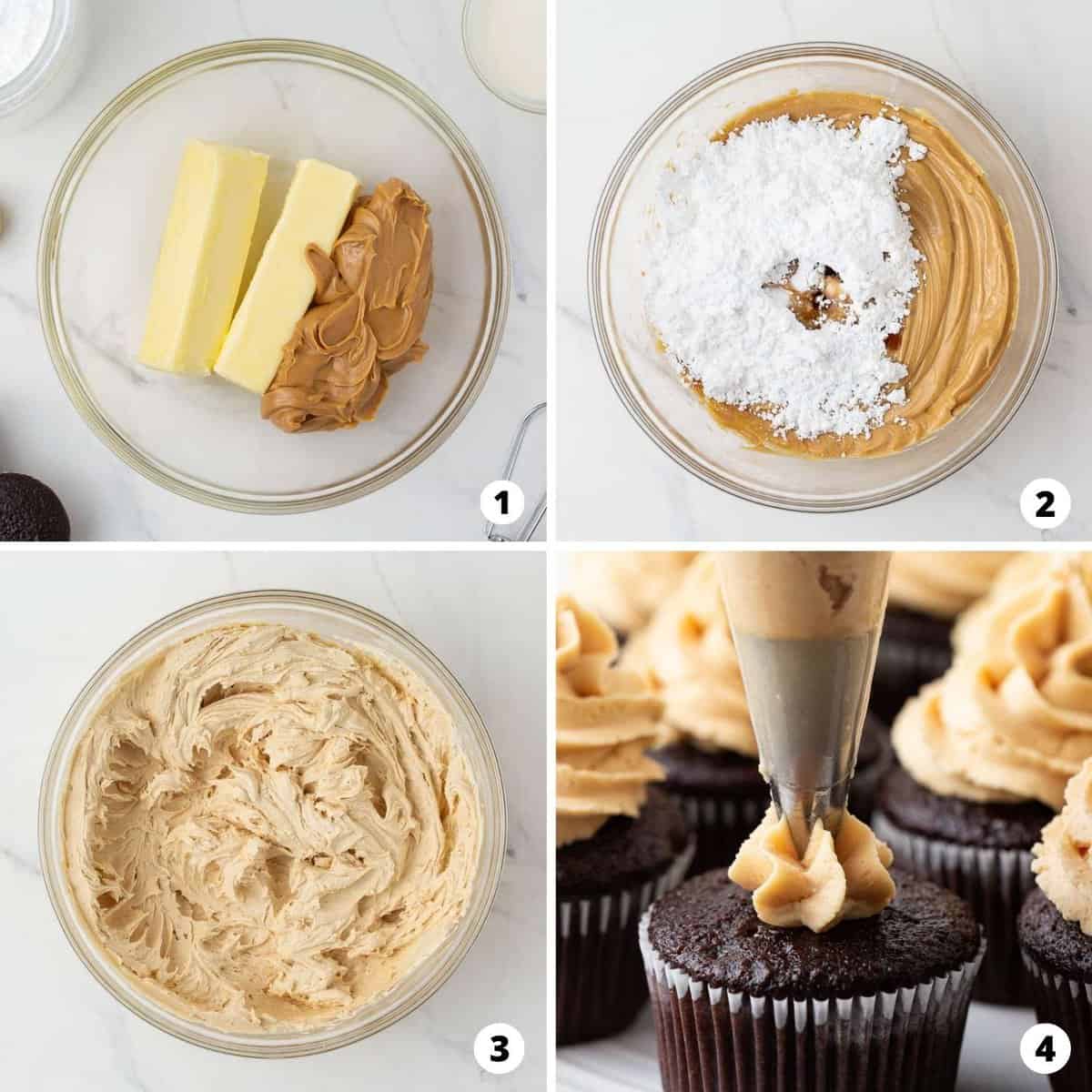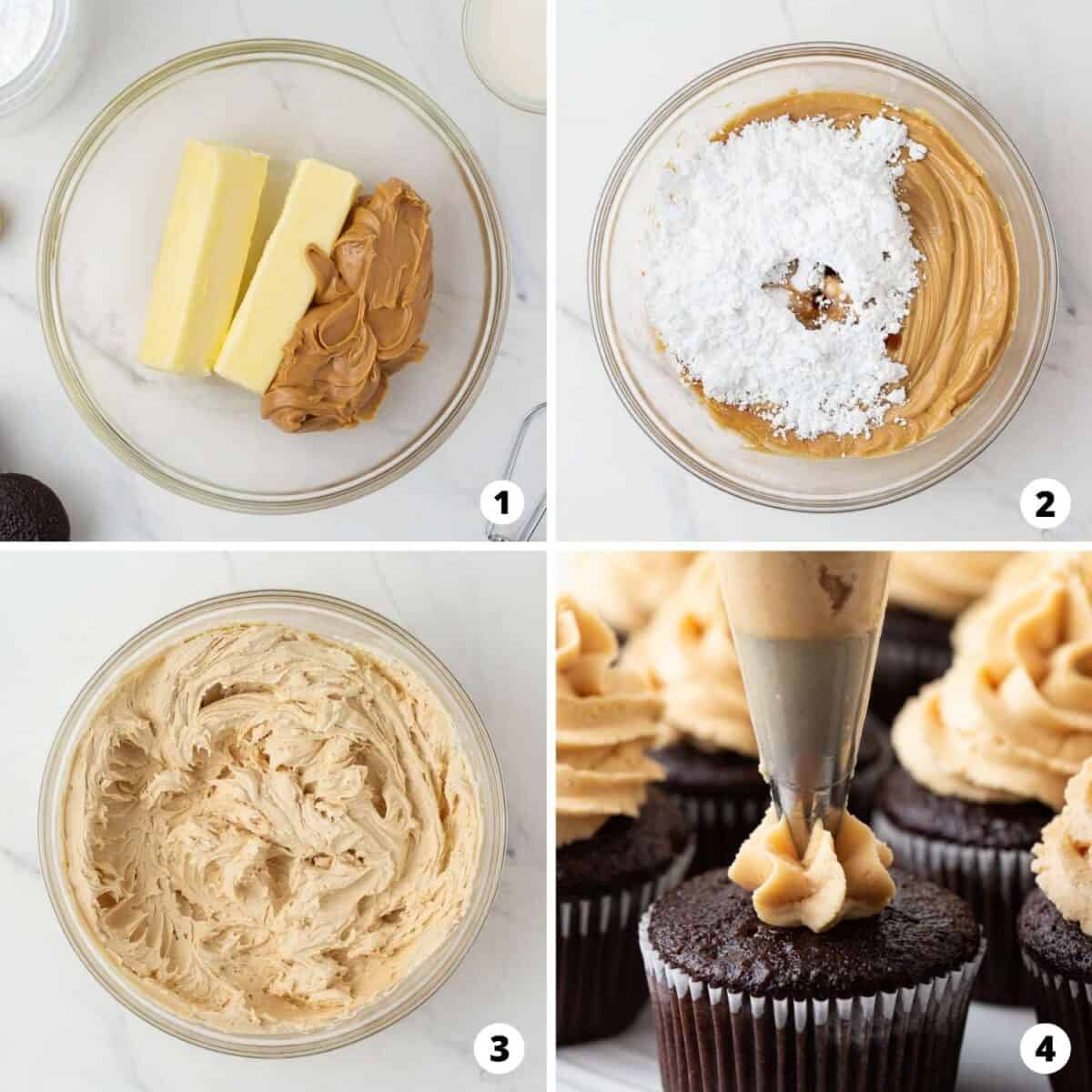 Combine butter and peanut butter. Mix in a large bowl with an electric mixer until it's smooth and fluffy.
Add powdered sugar, cream, and vanilla. Keep mixing everything until it's creamy. Start mixing on a low speed to prevent the sugar from flying everywhere!
Adjust consistency. Add more cream if you want to spread the frosting or if you want to pipe it, you might need to add more powdered sugar. You can also adjust the peanut butter at this point if you want to add more for flavor.
Frost. Pipe or spread the frosting on your favorite cupcakes, cakes, and brownies.
Expert Tips
Follow these tips for the creamiest results:
Room temperature butter. Leave the butter out of the fridge for one hour before you start mixing it together with the peanut butter. You want it to be soft but not runny. If you forget this step, check out these tips for how to soften butter quickly.
Use a mixer. A hand mixer or stand mixer will whip in lots of air to give you a soft and creamy consistency. While you could try mixing it by hand, it will take you a very long time, and you might not be able to achieve the same fluffy texture.
Scrape the bowl. Make sure you periodically scrape down the sides of your bowl with a spatula while you're mixing. You want everything to get fully combined.
Adjust consistency. If it is too thick, add a splash of cream. If it's too thin, add a tablespoon of powdered sugar. Keep in mind that it will thicken slightly if you plan on storing it in the fridge.
Ways to Use it
It tastes amazing on cupcakes and I often pipe it onto my easy chocolate cupcakes for a winning combo. See my tutorial for how to frost a cupcake for great results!
For a cake, there's nothing better than the classic pairing of this easy peanut butter frosting with chocolate cake, or try sandwiching it between these cute chocolate whoopie pies.
And don't forget brownies! Spread it on these peanut butter brownies or my classic homemade brownies for a fantastic treat!
This recipe makes enough to frost 12-24 cupcakes, depending now on how high you swirl the frosting. Alternatively, you can cut the recipe in half to frost a pan of brownies, or check out my tips below for how to freeze any leftovers.
Recipe FAQs
What is the difference between frosting and icing?
Icing is typically thinner and glossier compared to a frosting which is thick and fluffy. Icing is also sweeter and is used more for a glaze on baked goods rather than a frosting which can hold its shape for piping unto cakes, cupcakes and more.
Why did my peanut butter frosting separate?
Avoid using natural peanut butter. The oil naturally separates which will affect the consistency. Stick with processed instead for the best texture.
How do I prevent air bubbles in my frosting?
If air bubbles are in your frosting it is caused by whipping the frosting too vigorously which allowed unwanted pockets of air to develop. To prevent this, ensure your butter is at room temp and set your mixer to a slower speed.
Can I use crunchy nut butter?
Technically you can use the crunchy kind, but you won't get the same silky-smooth consistency as you would if you use the creamy type. I suggest using creamy, especially if you plan on piping it or spreading it over your cakes.

If you want to add some crunch, you could try sprinkling some chopped peanuts on top of the frosting after you've decorated your cupcakes or cake.
Should I refrigerate frosted cakes and cupcakes?
It's not necessary to refrigerate baked goods topped with this frosting. The sugar acts as a preserve and will keep at room temperature for up to 3 days.

If you'd prefer to keep your frosted dessert in the fridge, remove it 30 minutes before serving to allow it to come to room temperature for the best flavor.
Storage Instructions
Refrigerator instructions: You can make this frosting ahead and keep it stored in the fridge, wrapped tightly with plastic wrap, for up to one week. Let the frosting sit at room temperature for 30 minutes before piping or spreading. You may need to whip it for a couple of minutes to make it fluffy again.
Freezer instructions: To store it for even longer, put it into a plastic zip-top freezer bag and freeze flat for up to 3 months. Allow it to come to room temperature then whip it for a couple of minutes before piping or spreading. Add more powdered sugar or heavy cream if needed.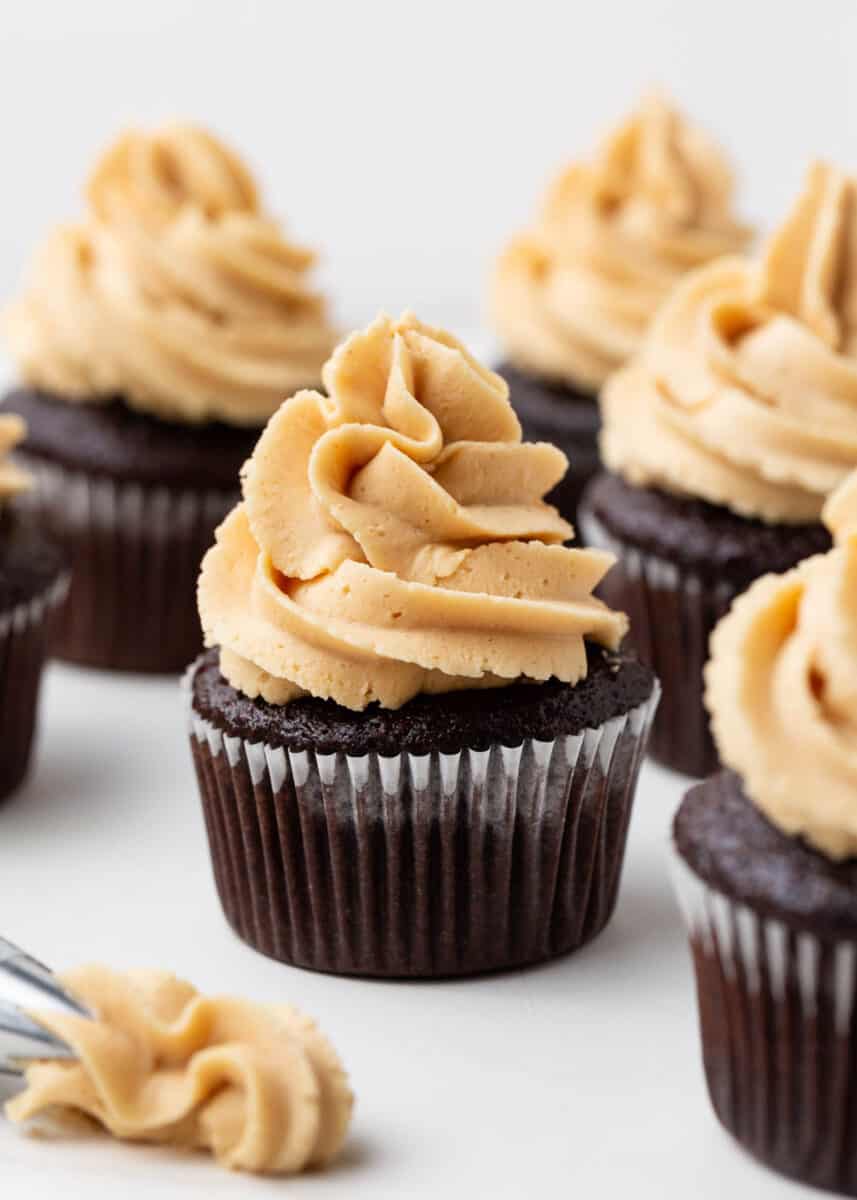 HUNGRY FOR MORE? Subscribe to my newsletter and follow on Facebook, Pinterest and Instagram for all the newest recipes!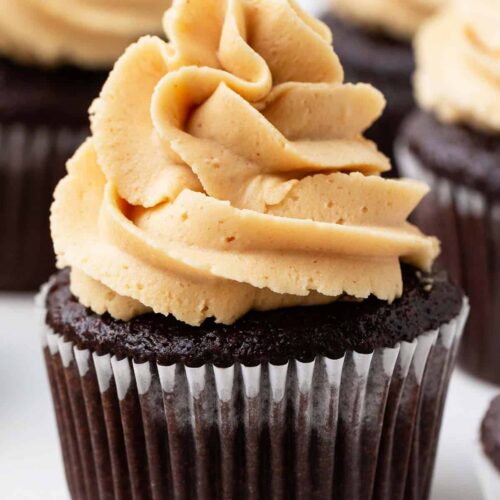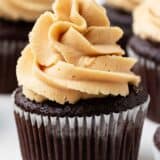 Peanut Butter Frosting
Looking for the perfect addition to your chocolate desserts? How about peanut butter frosting?! Rich buttercream is flavored with creamy peanut butter to create a decadent frosting you can pipe or spread onto all your favorite treats.
Ingredients
1 cup unsalted butter , softened
1 ¼ cup creamy peanut butter , more if desired
3-4 cups powdered sugar , start with 3 and add more as needed
1 Tablespoon vanilla extract
3-6 Tablespoons heavy cream , more if needed
¼ teaspoon fine sea salt
Instructions
In a large mixing bowl, combine the butter and peanut butter in a large bowl and mix with an electric mixer until smooth and fluffy.

Slowly mix in the powdered sugar, heavy cream, vanilla and salt. Add in more heavy cream as needed to thin it out. If you're looking to spread this frosting, you'll want to add more heavy cream. You can also add more powdered sugar if needed to thicken (for piping). Mix until the frosting is smooth and creamy and you've reached your desired consistency. Taste and add more peanut butter if you'd like.

Frost as desired over your favorite cupcakes, cakes and brownies.
---
Notes
Storage: Cover frosting tightly with plastic wrap and store in the refrigerator up to 1 week. Freeze in a zip top bag up to 3 months.
Frosting: See my tips for how to frost a cupcake. If you are using this for piping you'll want it to be fairly thick (use less heavy cream). If you are using it to spread over a cake or brownies, use up to 1/4 cup more heavy cream (add a Tablespoon at a time) to reach desired consistency.
Servings: This will frost 12-24 cupcakes, depending on how high you pipe the frosting. If you're using for a pan of brownies, you can cut the recipe in half, or freeze the leftovers.
Nutrition
Serving: 1g | Calories: 401kcal | Carbohydrates: 38g | Protein: 5g | Fat: 27g | Saturated Fat: 9g | Polyunsaturated Fat: 5g | Monounsaturated Fat: 11g | Trans Fat: 0.3g | Cholesterol: 56mg | Sodium: 301mg | Potassium: 157mg | Fiber: 1g | Sugar: 29g | Vitamin A: 371IU | Vitamin C: 0.1mg | Calcium: 54mg | Iron: 1mg
Nutrition provided is an estimate. It will vary based on specific ingredients used.
Did you make this recipe? Don't forget to give it a star rating below!