Chocolate lovers will go crazy for these amazing chocolate cupcakes from scratch! They are unbelievably rich and moist, and the best part is they are super easy to make. Baked and frosted in under an hour, this is a recipe you'll want to keep!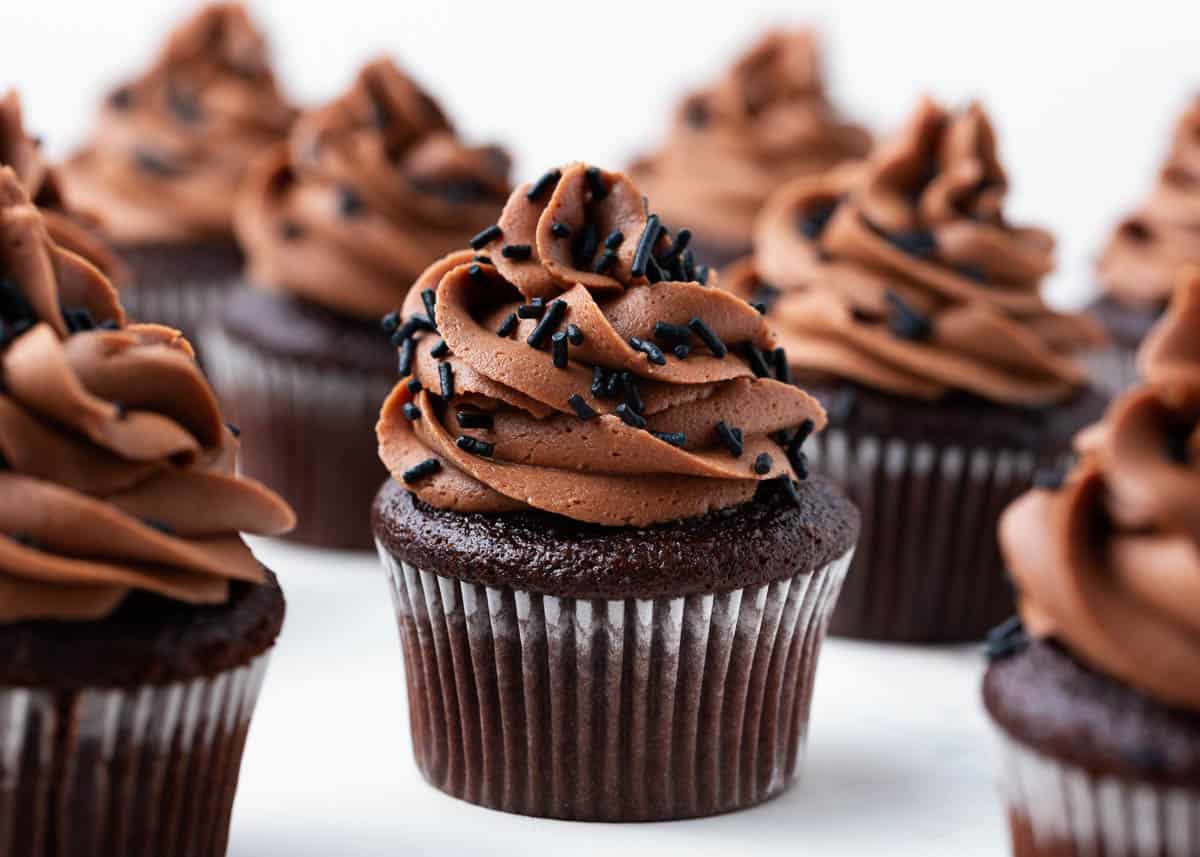 Soft, Moist, and Chocolaty!
Well, we've done it. I think we've come up with one of the most delicious and easiest chocolate cupcake recipes around!
You guys know how much I love chocolate desserts. Chocolate obsession aside, I'm also a total sucker for anything that makes things easy in the kitchen. I love it when we're able to create recipes to share with all of you that are both quick and taste fantastic!
I recently perfected my recipe for vanilla cupcakes from scratch and I just knew the next one I wanted to tackle was a chocolate cupcake recipe from scratch.
Why This Recipe Works
Texture. This batter uses oil instead of butter, so we're already guaranteed a moist cupcake. The addition of buttermilk also adds moisture and flavor which means we end up with an incredibly tender cupcake.
Flavor. The chocolate flavor comes from natural cocoa powder which makes these cupcakes nice and rich. You can enhance it even further by adding a tiny bit of espresso powder to the batter. It's might sound a bit odd, but it works! Baking is pure magic.
Versatile. You have so many choices when it comes to frosting your chocolate cupcakes from scratch. Keep it classic with vanilla or chocolate, or switch it up with other fun flavor variations depending on what you're craving (more ideas below).
Ingredients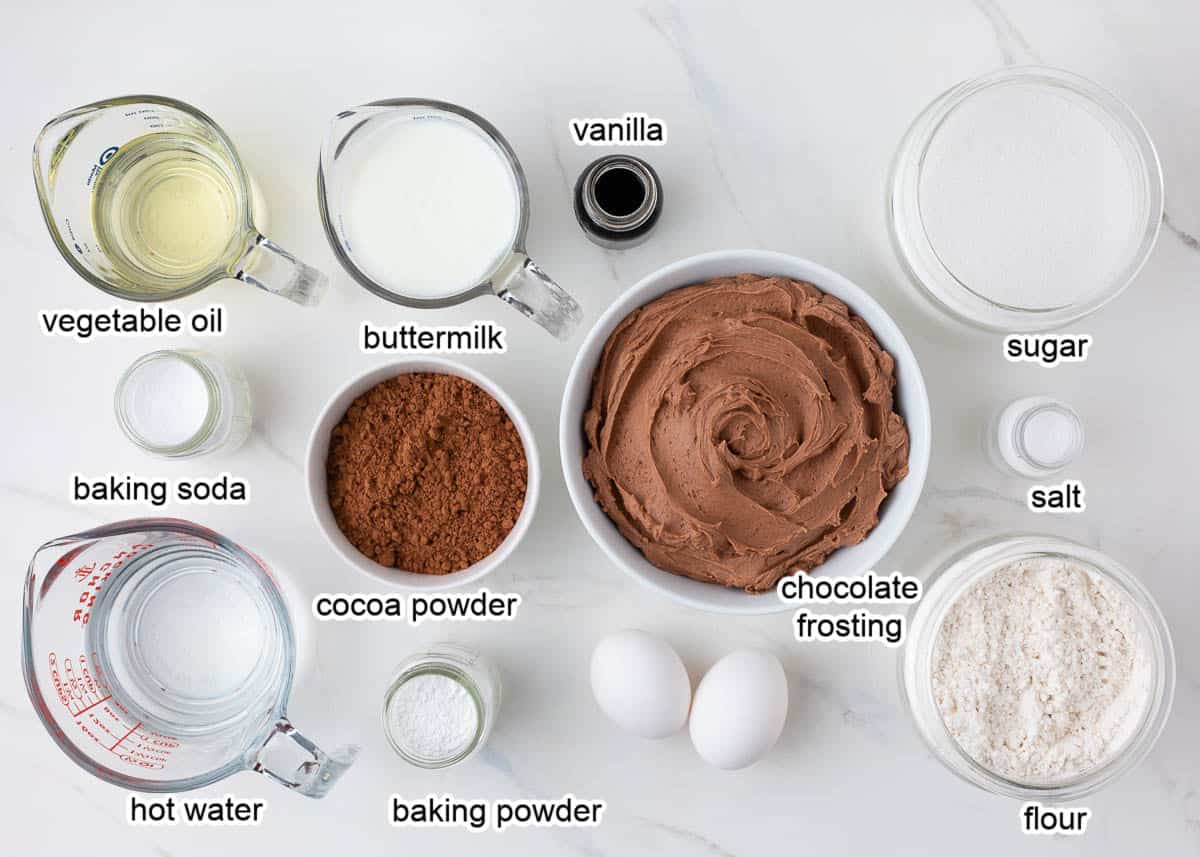 Find the full printable recipe with detailed measurements below.
Cocoa powder: I recommend using natural, unsweetened cocoa powder. It will give the best rise and texture. Dutch-processed cocoa will result in a much denser cupcake.
Hot water: I like to use water from a recently boiled kettle. The hot water awakens the cocoa powder and helps that delicious chocolate flavor shine through.
Buttermilk: This milk is great for creating moist and tender cupcakes. You can buy it at the store or make your own buttermilk at home.
Vanilla extract: It might seem strange to add vanilla to a chocolate cake, but trust me on this one, you need it! Vanilla enhances the flavor of the cocoa, and you would miss it if it wasn't there.
Espresso powder/coffee: For a more intense chocolate flavor, feel free to add 1 to 2 teaspoons of espresso powder.
Frosting: Classic buttercream frosting and chocolate buttercream frosting are great options or and I can imagine it would also be amazing to swirl the two together.
How to Make Chocolate Cupcakes from Scratch
I love this easy chocolate cupcake recipe so much! It uses vegetable oil instead of butter, so there isn't any creaming involved. We simply combine the wet ingredients with the dry ingredients, and we're done!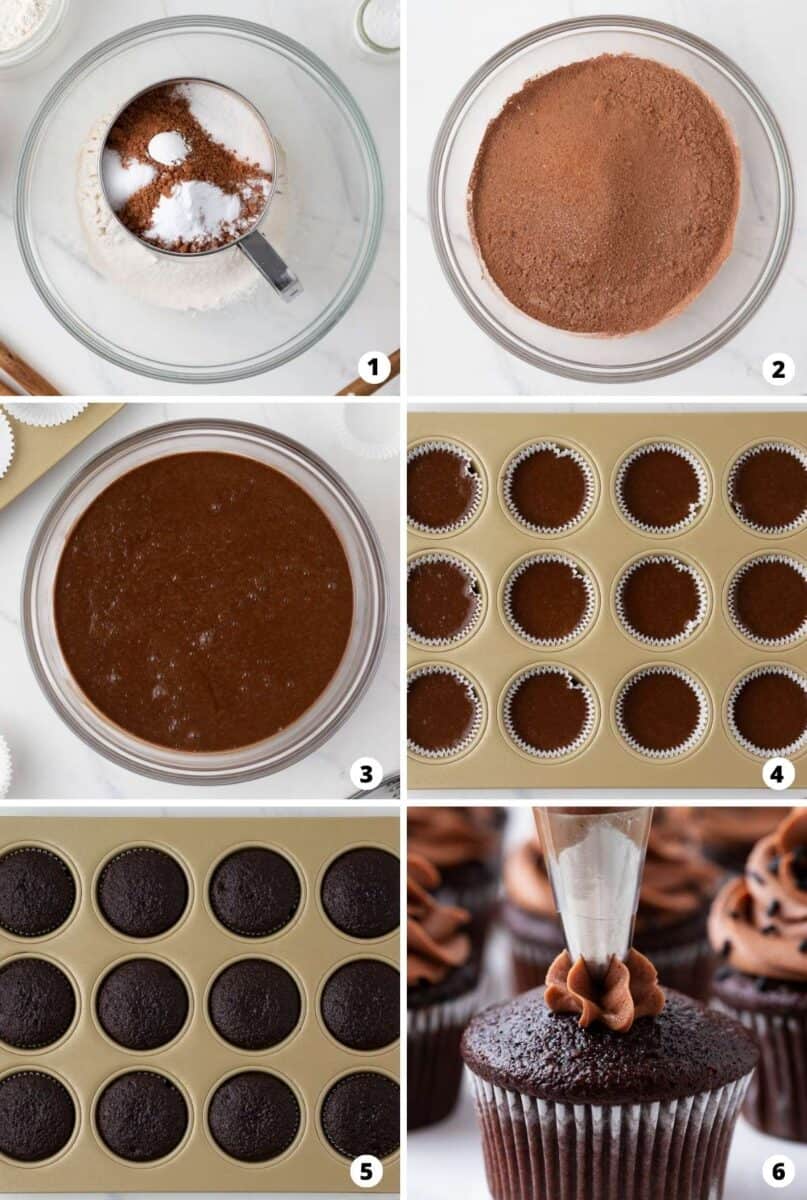 Add dry ingredients. Add the flour, cocoa, baking soda, and baking powder to a large bowl, sifting out any lumps. Then add the sugar. These simple instructions don't even require the use of a standing mixer, but by all means, use it if you'd like.
Add wet ingredients. Add the boiling water, buttermilk, oil, eggs, and vanilla, and use a whisk to combine everything until smooth.
Bake. Fill the baking liners 2/3 full and bake on the center rack until a toothpick inserted in the middle comes out clean.
Frost. Wait until the cupcakes have cooled completely before frosting. Use a star tip and piping bag for something a little polished. If you're not about that, slather it on top with a spoon and it will still be the best chocolate cupcake recipe you've ever had!
Expert Tips
Start with room temperature ingredients. It will be so much easier to mix your cupcake batter if the eggs and buttermilk are at room temperature.
Use a cookie scoop. Divide your batter evenly among the cupcake liners by using a large cookie scoop. This helps with even baking but also that you don't have some much bigger or smaller than the others.
Test for doneness. You'll know your cupcakes from scratch are ready when the tops bounce back after you press them lightly with your finger. You can also insert a toothpick into the center of a cupcake and if it comes away clean, they're ready!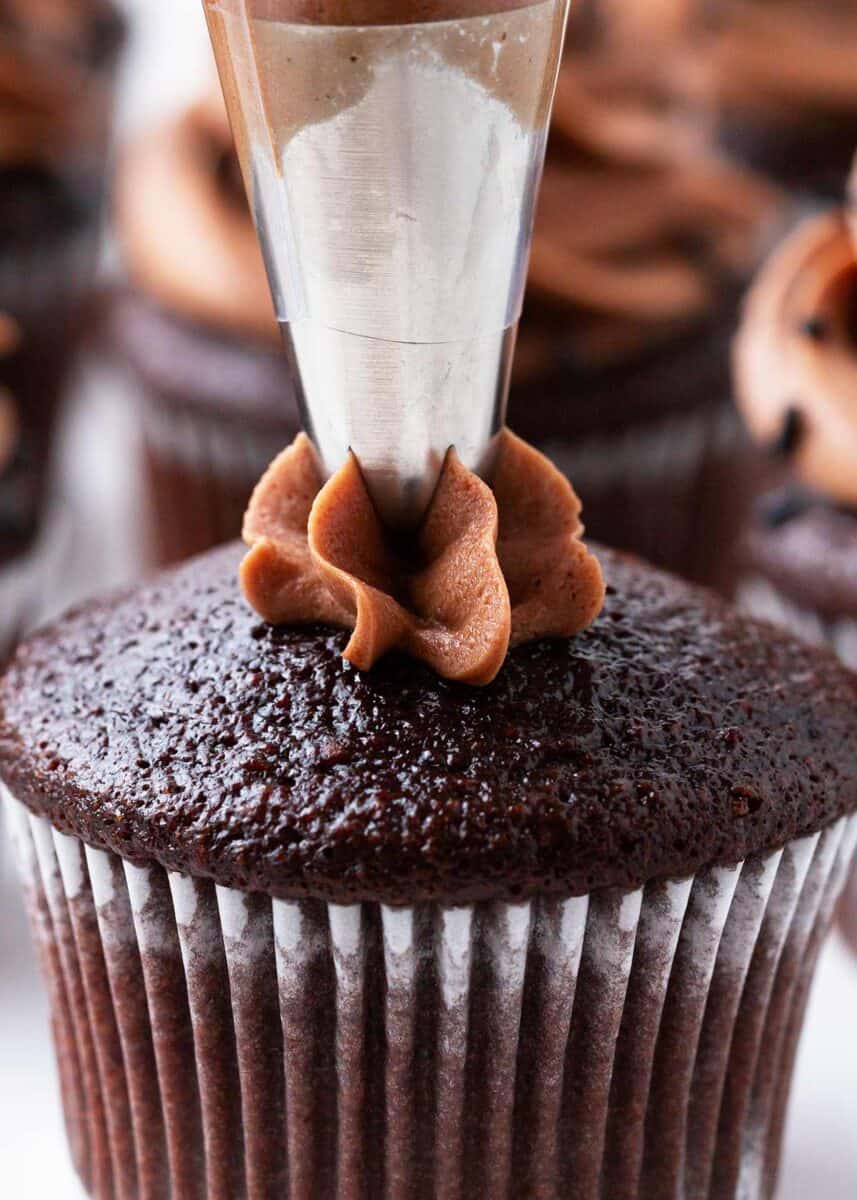 Why Did My Cupcakes Sink in the Middle?
When you pulled your chocolate cupcakes out of the oven, they looked great! Puffed up nice and tall. Then as they cooled, they started to collapse. What on earth happened?!
There are a few different reasons your homemade chocolate cupcakes may sink in the middle:
It could be that your baking powder has expired, so if you're in doubt, add a teaspoon to very hot water and see if it fizzes. If nothing happens, it's time to buy some more.
Another thing that causes your cupcakes to fall is if you overmix the batter. Incorporating too much air into it can make the batter rise in the oven but then deflate rapidly at room temperature. Kind of like a chocolate soufflé!
Finally, overfilling your cupcake liners can also result in sunken middles. We usually fill our liners only 2/3 full so that the batter has some room to rise and expand without overflowing over the top.
There is good news though! Chocolate cupcakes with sunken middles still taste delicious. So, if you decorate the tops with some buttercream frosting, no one will ever know!
Recipe FAQs
Can I use this recipe to make chocolate cake?
Yes, you can! The ingredients for my best chocolate cake are the same and I provide the baking instructions in that recipe. It makes a two-layer cake 9" in size or 9"x13" sheet cake.
What's the difference between natural and Dutch-process cocoa powder?
Usually, when recipes just call for 'cocoa' they are referring to natural cocoa powder.

Natural cocoa is acidic, so it works well in recipes that also contain baking soda, as it acts as a base and neutralizes the acid naturally found in cocoa.

Dutch-processed cocoa, which has been alkalized, is great in recipes that call for baking powder because the two balance each other out.

Typically, the cocoa powder you find in the grocery store is natural and it's what we recommend using in this recipe.
Why are my chocolate cupcakes from scratch dry?
Too much flour in your batter will cause dry cupcakes. Make sure you always properly measure flour! Accurate measuring is so important in baking.
Can I substitute the hot water for coffee?
That should work. Coffee enhances the flavor of chocolate and can give it a more complex, rich taste. Replace equal amounts of hot coffee with the water. Use decaf if needed.
Storage Instructions
Leftover unfrosted cupcakes can be stored in an airtight container covered for up to 3 days. You want to use a container that is deep enough for the cupcakes to fit into without the tops touching the lids. The tops of the cupcakes naturally get a bit sticky as they sit, so you might accidentally tear off the top when removing the lid if the two are touching. You can also freeze them unfrosted and frost at a later date.
Frosted chocolate cupcakes can be stored at room temperature in an airtight container for up to 3 days.
Freezing instructions: These chocolate cupcakes from scratch freeze beautifully so you can whip up a batch and store them for up to 3 months in your freezer. For the best results, freeze the cupcakes before frosting in an airtight container first, and then once they're frozen, wrap them individually with plastic wrap for added protection.
To thaw your cupcakes, remove the plastic wrap bring the cupcakes to room temperature before decorating and serving.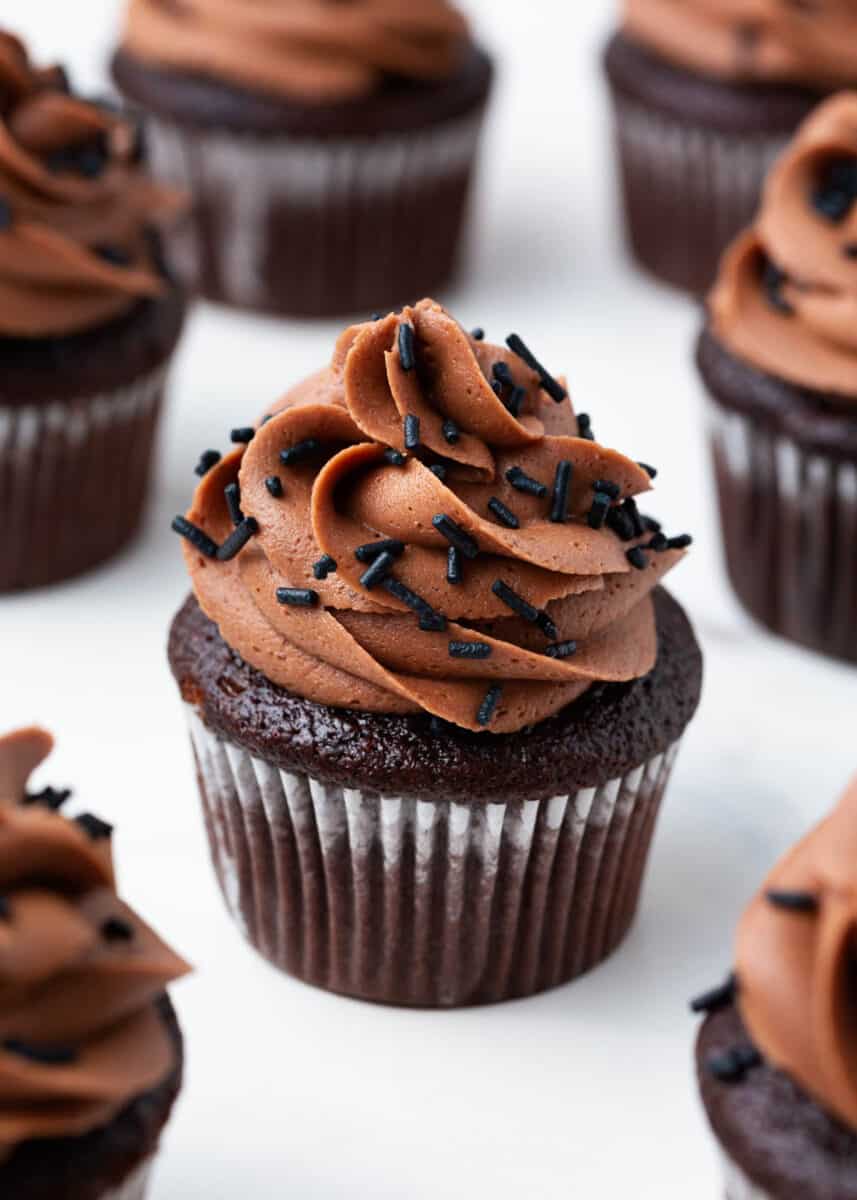 HUNGRY FOR MORE? Subscribe to my newsletter and follow on Facebook, Pinterest and Instagram for all the newest recipes!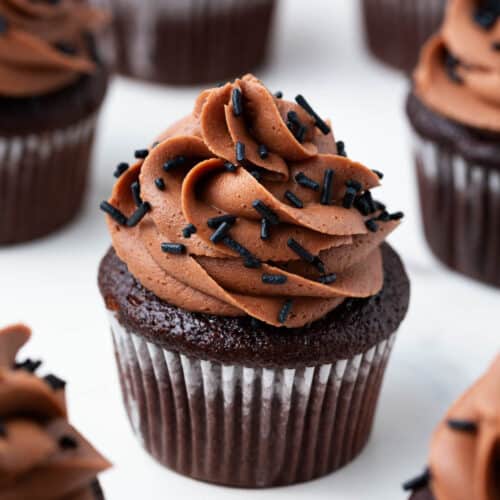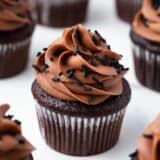 Chocolate Cupcakes From Scratch
Chocolate lovers will go crazy for these amazing chocolate cupcakes from scratch! They are unbelievably rich and moist, and the best part is they are super easy to make. Baked and frosted in under an hour, this is a recipe you'll want to keep!
Ingredients
2 cups (260 grams) all-purpose flour
2 cups (410 grams) granulated sugar
¾ cup (65 grams) natural, unsweetened cocoa powder
2 teaspoons baking soda
½ teaspoon baking powder
1 teaspoon fine sea salt
1 cup (225 grams) hot water
1 cup (245 grams) buttermilk , at room temperature
½ cup (100 grams) vegetable or canola oil
2 large large eggs , at room temperature
2 teaspoons vanilla extract
Chocolate or vanilla buttercream frosting , to frost (see notes)
Instructions
Preheat the oven to 350°F. Center an oven rack in the middle position. Line 2 muffin pans with cupcake liners

In a large bowl, sift the flour, sugar, cocoa, baking soda, baking powder and salt.

Using a handheld mixer or whisk, mix in the water, buttermilk, oil, eggs, and vanilla until well combined. Use a large cookie scoop to divide the batter evenly between the cups.

Bake 18-22 minutes, or until a toothpick inserted in the center comes out clean and the tops bounce back. Let cool on a cooling rack.

While the cupcakes are cooling prepare your desired frosting. Once completely cooled, frost the cupcakes as desired (I prefer to use a 1M frosting tip).
---
Notes
Storing: Leftover cupcakes can be stored in a covered in the for up to 3 days. Make Ahead & Freezing: Cover each individually in plastic wrap and freeze up to 3 months. The chocolate buttercream can be made 2 to 3 days in advance (cover and keep in the fridge). Simply thaw overnight in the refrigerator and bring to room temperature to serve. Espresso Powder/Coffee: For a more intense chocolate flavor, feel free to add 1 to 2 teaspoons espresso powder. Cocoa Powder: Natural cocoa powder in the cake will give you the rise and texture that makes this cake so good. Dutch-process cocoa will give you a much denser cupcake.
Nutrition
Serving: 1g | Calories: 207kcal | Carbohydrates: 37g | Protein: 3g | Fat: 6g | Saturated Fat: 1g | Polyunsaturated Fat: 3g | Monounsaturated Fat: 1g | Trans Fat: 0.03g | Cholesterol: 17mg | Sodium: 206mg | Potassium: 82mg | Fiber: 2g | Sugar: 20g | Vitamin A: 39IU | Calcium: 21mg | Iron: 1mg
Nutrition provided is an estimate. It will vary based on specific ingredients used.
Did you make this recipe? Don't forget to give it a star rating below!