Fresh, juicy raspberries give this raspberry buttercream frosting a sweet and bright flavor that's completely irresistible! It tastes amazing on cupcakes, cakes, cookies and more.
Other frosting recipes you will love include vanilla frosting, strawberry cream cheese frosting and chocolate buttercream frosting!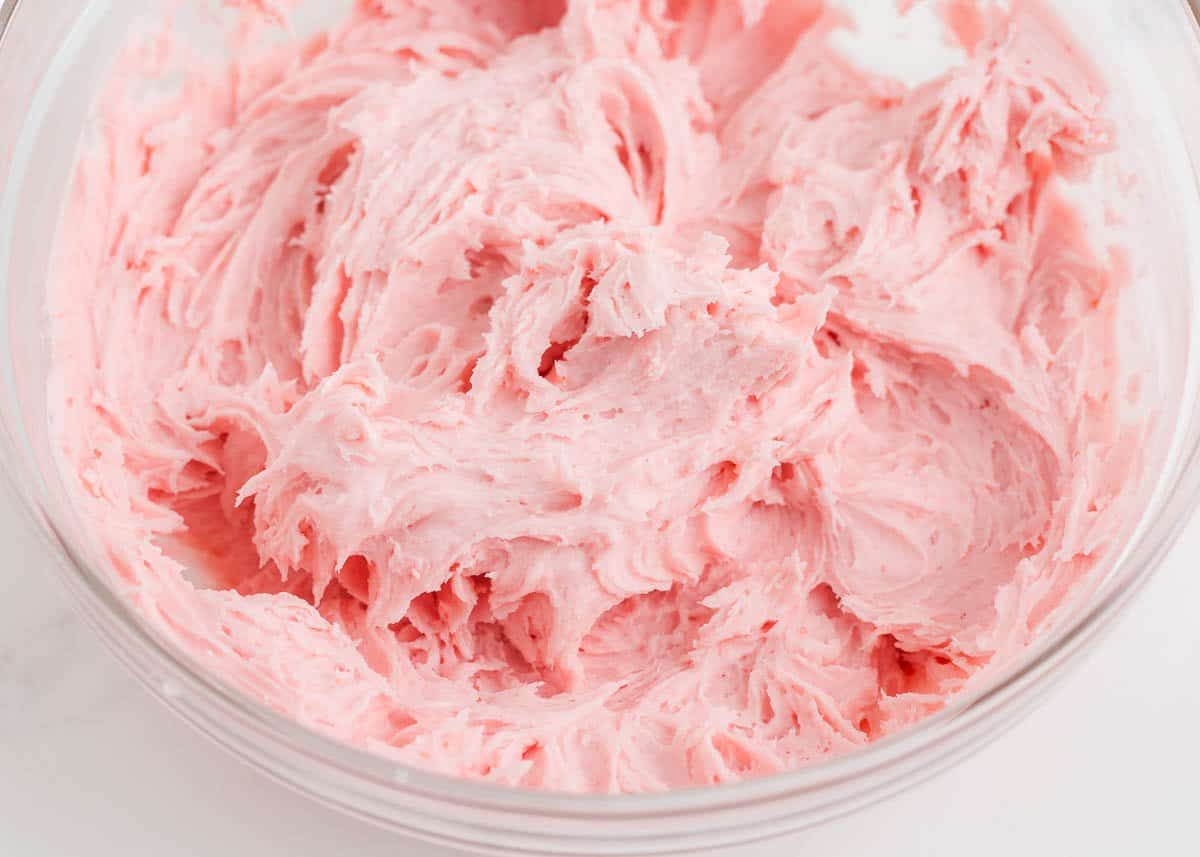 Best Raspberry Buttercream Frosting
With Spring in full effect, I've been itching to make a fresh berry dessert. Raspberries are one of my absolute favorite fruits, so I decided to make these delicious lemon raspberry cupcakes. And that's how this sweet and creamy raspberry buttercream was born.
It's a fun twist on the classic buttercream and has a light, sweet and tart flavor from the addition of the fresh raspberries. The pretty pink tone makes it perfect for decorating on cupcakes, cakes, cookies and more. It's so festive and bright!
This raspberry frosting recipe is the perfect way to showcase your fresh raspberries and will become a tried and true summer berry recipe that you reach for all season long. It's simple to make in just 10 minutes and turns out perfect every time!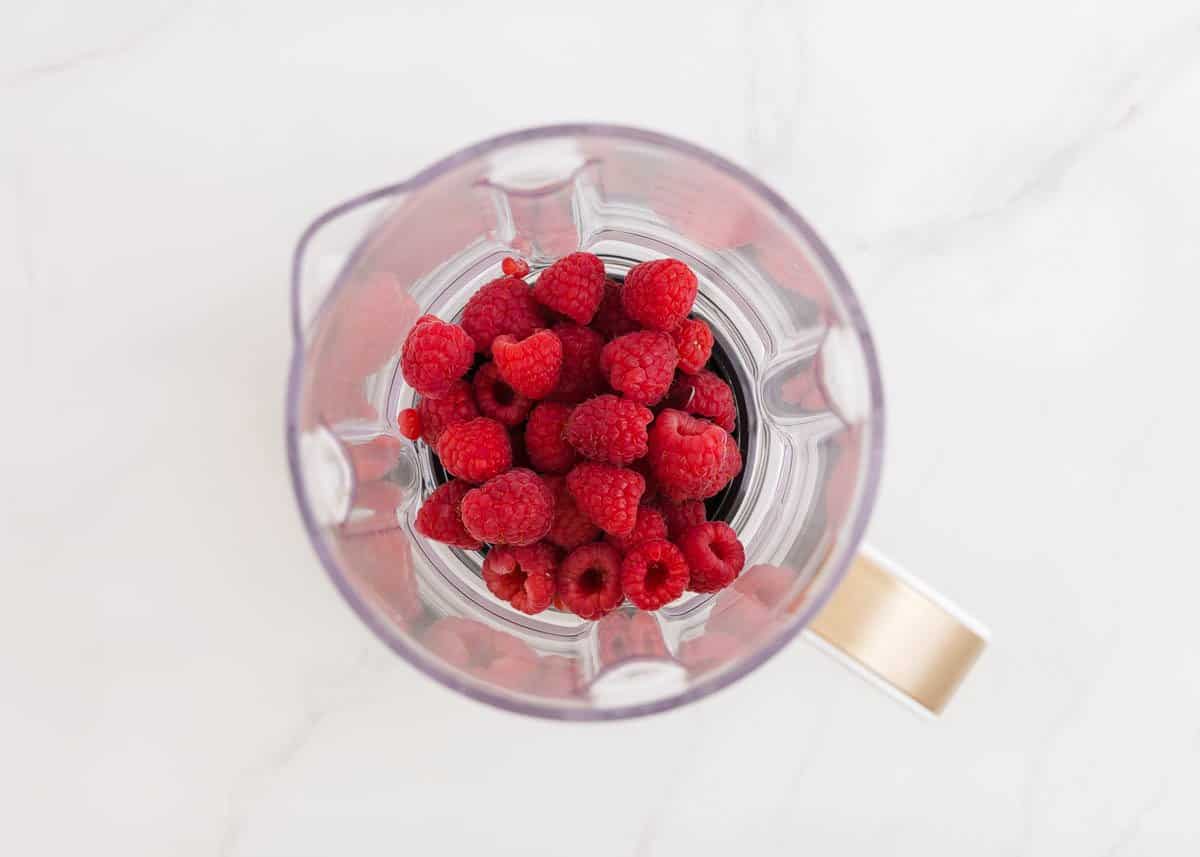 Ingredients Needed
Butter: The best way to control the amount of salt in your raspberry buttercream is by using unsalted butter. If you only have salted butter, simply leave out the additional salt in this recipe.
Powdered sugar: This adds a sweet taste and thick texture. You can adjust the amount used to reach your desired consistency.
Vanilla: Pure vanilla extract will add the best flavor.
Raspberries: Fresh, juicy raspberries are the star of this recipe. Make sure you choose fresh berries that have a sweet smell and a vibrant red tone.
Salt: A pinch of salt is the perfect finishing touch for this frosting. If using salted butter, you can omit this ingredient so that it doesn't take too salty.
How to Make Raspberry Buttercream
As with most frostings, this recipe is simple to make. Blend and strain the raspberries first. Then use an electric mixer or stand mixer to beat the softened butter, vanilla and salt until light and fluffy. Slowly mix in the powdered sugar, reserving about 1/2 cup to add in later. Mix in the raspberry puree, then slowly add the remaining 1/2 cup powdered sugar until creamy and thick.
Adjusting the Consistency
The consistency of the frosting will depend on the type of dessert you're serving. In order to frost the perfect cupcakes, it should be creamy, thick and able to hold a point. If it's still seems too thin, add more powdered sugar a little bit at a time until it's just right.
For cookies and cake, the frosting can be a little more spreadable (especially if using a spatula). If it seems too thick, mix in a little milk or heavy cream to thin it out.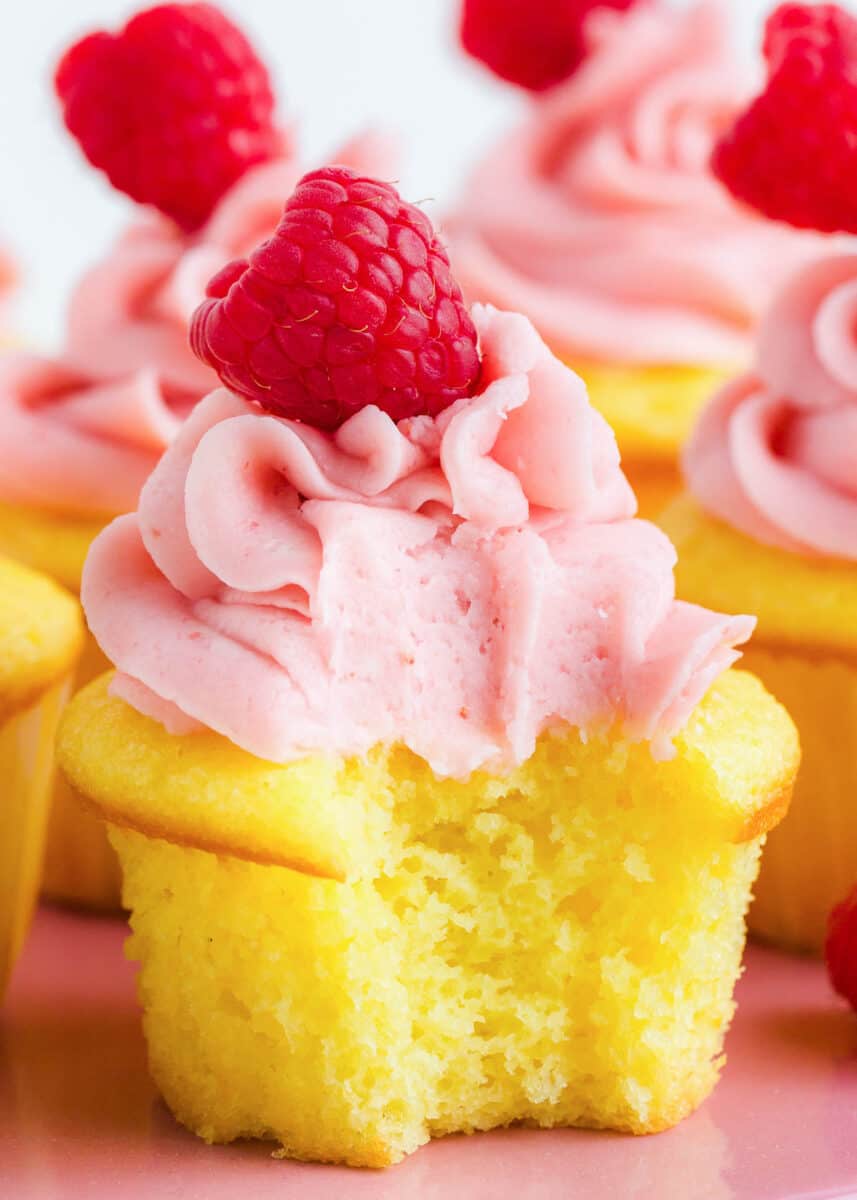 Tips + Variations
Strain the raspberries. Once the raspberries have been blended, it's important to strain the puree to remove any seeds. They can make the texture of your frosting grainy, which is never a good thing!
Use softened butter. Make sure the butter has been softened to room temperature to give it a smooth and creamy consistency. Cold butter can make the frosting lumpy. Learn how to soften butter quickly before getting started.
Berries. This recipe is easy to customize, meaning you can swap the raspberries for fresh strawberries to make strawberry buttercream. Both versions are delicious!
Cream cheese. Feel free to make a cream cheese frosting to give this recipe a tangier flavor. Follow similar instructions to my strawberry cream cheese frosting, however use raspberry puree instead.
How to Store Raspberry Buttercream
Because fresh raspberries are used in this recipe, I would recommend storing the frosting in the refrigerator to keep it fresh. Then right before serving, remove the buttercream from the fridge and let sit for a few minutes so that it softens back up. Then pipe and enjoy!
FAQs
Can I use freeze dried raspberries instead?
You may use freeze dried raspberries instead of fresh. Your frosting will likely be a bit more stiff because there won't be any excess moisture coming from the fresh fruit. If you find it's too stiff, add in a dash of milk or heavy cream.
Does raspberry buttercream need to be refrigerated?
Yes, because of the fresh raspberries, I'd recommend storing any leftover buttercream in the fridge so it stays fresh. Then let sit on the counter for a few minutes before using to soften up.
Can this frosting be frozen?
Sure! Store in a freezer bag in the freezer for up to 2 months. Let thaw in the fridge overnight when ready to enjoy. You may need to whip it in your electric mixer to smooth it out a bit more before frosting.
What should I add if my frosting is too thick?
Add a teaspoon more of raspberry puree and then mix again. Continue to add raspberry puree until desired consistency is reached.
What should I do if my frosting is too thin?
If it is warmer outside or in your house, your butter may have become too melted. First, I would refrigerate the frosting for about an hour to see if it will thicken on its own. If it is still to thin, add 1/2 cup powdered sugar at a time until desired consistency.
Ways to Use Raspberry Frosting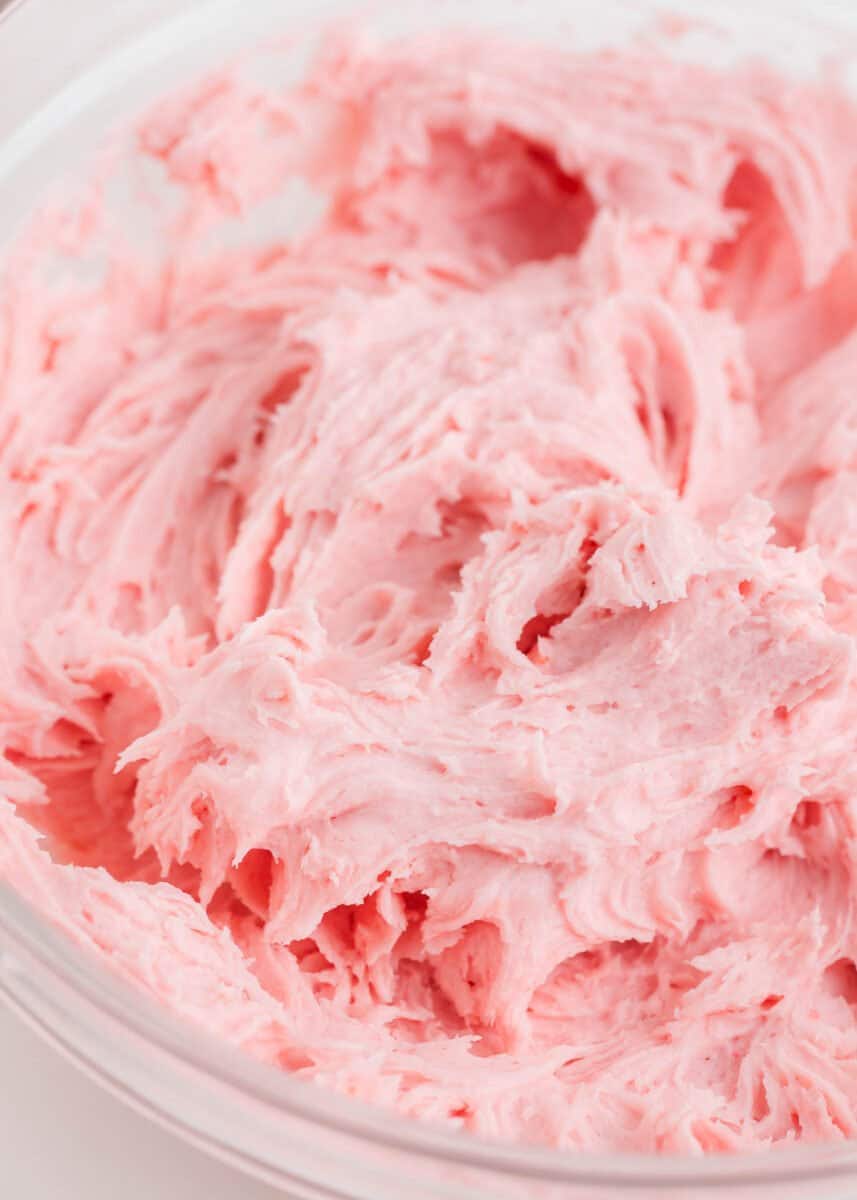 HUNGRY FOR MORE? Subscribe to my newsletter and follow on Facebook, Pinterest and Instagram for all the newest recipes!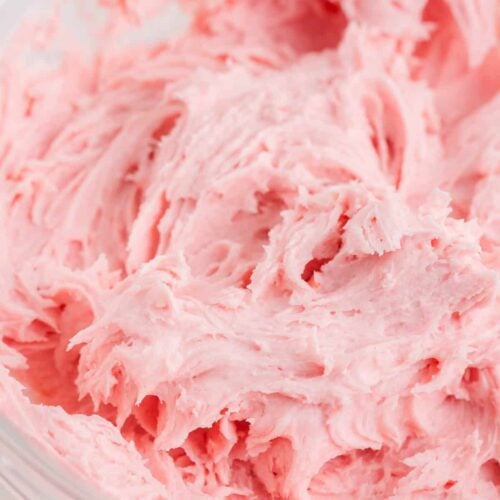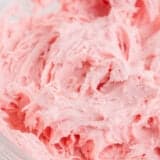 Raspberry Buttercream
Fresh, juicy raspberries give this raspberry buttercream frosting a sweet and bright flavor that's completely irresistible! It tastes amazing on cupcakes, cakes, cookies and more.
Ingredients
1 cup unsalted butter , softened
4 ½ cups powdered sugar (reserve 1/2 cup for the end)
½ teaspoon vanilla extract
1 cup fresh raspberries
pinch of salt
Instructions
Place the raspberries in a blender or food processor. Puree the raspberries.

Then pour into a sieve or fine mesh strainer. Press the juice out with a spatula. You should have about 1/2 cup puree.

In a large bowl, beat the butter, vanilla and a pinch of salt with an electric mixer until nice and fluffy. Then slowly add in the powdered sugar, reserving 1/2 cup. Add in the raspberry puree and mix until combined. Then slowly add the last 1/2 cup powdered sugar until you reach your desired consistency.

Frost cupcakes or cake as desired.
---
Nutrition
Calories: 190kcal | Carbohydrates: 28g | Protein: 1g | Fat: 9g | Saturated Fat: 6g | Polyunsaturated Fat: 1g | Monounsaturated Fat: 2g | Trans Fat: 1g | Cholesterol: 24mg | Sodium: 2mg | Potassium: 12mg | Fiber: 1g | Sugar: 27g | Vitamin A: 286IU | Vitamin C: 2mg | Calcium: 5mg | Iron: 1mg
Nutrition provided is an estimate. It will vary based on specific ingredients used.
Did you make this recipe? Don't forget to give it a star rating below!