Jump to Recipe⌄
Baked Chicken Burritos
Baked Chicken Burritos… an easy and delicious meal to make in less than 30 minutes. I love to top my burrito with tomatoes, avocado or guacamole, cilantro and olives.
How is it already Thanksgiving tomorrow? I am SO so excited for the traditional Thanksgiving meal (pass over all the mashed potatoes and rolls please), but tonight we're doing Mexican. We have Mexican food at least twice a week. It is our favorite! These baked chicken burritos are on the menu tonight, so I thought I'd share them with you. They are a mix between a burrito, taquito and chimichanga. However they aren't deep friend, so they are a bit lighter and healthier which is always a plus.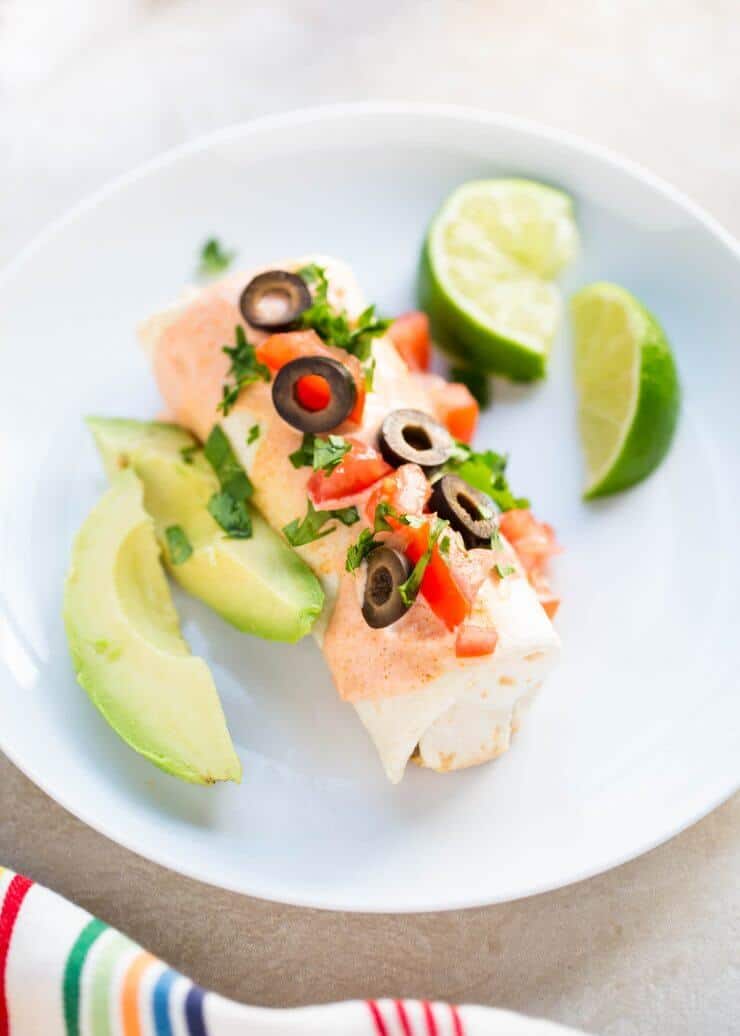 Why I love these Baked Chicken Burritos…
What I love about these is you can customize them with your favorite toppings. You can bake them with out without the sauce on top. You can always add extra cheese on top too and turn them into more of an enchilada. So easy and customizable to your own taste. I love to top my burrito with tomatoes, avocado or guacamole, cilantro and olives. A squeeze of fresh lime juice always add a nice twist too.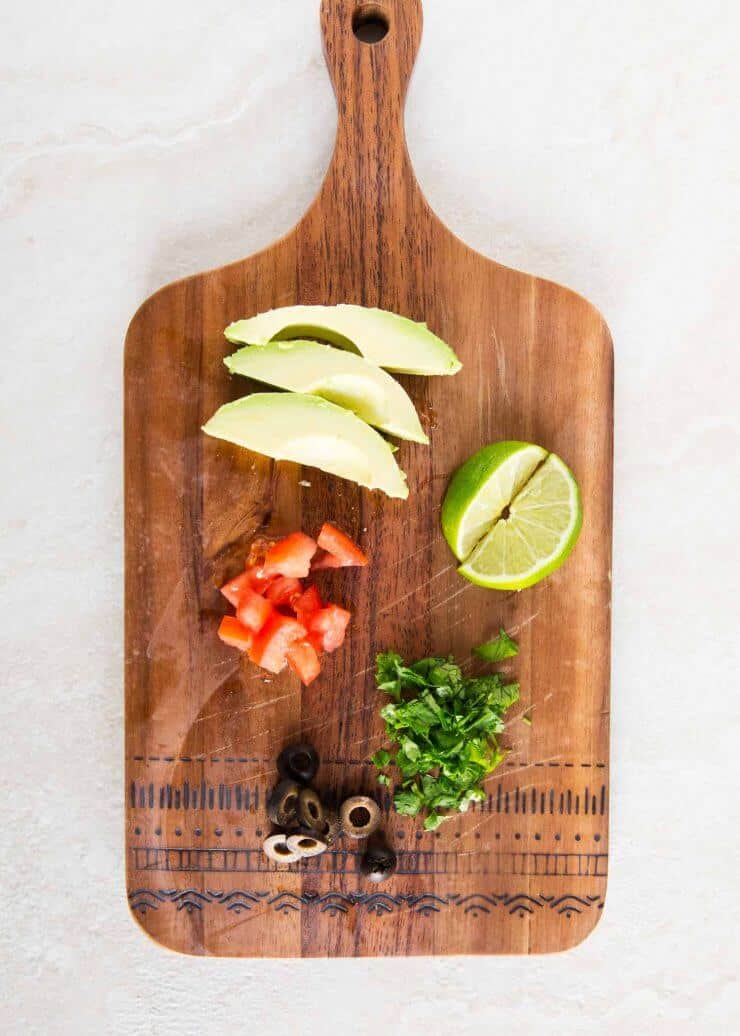 For the base I started out with flour tortillas. Then I mixed in chicken, onion, green chilies, cheese and my favorite Old El Paso red enchilada sauce.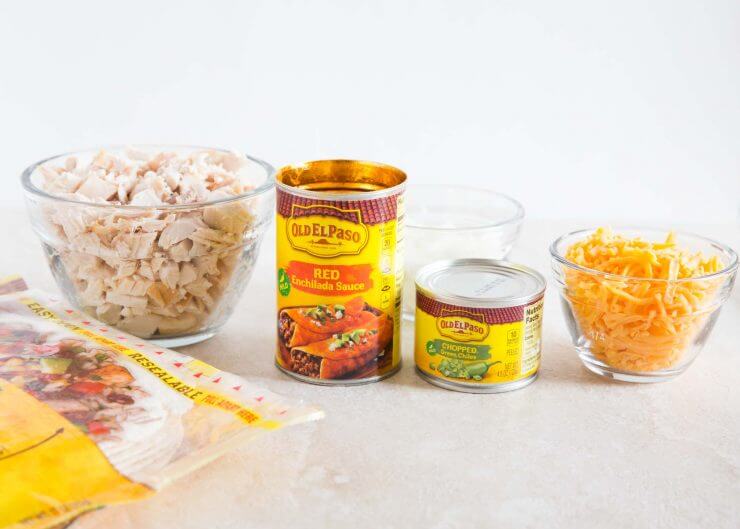 One the mixture is nice and hot, you'll roll it up inside your tortillas. Then I like to brush olive oil on top and bake them until just crisp.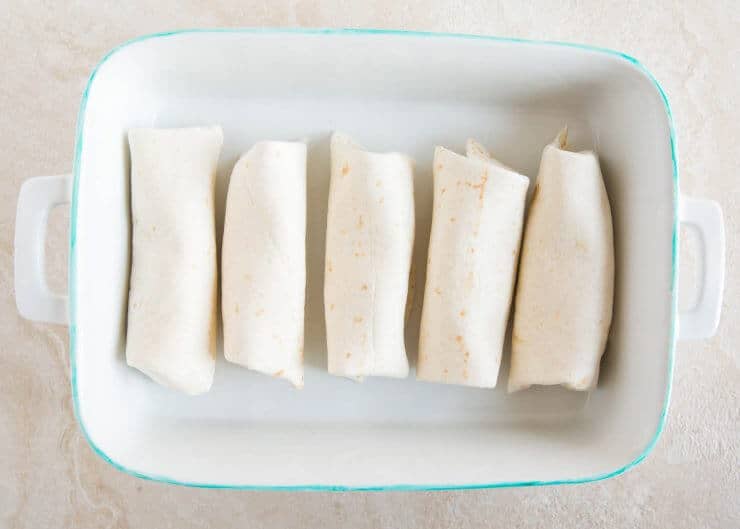 Once they're done, add the red cream sauce if you'd like and all your favorite toppings!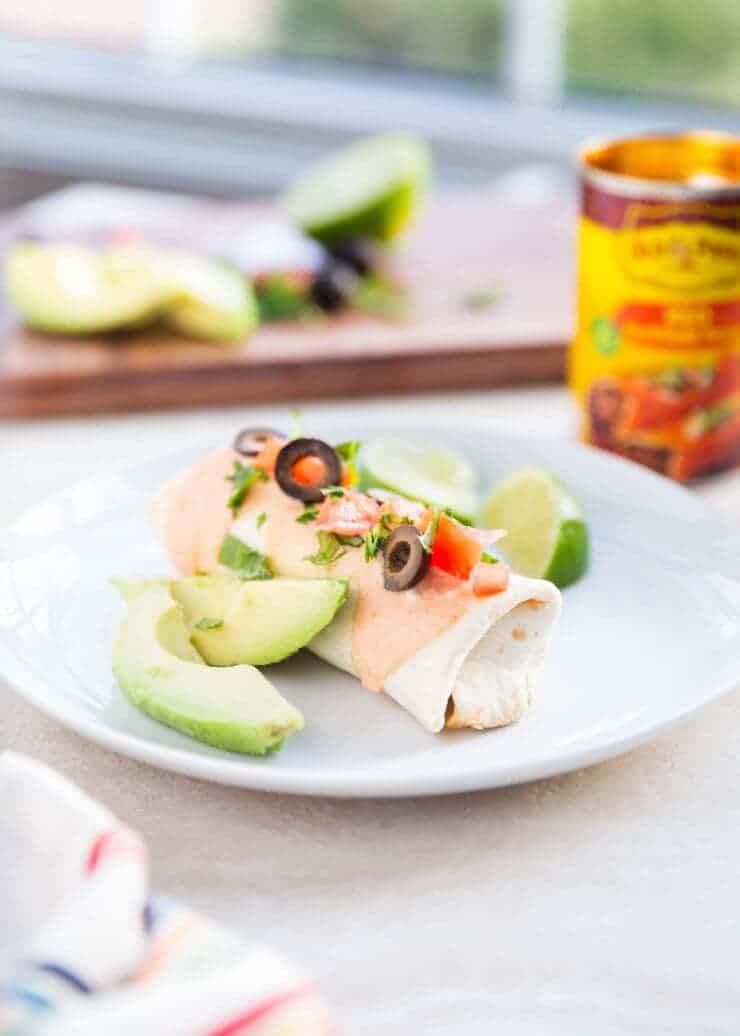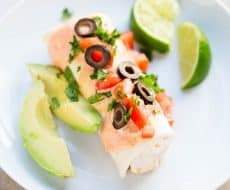 Baked Chicken Burritos
Ingredients:
6 Old El Paso flour tortillas for burritos
2 Tablespoons olive oil or nonstick cooking spray
3 cups cooked chicken
1 Tablespoon butter
1/3 cup chopped onion
1 (4-ounce) can Old El Paso chopped green chiles
1 (10-ounce) can Old El Paso red enchilada sauce
1 cup shredded cheddar cheese
1/4 cup sour cream
Optional toppings: Cilantro, sliced olives, diced tomatoes, sliced avocado or guacamole
Directions:
Preheat the oven to 375F. Brush 1 Tablespoon of olive oil onto the bottom of the pan and set aside. You may also use nonstick cooking spray.
Heat the butter in a frying pan over medium heat. Add the onion and green chiles and cook for 2 minutes. Stir in the chicken, 1/4 cup red enchilada sauce and cheese and cook until it is melted.
Place about 1/2 cup of the mixture into each burrito and roll up. Place onto the baking sheet and brush olive on top of the burritos. Cook for 10 minutes, flip the burritos and cook an additional 7- 10 minutes, or until just golden brown.
Add 1/2 cup enchilada sauce to a small pan and cook over medium-low heat. Stir in the sour cream and cook until warm. Top on burritos before or after baking if desired.
Enjoy topped with your favorite toppings such as cilantro, sliced olives, diced tomatoes, sliced avocado or guacamole.
You may also mix in 1 cup rice and 1 cup black beans.
All images and text ©

Enjoy!
This post was brought to you by Old El Paso. All opinions are 100% my own. Find out more about their products here or connect with them on Facebook.