Crispy flour tortillas filled with shredded honey lime chicken, cilantro lime rice, pinto beans and melted cheese. Then topped with a creamy salsa verde sauce.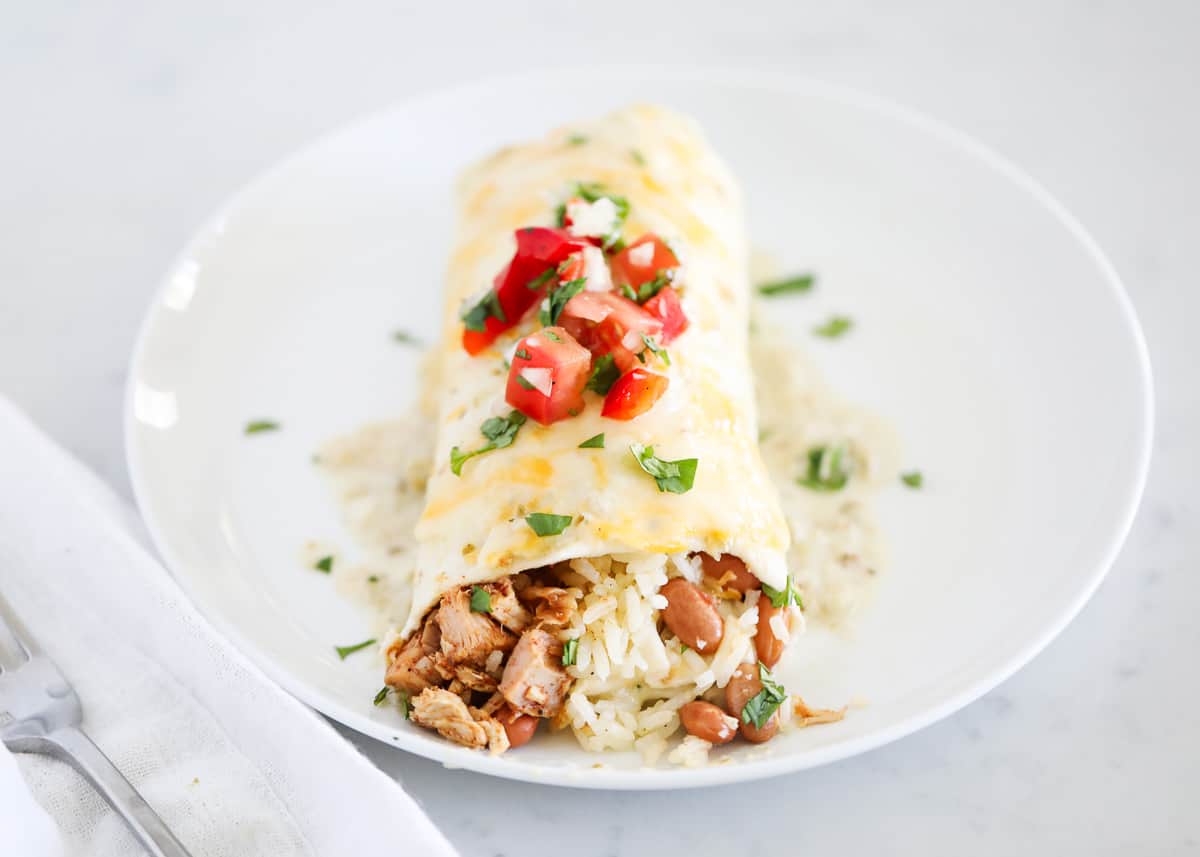 Baked Chicken Burritos
These Mexican-inspired chicken burritos combine tender seasoned chicken with hearty fillings like beans, rice and cheese all wrapped in a tortilla! It's then baked in the oven with a creamy sauce for a delicious, satisfying and comforting meal!
Whenever I think of classic Mexican dishes, chicken burritos are one of the first things that come to mind although a bean burrito, taquito and enchilada are close seconds. Instead of only enjoying them at your favorite Mexican restaurant, you can easily make them at home too. This recipe isn't your average "throw-everything-in-a-tortilla" and call it a burrito. Purposeful flavors and textures make them next level delicious.
These baked burritos have everything you love about Mexican food…a soft flour tortilla, seasoned shredded chicken, cilantro lime rice, pinto beans and lots of gooey melted cheese. Not to mention a creamy salsa verde sauce on top. Instead of rolling them up and serving immediately, they're baked in the oven for about 20 to 30 minutes. This easy extra step creates a crispy tortilla and a nice and bubbly cheesy top. It takes the burritos from ordinary to extraordinary!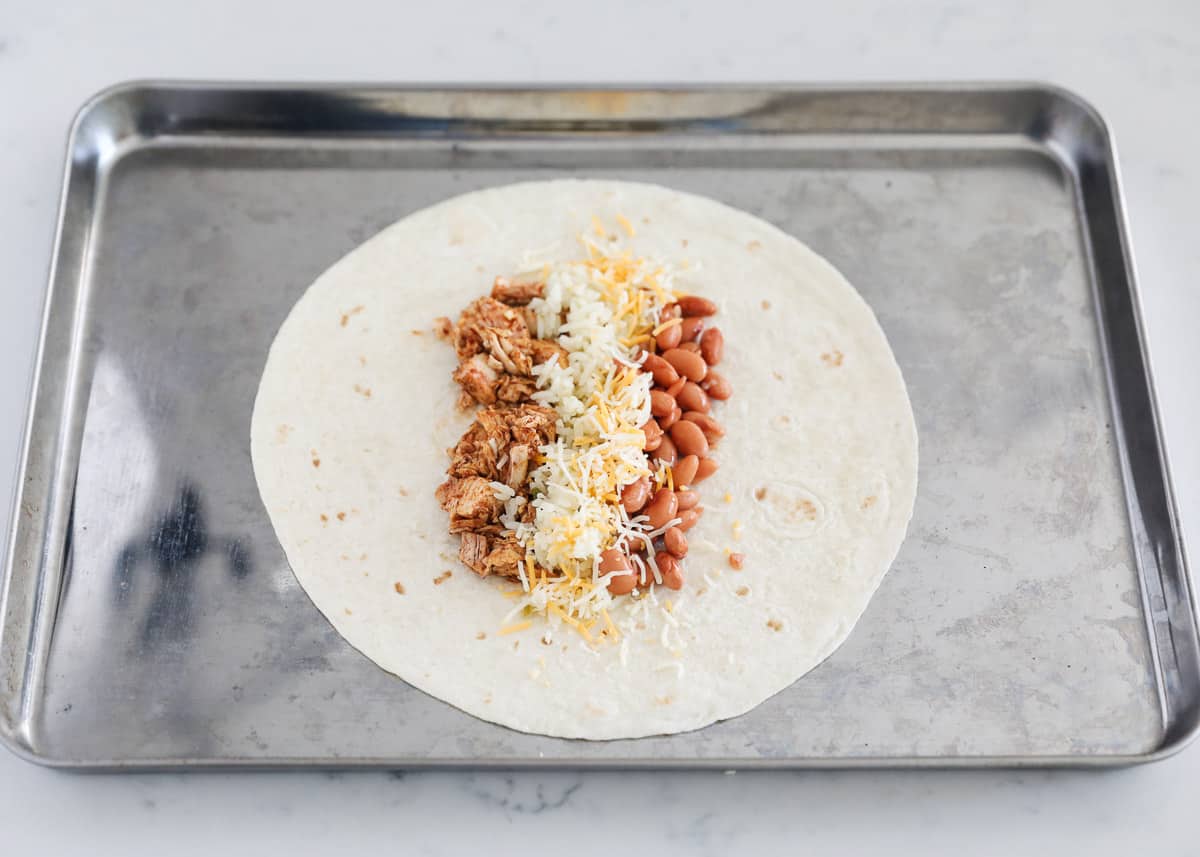 Best Way to Fold a Burrito
There really is an art to folding the perfect burrito. You want to add just enough filling so that it's hearty and delicious. However you don't want to overfill the burrito or else the tortilla may break or the filling may fall out. Then roll up the sides tightly so that everything stays intact.
When folding a burrito, keep the following in mind:
Spoon the filling in the center of the burrito (lengthwise). You don't want the filling to go all the way to the edges and there should be some empty space on each side.
Start with rice first, then add a scoop of beans, then the meat on top. I like to add about 1/4 cup rice and chicken. Using a measuring cup is helpful so that you don't get heavy handed. :) Then sprinkle on any extra small toppings like shredded cheese.
Lastly, fold up both ends of the tortilla and tightly roll the burrito so that it holds it's shape. If you're baking the burritos in the oven, make sure to place them seam side down.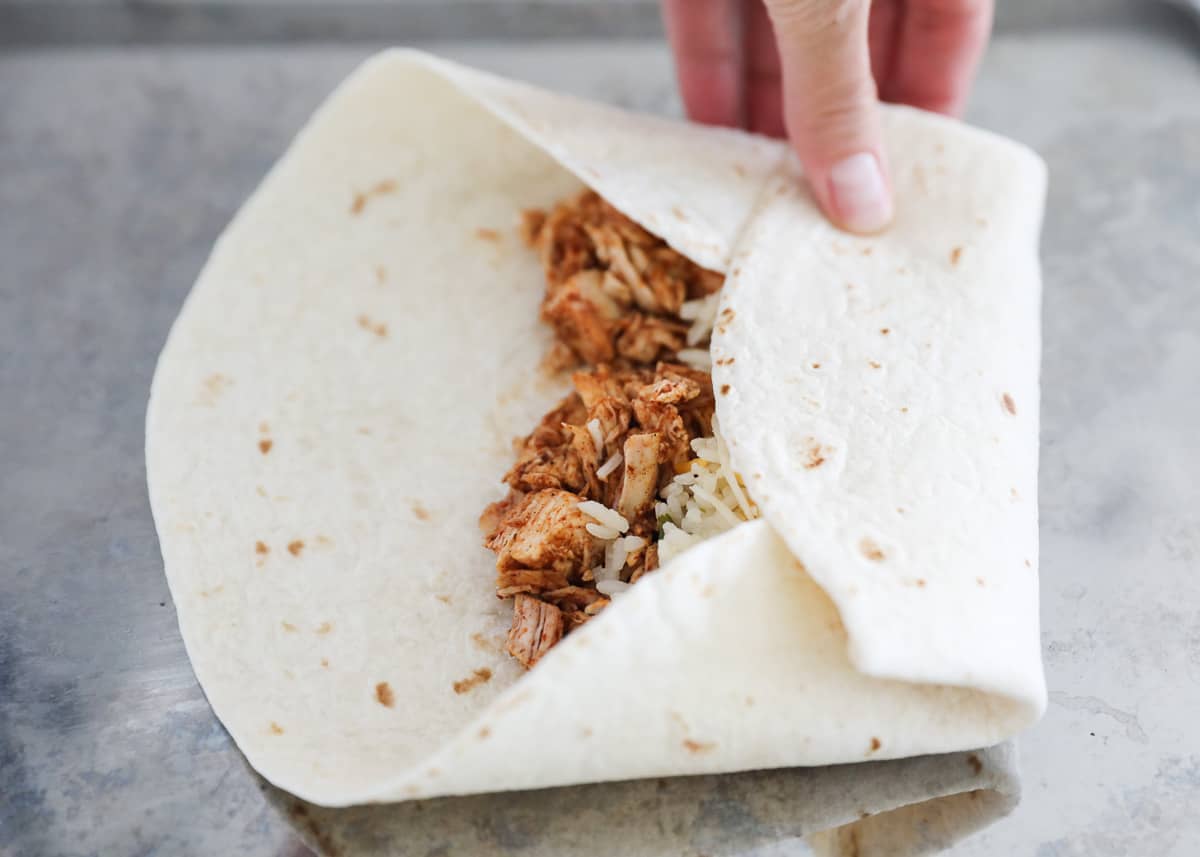 Tips + Variations
Warm tortillas before filling. To make the tortillas more pliable when folding, it helps to warm the tortillas up in the microwave for about 10 to 15 seconds. They're more stretchy when they're warm and won't break as easy.
Shortcuts. If you're short on time, use rotisserie chicken instead of making your own shredded chicken. Or use microwave white rice instead of preparing homemade cilantro lime rice.
Substitutions. Use gluten free or whole wheat tortillas instead of flour. If you want to use corn, I would recommend just filling them like a taco. You can also substitute the pinto beans with black beans or even Mexican refried beans.
Spice: If you like heat, mix in extra chili powder or use a hot salsa verde.
Sauce. The sauce adds another layer of flavor and keeps the tortilla from getting overly crispy. You can use half and half instead of heavy cream, or omit the cream all together and just add plain salsa verde on top. You can also make this recipe without any sauce, similar to a chicken taquito.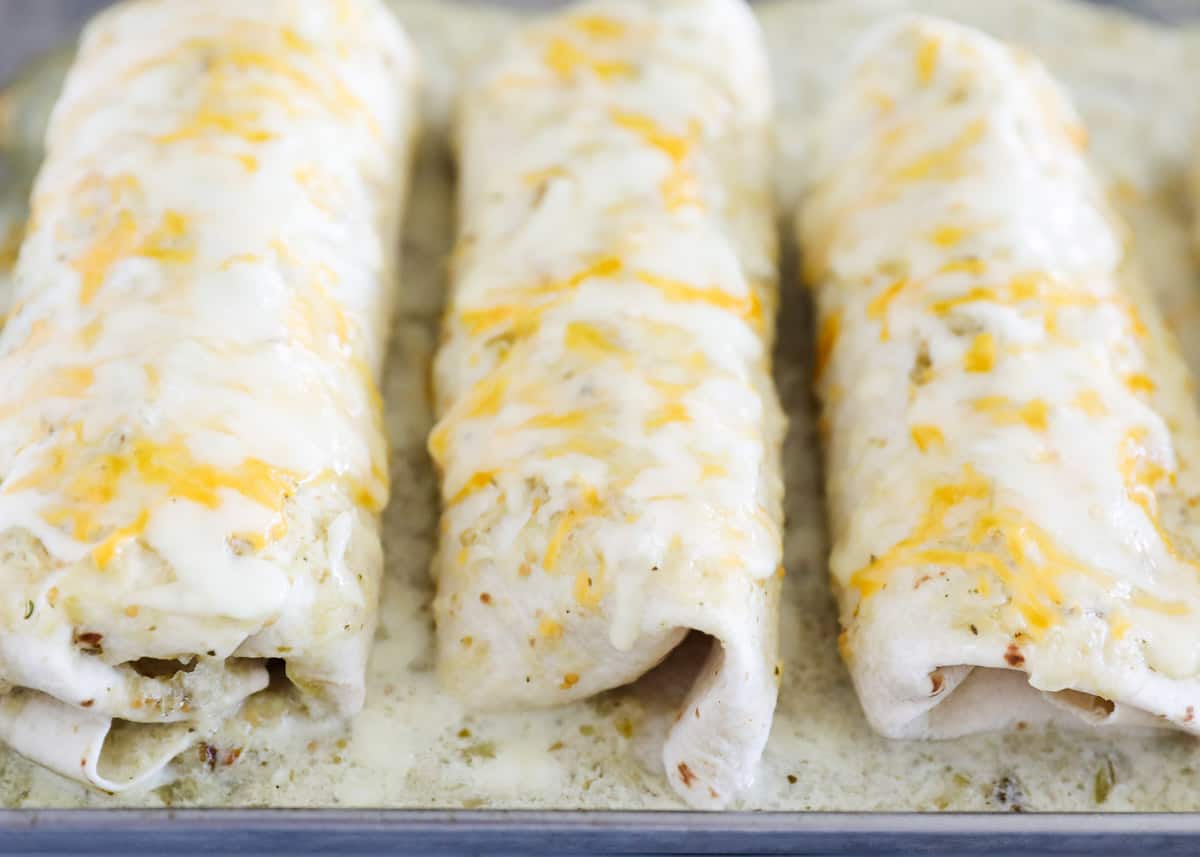 Favorite Toppings
As soon as you take the chicken burritos out of the oven, the flavor party doesn't have to end there. Pile them high with more of your favorite toppings. Below are some delicious ideas to choose from.
Fresh cilantro
Sliced olives
An extra squeeze of lime
Sour cream
Freezing + Reheating
Another perk about chicken burritos are that they make a great freezer meal. You can easily double the recipe and freeze half for an easy lunch or dinner. Follow the easy instructions below to get started.
Fill and fold the burrito as directed. Do not add the cheese and sauce on top.
Instead of baking, individually wrap each burrito tightly in foil or plastic wrap.
Store in a freezer container or bag.
When ready to enjoy, place in the fridge to thaw overnight.
Then bake as directed in the instructions below.
FAQs
Can I use other types of chicken?
Sure! If a shredded chicken isn't your favorite, try cooked chicken breasts that have been diced small. You can also use chicken thighs, ground chicken or even ground turkey. If you are not feeling chicken, try beef, pork or even a vegetarian substitute. Just keep in mind that whatever you use will need to be cooked before adding it to the burrito.
What does a chicken burrito contain?
For this recipe, I used rotisserie chicken, pinto beans, cilantro lime rice, seasonings and shredded cheese. What makes this a perfect grab and go meal is you can fill it how you like!
How to serve chicken burritos?
Burritos taste amazing with sour cream and salsa on the side. You can even add some nacho cheese if you would like to jazz up your lunch or dinner routine.
Can I make these in advance?
These chicken burritos are great for meal prep and you can freeze them up to 4 months. It's best to freeze them without the sauce and cheese. See the recipe card for full instructions.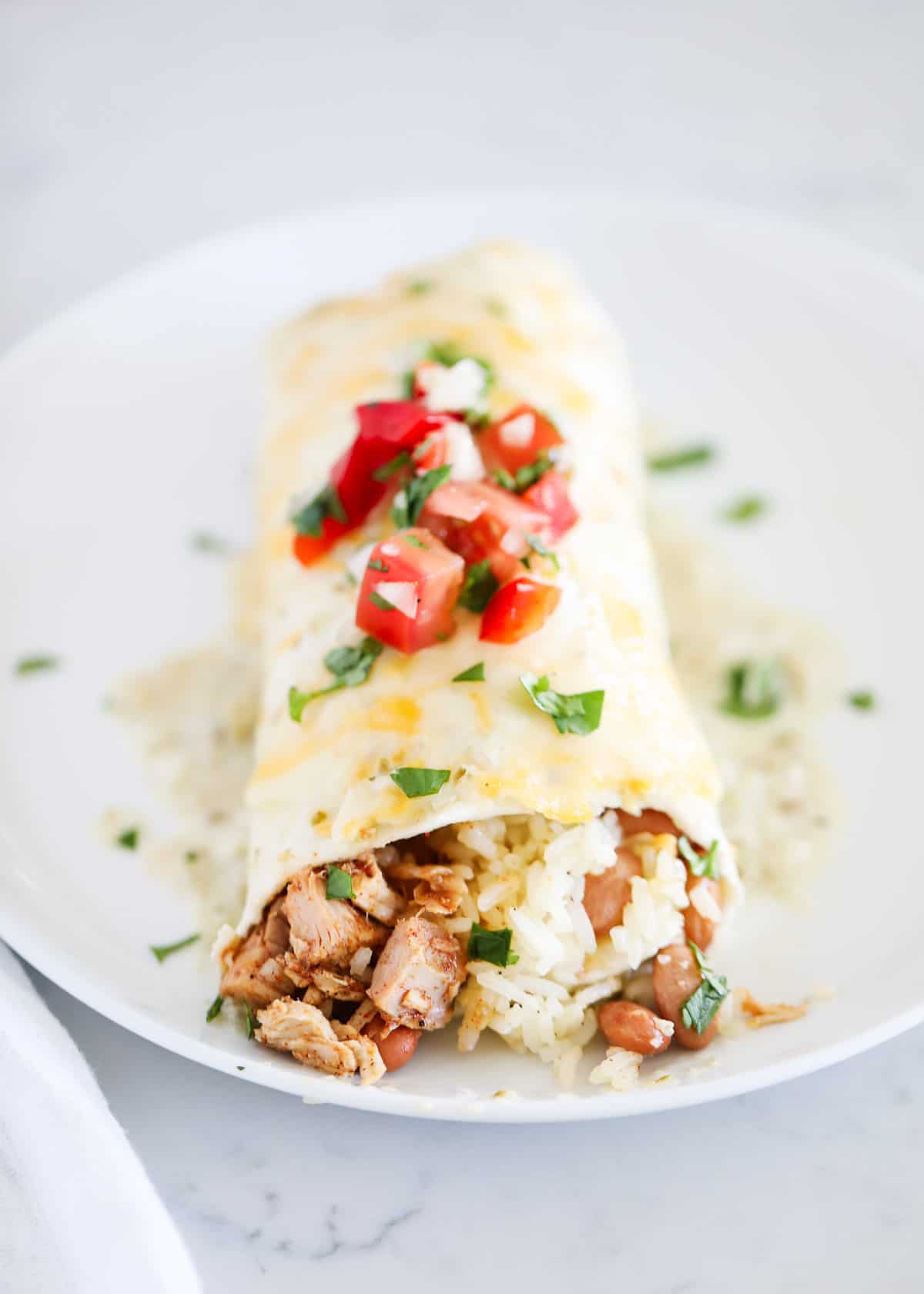 This recipe was adapted from my friend Carrian at Oh Sweet Basil new book Raised In The Kitchen. Her book just published and there are so many delicious recipes I'm dying to try. The book is full of easy recipes like this one. Make sure to check it out!
HUNGRY FOR MORE? Subscribe to my newsletter and follow on Facebook, Pinterest and Instagram for all the newest recipes!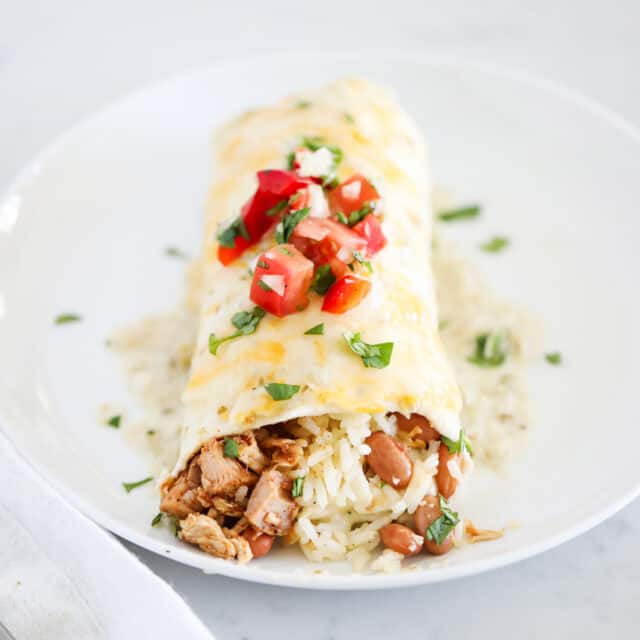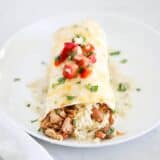 Chicken Burritos
Crispy flour tortillas filled with shredded honey lime chicken, cilantro lime rice, pinto beans and melted cheese. Then topped with a creamy salsa verde sauce. This chicken burrito recipe is an easy authentic Mexican dish that you'll reach for again and again.
Ingredients
8 burrito-sized flour tortillas
3 cups rotisserie chicken , shredded
2 Tablespoons lime juice
2 Tablespoons honey
4 cloves garlic , minced
2-3 teaspoons chili powder
2 cups cilantro lime rice , or instant rice
15 ounces pinto beans
1 to 2 cups shredded cheese , I use colby jack or mozzarella
Sauce
16 ounce salsa verde , I used Herdez
½ cup heavy cream , more as desired
Optional toppings: Pico de gallo, cilantro, sliced olives, sliced avocado or guacamole
Instructions
Preheat the oven to 325ºF. In a large bowl, whisk together the lime juice, honey, garlic and chili powder. Then add the shredded chicken.

In a medium bowl, whisk together the salsa verde and 1/2 cup heavy cream. Use more if you'd like it more creamy and less spicy.

Begin to fill the burritos by placing 1/4 cup rice down the middle of the tortillas, followed by a spoonful of beans and 1/4 cup chicken. Add 2-3 Tablespoons of cheese and then fold up both ends and roll tightly.

Place the burritos on a baking sheet and spoon the sauce over the top of the burritos. Top with the remaining shredded cheese. Bake 20-30 minutes or until the cheese is bubbly and the burritos are hot.

Serve while warm. Garnish with pico de gallo or your favorite toppings.
---
Notes
Rice: You can use precooked rice to make this recipe easier, but if you have the time, I highly recommend making this cilantro lime rice.
Chicken: If you want to cook your own chicken, I recommend using this shredded chicken.
Substitutions: You may use black beans in place of pinto beans. You may also use half in half instead of the heavy cream or leave out entirely.
Freezer instructions: These will freeze best without the cheese and sauce on top. Freeze them before baking. Wrap each burrito tightly in foil or plastic and then store in a freezer container. When ready to use, let thaw in the refrigerator overnight. To heat, bake as directed above.
Recipe adapted from Raised In The Kitchen
Nutrition
Calories: 639kcal | Carbohydrates: 76g | Protein: 38g | Fat: 20g | Saturated Fat: 8g | Cholesterol: 117mg | Sodium: 1026mg | Potassium: 491mg | Fiber: 6g | Sugar: 10g | Vitamin A: 818IU | Vitamin C: 4mg | Calcium: 155mg | Iron: 3mg
Nutrition provided is an estimate. It will vary based on specific ingredients used.
Did you make this recipe? Don't forget to give it a star rating below!