Making a homemade red enchilada sauce is way too easy not to always have some on hand! It's made with everyday ingredients and results in a thick, smoky, flavorful sauce perfect for topping enchiladas and so much more!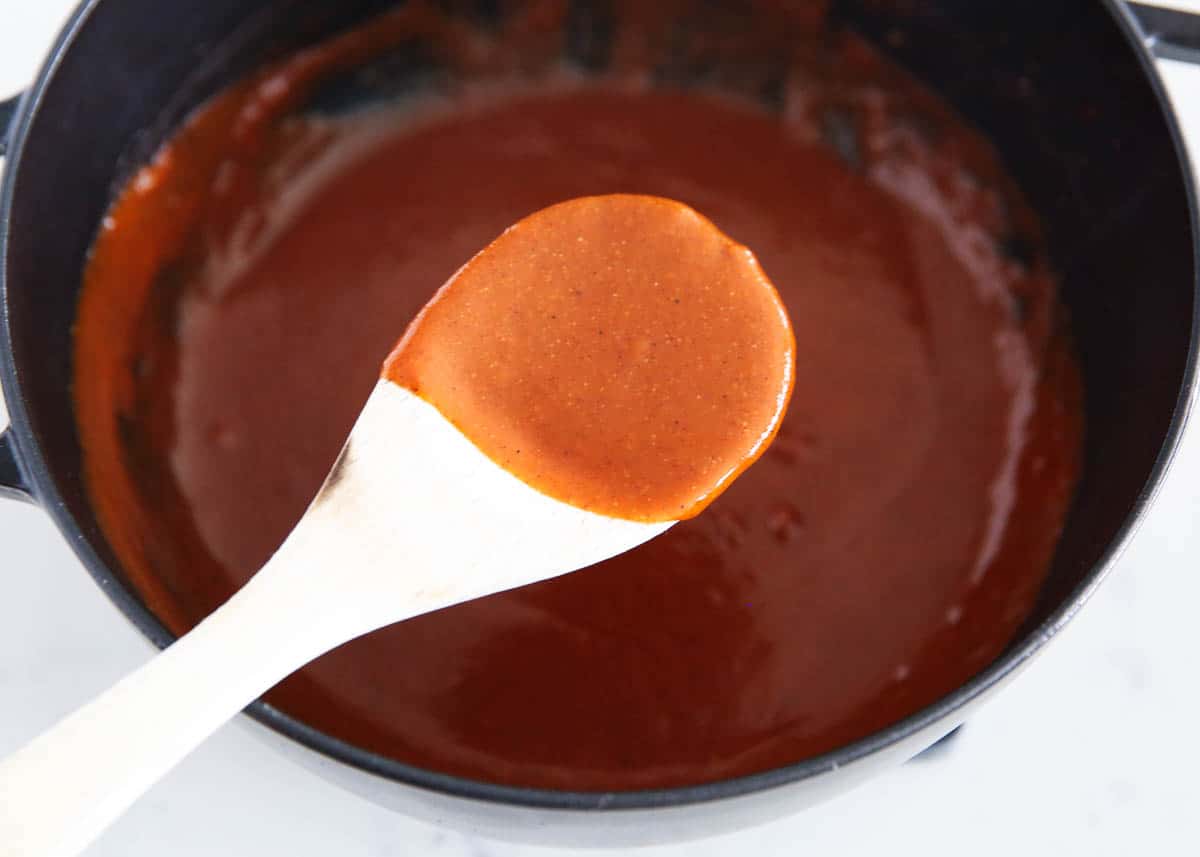 Homemade Enchilada Sauce
Based on the fact that I have at least 8 enchilada recipes on my blog, I think it's safe to say that I LOVE them! From pork enchiladas to beef enchiladas to creamy chicken enchiladas. The addition of a quick and easy enchilada sauce is my favorite way to jazz any one of these.
There is so little prep time that goes into this red enchilada sauce recipe and yet it delivers so much flavor for not only enchiladas but plenty of other Mexican dishes too, like one pot Mexican chicken and rice.
It's like a silky-smooth sauce with smoky earthy flavors. This red enchilada sauce really is one of the key components of any good enchilada recipe!
Why We Love This Recipe
It's homemade! This sauce is way too easy not to make from scratch. In mere minutes you'll have a fresh, flavorful condiment that is way better than anything you'd find in a jar or can. Making it at home means you're leaving behind high amounts of sodium, MSG, added sugars, preservatives, and artificial colors.
Boosts flavor. It adds crazy flavor in a variety of ways. It's tangy, smoky, and slightly spicy. Swirl some into cheesy chicken enchilada dip or add it to one pot cheesy enchilada pasta!
The real deal. It's close to an authentic Mexican enchilada sauce recipe without using dried chiles or tomatoes!
Green vs Red Enchilada Sauce
The difference is (obviously) in the color of the sauce, but it's where the color comes from that matters. Green chilis are used along with tomatillos and jalapenos for a spicy version. Whereas red chilis, or chili powder in our case, is used for red enchilada sauce.
Both are super flavorful and delicious and both can be enjoyed as part of some of your favorite recipes!
Ingredients Needed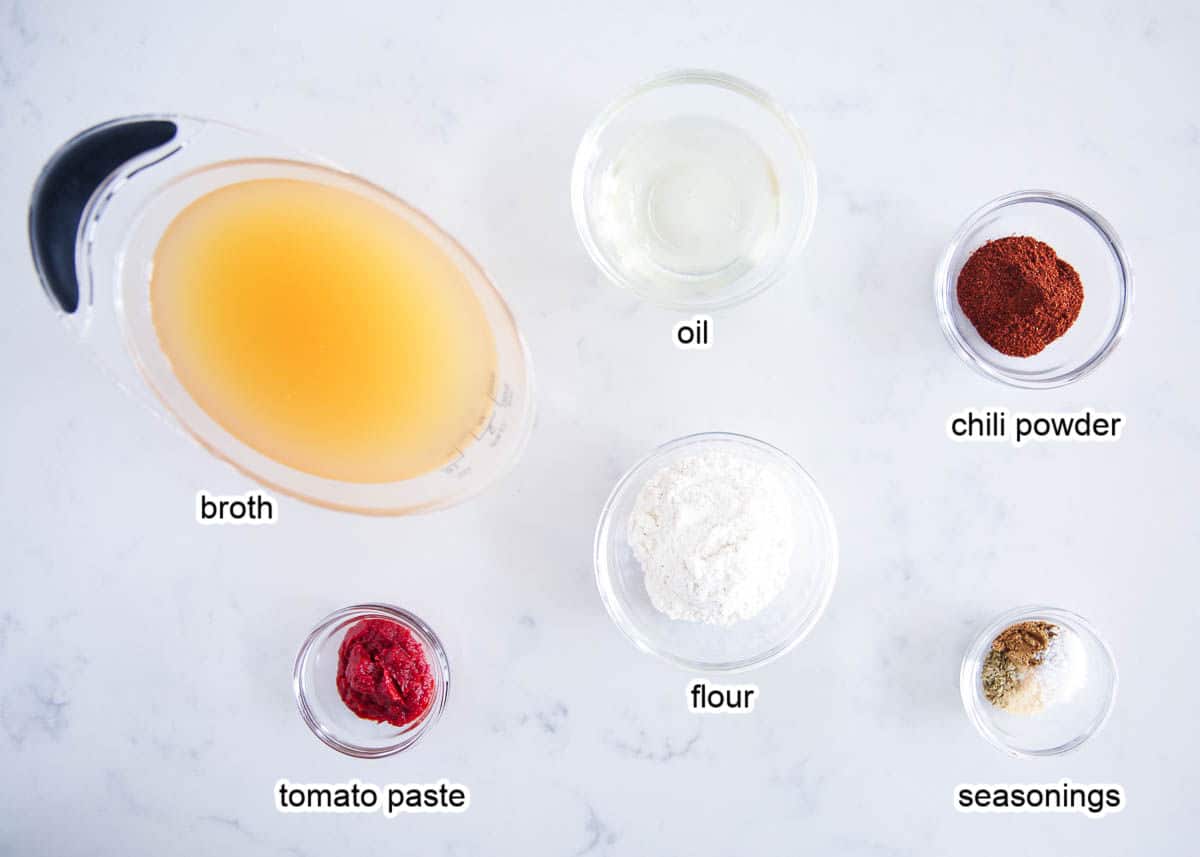 All-purpose flour: It starts with a roux made of flour, spices, and oil. It's what makes the sauce nice and thick.
Spices and herbs: Chili powder, ground cumin, garlic powder, oregano. They create a robust combination of flavors that makes it taste incredible.
Salt: To taste. Depending on how much salt there is in the broth you use, you can adjust how much you add.
Vegetable oil: I use vegetable oil because it's neutral in flavor. If you only have olive oil, go ahead and use it, but make sure it's nice and light!
Tomato paste: Adds a beautiful red color, a slightly acidic tang, and a beautiful tomato flavor.
Chicken broth: Used to thin out the thick mixture, making it pourable and acts as the base of the entire sauce.
Variations
To keep this vegetarian, use vegetable broth instead of chicken broth.
To add a bit more heat add ancho chili powder which has a smoky spicy flavor to it. For even more spice than that, add an extra pinch of cayenne powder.
To balance out the acidity and spice, add some sugar, cocoa powder, and cinnamon for a bit of sweetness and warmth. It's how an authentic enchilada sauce comes together!
How to Make Enchilada Sauce
All you need are pantry staples, a pot, and a spoon to make it!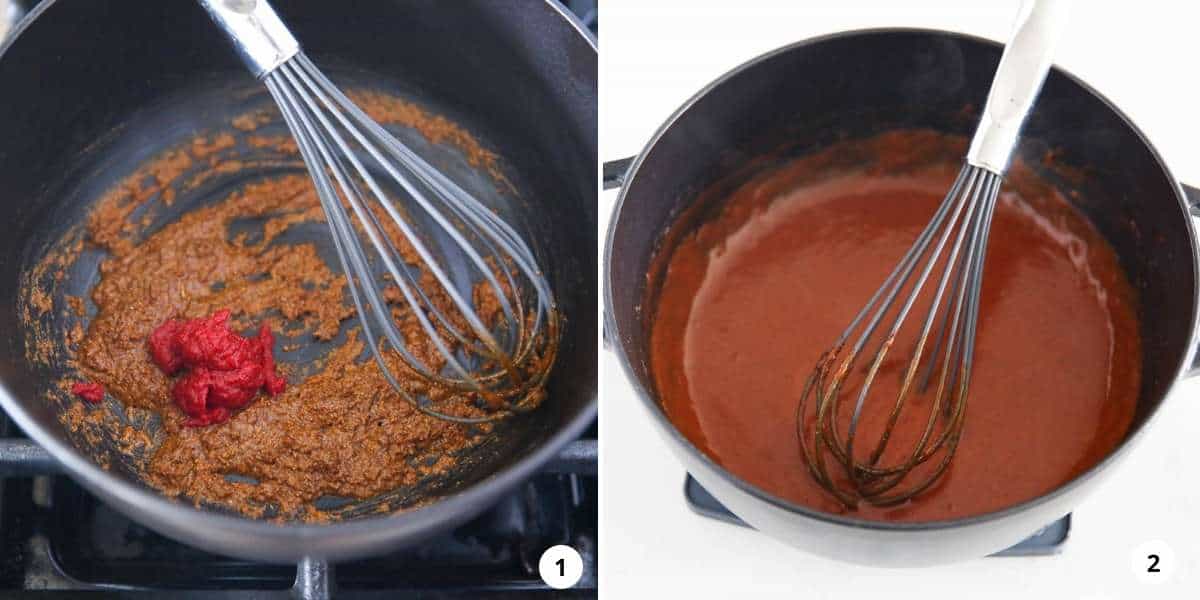 Make a roux by sprinkling the mixture of flour and seasonings into a pot of heated oil, whisking constantly. Once combined it will look a bit like a paste.
Add liquids and simmer. Whisk in the tomato paste and continue whisking for 1 more minute then slowly add the chicken broth and whisk until the sauce is smooth. Simmer gently for 5 minutes until thickened or has reached your desired consistency.
How To Know When It's Thick Enough
It's thick enough when it coats the back of a wooden spoon. Run your finger down the back of it. If it separates, it's ready!
Recipe Tips
100% pure chili powder (cayenne pepper) is too spicy. Stick to commercial North American chili powder which is a blend of a bit of cayenne and other mild spices (you know, the stuff we use all the time) for a bit of heat and great flavor.
Make sure to cook the flour long enough so that you won't be tasting any raw flour.
If you want a thinner sauce, add a bit more broth or water.
To make this gluten-free, you can use a gluten-free flour blend or omit the roux altogether and add a cornstarch slurry at the end.
Make ahead. It can be made ahead of time and reheated just before using it.
Double the recipe. This recipe can easily be doubled and frozen for a later date.
Ways to Use Enchilada Sauce
There are plenty of uses for this crave-worthy sauce!
Storing Tips
To store: Once completely cooled, keep it stored in an airtight container for up to 5 days in the fridge.
To freeze it: Transfer it to a freezer-friendly container or bag and keep it in the freezer for up to 3 months.
Thaw and reheat: Thaw in the fridge overnight. It may be a bit thick, so just add a splash of liquid to thin it out once again. Reheat on the stove over medium-low until warmed through.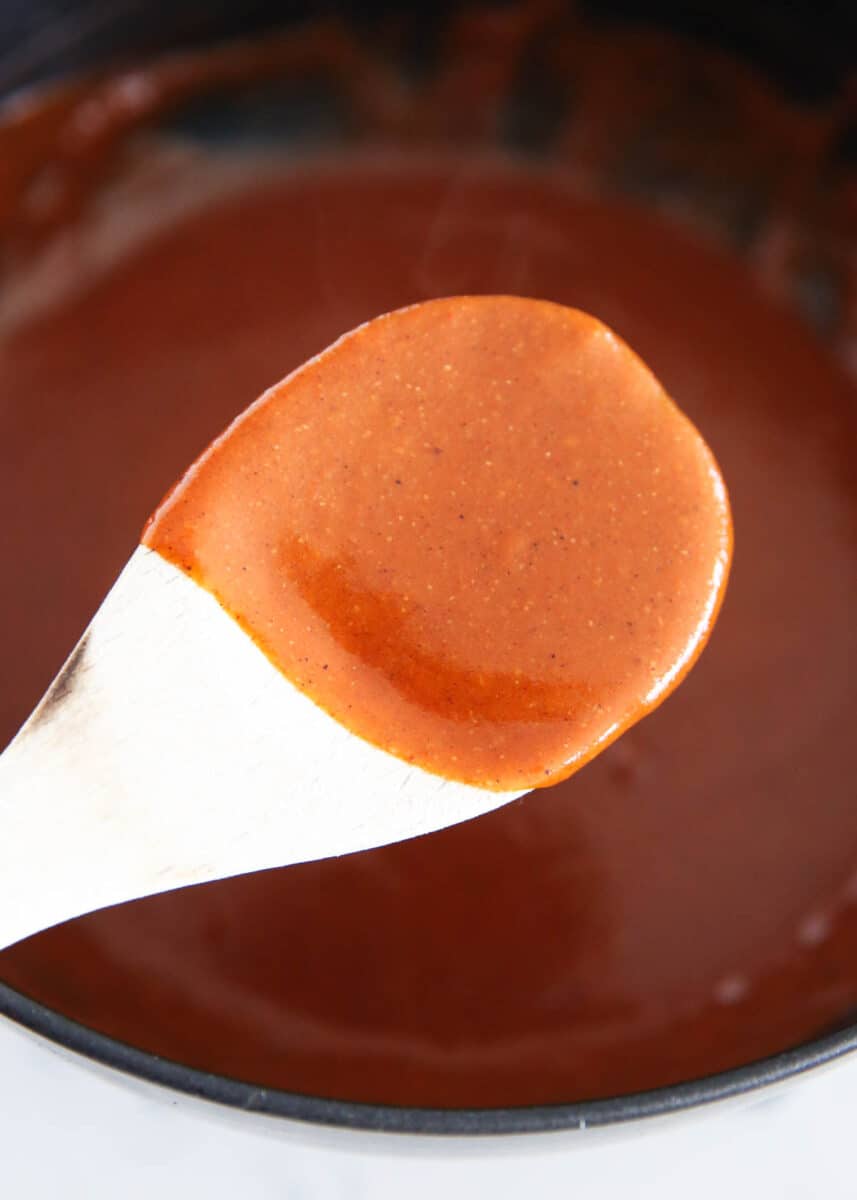 HUNGRY FOR MORE? Subscribe to my newsletter and follow on Facebook, Pinterest and Instagram for all the newest recipes!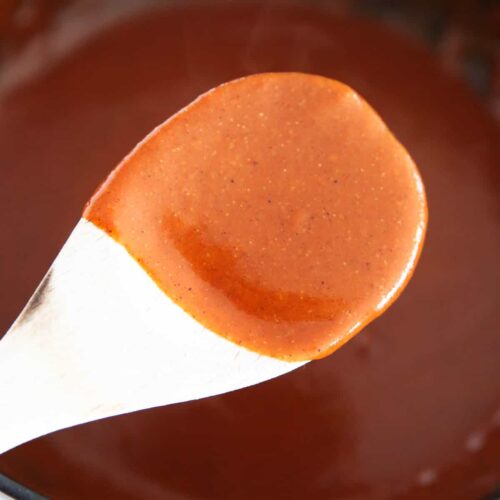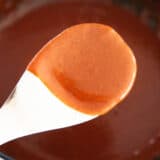 Red Enchilada Sauce
Making a homemade red enchilada sauce is way too easy not to always have some on hand! It's made with everyday ingredients and results in a thick, smoky, flavorful sauce perfect for topping enchiladas and so much more!
Ingredients
3 Tablespoons all-purpose flour
1 ½ Tablespoons chili powder , plus more to taste
1 teaspoon cumin
½ teaspoon garlic powder
¼ teaspoon oregano
¾ teaspoon Kosher salt , to taste
2 Tablespoons vegetable oil
2 Tablespoons tomato paste
2 cups chicken broth
Instructions
In a medium bowl, whisk together the flour, chili powder, cumin, garlic powder, oregano, and salt.

In a medium pot, heat oil 1 minute over medium heat. Sprinkle flour mixture over the oil, whisking constantly, until combined. Whisk in the tomato paste and continue whisking 1 minute more.

Slowly add the chicken broth and whisk until the sauce is smooth. Bring to a gentle simmer and cook 5 minutes, or until thick enough to coat the back of a wooden spoon.
---
Nutrition
Serving: 1ounce | Calories: 35kcal | Carbohydrates: 3g | Protein: 1g | Fat: 3g | Saturated Fat: 1g | Polyunsaturated Fat: 1g | Monounsaturated Fat: 1g | Trans Fat: 1g | Cholesterol: 1mg | Sodium: 329mg | Potassium: 61mg | Fiber: 1g | Sugar: 1g | Vitamin A: 341IU | Vitamin C: 1mg | Calcium: 9mg | Iron: 1mg
Nutrition provided is an estimate. It will vary based on specific ingredients used.
Did you make this recipe? Don't forget to give it a star rating below!