These skirt steak tacos are an explosion of bold flavors and the perfect way to enjoy tender slices of marinated steak. No more chasing the taco trucks, now you can make the ultimate Mexican street food at home!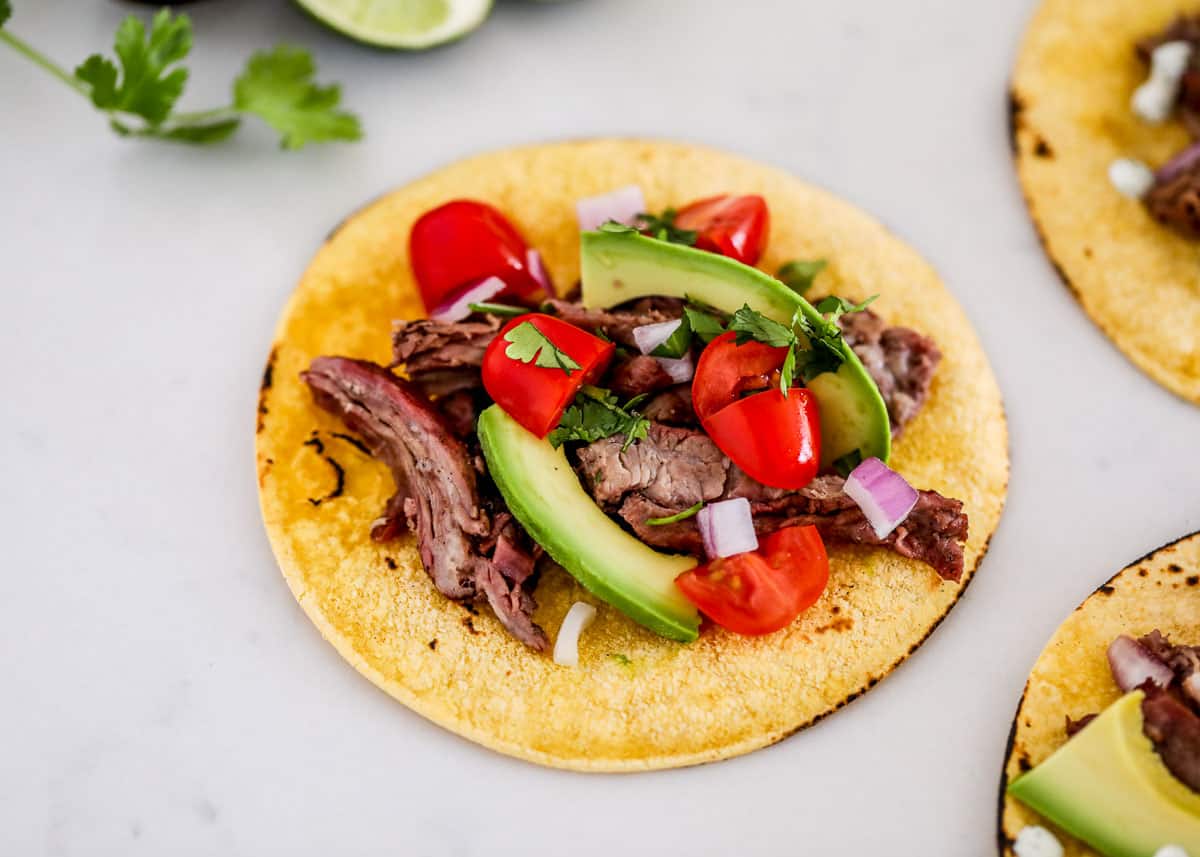 Mexican Street Tacos
This skirt steak taco recipe is another delicious version of steak tacos. They're a homemade take on the ultimate Mexican street tacos or carne asada, and one of my favorite ways to use grilled skirt steak. You all know there is nothing quite like biting into a mouthful of taco, no matter what kind, but I bet this one easily becomes your new favorite.
These tacos are filled with deliciously thin cut strips of skirt steak that have been marinated in an easy marinade of oil, lemon, garlic, cumin, and salt and pepper. They're given a nice sear on the outside while remaining melt in your mouth on the inside.
Talk about flavor! Loads of it coming from the juicy marinated steak of course, but the fresh toppings are there to jazz it up even more and put these tacos over the top. You can really customize a taco exactly the way you want it, providing a variety of options for people to garnish their own but some of my family's favorites are diced tomatoes, sliced avocados, chopped cilantro, onions, and cilantro lime crema. So fresh, so good and perfect for Taco Tuesday!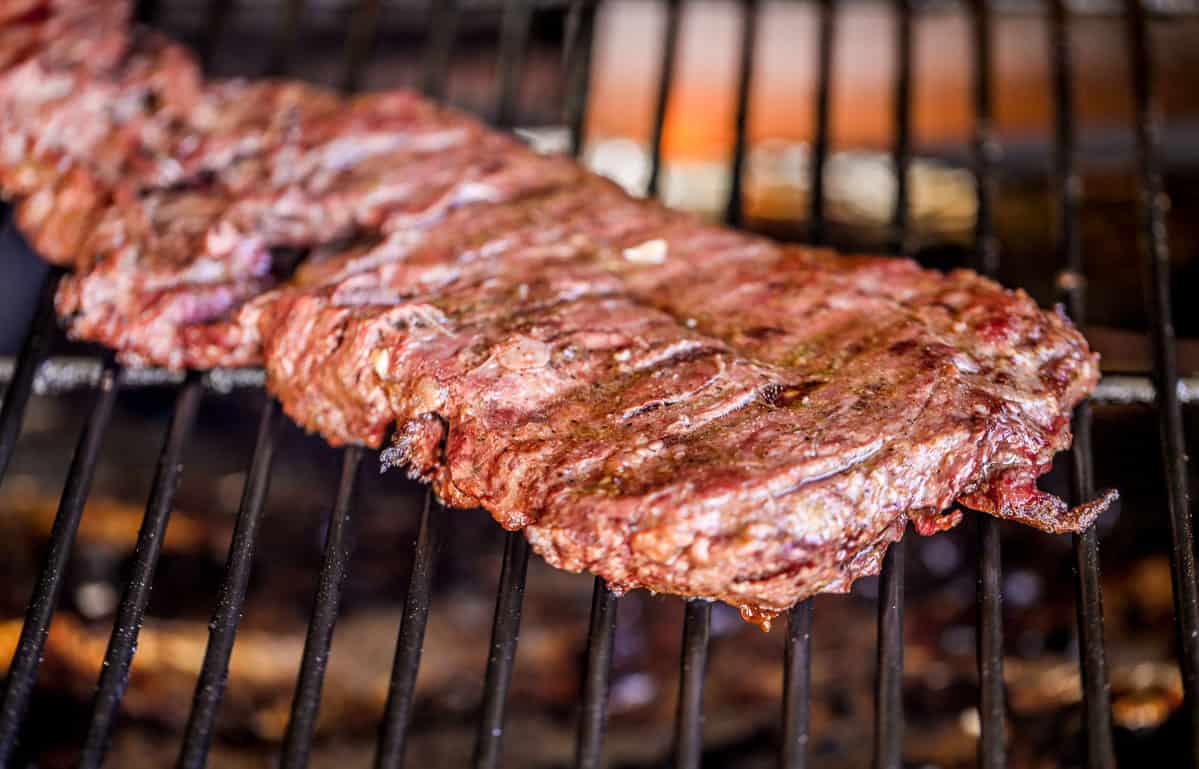 How to Season Skirt Steak
This delicious skirt steak marinade is my go-to because it's got loads of flavor that penetrates flavor all the way through the meat, but it's ridiculously easy too! Below are a few other ways to try for a different flavor profile, using any combination you'd like:
Jalapeno + lime
Soy sauce + chili powder + honey
Garlic + oregano
How to Cook Skirt Steak for Tacos
Skirt steak is a very flavorful cut of beef, but it can also be quite tough. Marinating it is the first step to cooking it because you need the acid to break down the fibers. Marinate it for as little as 30 minutes, but no longer than 24 hours. I like to marinate in the morning and grill in the evening. Bring it to room temperature about 30 minutes before grilling.
You want to add it to a hot grill to get the best sear and depending on the thickness of the steak, you'll be cooking it for about 3-4 minutes per side. Skirt steak is best when it's medium-rare.
Cutting the Steak
I'm sure you've heard you should cut steak "against the grain" but what exactly does that mean? Well, certain cuts of meat are much more fibrous than others. When there is a lot of connective tissues happening, it's important to break those down so it's much easier to chew.
When you look at the steak, especially cuts like skirt steak or grilled flank steak, there are obvious lines that run down the beef in one direction. To cut against it means to take your knife and cut slices in the opposite direction. This is so that you are cutting the fibers shorter which helps keep it tender and results in a more pleasant bite.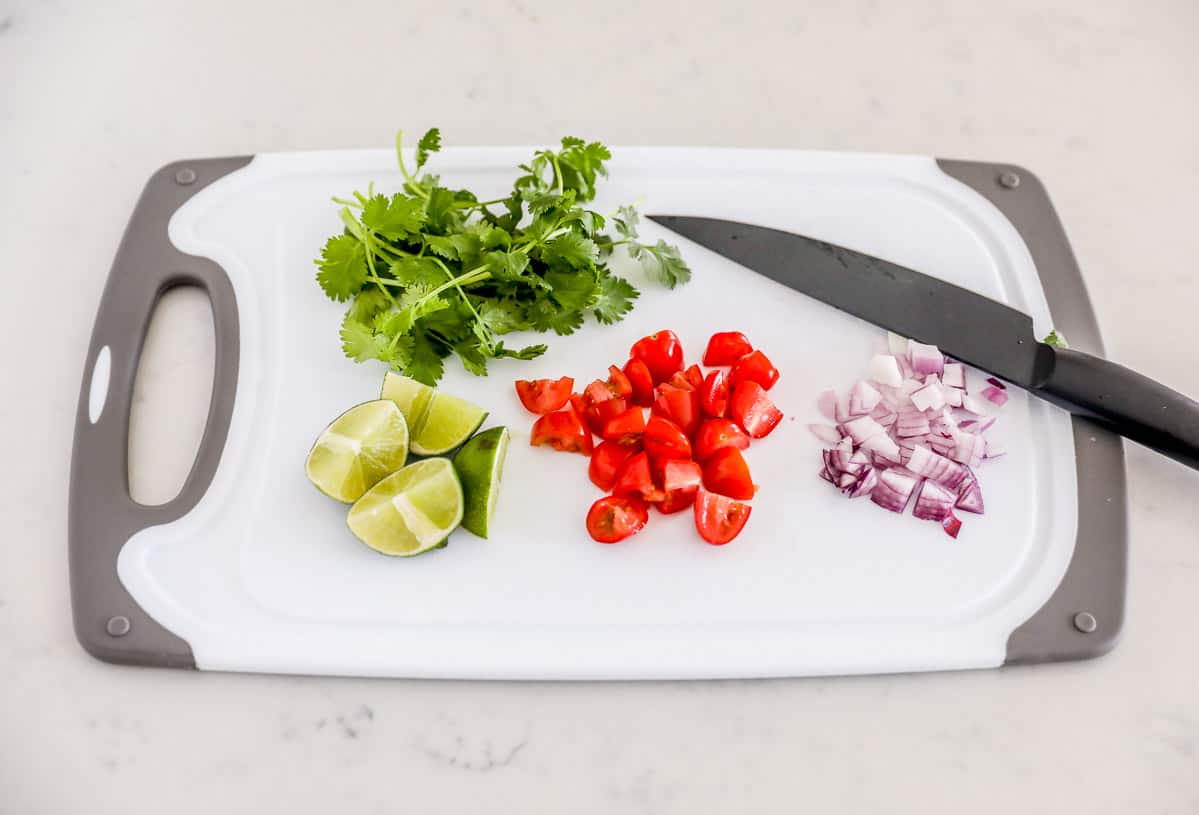 Delicious Toppings
An extra squirt of lime
Queso Fresco
*To make this easy cilantro lime crema to drizzle on top, blend 1/2 cup sour cream, 1/4 cup cilantro, 1 lime zested and juiced, 1 clove of garlic, and 1/2 tsp of salt in a food processor until smooth. Add salt and pepper to taste.
Make Ahead + Storing
Make ahead: The marinade can be made up to 3 days ahead, but be sure not to marinate for more than 24 hours.
Storing: Cooked meat will keep in the fridge in an airtight container for up to 3 days. Taco Tuesday just became Taco Wednesday, Thursday, and Friday!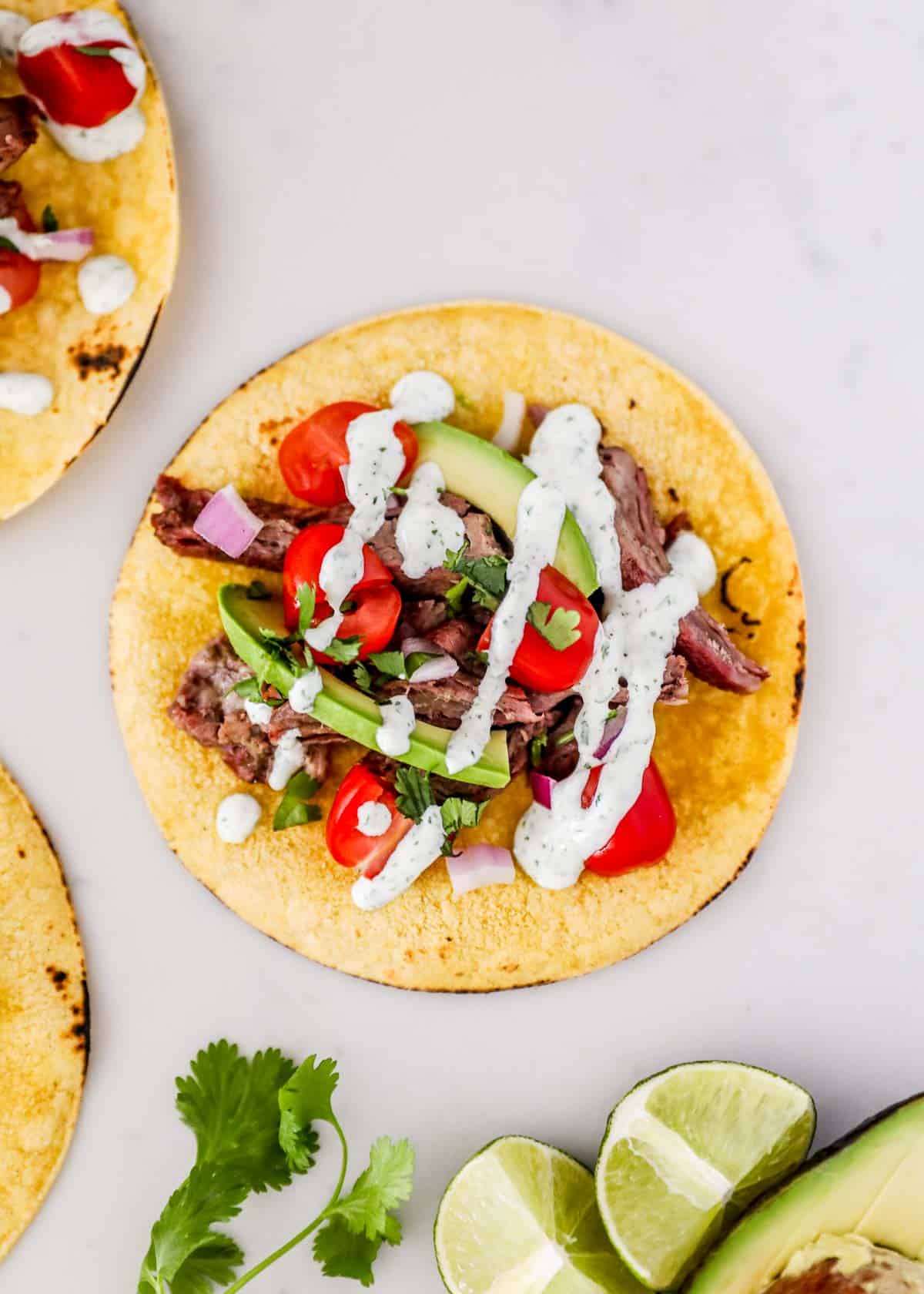 More Mexican Favorites
HUNGRY FOR MORE? Subscribe to my newsletter and follow on Facebook, Pinterest and Instagram for all the newest recipes!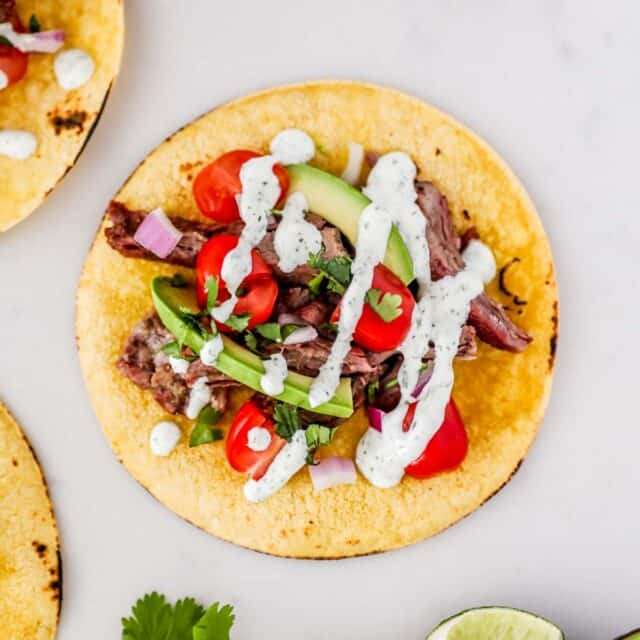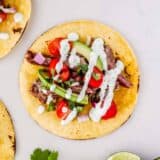 Skirt Steak Tacos
These skirt steak tacos are an explosion of bold flavors and the perfect way to enjoy tender slices of marinated steak. No more chasing the taco trucks, now you can make the ultimate Mexican street food at home!
Ingredients
Marinade:
1 pound boneless beef skirt steak
⅓ cup olive oil
1 lime , juiced and zested
3 garlic cloves , 1 1/2 teaspoons minced
1 teaspoon Kosher salt
1 teaspoon ground cumin
½ teaspoon ground black pepper
Tacos:
6 corn tortillas
3 Tablespoons freshly chopped cilantro
Optional toppings: sliced tomatoes, diced onions, avocado, cotija cheese, cilantro lime crema
Instructions
Combine the olive oil, lime, garlic, salt, cumin and pepper in a large bowl. Add the steak and marinate for at least 20 to 30 minutes at room temperature or up to 24 hours in the refrigerator. Set out 30 minutes before cooking.

Use tongs to transfer to a preheated grill and cook until it reaches desired doneness (about 3 to 4 minutes per side over high heat). Remove from grill and allow to rest 5 minutes before slicing. Cut steak against the grain.

Prep desired toppings while steak is resting. I like to add diced tomatoes, avocado, cilantro and onions with the cilantro lime crema (recipe in notes).

Place steak on top of warm tortillas. Add desired toppings and serve while warm.
---
Notes
Make ahead: This marinade can be made up to 3 days in advance, however I don't recommend marinating the meat longer than 24 hours. Typically I like to add the meat in the morning and grill that evening.
Storing: Discard any leftover marinade and do not reuse. You can store leftover meat in a covered container in the refrigerator up to 3 days.
Toppings: The additional toppings are not included in nutritional value. Feel free to add as you prefer.
Cilantro Lime Crema: For a delicious flavor, add this sauce on top.
In a food processor, blend 1/2 cup sour cream, 1/4 cup cilantro, 1 lime (zested and juiced), 1 clove garlic, 1/2 teaspoon salt. Blend until smooth. Salt and pepper to taste.
Nutrition
Calories: 286kcal | Carbohydrates: 14g | Protein: 18g | Fat: 18g | Saturated Fat: 4g | Trans Fat: 1g | Cholesterol: 48mg | Sodium: 451mg | Potassium: 296mg | Fiber: 2g | Sugar: 1g | Vitamin A: 31IU | Vitamin C: 4mg | Calcium: 36mg | Iron: 2mg
Nutrition provided is an estimate. It will vary based on specific ingredients used.
Did you make this recipe? Don't forget to give it a star rating below!