Easy to make beef taquitos with a crispy corn tortilla shell filled with seasoned shredded beef and melty cheese. Top with pico de gallo and guacamole, and a side of sour cream for dipping!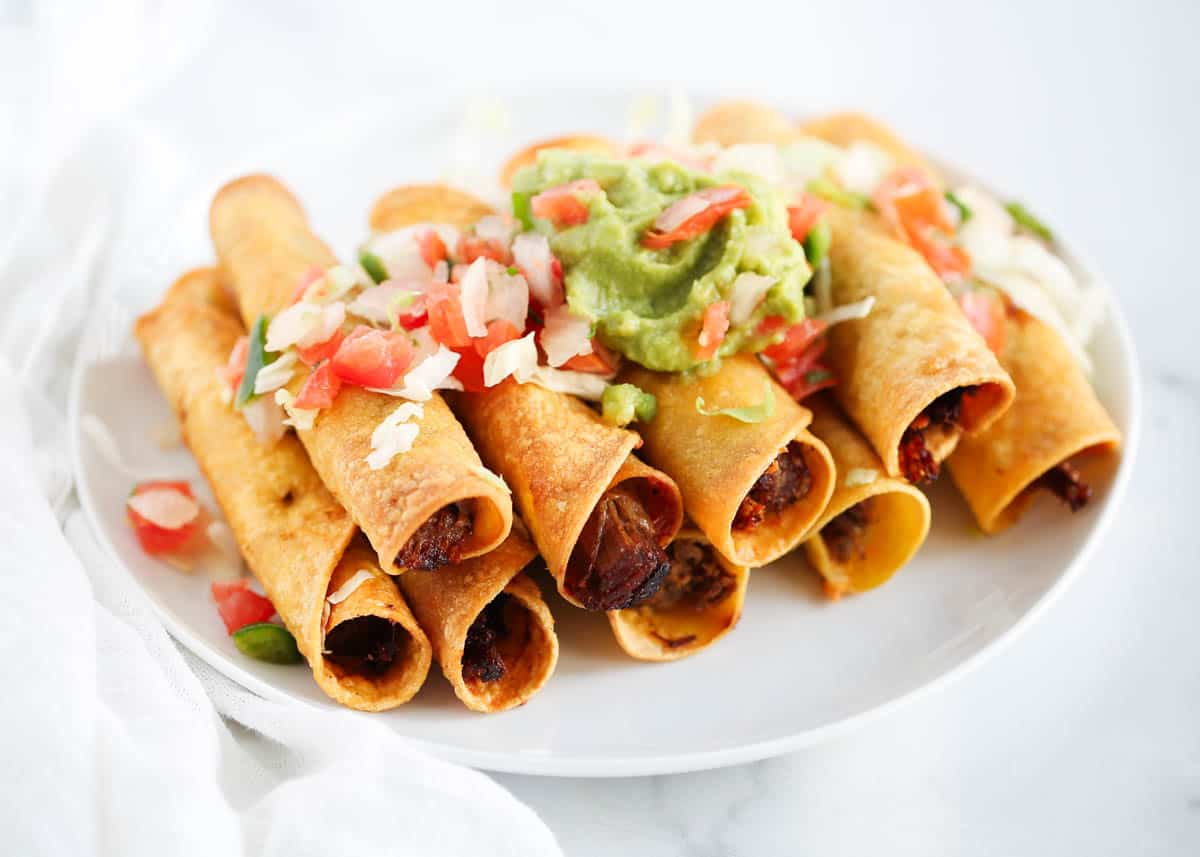 Shredded Beef Taquitos
It's quite often I find myself craving Mexican food so it's a good thing I keep adding new recipes to my arsenal! Baked chicken taquito, black bean taquitos and chicken flautas are family favorites around here, so I knew my kids would love this beef taquitos recipe.
Making the Instant Pot shredded beef for the filling couldn't be easier when you know how to use Instant Pot. Pressure cooking the beef makes it so tender and flavorful. When combined with salsa verde and chili powder, it's perfect for filling a delicious crunchy rolled-up shell for taquitos or to be used in these shredded beef tacos.
Serve with a homemade pico de gallo and guacamole, and these crispy beef and cheese taquitos are sure to become your new go-to recipe the next time you need an appetizer, game-day snack, or as part of a complete dinner idea!
Why This Recipe Works
Fry or bake: With versatile options for making these shredded beef taquitos, it's your choice!
Party favorite: Everyone loves crispy taquitos with beef and cheese, speaking from experience it's hard to stop at just one or two!
Simple to make: Once the beef is cooked, then just roll and cook them in your preferred method. So easy!
Make ahead and freezer friendly: Skip ever buying frozen taquitos at the store again! Make an extra batch and always have some on hand for easy lunches or snacks.
Recipe Ingredients
Cheesy, beefy taquitos are made with simple ingredients! Here is what you will need:
Boneless beef chuck roast: You will need a 2 lb roast that is cut into 3 pieces.
Water or beef broth: This is needed to bring your Instant Pot to pressure. Beef broth will add another layer of flavor.
Salsa: I love to use my homemade salsa verde but you can store bought or whatever salsa is your preference.
Chili powder: Will be used to season your beef.
Corn tortillas: Traditionally taquitos are made with corn tortillas and I love how crisp it gets when fried.
Shredded cheese: Any kind of cheese works, cheddar cheese, Monterey jack, or even Pepper jack cheese if you like it a little spicier.
Variations
Use flour tortillas if you prefer. They are already much softer than corn tortillas, so there's no need to microwave them.
You can make these with ground beef taco meat or leftovers of my birria recipe instead of shredded beef.
To make a vegetarian version, swap the beef with black beans and/or refried beans!
For additional layers of flavor, you can add onion or onion powder, garlic, cumin, and even hot sauce or green chilies, if preferred.
Use whatever cheese you like. Shredded cheddar cheese or pepper jack cheese are always great options.
Serve with pico de gallo, guacamole, sour cream, or cilantro.
How to Make Beef Taquitos
Once your shredded beef for taquitos is ready, these come together quickly!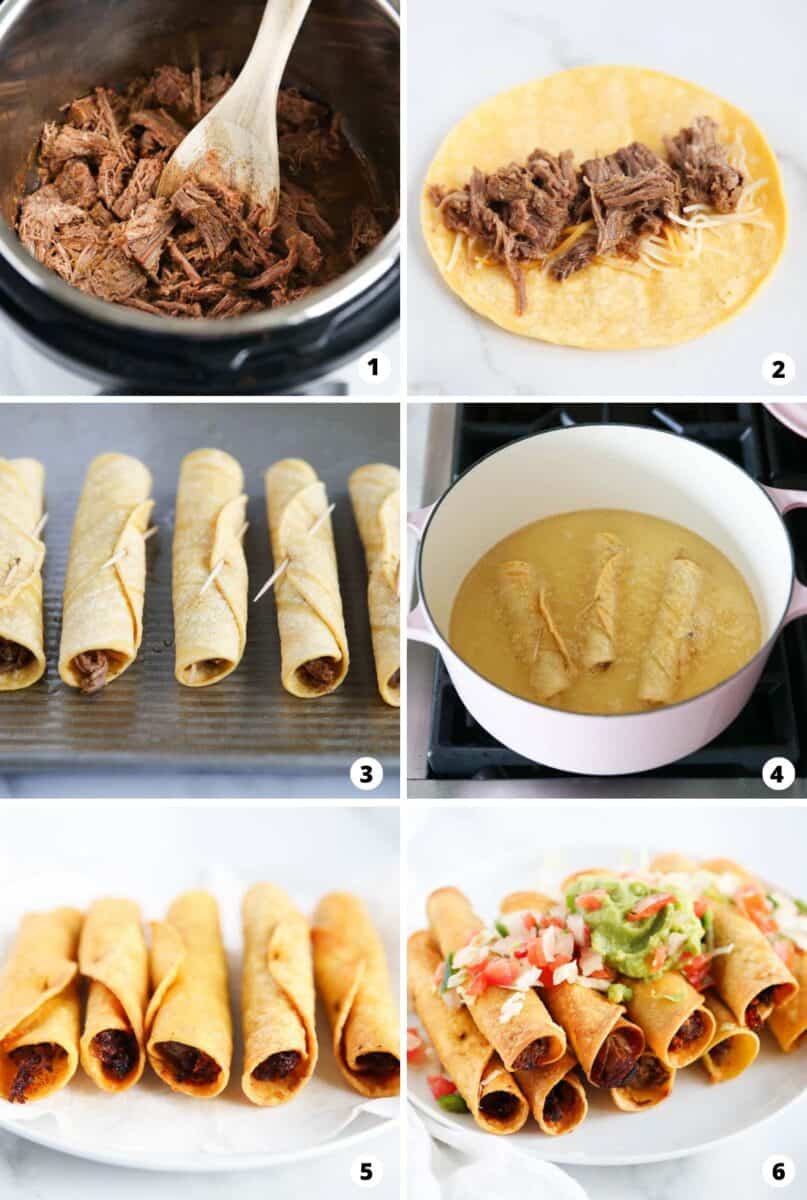 Cook beef: Season your beef roast and follow directions to cook it on HIGH in your Instant Pot. After it is done, remove it from the pot, shred it, remove one cup of liquid from the pot and the add your shredded beef back to the pot.
Add beef and cheese to the tortilla: To the center of your tortilla, add a Tablespoon of cheese and then add about 2 Tablespoons of the beef on top. Do not overfill as it will cause the tortilla to break.
Roll tortillas: Roll the tortillas and then thread a toothpick through the center to hold the tortilla together. If the tortillas start to break, warm them up briefly in the microwave again to keep them pliable.
Fry the beef taquitos: Place 1″ of oil in a deep skillet or pot and heat to 350°F. Working with 3-5 taquitos at time place in the hot oil and cook until browned, flipping occasionally. If they start to brown too fast, turn down the heat. For baking instructions see FAQs.
Soak up excess grease: As they finish cooking remove the beef taquitos to a plate lined with a paper towel to soak up any excess grease.
Serve: Serve with all your favorite Mexican dinner favorites like salsa, guacamole, sour cream, and fresh cilantro.
Cooking Tips
Searing the beef before pressure cooking is optional. It does give it a bit of a crispier outer edge, seals in moisture, and adds flavor. However, it's not necessary for this recipe.
Before shredding the beef, be sure to remove any noticeable fat. It just makes for a better taste experience when you're not chewing on those bits.
Use damp paper towels to wrap the tortillas in before warming them up in the microwave. This will help keep the corn tortillas pliable and soft so they can be rolled easily.
Do not overfill them with the beef mixture or the taquitos will break.
When frying the taquitos it's nearly impossible to ensure the seam sides are down, so use a toothpick to close the seam.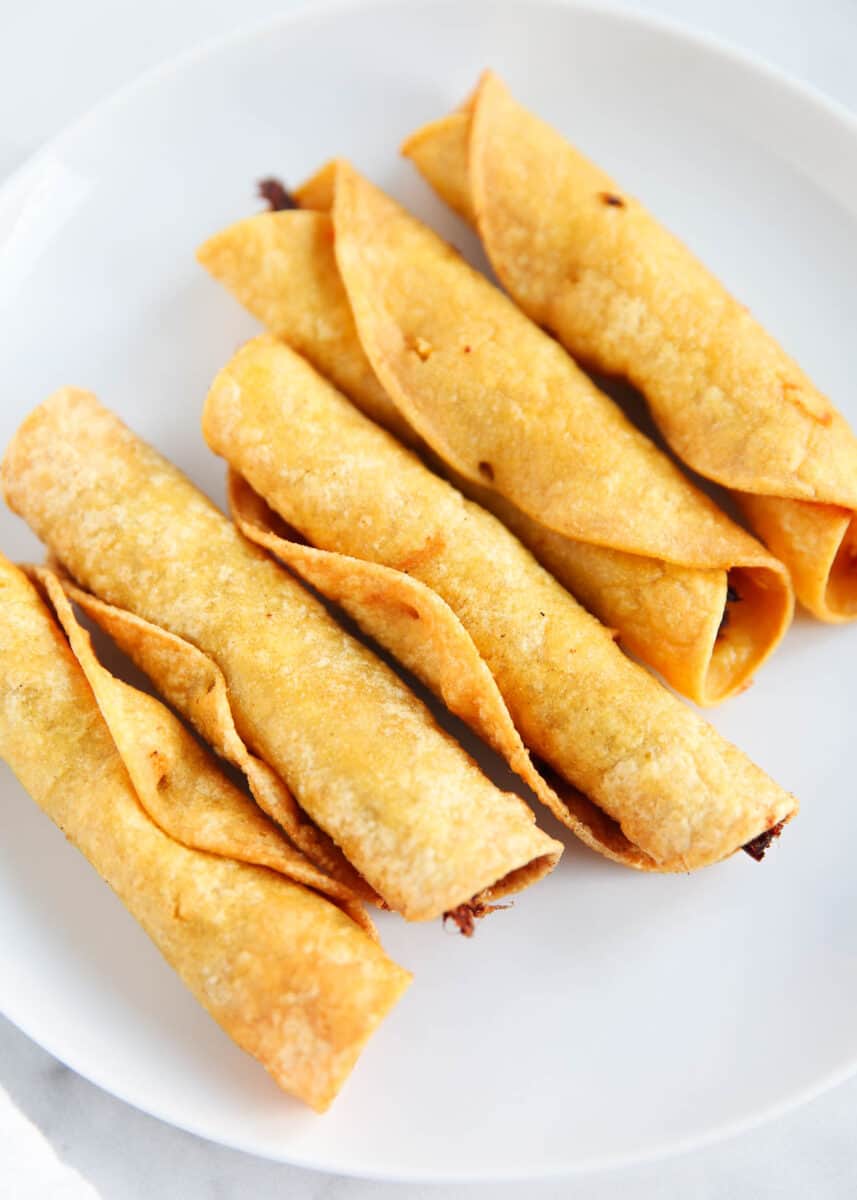 How to Store Taquitos
To store: Place any leftover taquitos in an airtight container. Keep in the fridge for up to 3 days. Once you're ready to enjoy again, reheat in the oven at 250 degrees for 5-10 minutes. You could use the microwave, however they will not crisp up again.
To freeze: These are great freezer-friendly appetizers. Forget the frozen food section, make a big batch of your own and freeze them for later! Store in a Ziploc bag for up to 3 months. Keep them separated with parchment paper that way they won't freeze in a clump and you can take out what you need. Thaw in the fridge overnight.
FAQs
Can I make this in the slow cooker?
If you'd rather cook the beef low and slow, then use the slow cooker in the morning and come back to it at the end of the day. Add all of the ingredients and 1/2 cup of liquid and cook on low for 8-10 hours until it shreds easily.
Can I make baked beef taquitos instead of fried?
If you prefer a lighter version, make beef taquitos in the oven. Place them in a single layer on a baking sheet, seam side facing down, and spray with olive oil and a little sprinkling of sea salt. Bake in a preheated 425-degree oven for 5-10 minutes until the shells are nice and crispy.
Other ways to use pulled beef?
If you're not going to use all your beef for filling taquitos, use the rest for things like topping your sheet pan nachos, replace the pork pulled with beef in these sandwiches or quesadillas. Use it instead of ground beef in your chili. Add it to your grilled cheese. Top your pizza, salads, and macaroni and cheese!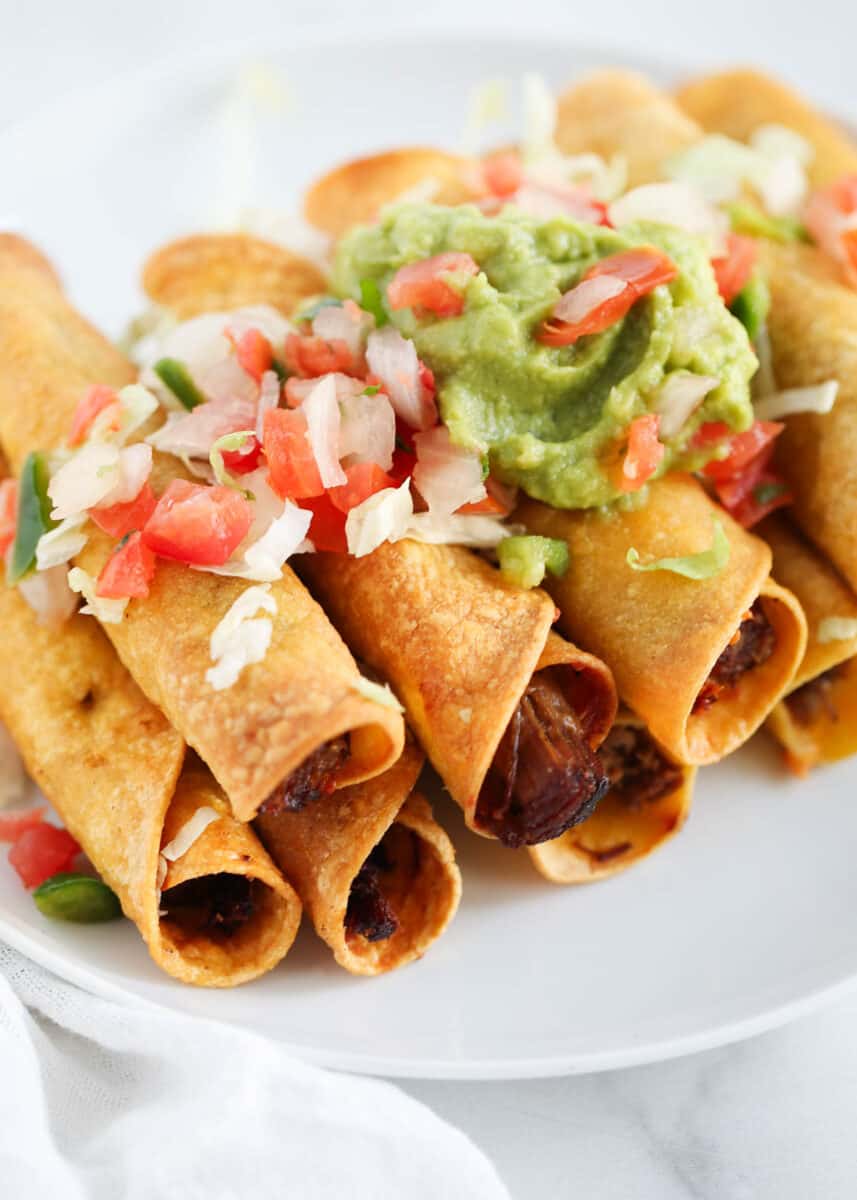 More Mexican Favorites:
HUNGRY FOR MORE? Subscribe to my newsletter and follow on Facebook, Pinterest and Instagram for all the newest recipes!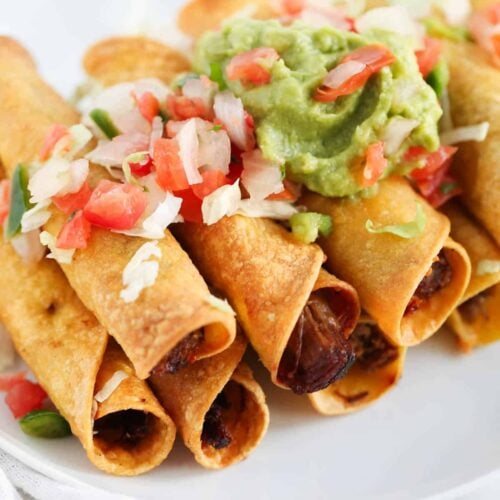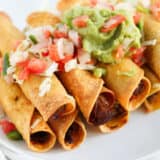 Beef Taquitos
Easy to make beef taquitos with a crispy corn tortilla shell filled with seasoned shredded beef and melty cheese. Top with pico de gallo and guacamole, and a side of sour cream for dipping!
Ingredients
2 pounds boneless beef chuck roast , cut into 3 pieces
1 cup water , or beef broth
1 cup salsa verde
2 teaspoons chili powder , more if desired
1 teaspoon Kosher salt
24 corn tortillas
1.5 cups shredded cheese
For serving: pico de gallo, guacamole, sour cream, cilantro
Instructions
Cooking beef
Place the chuck roast into an Instant Pot (I'm using a 6 quart). You can sear the sides on sauté mode if desired. Then pour water into the pot and sprinkle the salt and chili powder on top. Then drizzle over the salsa verde.

Place the lid on top and seal the valve. Cook on high pressure for 60 minutes. Once the time is up, allow the steam to naturally release (about 10 minutes).

Remove roast from the Instant Pot and discard any fat. Shred the meat with two forks and then place back in the pot. Turn to warm until ready to serve.

Remove about a cup of liquid (save the broth if desired) and then place the beef back into the Instant Pot and stir together. Place lid on until ready to serve.
Assembly
Place 1" of oil in a skillet and heat to 350°F. Wrap the tortillas in a damp paper towel and then microwave for 1 minute.

Add a Tablespoon of cheese to the center of the tortilla if desired. Then add about 2 Tablespoons of the beef on top. Be careful not to overfill or the tortillas will break.

Wrap the tortillas and then thread a toothpick through the center to hold the tortilla. If the tortillas are breaking, warm them in the microwave again to keep them pliable.

Place taquitos in the hot oil, 3-5 taquitos at a time. Cook until browned, flipping occasionally. Turn down the heat if they are browning too fast.

Remove taquitos and place on a plate lined with paper towels.

Serve topped with your favorite toppings such as cheese, guacamole, sour cream and pico de gallo.
---
Notes
Slow cooker: The meat can also be made in the slow cooker. You'll only need 1/2 cup liquid for the slow cooker. Add all the ingredients and cook on low for 8-10 hours or until it easily shreds. Baking instead of frying: Preheat the oven to 425°F. Place taquitos on a baking sheet with seams facing down. Spray with olive oil and sprinkle with a little bit of salt. Bake for 15-20 minutes, or until the shells are crispy. Storage: Store in a covered container in the refrigerator for 3 days. Or place in a zip top bag to freeze for 3 months. When ready to use, place in the refrigerator on a plate to thaw overnight. Reheat in the oven at 250°F for 5-10 minutes.
Nutrition
Serving: 1g | Calories: 151kcal | Carbohydrates: 12g | Protein: 10g | Fat: 7g | Saturated Fat: 3g | Polyunsaturated Fat: 1g | Monounsaturated Fat: 3g | Trans Fat: 1g | Cholesterol: 32mg | Sodium: 254mg | Potassium: 202mg | Fiber: 2g | Sugar: 1g | Vitamin A: 161IU | Vitamin C: 1mg | Calcium: 64mg | Iron: 1mg
Nutrition provided is an estimate. It will vary based on specific ingredients used.
Did you make this recipe? Don't forget to give it a star rating below!