This creamy Hawaiian fruit salad recipe is loaded with juicy fruit and cheesecake flavor! It's so quick and simple to make and is always a crowd-pleaser!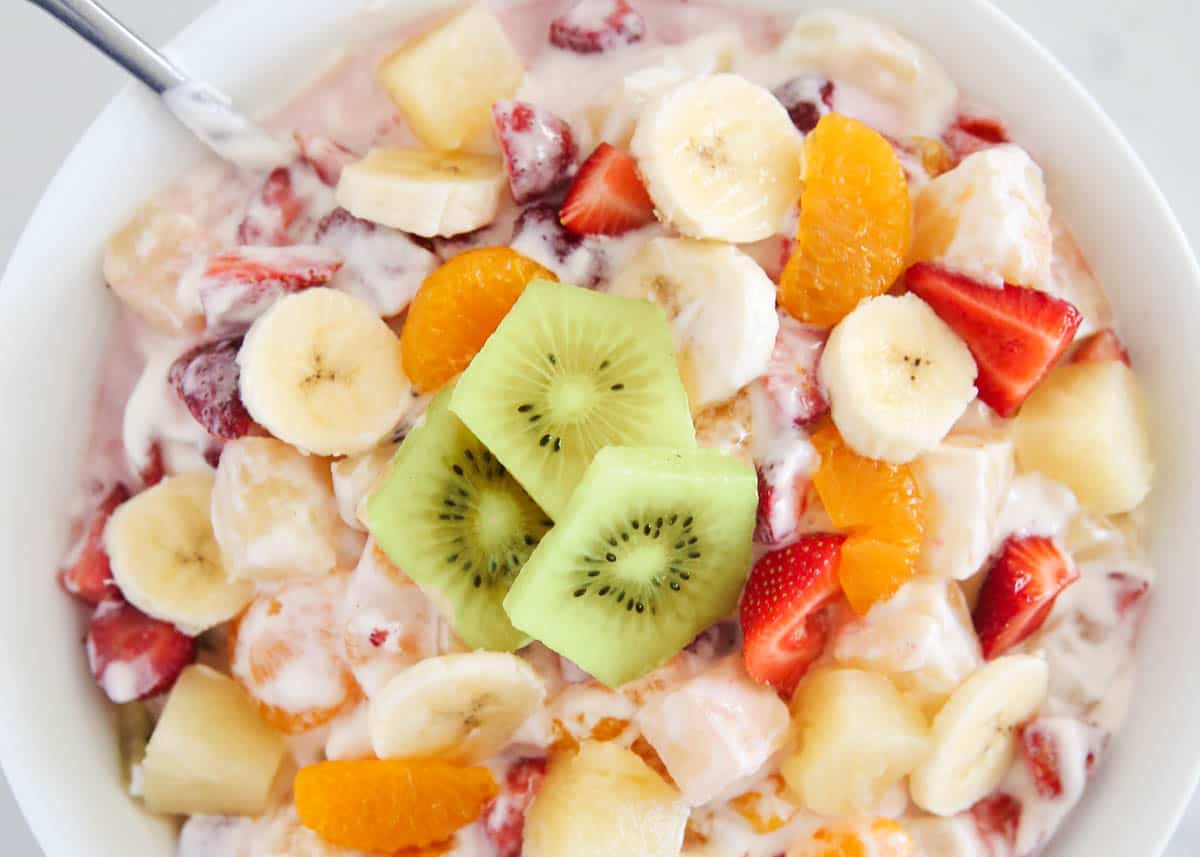 A Tropical Fruit Salad Recipe
If you haven't tried Hawaiian fruit cheesecake salad, you are in for a treat! It's a great way to enjoy sweet tropical fruit flavors all mixed into a dreamy creamy cheesecake filling. It is one of my favorite recipes to bring to a BBQ.
My recipe is foolproof and uses ready-made marshmallow cream and cream cheese to create the rich cheesecake dressing. I like to combine canned fruit like pineapple chunks and mandarin oranges with fresh tropical fruit like berries and bananas to complete this tropical delight.
This is a great dish to bring along to potlucks or outdoor parties along with raspberry pretzel salad. I make it a lot during the summer months when berries are at their peak, but you can use any fruit that's in season, which means you can enjoy this salad all year long!
You can throw the whole thing together in under 10 minutes and then pop it into the fridge to chill before serving. I probably don't have to tell you that the kids love this salad! And the adults love it just the same, if not more!
What is Hawaiian Cheesecake Salad?
Ok, hear me out. I know you're probably wondering if this Hawaiian fruit salad is actually a salad or more of a dessert and I have to say – it's both! It takes a sweet and juicy fruit salad and makes it into something even more magical by adding a marshmallow cream cheese dressing.
Serve this easy recipe alongside the maindish (move over potato salad!) or add it to your next dessert table. This is a versatile dessert salad that will be the hit of every party!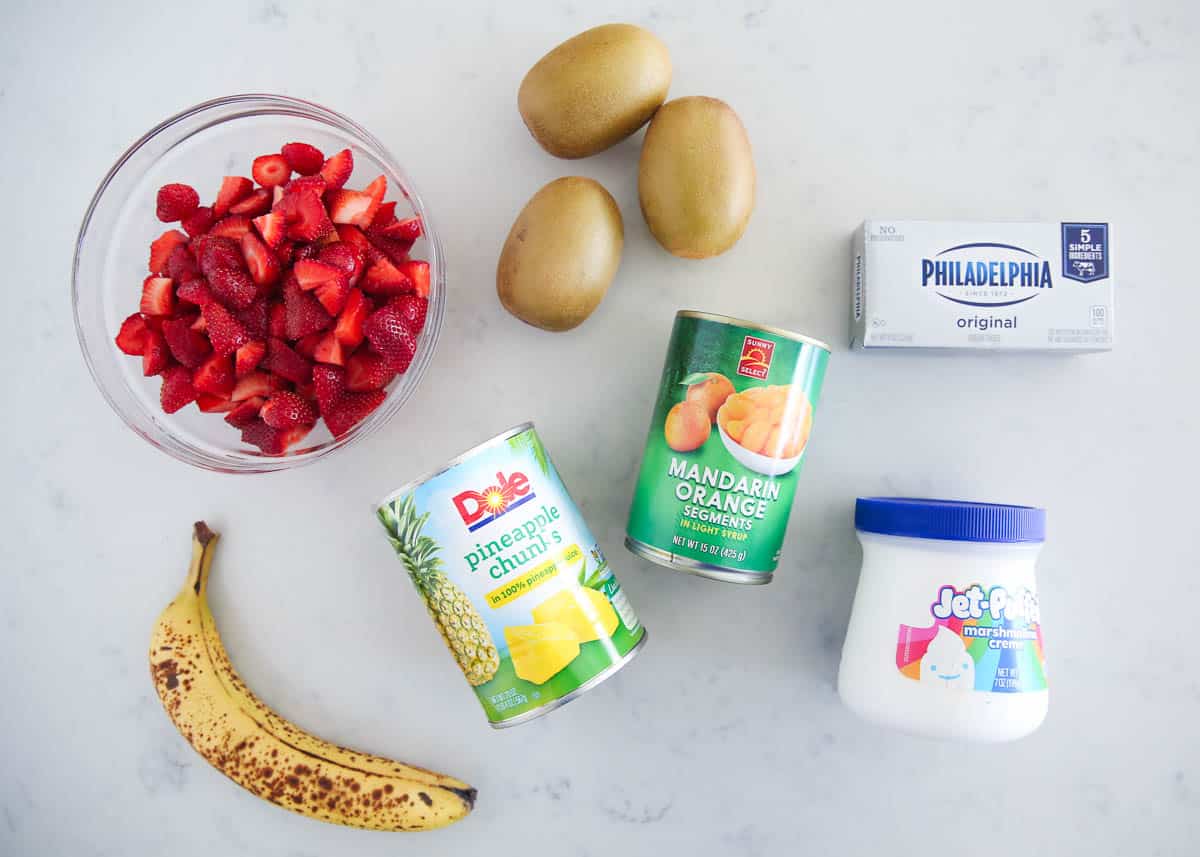 Ingredients
Here's what you'll need to make this glorious fruit salad:
Cream cheese: I use brick-style cream cheese at room temperature. To soften cream cheese, leave it on the counter for around one hour. If you're short on time, remove the cream cheese from its wrapping and place it on a microwave-safe plate. Heat for 15 seconds or until the cheese is soft but not melted.
Marshmallow cream: This cream is soft and fluffy in texture and tastes like solid marshmallows. Look for something like Marshmallow Fluff or similar.
Strawberries: Hull the fresh strawberries and cut them into slices or bite-size chunks.
Pineapple chunks: Canned pineapple tidbits work well in this salad. You can also use chunks. Make sure to drain the liquid before adding it to your salad. Save the juice to make a dole whip!
Mandarin oranges: Again, canned mandarin oranges are the way to go here. Drain the liquid before using.
Kiwi: Peel the kiwis and cut them into slices, half moons, or bite size chunks.
Banana: Take a ripe banana and cut it into coins. The riper the sweeter, but not so ripe that they look brown in your fruit cocktail! Banana coins can also be cut in half if preferred.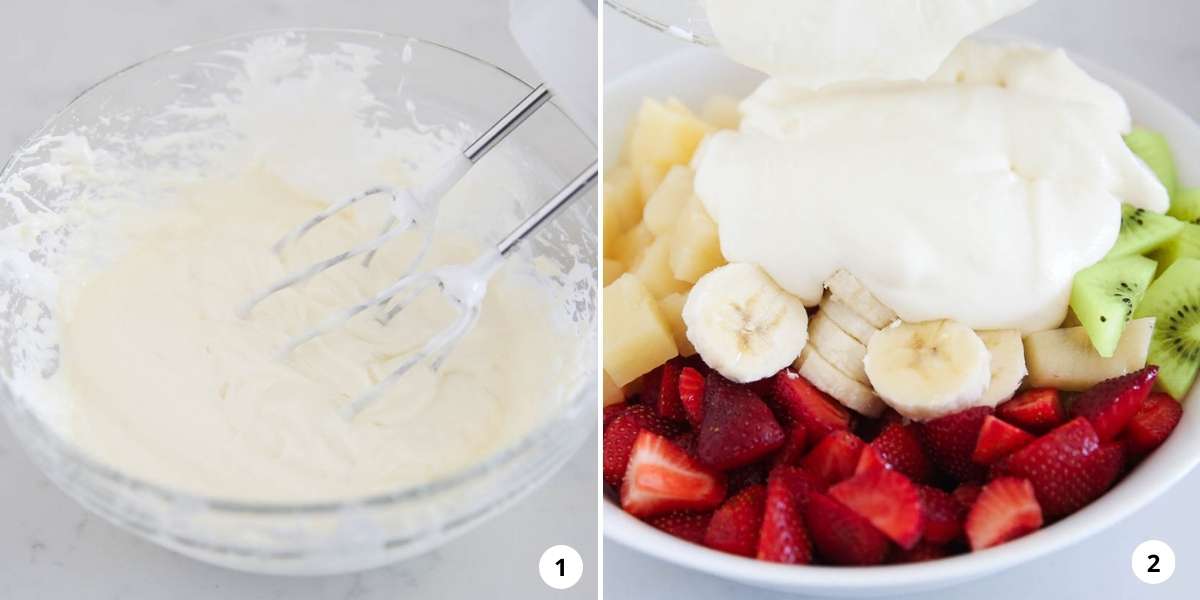 How to Make Hawaiian Fruit Salad
This creamy cheesecake salad recipe can be prepared in just a few minutes!
Make the cream cheese mix. Use a hand mixer to whip the softened cream cheese into a smooth mixture until fluffy. Turn off the electric mixer and use a spatula to fold in the marshmallow cream until everything is combined.
Add fruit and chill. Once ready to serve, fold cheesecake mixture with the fruit using a large spoon. Place the bowl in the refrigerator until you're ready to serve the salad. Once mixed, it's best served within the hour.
Make Ahead
We're all short on time these days and I'm always looking for ways to get ahead, especially when it comes to meal prep! You can prepare this Hawaiian fruit salad in advance up until the part where you combine the fruit and cream.
Store the cheesecake cream and sliced fruit separately in the fridge until just before you're ready to make and serve the salad.
Make sure to let the cream mixture come to room temperature for 15 minutes or so and to drain the fruit of any excess liquid before adding the fruit to make it easier to combine everything.
Helpful Tips
Make sure your cream cheese is soft before whipping it. If you forget to leave it out of the fridge to soften, don't worry! I have a couple of other suggestions for how to soften cream cheese.
If the cream mixture seems too thick, add a splash of cream or milk or some of the leftover pineapple juice to loosen it a bit. Be careful not too add too much liquid.
Hawaiian fruit salad is a pretty good-looking salad! Show it off in a tall bowl, preferably a large bowl made of glass, so people can see what it looks like.
Variations
It's so easy to customize this dessert salad to your tastes. Here are a few fun suggestions:
Add in or replace one of the fruits with chopped green apples, red or green grapes, blueberries, or mango. Maraschino cherries are always a hit!
Try adding a bit of bright citrus flavor to your cream mixture by adding ½ teaspoon of lemon or lime zest.
Mix in ½ teaspoon of vanilla, almond, or coconut extract for added flavor.
Sprinkle mini marshmallows on top of the salad for the kids.
Add shredded sweetened or unsweetened coconut like I do in ambrosia salad for a little extra island flavor for the adults.
Serve with graham crackers for dipping!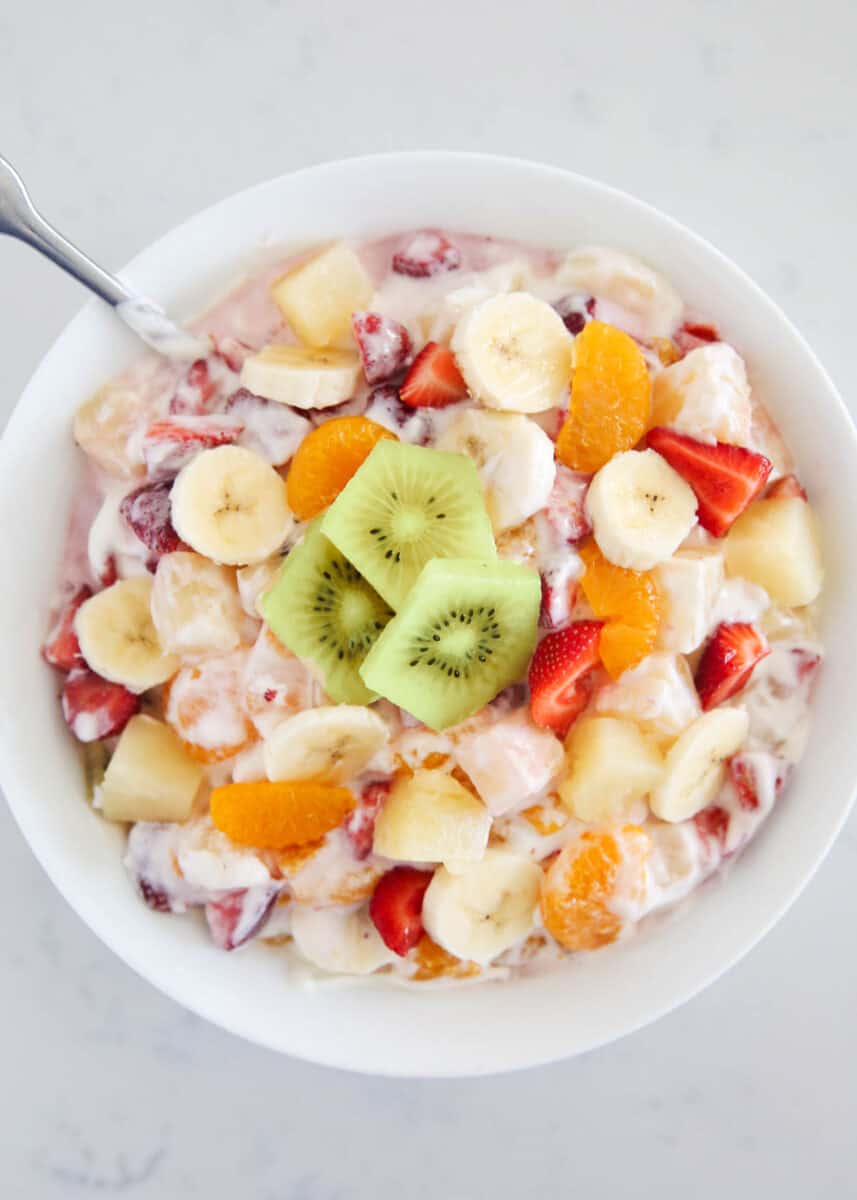 Storing Tips
Once you've combined the fruit with the cheesecake cream, either serve it right away or cover the bowl tightly with plastic wrap and store it in the fridge.
It's best to eat this Hawaiian fruit salad within a few hours. The juices start to break down the cream mixture and the whole thing gets a bit soft and runny after a while.
If you aren't planning to serve it until the next day, store the cream cheese mixture and sliced fruits separately until you're ready to combine them.
FAQs
Can you use frozen fruit?
I don't recommend using frozen fruit in Hawaiian fruit salad. As they thaw, they release a lot of liquid which will impact the texture of the cheesecake cream. A combination of canned and fresh works best.
What can you do with the leftover pineapple and mandarin orange juices?
You want to fully drain the pineapple and mandarin oranges of their juices before adding them to the salad. I like to save the juice and use it to add to homemade popsicles, smoothies, and this salad dressing for my mandarin orange salad recipe!
Can you double this recipe?
Absolutely! You can easily double this recipe if you need to feed a large crowd.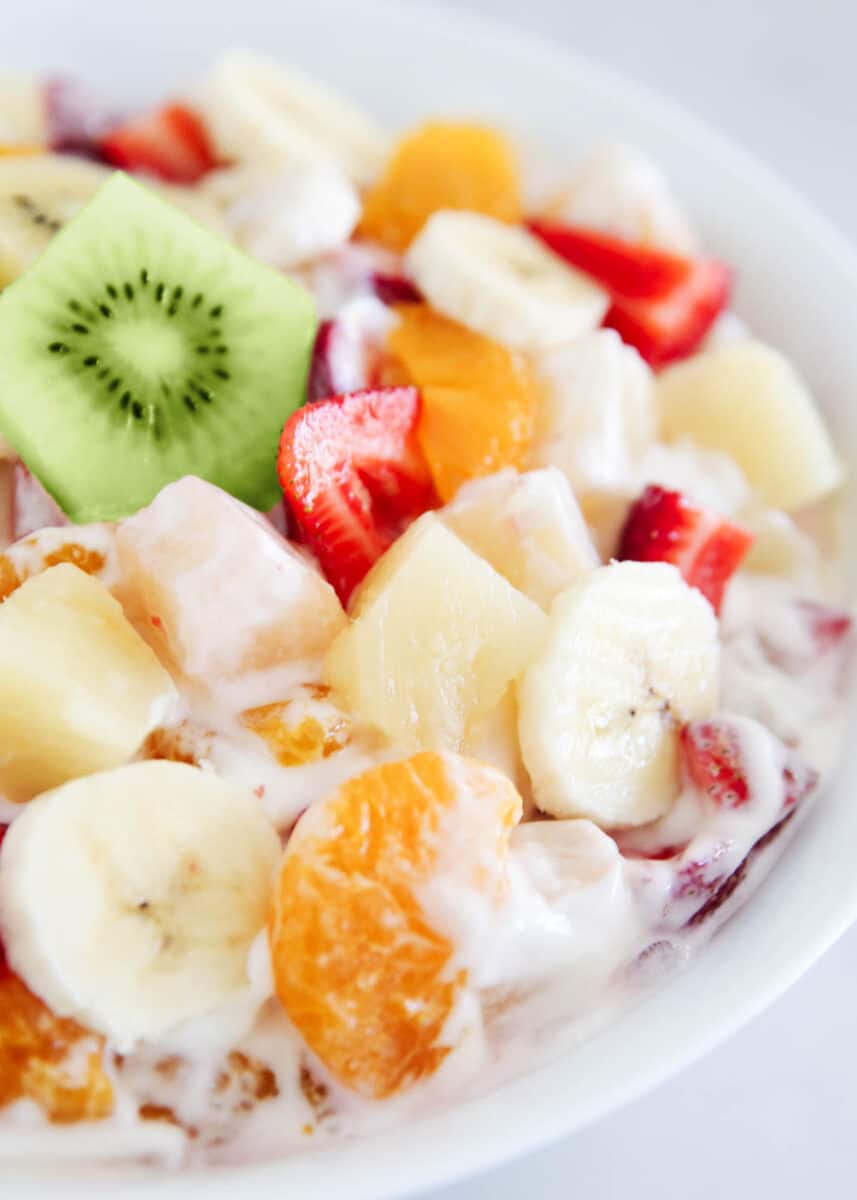 HUNGRY FOR MORE? Subscribe to my newsletter and follow on Facebook, Pinterest and Instagram for all the newest recipes!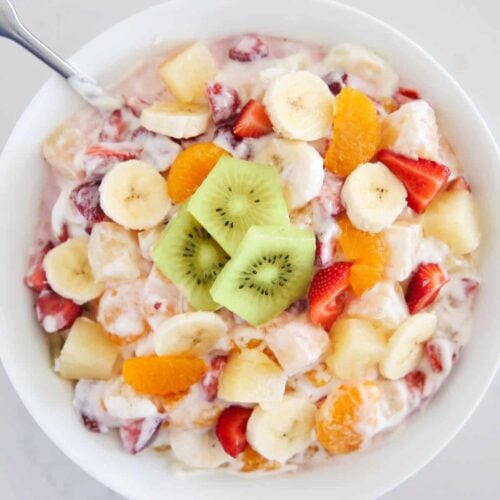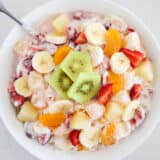 Hawaiian Fruit Salad
This creamy Hawaiian fruit salad recipe is loaded with juicy fruit and cheesecake flavor! It's so quick and simple to make and is always a crowd-pleaser!
Ingredients
1 (8-ounce) package cream cheese , at room temperature
7 ounces marshmallow creme
1 pound strawberries , hulled and sliced
1 (20-ounce) can pineapple chunks (or tidbits), drained
1 (10-ounce) can mandarin oranges , drained
2 kiwi , peeled and cut
1 banana , cut into coins
Instructions
In a medium bowl, whip the softened cream cheese with a handheld mixer until fluffy. Add in the marshmallow cream and mix until combined.

Fold in the strawberries, pineapple, oranges, kiwi, and banana with a large spoon.

Refrigerate until ready to serve. Best served within a few hours.
---
Notes
To soften cream cheese: Leave it on the counter for 1 hour or so. Alternatively, place the cream cheese on a microwave-safe plate and heat for about 15 seconds, or until soft (not melted).
Make ahead: Do not combine the fruit and cream mixture until ready to serve. Simply cover the cream cheese mixture and diced fruit separately. Store in the refrigerator. You will need to let the cream mixture set out at room temperature about 15 minutes before adding fruit.
Variations:
Add in (or replace) one of the fruits with green apples, grapes, or mango.
Sprinkle mini marshmallows on top for the kids.
Sprinkle shredded coconut on top for the adults.
Nutrition
Calories: 225kcal | Carbohydrates: 39g | Protein: 3g | Fat: 8g | Saturated Fat: 5g | Polyunsaturated Fat: 1g | Monounsaturated Fat: 2g | Cholesterol: 23mg | Sodium: 74mg | Potassium: 295mg | Fiber: 3g | Sugar: 29g | Vitamin A: 555IU | Vitamin C: 54mg | Calcium: 56mg | Iron: 0.5mg
Nutrition provided is an estimate. It will vary based on specific ingredients used.
Did you make this recipe? Don't forget to give it a star rating below!