Rosemary roasted potatoes are perfectly seasoned and crispy on the outside and tender and fluffy on the inside. These delicious herb roasted potatoes are as easy to make as they are addicting!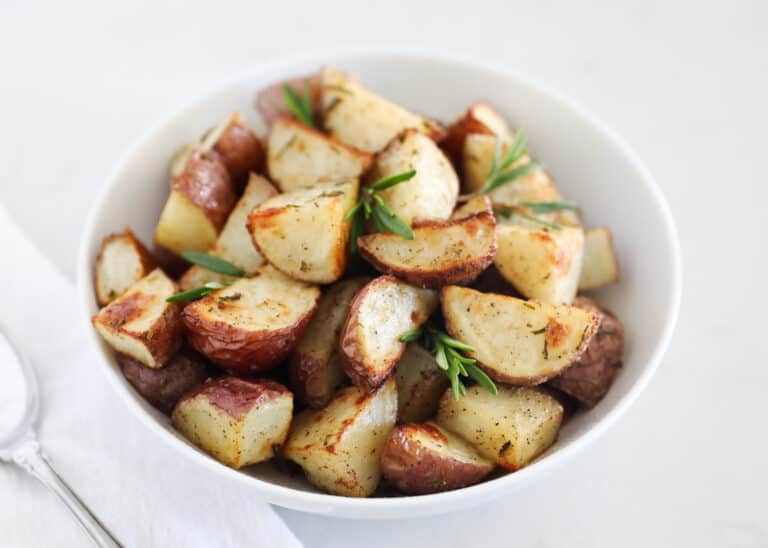 Herb Roasted Potatoes
There's something so elegant yet so simplistic about this rosemary potatoes recipe. It's a side dish that works just as well with a casual hamburger as it does a fancier steak in the oven. They've got crispy outer edges and a tender fluffy interior that makes each irresistible bite of potato better than the one before.
Rosemary garlic potatoes are a slight variation on my roasted red potatoes. The addition of rosemary not only levels up the presentation but the herbaceous flavor of rosemary is so addicting.
Right now my kids are big on smashed potatoes and french fries (shocking, I know) and because they also love roasted potatoes of any kind, when I serve these garlic rosemary roasted potatoes, they're always the first things gone from their plate.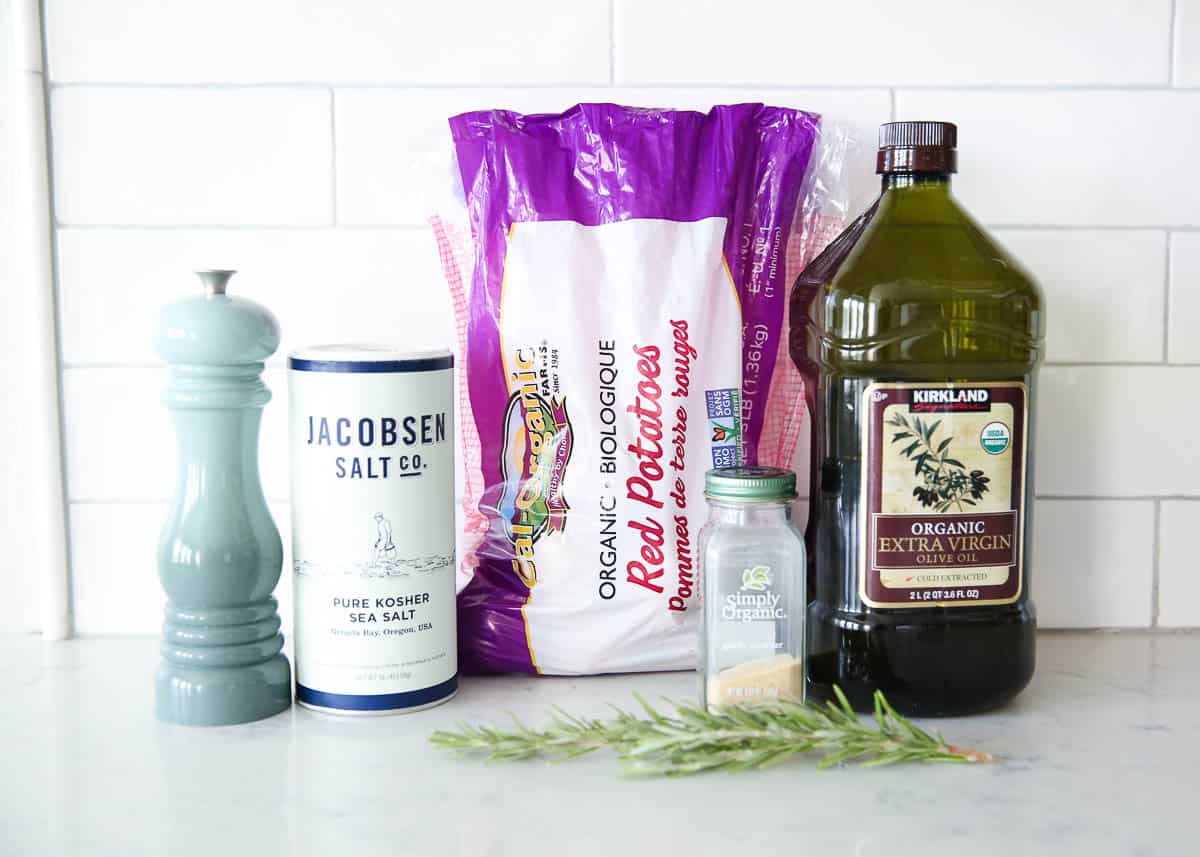 Best Potatoes for Rosemary Roasted Potatoes
I recommend using red potatoes for this recipe, however, it's definitely not your only choice. You can also use Yukon gold or even sweet potatoes. For the sweet potatoes, you'll want to peel them and cut them into 1/4″ strips rather than chunks. Baby potatoes cut in half also work, just like when making potatoes on the grill.
Hot tip: You can also use russet potatoes if that's what you have, but I usually save them for twice baked potatoes. Russets have a higher starch content, so soaking them in an ice water bath to rid them of much of their starch and then drying them as best as you can before roasting will help them crisp up nicely.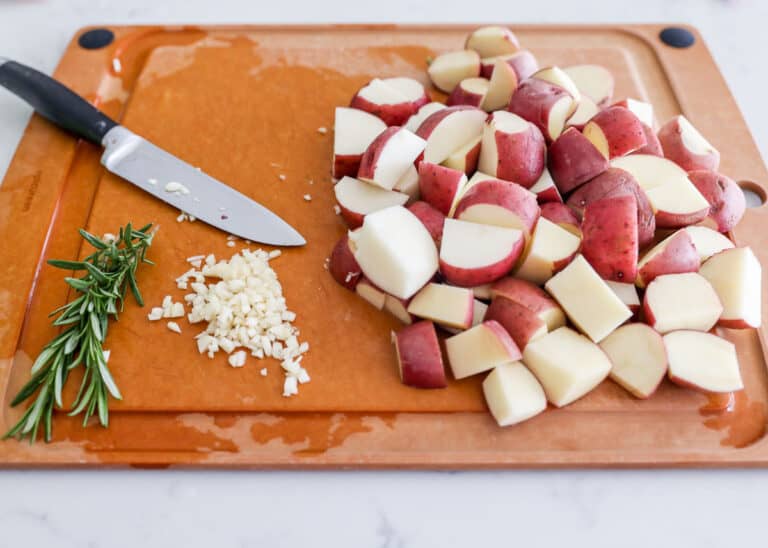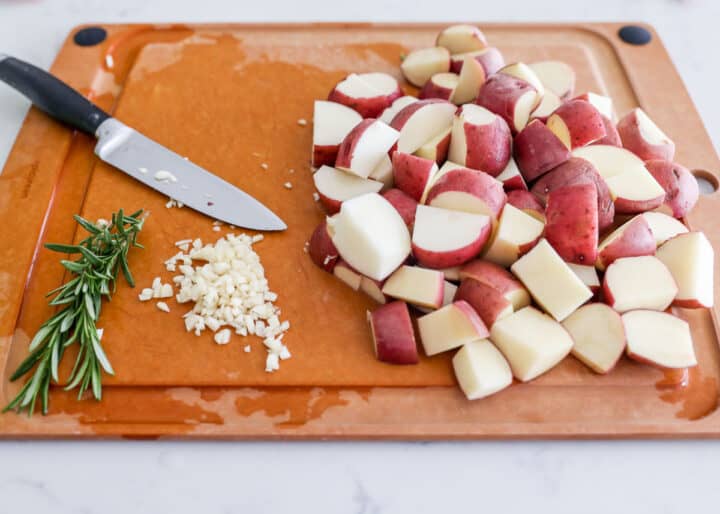 Do I Need to Peel Them?
You don't have to! You may want to consider it if you're using russets as its skin is much coarser than red potatoes or Yukon golds whose skin is thin and delicate, but again, it's up to you. If you do peel them, they will still crisp up nicely.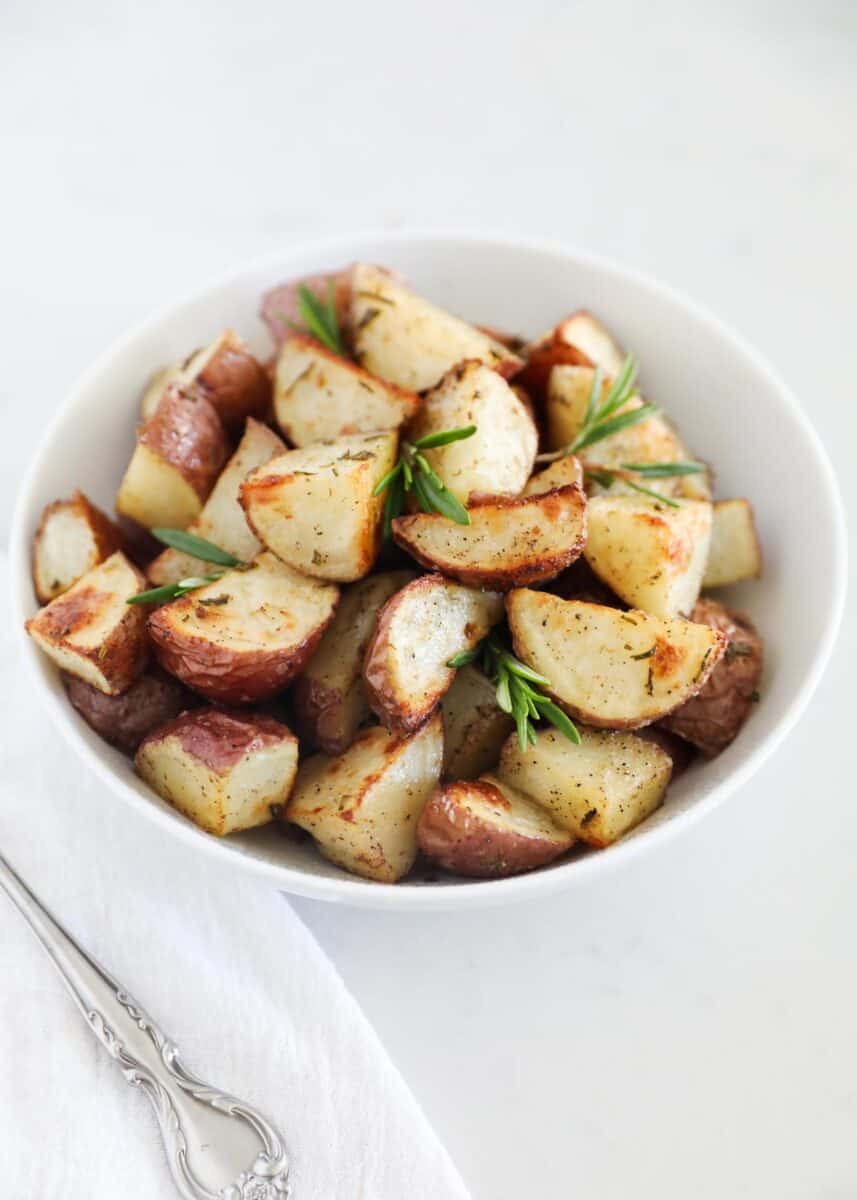 Tips
For even faster preparation, you can actually cut your potatoes a couple of days in advance and keep them stored submerged in water in an airtight container. This will help keep them fresh as well as draw out any excess starch.
Take a moment to place each piece of potato cut side down. This way you know it will get nicely browned and extra crispy early on.
Best served right away as they will be at their optimal crispy texture straight out of the oven. You can of course have leftovers the next day, but they will never be as crispy as they once were, so get 'em while you can!
Flip halfway through roasting time just to make sure all sides are equally crispy.
When they are done they should pierce easily with a fork but not fall apart.
Serving Recommendations
This side dish taste delicious served along any of the following:
Storing Suggestions
Any leftovers can be stored in an airtight container for up to 3 days. Reheat in a skillet or the oven. If you're in a hurry, you can also heat them in the microwave.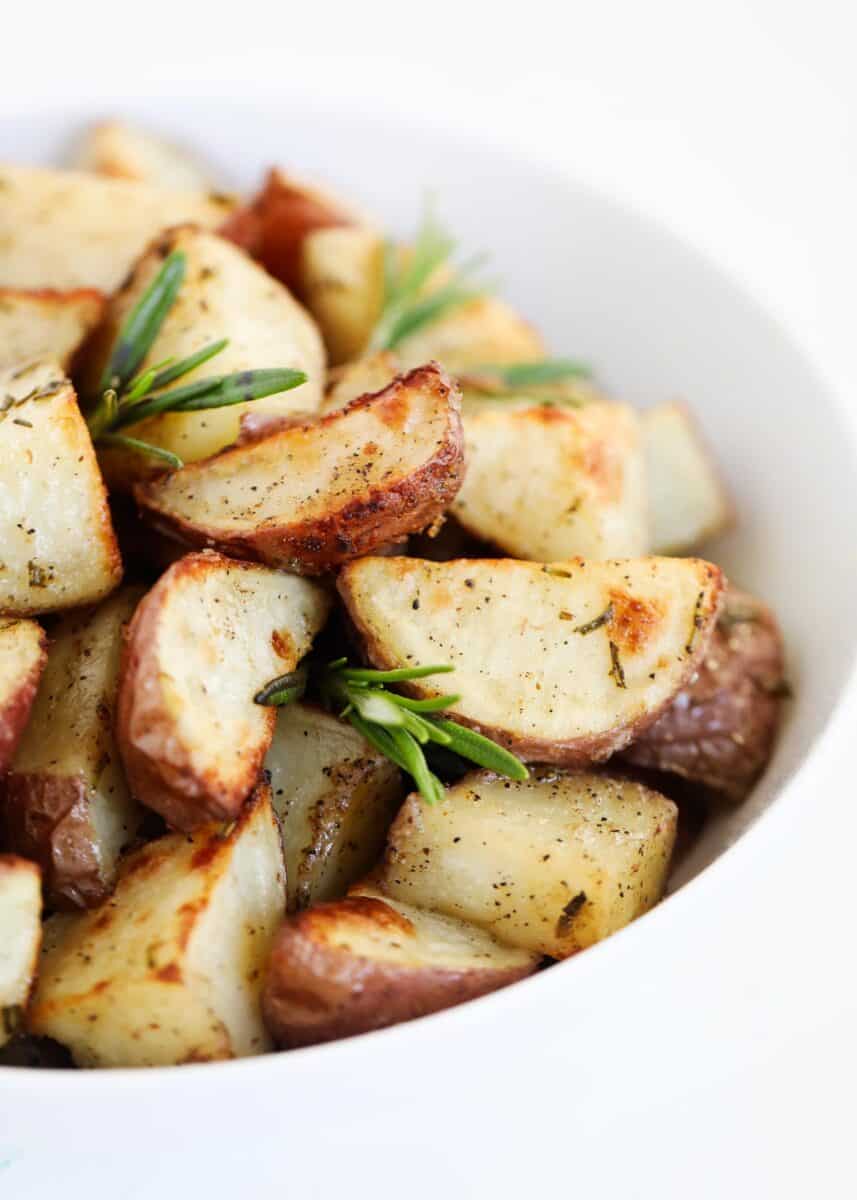 More Delicious Side Dishes:
HUNGRY FOR MORE? Subscribe to my newsletter and follow on Facebook, Pinterest and Instagram for all the newest recipes!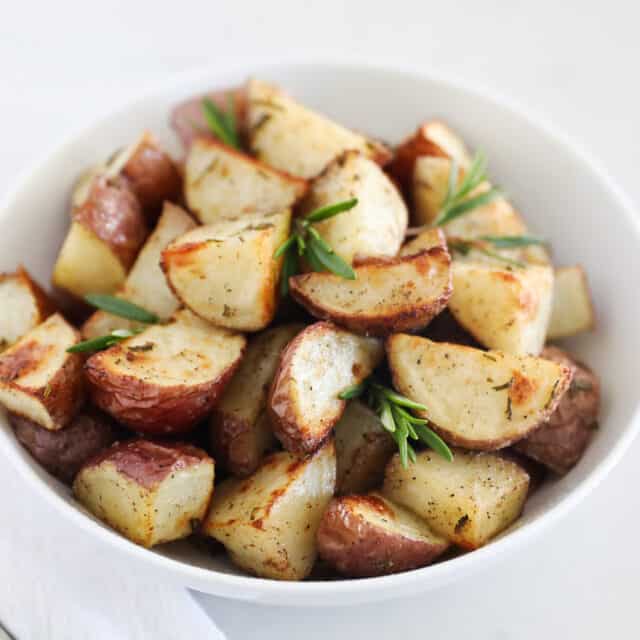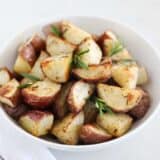 Rosemary Roasted Potatoes
Rosemary roasted potatoes are perfectly seasoned and crispy on the outside and tender and fluffy on the inside. These delicious herb roasted potatoes are as easy to make as they are addicting!
Ingredients
1 ½ pounds red potatoes
2 Tablespoons extra virgin olive oil
1 teaspoon Kosher salt , more to taste
1 teaspoon garlic powder
½ teaspoon ground black pepper
2 Tablespoons chopped fresh rosemary , or 2 teaspoons dried
Instructions
Preheat the oven to 450°F. Then cut the red potatoes into 4 (about 1-inch pieces).

Combine the potatoes, olive oil, salt, garlic powder, pepper and rosemary in a large bowl. Toss until combined.

Spread evenly onto a baking sheet. Bake in preheated oven for 40 minutes, or until edges are crispy. Flip half way through.

Serve while warm. Store leftovers in a covered container up to 3 days.
---
Notes
Potatoes: You may also use Yukon gold potatoes. This recipe also taste great with sweet potatoes peeled and cut int 1/4″ strips. Herbs: If you don't have fresh rosemary, you can use 2 teaspoons dried. Also, if you'd prefer other herbs parsley and thyme would be great additions. Cheese: If you'd like to add cheese, you can sprinkle some shredded or grated parmesan cheese the last few minutes of cooking.
Nutrition
Calories: 124kcal | Carbohydrates: 19g | Protein: 2g | Fat: 5g | Saturated Fat: 1g | Sodium: 409mg | Potassium: 529mg | Fiber: 2g | Sugar: 1g | Vitamin A: 28IU | Vitamin C: 10mg | Calcium: 15mg | Iron: 1mg
Nutrition provided is an estimate. It will vary based on specific ingredients used.
Did you make this recipe? Don't forget to give it a star rating below!