This southwest quinoa salad makes a delicious and flavorful side dish or main meal. You can feel great about eating this healthy, protein-packed salad all summer long!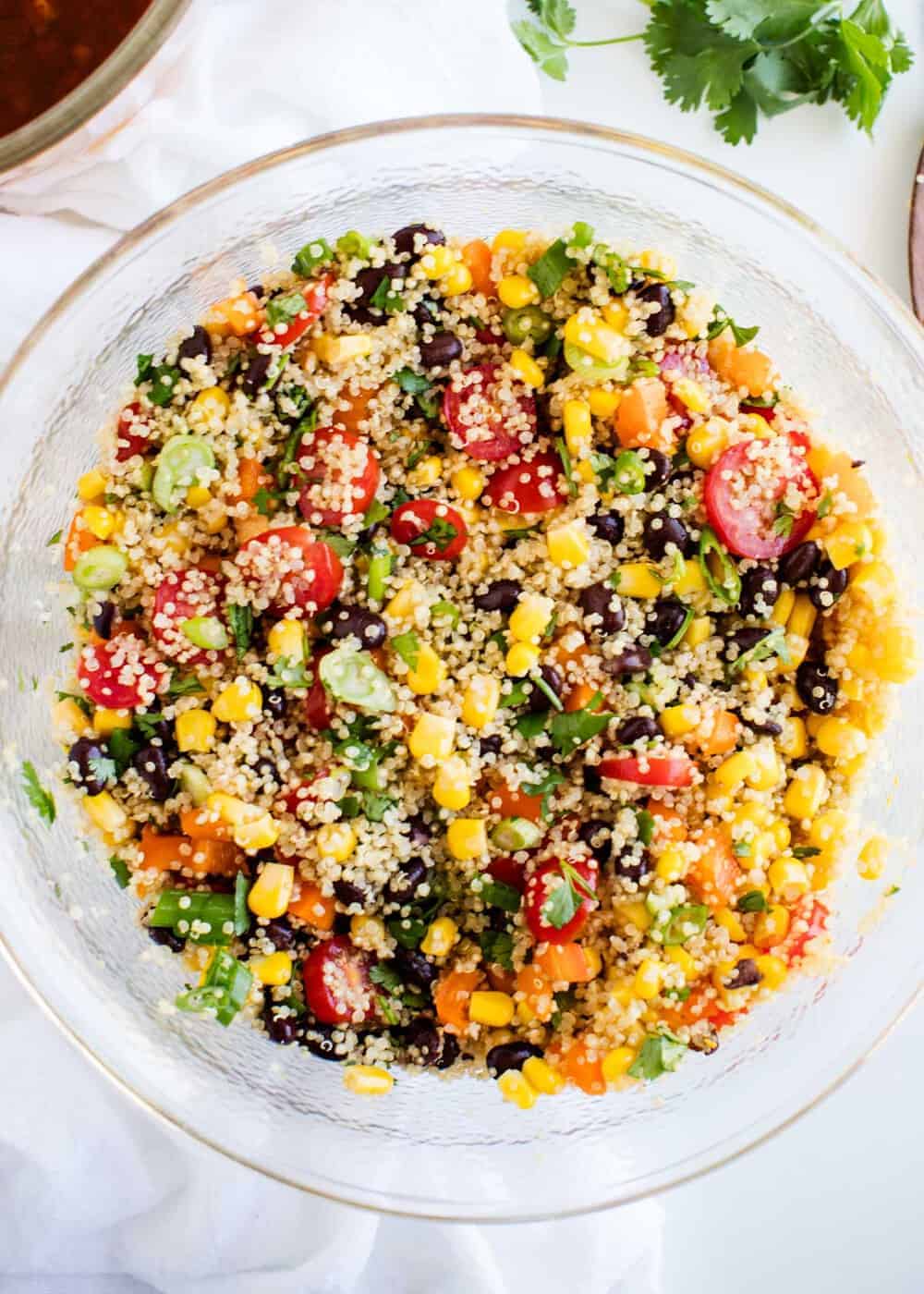 Quinoa Salad
Since Summer is here, I wanted to lighten things up with a healthier recipe that has all the same great flavors and textures as a traditional taco salad. This recipe is so good that you won't even miss any meat. I just love the versatility and the yummy and fresh ingredients!
Today I'm kicking things off with a delicious and easy southwest quinoa salad. It's made with a fresh vegetable mixture, homemade salad dressing and cooked quinoa. If you've never tried quinoa, it's a healthy gluten-free grain that is mild in flavor, has a light crunch and is packed with protein. It's the perfect base for this recipe and is a great way to add protein to a dish without including meat.
I love that this recipe can be made ahead of time. It's best served chilled and is the perfect cold side dish to bring to a BBQ, but is also hearty enough for a main meal. It makes a filling lunch, hearty dinner or perfect side dish to these southwest chicken egg rolls or any Mexican meal.
Why we Love this Recipe
It's healthy. It's packed with protein and fiber from the quinoa and veggies and will keep you fuller longer.
Loaded with flavor. The flavors from the homemade dressing and fresh veggies are bold and delicious. Full of Mexican flare.
It's a make-ahead dish. You can easily make it the night before. In fact, the longer it marinates, the more flavorful it will be.
Vegetarian. You won't miss the meat in this delicious vegetarian dish. Plus it has plenty of protein, so no meat is necessary.
Gluten-free. Living a gluten-free lifestyle? This dish is perfect for you! All ingredients are gluten-free.
Ready in 30 minutes! You can't beat a dish that's ready in half an hour. Easy, simple and delicious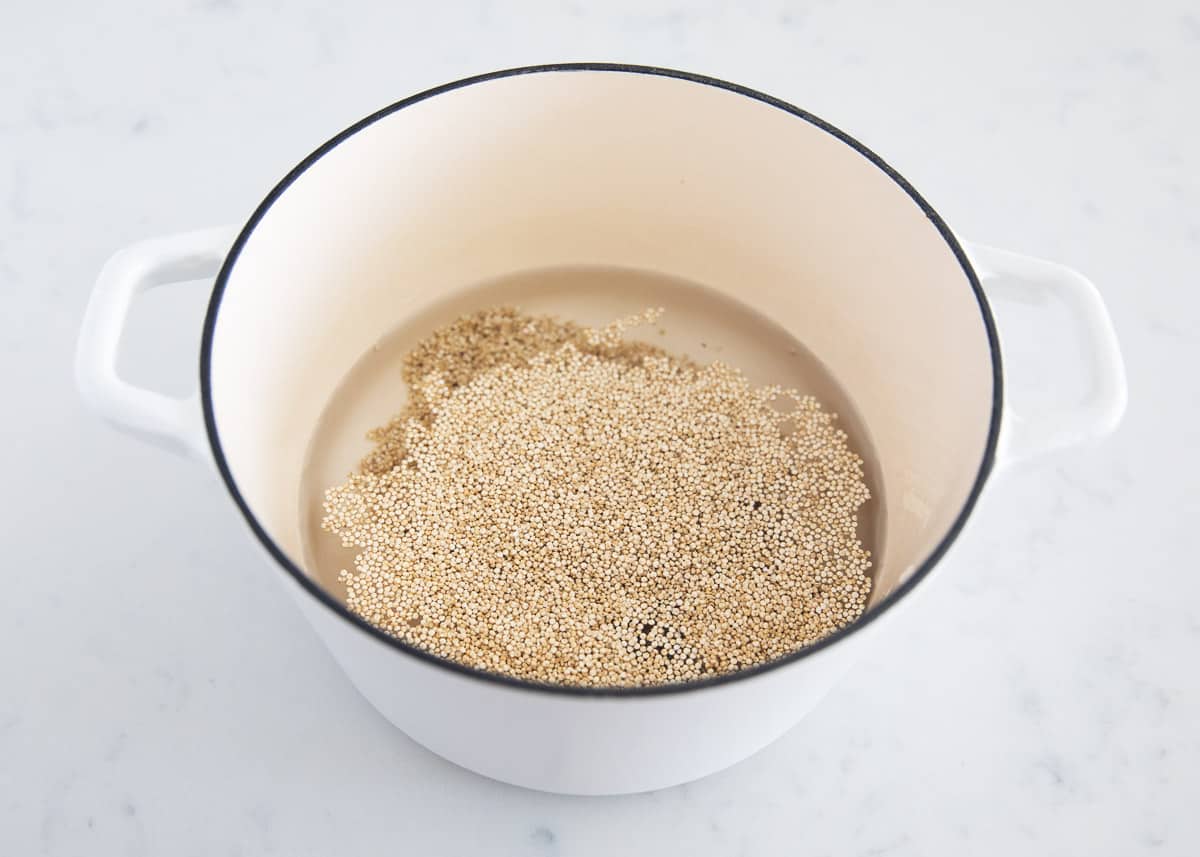 Cooking Quinoa
Learning how to cook quinoa is one of those things that seems intimidating, but it's really not! It's somewhat similar to cooking rice, with a few small differences. You can make it on the stove top or in the slow cooker or instant pot. Each way is simple, so it's really about preference. I usually cook mine on the stove because it's quick and easy. Sometimes I'll double the quinoa and save half to make these stuffed bell peppers the next night.
You can use either red or white quinoa when making this recipe – both taste delicious. If you've never tried it, you may want to start with white quinoa. It tastes more mild and has a fluffier texture than red quinoa. Red quinoa is definitely still delicious, however it has a nuttier flavor and a heavier texture. I like to cook my quinoa in chicken broth (or vegetable broth) instead of water to add a little more flavor.
Tips + Variations
Chop finely. When chopping your herbs and veggies, make sure to slice them into smaller, evenly sized pieces. You don't want a big hunk of tomato or pepper to be the only thing you taste. Chopping them finely ensures you get the most out of every bite!
Spice. If you like it extra spicy, throw more jalapeno into your dressing or add a dash of cayenne.
Customize. This salad is super easy to customize based on what you have on hand. Add in more veggies, or make a simpler version like my quinoa black bean salad. It will be delicious no matter what!
Grilled corn. Using grilled corn is a fabulous way to add another layer of dimension to this salad. The char from the grill gives it the best flavor!
Let marinate. The longer the salad chills in the fridge, the more flavor it will have. The dressing soaks into the quinoa and makes it super flavorful and delicious. Let it marinate for at least 2 hours for optimal flavor.
Meal prep. This recipe is perfect for meal prep! You could even add grilled chicken, roasted sweet potatoes or diced avocado to bulk it up a little more.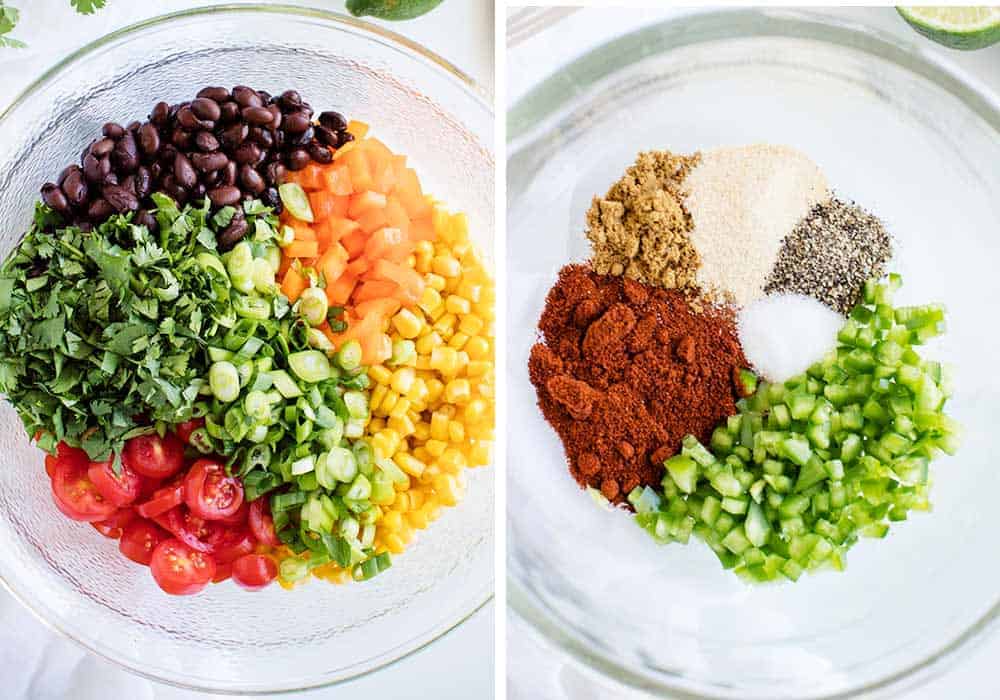 Make Ahead + Storing
This is the perfect make ahead dish. It's best if eaten cold and needs to chill in the refrigerator for at least 2 hours (although I usually keep it in overnight). Simply prepare as directed, then cover with a lid or plastic wrap and store in the fridge. The flavors marinate together, which creates a super flavorful quinoa salad that is always loved by all.
The salad will stay fresh in the fridge for up to 3 days. Make sure to give it another big stir before enjoying, so that the dressing and veggies are evenly dispersed.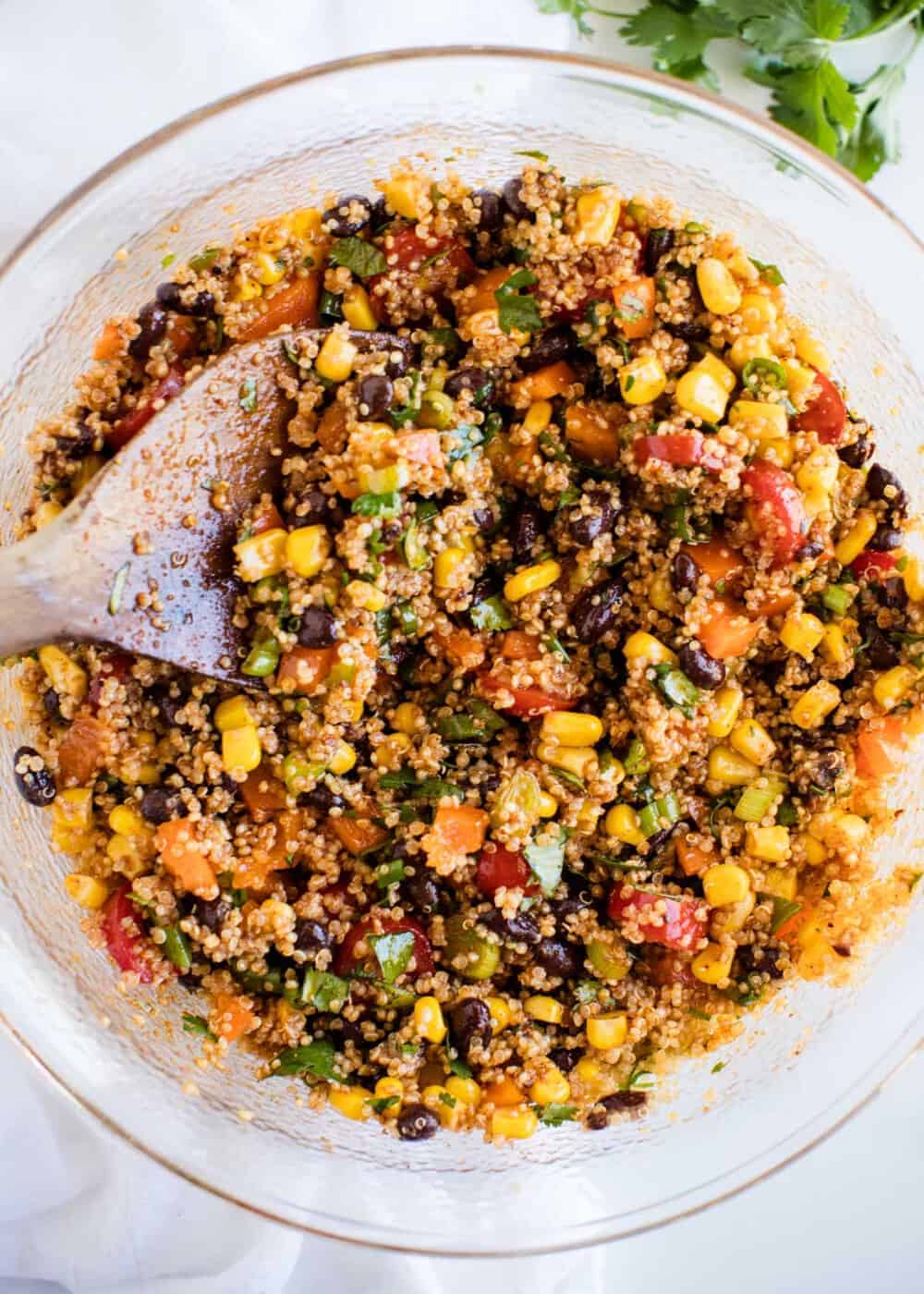 More Fresh Salad Recipes
HUNGRY FOR MORE? Subscribe to my newsletter and follow on Facebook, Pinterest and Instagram for all the newest recipes!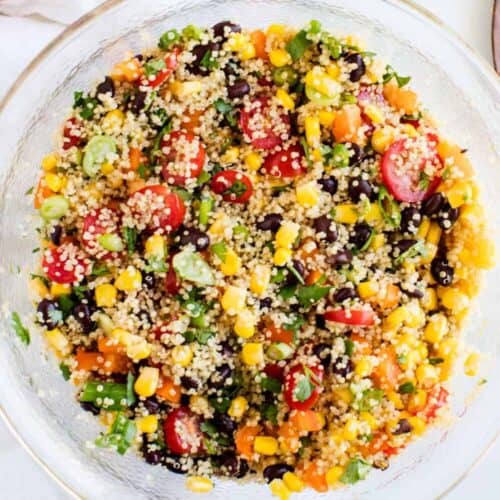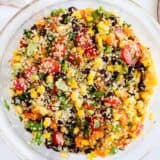 Southwest Quinoa Salad
This southwest quinoa salad makes a delicious and flavorful side dish or main meal. You can feel great about eating this healthy, protein-packed salad all summer long!
Ingredients
1 cup quinoa , rinsed
1 can black beans , drained and rinsed
1 can whole kernel corn , drained and rinsed
1 orange bell pepper , chopped
½ pint grape tomatoes , sliced
3 green onions
Handful fresh cilantro , chopped
Dressing:
¼ cup extra virgin olive oil
Juice of 2 large limes
1 teaspoon Kosher salt
1/2-1 teaspoon ground black pepper , more to taste
1-2 teaspoons garlic powder , more to taste
2-3 teaspoons chili powder , more to taste
1-2 teaspoons cumin , more to taste
1 jalapeno , seeded and diced
Instructions
Cook quinoa as directed on package. I like to cook it in chicken broth. Once the quinoa is completely cooked, set it aside to cool.

Drain and rinse the canned black beans and corn. Pat dry with paper towels and place into a large bowl. Then add in the chopped bell pepper, sliced grape tomatoes, green onions and cilantro.

In a separate small bowl, whisk together olive oil, lime juice, salt, black pepper, garlic powder, chili powder, cumin and diced jalapeno. Add more seasonings to taste.

Add the cooled quinoa to the vegetable mixture. Pour dressing over top the salad and toss until combined. Season to taste.

Refrigerate for at least 2 hours or overnight. Served chilled.
---
Notes
Make ahead: This salad can easily be made ahead of time. I usually make it the day before so the flavors can marinate together a little longer.
Variations: Feel free to use either red or white quinoa. Both would taste equally as delicious!
Storing: This salad will keep in the fridge for about 3 days. Just keep stored in an airtight container.
Meal prep: This recipe is perfect for meal prep! You could even add chicken or avocado to bulk it up a little more.
Nutrition
Calories: 263kcal | Carbohydrates: 38g | Protein: 10g | Fat: 8g | Saturated Fat: 1g | Sodium: 1264mg | Potassium: 549mg | Fiber: 7g | Sugar: 2g | Vitamin A: 1438IU | Vitamin C: 35mg | Calcium: 43mg | Iron: 3mg
Nutrition provided is an estimate. It will vary based on specific ingredients used.
Did you make this recipe? Don't forget to give it a star rating below!