Make this delicious Mediterranean quinoa salad in minutes! A vibrant, fresh, and highly nutritious salad combining bold flavors, crunchy textures, and wholesome ingredients all tossed in a tangy vinaigrette!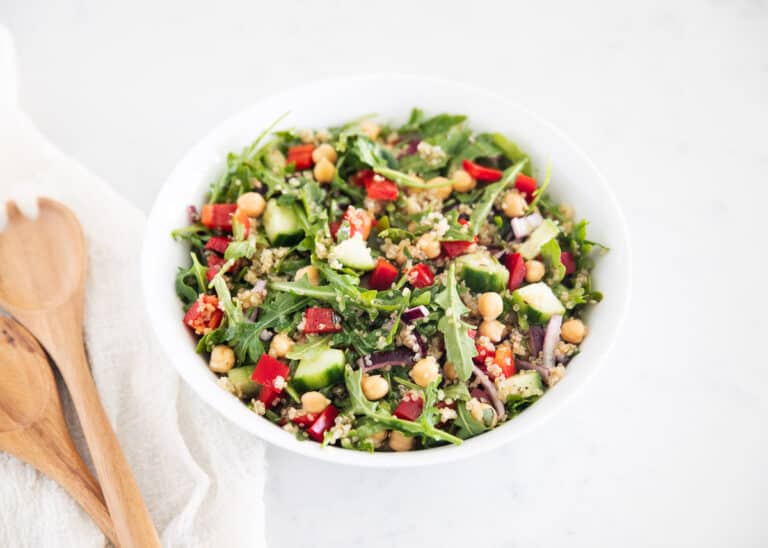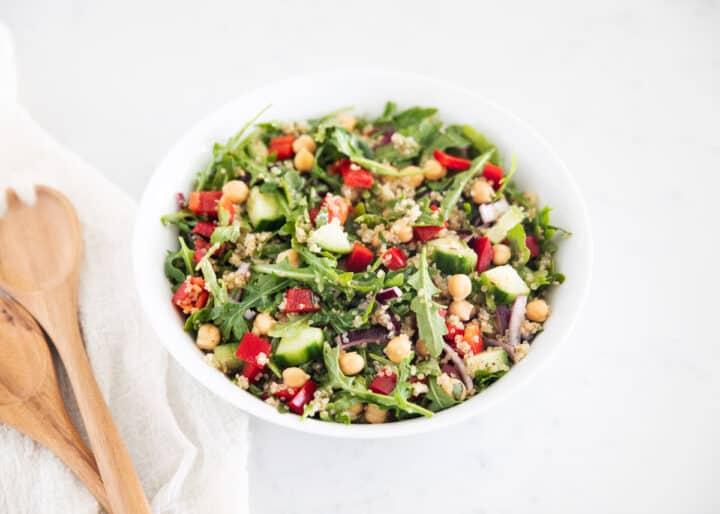 Quinoa Salad Recipe
Light and flavorful, this Mediterranean quinoa salad combines nutty quinoa with vibrant red bell pepper, crunchy cucumbers, zesty arugula and fresh herbs! It's then tossed in a light Italian dressing, creating a refreshing, bright dish that is perfect for any summer gathering.
There is nothing better than having a healthy lunch or light dinner that I can put together in a pinch and keeps the kitchen cool in the summertime! Other filling summer salads with quinoa that I love to make this time of year include this southwest quinoa salad or mango chicken quinoa salad.
If you have a potluck, picnic or need a side dish for a BBQ, this Mediterranean quinoa salad with chickpeas is easy to make and a crowd-pleaser! It's full of balancing flavors and textures from the chopped bell pepper and chopped onion to the lovely tang from the vinaigrette which includes red wine vinegar and Italian seasoning. It's a great way to show off your garden veggies and holds up well in the fridge after it's dressed!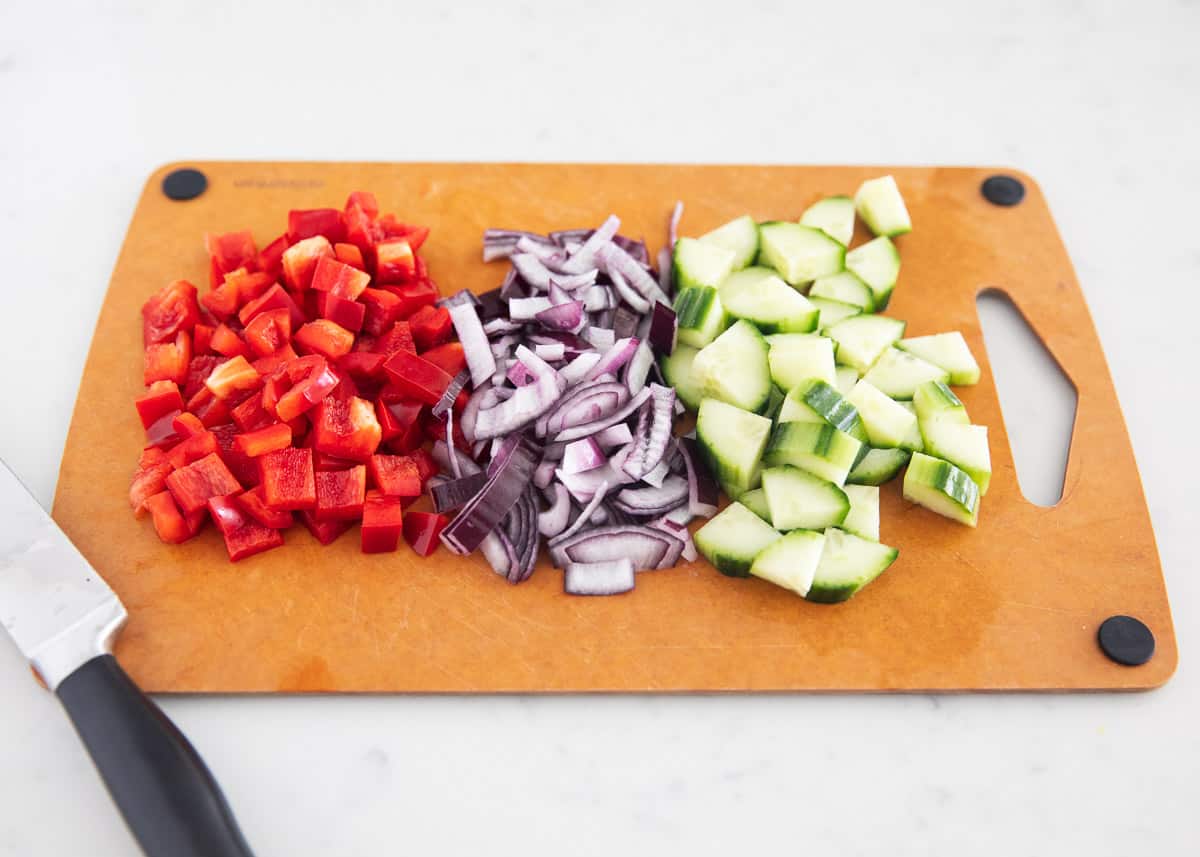 Is this Mediterranean Salad Gluten-Free?
Absolutely! Quinoa is naturally gluten-free, as are the veggies, chickpeas, and all ingredients in the dressing. Not only is this beautiful salad gluten-free but it's also, vegan, and dairy-free. To make completely sugar-free, swap the balsamic vinaigrette with apple cider vinegar or lemon juice. It will change the taste of the dressing, so it's about preference.
What Other Ingredients Can I Add to This Salad?
This recipe is super flexible! Below are just some bonus ideas of what you can substitute or add to an already perfect salad.
Sundried tomatoes
Feta
Pine nuts
Kalamata olives
Goat cheese
Pumpkin seeds
Hemp seeds
Cherry or grape tomatoes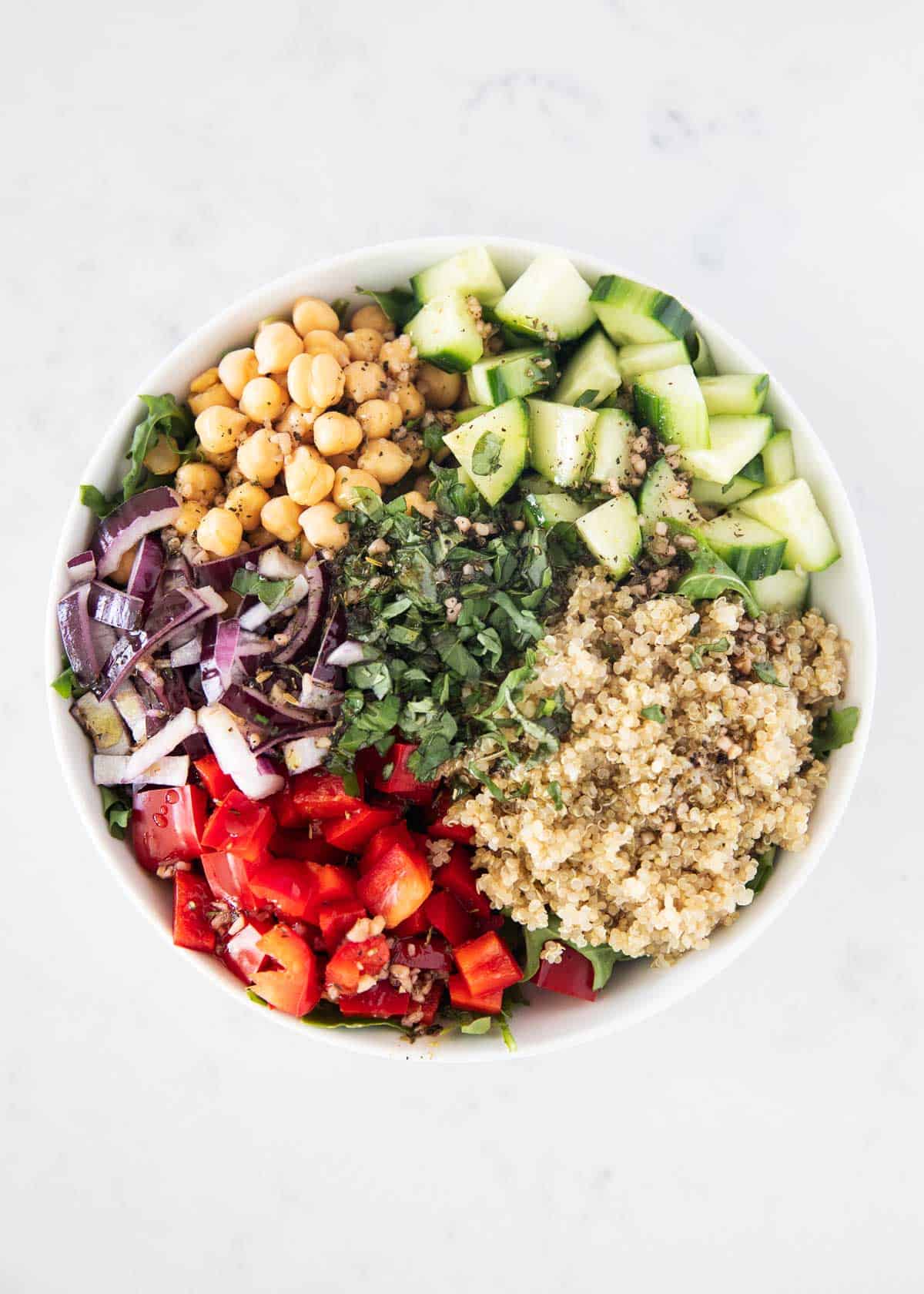 Make Ahead Tips
There are a couple of ways to make this salad ahead of time. You can cook the quinoa a couple of days ahead of time and keep stored in the fridge. You can also chop up your veggies and store them separately along with preparing your homemade Italian dressing and keeping it in an airtight jar until ready to use. In an effort to streamline the process, you have everything ready to assemble.
Alternatively, you can assemble the entire salad with the exception of the dressing (but don't toss yet), in a bowl and keep it in the fridge up to 24 hours ahead. Just before serving, add in the dressing and give it a toss.
How to Store This Quinoa Salad
Keep in an airtight container in the fridge for up to 3 days. Once the salad has absorbed the dressing overnight you may find it tastes even better the next day!
FAQs
What is the best quinoa to use?
White quinoa is the best quinoa to use in this Mediterranean salad. It's fluffier than red or black quinoa and the grains tend to be fluffier when cooked. It's mild taste and texture also pairs well in many dishes, including this salad.
Is quinoa a Mediterranean food?
The Mediterranean diet consists of fresh, whole foods that are minimally processed. While quinoa is grown in South America due to its health benefits it certainly fits into the lifestyle of the Mediterranean way of eating.
Is quinoa salad healthy?
Yes! Quinoa is a source of complete plant based protein and is considered a superfood due to its good for you proteins, fibers, vitamins and minerals. Combine that with antioxidant rich arugula, fresh vegetables and herbs plus additional plant based chickpeas and this salad is full of so many healthy benefits.
Can I freeze leftover quinoa salad?
Unfortunately, no. Your salad would be very soggy upon thawing.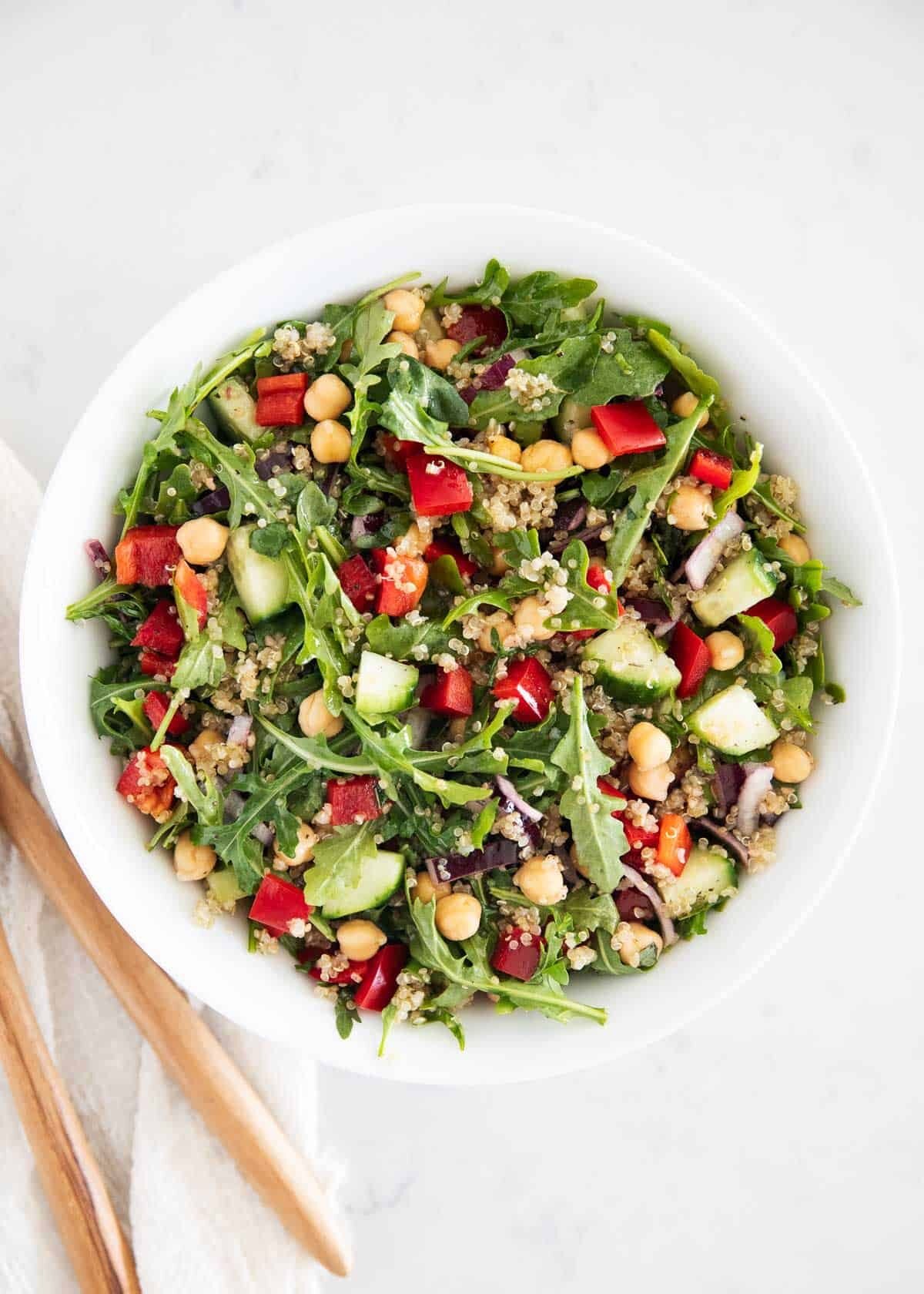 More Fresh Salad Recipes
HUNGRY FOR MORE? Subscribe to my newsletter and follow on Facebook, Pinterest and Instagram for all the newest recipes!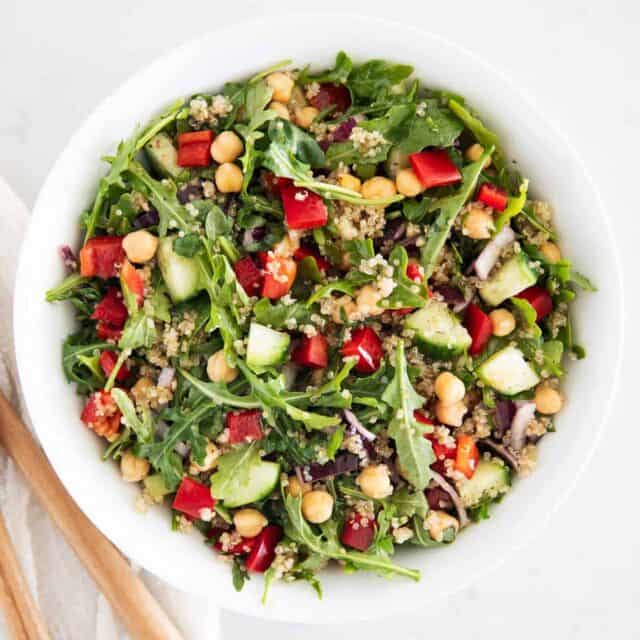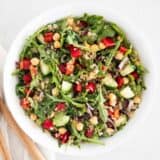 Mediterranean Quinoa Salad
Make this delicious Mediterranean quinoa salad in minutes! A vibrant, fresh, and highly nutritious salad combining bold flavors, crunchy textures, and wholesome ingredients all tossed in a tangy vinaigrette!
Ingredients
½ cup uncooked quinoa , rinsed (or 1 cup cooked)
4 cups arugula
15 ounce can garbanzo beans , drained and rinsed
1 red bell pepper , chopped
1 cucumber , sliced and cut into 4
½ cup red onions , diced
¼ cup fresh basil or parsley , chopped
Dressing:
¼ cup extra virgin olive oil
2 Tablespoons red wine vinegar , or balsamic vinegar
2 cloves garlic , minced
1 teaspoon Italian seasoning
¾ teaspoon Kosher salt , more to taste
¼ teaspoon Freshly ground black pepper , more to taste
Optional: 1/4 cup feta cheese, 1/4 cup kalamata olives, 1/4 cup sundried tomatoes
Instructions
Cook quinoa as directed on package. I like to cook it in chicken broth or with salt in the water. Once the quinoa is completely cooked, drain and set it aside to cool.

In a small bowl, whisk together the olive oil, vinegar, garlic, Italian seasoning, salt and pepper. Add the onions if you'd like to have them pickle slightly. Set aside.

Place the arugula in a large bowl. Then add the garbanzo beans, bell pepper, cucumber and onions. Add feta, olives and tomatoes if desired.

Toss salad together with dressing and then top with fresh herbs. Season to taste. Serve at room temperature or chilled.
---
Notes
Make ahead: This salad can easily be made a day in advanced. Add the dressing before serving.
Variations: Feel free to use either red or white quinoa. You may also add in fresh or sundried tomatoes, feta cheese and kalamata olives.
Storage: This salad will keep in the fridge for about 3 days. Just keep stored in an airtight container.
This recipe is perfect for meal prep! You could even add chicken or avocado to bulk it up a little more.
Nutrition
Calories: 217kcal | Carbohydrates: 23g | Protein: 7g | Fat: 12g | Saturated Fat: 2g | Sodium: 495mg | Potassium: 366mg | Fiber: 5g | Sugar: 2g | Vitamin A: 992IU | Vitamin C: 30mg | Calcium: 71mg | Iron: 2mg
Nutrition provided is an estimate. It will vary based on specific ingredients used.
Did you make this recipe? Don't forget to give it a star rating below!