Chicken quinoa salad with juicy mango and chunks of rich avocado is the perfect light meal or side dish to make this summer.
If you are looking for quinoa recipes with chicken, you've got to give this salad a try. Some of my other favorites to try are chicken fajita bowls, southwest quinoa salad and stuffed bell peppers with quinoa.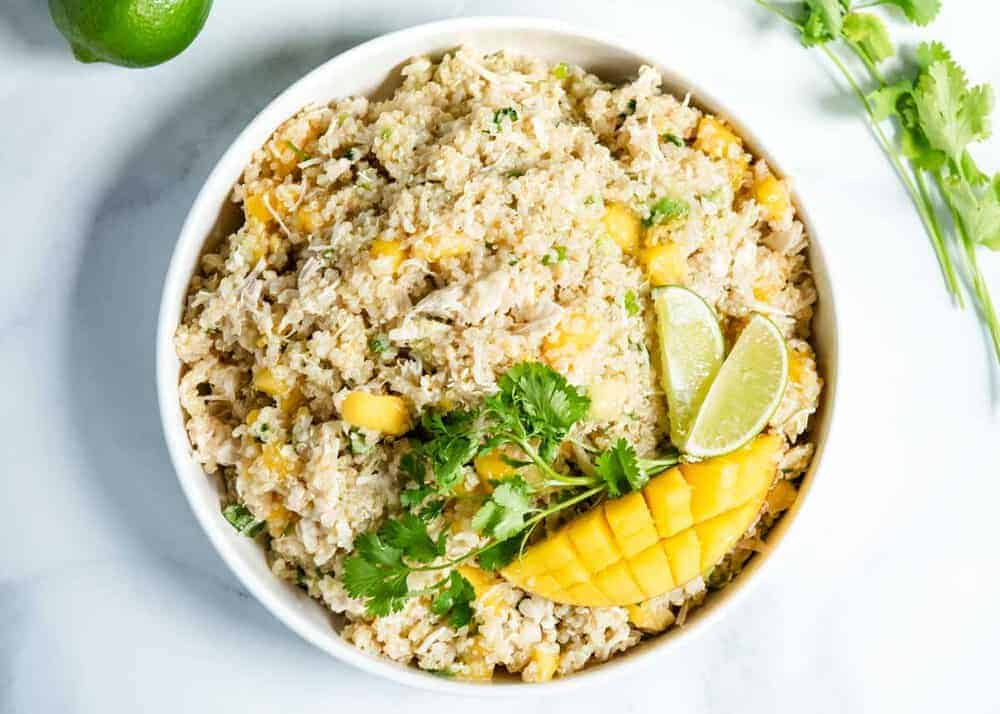 Lately I've been really into quinoa recipes with chicken—in particular, I'm crazy about this mango chicken quinoa salad! It's perfect for a light lunch, dinner, or any gathering.
Whenever I bring this salad to a potluck or summer bbq, people always ask for the recipe and I go home with an empty bowl. It's full of healthy protein and greens, topped with an irresistible tangy and sweet honey-lime dressing.
This is one salad that even my kids enjoy. It's easy to make it kid-friendly—if there is an ingredient your child doesn't like, simply omit it before tossing the dressing into his or her salad plate. For example one of my children doesn't love coconut, so I simply leave it out, make her bowl, then add coconut to the rest of the salad and serve to everyone else. Easy!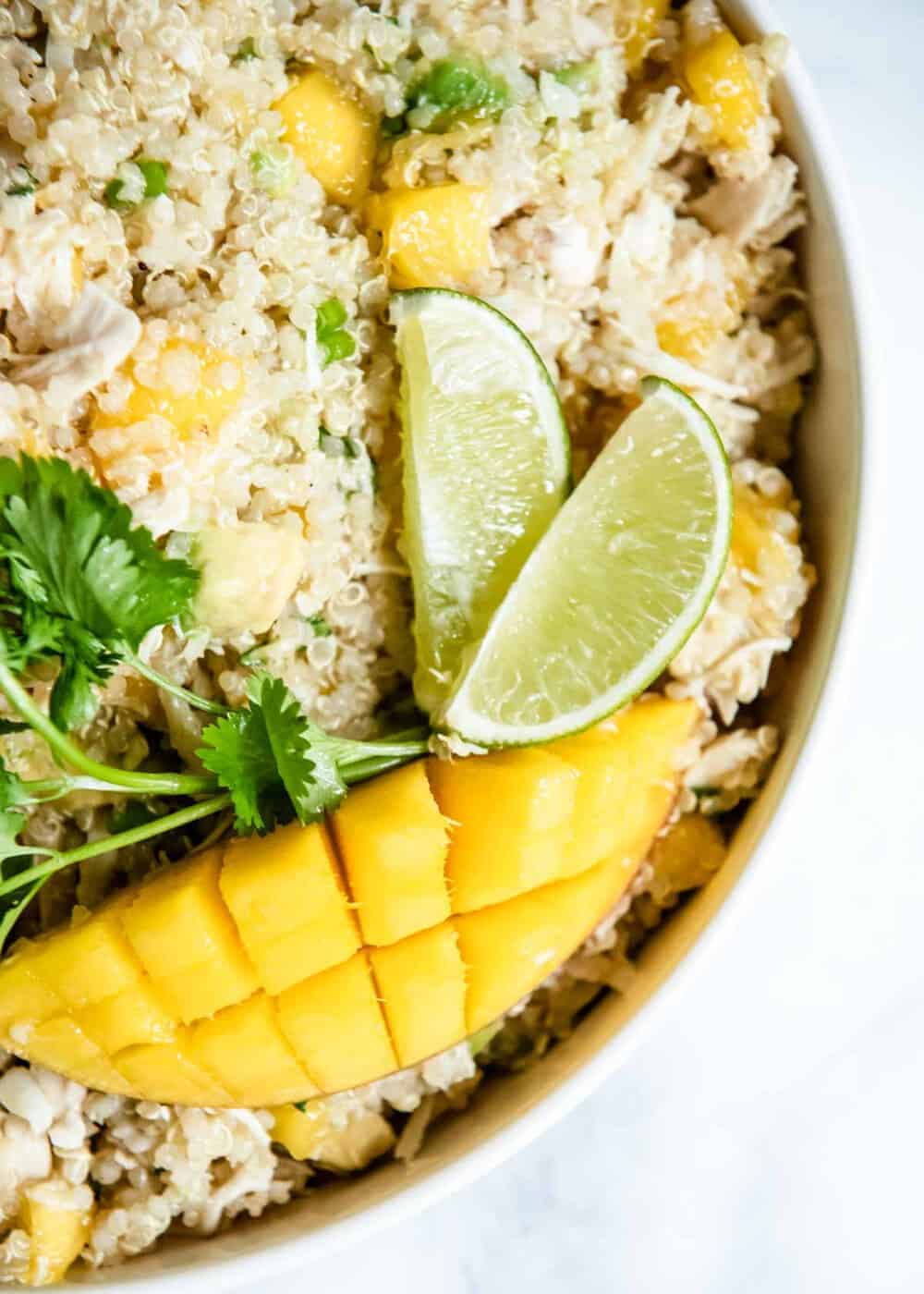 How to cut a mango
This quinoa chicken salad is also loaded with one of my favorite fruits of summer–mango! However, if you haven't cut a mango before, the process can seem a bit daunting, but I assure you it isn't. In fact, here is an entire post showing how to cut a mango the easy way!
How to cook quinoa
Quinoa is certainly a rising star in the culinary world these days, and for good reason. It is a naturally gluten free grain that is often referred to as a superfood. It has more protein than any other grain and is also high in fiber, potassium, and iron.
Wondering how to cook quinoa? It's simple!
Rinse in a fine mesh colander to remove any bitterness
Add one part quinoa to two parts water with a dash of salt, then bring water to a boil
Decrease boil to a steady simmer until all the water is absorbed—about 10 minutes for this recipe
Remove the pot from heat and let sit in the pot with the lid on for 2-3 minutes
Fluff with a fork and enjoy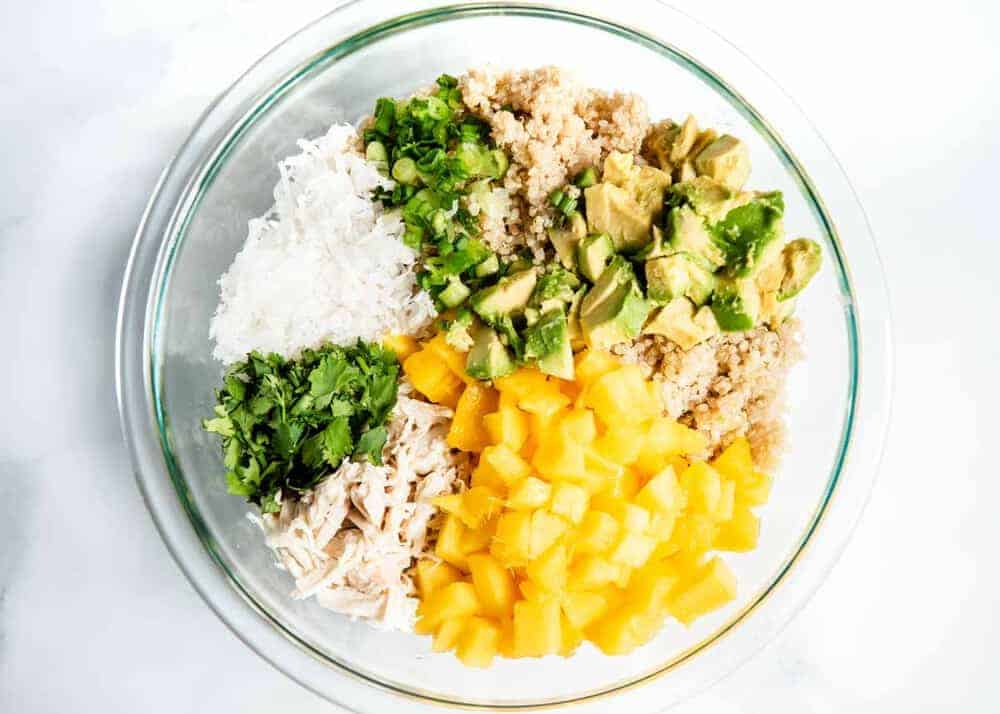 What goes in it?
Chicken: Use white or dark meat (or a combination) and shred the meat or cut the chicken into cubes.
Quinoa: Cook according to the directions above, or simply grab a bag of frozen quinoa at the grocery store and heat it up. Once cooked, make sure it is at least slightly chilled before adding.
Mango: The fruit adds that sweet juicy flavor that makes this salad so good! Cut it into cubes before adding to the salad.
Avocado: This adds healthy fats and a creamy texture. Cut the avocado into cubes and add.
Green onions and cilantro: These finely chopped herbs add flavor and depth to the recipe, however, you can omit if you don't care for either (or both).
Sweetened coconut flakes: Coconut flakes level up the topical flavor of this salad and add a touch of sweetness. If you don't like coconut, you can leave this ingredient out.
Dressing: This salad has an awesome dressing that is super easy to make. It only requires three ingredients: olive oil, fresh squeezed lime juice, and honey. Add the dressing ingredients to a mason jar with a lid, then shake and you're done.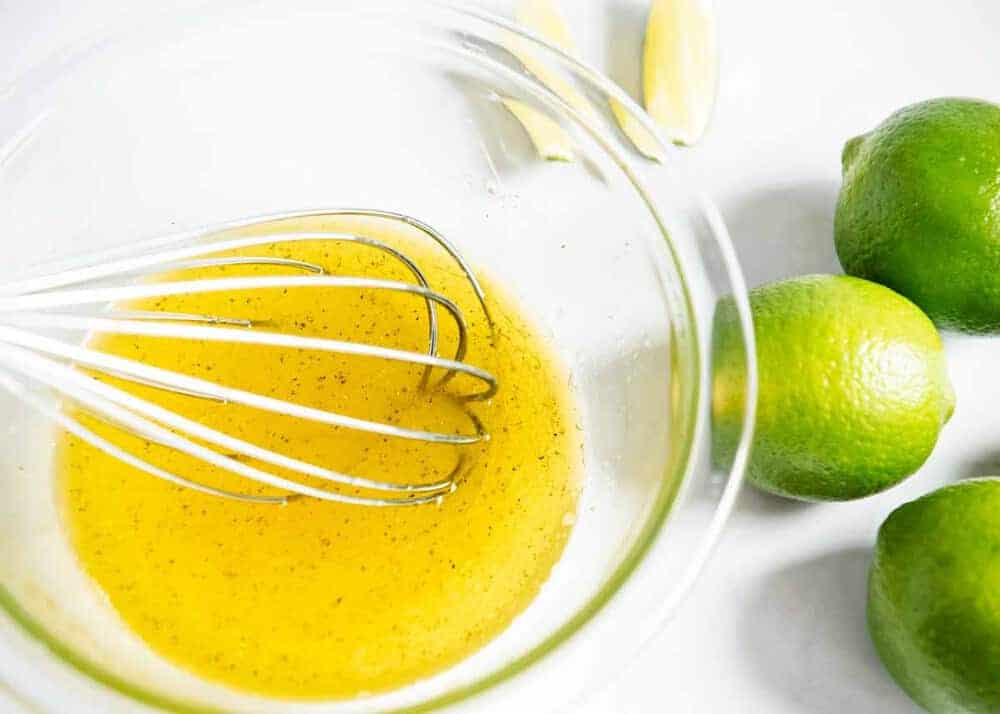 How to make chicken quinoa salad with mango
This is one of the easiest recipes ever. To make it, combine all your ingredients, toss with your dressing and let chill 1-2 hours then serve. It's that simple. Totally fail-proof!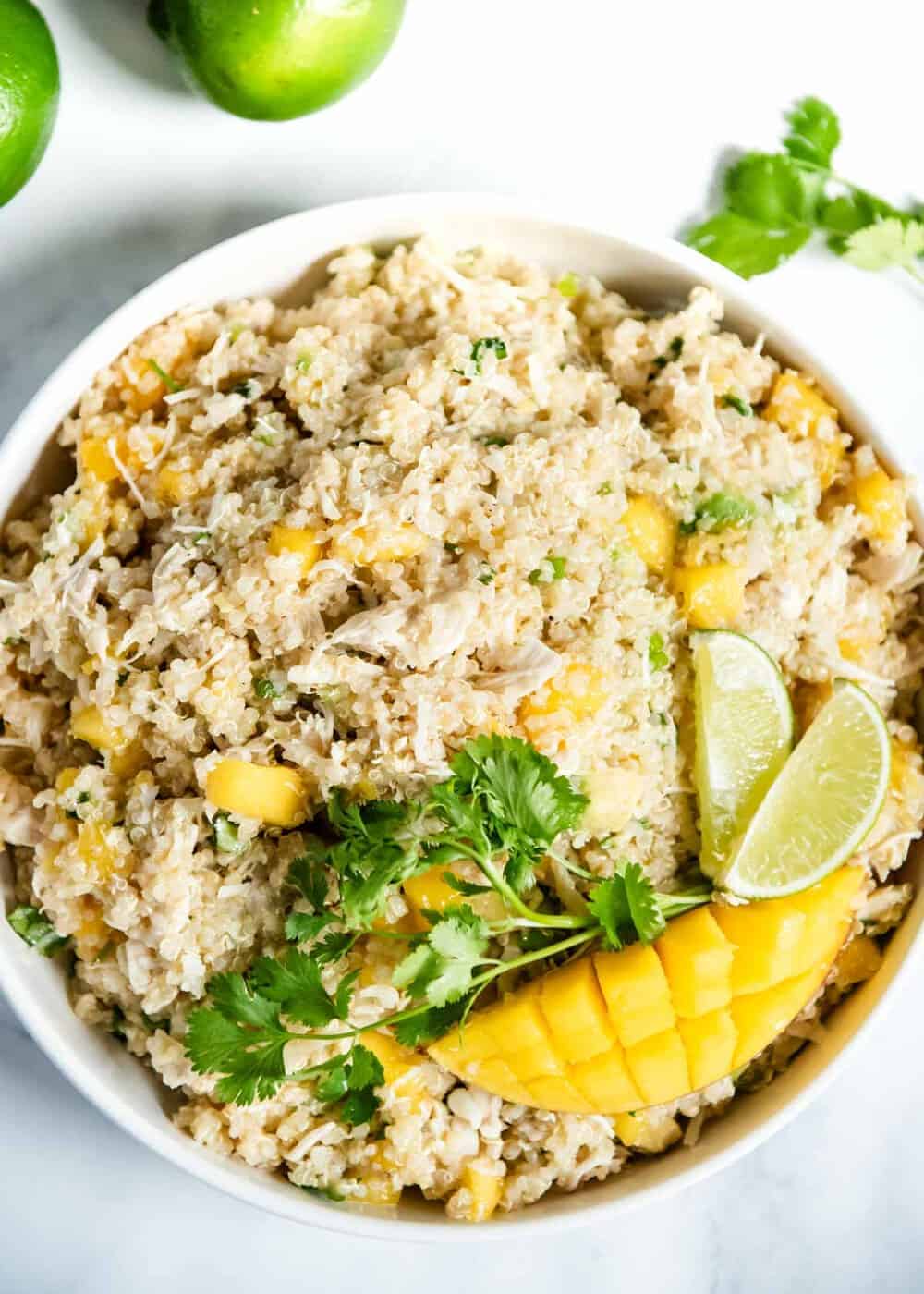 More salad recipes: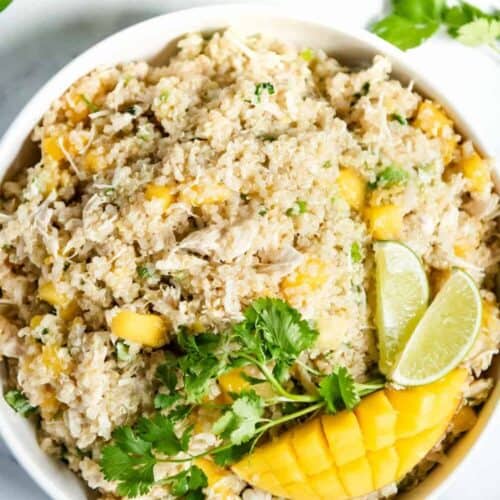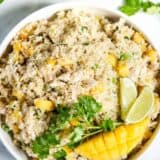 Mango Chicken Quinoa Salad
Chicken quinoa salad with juicy mango and chunks of rich avocado is the perfect light meal or side dish to make this summer.
Ingredients
3 cups cooked quinoa
1 1/2 cups cooked chicken , shredded or cubed
1 1/2 cups mango , diced
1/2 of a large avocado , diced
2 Tablespoons cilantro , chopped
1 Tablespoon green onion , chopped
1/3 cup sweetened shredded coconut
1/4 cup extra virgin olive oil
1/3 cup fresh squeezed lime juice
1 1/2 Tablespoons honey
salt and pepper to taste
Instructions
Toss quinoa, chicken, mango, avocado, cilantro, onion and shredded coconut together in a large bowl.

In a small jar or container, whisk together the olive oil, fresh lime juice and honey. Pour over salad and toss to coat evenly. Season with salt and pepper to taste.

Chill for 1-2 hours before serving. If desired, squeeze a little extra fresh lime juice prior to serving.
---
Notes
Click here for tips on how to cut a mango the easy way.
To cook quinoa:
Rinse in a fine mesh colander to remove any bitterness
Add one part quinoa to two parts water with a dash of salt, then bring water to a boil
Decrease boil to a steady simmer until all the water is absorbed—about 10 minutes for this recipe
Remove the pot from heat and let sit in the pot with the lid on for 2-3 minutes
Fluff with a fork and enjoy
Calories: 143kcal | Carbohydrates: 18g | Protein: 2g | Fat: 8g | Saturated Fat: 2g | Sodium: 11mg | Potassium: 171mg | Fiber: 2g | Sugar: 7g | Vitamin A: 245IU | Vitamin C: 10.5mg | Calcium: 12mg | Iron: 0.8mg