These steak and potato foil packs are so fun whether grilling on the road or at home! Seasoned juicy steak, tender potatoes, and carrots come together in a neat little pouch and then cooked to perfection!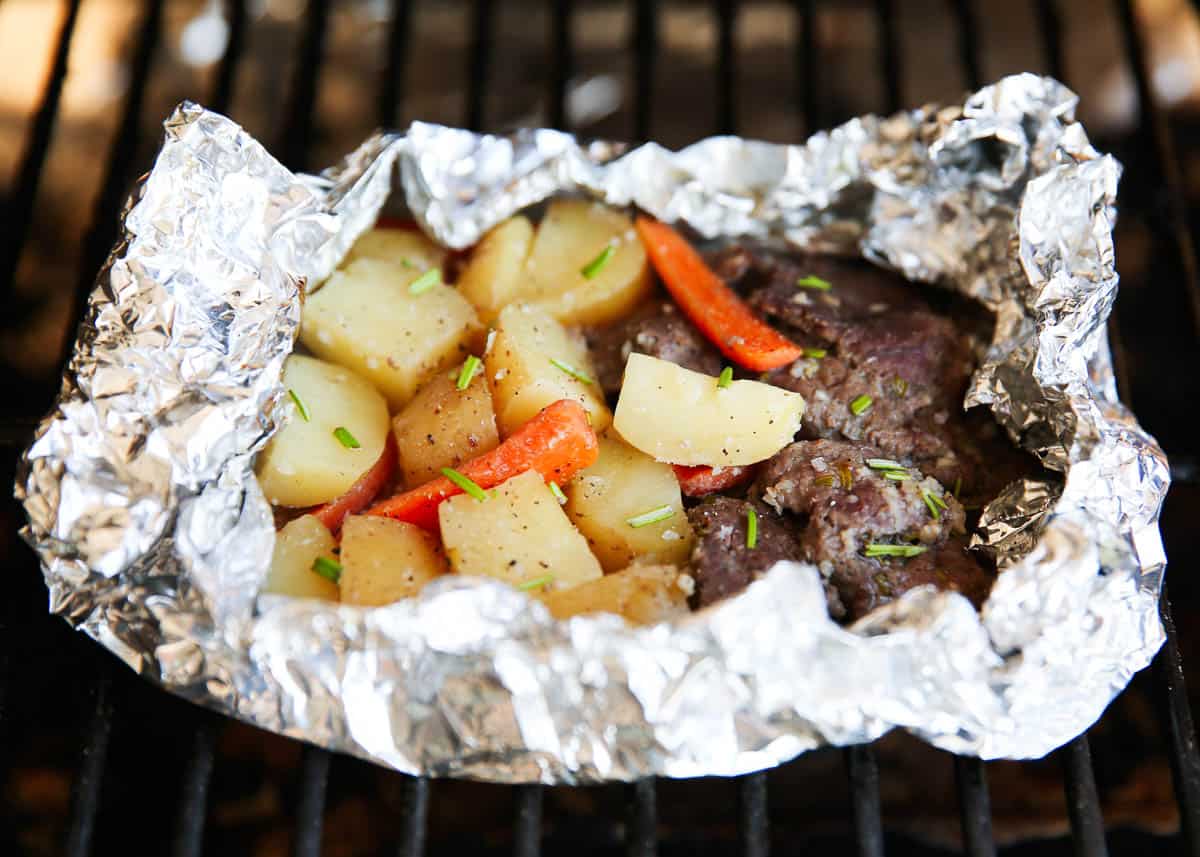 Foil Packet Dinners
Steak and potato foil packs are a fun and convenient way of making steak and potatoes on the grill rather than on the stove. Grilled BBQ chicken foil dinner is another one that makes for a fun dinner idea for camping trips or just a little extra fun on the backyard grill!
It's an easy way to get dinner on the table in under an hour and when the meat and potatoes are cooked together, the tender garlicky potatoes take on the tender and juicy steak juices to become that much more flavorful.
The meat and potatoes are just the base. You can add whatever seasonings, extra veggies, or substitutions you want. You could potentially have a different variation every week!
Why You'll Love These Steak Packs!
Easy. All it takes is combining the marinade, letting it sit for a bit, then adding everything to the packet and heading to the grill!
Delicious. Melt in your mouth bites are well seasoned and perfectly cooked to your liking!
Customizable. Everyone can have their own steak and potato foil packet and season it to how they like!
Ingredients Needed
Olive oil: The oil helps the seasoning mixture adhere and helps to get the potatoes nice and tender and the steak extra juicy. You can also choose to use avocado oil.
Seasoning: I'm using a combination of finely chopped rosemary, onion powder, salt, and pepper. You can swap the rosemary for fresh thyme, parsley or oregano, Italian seasoning, your favorite steak seasoning, or my homemade steak rub.
Steak: Top sirloin steak cut into 2-inch cubes. Strip steak is another good choice as they are both tender, to begin with.
Potatoes: Use baby yellow potatoes and cut them into quarters. The idea is to get the steak and potato cubes roughly the same size for even cooking. You can also use Yukon gold potatoes or red potatoes if you have them. Any of these choices are easy and won't require any peeling.
Carrots: Baby carrots sliced in half are the perfect size for these little steak and potato foil packets!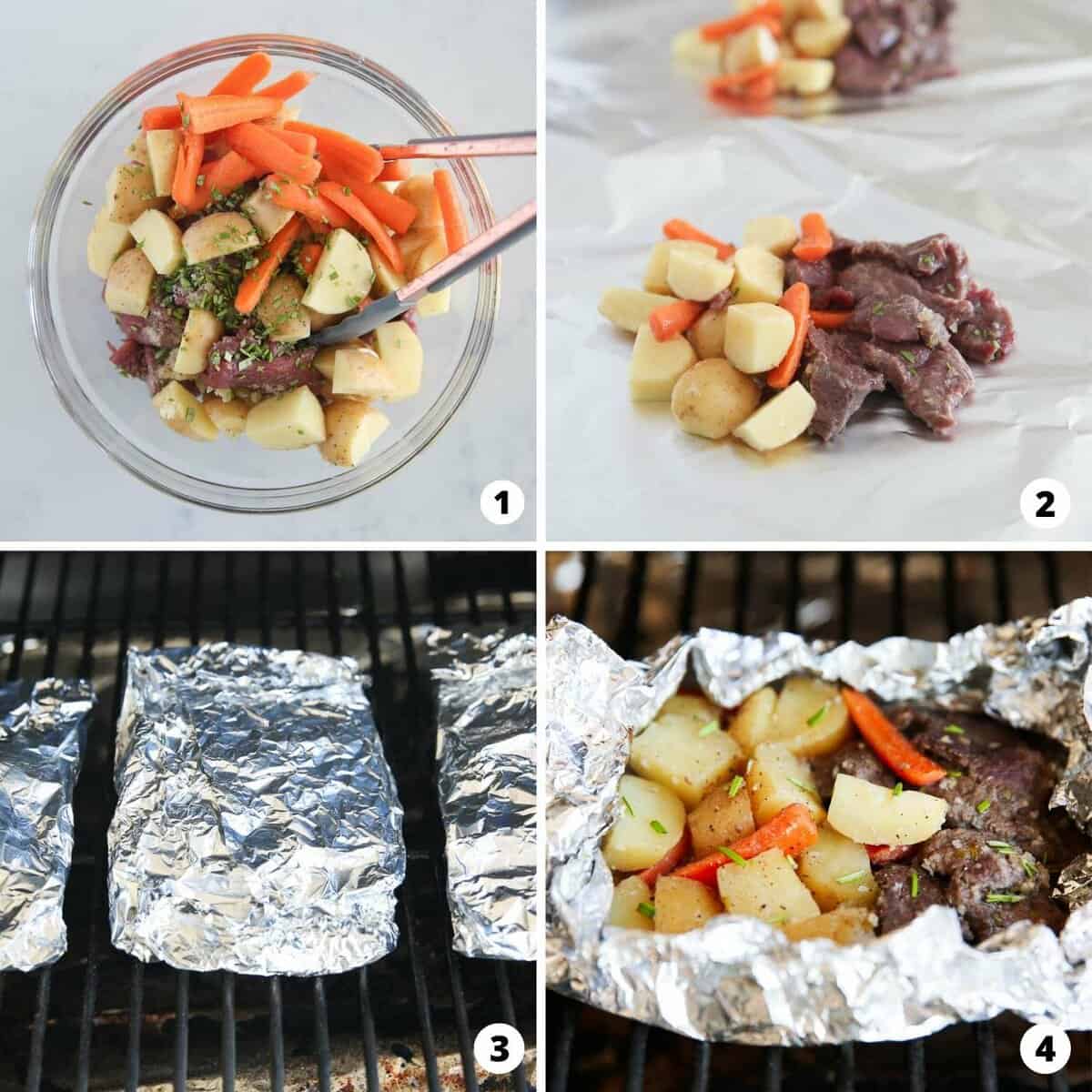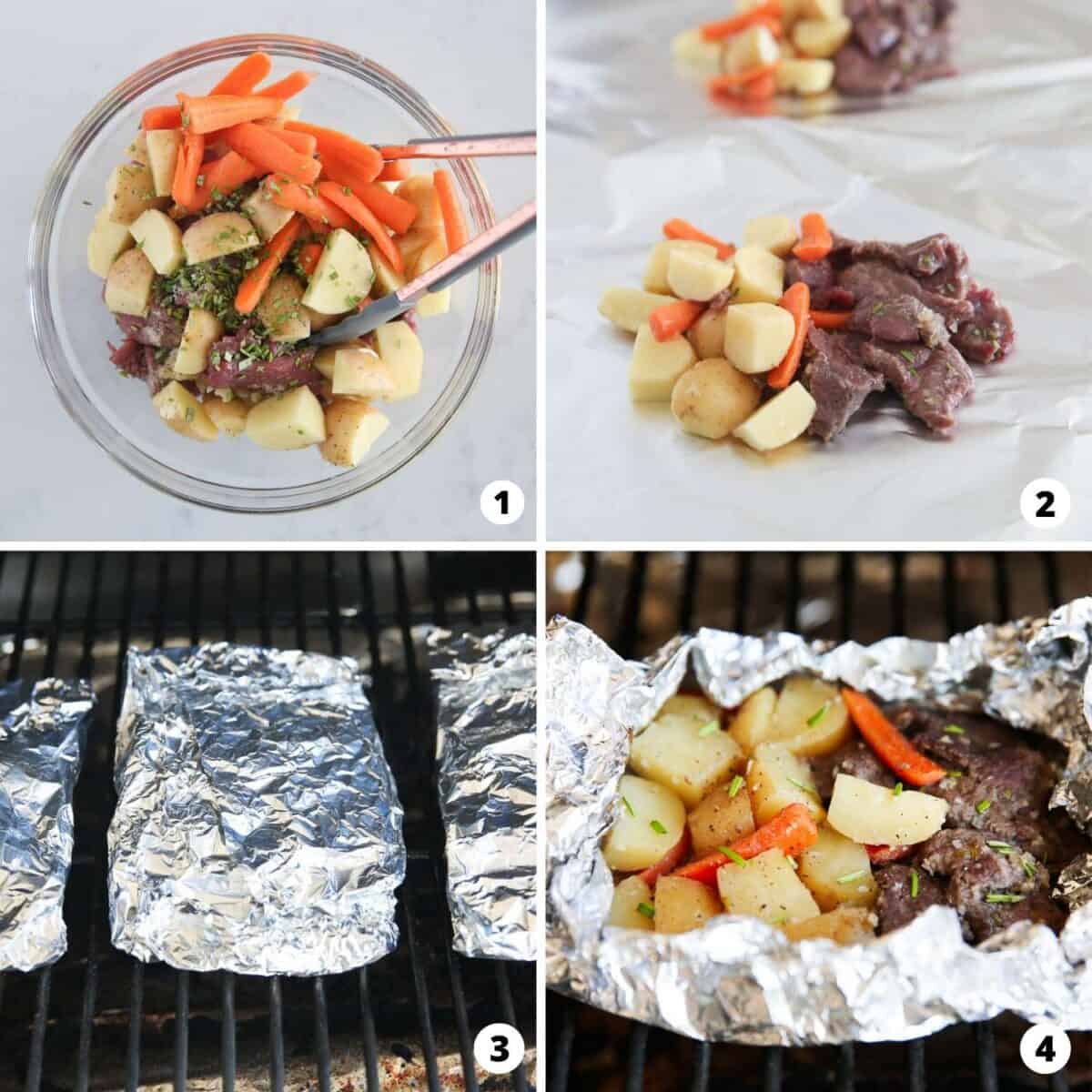 How to Make Steak and Potato Foil Packs
Toss ingredients together. Add potatoes and carrots together with the marinated steak cubes and toss everything to combine.
Add contents to foil. Divide steak pieces, potatoes, and carrots evenly between 4 pieces of aluminum foil. Do not mound the pile high, try and lay everything as flat as you can.
Fold the foil packets by folding two opposing sides on top of one another and then folding or rolling in the sides to secure the ends. Place foil packs on the preheated grill over medium heat and grill for 20 minutes or until the steak is done just the way you like it.
Carefully remove the packets from the grill and place them on a flat surface to rest for 5 minutes. Slowly open, allowing the steam to escape, and season with salt and pepper. Enjoy!
How Long to Leave Packets on the Grill?
Below are the guidelines for achieving your perfect level of doneness. How you cook your steak is up to you! If you like your steak more on the rare side, I would consider pre boiling your potatoes for 5-7 minutes, so they will be done when the steak is.
Use your meat thermometer to get an accurate reading.
Medium Rare: 130-140 degrees F
Medium: 140-150 degrees F
Medium well: 150-160 degrees F
Well done: Over 160 degrees F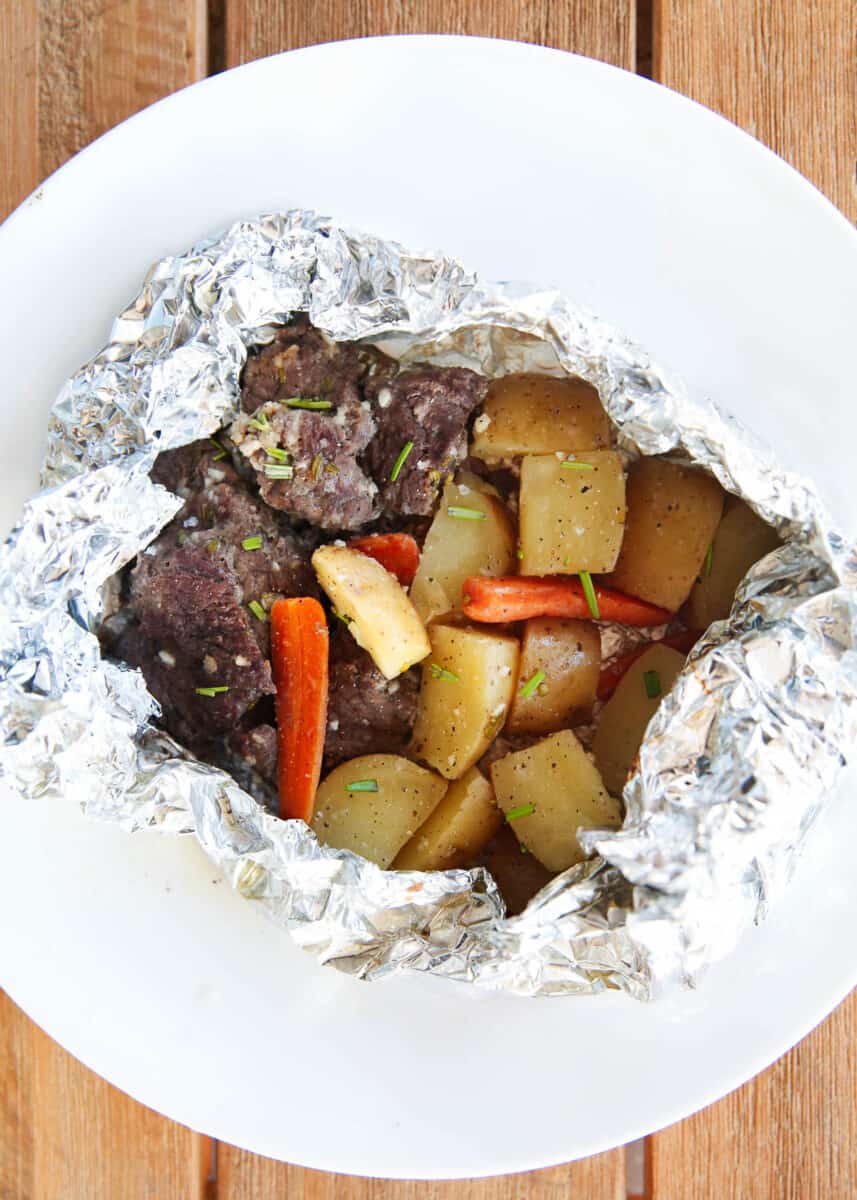 Tips & Variations
Dried herbs. There is so much flavor that comes from fresh herbs but if dried is what you have that works too! Just use 1 teaspoon of whatever dried herbs you like.
Loaded potatoes: Sprinkle some cheese and bacon crumbles in there for a bit of extra flavor!
Compound butter. You can even make garlic herb butter and learn tricks on how to mince garlic to use it for garlic butter steak cubes.
Use more veggies! The key is to cut them into the same size pieces as your steak. Whether they're 1-inch cubes or larger, you want to keep them uniform. Red onions, bell peppers, broccoli, sweet potatoes, zucchini, squash, asparagus, or green beans are all delicious options.
Parboiling potatoes. If you like a rare or medium-rare steak, you might want to think about cutting your potatoes into 1-inch pieces and boil them ahead of time so that way they're done cooking by the time your steak cubes are done. This is especially useful if you're using larger potatoes.
Steak still cooking faster. If it so happens that the meat still cooks faster than your potatoes, transfer them to a dish and cover to keep warm.
FAQs
Can I make these garlic steak and potato foil packs in the oven?
Place packets in a preheated 425-degree oven for 22 minutes or until desired doneness has been reached. Then, carefully open the packets and continue cooking for a couple minutes more to get a nice char on the steak.
Is this a good make-ahead meal?
Don't make these more than a few hours ahead, otherwise, the potatoes will start to oxidize and change color. You can prep everything while the steak is marinating to save you some time later on. Then, prepare the foil packets and grill when you're ready.
Do you flip foil packets on the grill?
No, you do not need to. You'd be better off leaving them alone with the seam side up, that way you don't risk things falling out and through the grill!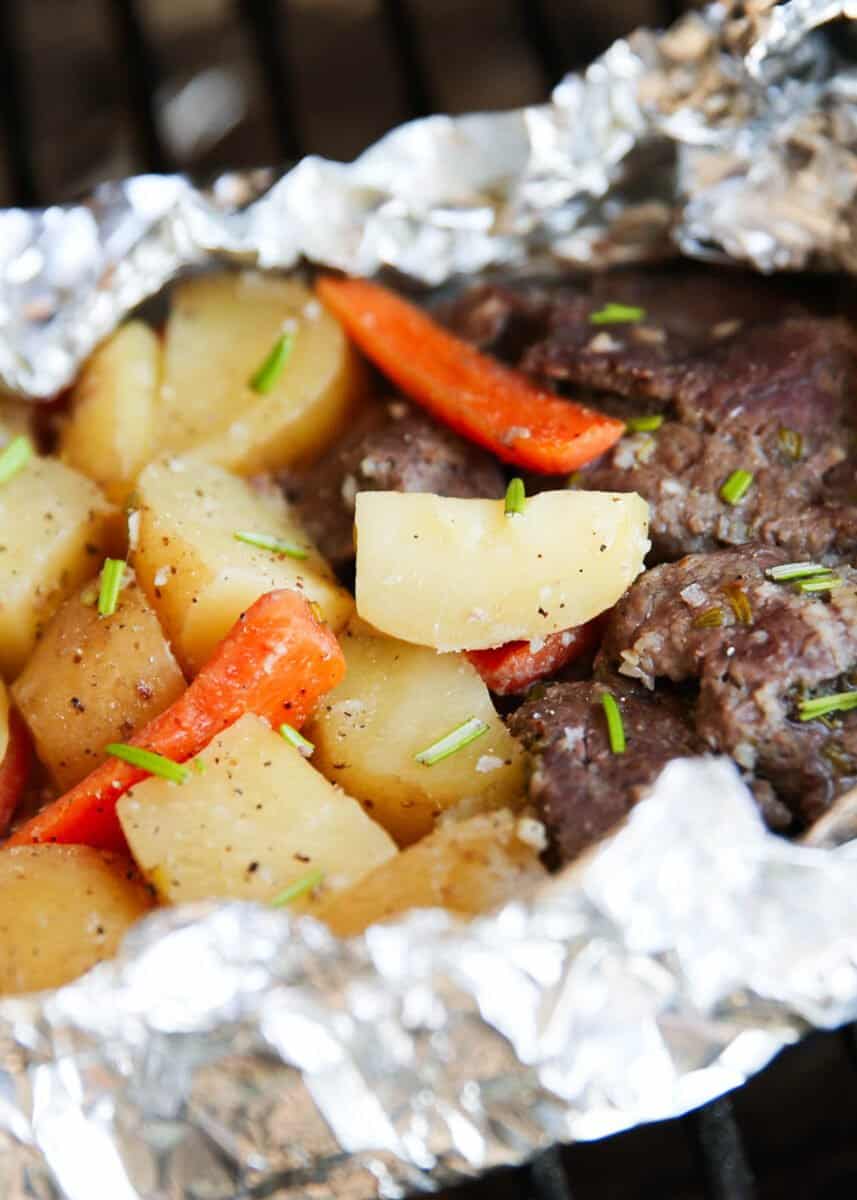 Below are some other easy recipes to make when firing up the grill this summer.
HUNGRY FOR MORE? Subscribe to my newsletter and follow on Facebook, Pinterest and Instagram for all the newest recipes!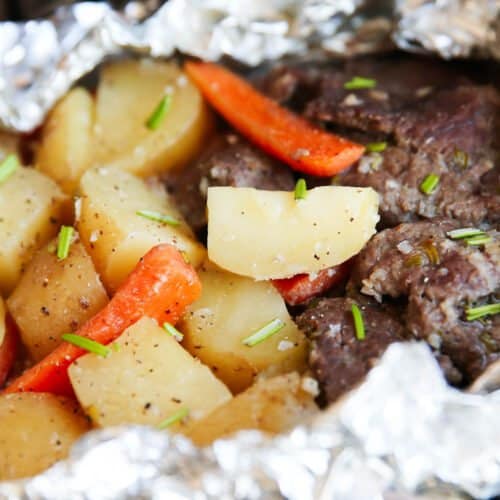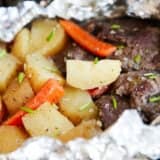 Steak and Potato Foil Packs
These steak and potato foil packs are so fun whether grilling on the road or at home! Seasoned juicy steak, tender potatoes, and carrots come together in a neat little pouch and then cooked to perfection!
Ingredients
¼ cup olive oil
1 Tablespoon minced garlic , or more to taste
½ Tablespoon finely chopped rosemary , or thyme or oregano
½ teaspoon onion powder
1 teaspoon Kosher salt , plus more to taste
¼ teaspoon ground black pepper , plus more to taste
1 ½ pounds top sirloin steak trimmed, cut into 2-inch cubes
1 pound baby yellow potatoes , quartered
1 cup carrots , sliced in half
Instructions
In a large bowl, whisk together olive oil, garlic, rosemary, onion powder, salt, and pepper. Add steak, potatoes, and carrots and toss until well coated. Marinate at room temperature at least 30 minutes. If longer, place in the refrigerator and remove 15 minutes before grilling.

Preheat the grill to medium heat. Spray 4 12-inch sheets foil with nonstick spray (or use non-stick foil).

Divide the steak, potatoes, and carrots evenly between the 4 sheets of foil. Flatten the meat and veggies as much as possible. Wrap foil tightly around the steak, potatoes, and carrots, and fold in the sides to secure the packets.

Place each packet on the grill. Cook 20 minutes, or until the steak is cooked to preferred temperature (see notes) and the potatoes are tender.

Let packets rest unopened 5 minutes before carefully opening to serve. Season with salt and pepper to taste.
---
Notes
Steak Doneness:
Rare (125°-130°F)
Medium Rare (130°-140°F)
Medium (140°-150°F) A
Medium Well (150°-160°F)
Well (Over 160°F)
Steak: This recipe works best with a cut of beef that is already tender, such as top sirloin or strip steak.
Oven: These packets can also be cooked in the oven. Preheat the oven to 425°F. Place the packets on a baking sheet and bake 22 minutes, or until the steak is cooked to preferred temperature. Carefully open the foil and broil for an additional 2 to 3 minutes to add char to the steak.
Variations: This recipe is really flexible and can be made in a variety of different ways. You may have to adjust the cooking time, but cut the vegetables small to ensure they cook in time with the steak. Some ideas: sliced red onion and bell peppers; sweet potatoes; zucchini and yellow squash; asparagus and green beans.
Herbs: If you don't have fresh herbs, you can use 1 teaspoon of whatever dried herb you like. Feel free to also add Italian seasoning or your favorite steak rub, if you'd prefer.
Potatoes not cooked: If you have larger potatoes, you may want to consider doing a quick parboil (boil 5 minutes) before continuing to step 1. If the steak cooks faster than the potatoes, transfer steak to a plate and cover with foil to let rest while you cook the potatoes until tender.
Make ahead: These can be made a few hours ahead of time, but not much more than that as the potatoes will oxidize.
Nutrition
Calories: 538kcal | Carbohydrates: 21g | Protein: 37g | Fat: 35g | Saturated Fat: 12g | Polyunsaturated Fat: 2g | Monounsaturated Fat: 19g | Cholesterol: 104mg | Sodium: 96mg | Potassium: 944mg | Fiber: 3g | Sugar: 1g | Vitamin A: 33IU | Vitamin C: 23mg | Calcium: 31mg | Iron: 4mg
Nutrition provided is an estimate. It will vary based on specific ingredients used.
Did you make this recipe? Don't forget to give it a star rating below!